---
Main recent news stories – see  

Latest News
---
Forget "vital business connectivity" – Air travel makes you happy, says the Airports Commission. That's why we need another runway
The Airport Commission (AC) changed its arguments sharply between its 2013 interim report and the final document. Initially the idea was that there was a need for a runway because of a rising need for business air travel, and vital business routes. Interestingly, in its final report, the AC – realising that the demand for business flights is not growing – has switched to saying it is good for leisure travellers. At Heathrow only at most 30% of passengers are on business, the majority are on holiday, and the rest visiting friends and relatives (VFR). The AC says because air travel and holidays make people happy, put them in a better of mind and give a feeling of well-being, a runway is needed so we can fly even more than we already do. This runway if ever built would, unavoidably, be mainly used for ever more leisure trips. Nothing to do with emerging economies or connectivity, unless the business people help make fares cheaper for the tourists, and vice versa. Having an annual holiday is associated with greater happiness. Whether taken by plane or other modes of travel. Nobody will be surprised. People who are able to take holidays tend to be happier than those that do not. (People involuntarily living with the adverse impacts of an airport may have lower well-being and be less happy).
Click here to view full story…
Protester whose Harmondsworth home would be destroyed by 3rd runway, blocks Heathrow tunnel for half an hour
A blockade of Heathrow's road access tunnel to Terminals 2 and 3 brought traffic to a halt for more than half an hour at 12.45pm today. The protest follows yesterday's announcement that the Airports Commission report recommends the building of 3rd runway at Heathrow. This would require the destruction of over 1,000 homes in Harmondsworth, Longford and Sipson with a further 3,000 homes made uninhabitable due to excessive noise and pollution. Neil Keveren, a Harmondsworth resident, used a large white van to block both lanes to incoming traffic. He then unfurled a banner that covered the side of his vehicle to face the stationary traffic saying, "Residents Against Expansion – No ifs, no buts, no third runway". The banner refers to David Cameron's pledge prior to the 2010 election. His entirely peaceful protest was only ever intended to last 20 minutes, to avoid disruption to the airport. His co-operation enabled the police to avoid an evacuation procedure that would have caused further disruption to traffic. Neil Keveren made it clear his action was a personal protest, and was not part of his role as Chair of the Stop Heathrow Expansion (SHE) campaign group. However, his action were supported by many local residents and the local MP, John McDonnell.
Click here to view full story…
Airports Commission recommends a 3rd Heathrow runway, but leaving door open for Gatwick runway if Government find Heathrow too difficult to force through
The Commission has recommended the Heathrow north-west runway proposal, and is adamant that option has the most benefits for the UK. It has left the option of Gatwick open, but says the arguments are very, very much stronger for Heathrow. Having delivered its report, the Commission is now standing down.
Airports Commission's Final Report
Airports Commission's "Business Case and Sustainability Assessment – Heathrow Airport Northwest Runway"
Sir Howard Davies' letter to Patrick McLoughlin 
---
Some reaction to the Airports Commission announcement below
---
HACAN comment on Commission choice of Heathrow: "The final chapter is yet to be written – it's far from the end of the story"
In response to the Airports Commission, HACAN (the main community group opposing expansion of Heathrow) says even though Heathrow has been recommended for a runway, the Commission has left the door open for a 2nd runway at Gatwick. The Government will announce its decision towards the end of the year. John Stewart, HACAN chair, said: "This is far from the end of the story. The final decision will be taken by the Government. Given the strength of opposition there is to Heathrow within the Cabinet, the final chapter could contain a sting in the tail. Gatwick could emerge as the final choice by Christmas." There is significant opposition to Heathrow within the Cabinet, and from Boris and Zac. The The obstacles to a 3rd runway remain enormous: – Noise disturbing more people than any other airport in Europe – Air Pollution levels hovering above the EU legal limits – Thousands of people facing eviction from their homes – Millions of pounds of public money required to upgrade the roads network – And the prospect of the biggest environmental battle in Europe
Click here to view full story…
The Guardian view on expanding Heathrow: just say no. Guardian Editorial
The Guardian writes that the Airports Commission and most of the reporting of the Heathrow runway recommendation looked only at issues like economic growth, the alleged urgency of more links to emerging markets, and the UK keeping its place as top dog on aviation in Europe. A few voices were raised about the local "environmental" effect, noise, air pollution etc. But these "pale besides aviation's contribution to the planet's slow cooking. If there is a difficult question that has been ducked for too long, then that is the one about decarbonising the economy." Though the Commission looked at carbon, their "emphasis … and the basis for arguing that increased capacity was not merely desirable but imperative, was on a …fairytale future, in which passengers double, under the auspices of comprehensive and globally enforced carbon trading." This requires an effective global system in which the price of carbon rises from around £5 to several hundred £s which would greatly increase the price of air tickets. That is not likely to happen. The aim of the runway is to make flying cheaper, not more expensive, so people take even more flights. " The infrastructure we have now is enough to speed climate change. "Transport networks need to be re-engineered for decarbonisation. But that would require some real blue-sky thinking, and of that there is no sign."
Click here to view full story…
Richmond Heathrow Campaign response to the Airports Commission choice of Heathrow
The Richmond Heathrow Campaign is wholly against a new third runway at Heathrow. There is unlikely to be any net benefit to the UK aviation market or to the UK economy. Why? According to the Airports Commission's own figures, a new Heathrow runway results in no overall increase in the number of UK passengers, business passengers, flights or connectivity because it would be fed by re-distributing growth from other UK airports – in particular from airports outside the southeast. Heathrow expansion would result in cuts to flights at airports outside the southeast: as much as 45% at Birmingham, 30% at Bristol, 15% at Manchester and 10% at Edinburgh. It would stifle growth around the UK and concentrate it at a single airport in the economically overheated southeast. This would be contrary to the government's aim of re-balancing the UK economy. And the RHC makes also sets out its other key reasons for opposing a new Heathrow runway.
Click here to view full story…
Heathrow third runway unanimously recommended by Airports Commission, but with conditions
The Airports Commission has recommended that a 3rd runway should be built at Heathrow, but only if it can meet stringent conditions on noise and air pollution. Those conditions should include a ban on night flights, legally binding caps on noise and air quality – and legislation to rule out ever building a 4th runway [unlikely to be effective?] .The Commission has said their view was "clear and unanimous" that Heathrow's plan was the strongest case for a runway, delivering the greatest strategic and economic benefits, and they hoped the conditions would make the airport a "better neighbour" than today.
The conditions are:
– A ban on all scheduled night flights from 11.30pm to 6am….- No fourth runway – the government should make a firm commitment in parliament not to expand further. Davies states: "There is no sound operational or environmental case for a fourth runway."….- A legally binding "noise envelope"…..- A noise levy on airport users to compensate local communities…. – A legal commitment on air quality (details to be announced, compliant with EU limits)…. – A community engagement board to let local people have a say…. – An independent aviation noise authority to be consulted on flight paths and operating procedures at airports….- Training and apprenticeships for local people.
The government must now decide whether to act on the recommendation – by autumn, or before Christmas.
Click here to view full story…
Heathrow, Gatwick and London City airport community groups stand united against new runway decision
In response to the threat of a new runway at Heathrow (or very possibly at Gatwick, when the government decides on the Airports Commission announcement), the community groups opposed to increased aircraft noise have issued a joint statement. They say: "The announcement is bad news for all those who will inevitably be affected by increased aircraft activity, noise and air pollution and the associated effects on people's lives and health as a result of a new runway. As groups representing hundreds of thousands of people already suffering the impact of changes in airspace use, or new flight paths we are very aware of the negative impacts of living under, or close to, a flight path. There has been insufficient and inadequate consultation of affected communities on the introduction of airspace changes in the past. There is little reason to believe this will improve when large numbers of new flight paths are to be created in the wake of this recommendation. The campaign to prevent further runways being built and to return the flight paths to their previously regionally acceptable routes will go on. The noise and pollution groups at City, Gatwick and Heathrow airports remain united in this cause."
Click here to view full story…
Campaigners against a Gatwick runway relieved by Airports Commission decision, but aware Gatwick may still ultimately be selected by government.
Thousands of people across Surrey, Sussex and Kent will be relieved that the threat of an environmental disaster has been lifted – though this reprieve may only be very temporary. The Commission appears to leave the door open for a Gatwick runway, while hugely favouring Heathrow, considering the Gatwick option could be pushed through by the Government with less difficulty. There will, however, be no rejoicing from the Gatwick area: campaigners there are only too aware of the misery which will be created for those living near Heathrow. GACC (the Gatwick Area Conservation Campaign) commented: "We do not want this for our area, and equally we do not wish it onto others, for whom it would be just as bad. We will continue to make the case that no new runway is needed, neither at Heathrow, nor at Gatwick, nor anywhere else." GACC, and all the protest groups around Gatwick, will be studying the report carefully and will remain on guard in case there is pressure to reverse the recommendation. A Gatwick runway would be an environmental disaster for the south east.
Click here to view full story…
Caroline Lucas blog: "Heathrow might have been his answer, but Davies was asking the wrong question"
The Airports Commission (AC) has finally recommended that Heathrow, Europe's biggest noise polluter, should expand. The decision has been framed simply: Gatwick or Heathrow? Either new runway would cost billions of pounds and cause thousands more people's lives to be blighted by more aircraft flying low over homes, schools and neighbourhoods. Caroline Lucas considers the AC's failure to properly consider the option of "no new runway" is indefensible. The proposed new runway isn't just bad news for people living nearby – it's extremely damaging to our efforts to meet our climate change targets. The AC knows the CO2 emission from UK aviation would breach the sector's generous targets – even without a new runway. There are other questions that should e asked, not just if a runway should be at Heathrow or Gatwick. Should frequent flyers pay more, the more they fly? The runway is not "needed" for the average family taking one, or even two annual trips. Should public investment, which would be needed to assist a new Heathrow runway, be better spent elsewhere – on local transport? With different questions asked, there are different answers – not involving another runway.
Click here to view full story…
Supreme irony of the hottest July day on record at Heathrow
1.7.2015
Hottest July day on record as temperatures reach 36.7C at Heathrow. The previous record was 36.5 °C on 19th July 2006 in Wisley, Surrey. Roads melted and trains were cancelled. Urgent health warnings were issued and paramedics dealt with a surge in calls amid fears the hot weather could result in deaths. Wimbledon recorded the hottest day in its history as players sweltered in the searing heat of Centre Court. The London Ambulance Service said it had seen call-outs to people fainting increase by more than a third (35%) compared to the same day last week. Britain's trains were blighted by delays and cancellations as Network Rail imposed speed restrictions on some lines amid fears the metal tracks could buckle under the searing heat.
And yet, as a supreme irony, this was the day the Airports Commission advocated building a 3rd runway at Heathrow, knowing the extra carbon emissions this will generate will mean putting the UK's climate targets at risk. The heat wave is the sort of weather that scientists expect would be come increasingly common, as global CO2 levels rise.
---
Friends of the Earth warn that airport expansion will undermine UK climate action
Commenting ahead of the Airports Commission report which is expected to recommend airport expansion at either Gatwick or Heathrow, Friends of the Earth's head of campaigns Andrew Pendleton said: "It's simply not credible for the Government to build a new runway in the South East and still claim to be serious about tackling climate change. "Airport expansion will also have huge impacts on the local community, noise levels and air quality. We can't preach to the world about stopping catastrophic climate change on the one hand and send aviation emissions soaring on the other."
Click here to view full story…
Telegraph
Guardian: House of Commons majority for Heathrow 
Simon Jenkins in the Guardian
Independent: Analysis of politics
http://www.independent.co.uk/news/uk/politics/labour-accuses-david-cameron-of-being-bullied-by-boris-johnson-over-heathrow-expansion-as-it-makes-surprise-decision-to-back-third-runway-10357870.html
---
Committee on Climate Change confirm aviation CO2 must remain capped – putting new runway into question
On the eve of the Airports Commission's runway recommendation, the Committee on Climate Change (CCC) has told Government it has until 2016 to set out an effective plan for limiting aviation emissions. The Government's official advisory body on delivery of the UK's Climate Change Act used its 5th 'Progress Report' to Government to highlight the need for action on aviation, including constraints on demand. The CCC says that given the anticipated growth in emissions from the sector, the DfT must set out how it will ensure that emissions from aviation are no higher in 2050 than they were in 2005 (37.5 Mt). The limited scope for improvements in aviation technology mean that demand growth must be kept to no more than 60% above its 2005 level. Current forecasts of air passenger growth with associated CO2 emissions exceed this level EVEN WITHOUT adding a new runway. With a new SE runway the growth in passenger demand – and thus CO2 emissions – would be even higher. Extensive analysis by the AEF has shown that a new runway would make the aviation emissions cap (37.5MtCO2 annually) impossible to achieve. Ruling out a new runway is the most obvious first step for the Government to take in response to the CCC's advice. Adding a runway, and then having to manage the extra carbon problem it has produced, is not an efficient way to deal with the issue.
Click here to view full story…     
Heathrow and Gatwick CEOs both say their runway campaigns will go on, whatever Commission recommends
The CEOs of Heathrow and Gatwick both say they will continue their campaigns for expansion, whatever the Airports Commission recommends (next week?). Holland-Kaye is trying to make out that Heathrow's plans for a 3rd runway had been so substantially altered since David Cameron blocked them in 2010 that "the prime minister could defend a decision to change his mind." (The changes are small – different location, better compensation offers, more attempts to overcome local opposition … same need to destroy communities, make areas almost uninhabitable, immense increase in noise and air pollution etc etc). Gatwick keep attempting to persuade people their runway is more deliverable than Heathrow's. Both fear the report ending up on a shelf, gathering dust. Heathrow expansion is environmentally and politically just about impossible, but it is what the airlines, the industry and its backers want. Holland-Kaye said Heathrow would not give up pressing for another runway even if the Commission recommends Gatwick. "It's not a binding report … we'd have to wait and see. A decision hasn't been made and to some extent the campaigns will keep on going." As one commentator remarked: "… the most likely final resting place for Sir Howard's report is a dusty shelf, somewhere in Whitehall."
Click here to view full story…
Boris calls for Stansted expansion as the best runway option
24.6.2015
The Mayor London has renewed calls for a second runway at Stansted Airport to help alleviate the UK's air capacity problems. Boris Johnson says expansion at there should be reconsidered as it is a better option than Heathrow. He said: "You should see the map of the extra noise over London that will be produced by a third runway, you should see the modelling that TfL have done on the traffic impacts of vehicular pollution. …One of the things that interests me about Crossrail Two (which will see trains run from Shenfield to Maidenhead, in Berkshire) is that it does open up the possibilities of Stansted…."The Airports Commission under Howard Davies was very precipitate in ruling expansion at Stansted and other options will have to come back into play at some stage." Expansion at Stansted has already been rejected by the Davies Commission into Airport Capacity. "The Airports Commission under Howard Davies was very precipitate in ruling [out] expansion at Stansted and other options will have to come back into play at some stage."… Mr Johnson said he would "counsel" David Cameron "very strongly" against building a third at Heathrow and "It is perfectly obvious to me that there is going to be an unholy mess when Sir Howard reports.
Click here to view full story …..
---
Levy on frequent leisure flyers proposed to make airport expansion unnecessary
Plans for a "frequent flyer" tax to curb demand for leisure flights and make a new runway in south-east England unnecessary have been unveiled by an influential group of transport campaigners, environmentalists and tax experts. These include the Campaign for Better Transport, the New Economics Foundation, the Tax Justice Network, Greenpeace and Friends of the Earth among others. In a letter to the Observer – in order to remove the alleged "need" for a new south east runway – they put forward the concept of allowing each person one tax-free flight per year, but increasing the rate of tax for people who fly frequently. The levy would rise with each successive flight. This would mean that instead of APD (£13 per return flight to Europe) there would be a higher rate of tax for frequent fliers. Their analysis shows that 15% of the UK population take 70% of all the flights, while half of us don't fly at all in any given year. Rather than a new runway being vital for business, the reality is that it would be used for the better off to take more leisure flights (holidays or visiting friends and family). The proposed levy would mean the number of flights would be cut to a level that would make a new runway unnecessary. The authors of the scheme have also shown that this change to the taxation of air travel would also ensure the UK could comply with its obligations under the Climate Change Act.
Click here to view full story…
Big five EU airlines join to form new lobbying alliance – to cut taxes and regulations, and make more money
The EU's 5 largest airline groups – Air France-KLM, EasyJet, IAG, Lufthansa and Ryanair – have unveiled plans to establish a new airline lobbying group (not yet named) later this year to present a set of common goals to European regulators. They met in Brussels to set out the initiative. Carolyn McCall said the new entity will be based on the "Airlines for America" lobbying group in the USA and will be "open to all European airlines." The airlines say there is a "need for a new entity, something new and different" with real "traction". They want to put on a show of unity and provide a united position on regulatory policy as the new European Commission works on its key aviation package. Carolyn McCall says the new entity will go "live" in October, will represent 4 shared common goals: (1). Development of a European aviation strategy, to have simple regulation, to ensure growth and cut costs. (2). Lowering airport costs through reforming the European airport charges directive. (3). Stopping air traffic management from striking, and using SESAR etc to make savings and more profit. (4). Growing demand for air travel by "removing passenger taxes and unreasonable environmental taxes". Willie Walsh also wants to "impress on the Commission the risk of and impact of passenger taxes."
Click here to view full story…
Zac Goldsmith unveils maps showing 1 million under indicative flight paths for a 3 runway Heathrow
Zac's all party group of MPs has produced a new map showing where flight paths might be, with a Heathrow 3rd runway. Their map shows that hundreds of thousands more London residents would find themselves under new flight paths if the runway was built. Senior Tories including Justine Greening and Boris Johnson joined Richmond MP Zac Goldsmith in Parliament to launch a campaign alerting people to the potential impact on neighbourhoods across the capital. Heathrow disputes the map, and nobody knows exactly where the flight paths would be. Zac said Heathrow was "already the biggest [noise] polluter in Europe by far" and that additional noise was just one of the reasons to oppose expansion. Boris Johnson said David Cameron should honour his 2010 pledge of "No if, No Buts, No 3rd Runway". Jenny Jones and the Green Party were the only politicians present who said no runway should be built.myself. Zac Goldsmith is aware of the environmental reasons why no runway should be built. However, he has chosen not to say this and go with the dubious assumption that it is just a choice between Heathrow and Gatwick. He commented: "I recognise by piling pressure against Heathrow expansion, I make it more likely that you have Gatwick expansion, but my first priority is to stop Heathrow expansion, it has to be."
Click here to view full story…
Teddington Action Group prepare to sue Airports Commission over lack of fair consultation on air quality
The Airports Commission and the Department of Transport have been notified by Neil Spurrier and Teddington Action Group (TAG) of their intent to apply for a Judicial Review of the Commission's work. TAG is a group of residents affected by environmental nuisance in terms of emissions and noise from Heathrow flights. They have taken advice from leading counsel, and allege that the Airports Commission's 3 week consultation on air quality, in May, was rushed and insufficiently publicised. This meant they (and many others) did not had a fair chance to respond. The consultation document was a highly technical 200 page report, containing a large amount of technical data. TAG say the lack of proper engagement by the Commission in relation to the latest air quality consultation is unacceptable and local people should be consulted in a meaningful way on an issue that directly impacts their health and well-being. TAG say the 3 week consultation is far shorter than the Cabinet Office guidelines which recommend three months for controversial or technical consultations. The length and nature of the air quality consultation was widely criticised, as being inadequate and unfair. TAG also questions the continuation of Sir Howard Davies in the role of chair of the Commission in the light of potential conflicts of interest, as he has been appointed to RBS.
Click here to view full story…
Angry residents serve ASBO on Heathrow in flight path noise protest
Residents from a raft of communities to the west of London have served Heathrow with an ASBO (anti social behaviour order) in protest at the increase in aircraft noise generated by new flight paths implemented for Heathrow by their partner NATS. Members of a new grouping, CAIAN (Communities Against Increased Aircraft Noise) took their mock ASBO to Heathrow, to draw attention to the serious impact recent flight pattern changes are having on people across Surrey, Berkshire, and parts of west London. CAIAN represents local action groups that have joined forces to challenge new and altered arrival and departure routes imposed by Heathrow and NATS, without warning or consultation. The mock ASBO accuses Heathrow of "breaches of common decency", specifically for running an airport "with general disregard for neighbours and the environment, that allows excessive noise for 17+ hours a day, and which contributes to high local air pollution". CAIAN has a range of demands, including a moratorium on new runways until noise and pollution from the existing two are properly addressed. They will keep up the pressure, to get proper accountability in the aviation sector. There is widespread fury and outrage that PBN routes are being determined by airline profitability rather than any consideration for communities being overflown, who are suffering the consequences.
Click here to view full story…
Government will not provide a formal response to the Airports Commission runway recommendation until the end of the year.
June 10, 2015
The Financial Times has reported that it has been informed by a Whitehall source that Ministers will not provide a formal response to the Airports Commission's recommendation on a runway till about "before Christmas." The official told the FT there would just be a cursory acceptance of the report (expected in late June?) by senior ministers. It had been thought for sometime that the DfT would have to do at least 6 months work, considering the Commission's verdict,before a final decision could be made. The Commission has left many gaps in its analysis, with many questions unanswered. The FT reports that: "Civil servants say they need to start work on any proposed legislation & prepare for legal challenges that are considered almost inevitable." The decision for the Airports Commission has not been an easy one, because there are overwhelming arguments against a new runway at either Gatwick or Heathrow. The Cabinet faces division on the issue of Heathrow, with George Osborne in favour and other senior members deeply opposed. The pro- runway lobby has been complaining vociferously that a runway decision must be made quickly. Labour's Mary Creagh has accused David Cameron of "unforgivable delay" on the issue, and putting party stability "ahead of the national interest."
The reality is that there is no political consensus on where to build another runway, due to the huge complications that would be caused by the addition of a runway at either Heathrow or Gatwick. The obstacles are almost insurmountable. The work of the Airports Commission contains many gaps, but it has illustrated just how huge the problems are – for any of the 3 short listed options.
Click here to view full story…
EasyJet CEO, Carolyn McCall, again says there is no economic case for a Gatwick runway
Carolyn McCall, the CEO of EasyJet – the largest airline using Gatwick airport – has again said that there is no "economic reason" to build a 2nd runway at Gatwick. She believes it does not need to expand, because of a lack of demand from passengers. She would prefer a runway at Heathrow, as EasyJet and other airlines are "queuing up to get in". They could make more profit there. Though the airlines want a new Heathrow runway, it is both physically, geographically, environmentally and politically very, very difficult indeed. Gatwick is also geographically and environmentally very, very difficult. For Gatwick to build a new runway, the cost would have to be paid by the airlines, which means flights costing more for passengers. As the budget airlines make thin profits (perhaps £7 per passenger after tax), adding on an extra £30 + to a return trip is utterly contrary to the low cost airline business plan. On dirt cheap flights, £30 extra is enough to matter. Even though easyJet is currently Gatwick's biggest customer, Ms McCall said it had "never proved it can really be the kind of airport that Heathrow is." Heathrow slot pairs can cost £25 million, but EasyJet got their Gatwick pairs for about £1 million.
Click here to view full story…
Gatwick Tory MPs warn of 'political stitch-up' on runways by anti-Heathrow faction in Cabinet
A group of senior Conservative MPs has warned David Cameron that he must avoid a "political stitch-up" that would favour cabinet ministers, and other party heavyweights led by Boris Johnson, who are campaigning against a Heathrow 3rd runway. Crispin Blunt, the former justice minister who chairs the 9-strong group of Tory MPs representing constituencies around Gatwick, told the Tory chief whip, Mark Harper, this week that cabinet ministers opposed to a third runway at Heathrow airport should "recuse" themselves [ie. not take part in a decision, due to danger of a potential conflict of interest or lack of impartiality] when the government considers the Airports Commission's findings. The decision by the government must be taken in an impartial manner. The Gatwick area MPs are concerned that as well as Boris Johnson and Zac Goldsmith, both keenly against a Heathrow runway, in Cabinet there are also Justine Greening, Theresa May and Philip Hammond, who are openly against a Heathrow runway. The Gatwick MPs are concerned about a political stitch-up on the runway decision. They do not believe a runway at Gatwick is in the national interest.
Click here to view full story…
Patrick McLoughlin having final talks with Heathrow and Gatwick on their runway plans
Sky News is reporting that Patrick McLoughlin, the Transport Secretary, is to hold a final round of talks with Gatwick and Heathrow in the next week or so, with the Airports Commission announcement expected around the end of the month. Mr McLoughlin is to visit both London airports to discuss the prospective financing of their multi-billion pound schemes as well as crucial issues such as the environmental impact of new runway capacity. The DfT has already drafted in bankers from Rothschild to help assess the deliverability of the 3 runway schemes. All the runway schemes would mean huge expenses, which are not yet clearly known, for the taxpayer – due to extra infrastructure required. Spokesmen for Gatwick, Heathrow and Heathrow Hub all declined to comment on the meetings with Mr McLoughlin. The date of the Commission's announcement is not yet known, and there is speculation it could be late June, or possibly on the 8th July, when George Osborne delivers is Emergency (or Summer) Budget. Osborne said in a speech to the CBI last month that the Government would act swiftly to get a new runway built.
Click here to view full story…
Gatwick, Heathrow and London City Airport campaigns come together to oppose airspace change – joint letter to Patrick McLoughlin, Sec of State for Transport
Over the past year or more, changes to flight paths and airspace being introduced in the UK, and these have caused considerable anger and upset among the many communities – and tens of thousands of people – now affected. Many new groups sprang up, in response to the greatly increased levels of aircraft noise people were being exposed to. Now these flight path groups at Gatwick, Heathrow and London City airports have joined forces and got together, to show the DfT, the Government, the CAA and NATS the anger of residents across the UK to these airspace changes. They have signed a joint letter, being delivered to the Secretary of State for Transport, Patrick McLoughlin, demanding that Government policy should be changed to minimise the impact of aircraft noise on residents. They also demand that the right of people to health, well-being and family life should be prioritised by Ministers over the drive of airlines, airports and aviation industry for greater profits. They are asking that Government should instigate legislation that governs and controls NATS usage of airspace, and that the CAA gives true consideration to residents who are affected, which is not the current situation.
Click here to view full story…
Fears Cameron may opt for Gatwick runway, just to avoid Cabinet rift on Heathrow
The Airports Commission is due to make its runway recommendation by the end of June, and since its recent consultation on air quality, speculation on the runway issue has become ever more feverish. The issue of air quality, in reality, prevents either runway being built – at Heathrow air quality is already too poor; at Gatwick, it would be illegal to worsen tolerable air quality for thousands of people. Speculation grows that perhaps, on some measures, the extent of the environmental damage at Gatwick might be lower than at Heathrow. It is still too high to enable a runway to be built. Now a large number of senior Tories and those in the Cabinet are personally opposed to a Heathrow runway, due to the location of their constituencies. Their constituents would not tolerate a new Heathrow runway, due to noise and pollution. So there are fears the Conservative government might try to go for Gatwick, in order to avoid internal splits within the Cabinet. Surely not a sufficient justification for devastating damage to a huge area of Sussex and Surrey, air pollution, intolerable pressure on surface transport, intolerable pressure on social infrastructure, intolerable noise burden over a wide area, huge cost to the taxpayer (not to mention raised CO2 emissions – from a government claiming to be "green") – just to suit Cabinet members and avoid a party rift?
Click here to view full story…
Clean Air in London respond to Commission consultation – Heathrow or Gatwick runway would breach air pollution laws
Clean Air in London (CAL) has made its response to the Airports Commission's air pollution consultation (ends 29th May). They make 2 key points – that either runway at Heathrow would cause aggravated breaches of the NO2 annual limit value, in 2030 (and perhaps other timescales) and therefore be unlawful; and that a runway at Gatwick would not be consistent with sustainable development, as it would worsen air quality. The Airports Commission expects the Heathrow north west runway scheme would mean worse air quality, (in terms of annual mean NO2 concentrations) at about 47,000 properties, and 39,000 for the Hub ENR runway scheme; and at about 21,000 properties for the Gatwick runway. For Gatwick to do this would not be consistent with the duty on Member States under Directive 2008/50/EC to maintain the levels below the limit values. Under Directive 2008/50/EC NO2 limit values must not be exceeded once attained; and where air quality is 'good', Article 12 of the directive applies i.e. Member States shall not only maintain the levels below the limit values but also "endeavour to preserve the best ambient air quality compatible with sustainable development".
Click here to view full story…
Council leaders, representing the 2M group, say Airports Commission air quality consultation is "not credible or realistic"
The Airports Commission has published a highly technical consultation on air quality, with only 14 working days for responses (3 weeks). It is presented in a way to make it very hard indeed for non-experts to understand. Now speaking on behalf of the cross-party 2M Group, which represents 20 Councils, the leader of Hillingdon Council (Ray Puddifoot), the leader of Richmond Council (Lord True) and cabinet member for environmental services at Windsor & Maidenhead (Carwyn Cox) have complained to the Commission about their consultation. They say it is "not credible or realistic". Ray Puddifoot said it is not credible or realistic to imagine Heathrow could vastly increase flights, passenger numbers and its freight operation, but with no extra traffic on local roads, or more pollution. He said a 3rd runway would increase pollution levels for roughly 47,000 homes and break EU NO2 limits. Lord True asked why the Commission is estimating pollution levels in 2030, long before the expanded airport is at full capacity, and road traffic is at its peak. Carwyn Cox said the Commission is "gambling" on road vehicles producing fewer emissions in future, and on a congestion charge zone which "are not going to happen". Many of the same arguments apply to Gatwick too.
Click here to view full story…
Brendon Sewill letter in the Times, correcting some claims by "Let Britain Fly"
In a letter to the Times, responding to lobbying by "Let Britain Fly," Brendon Sewill (Chairman of GACC – Gatwick Area Conservation Campaign) corrects some of their inaccuracies. Let Britain Fly put out an open letter, signed by some 100 business people, wanting the government to decide rapidly on building a new runway. They claim that the UK "have not built a new full-length runway in the southeast since 1945". In fact the Gatwick runway was built in 1956-58, and the runway at Stansted was revamped in the late 1980s. They claim that most of London's airports will be full by 2030, but in fact, if the growth of air travel is constrained within climate change limits, Stansted (now under half full) is not forecast to be full until 2040. The letter also claims that we trade up to 20 times more with countries that we have a direct link to, but this obscures the fact that we develop air links to the countries with which we trade, not the other way round. The claim that Paris has 50% more flights to China than Heathrow is only correct if Hong Kong is excluded. "The truth is that there has been massive resistance from those who value the English countryside, and each time the problem has evaporated because airlines have used larger aircraft, meaning that existing runways have been able to handle more passengers."
Click here to view full story…
Residents say Belfast City Airport's plans to treble flights will cause intolerable and unacceptable noise level
Residents affected by aircraft noise from George Best Belfast City Airport say the noise will be "intolerable" and unacceptable. Under the plans, which are to be considered at a public inquiry starting on 18th May, lasting for 4 days, the airport's own figures show that the annual number of flights could rise from the current level of 14,000 per year to 43,000 if the proposals are implemented. Up to 18,000 residents could be affected at a noise level which the UK government says causes significant annoyance (57 dB Leq) with the projected impact higher than the noise footprint of Gatwick and Stansted, where around 3,700 and 1,900 people respectively are affected at the same level. Local group, Belfast City Airport Watch, commissioned a survey that showed how much plane noise is already disrupting their lives. This showed of those living near the flight path 38% said plane noise was "very high" at their home. 20% said planes disrupted their sleep "very often" or "quite often" and 25% of parents with young children said their children's sleep was disrupted "very often" or "quite often." Belfast City Airport Watch said: "It's quite intolerable for the airport to heap further misery on residents in the pursuit of higher profits when we already have an international airport sitting in a green field site with spare capacity just up the road."
Click here to view full story…
Zac Goldsmith says Heathrow expansion would split the Cabinet with opposition from the very top
Zac Goldsmith was re-elected to his Richmond Park seat with a majority of about 23,000 – up from a 4,000 majority in 2010. He has always been very firmly against a Heathrow 3rd runway. Zac believes that if Heathrow is "chosen" for approval by the Airports Commission, it would cause a split at the very top of government, and a real problem for David Cameron: "If you look at the cabinet today, there are at least 3 heavyweight people there, Philip Hammond, Justine Greening and Boris Johnson and others, in fact, who are implacably opposed to Heathrow expansion … He'd face a split at the highest level and I don't think a fragile government with a small majority wants to do that." Zac also says giving the go-ahead to Heathrow would be "an off-the-scale betrayal" from David Cameron, who came to west London before the 2010 election and promised locals, "No ifs, no buts, no 3rd runway" – and that there wouldn't be a new runway under the Conservatives. Zac has repeated his threat of resigning if the government backs a Heathrow runway. His resignation would trigger a by-election in which he could stand as an independent on that one issue. It would offer him the opportunity to get a lot of publicity for the anti- runway case
Click here to view full story…
Protesters stage silent air pollution demonstration at Heathrow Terminal 5
Around 50 campaigners have staged a silent protest against air pollution in Heathrow Terminal 5. The protesters wore face masks and t-shirts to make their point that the high air pollution levels in the Heathrow area should rule out its plans for a 3rd runway. The protest was just days after the Airports Commission announced a further consultation into air pollution at Heathrow, and a fortnight after the Supreme Court ordered the UK Government to produce plans by the end of the year on how it intends to tackle pollution across the country. The protesters at Terminal 5 included local people whose homes are threatened by a 3rd runway, activists based at Transition Heathrow and residents whose lives are disturbed by aircraft noise. Air pollution already affects local communities badly, with the amount of road traffic generated by the airport. It will not be possible for Heathrow to guarantee that, with a 3rd runway and an extra quarter of a million planes each year, and associated road vehicle journeys, air pollution levels could be reduced so they meet the EU legal limits. The Airports Commission's consultation closes on 29th May, and its findings will be included in the Commission's final report which is expected to be published in June.
Click here to view full story…
Airports Commission to carry out a new consultation on air quality impact of runway schemes
It is reported that the Airports Commission is now intending to carry out a new public consultation on the the impact of air quality of a new runway. It is thought that the Commission is keen to avert a potential legal challenge to their decision, if the runway would put air quality standards at risk. Only recently the UK Supreme Court ruled that as Britain is still not meeting EU air quality standards, it must quickly produce plans to limit pollution, especially NO2. The FT reports that the consultation would be a very quick, technically focused one, perhaps being completed by the end of May. It is not anticipated to involve any meetings with the general public. Sir Howard Davies is off to become Chairman of RBS, starting that job on 1st September. He joins the RBS board at the end of June. Therefore the runway decision was anticipated during June. If the consultation on air quality is to be thorough enough, and give those consulted adequate time to respond, getting an announcement by the end of June would be very difficult. Parts of the Heathrow area regularly breach air quality limits. Though Gatwick has less of an air quality problem, expanding it to the size Heathrow is now would risk breaching air quality limits – and the Commission should not recommend a development that would mean NO2 limits would be broken.
Click here to view full story…
Why this election result makes it less likely a 3rd runway will be built at Heathrow
Boris Johnson said in his acceptance speech after being elected MP for Uxbridge that he would join John McDonnell and "lie down with you in front of those bulldozers and stop the building, stop the construction of that third runway." John McDonnell, re-elected as the MP for the neighbouring constituency of Hayes & Harlington, had said in his speech that he expected the MP for Uxbridge to follow the commitment of his predecessor, John Randall, "and join with me in lying down in front of those bulldozers if they come." This determination will not make it easy to get a new Heathrow runway. There are many other Conservative MPs such as Zac Goldsmith, Justine Greening and "big beasts" in the Party such as Philip Hammond and Theresa Villiers (maybe Theresa May too) who are against a runway. There would be troublesome and potentially embarrassing opposition to any runway plans. Labour MPs Andy Slaughter, newly elected MPs Ruth Cadbury and Rupa Huq all oppose a runway. Though Vince Cable lost his seat, he is replaced by Conservative Tania Mathias, who is strongly against a runway. Senior Lib Dems, Vince Cable and Ed Davey, who opposed a Heathrow runway, will be missed, but the picture one day after the election looks as if Heathrow will find it increasingly difficult to get expansion.
Click here to view full story…
Election results put Gatwick runway in doubt – so does surprise air quality consultation by Airports Commission
All eleven MPs elected for the constituencies around Gatwick are opposed to a 2nd runway. Most significant is the result from the marginal seat of Crawley (where a high proportion of the residents are employed directly or indirectly at the airport) – a dramatic win for the Conservative anti-runway candidate, the MP Henry Smith, but defeat for the pro-runway Labour candidate, Chris Oxlade (the vote was 22,829 against 16,303). This makes another runway at Gatwick look increasingly doubtful. This solid bloc of anti-runway MPs will make it difficult for the new Government to push through a new Gatwick runway without the support of some minor Parties. And the Lib Dems, UKIP and the Greens are all opposed the runway. Another reason why a Gatwick runway looks less likely is the surprise announcement on polling day by the Airports Commission that they are to hold another (very brief) consultation – on air quality. This is obviously the result of the decision by the Supreme Court that the UK must implement the EU limits on air quality. That may rule out a Gatwick runway, as EU law states that 'Air quality status should be maintained where it is already good, or improved.' A new runway would hugely increase the number of road vehicle trips, including lorries. Their emissions would be bound to worsen air quality and would thus be contrary to the EU Directive.
Click here to view full story…
GACC critical of Gatwick's promises – unless part of legal agreements signed before any runway consent
Gatwick's latest leaflet to those that live around Gatwick is full of promises but provides no guarantees and misses much of the details, as usual. GACC (the Gatwick Area Conservation Campaign) has suggested to the Airports Commission that they need to make sure that all the attractive looking promises made by the airport are real, and not just part of their publicity campaign – to be forgotten when the airport is sold. The promises should not unduly sway a decision about a 2nd runway, unless the airport can be compelled to keep their word. The reality is that there is no method of enforcing the various undertakings being made by Gatwick, other than by legal agreements. However, any new legal agreement would need to be negotiated before approval is given in principle for the runway, otherwise all bargaining power would be lost. GACC submitted this fact to Crawley Borough Council this week, which seemed to be unaware of it. Signing binding legal agreements would prove the airport's sincerity about its offers, rather than just using them for PR purposes. Gatwick is promising some compensation to a small number of people; it is promising £5,000 per house built for a Gatwick employee; £10 million towards motorway widening; and that landing charges would not rise above £15 till 2030.
Click here to view full story…
Why the ruling by the Supreme Court on air pollution could stop plans for a new SE runway
The Supreme Court has ruled that the Government must produce a new action plan by the end of this year for bringing air pollution within legal limits. A decision to allow another Heathrow runway could be legally challenged unless the Government's new plans are sufficiently ambitious to reduce emissions of a 2 runway airport below the legal limit – and also leave enough headroom to accommodate the negative impact of a 3rd runway. There is only pure speculation on how it could be achieved. The court ruling also suggests that the cost-benefit analysis for adding a runway will need to be revised, as the Government has previously claimed that complying with air quality law would be too expensive. And this does not only affect Heathrow, but Gatwick too. Gatwick is keen to claim it does not have a poor air quality problem. But EU regulations require not only that poor air quality must be improved but also that good air quality should be protected. A 2nd Gatwick runway would mean local air pollution hotspots, with a risk of breaching the legal limits. The Airports Commission has a duty to the public not to recommend a project that would significantly damage people's health. It would also be a poor use of taxpayer's money to make recommendations that invite a legal challenge.
Click here to view full story…
BA's CEO, Willie Walsh, says post-election indecision will block building of any new south east runway
Willie Walsh, CEO of IAG, the parent company of British Airways, has again said that there will not be a new south east runway. He has often said this before, but this time he sees the likelihood of political indecision after the election as an additional issue. Willie Walsh thinks that to build a runway, there would need to be "political consensus across all the parties – not just coalition partners." He also warned that the cost of each of the 3 runway proposals would all be prohibitive. The expense would lead to higher landing costs, and airlines would not find that acceptable. Willie Walsh reiterated his view that there was "no business case" for a 2nd Gatwick runway, with not enough demand from airlines for it. He has said in the past that Gatwick does not have the same international attraction as Heathrow. He commented that Heathrow was already "the most expensive airport around." The runway decision would be a political one, and with a coalition government looking to be inevitable, there would be huge political difficulties in pushing through an unpopular runway, with dubious benefits even to the airlines.
Click here to view full story…
Airport debate is silent on climate change (letter from Tim Johnson, Director of the AEF, in the Independent)
26.4.2015 (Independent on Sunday)
Peter Wadhams and his co-signatories (18 April) highlighted the gap in current political discourse about climate change. This is nowhere more apparent than in relation to the impending decision on airport expansion.
Shortly after the election, the new government will receive the advice of the Airports Commission in relation to new runway capacity. But while the commission's head, Howard Davies, speaks as though climate change impacts are being taken fully into account, in fact the commission's own analysis predicts that aviation emissions will exceed the maximum level compatible with the UK's Climate Change Act if any of its shortlisted schemes at Heathrow or Gatwick is granted approval.
This enormous climate hurdle in the way of expansion appears almost totally absent from political debate. With a new runway potentially locking the UK into an emissions path entirely at odds with our long-term climate commitments, politicians will very soon need to face up to the CO2 consequences of sanctioning airport growth.
Tim Johnson
Director, Aviation Environment Federation   www.aef.org.uk    Link to Letter
---
Landmark air pollution ruling by Supreme Court could scupper 3rd runway at Heathrow due to high NO2 level
The UK Supreme Court has quashed the Government's ineffective plans to cut illegal levels of air pollution in Britain and ordered it to deliver new ones by the end of the year. The Supreme Court Justices were unanimous in their decision, saying: "The new Government, whatever its political complexion, should be left in no doubt as to the need for immediate action to address this issue." This could have implications for a 3rd runway at Heathrow, as areas around the airport continue to be stubbornly above the EU legal limits. That is due both to air pollution from the planes in addition to the huge amount of traffic on the M4 and M25. In their verdict, 5 judges ordered the Secretary of State at DEFRA to consult on strict new air pollution plans that must be submitted to the European Commission by 31 December 2015. The EU Air Quality Directive demanded the UK brought pollution down to legal limits by 2010 or apply for an extension by 2015. But the government in 2011 said that a number of areas, including London, would be unable to comply by 2015 and instead argued the law allowed it to comply "as soon as possible". The judgement marks a victory for the campaigning legal firm ClientEarth. HACAN commented: "This is a potential show-stopper as far as a 3rd runway is concerned."
Click here to view full story…
Stop Stansted Expansion calls for cross-party support at the election, to end night flights
Ahead of the general election and local council elections on 7th May, SSE is calling upon all local candidates to support a ban on night flights at Stansted. Stansted currently has permission to operate 12,000 night flights a year, between 11.30pm – 6am, more than twice as many as are permitted at Heathrow. [Heathrow is restricted to 5,800 night take-offs & landings /year between 11.30pm- 6am]. SSE has long argued to the Government that night flights have a far greater impact on local residents around Stansted because of its rural location where background noise levels are generally very low. The number of Stansted night flights has significantly increased over the past year, and this is believed to be largely due to the closure of Manston Airport and transfer of its cargo flights. SSE says "night" should not only be a 6½ hour period, but should be the 8 hours between 11.00pm to 7.00am, to give people a proper night's rest. There are no restrictions on the number of aircraft permitted to take-off and land at Stansted during the so-called shoulder periods between 11.00pm and 11.30pm and between 6.00am and 7.00am. SSE is inviting politicians of all parties to support a timetable to progressively phase out nights flight
Click here to view full story…
Polar bears & anti-2nd-runway campaigners descend on Gatwick terminal with dance & song
On Saturday morning, in Gatwick's South Terminal, there was an invasion of fancy-dress polar bears took place, who danced, chanted and unequivocally put their "NO NEW RUNWAY" message across, for about half an hour. The dancing polar bears – Plane Stupid – descended on the terminal, putting across their message that a new runway (either at Heathrow or Gatwick) is a threat to our carbon targets. Asking" Whose Climate?"(response "Our Climate") and "Whose Future?" (response "Our Future") and with huge banners proclaiming "Any Runway is Plane Stupid" and "Climate Chaos Obviously" (rather that Gatwick Airport's mantra of "Gatwick Obviously" they entertained travellers, putting their message across in a good humoured way (somewhat perplexing the security guards …) for half an hour. No arrests were made, and the polar bears then danced their way out of the terminal. Other protesters against the 2nd runway plans sang the "No Way, 2nd runway, NEVER NEVER NEVER" song, and marched a banner around the terminal. T-shirts read: Gatwick protest. "NO 2nd runway." "Save our tranquillity." "Save our economy." "Save our countryside." " Save our environment." "No new flight paths" (No passengers were inconvenienced in the making of this protest). See the photos.
Click here to view full story…
Crispin Blunt, Kwasi Kwarteng and Sam Gyimah send open letter to Gatwick Chairman blasting Gatwick 400,000 Heathrow leaflets stunt
Crispin Blunt, Kwasi Kwarteng and Sam Gyimah (all Surrey MPs in the Coalition government and Conservative candidates) have written to Gatwick Airport Chairman, Sir Roy McNulty, to complain about Gatwick's leafletting of the Heathrow area. Gatwick has sent out provocative leaflets to some 400,000 households in constituencies around Heathrow, pushing the case for a Gatwick runway. It is doing this at the same time as failing to engage with local communities around its own airport. Gatwick is trying to frighten residents around Heathrow, about the appalling noise and other environmental and economic impacts of a 3rd Heathrow runway. Instead it pushes Gatwick's negative and unbalanced campaign for its runway. The MPs say Gatwick's actions demonstrate "an astonishing disregard for the concerns of families and communities around Gatwick, about whom you should have most concern." They say: "Instead of frightening the communities around your competitor, you should focus on engaging with the communities that surround your airport." "If Mr Wingate or his team had taken the time to adequately consult with his local communities …[Gatwick would know] … there are wide ranging concerns about the huge strain Gatwick expansion would place on local transport infrastructure, housing, schools and healthcare."
Click here to view full story…
Report by ERM shows Heathrow could not build a new runway and meet air quality standards
Gatwick Airport, keen to show up all the problems with a new Heathrow runway – attempting to promote its own scheme instead – has commissioned a study by ERM (Environmental Resource Management) on Heathrow air quality. The pollutant and averaging period of most relevance around Heathrow is the annual mean limit value for NO2, which is 40 μg/m3 of air. The Air Quality Standards Regulations 2010 say the Secretary of State must ensure that NO2 annual mean level is not over the limit value of 40 μg/m3 anywhere. Heathrow and the DfT predicted 10 years ago that diesel vehicles would emit much less NO2 by 2015 than they in fact do; diesel emissions from road vehicles have not fallen as fast as was expected. Heathrow is therefore not likely to meet the air quality standard, even without a new runway, till perhaps 2030. The Gatwick-funded ERM report is critical of modelling submitted by Heathrow to the Airports Commission that continues to use outdated emission performance of vehicles. The report says no detailed air quality impact modelling has been conducted since the DfT study 10 years ago. The Airports Commission has also not yet done adequate work on this, and said it would do "more detailed dispersion modelling". This will probably not be available before the Commission's (June?) announcement.
Click here to view full story…
Gatwick scare-mongering: It distributes 400,000 flyers around west London warning of Heathrow noise (to get backing for Gatwick runway)
As Gatwick has difficulty getting much local support for its runway plans (almost all local councils and local MPs oppose it) this week the airport is distributing 400,000 flyers to homes across west London. Uxbridge and South Ruislip in particular are being targeted, (86,000 leaflets) warning about the increased noise there would be from a Heathrow 3rd runway. Gatwick has focused its attention on negative campaigning about Heathrow, though Heathrow has not – publicly – being doing the equivalent on Gatwick. Gatwick is not revealing the cost of their 400,000 leaflet effort. As the local residents do not have the ability to choose whether a runway is built, the aim is to influence local politicians. Gatwick claims that 683,000 people and 362 schools would be impacted by noise if a 3rd Heathrow runway was built, while only 36,000 people and 15 schools by a Gatwick runway. In the 55 Lden contour. (Clever of them, as the flight paths are not yet know …. nobody knows the numbers). Heathrow and Gatwick are arguing over the figures. Gatwick appears to discount the impact of increased noise from its own planned runway. This has infuriated local residents in the Gatwick area. Gatwick's ploy of leafleting people near Heathrow, who are rightly frightened at the prospect of a 3rd runway – playing on their fears – has further increased local opposition.
Click here to view full story…
Oil finds near Gatwick would only add to transport, housing and infrastructure problems for local residents – yet another reason to reject a 2nd runway
An announcement has recently been made by UK Oil and Gas Investments that is has located allegedly 'world-class potential" oil resources 1 – 2 miles north of Gatwick Airport. GACC, the Gatwick Area Conservation Campaign, has written to the Airports Commission to point out that this oil at Gatwick is just one more reason to reject the 2nd runway plans. This oil, and nearby deposits across the Weald, would add substantially to the environmental problems caused if it was decided to build a 2nd runway. A 2nd runway when operating at full capacity would create around 60,000 new jobs, an extra 100,000 cars on the roads every day plus freight, an extra 90,000 rail passengers every day on the single railway line, and the need for around 40,000 new houses. Since there is comparatively low unemployment in the area, most of the people taking the new jobs would need to come from other parts of the UK or from the EU. GACC asks how many more houses would have to be built to accommodate the new oil workers and their families on top of the second runway and natural growth of the population of Surrey and Sussex? And how many extra vehicles would be added to the roads?
Click here to view full story…
Harmondsworth Open Day shows the extent of the threat of a Heathrow runway, and what it would destroy
On Sunday 12th April the village of Harmondsworth hosted an open day, to show off the village – and inform visitor about what plans for a Heathrow north-west runway would mean for the area. The Heathrow Villages are fighting for their survival. If Heathrow is allowed to build its north west runway, Harmondsworth will be destroyed. Much of it would be built over, with the airport's northern boundary slicing off around half of the village. Longford would disappear altogether. During the open day, held on the village green, there were tours of the magnificent early 15th Century Great Barn, and walking tours of the village and of Harmondsworth Moor. A huge canvas had been created, showing a plane and a wire boundary fence – which would be where the airport would come to within a few yards of the current village centre. Though the Great Barn and the Church of St Mary the Virgin would not be demolished, their proximity to the airport boundary would mean the level of noise and air pollution would be intolerable. In an effective short video, Neil Keveren explains how people in the area have been living through hell, unable to plan for their future – or even make decisions about whether to do improvement work on their homes – because of the Sword of Damocles threat hanging over them. And Christine Taylor shows on a map what would be destroyed.
Click here to view full story…
Access to expanded Heathrow could cost £20 billion, TfL warns – maybe £15 billion more from the taxpayer than Commission estimate
Transport for London (TfL) has raised "serious concerns" about congestion and the costs of expansion at Heathrow just weeks before the Airports Commission's final recommendation is due (end of June?). TFL Response to APPG on Surface Access Feb 2015 In response to questions by Zac Goldsmith, TfL said both Heathrow and Commission had "significantly underestimated" the challenge of improving transport access to the site, with the Airports Commission estimating £5 billion would be enough to make the improvements. TfL believes to provide an optimal level of service, the figure would be nearer to £20 billion, raising questions about who would pay the additional costs. TfL said population growth of 37% by 2050 has also not been taken into account, with regards to the increased pressure on London's roads and public transport infrastructure, Zac said: "TfL is better placed than any other organisation to understand the effects Heathrow expansion will have on London's transport network, and it is extraordinary therefore that the Commission never bothered to ask for its assessment. This raises serious questions about the thoroughness and reliability of the Commission's work. If TfL is right, the taxpayer may end up having to cough up an additional £15 billion to help Heathrow secure its monopoly, in addition to all the associated problems of gridlock, noise and air pollution."   (not an April Fool story …)
Click here to view full story…
Boris turns down London City Airport expansion plans on noise grounds
Boris Johnstone, the Mayor of London, has refused London City Airport's plan to expand on noise grounds. In a letter he has instructed Newham Council, who had approved the application, to refuse it. The Mayor says the application does not "adequately mitigate and manage its adverse noise impacts." Newham's decision was always dependent on the Mayor's approval. London City Airport wanted permission to build new taxiways to permit larger planes to use the airport. It also wanted more car parking spaces. The decision will be a bitter blow to the airport as it will now no longer be able to bring in the larger planes it wanted to serve new destinations. John Stewart, chair of HACAN East, which campaigned against the expansion plans, said "The airport is paying the price for being so cavalier about noise. Quite simply, Boris did not believe its claims that it was dealing adequately with noise. We salute his decision". The decision appears to be final, and it is unclear whether London City Airport can appeal to the Secretary of State. They may do so.
Click here to view full story…
Heathrow funded report suggests using RAF Northolt as an interim 3rd runway for domestic flights
Heathrow airport set up and funds a body called the "National Connectivity Task Force" (NCTF). This produced a report in March, looking at regional connectivity – and putting arguments that suit Heathrow. (Gatwick airport, unsurprisingly strongly disagrees with it). As well as saying how important links to regional airports are from Heathrow, though these have progressively been cut as long haul flights are more profitable, the NCTF report says RAF Northolt airport, just a few miles north of Heathrow, should be used as an extension to Heathrow, for smaller planes to regional airports. As this news broke about the same time as the Germanwings plane tragedy, it did not get press attention. What Heathrow wants is to have Northolt brought into service, as an interim measure, before it can get a new runway. If Gatwick was chosen for a runway, Heathrow could use Northolt for domestic flights it has been promising regional airports, in order to get their backing for a Heathrow runway. Heathrow says the Northolt runway could not be used at the same time as a Heathrow north-west runway. RAF Northolt does not comply with the safety standards required for a civilian airport. Its runway ends just short of the busy A40.
Click here to view full story…
Heathrow display 2 versions of their "economic benefit" poster – one saying £100 billion, the other "up to £211 billion" …. (Over 60 years)
Click here to view full story…
---
Gatwick opposition groups and MPs hand in letter to Downing Street, asking PM to recognise devastating impact of Gatwick runway
Six local groups and five MPs opposing a 2nd Gatwick runway, and the increased noise nuisance caused by Gatwick airport, are handing in a letter to 10 Downing Street today.  They urge the government to recognise the strength of local opposition to a 2nd Gatwick runway, and changes to flight paths.  They are asking the Prime Minister to recognise the devastating impact of a 2nd runway, the lack of local political support and the strength of feeling among local residents against changes to flight paths already in and out of Gatwick. The delegation will hand in the letter, signed by the chairs of the groups representing residents in Sussex, Kent and Surrey, that surround Gatwick and are affected by it.  Together, the groups represent tens of thousands of people.  Sally Pavey, Chair of local group CAGNE commented:  "Throughout this process, we've been hugely disappointed with Gatwick's lack of consultation with the local area. CEO Stewart Wingate continues to portray the airport as an 'easy option' for expansion, while ignoring the concerns of thousands of local residents.  Also that it will cost the taxpayer billions in infrastructure bills and the devaluation of vast areas of the south-east with aircraft noise." CAGNE have also submitted an official complaint to the Airports Commission, on the actions of Gatwick airport in lobbying Heathrow councilsto back a Gatwick runway.
Click here to view full story…
---
Heathrow says it did not know flight path changes were continuing – blames NATS for not telling them
Heathrow and NATS had flight path trials during summer 2014, which ended on 12th November, due to intense opposition. See details. But complaints have continued and people have been adamant that the trials have not ended. Heathrow has given assurance after assurance that the trials have ceased, implying people are imagining the noise – or have become over-sensitive to it. Now Heathrow and NATS have had to apologise. Heathrow says it did not know the trial affecting the "Compton" route to the south west and west of Heathrow had not ended, as NATS had not informed them. As NATS and Heathrow work closely together, that is very hard to believe. Even if it could be credible, it reveals a markedly dismissive attitude to the thousands of upset residents, who have complained week after week. The airport had made no apparent effort to establish the facts, for many months. The areas particularly affected by this change are Virginia Water, Ascot, Binfield and some parts of Bracknell, which are experiencing a concentrated flight path. John Holland-Kaye said: "Because of the assurances we received [from NATS], we in turn told residents in good faith that no changes had occurred. That is unacceptable and I unequivocally apologise to local residents." However, NATS say they changed the route to improve the safe and efficient management of traffic departing from Heathrow and they are not planning to revert to previous procedures.
Click here to view full story…
GACC says Gatwick's rash promise to cap landing charge at £15 puts its runway plan in doubt
Gatwick airport have made a very rash promise not to raise their landing charges above £15 (plus inflation) for 30 years, if they get a 30 contract from the government (details not specified – see below). Brendon Sewill, of GACC (Gatwick Area Conservation Campaign)  said: "The whole runway project is in doubt…. Gatwick's rash promise not to raise airport charges above £15 per head …. seriously puts in question whether building a new runway at Gatwick is a viable business proposal – either for the present owners or for the new owners if Gatwick is sold." The Airports Commission calculate that Gatwick charges would need to rise to 'between £15 and £18, with peak charges of up to £23. GACC points out that Gatwick's promises are meaningless unless they are put into a legal agreement binding on the present airport owners – and future owners. If so, the £15 would become a legal maximum – rather than the current £9. Even at £15, some airlines, and passengers might well decide instead to use much cheaper airports such as Stansted or Luton. GACC has pointed out to the Airports Commission the risk that Gatwick may have fewer passengers than forecast, in which case the cap of £15 may not be sufficient to cover the costs of a new runway and new terminal. Brendon Sewill asks: "What would happen if the money runs out when the new runway is only half built?"
Click here to view full story…
The "30 year contract"
Asked what this contact says, or whether it exists, below is what Gatwick senior management have said:
"The exact nature of the thirty year contract has yet to be finalised – its purpose would be to clarify the commercial and regulatory environment in which we would be operating, including the anticipated timing of any new runways beyond that granted to Gatwick. Whilst we understand that one government cannot bind a future government irreversibly, if there was a legal contract in place and the future proved different from that which had been committed to, the contract could also govern what might happen in those circumstances."
Make of that what you can !
---
Open email to the aviation industry & Government – from people suffering from aircraft noise
Someone living near Heathrow, now experiencing significantly worse noise from more concentrated flight paths, has written an open email to complain about the noise, and the repeated assurances that "nothing has changed." Thousands living under Heathrow take off routes believe things have indeed changed. The writer says: "I am gravely concerned at the level of anger which is rising in the blogs, tweets, Facebook and other social media as I am seeing increasing desperation within these groups. People are genuinely suffering noise disturbance, sleep disruption, disruption to concentration, interference with normal activities – and a high degree of stress and depression….. If this matter doesn't get resolved soon … I can see even the most moderate and respectable members of the community losing the plot and undertaking actions that are out of character with their positions in society….[I] don't know what to do to resolve the disparity between the lies we are being told and the truth, to calm people down….. And am utterly dismayed by the apparent lack of concern or expedited action by senior politicians and councillors…The people or persons responsible for this noise onslaught need to bow their heads in shame at the mental and physical stress that they are causing."
Click here to view full story…
To conceal the real number of aircraft noise complaints, Gatwick now just records one per person per day
Gatwick Airport's figures on noise complaints are no longer of much use, as they do not publicly report the full numbers. The airport changed the system to only record one complaint per person per day, no matter how many complaints about separate flights they may make. Gatwick says they have introduced this system because people can use phone Apps to make multiple complaints. Gatwick is being urged to record separately the number of people making complaints; the number of total complaints when only one-a-day is counted; and the total number of complaints (including number of planes). At the recent noise seminar held by Gatwick airport on 4th March, Tom Denton (Gatwick's Head of Corporate Responsibility) said, when questioned about the decision by GAL to only record one complaint, per person, per day that this has been the case for the last "2 – 3 years". The wording on the GAL website was changed, to show one complaint only per day, in August 2014. Tom Denton says – incorrectly – that this is the practice at other airports like Heathrow. Heathrow records "enquiries" (number of planes complained about), and "contacts" (number of complaint contacts/forms submitted), and "caller" (number of people). Every complaint, unless there are many on one form/email, is counted by Heathrow, even if several per day. But not by Gatwick – meaning complaint figures are not comparable. Gatwick's are now artificially low.
Click here to view full story…
Strong "No New Runways" bloc gets its message across at the London Time To Act Climate March
The huge "Time To Act" on Climate Change march was held in London on Saturday 7th March. There was a good turnout, described by some as "over 5,000″ and by others as nearer 20,000 (numbers are always hard to be accurate on). The "No New Runways" bloc had a good attendance, from Gatwick and from Heathrow opposition groups, as well as many individuals. Gatwick protesters from CAGNE wore pantomime devil horns, and T-shirts with the logo "Gatwick, Neighbour From Hell." Many people who stand to lose their homes, to be bulldozed for a new Heathrow runway, too part. The AirportWatch banner read "No New Runways", and another" Aviation Expansion = Climate Threat. The runway bloc were with others in the transport bloc, and marched from Lincoln's Inn Fields to Parliament, where the speeches took place. During the speeches John McDonnell (the MP for Hayes and Harlington, which the Heathrow north west runway would wipe out) spoke of the need for climate action, not least to oppose a new runway – digging up the village of Harmondsworth. He described the level of protest and direct action that would happen, if the north west runway was recommended, as unprecedented and the "mother of" all environmental battles. The aim of the march is to put pressure on political parties before the general election, and raise the profile of climate change ahead of crucial climate talks in Paris in December.
Click here to view full story…
 Heathrow campaigners and Gatwick campaigners united against either new runway
---
Heathrow opposition rally shows united cross-party rejection of 3rd runway
Simply No. That was the message of a cross-party rally staged by HACAN in central London on March 3rd. MPs from across the political spectrum lined up with environmental NGOs, local authority leaders, businessmen and trade union leaders to pledge opposition to a 3rd runway at Heathrow. Hundreds of people from London and the South East, including many whose homes are threatened by a new runway, showed their determination that the runway will not be built. Twickenham MP Vince Cable made it clear that Liberal Democrat policy remained one of total opposition to a third runway. He said there was no sound economic reason why Heathrow needed to expand. John McDonnell, the Labour MP for Hayes and Harlington, thousands of whose constituents are facing the loss of their homes, predicted that any decision to go-ahead with a new runway would result in the biggest direct action environmental protest in Europe. As a reminder of the determined and successful campaign against the runway, last time around, people at the rally held up pictures of the huge "NO" spelt out on the ground in Sipson, at the May 2008 protest. HACAN chair John Stewart said: "The rally sent a loud and clear message to the next Government: build a new runway at your peril. The coalition which saw it off last time round is still alive, well and fighting."
Click here to view full story…
Committee on Climate Change writes to Sir Howard to say aviation CO2 emissions must not be over 2005 level by 2050
Lord Deben, Chairman of the Committee on Climate Change (CCC) has written to the Airports Commission (AC) in response to its consultation. The letter reiterates the Committee's earlier recommendation that the Airports Commission's economic analysis of the expansion options should reflect the need to restrain aviation growth in order to manage emissions from the sector. This in effect means that the costs of limiting emissions – which may be transferred to passengers or industry – are included in the cost-benefit analysis for each of the 3 runway schemes. The AC has yet to complete this assessment. The CCC is clear that the Government's airports policy should reflect the need for aviation emissions to be no higher in 2050 than in 2005, this being the maximum level of emissions that would be compatible with the Climate Change Act. However, the 'uncapped' forecasts for national aviation emissions produced by the AC exceed the 2005 emissions levels under all three possible expansion options. In the absence of some unspecified policy that would limit emissions, therefore, a new runway would result in the UK failing in its legal climate commitments. The CCC letter says "Higher aviation emissions than 2005 levels in 2050 should not be planned for, since this would imply greater than 85% cuts in other sectors; there is limited confidence about the scope for this."
Click here to view full story…
Defra data on NO2 emissions show Heathrow would still breach limits by 2030, even with just 2 runways – let alone 3
Defra data showing 50 UK roads with highest nitrogen dioxide (NO2) levels suggests the A4 road, that runs along the north border of Heathrow Airport, will still exceed EU air pollution limits by 2030 – even without the addition of a 3rd runway. The Defra figures (obtained by Clean Air in London by an FoI request) show that, in 2030, after the A501 (Marylebone Road in London) the A4 will be the road with the 2nd highest NO2 concentrations in the UK – with just two runways. A 3rd runway would inevitably lead to an increase in the number of passengers and associated road traffic coming, including freight. Air pollution is therefore likely to rise, and substantially. Environmental NGO the Aviation Environment Federation (AEF) says a 3rd runway at Heathrow "now looks impossible" before 2030, due to the projections of the air quality impacts of expansion. And "Questions must be asked about the Airports Commission's decision not to carry out detailed modelling of the air quality impact of a new runway prior to publishing its final consultation." Heathrow produced a bland statement about "managing our environmental responsibilities" which did not address the problem – hoping to persuade passengers not to travel to/from the airport by car. And the air freight? John Stewart, chair of HACAN said, "These dramatic figures suggest once again that air pollution could be a show-stopper as far as a third runway in concerned."
Click here to view full story…
Some of the many responses that have been sent in to the Airports Commission consultation
The Airports Commission consultation on its 3 short-listed runway options closed on 3rd February 2015. Responses have been sent in from a huge number of organisations, not to mention thousands of individuals. Heathrow and Gatwick have felt it necessary to blitz the south east (and further afield) with advertising, to get people to tell the Commission they want their runway. What the Commission actually wanted in responses – other than the airports' mass mailings – was considered comments on the 58 or so documents put out by the Commission, and comments on how they have carried out their appraisals, including things they have left out. They also ask how the runway schemes could be improved, or their negative impacts mitigated. The Commission will publish "all substantive, technical responses it has received" at the same time as it makes it recommendation on the runway some time in summer 2015. On this page, AirportWatch has put links to as many responses as possible – those which have been made public. More will follow, as we locate them …..
Click here to view full story…
City Airport wants to press ahead with controversial flight changes despite only 3% support in recent consultation
London City Airport wants to press ahead with controversial plans to concentrate flight paths despite only 3% of people backing them in the recent consultation. Its consultation ended in November 2014, and the airport produced a report report on the consultation on 13th February. The report now goes to the CAA for approval. London City Airport's consultation was widely criticized in 2014. The airport had refused to leaflet or hold meetings in the areas that would be worst affected by the new concentrated flight paths. It justified its minimal consultation on the grounds that the changes it was proposing were not significant. Despite criticism from MPs, local authorities, residents' groups and members of the Greater London Authority, London City has defended its consultation in its report to the CAA. It is also refusing to withdraw or modify its original plans. Residents' organisation HACAN East, which coordinated much of the opposition to the changes, believes the airport has been typically arrogant and unresponsive – and not given any consideration to the possibility of respite for various areas, at different times of day. London City Airport expresses very little concern for its neighbouring communities. HACAN East say the fight by residents will continue, and they will be pressing the CAA to order the airport to carry out a fresh consultation.
Click here to view full story…
Heathrow's improved offer of £700 million for noise compensation, if there was a 3rd runway, wouldn't help residents in many areas
On the last day of the Airports Commission consultation about its 3 short-listed runway schemes, Heathrow Airport came up with a new, more widespread and more generous offer of compensation against aircraft noise, IF it got a new runway. However, this offer is not to be offered to residents in many affected areas, including Bracknell, Ascot or Wokingham. The £700 million that Heathrow says it would spend on noise insulation etc would only be for homes judged the worst affected by noise – with no homes south of Wraysbury included. The number of homes eligible for offered compensation will depend on the final design of flight paths from an expanded Heathrow, and those are not yet known. Residents in Bracknell and Ascot, who have been incensed by the aircraft noise to which they have been subjected this year, say that even if they were offered compensation it still would not be enough, and it would not solve the problem. Heathrow claims that flight paths and use of airspace in the area has reverted to its pre-trail state, but residents believe it has not. People are now much more aware of aircraft noise, and their tolerance for it has declined – and they know that no amount of money would be enough to keep the level of noise outside the house down, in gardens, parks, playgrounds and streets. Many believe the increased Heathrow offer, and its timing, is merely a PR stunt.
Click here to view full story…
On final day of Commission consultation, Heathrow raises extent of its noise insulation offer, if it gets a 3rd runway
As part of its attempt to get acceptance for a 3rd runway, Heathrow has had to raise its offer on noise insulation. On the last day of the Airports Commission consultation, it has made a significantly better offer, saying it "could" (sic) pay around £700 million – which is £450 million more than its previous offer in May 2014. This would cover parts of the 55 Lden noise contour area. The number of people within that contour was 725,500 in 2006 and over 314,000 dwellings. Heathrow says their offer now covers about 160,000 homes, and they have included two new areas, not previously covered by their scheme (no map is published).Heathrow has now raised the quality of its noise insulation offer to match those already used in Europe – its current noise insulation offers are far below these. In its new scheme, Heathrow says homes in designated zones "stand to have" (not "will") the " full costs of their noise insulation covered by the airport. In addition, up to £3,000 in noise insulation would be offered to homes further away from the airport." This would be acoustic double glazing; ceiling over-boarding in bedrooms; loft insulation and ventilation. Many noise affected homes already have double glazing and loft insulation … and still suffer noise. Gardens and parks cannot be insulated. Campaigners said the improved offer was welcome, and should be carried out even if no runway is built, as it illustrates how poor and miserly the insulation schemes have been in the past.
Click here to view full story…
Advertising Standards Authority finds Heathrow advert about increased trade breaches their Code and is 'misleading'
In October 2014 about 13 people send in official complaints to the Advertising Standards Authority, on claims being made by Heathrow in its adverts. The ASA looked at 7 different complaints, and considered that 6 passed their standards. However, on the claim by Heathrow in its ads headed:"Expand Heathrow and its's the economy that takes off" the statement "Direct flights to long-haul destinations build twenty times more trade with them than indirect flights" was found to breach the ASA code. The ASA say the claim was not adequately substantiated and that the ad therefore breached the Code, both by being misleading and by not having proper substantiation. The ASA say the advert "must not appear again in its current form." They have told Heathrow "to ensure that they held robust substantiation for absolute claims made in their future advertising." The ASA ruling also says the claim was presented as objective facts rather than an educated assumption and that Heathrow's own report "One Hub or None"itself cautioned that direct flights would not automatically lead to more trade and that multiple factors could influence the amount of bilateral trade.
Click here to view full story…
Gaping holes in Airports Commission's analysis of airport expansion conceal potential environmental disaster
The Aviation Environment Federation, in their response to the Airports Commission consultation, says there are gaping holes in the Airports Commission's analysis of airport expansion. These conceal a potential environmental disaster. AEF says the Commission ran out of time to complete key pieces of research on greenhouse gas emissions and on air quality. AEF is calling on political parties not to accept the Commission's recommendations until all relevant evidence has been gathered and made available for public scrutiny. The gaps in the Commission's analysis include not completing local air quality modelling in time for the consultation, despite the Commission's assessment objective being "to improve air quality in line with EU air quality laws". Also not following the Committee on Climate Change's recommendation that the economic impact assessment of expansion must include the costs associated with meeting UK aviation emissions targets (which a nrw runway would probably breach); and not providing any analysis of how noise impacts would vary if different assumptions were made about the location of flight paths.
Click here to view full story…
MPs deliver letter to David Cameron to remind him to keep his "no ifs, no buts, there will be no 3rd runway" promise
On Tuesday 3rd February MPs and campaigners against Heathrow expansion staged a protest at Downing Street reminding the Prime Minister of his statement before the 2010 election, when he said "no ifs; no buts; there will be no third runway." Conservative MPs Zac Goldsmith (Richmond Park & North Kingston) and Angie Bray MP (Ealing Central and Acton) will join the protest, with Kate Hoey MP (Vauxhall); Caroline Lucas MP (Green MP for Brighton Pavilion); Mary Macleod MP (Brentford and Isleworth); John McDonnell MP (Hayes and Harlington); John Randall MP (Uxbridge and South Ruislip); Andy Slaughter MP (Hammersmith); Adam Afriye (Windsor) and Baroness Jenny Tonge. John Stewart, chairman of HACAN, said: "We are deliberately targeting Downing Street because the decision about a new runway will be a political one. The politicians can override whatever recommendations the Airports Commission will come up with in the summer. This event once again demonstrates the cross-party nature of the opposition to a 3rd runway. It also shows the geographical spread of the current problems caused by Heathrow which can only get worse if a new runway is built. Representatives of groups from as far apart as Brockley and Teddington will be going into Downing Street."
Click here to view full story…
HACAN accuses Heathrow of abusing the Airports Commission consultation process, by swamping it with pro-forma responses
HACAN has accused Heathrow Airport of abusing the Airport Commission's current consultation – which closes on February 3rd – by "flooding the Commission with thousands of pro-forma responses." In a letter to Sir Howard Davies, John Stewart says that Heathrow has "strained every sinew of its advertising budget to try to persuade as many people as possible to email or write to the Commission that they want a 3rd runway." However, in its consultation the Commission asked for comments on whether it had correctly assessed the proposals put forward for a 3rd runway at Heathrow and a 2nd runway at Gatwick, and whether information had been omitted. "This was a technical consultation. What the Commission was not looking for was a flood of responses for or against a third runway. While most of the campaign groups have stuck to making the arguments, (having spent hours reading through the extensive documentation), Heathrow, together with its sidekick Back Heathrow, have engaged in an orgy of activity. Yet Heathrow even went as far as placing post boxes in its terminals for passengers to pop in their letters of support. It is simply a side-show to the serious work the Commission is undertaking". Gatwick has behaved in a similar manner.
Click here to view full story…
Gatwick's biggest airline, easyJet, backs new runway at Heathrow – not at Gatwick – in response to Airports Commission
In its submission to the Airports Commission consultation (closes 3rd February) easyJet, which is the major airline using Gatwick, has backed a new runway at Heathrow – rather than at Gatwick. EasyJet says a Heathrow runway would be in the best interests of passengers, as fares would be lower. Landing charges would have to rise substantially for a Gatwick runway, which does not suit easyJet or its low cost passengers. It makes on average £8 profit per passenger. Gatwick tetchily responded that easyJet's response was just based on its own "narrow commercial interests" and that easyJet feared the extra competition a 2nd Gatwick runway would bring. (One might have thought they could dream up a slightly better retort). easyJet said: "Heathrow is in the best interests of passengers as it has the greatest demand. It is clear that long-haul airlines want to expand at Heathrow and if they can't, they will do so not at Gatwick but at other airports such as Paris, Amsterdam and Frankfurt." Easyjet also said: "We will respect the judgement of the Commission on [environmental] issues and our support for a runway at Heathrow is conditional on it meeting the relevant environmental conditions." EasyJet said it wanted to launch operations from Heathrow — although it would continue to use Gatwick – and a 3rd Heathrow runway would enable easyJet to base 30 aircraft there.
Click here to view full story…
Detailed critique by Hillingdon Council of the Airports Commission's failure to cover health issues adequately
In its response to the Airports Commission consultation, Hillingdon Borough Council has been highly critical of the Commission's failure to deal properly with health impacts of a new runway. They say a specific Health Impact Assessment (HIA) would have been the best way of addressing weaknesses on health matters. There is no proper baseline for the health and wellbeing status of local communities. They say it is inequitable that existing airport-related impacts are not considered as a key part of the overall assessment of the three schemes. "There seems to be an implicit weighting for economic development and against health evidence." Hillingdon say "it is unclear how local stakeholder feedback would be incorporated" on health issues. And "The Department of Health and Public Health England do not seem to have been consulted" during the Commission's work. "Aggregating positive and negative impacts is flawed and inequitable. The negative impact of noise cannot be 'bundled' together with the positive impact of employment, because most often the negative and positive impacts are experienced by different groups of people." "Impacts on children are not considered as part of this assessment either qualitatively or quantitatively. This is a significant omission." And so on. A long catalogue of failures and omissions.  Response is at  "Equity Focused Review Report of the Airports Commission's Community Health Relevant Assessments"
Click here to view full story…
Three new briefings ask "Can the UK build a new runway, and stay within the aviation carbon cap?"
The Airports Commission gives the impression that the issue of carbon emissions has been fully considered, and that a new runway can be accommodated within UK carbon targets. However, that is far from the truth.  It is by no means clear that the UK aviation could stay within the 37.5 MtCO2 cap that is needed, in order for the UK as a whole to meet its legal climate obligations. Indeed, the Airports Commission itself is aware of this problem, and its own figures show the carbon emissions from UK aviation far exceeding the cap, over many years. For the clearest view of this, see the Commission's interim report, Technical Appendix, December 2013, Pages 71 & 72. Though there will be carbon efficiencies in coming decades, in CO2 per passenger kilometre, the scale of those improvements is unknown and many are just hypothetical. The widely accepted assumption has been that the matter is just which airport gets a runway – rather than whether a runway could be built at all. The carbon situation makes it clear that the debate is still very much "IF" a runway should be built, and not merely "WHERE?"  Three new briefings help set out the facts, and show that building a new runway would mean UK aviation exceeds its carbon cap.  Details…
1.  AEF (Aviation Environment Federation) 
2. Short briefing from AirportWatch
3. Longer briefing from AirportWatch
---
Crawley Borough Council votes by 25:11 to oppose second runway at Gatwick
A special Full Council meeting of Crawley Borough Council has voted by 25:11 against a 2nd runway at Gatwick. The meeting was held on 26th January, to discuss the content of the Council's response to the Airports Commission consultation, and whether the Council would take no position, pro or anti the runway – or decide one way or the other. After two hours of debate, in front of a packed public gallery, a recorded vote was taken – it was a free vote, with councillors allowed to vote how they saw fit, rather than according to party lines. The suggested Cabinet wording was that "The Full Council considers that the interests of Crawley residents and businesses are best served by the Council objecting to a second runway being developed at Gatwick." The objection will be recorded in the council's response to the Commission. Five councillors – Stephen Joyce, Colin Moffatt, Chris Oxlade, Peter Smith and council leader Peter Lamb – felt the council should have agreed to take no specific view on the 2nd runway at this time. All five then voted not to object to the new runway. Most other local councils have also recently voted against the runway.
Click here to view full story…
London leads as the world's top airline hub by a wide margin – by number of passengers through its 5 airports
Simon Calder, writing in the Independent, says that "far from Britain declining as an aviation superpower, the capital's global lead over every other city in the world is increasing." Despite Heathrow being close the largest number of flights, London remains the world's top airline hub by a wide margin (23%) – and is racing ahead of its closest rival, New York. There were a record number of air passengers using the 5 London airports (Heathrow, Gatwick, Stansted, Luton and London City airport) in 2014, and that was about 61% of all UK air passengers (same % as in 2013). Some 144.7 million passengers flew through London's 5 commercial airports last year, which is the equivalent of 275 people – or one wide-bodied aircraft – arriving or departing every minute of every day of the year. Heathrow's number of passengers in 2014 rose 1.7% due to using larger aircraft, and the number of passengers using the 5 London airports rose 5% in 2014 compared to 2013. While London is by far the best connected city in the world, New York comes 2nd, Tokyo 3rd and Paris the only other European city in the top 10. The pre-eminence of London indicates that the UK economy is not losing out due to any lack of airport capacity. London comfortably leads world cities, for airport capacity.
Click here to view full story…
Gatwick hoping its "pledge" of £46.5 million if it gets 2nd runway will go towards a new Crawley hospital
The local Crawley press reports that Gatwick airport has said they will provide money to contribute towards the cost of a new hospital serving Crawley if they are allowed to build a 2nd runway. This is not a new offer – it was in their list of "pledges" put out in July 2014. However, last week Crawley Borough Council announced that it will tell the Airports Commission a new hospital for Crawley and Horsham must be built if Gatwick is expanded. Members of the council's overview and scrutiny commission debated a report by council officers that the Commission had "significantly underestimated" what healthcare needs would be created by expansion. Gatwick has said it would provide a £46.5 million fund for community infrastructure projects if there is a new runway. (There is doubt whether a future owner of Gatwick would be legally held to any pledges made now by GIP). Gatwick says it would provide just £5,000 per new house needed, and it estimates that number to be 9,300. ie. £46.5 million. But that would have to cover all areas, down to the coast, not only Crawley. Other figures of the cost of building a hospital put the cost at around £330 – £430 million. Local hospital facilities in the area are already under pressure.
Click here to view full story…
In 2014 Heathrow had 86,000 noise complaints in 5 months – with a 5-fold increase between 2013 and 2014
Heathrow have disclosed to Richmond Park and North Kingston MP Zac Goldsmith that they received a staggering 86,000 complaints about aircraft noise in just 5 months last year. Overall, 94,114 individual noise complaints were made to Heathrow in 2014 compared to just 18,826 in 2013. That is a 5-fold increase in the number of complaints, and a 3-fold increase in the number of people complaining. Heathrow says this is due to the airspace trails they carried out in the last half of 2014 where they tested new flight paths, both to the west and to the east of the airport. Zac Goldsmith said "the recent flight path trials offer a tiny hint of what's to come if Heathrow is expanded. The trials affected a small part of West London, whereas a 3rd runway would bring hundreds of thousands of new people into the airport's noise footprint. At this stage they know nothing about it. This …. demonstrates how badly affected people are by aircraft noise." The figures also show that nearly 7,000 people complained about night and early morning flights in 2014. The All Party Parliamentary Group (APPG) on Heathrow and the Wider Economy, recently produced a report 'Noise from Heathrow Airport' showing how the impact of noise from Heathrow's flight paths has been seriously underestimated.
Click here to view full story…
Aviation Environment Federation sets out 3 main gaps in the Airports Commission's assessment of CO2 from UK aviation with a new runway
In the rush to build a new runway in the south east, the vital issue of whether or not a new runway would be compatible with national climate change commitments has been largely overlooked. The Airports Commission gives the impression that the issue has been fully considered. In fact, it has not. The AEF has set out 3 simple points on which the Commission needs to answer questions – and which people writing responses to the consultation should include. These relate to the accuracy of CO2 forecasts; the lack of any policies to build a runway and still keep UK aviation CO2 down to the required level; and the lack of any assessment of how much less of an economic benefit a runway might be, if the carbon was properly factored into the calculations. AEF suggests raising these. On forecasts, the Commission should "Explain why its CO2 emissions forecasts are lower than the Government's latest forecasts, what assumptions are made and how sensitive to the results are to them." On policy it should: "Set out in meaningful detail what policy developments would be required in order to limit emissions to the aviation cap while building new capacity." And on cost-benefit it should "Fully include the economy-wide cost of keeping national aviation emissions to within 37.5 Mt in its cost benefit analyses."
Click here to view full story…
West Sussex County Council votes to oppose a 2nd Gatwick runway (Kent CC has already done so too)
A second County Council has withdrawn its support for a 2nd Gatwick runway, because of the high level of local opposition – and the unconvincing case made by the airport. West Sussex County Council (WSCC) voted by 37 to 26 to reverse its (somewhat unorthodox) decision in July 2013 to support another Gatwick runway. It held today's special meeting to debate the Gatwick issue, because the Council needed to write its response to the Airports Commission consultation, before it ends on 3rd February. Kent County Council withdrew its backing for a second runway in November, because of new flight paths. Over almost 5 hours of debate, numerous WSCC councillors put their points, displaying a sincere intention to act in the best interests of the county's residents, as they saw them. Many expressed dissatisfaction with the Airports Commission's documents and analysis, saying it was incomplete and often inaccurate. There was a high level of uncertainty about the inability of the county's infrastructure to cope with the stresses of a new runway, with transport being of particular concern. Ultimately councillors felt there were likely to be huge costs and problems from a runway, with uncertain benefits. They voted against the runway. Gatwick said it was disappointed by WSCC's decision.
Click here to view full story…
Crawley councillors say Airports Commission report into impact of Gatwick 2nd runway is riddled with mistakes
Crawley councillors will vote on what the council's position should be on a 2nd Gatwick runway on January 26. Members of the borough's overview and scrutiny committee have delivered a scathing assessment of an Airports Commission report into the impact of the runway, saying it is inaccurate, inadequate and ill-informed. The councillors do not want the council to remain impartial on the issue. Concerns were raised about what they feel are serious shortcomings by the Commission regarding its grasp of the current infrastructure, housing issues and level of employment in Crawley, provision of schools, and the impact expansion would have on the local area. There is little confidence the Commission is even aware of some of these matters, or that it can possibly predict what sort of infrastructure will be needed to support a 2nd runway. While the Commission presumes there is available labour, the council says the current unemployment figure is only 5.3%. As it is, Crawley cannot currently meet its target of building 500 homes a year, due to a lack of available land to build on, let alone many more. There was serious concern about schools that would be demolished, and the runway's impact on the borough's newest school.
Click here to view full story…
MPs group identify serious concerns about noise implications of Heathrow expansion
On the 18th December 2014, the All Party Parliamentary Group (APPG) on Heathrow and the Wider Economy launched its report 'Noise from Heathrow Airport' which sets out how the Government, Parliament and the Aviation Industry have seriously underestimated the impact of noise from Heathrow's flight paths. The report considered the present and future noise impact of Heathrow's flight paths, with the existing two runways, and with the proposed 3rd runway. It found a substantial list of gaps in HAL's proposals and has produced a list of actions for the Government, Airport's Commission and HAL that are necessary to tackle the existing problem and that are central to the consideration of any 3rd runway. These include the need for noise to be measured using the WHO formula; the need for full information about future flight paths, and respite periods, so residents are properly informed; proper estimates of numbers affected by noise in future, taking into account the anticipated growth in population in affected areas; and reduction in night flights. The APPG notes that HAL's CEO has confirmed to the APPG that a successful 3rd runway would pave the way for a 4th runway.
Click here to view full story…
Heathrow airport announces highest ever number of passengers in 2014 – 73.4 million
Heathrow airport has announced that in 2014 they had 1.4% more passengers than in 2013, with 73.4 million compared to 72.3 million. They had just 0.2% more Air Transport Movements (= flights) than in 2013, with 470,695 compared to 469,552. And they had 5.3% more air cargo than in 2013, with 1.50 million tonnes, compared to 1.42 million. The number of air passengers has risen steadily since 2010, and is now well above the pre-recession peak of 67.8 million in 2007. The number of flights is well below the highest levels, of 476,000+ in both 2007 and in 2011, due to increasing use of larger planes. Heathrow says there were 2.5% more transfer passengers in 2014 than in 2013. The figures for the month of December, also released the same day, show Heathrow only had an average load factor of 76.6% (ie. on each plane, some 23.4% of seats are unfilled). For December 2014 Heathrow said the average number of passengers per plane was 159.6. It is more like 156 for the year. By contrast, the average number of passengers per plane was 146 in 2011 (link). Larger planes are increasingly being used. There are estimates that Heathrow could accommodate 90 million passengers per year, with its current terminal capacity (link)
Click here to view full story…
Gatwick airport announces highest ever number of passengers in 2014 – 38.1 million
Gatwick has announced its highest ever number of air passengers, in 2014. There were 38.1 million passengers, which is up + 7.6% compared to 2013. Gatwick had 256,350 Air Transport Movements (flights) in 2013, which was up by 4% compared to 2013. Their air cargo was down by 8.6% compared to 2013, at 88,737 tonnes. The number of passengers at Gatwick has grown steadily since 2010, and overtook the previous peak from 2007 35,165,000 in 2013. The number of flights is still slightly below its peak level in 2007, when there were around 259,000. Gatwick said the growth was driven across a range of markets, and of course, it took the opportunity to make another plug for its 2nd runway. There were approximately 149 passengers, on average, on planes using Gatwick, compared with about 156 at Heathrow. By contrast, in 2011 there were about 134 passengers, on average, per plane using Gatwick. So along with Heathrow, there is a slow increase in the size of planes, and/or the load factor – to be expected when the majority of flights are low-cost. Gatwick says it now has more long haul flights, and passengers travelling to Dubai in 2014 increased by 8.3% compared to 2013.
Click here to view full story…
Expansion of Heathrow could 'destroy Windsor' according to councillor
Another Heathrow runway could 'destroy Windsor' according to a Windsor councillor and chairman of the Royal Borough's Aviation Forum. The comments were made at a meeting of the forum,discussing the Airports Commission's options for a new south east runway. The councillor said: "If the expansion of Heathrow Airport is given the go ahead, it will destroy Windsor and the reason why people want to come here. It will affect the ability to hold state functions at Windsor Castle and the north-western option will affect Eton….It would see an increased level of noise for our residents and will affect our world heritage sights, which the commission have seemed to overlook." The Royal Borough of Windsor are now drafting a submission to the Airports Commission. Another councillor said: "The Airports Commission's paper is one of the biggest things the borough has had to respond to and the implications are enormous." Another councillor commented that the need for up to 70,800 new homes, for a 3rd runway, would created turmoil and require highly valued green belt land.
Click here to view full story…
Heathrow Airport to set up a new Community Noise Forum, to help residents understand flight path issues
Heathrow Airport knows it has a real problem with aircraft noise, that could block its runway aspirations. The recent flight path changes and trials revealed a degree of anger and opposition to increased plane noise that stunned Heathrow staff. Thousands of people newly overflown, or under new concentrated flight paths, expressed their intense opposition to the noise nuisance inflicted on them. Heathrow, at its Consultative Committee meeting on 10th December, was keen to set up a new "Community Noise Forum" through which to try to defuse some of this local anger and dissatisfaction – and to try to win back some trust. For many, the repeated half truths and worse from the airport mean trust has broken down irretrievably. The minutes say: "Even the CAA had been regarded by some as not entirely independent in the process." There is already a "Noise Forum" (which replaced the Heathrow Noise & Track Keeping Working Group (NTKWG)), but that only involves HACAN and not other community groups. The new plan is to get something started as soon as possible, to give the appropriate community members and local authorities access to the raw data on flight path dispersal and concentration. A suitable chairperson needs to be located.
Click here to view full story…
The case of the mysterious post boxes appearing in Heathrow's terminals … for pro-Heathrow consultation forms
Post boxes have started to appear in the terminals Heathrow Airport urging customers to "help us expand Heathrow". They coincide with the final public consultation by the Airports Commission. John Stewart, chair of HACAN, said "Local people alerted us to these post boxes…… It seems as if Heathrow is using passengers as a weapon in its fight to get a third runway." Questions are being asked by campaigners whether passengers are being handed forms as they come off their planes for them to send to Heathrow or put into the post boxes. John Stewart said he expected Heathrow may have miscalculated, as the Airports Commission is interested in solid arguments rather than simply filled in campaigning forms. It should be remembered that Gatwick and Ipsos Mori decided that consultation responses through an NGO, the Woodland Trust, should not be counted as responding that was was too easy. Neil Keveren, who chairs SHE (Stop Heathrow Expansion), says there is real anger that while local people have to campaign using their own time and resources, Heathrow is able to drum up support from passengers from around the globe who "have little interest in communities such as ours."
Click here to view full story…
Tunbridge Wells Borough Council votes almost unanimously against a 2nd Gatwick runway
A public council meeting held by Tunbridge Wells Borough Council on 7th January ended with an almost unanimous vote by councillors against a 2nd Gatwick runway. The motion against was carried with 40 votes in favour, one abstention and one against. [Other figures say 35:1]. Council leader David Jukes said: "This is democracy in action – you don't often see a lot of people attending a boring council meeting." Managers from Gatwick Airport were invited to attend the meeting but declined (they have also declined to appear before MPs in Parliament). The meeting heard that residents of west Kent and East Sussex are subjected to four times the amount of night flights as residents of West London, and that economic benefits of expansion would not be seen until maybe 2050, with very little effect on the GDP of Kent. A presentation by Joe Ratcliffe, the KCC aviation policy advisor, showed that some areas had seen a drastic increase in flights overhead, rising from around 10 flights per day in 2010 to between 40 and 50 flights in 2014. There was irritation that Gatwick and the CAA persist in saying there has been no change in flights or flight paths, but people are adamant there have been substantial changes. Kent expected to see little benefit from a 2nd Gatwick runway, but to experience a considerably greater noise burden.
Click here to view full story…
New briefing "Gatwick Unwrapped" by GACC provides comprehensive detail for Commission consultation responses
GACC has now had time to read the consultation documents from the Airports Commission carefully, and give consideration to the detailed impacts of a 2nd Gatwick runway. In a thorough analysis, carefully argued and fully referenced, entitled Gatwick Unwrapped, GACC has set out why the glossy promotion of Gatwick's runway plans – at substantial cost – by the airport, is not all it seems. Looking at the details, GACC says the runway has been sold to the public gift-wrapped in a massive advertising and lobbying campaign, but when "unwrapped" it falls far short of expectations. GACC has looked at a range of issues, including the numbers of jobs to be created; the available work force within the area; transport problems for road and rail; numbers of houses required …… and so on. GACC wants everyone to respond to the current consultation (closing date 3 February) by saying 'No' to a new Gatwick runway. Gatwick Unwrapped provides facts and figures to help people respond. And Gatwick Unwrapped is being sent to all local councillors. Many local councils are due to vote in January on whether to support or oppose the runway. "When they see the full facts" says GACC Chairman, Brendon Sewill, "no councillor in their right mind would vote for a new runway."
Click here to view full story…
Stewart Wingate and senior Gatwick staff refuse to appear before group of local area MPs in Parliament
Sir Paul Beresford, MP for Mole Valley, has complained that Gatwick Airport Limited (GAL) has refused to appear publicly before MPs at the House of Commons to answer questions on their 2nd runway proposal. The Chairman of the "Gatwick Coordination Group", Crispin Blunt MP, invited Stewart Wingate, and Gatwick senior management to appear before the group in a Select Committee-style hearing in January 2015. But GAL has declined the invitation, saying GAL directors "do not think that a further public meeting is necessary". Commenting on GAL's decision, Sir Paul said "The MPs on the Gatwick Coordination Group collectively represent over half a million people whose lives stands to be affected by the airport's expansion. …. Gatwick have failed to answer key points on the resilience of their surface access plan. If a second runway was to be built at Gatwick access both to and from the airport would become extraordinarily difficult. …. Gatwick's refusal to participate in an extended public scrutiny ….is an abdication of their responsibility as a corporate citizen in both Surrey and Mole Valley. However, given GAL's inability to answer key questions on "show stopping" issues it is perhaps unsurprising they do not welcome further scrutiny."
Click here to view full story…
New Gatwick paper questioning extent of benefits to local businesses from 2nd runway
An important objective set out by the Airports Commission is: "To maximise economic benefits…..To promote employment and economic growth in the local area….To produce positive outcomes for local communities and the local economy". A new paper by GACC (the Gatwick Area Conservation Campaign) challenges the assertion by Gatwick Airport Ltd (GAL) that a 2nd runway would be supportive of this objective. By engaging with opinion from local business communities, and taking a less selective view of the evidence, GACC concludes that the proposal would be detrimental for local businesses, the local economy and the community as a whole. The GACC paper (6 pages, easy to read) deals with a range of topics (shortage of labour, higher costs, inward migration, need for more houses, road and rail congestion and worse local environment ) and includes comments from local businesses. Two examples are the problems of wages rising due to fierce competition for labour locally, where there is very low current unemployment. Also the cost to local businesses of road and rail congestion, wasting time – as well as losses to rural businesses from a deterioration in the local environment.
Click here to view full story…
MAG CEO, Charlie Cornish, says Stansted might press for a 2nd runway by the mid-2020s
Stansted aims to submit plans for a new runway some time in the next decade, according to Charlie Cornish, the CEO of parent company Manchester Airports Group. He says the present expansion rates meant that Stansted would apply to the government for the repeal of existing local council limits and then lobby for a 2nd runway to satisfy demand. Stansted hope its projected rate of growth between now and the mid -2020s will see it pass through its local authority-capped capacity of 35 million passengers per year, and hit its physical capacity on one runway of 45 million by 2030. In October 2008, the Government gave approval for Stansted to increase its permitted passenger numbers from 25 to 35 million per year, and a rise in the permitted number of annual flights from 241,000 to 264,000. Mr Cornish wants better rail connections to London and to the other airports. Having fallen for years, ever since the peak at over 23.7 million in 2007, Stansted's number of passengers is still well down, at 17.8 million in 2013, though the number has risen significantly during 2014.
Click here to view full story…
Public invited to Gatwick drop-in session with Airports Commission 6 – 8pm on Tues 16th December in Crawley
On Tuesday 16th December, the Airports Commission will be holding its second full public discussion day on airport runway proposals, about Gatwick. The first was about Heathrow, on 3rd December. The Commission has now announced there will be a public drop-in session, available to anyone who wishes to attend, from 6 – 8pm on Tuesday 16th. There is no need to have a ticket. The Commission says the purpose of this drop in session is for Commission staff to hear first-hand from people to be affected locally. Commission staff will be available to answer questions, and help people find the information they need in order to respond to the Airports Commission runway consultation, that closes on 3rd February. The main meeting during the day is by ticket only, as capacity is limited and there has been huge demand. There are no more tickets available. However, the Commission will be publishing a full transcript on their website so those unable to attend can read what was said. But everyone is invited to attend the 6 – 8pm session at the Arora Hotel, Crawley.
Click here to view full story…
New Moody's report shows Gatwick vulnerable to either its own, or a Heathrow, runway
The credit ratings agency Moody's, have produced a new report entitled "New runway will have mixed credit implications for London's airports". This indicates that Gatwick would take the biggest hit if a new runway was built in London, while Heathrow stands to gain the most from a new runway. Moody's has concluded that a new runway either at Gatwick or at Heathrow would be bad for Gatwick. With its own new runway, Gatwick would be forced to levy higher airport charges, in order to pay for it.. Adding a runway at Heathrow would also result in increasing competition for Gatwick, because it would be at risk of losing scheduled airline traffic to Heathrow, where carriers can typically earn more per passenger mile. The Moody's analyst commented: "A runway at Heathrow would allow the airport to benefit from growth in future traffic volumes, and a new runway at Gatwick would not take significant traffic from Heathrow." And they say Gatwick double aeronautical charges would put it at a huge competitive disadvantage to Stansted, which is its main competitor in the low-cost airlines segment.
Click here to view full story…
Heathrow gets award as "Green Business of the Year" from a West London group that it sponsors
Awards ceremonies and the process of winning awards is an amazing business. Almost anything can get an award of some sort, especially if you are one of the sponsors of the award. If you want to think of any one place in the UK that is responsible for more air pollution or more carbon emissions, you will find few that beat Heathrow. But no. Heathrow has now won yet another (it has won two before) environmental award. This time it is from West London Business Awards. Heathrow was the winner in the "Green Business of the Year" category. The runner up was another sponsor of the awards, Westfield. As the local paper reports, with a tremendous Freudian slip, the Heathrow schemes were successful in …."reduced local air quality levels." This has all been too much for a local resident, who has "improved" on the local newspaper story, with a slight twist …. to report on the comedy awards. One of the reasons for their award was "encouraging the use of car sharing", which is slightly spoilt by a photo, by the local writer, of a huge billboard advertising Heathrow's new business car park.
Click here to view full story…
Heathrow hopes to overcome community opposition to 3rd runway with more extensive house purchase plans
Heathrow held a consultation on compensation arrangements earlier in the year. Hacan did not take part, believing people should not have to agree to, or comment on, entirely hypothetical proposals. Now Heathrow has felt the need to improve the generosity and scope of its compensation offer, due the manifest unfairness of its previous offer. It will now extend the offer to buy houses, for pre-blight market price plus 25%, and with £7,500 for selling costs and stamp duty. This will now cover all of Harmondsworth, Sipson, Poyle, Colnbrook, Brands Hill, Harlington and Cranford Cross. There will no longer be unfair lines, with those just outside the line missing out. There would be about 3,750 people included in the scheme. The earlier offer was for only 750 properties in Sipson and Harmondsworth that would be subject to compulsory purchase orders if there was a north west runway. Realising that communities die, and their spirit is lost, as soon as many people decide to accept cash and move out, Heathrow says they will "refurbish and sound-insulate any properties it buys before putting them back up for sale" in the forlorn hope that would prevent the community from losing its heart?
Click here to view full story…
Extent to which "Back Heathrow" is funded by Heathrow, and is not a true community campaign, revealed
"Back Heathrow" is an industry funded pressure group, the aim of which is to drum up support for a 3rd Heathrow runway. It was set up with at least £100,000 from Heathrow airport – maybe more. Its website just says that it had money from Heathrow to set up. Matt Gorman from Heathrow admitted at a public meeting in Putney on 27th November than Heathrow continues to fund it, but nobody will give any figures. "Back Heathrow" is a classic astroturfing campaign (ie. making out that it is community led, when it is not). Its co-ordinator is Rob Gray, was previously a director of the Aviation Foundation, another lobbying group established by the industry. Other staff working for Back Heathrow are current or former Heathrow employees. They have recently distributed hundreds of thousands of glossy newspapers to households across west London, with no mention anywhere on these that they are paid for (at least in part) by Heathrow. They try to give the impression of being independent information. Back Heathrow claim to have 50,000 people signed up, but this is largely due to scare tactics, implying Heathrow workers will lose their jobs without a 3rd runway. This has now been revealed by the Sunday Times
Click here to view full story…
Air Passenger Duty to be devolved to Scotland, which wants to halve & then scrap it
The Smith Commission, to see how powers including taxation could be devolved to Scotland, says that the Scottish Parliament should be able set income tax rates and bands and Air Passenger Duty should be fully devolved. At present, APD is charged by the Treasury only because air travel is significantly under-taxed, paying no VAT and no fuel duty. There is no logical reason why air travel, which could be seen as a luxury product, for discretionary spending, should be exempt from tax. This is particularly the case when the richest sections of society do the most flying, and of the 50% or so who do not fly in any one year, many are less affluent. The Scottish Government wants to halve and then remove APD. For the UK, APD raises about £3 billion per year, and of this about £200 million is raised in Scotland. In theory cutting APD would perhaps increase the number of tourists coming to Scotland. In reality, it is likely that many more Scots travel abroad for their holidays, taking their spending money with them, than foreign tourists flow in. Cutting the tax, and losing the tax revenues from the public finances, may not be wise if it just boosts outward tourism. Airports in the north of England are concerned about losing passengers, who could fly cheaper from Scotland.
Click here to view full story…
All local MPs speak out against Gatwick 2nd runway at packed protest meeting
Five MPs were on the platform, and 3 more sent messages of support, at a mass protest meeting on Saturday 22 November organised by the Gatwick Area Conservation Campaign (GACC). All of the 8 MPs from around Gatwick attended or sent messages. This helps disprove the assumption in some national newspapers that Gatwick would politically be the easiest option for a new runway. The MPs were united in expressing their concern about new flight paths and about the threat of a 2nd runway. Extracts from their speeches and messages are copied here. Up to 1,000 people crammed into the meeting in Crawley, and were welcomed by 3 racy air hostesses, and by the Mayor of Crawley, Cllr Brenda Smith who later, speaking as the local councillor, expressed her deep-felt opposition to a new runway. Some 20 national and local environmental groups set up stands around the hall and answered questions from anxious members of the public. Questions from the floor were answered by a panel of experts from a range of organisations. The participants unanimously held up large cards saying NO when asked if they were in favour of new flight paths, and held up the NO cards again when asked if they were in favour of a 2nd runway.
Click here to view full story…
Standing room only at huge Gatwick protest meeting – definite "NO" to new flight paths or 2nd runway
 The air hostesses & pilot who gave out the safety etc briefings to the massed audience
GACC (Gatwick Area Conservation Campaign) organised a protest meeting on 22nd November in north Crawley. It was standing room only, with a huge gynmasium with space for up to 1,000 packed. People had come from areas near Gatwick, and up to 25 miles away – to express their intense opposition both to the flight path changes that Gatwick has recently inflicted on them, and to plans for a 2nd runway. The atmosphere at the meeting was up-beat, positive, angry and determined that Gatwick will not ruin their areas and their homes, or reduce their quality of life. Five MPs addressed the meeting (Nicholas Soames, Crispin Blunt, Henry Smith, Charles Hendry and Paul Beresford) with message of support read out from Francis Maude and Sir John Stanley, neither of whom could attend. The meeting was chaired by Helyn Clack (Surrey County Council), and addressed by the Mayor of Crawley, Brenda Smith. Asked by GACC whether people backed a new runway, or backed new flight paths, the response was a loud, unanimous "NO". The meeting ended with cheerful singing of a new song – "What Shall We Do With Gatwick Airport?" (to the tune of the similar "Drunken Sailor.")    Click here to view full story…
Click here to view full story…
---
Gatwick's main airline, easyJet, questions Gatwick case for 2nd runway and does not want to pay higher landing charges
Carolyn McCall, CEO of EasyJet, the largest airline at Gatwick, has said passengers want expansion at Heathrow, not at Gatwick. Ms McCall said easyJet is "quite concerned" at the prospect that Gatwick's landing charges would rise to pay for a 2nd runway. They are having confidential talks with the airports on future charges. EasyJet makes on average £8 profit per seat. If Gatwick's charges doubled from the current £9 to an average of £15 to £18 (or even up to £23) as predicted by the Airports Commission, this would hit EasyJet's economics. Ms McCAll said: "This whole issue of capacity should be about where the demand is. Airlines have to want to go into that airport, and the congestion we have is predominantly around the Heathrow hub. Passengers need to really value what this infrastructure brings, and if they don't see any benefit it's going to struggle." A new runway risked emulating unpopular toll roads. "It will be years and years before [passengers] see any positive effect." As one of the UK's largest and fastest growing airlines, EasyJet's opinion will need to be given careful consideration by the Commission.
Click here to view full story…
Taming Aviation petition presented to European Parliament:  250,000 demand end to scandal of Europe's airline subsidies, tax exemptions and night flights
A ground-breaking coalition of 140 groups representing 250,000 citizens from 10 European countries has, for the first time, called on the EU to end commercial airlines' tax exemptions and subsidies – and phase out night flights. The Taming Aviation coalition formally presented its demands in a petition to the European Parliament in Brussels on 18th November. The petition calls for an end to the absurd situation where European governments miss out on €40 billion every year because commercial airlines pay no tax on fuel and are exempt from VAT. Cash-strapped EU governments are missing out on this important revenue source, so European taxpayers must step in to fill the deficit. The subsidies are fuelling air traffic growth, with aviation's greenhouse gas emissions expected to increase 300% by 2050. The petition also demands action to reduce aircraft noise, which poses serious health risks to people living under flight paths including increasing the risk of dying of a heart attack by up to 50%. 25 national delegates from Austria, Belgium, France, Germany, Italy, The Netherlands and the UK were present at the event.
Click here to view full story…
Launch of SHE – Stop Heathrow Expansion – fighting to save much-loved village of Harmondsworth and its neighbours from 3rd runway
More than 80 people attended the inaugural Stop Heathrow Expansion (SHE) meeting to bring together the opposition locally in the Harmondsworth area against Heathrow's plans to destroy their villages. Politicians, campaigners and members of the public came together for the launch of the new action group against a north-west 3rd runway, in the beautiful and historic St Mary's Church in Harmondsworth's High Street. Local MP, John McDonnell called on political parties to 'come clean' about their positions regarding the airport's expansion before the general election in 2015. He also urged those affected by the proposals to 'mobilise' and demonstrate 'people power'. He said: "The one thing we can rely on is our own power – people power – because that's how we won it last time." The meeting heard that a 3rd runway would mean an extra 260,000 Heathrow flights per year as well as around 750 homes being destroyed, and hundreds more made almost uninhabitable – but with minimal compensation. SHE is not opposed to Heathrow as it is, just to its expansion. The meeting ended with heart-felt singing of the No 3rd Runway song,
with the chorus:
"This is our home, and we will stay; No Third Runway."
Click here to view full story…
Heathrow adverts on the Underground subvertised
It was just too tempting for someone to resist. The Underground is plastered with adverts from Heathrow airport, promoting their new runway. And promoting the idea that their runway is of vital importance to not only the travellers who fly, using their airport, but the whole UK economy. And not just now – one ad proclaims that a small child needs a new Heathrow runway for her future welfare. And now many posters have been subvertised. The exaggerated claims of benefits from Heathrow have been substituted by more realistic text, illustrating that the carbon emissions from an expanded Heathrow would be more than any other carbon source in the UK. Larger even than the emissions of many more moderate countries, less addicted than we are to hypermobility. The advert with the small girl, which can be seen on a huge number of Tube trains, is still being investigated (for the past 2 months or so) by the Advertising Standards Authority, which is assessing the credibilty of the advert's claims.
Click here to view full story…
Airports Commission consultation launched – on its assessments of Heathrow and Gatwick runway plans
The Commission launched its consultation on the runway hopes of Heathrow (the airport's north west runway scheme, and the Heathrow Hub extension of the northern runway), and Gatwick. The consultation runs till 3rd February. Apart from one main consultation document, there is a main document on Heathrow, Heathrow Hub and Gatwick. There are also over 50 technical documents giving more detail. A great deal to read through and take in. Sir Howard Davies' introduction says: " It is particularly important for local residents and their representatives to understand more clearly what the proposals entail, and what their consequences might be for the local environment." The Commission wants to know if people have any comments on how it has carried out its appraisals, including methodology, and if are there any relevant factors that have not been fully addressed by the Commission to date. It is also interested in evidence and ideas about how any or all of the short-listed options might be improved, or ideas for mitigation measures to address specific impacts.
Click here to view full story…
Aviation Environment Federation asks: "Air Passenger Duty – what is it good for?"
A great analysis of APD, by James Lees of AEF, shows aviation as a whole enjoys significant tax exemptions, including paying no VAT or fuel duty. For an industry with a very significant environmental impact – only car travel comes close as a transport mode in emissions per km – this is an anomaly. If UK aviation paid VAT and fuel duty at the same rate as motorists then around £10 billion could be raised for public finances. APD by comparison raises £3 billion annually. When modelling how future UK passenger demand could be restrained to the level compatible with climate targets if a new runway was built, the Airports Commission assumed the cost of emitting a tonne of CO2 increased from £3 today to £600. This would add £43 on to a shorthaul flight compared to £13 for the basic rate of APD (to anywhere in Europe). The industry likes to claim £13 of APD is 'pricing families out of the skies.' In reality an average family (of 4) holiday in Europe is over £2,000. Of that APD is under 3%. AEF says: "We are yet to see evidence that indicates the 52% of the UK population who don't take a flight each year view APD as the main financial hurdle."
Click here to view full story…
Packed public meeting in Wanstead calls on London City airport to reconsult over flight path changes
There is growing anger in areas affected by London City Airport flight paths, because of the inadequate consultation they have launched – it ends on 27th November. On 3rd November, there was a packed meeting in Wanstead, which called on the airport to re-consult. Over 200 people crammed into Wanstead Library and gave London City Airport a very tough time over its failure to consult local people, and even their local councillors, over its plans. The airport wants to concentrate departing flights in a narrow band over Bow, Leyton, Leytonstone, Wanstead, Collier Row and Havering. Planes arriving over South London will also be concentrated. Most councillors knew nothing about the plans until contacted by HACAN East. The plans are on the airport website, but the airport has not put out leaflets or held any public information sessions. Roger Evans, the GLA member for Redbridge and Havering said, "The decent thing to do is to re-run this consultation." The CAA has been criticised for allowing this poor consultation. People have been encouraged to write to the CAA and the Government calling for a fresh consultation, and sign a petition against concentrated flight paths.
Click here to view full story…
Divisions at top of Tory party over 3rd Heathrow runway as Hammond, Johnson and others won't accept it
The Foreign Secretary Philip Hammond (MP for Runnymede & Weybridge), and the London mayor, Boris Johnson, will refuse to support their own party's policy on airport expansion at the next election, potentially opening a rift at the top of the Conservative party. They are among a batch of Tories of cabinet or equivalent rank who are expected to rebel against the official party line, which is that no decision on a new runway would be taken before the Airports Commission gives its recommendation in summer 2015. Boris continues to push for an estuary airport. Other leading Tories with south-eastern constituencies who have spoken out against a 3rd Heathrow runway include the Home Secretary, Theresa May (MP for Maidenhead); the international development secretary, Justine Greening (MP for Putney); and the Northern Ireland secretary, Theresa Villiers (MP for Chipping Barnet). The pressure for a new south east runway has come from George Osborne. Gatwick becomes more vulnerable, the more senior Tories oppose a Heathrow runway, though a Gatwick runway makes little economic or aviation sense.
Click here to view full story…
Willie Walsh says there is no business case for a 2nd Gatwick runway – BA has Gatwick's 2nd largest number of passengers
Willie Walsh, the head of IAG, will not support a 2nd Gatwick runway, even if it is chosen by the Airports Commission or backed by the next government. He does not believe there is a business case to support its expansion, and there is insufficient demand from airlines for extra capacity at Gatwick. Mr Walsh campaigned heavily for a 3rd Heathrow runway before 2010, but has made frequent comments indicating he does not believe UK politicians will have the "courage" to build that. Willie Walsh says British Airways would resist higher landing charges, which would be necessary to fund a runway – either at Heathrow or Gatwick. (EasyJet has also said in the past they don't want a new runway, if it means substantially higher charges – their model is low cost). BA would want lower costs, not higher costs, from a new runway. IAG's shares have now risen as it has now made a profit at last, and will be paying its first dividend (and maybe some UK tax). Gatwick's main airline is EasyJet with around 37% of passengers, and British Airways 2nd largest at around 14%.
Click here to view full story…
CAA 2013 Air Passenger Survey shows only 23% UK air passengers on business (30% at Heathrow, 14% at Gatwick)
The CAA has now released the data from its 2013 Air Passenger Survey. The survey asked 230,000 departing travellers at 13 of the main UK airports to fill in their surveys. The CAA carries out the annual survey (since 1968) to improve its understanding of the people who use the UK's airports. This year the airports were: Aberdeen; Birmingham; East Midlands; Edinburgh; Gatwick; Glasgow; Heathrow; Inverness; London City; Luton; Manchester; Newcastle and Stansted. They found that • London City has the highest proportion of passengers travelling for business (55%), with the next highest being Heathrow (30%). • Airports with the highest proportion of leisure passengers were East Midlands (92%), followed by Gatwick and Luton (both 87%). • Heathrow had the highest proportion (37%) of connecting passengers, the same proportion as 2012, Gatwick had 9%. Though the aviation industry PR implies that air travel is vital for links to emerging economies for business, the reality is that only about 23% of air journeys in the UK are for business; about 30% business at Heathrow, and only about 14% at Gatwick (declining).
Click here to view full story…
Keith Taylor MEP: "We don't need a new runway at Gatwick – or Heathrow, or Stansted or anywhere else for that matter"
Keith Taylor, the Green Party MEP, has set out clearly why no new runway is needed. The Airports Commission will shortly publish their consultation options, for runway plans at Heathrow and Gatwick. Keith says the extensive evidence against there being a need for a new south east runway is being ignored. The massive advertising and PR budgets by the airports are attempting to persuade that a new runway is vital is described as a con. While in theory the Commission was set up to establish if there was a need for a runway, in reality it has just been a process of making the decision where to build one more politically acceptable. It has not been an issue of "whether" as it should have been – but just "where." Keith comments: "… it seems the Commission's sole purpose has become to choose where expansion will go despite the very strong existing evidence against all airport expansion." People in the UK already fly more than almost any other nation. Economic claims of the benefits of a new runway and claims about jobs created are also grossly exaggerated. The aviation industry is perpetrating a massive hoax, for their own purposes.
Click here to view full story…
MPs in areas affected by Gatwick say its expansion is a 'disaster waiting to happen'
Crispin Blunt and other local MPs in the areas around Gatwick have written to Stewart Wingate to tell him that his runway proposals are a "pipe dream. " The MPs say Gatwick's runway application is "a developmental disaster waiting to happen", and local communities are not large enough to support the planned expansion. They warn that planned upgrades to transport links, to deal with the current crowding, will not be sufficient for a possible trebling of current passenger numbers. Adding a runway will result in gridlocked traffic on the M23 and train problems, as more air passengers want to travel with large luggage items. Gatwick claims it can meet local air quality targets, which Heathrow cannot, but if Gatwick grows to approach the size Heathrow is now, it will have the same air quality problems. The MPs say: "The sooner this damaging pipe dream is abandoned, the better for its neighbours." Also that there is very low local unemployment, and already a "desperate" shortage of housing. "Gatwick's blithe assumption that the additional housing need would be met by local authorities' existing development plans is wholly incredible".
Click here to view full story…
Road and rail chaos, with congestion and over-crowding, predicted if new Gatwick runway built
A new research paper prepared by author and environmental expert Jeremy Early, on Surface access to Gatwick Airport predicts that a new runway at Gatwick would bring road and rail chaos. He points out that the existing road structure is nearly full, with serious delays occurring on many routes, especially on the M23 and A23 into London. Planned improvements will only be sufficient to deal with the forecast growth in traffic – without a new runway. A new runway, operating at full capacity of 95 million passengers a year, would mean an a massive increase in road traffic movements each day. It would probably reduce the M25 and M23 to a standstill – all day not just occasionally. On rail, the report shows that already between 2010 and 2014 rail journeys in the South-East increased more than 20%. The extra trains that Gatwick airport boasts of are in reality already just to cope with the expected increase in demand – with no new runway. With a new runway Gatwick predict a three-fold increase in the number of air passengers using Gatwick station. It could be standing room only, with no spare capacity on parts of the network.
Click here to view full story…
Margaret Hodge: Gatwick runway appeal 'is hypocritical when it avoids corporation tax'
Gatwick has been accused of "hypocrisy" for avoiding corporation tax while campaigning to build a new runway, allegedly for the benefit of the UK economy. Margaret Hodge, head of Parliament's Public Accounts Committee, said the airport should pay its "fair share" if it wants its runway campaign to be credible. She also criticised Heathrow which has not paid corporation tax for several years. But she particularly criticised Gatwick. Its Guernsey-based parent company Ivy Mid Co LP has invested in a £437 million "Eurobond" which charges the airport 12% interest, thus avoiding tax. Gatwick says this sort of bond is often used by other infrastructure companies. Companies in the UK should pay 21% corporation tax on profits, but by spending £1 billion on upgrading the airport, Gatwick has made no profit recently. Despite pre-tax loses in recent years, it has paid dividends to its overseas shareholders of £436 million. Heathrow has also avoided profits by investing in new buildings etc. Mrs Hodge said the companies "made a fortune" from their UK activities, which relied on public services, adding: "For them to pretend they are only in it for the benefit of the UK economy is a touch hypocritical."
Click here to view full story…
---
Over 1,000 attend packed Ascot protest meeting against Heathrow flight path trials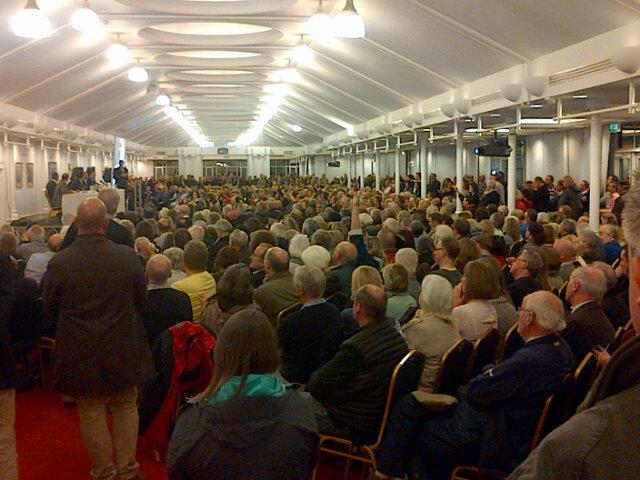 The meeting clearly demonstrated to Heathrow just how angry and upset residents in the Ascot area at being subjected to a flight path trial, of a concentrated route. It seems Heathrow were left in no doubt whatsoever about the strength of the determination not to suffer the misery that a 3rd runway would bring. John Stewart tweeted: "@ascotflightpath sometimes the anger of the audience overcame coherency of argument but the meeting could turn out to be a game-changer." When the audience were asked "Does this community want a 3rd runway" the residents shouted back "NO!'
---
Open letter to London City Airport asking that they consult properly on flight path changes, and treat people fairly
London City Airport is proposing to concentrate flight paths, in the same way that other airports have been doing recently. This is how air traffic controllers, NATS and the CAA want airspace to be used in future, in order to fit more aircraft into our already very crowded skies. However, London City Airport decided not go give any prior notice to anyone about the changes, except their Consultative Committee, or any warning about the substantial increase in aircraft noise for those unlucky enough to be under one of the new concentrated routes. It seems even local councils were not notified. Local community group, HACAN East, have now written an open letter to the airport, to complain. HACAN East says the flight path proposals will have a profound effect – for the worse – on the lives of tens of thousands of Londoners. This is deeply inequitable. While the airport makes out that the proposed changes are not significant as the planned flight paths are not noticeably different from the current routes. That is incorrect. There is now a concentrated line. Thousands living in Bow, Leytonstone, Wansted, Catford, Brixton and Vauxhall are very well aware there is a significant change. And that these are seen as unfair.
Click here to view full story…
---
LibDems vote against new runways in south east, keeping existing policy. NO to new Gatwick runway.
The LibDem conference has voted against an amendment, by Lorely Burt (Solihull) and Stephen Gilbert (St Austell and Newquay), to reverse Lib Dem policy of no new net runways. Party policy remains opposed to a new SE runway. The amendment proposed continuing opposition to Heathrow, but backing Gatwick expansion (Gatwick helped with conference expenses – and lobbied relentlessly). It was supported by Nick Clegg, Danny Alexander, Vince Cable, Ed Davey and Susan Kramer. However, no cabinet minister spoke in favour of it during the debate. Ed Davey and others made rather poorly informed comments about aviation becoming "cleaner and quieter" in future, meaning a new runway could be built without breaching environmental limits. "According to one party source, Clegg was also worried about going through an election campaign saying the Lib Dems would block a new runway, only for it to be agreed by parliament soon after the election." LibDems will not back a new runway if in coalition after 2015. Julian Huppert played a central role in defeating the amendment.  Caroline Pidgeon spoke strongly against it, and tweeted that "softening on airports is bad for environment, for London and for the LibDems' credibility." What this does to voters' faith in LibDems not selling out to big business, at the expense of the environment, in future is not clear. 
Click here to view full story…
---
New AEF Policy Briefing setting out how a new south east runway is not compatible with UK climate policy
The Aviation Environment Federation (AEF), a policy-focused UK NGO, is producing a series of policy briefings, to inform the airport expansion/runway debate. The issue remains whether to build a new runway, not merely where. AEF's new briefing "AIRPORT EXPANSION AND CLIMATE CHANGE – Is a new runway compatible with climate policy?"  is a concise, easy to read, document setting out the facts very clearly. A key point is that a new runway would have very significant climate implications that fall outside the remit of the Airports Commission to address. AEF explains how both the Committee on Climate Change and Airports Commission have stated that demand for flights in the UK will have to be restricted to prevent CO2 emissions from the aviation sector overshooting the level consistent with the Climate Change Act. However, neither has identified how this can be achieved if a new runway is built, leaving a policy gap. That gap would result in the UK's climate targets being compromised. The options are to dramatically increase the cost of flying (by the UK acting alone), restrict capacity available at regional and other South East airports to below today's levels – or better and more acceptable – make optimum use of existing airport capacity.
Click here to view full story…
---
Heathrow lodges appeal with Planning Inspectorate over protection of Cranford against take-offs
Heathrow has lodged an appeal with the Planning Inspectorate over the London Borough of Hillingdon's refusal, in March, to grant permission for taxiway infrastructure. If the government inspector approves the appeal, it would allow Heathrow to alternate the use of both its runways, regardless of wind direction. At present, due to the "Cranford Agreement", made in the 1950s, planes cannot take off from the northern runway, to the east, except in exceptional circumstances. When there are easterly winds, planes therefore have to land from the west, on the northern runway, but take off from the southern runway. Ending the Cranford Agreement would give Windsor residents more respite, with up to 50% cut in the number of planes currently landing from the west of Windsor. The Cranford Agreement was formally ended in 2010, but to operate on easterly operations, Heathrow says the taxiways are required. But ending the Cranford Agreement will mean more noise, on easterly operations, for those in Old Windsor, Horton and Wraysbury, while residents in Windsor would get a better deal.
Click here to view full story…
CCC confirm UK air passenger rise of 60% by 2050 only possible if carbon intensify of flying improves by one third
The Committee on Climate Change has reported to Parliament on progress on the UK's carbon budgets. They say: "Under the current rate of progress future budgets will not all be met." Carbon budgets do not currently include emissions from international aviation and shipping, but these are included in the 2050 carbon target. The government will review aviation's inclusion in carbon budgets in 2016. In 2012 the UK's international aviation emitted 32 MtCO2, and domestic aviation 1.6 MtCO2. The CCC and the Airports Commission say a new runway can fit within climate targets, but their own figures show aviation growth exceeding the target for decades. Growth in passengers of "around" 60% above 2005 levels could only fit within the carbon target if there is an improvement in the carbon intensity of aviation of around one-third by 2050. The Airports Commission's own interim report says there can only be 36% growth in flights by 2050, to stay within targets. They say any more growth than that should not happen, "unless and until" there are the necessary technology improvements, cutting aviation emissions. But neither the government, nor the CCC, nor the Airports Commission can pin down what these will be, or when they will happen. UK aviation emissions remain the highest in Europe.
Click here to view full story…
Green organisations tell Sir Howard Davies that allowing another runway jeopardises UK climate goals 

November 1, 2013      
Eight of the key environmental organisations in the UK have written an open letter to Sir Howard Davies, Chairman of the Airports Commission, to express their concern about the Commission's "emerging thinking" that more runway capacity is needed for the south east, as expressed in Sir Howard's speech on 7th October. They have serious concerns about how adding a new runway could be compatible with UK climate targets, and they call on the Commission to demonstrate how its recommendations will avoid gambling on our future ability to meet the UK climate target. The NGOs say the Committee on Climate Change's analysis concluded that stabilising UK aviation's emissions at their 2005 level could translate to a maximum 60% growth in the number of passengers at UK airports. They set out 4 key arguments why no new runway capacity is needed even if passenger numbers are permitted to grow by up to 60%. They also urge the Commission to retain a "no new runways" option in its deliberations as the best way of achieving the targets set in the UK Climate Change Act. The eight green NGOs which have signed the letter are: Aviation Environment Federation; Campaign for Better Transport; Friends of the Earth; Greenpeace; RSPB; Stop Climate Chaos; The Woodland Trust; WWF-UK. Click here to view full story…
---
---
Aviation now contributes 4.9% of climate change worldwide
Work by the IPCC now estimates that aviation accounted for 4.9% of man-made climate impacts in 2005. This contrasts with the 2% figure that is constantly quoted by aviation lobbyists, and 3% which the same authors quoted two years ago. They have now revised their estimates with 2 important changes: including for the first time estimates of cirrus cloud formation and allowing for aviation growth between 2000 and 2005. The effect of these is to increase aviation's impacts to 3.5% without cirrus and 4.9% including cirrus. 23.5.2009  More  …
---
Committee on Climate Change.
4th Carbon Budget UK should commit to a 60% cut in emissions by 2030 as a contribution to global efforts to combat climate change.
Aviation emissions must be no higher in 2050 than in 2005, and to do this, all other sectors must cut by 85% by 2050 to allow aviation to grow by 60%
The Committee on Climate Change today recommended a Carbon Budget for 2023-27 and a target for emissions reductions in 2030 – halfway between now and 2050. The recommended target for 2030, to cut emissions by 60% relative to 1990 levels (46% relative to current levels), would then require a 62% emissions reduction from 2030 to meet the 2050 target in the Climate Change Act. The Carbon Budget says international aviation and shipping should be included, and it is vital that UK aviation emissions in 2050 are no higher than in 2005.  Also that, as technologies to cut aviation emissions are not readily available, other sectors of the economy will need to cut by 85% in 2050 in order to let aviation grow by 60%.  7.12.2010  More ….. . . .