Oil finds near Gatwick would only add to transport, housing and infrastructure problems for local residents
An announcement has recently been made by UK Oil and Gas Investments that is has located allegedly 'world-class potential" oil resources 1 – 2 miles north of Gatwick Airport.  GACC, the Gatwick Area Conservation Campaign, has written to the Airports Commission to point out that this oil at Gatwick is just one more reason to reject the 2nd runway plans. This oil, and nearby deposits across the Weald, would add substantially to the environmental problems caused if it was decided to build a 2nd runway. A 2nd runway when operating at full capacity would create around 60,000 new jobs, an extra 100,000 cars on the roads every day plus freight, an extra 90,000 rail passengers every day on the single railway line, and the need for around 40,000 new houses. Since there is comparatively low unemployment in the area, most of the people taking the new jobs would need to come from other parts of the UK or from the EU.  GACC asks how many more houses would have to be built to accommodate the new oil workers and their families on top of the second runway and natural growth of the population of Surrey and Sussex?  And how many extra vehicles would be added to the roads?
.
Tweet

Oil adds to runway headaches for local residents
13.4. 2015 (GACC – Gatwick Area Conservation Campaign)
GACC wrote today to the Airports Commission to point out that the oil at Gatwick is just one more reason to reject the Gatwick Airport runway plans.
The discovery of huge reserves of oil at Horsehills, one mile north of Gatwick, would – if confirmed across the Weald – add to the environmental problems caused if it was decided to build a second runway.
Research by GACC has shown that a second runway when operating at full capacity would create around 60,000 new jobs, an extra 100,000 cars on the roads every day plus freight, an extra 90,000 rail passengers every day on the single railway line, and the need for around 40,000 new houses. [ see  www.gacc.org.uk/the-runway-issue]
Since there is comparatively low unemployment in the area, most of the people taking the new jobs would need to come from other parts of the UK or from the EU.
GACC asks how many more houses would have to be built to accommodate the new oil workers and their families on top of the second runway and natural growth of the population of Surrey and Sussex?  And how many extra vehicles would be added to the roads?
'The creation of thousands of new jobs as a result of oil would just make all these problems worse.' according to Brendon Sewill, Chairman of GACC.  'Runway + oil = Dallas with moussaka.'
The new oil, if it replaces imported oil, could be good news for the local economy as well as the national economy.
Instead,  a new runway would not only make life worse for all who would suffer extra noise and for people under the new flight paths, it would also make Britain and West Sussex poorer :
– because air travel is subsidised by paying no tax on aviation fuel and no VAT; [air passenger duty only makes up a quarter of the revenue lost through no fuel duty and no VAT];
– because the majority of air passengers spend money abroad instead of in the UK;
–  because it would be a waste of money when existing runways are only half full and when larger planes are likely to make any new runway unnecessary; and
– because the climate change damage caused by aircraft will impoverish future generations.'  [Oil would also cause climate change damage – but not if it is substituted for imported oil].
"We will be watching the situation carefully to help ensure no damage is caused to the environment" says Brendon.
.
Map  showing location of Horse Hill, a few kilometres north of Gatwick airport
---
see also
Gatwick oil find 'could produce 100bn barrels'
9.4.2015 (Guardian)
by Josh Halliday and Terry Macalister
UK Oil and Gas Investments locates 'world-class potential resource' in Sussex, but experts believe fracking is needed to extract commercial quantities of oil
An oil company claimed on Thursday that it had found the equivalent of 100bn barrels of oil close to Gatwick airport, sending the firm's share price racing in the City and prompting immediate controversy with environmentalists.
The find would have "national significance" and be the largest of its kind in 30 years, according to the small independent explorer, UK Oil and Gas Investments (UKOG), which is working alongside a larger US firm on the project.
Shares in UKOG jumped more than 200% in frantic trading although veteran analysts dismissed talk of a Sussex oil boom as excessive hype.
Move over JR Ewing: oil discovered near Gatwick airport   Read more
UKOG admitted that while up to 100bn barrels may be in place 3,000ft (900 metres) below the Sussex countryside, only 3-15% of the total would be recovered, based on similar finds in the US.
"We think we've found a very significant discovery here, probably the largest [onshore in the UK] in the last 30 years, and we think it has national significance," Stephen Sanderson, UKOG's chief executive, told the BBC.
Analysts suggest the Horse Hill oilfield – already dubbed by some as Britain's Dallas – could hold 158m barrels of oil per square mile, a significant increase on reports last year claiming it could hold 20m barrels.
The majority of the oil was discovered when UKOG workers drilled the deepest well in the region. Sanderson said the find would "comprehensively change the understanding of the area's potential oil resources".
He added: "Based on what we've found here, we're looking at between 50 and 100bn barrels of oil in place in the ground. We believe we can recover between 5% and 15% of the oil in the ground, which by 2030 could mean that we produce 10% to 30% of the UK's oil demand from within the Weald area."
The firm, which is working with Denver-based Magellan Petroleum, told investors more drilling and testing would be required to prove its commercial value – but that the well had "the potential for significant daily oil production".
Senior analysts said a lot was being made of the find because of its interesting location and the fact that oil was in the public eye because of the drop in prices and the row over fossil fuels.
"Who knows at this stage whether this is a truly big discovery and how much oil is really recoverable. The City loves a frothy story like this," said one analyst who asked not to be named.
UKOG has claimed it can extract the oil without resorting to the controversial technique of fracking, where chemicals are pumped into the ground to bring out the oil.
Keith Taylor, a Green party MEP for south-east England, said some experts disputed whether chemicals could do this and the discovery raised wider matters of concern.
"This huge oil find is the perfect opportunity for us to have an important national debate about keeping fossil fuels in the ground. The scientific consensus on climate change has never been greater and we have been told that the only way we have a chance of averting catastrophe is by leaving large reserves of oil in the ground."
Brenda Pollack, a campaigner for Friends of the Earth, said the prospect of "dirty oil extraction" in southern England would alarm local communities and put fracking firmly on the region's election agenda.
"Any firm proposing to drill for oil in the region knows it will face huge opposition – as happened at Balcombe, Fernhurst and Wisborough Green. Drilling proposals in Sussex have already been turned down."
Doug Parr, chief scientist at Greenpeace UK, said: "Dotting the English countryside with drilling rigs and pipelines to squeeze the last drop of oil out of Britain doesn't make any sense.
"To gleefully rub your hands at a new fossil fuel discovery you need to turn the clock back to the 19th century and ignore everything we have learned about climate change since. We already have more than enough coal, oil, and gas reserves to fry the planet."
But Ken Cronin, chief executive of the oil industry lobby group UKOOG, said the public had no reason to be worried and he argued these kinds of finds could play a major role helping the UK's economic recovery.
"We have been drilling for oil and gas onshore in the UK for over 100 years. There are a number of sites in the south of England that have been producing oil for many years with great care for the environment and with no impact on local communities."
Prof David Elmes, who researches the oil industry at the Warwick Business School and has worked for BP, said the discovery should be treated with caution. "What we can get out of the ground and whether that is commercially viable to extract are much lower figures.
"How much the local community is affected will also depend on how much can be produced that is economically viable. Small fields can be serviced by tankers but the size suggested here would need a pipeline.
… What's commercial will also depend on the oil price at the time. Global oil prices have fallen dramatically in recent times with no sense of a strong recovery just yet."
http://www.theguardian.com/business/2015/apr/09/west-sussex-oilfield-could-produce-50-to-100m-barrels-of-oil
.
---
Gatwick oil find sparks climate action calls
11.4.2015 (BBC)
Campaigners are gearing up to fight any plans to extract oil in Surrey after an energy firm revealed there could be up to 100 billion barrels of oil under land at Horse Hill, near Gatwick.
Frack Free Surrey has already held a protest camp there and said it would welcome further action at Horse Hill.
Friends of the Earth (FOE) said any drilling would face huge opposition, as seen at Balcombe in West Sussex.
Exploration firm UK Oil & Gas Investments (UKOG) has not commented.
UKOG has already said it does not intend to use fracking – hydraulic fracturing – because rocks at Horse Hill are naturally fractured and could be conventionally drilled.
But Rob Basto, from Frack Free Surrey, people living nearby were not likely to believe this.
He said up to 80 people protested at Horse Hill last year, and up to a dozen people maintained a constant presence at the site for three months during test drilling.
People in the area were apprehensive of another Balcombe-style climate campwhich saw about 1,000 people join a six-day protest, but campaigners would welcome a camp "to make it clear we are not just going to take things sitting down", he added.
FOE campaigner Brenda Pollack said residents were already asking questions, and the Balcombe protests began with ordinary villagers asking questions.
She said tiny Sussex villages, such as Fernhurst and Wisborough Green, had been rising up for some time, and drilling proposals had been turned down.
On Thursday, UKOG said drilling at Horse Hill had discovered 158 million barrels per square mile, and the site had the potential for "significant daily oil production" – but only 3% to 15% of the total could be recovered.
The company said further drilling and well testing would be needed to prove the initial results.
http://www.bbc.co.uk/news/uk-england-32254795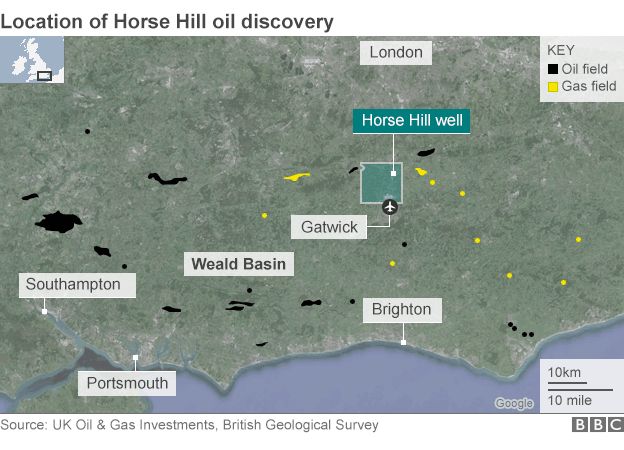 .
---
.
Later news:
UK Oil and Gas clarifies wild claims on shale oil reserves in Sussex
April 15, 2015  (Friends of the Earth)
Reacting to today's statement from oil firm UKOG about last week's
"discovery" [1] of oil reserves near Gatwick, Brenda Pollack, Friends of
the Earth's South East Campaigner said:
"UKOG has backtracked on the wild claims it made last week and admitted
that it has no idea how much oil is under the Sussex Weald.
"This is yet another example of the potential for shale oil and gas being
overhyped by an industry desperate to starting pumping profits with little
concern for residents or the climate.
"We need to leave fossil fuels in the ground and invest in the real
alternative of renewables and cutting energy waste if we are serious about
avoiding the worst impacts of climate change."
ENDS
Notes to editors
1) UKOG's claims last week [2] that it had found a potential 100 billion
barrels of oil in the Weald.
2) UKOG's revised statement [3] clarifying that it has doesn't actually
know how much oil there is.
[1]http://www.foe.co.uk/resource/press_releases/oil-find-southern-england-raises-fracking-concerns_09042015
[2] http://www.bbc.co.uk/news/business-32229203
[3]http://www.investegate.co.uk/uk-oil—38–gas-inv-plc–ukog-/rns/clarification-of-press-comment/201504150700252568K/
https://www.foe.co.uk/resource/press_releases/uk-oil-gas-clarifies-wild-claims-shale-oil-reserves-sussex_15042015
.
.
.