Zac Goldsmith unveils maps showing 1 million under indicative flight paths for a 3 runway Heathrow
Zac's all party group of MPs has produced a new map showing where flight paths might be, with a Heathrow 3rd runway. Their map shows that hundreds of thousands more London residents would find themselves under new flight paths if the runway was built. Senior Tories including Justine Greening and Boris Johnson joined Richmond MP Zac Goldsmith in Parliament to launch a campaign alerting people to the potential impact on neighbourhoods across the capital. Heathrow disputes the map, and nobody knows exactly where the flight paths would be.  Zac said Heathrow was "already the biggest [noise] polluter in Europe by far" and that additional noise was just one of the reasons to oppose expansion. Boris Johnson said David Cameron should honour his 2010 pledge of "No if, No Buts, No 3rd Runway". Jenny Jones and the Green Party were the only politicians present who said no runway should be built.myself. Zac Goldsmith is aware of the environmental reasons why no runway should be built. However, he has chosen not to say this and go with the dubious assumption that it is just a choice between Heathrow and Gatwick. He commented: "I recognise by piling pressure against Heathrow expansion, I make it more likely that you have Gatwick expansion, but my first priority is to stop Heathrow expansion, it has to be."
.
Tweet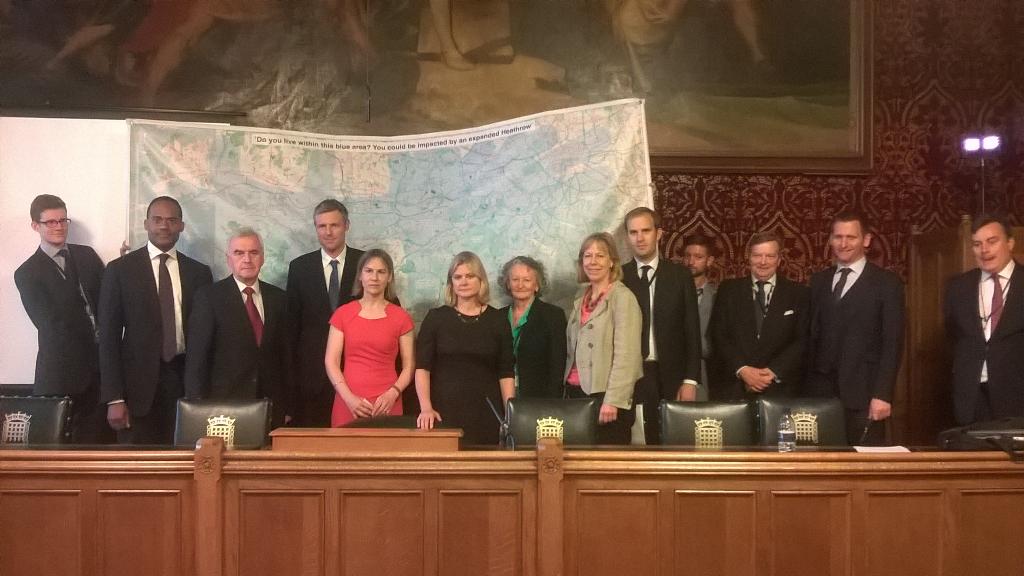 MPs and Lords at the launch of the map by the All Party Parliamentary Group (APPG) in Parliament.
Details at http://heathrowflightpaths.co.uk/
Do you live within this blue area? You could be impacted by an expanded Heathrow.
CLICK THE MAP TO ZOOM IN AND SEE IF YOU ARE UNDER A NEW FLIGHTPATH (Map will open in a new tab). http://heathrowflightpaths.co.uk/images/areas.jpg
The blue area illustrates the flight path corridors for an expanded Heathrow Airport, based on the respite option indicative flight paths Heathrow submitted to the Airports Commission. It is unclear which of these flight paths are to be used for arrivals or departures and what type of navigation will be used, so we have followed standard practice of drawing 1.5km Noise Preferential Routes around each flight path to provide an approximation of where planes might fly.
Note: Heathrow have not released their final flightpath plans yet so the above is subject to change.
---
The red lines indicate what Heathrow have published as potential new flight paths if the airport expands.  The blue lines are the current flight paths from Heathrow's existing two runways.
CLICK THE MAP TO ZOOM IN AND SEE IF YOU ARE UNDER A NEW FLIGHTPATH (Map will open in a new tab)  http://heathrowflightpaths.co.uk/images/home.jpg 
Note: Heathrow have not released their final flightpath plans yet so the above is subject to change.
---
Current flight paths
The red lines are the flight path centre lines, and the blue lines are the Noise Preferential Routes (NPRs) and nominal approach routes.
To see a larger version of this map, click on it or here  http://heathrowflightpaths.co.uk/images/current.jpg
---
Noise
Heathrow Airport, by a colossal margin, is the largest noise polluter in Europe. It currently affects over 720,000 people from noise at levels that cause significant annoyance.
Up to 1,000,000 people could be affected if Heathrow is expanded.
World Health Organisation (WHO) research has demonstrated the harmful effects of excessive noise, particularly on the vulnerable – children, the elderly, those with underlying cardiovascular and mental health conditions.
The WHO's key guidance documents links noise pollution above 55 decibels with, among other effects,  aggressive behaviours; stress hormones, high blood pressure levels, reducing helping behaviours and hindering child development.
Transport for London Noise Map with a Third Runway
You can see from Figure 4 below, the significant areas surrounding the runway that are over the WHO noise limit of 55 decibels.
To see a full size version of this image please click http://heathrowflightpaths.co.uk/images/noise_main.jpg
Details at http://heathrowflightpaths.co.uk/
---
Heathrow expansion 'to hit hundreds of thousands more Londoners'
MPs and Lords including Zac Goldsmith and Boris Johnson reveal map showing alleged new flight paths as they fight third runway at west London hub
by Gwyn Topham (Guardian)
17.6.2015
Hundreds of thousands more London residents would find themselves under new flight paths should Heathrow be expanded, a cross-party group of MPs and Lords has warned.
Senior Tories including Justine Greening and Boris Johnson joined Richmond MP Zac Goldsmith in the Commons on Wednesday to launch a campaign alerting people to the potential impact on neighbourhoods across the capital as the airports commission prepares to deliver its recommendation for a new runway at either Heathrow or Gatwick.
Flanked by a map depicting what he claimed would be newly overflown regions of the city – although Heathrow disputes it – Goldsmith said Heathrow was "already the biggest polluter in Europe by far" and that additional noise was just one of the reasons to oppose expansion. He said a third runway would mean "unmanageable congestion", while the "economic case had entirely crumbled" and reinforcing Heathrow would see UK aviation "reverting to a taxpayer-funded monopoly".
Johnson reminded the prime minister of his former unequivocal pledge to oppose Heathrow expansion, including a tree adopted by David Cameron on the site of the last planned third runway. He said: "I think that everybody remembers the manifesto that we ran on in 2010.
"It was a very clear campaign, it was the right campaign. I think the prime minister should stick with it. No ifs, no buts, no to a third runway, he said. He was right then and he would be right now."
Although Johnson has promised to lie down in front of the bulldozers should a third runway be approved, he ruled out resigning as either an MP or from his increasingly intermittent role as mayor of London.
The senior Conservatives were joined by council leaders and MPs from constituencies neighbouring Heathrow – including Labour's John McDonnell and Ruth Cadbury and Liberal Democrat Tom Brake. Green peer Jenny Jones said her party opposed expansion at either Heathrow or Gatwick, although several Tories, including the Windsor MP Adam Afriyie, urged building at Gatwick instead.
Goldsmith said: "We've been given a choice by the commission – that's not one I'd set myself. I recognise by piling pressure against Heathrow expansion, I make it more likely that you have Gatwick expansion, but my first priority is to stop Heathrow expansion, it has to be."
Johnson said: "We don't think that Gatwick is optimal either." But, he added: "The reality is that on any utilitarian calculus or environmental calculus of damage done to human life, Heathrow would be far, far the worse option."
A Heathrow spokesperson said: "The map published today is inaccurate and unhelpful to local residents. The independent airports commission, made up of objective, technical experts has made its views clear – Heathrow expansion can take place while reducing the number of people impacted by noise."
The commission, set up by Cameron in 2012 and chaired by Sir Howard Davies, is due to deliver a recommendation on whether Heathrow or Gatwick should be the preferred choice for the additional runway that it has already concluded Britain needs.
http://www.theguardian.com/uk-news/2015/jun/17/heathrow-expansion-hit-more-londoners-third-runway-mps-lords-claim
.
Zac Goldsmith denounced a 3rd Heathrow runway as "politically unworkable" and said there would be a one-million-strong army of protesters to oppose it. Zac has urged Tory colleagues to ignore the findings of the Airports Commission when they are announced – perhaps next week.
Zac Goldsmith: "We can study the report but if it is the wrong conclusion we can reject it. We're not elected to delegate difficult decisions to other people."
Boris reminded David Cameron that he had made a "no ifs, no buts" promise in 2010 not to proceed with a Heathrow runway.
Boris urged David Cameron to "find the tree" — in an oblique reference to the moment the Tory leader joined celebrities in planting an orchard on the site of the proposed runway.
Some senior Tories believe that the government could go ahead with Gatwick even if the Commission recommends Heathrow because there is considered to be far less opposition to its expansion.
.
---
Are you one of "the million" due for plane noise: MPs unveil Heathrow expansion map
http://www.wandsworthguardian.co.uk/news/13337050.Are_you_one_of__the_million___MPs_unveil_map_of_Heathrow_expansion_noise/
.
.