Linlithgow MSP sends her own 42-page report on impact of Edinburgh flight path trial to CAA
The "Tutur" flight path trial at Edinburgh airport created a storm of protest, from those finding themselves under a new, narrow flight path for the first time. The trial had to be stopped two months early, in October, because of the opposition. Now Fiona Hyslop, the MSP for Linlithgow, which was partly overflown in the trial, has herself surveyed 2,000 residents in West Lothian to find out their views. She has sent her 42-page report to the CAA. Ms Hyslop said the reason for her report was that residents had been kept in the dark about the potential for a new Edinburgh flight path and although the CAA "will receive a report from Edinburgh Airport stating that the complaints they received have originated from a small number of residents who have repeatedly complained, Edinburgh Airport did not proactively contact each individual resident as I have." Of the 2,000 surveyed, she found that 1,220 respondents felt that noise created by planes overhead was intrusive or disturbing while they were in their house with the windows shut. 760 of those surveyed found that there had been either no change, that the noise was barely noticeable or that it was tolerable. In two areas, the number saying they had been adversely affected were 71% and 60%. These results give a  much fuller picture of the noise impact than "simply stating the results from two temporary noise monitors as Edinburgh Airport propose to do."
.
Tweet

West Lothian flight path report sent to aviation chiefs
30 DEC 2015 (Daily Record)
BY EDDIE HARBINSON
Forty-two page document details noise complaints during four month trial
MSP [Member of the Scottish Parliament] Fiona Hyslop has sent a 42-page report into the impact of flight path noise over West Lothian to the Civil Aviation Authority
Linlithgow MSP Fiona Hyslop sent the document after surveying 2000 residents during the
Edinburgh Airport flight path trial between June and October last year.
She found that 1,220 respondents felt that noise created by planes overhead was intrusive or disturbing while they were in their house with the windows shut.
But 760 of those surveyed found that there had been either no change, that the noise was barely noticeable or that it was tolerable.
Ms Hyslop claimed the reason for her report was that residents had been kept in the dark about the potential for a new take-off flight path from Edinburgh Airport.
She said: "I am asking the CAA to bear in mind that although they will receive a report from Edinburgh Airport stating that the complaints they received have originated from a small number of residents who have repeatedly complained, Edinburgh Airport did not proactively contact each individual resident as I have.
"Therefore any decision that the CAA come to must take into consideration the 2,000 plus views that I have collated from my survey.
"Edinburgh Airport had the opportunity to contact all residents in West Lothian to notify them of the new flight path prior to it starting but they chose not to.
"As a result they are misinformed about the level and severity of the disruption.
"My report goes a long way to ensure the CAA are aware of the real issues behind this proposed flight path and the actual effects it has had on my constituents, rather than simply stating the results from two temporary noise monitors as Edinburgh Airport propose to do."
Map to illustrate where the affected places are in relation to the airport
Ecclesmachan was the place with the highest percentage of people found the noise intrusive – 47% of those surveyed.
In Linlithgow, a third of people said the noise was noticeable but half of those surveyed said there had been no change, the noise was barely noticeable or it was tolerable.
60% of Broxburn residents claimed they had been adversely affected, while in Uphall that figure rose to 71%.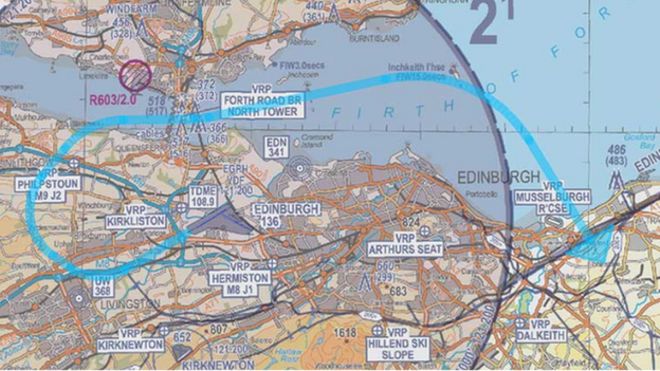 But a spokesman for Edinburgh Airport said: "The recent flight path trial was conducted to gain essential information to enable a full consultation with local residents.
"In line with CAA guidance we informed all local MPs, MSPs – including a meeting with Ms Hyslop – and councils were contacted in advance to inform them of the trial.
"As previously stated, any future airspace change trails will be preceded by a direct engagement process with local residents.
"In January 2016 we will publicise the results of the trial including noise and any resulting proposed air space change will include comprehensive stakeholder consultation."
http://www.dailyrecord.co.uk/news/local-news/west-lothian-flight-path-report-7092256
.
.
---
See also
People living with Edinburgh airport plane noise adamant that changes to routes persist
The new campaign group, Stop Edinburgh Airspace Trial (SEAT), was set up last year in response to the suddenly increased noise from the TUTUR trial that started in June 2015 over some areas. They say Edinburgh Airport is planning to impose a "new airspace regime" on the area surrounding it – effectively a secret flight path. The purpose of TUTUR was to see if the airport could increase capacity by cutting the departure interval between flights from two minutes to one. However, people living beneath it have attacked the airport's lack of transparency. Helena Paul, from SEAT said Edinburgh Airport failed to adequately communicate about the TUTUR experiment with communities." She also said there were concerns that data from airport-positioned noise monitors would "not adequately reflect the disturbance on the ground". The trial was stopped 2 months early after nearly 8,000 complaints. Yet SEAT members say they are still hearing about new problems with noise being experience by residents across West Lothian and into Fife. There are complaints that planes are more frequent, lower and louder. But the airport says: "Aircraft have been flying in and out of Edinburgh Airport on the same routes for 40 years; they are not flying any lower or louder than they did in the past." This a now familiar pattern – residents and airports not agreeing. The airport will publicise the results of the trial later this month.
Click here to view full story…
.
---
See earlier:
Edinburgh trial (no prior consultation) of new narrow route to be ended 2 months early, due to opposition
Edinburgh Airport is to halt its controversial trial of a new flight path two months early (28th October). The trial of the concentrated route resulted in unacceptable levels of noise for those below the new route. The airport's Chief executive Gordon Dewar admitted the airport had been overwhelmed with complaints about the trial route over areas which were not previously over flown. He said a letter from Transport Minister, Derek Mackay, asking if the trial could be shortened had also influenced the decision. The announcement was made at a packed public meeting in Broxburn. Like all other new routes that have been introduced through the CAA, there was no consultation. Mr Dewar said on the consultation: "…I do apologise. We have learned a lesson on that one." The CAA has been taken aback by the extent of opposition to every new concentrated flight path it has introduced, and appears unable to work out how to implement the European SESAR changes to airspace on an articulate and determined population, against their will. Someone at the meeting commented that Gordon Dewar's presentation was met with silence from the audience. But a short video by Sally Pavey, an experienced noise campaigner from Gatwick, received enthusiastic applause. Campaigners from affected airports are linking up to oppose unsuitable airspace changes.
Click here to view full story…
.
Scottish MSPs call for the Edinburgh flight path trial, that is reducing people to tears, to be ended early
Edinburgh Airport started a trial of a new flight path in June, due to continue till 24th December. The purpose of the route is to enable the airport to have take-offs every minute, rather than every two minutes. It has resulted in a narrow, concentrated flight path over areas that did not have much plane noise before, and this has caused real distress. People are especially infuriated because the CAA allows NATS to run trials with no consultation of the public. This consultation is currently only needed once the trial has been done (and it pretty much a fait accompli). Campaigners of SEAT (Stop Edinburgh Airspace Trial) launched a petition against the trial and have won the support of cross-party Lothian MSPs, including Labour's Neil Findlay who yesterday led the debate. Four MSPs spoke up in a debate at Hollyrood, saying it is not acceptable that people now badly affected by noise were not consulted, and they want the trial ended early.  Alison Johnstone (Green Party Scotland) said the relentless noise, often from 5am all day through till midnight, had reduced people to tears due to stress and sleep deprivation. She added, re. the CAA: "Just because you don't have to consult, doesn't mean you shouldn't."
https://www.airportwatch.org.uk/2015/09/scottish-msps-call-for-the-edinburgh-flight-path-trial-that-is-reducing-people-to-tears-to-be-ended-early/
.
Edinburgh Airport unveils 5 month trial of flight path to boost the airport's capacity
Edinburgh Airport has unveiled details of a 5-month trial of a new flight path for aircraft taking off to the west, in a bid to increase capacity. The Airspace Trial, which will begin on 25 June, will introduce a new SID route, the purpose of which is to allow more flights to use the runway, and allow aircraft to take off at one-minute intervals. This is to "allow the airport to maintain safe and sustainable growth without affecting punctuality." Most of the time the flights take off to the west and there are currently 3 SID€™ routes – known as Grice (which goes north), Gosam (which goes south west) and Talla (south). The new route – Tutur – will see aircraft take off in a south westerly direction and turn right towards the River Forth, passing over West Lothian and to the east of Linlithgow. The settlements worse affected, with planes at 1900 – 2000 feet, would be Uphall and Dechmont. Map Aircraft will climb as they turn, to fly over the coast and down the Firth of Forth passing North Queensferry, and then fly back over land at approximately 13,000ft near Musselburgh. The airport says the aircraft using the trial route are likely to be their least noisy (B737s, A319, A320, A321, 787 and A330s). The airport says the trial would monitor the impact on local communities, and noise monitors would be placed along the flight path to collect data on the flights.
Click here to view full story…
.
.
.