London City airport sold to Canadian Pension funds, for £2 billion (bought by GIP in 2006 for £760 million)
A Canadian-led consortium of pension funds has beaten rivals to buy London City airport, from GIP, which paid £760 million for it.  So that is a hefty profit. The valuation has proved controversial because the largest airline at City airport, BA, threatened to pull most of its aircraft out of the airport if the new owner raised airline charges to cover the high sale price. Willie Walsh, CEO of BA's owner IAG, considers £2 billion a foolish price.  GIP owns 75% of the airport, and Oaktree Capital own 25%. The consortium that has bought the airport is led by the Ontario Teachers' pension fund. It includes Borealis Infrastructure, which manages funds for one of Canada's largest pension funds, and also Japanese pension funds. The consortium is made up of AIMCo (Alberta Investment Management Corporation), OMERS (Ontario Municipal Employees Retirement System), Ontario Teachers' Pension Plan and Wren House Infrastructure Management.  Kuwait's Wren House Infrastructure Management is an investment vehicle owned by the Kuwait Investment Authority. The Canadian Teachers' pension fund has $160bn in assets, and already owns 4 airports (share of Birmingham, Bristol, Brussels and Copenhagen).  HS1 Ltd is jointly owned by Borealis Infrastructure and Ontario Teachers Pension Plan, both Canadian pension funds.  GIP bought the airport for an estimated £750m in 2006 from Dermot Desmond, the Irish financier, who paid just £23.5m for it in 1995 from Mowlem.
.
Tweet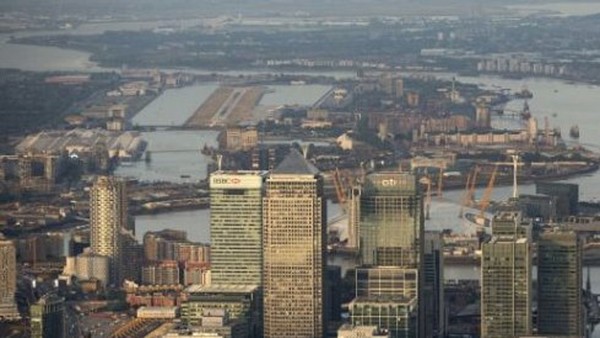 Canadian consortium buys London City airport for £2bn
Group led by Ontario Teachers' pension fund and HS1 investor Borealis, saw off strong competition to purchase the capital's smallest airport
By Gwyn Topham, Transport correspondent (Guardian)
Thursday 25 February 2016
London City Airport has been sold to a Canadian consortium for around £2bn.
The airport in Docklands largely serves a clientele of business executives and has been bought by a consortium led by the Ontario Teachers' pension fund and Borealis, the pairing whose UK infrastructure investments include HS1.
Other reported bidders were the Chinese transport company HNA and another Canadian consortium, as the price for the capital's smallest airport exceeded early expectations.
The value of the airport, which serves around four million passengers a year, has rocketed over the past two decades. Global Infrastructure Partners, its owner until now, also has Gatwick and Edinburgh in its portfolio. It paid a third of that price a decade ago to buy the airport from Irish businessman Dermot Desmond, who had purchased it in 1995 for just £23.5m. It was an investment that had been considered risky while Canary Wharf, a major source of business passengers, was in administration.
The Ontario Teachers and Borealis consortium also included Aimco and Wren House, while the defeated Canadian consortium included PSP Investments, a pension fund that covers the country's mounted police.
Expansion plans for the central London airport have been blocked by the mayor, Boris Johnson. City airport is appealing against Johnson's decision to block its proposed £200m expansion plan, which would have doubled its passenger traffic by 2030, extending the terminal and airfield to allow 50% more flights.
London City Airport is in the middle of a planning battle over a £200m development that would increase the number of passengers it handles to 6m by 2023. The plans were blocked last year by Boris Johnson, mayor of London, over concerns of sound pollution. London City is appealing against the mayor's decision. The appeal starts on 15th March.
Campaigners attempting to curb its present operations due to noise and pollution concerns have warned that the 2030 vision would mean a huge increase in flights and disruption over inner north-east London.
The sale may raise the eyebrows of the boss of London City's biggest customer, British Airways. Willie Walsh, chief executive of BA's ower IAG, recently dismissed the £2bn valuation as "foolish". He warned that BA was prepared to move its operations elsewhere should any buyer attempt to increase landing charges to cover the cost of its purchase.
The price is around 30 times London City's earnings before interest, tax, depreciation and amortisation in 2015. Walsh said he could not see how any buyer could "recover or make any return on that investment unless they make significant increases in airport charges".
The price tag dwarfs the £1.5bn paid by Manchester Airports Group for Stansted two years ago, which carries more than five times as many passengers and has permission to double that number.
However, London City airport, which is near Canary Wharf, has an unparalleled location and investors may believe airlines could sustain higher fares – despite Walsh's claim about the margins BA makes at City.
Global Infrastructure Partners declined to confirm or comment on the reported sale. London City airport and Ontario Teachers did not respond to requests for comment.
http://www.theguardian.com/business/2016/feb/25/canadian-consortium-buys-london-city-airport-2bn
.
---
London City airport sold to Canadian pension funds
25.2.2016 (FT)
http://www.ft.com/cms/s/0/2d675756-dbe6-11e5-a72f-1e7744c66818.html#axzz41EJLGzga
.
---
More details about the buyers and those whose bids did not succeed at http://www.telegraph.co.uk/finance/newsbysector/transport/11809995/Kuwait-eyes-consortium-bid-for-London-City-Airport.html.  Telegraph. August 2015
---
The Ontario Teachers Pension Plan owns, just Europe, the Middle East and Africa:
(and lots more elsewhere in the world)
http://www.otpp.com/investments/asset-groups/infrastructure/portfolio
Latin America
---
Borealis Infrastructure owns:
Transportation – Roads, rail, tunnels, bridges, ports and airports
The Borealis transportation asset portfolio represents a diverse and essential set of assets in the freight and passenger-based transportation infrastructure sectors.
Each asset is critical to the safe, efficient passage of goods and people between continents, countries and cities that is vital in today's global economy.
HS1
HS1 is the only high speed railway in the UK serving Eurostar and Southeastern.
http://www.highspeed1.com
Through High Speed 1 ("HS1"), Borealis is party to a concession until 2040 to operate, manage and maintain the 109 km high speed rail line connecting London, St. Pancras Station to the Channel Tunnel. HS1 is the UK's first high speed rail line and forms part of the Paris-Brussels-London trans-European high-speed rail network.
Port of Southampton
The Port of Southampton is home to the UK's second busiest container terminal handling more than 1.5 million TEUs each year.
http://www.abports.co.uk
The UK's leading ports group, Associated British Ports ("ABP") owns and operates 21 ports in England, Scotland, and Wales, and handles approximately a quarter of the country's seaborne trade.
TANK & RAST. Germany
http://tank.rast.de/en/
Tank & Rast ("T&R") is the owner and the landlord of over 90% of motorway service areas ("MSAs") on the German Autobahn network. Founded in 1951 as a state-owned entity and privatised in 1998, T&R's network includes c. 400 sites located on all major motorway routes throughout Germany and visited by c. 500m visitors each year – c. 350 fuel stations, c. 390 service stations, c. 390 restaurants and c. 50 hotels. The MSAs operate under long-term regulatory concession agreements granted by the German government.
.
.
The Borealis website says:
Since its formation in 1999, Borealis has been investing in infrastructure assets on behalf of OMERS, one of Canada's largest pension plans. The OMERS pension plan hasapproximately 450,000 members and net assets in excess of $72 billion.*
Commencing in 2010, OMERS led an initiative to assemble a capital pool to acquiremulti-billion dollar infrastructure assets with the capacity to generate large and sustainable cash flows over the long term. The Global Strategic Investment Alliance (GSIA) was officially formed in 2012. The GSIA brings together like-minded, long term, global institutional investors in pursuit of attractive, large-scaleinfrastructure assets mainly in North America and Europe.
Current members of the GSIA include a consortium led by Mitsubishi Corporation, Pension Fund Association of Japan, Government Pension Investment Fund and the Development Bank of Japan, McMorgan Infrastructure Fund I, LP, and OMERS. The total capital committed to the GSIA is US$12.58 billion**.
The GSIA alliance members have exclusively engaged Borealis to identify, pursue and manage infrastructure investments on their behalf.
http://www.borealis.ca/about-us/our-investors
.
.
.