CAA gives approval to new PBN flight path from Birmingham airport to the south
At the start of April, the CAA approved changes to flight paths at Birmingham Airport, that were deemed necessary because of the runway extension. There were trials of new flight paths to the south in 2014, which generated a lot of anxiety and anger. The opposition was especially strong in the Balsall Common area, where a lot of people were newly overflown.  Planes were taking off further south on the longer runway than before the extension, and also landing further south – so were lower on the approach. The CAA considered 2 route options using Performance-based Navigation (PBN) technology, creating narrow, accurately flown paths. The CAA has gone through a long process, and has now approved Option 6, rather than Option 5, and say this has noise impact on fewer residents. The village of Balsall Green will be less impacted by this choice and they campaigned very effectively against the route being over them. But the smaller village of Barston, nearer to the end of the runway, will get relentless noise.  The CAA has also instructed the airport to trial the use of Option 5, which is not quite as bad for Barston, for turbo-prop aeroplanes, which are less noisy than jets. Birmingham will do more work on the departure routes to the north, and then formally submit them for approval to the CAA.
.
Tweet

Civil Aviation Authority approves Birmingham Airport flight path changes
6.4.2016 (ITV)
The Civil Aviation Authority has approved changes to flight paths at Birmingham Airport in response to its £33 million runway extension.
It comes despite protests by residents in 2014 when trials began seeing planes passing over residential areas like Balsall Common instead of open countryside.
At the time there were complaints by residents that incoming aircraft from the south were lower and noisier – and because of the longer runway the planes were touching down sooner.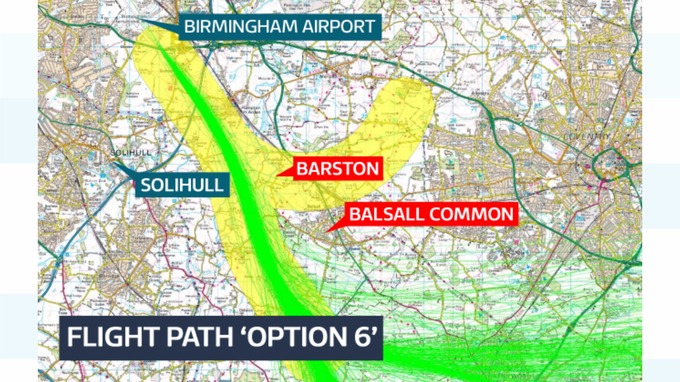 The Option 6 flight path Credit: ITV News Central/Birmingham Airport
Many claimed the noise was so bad it was difficult to have a conversation.
A number of options known as 5 and 6 were tried at the time, with the airport settling on option 6, which it has been using for some time.
Today the CAA said:
"Detailed analysis and modelling of live trials conducted in 2014-15 revealed that the aircraft noise generated by Option 6 impacts fewer residents. This is also endorsed by feedback from Birmingham's Airport's consultation.
However, as part of this decision, the CAA has also instructed the airport to trial the use of Option 5 for turbo-prop aeroplanes which should move aircraft away from being directly overhead Barston.
The airport is currently undertaking further design work on a northbound departure route, known as Option 4. Once this work has been completed the airport can formally submit the route for approval to the CAA."
ITV News Central has spoken to residents in Balsall Heath who say they're pleased with the ruling by the CAA and that their concerns have been considered.
Speaking earlier this week a spokesperson for Birmingham Airport said it's been working closely with affected residents, particularly in Balsall Common, and say it's been really useful for both parties to reach a compromise and introduce some measures which benefit everyone including a 4000ft 'noise corridor' to minimum noise disruption.
The new longer runway can now accommodate larger aircraft, like the Airbus A380 which started carrying passengers to Dubai for the first time last month.
http://www.itv.com/news/central/2016-04-06/civil-aviation-authority-approves-birmingham-airport-flight-path-changes/
.
---
Outline details about the route change.
Sponsor: Birmingham Airport Limited.    The proposal seeks to establish revised departure routes from runway 15 utilising Performance-based Navigation (PBN) technology, following the extension to the airport's instrument runway.
Details at
http://www.caa.co.uk/Commercial-industry/Airspace/Airspace-change/Decisions/Birmingham-Airport-Runway-15-departure-routes/
It states:
"The differences between Options 5 and Option 6 environmentally are broadly marginal when compared with each other, or indeed when compared to what is flown by aircraft today. In summary, Option 5 has been selected as the preferred option for the following reasons;
 The greater support from the formal consultees
 Marginally better environmental outcome, as the area closest to the Airport, which has the potential to be directly overflown is the village of Barston. Option 5 offers marginally greater relief to Barston than Option 6."
Birmingham International Airport Standard Instrument Departures from Runway 15: CAA decision CAP 1398
http://publicapps.caa.co.uk/docs/33/CAP%201398%20APR16%20amended.pdf
It states: 
The CAA has decided to approve Option 6 (for the reasons set out in this decision) : Southbound Option 6 – this proposal requires aircraft departing aircraft from runway 15 to turn right at the first allowable position using RNAV-1 design criteria to a common waypoint (coded as BBS06) from where the SIDs split to each of the four waypoints Daventry (DTY), Westcott (WCO), Compton (CPT) and COWLY; these SIDS were designated '2Yankee (2Y)'.
Birmingham International Airport Standard Instrument Departures from Runway 15: 
Residents living in Barston – shown in the map above, just where the flight path bends slightly, are not happy about the decision. The village appears to be a clear loser in the CAA decision.  Campaigners at another larger village, Balsall Common, a little further away have – by contrast – successfully campaigned for the route to be kept away from them.
Barston Parish Council feels there were numerous failings in the conduct of the trials and in the environmental monitoring work that was done.
.
---
Earlier news about the history of this flight path change at
Birmingham Airport News