Campaign group RiseUp! organised the rally after the Government approved plans to build a third runway at the airport last month.
The 15 arrests were on suspicion of obstructing a public highway and for public order offences.
A spokesperson for the Metropolitan Police said: "A planned protest is ongoing at Heathrow Airport on Saturday. "A proportionate policing plan is in place.  There have been 15 arrests for obstructing the highway and public order offences. Officers remain at the scene."
One of the protesters taking part in the demonstration, Genny Scherer, 70, said: "It's one or the other: new runways or a safe climate.
"I want my nephews and nieces to grow up in a safe climate, just like I was able to."
http://www.getwestlondon.co.uk/news/west-london-news/heathrow-protest-police-arrest-15-12200992
.
---
15 Heathrow anti-expansion campaigners arrested at motorway protest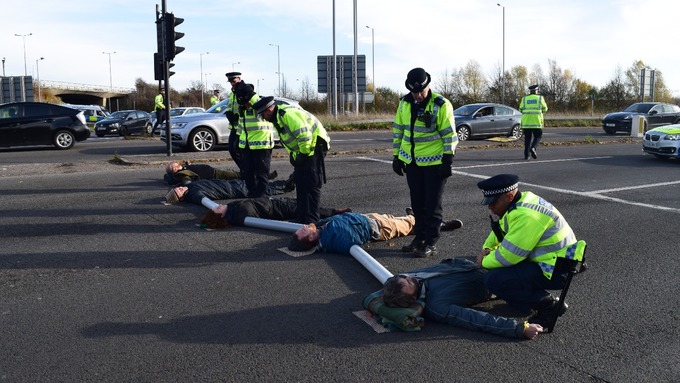 Fifteen climate change protesters have been arrested after some campaigners blocked a motorway leading up to Heathrow Airport.
A small group of activists ran on to the M4 spur road and lay down in front of oncoming traffic, causing temporary disruption while others were arrested on suspicion of public order offences.
Organised by campaign group RisingUp!, the action is demonstrating against the government's recent decision to approve a third runway at the West London airport.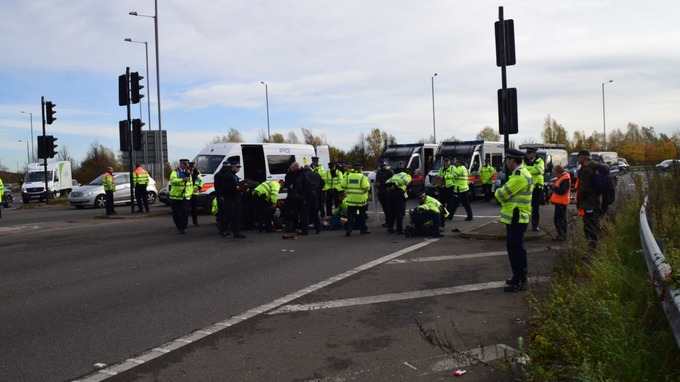 Campaigners of all ages gathered on the flyover to chant "No ifs, no buts, no third runway" and "No more runways".
Placards read "Heathrow expansion will destroy thousands of homes" and "Protect the planet, no more runways".
Radical Action   @ClimateIntifada
A spokesman for RisingUp! said: "The government's decisions to expand Heathrow, despite mass opposition from local residents and the fact that doing so is incompatible with the UK's own laws on climate change, leaves us with no morally acceptable option but to resist."
Passengers using the airport have been advised to allow extra time to travel to the airport and use public transport where possible.
.
---
A law abiding protest took place, within sight of one of the road blockages, just outside Heathrow, against the 3rd runway 
Bath Road, Heathrow
The second event of the day saw Heathrow Villagers and local environmental activists join up on the Bath Road near The Three Magpies Pub to hear speeches and show banners to highlight the issues to people passing through to the airport
HACAN's John Stewart addresses the gathering
---
At least 15 arrested at massive 'die-in' protest at Heathrow over airport expansion
Sofia Petkar for Metro.co.uk
Saturday 19 Nov 2016 
Former MP Zac Goldsmith was also seen speaking to campaigners at a separate demonstration in Richmond.
They could also be heard chanting: 'No ifs, no buts, no third runway'.
Grassroots organisation RisingUp! held the protest after it was announced that the Government would be backing the £16 billion plan to expand Europe's busiest airport with a third runway.
At least 15 people have been arrested at a major demonstration against a third runway at Heathrow.
Announcing the massive 'die-in' on the M4 spur road before the protest, the group said: 'The Government's decision to expand Heathrow, despite mass opposition from local residents and the fact that doing so is incompatible with the UK's own laws on climate change, leaves us with no morally acceptable option but to resist.
'Only 15% of the British public is responsible for 70% of international flights taken in the UK, and Heathrow largely serves international passengers who have a mean income of £57,000 per year.
'This expansion is being driven by the very rich at the expense of some of the poorest people in the world.
'By 2050 there will be 200 million climate refugees worldwide. Agricultural land in the global south will turn to desert, depriving millions of their right to economic development and driving them into hunger and malnutrition.'
Campaigners help up signs which read 'protect the planet, no more runways' and 'residents against aircraft noise'.
One local resident, Neil Keveren from Harmondsworth, said: 'Democracy has failed us. Elected leaders have totally reversed the will of the people.
'As a direct result the quality of life and life expectancy of the population here will be shorter. This is against our human rights and must be defended.
'Who is left to correct this injustice when our politicians won't? The answer is us, you and me.'
Why are people protesting the third runway at Heathrow?
In their own words, RisingUp are demonstrating against the planned expansion of Heathrow because:
Out of control climate change will put the lives of hundreds of millions at risk, especially in the global south, and has already destroyed the lives of millions through increased incidence of extreme weather events.
Expansion at Heathrow will cause the UK to break its own national laws to reduce emissions, as well as undermining the international climate commitments agreed only a year ago in Paris.
Nationally, aviation emissions are already dangerously high and will be responsible for 1/4 of UK carbon emissions by 2050 even without the expansion of existing infrastructure.
If Heathrow expands, it would be responsible for more emissions than any other single site in the UK, including the UK's largest power station (Drax).
At a local level, the new runway will devastate local communities. Families will lose their homes. They will suffer dangerous levels of air pollution, which will be responsible for trebling deaths directly caused by Heathrow aviation emissions, and contribute to the 4000 annual deaths from air pollution in London.
His resignation has triggered an emergency by-election, which will be held on December 1.
Goldsmith plans to stand again in the constituency as an independent.
http://metro.co.uk/2016/11/19/at-least-15-arrested-at-massive-die-in-protest-at-heathrow-over-airport-expansion-6269361/
.