Take Action!
 @AirportWatch    0    AirportWatch on Facebook 
---
Campaign Rally Against the Heathrow 3rd Runway –
Saturday 19th November
–  10am on Richmond Green
This rally is being organised by Zac's Goldsmith's team.  Although it is being organised by one of the candidates in the by-election, it is a rally against the runway.  Come and show your opposition to the runway and the negative impacts of an even larger Heathrow.  A range of local authority leaders, campaign and community groups will be speaking.
Nearest Tube is Richmond (District line and overground) – a few minutes walk away.
---
The last protests were:
Saturday 1st October – #StayGrounded –                    Airport Flashmob and Critical Mass bike ride
Where:  Events at Heathrow and at Gatwick airports
Fun, colourful and safe event that everyone is invited to participate in. An action consensus has been agreed to set the safe parameters of this day of action.
Sign the pledge, save the date, and get ready!  #StayGrounded
Sign up here – to find out more              More details here
THE PLAN at Heathrow
There will be three main ways that people can participate in the day of action, individually and as part of affinity groups that will have autonomy over how they operate.
Bloc A  – Flashmob
This will be family-friendly and inside a publicly accessible airport building. The more you can look like a regular traveller, the more you can integrate into the crowd, and the less likely you are to be spotted by security! Watch out for the people waving red hankerchiefs, giving the visual cues for precise timings.
Meeting location:  Car park of Hatton Cross tube station (Piccadilly Line) to collect a prop and further instructions for where to go next.
Meeting time:   Arrive between 12pm and 1pm (we will be gone by 1pm)
What you will be doing:
Act 1 – The Die-In
Hundreds of us will lie down on the floor at exactly the same time, representing the 300,000+ people who are already dying each year, all over the world, from climate change related causes.
Act 2 – The 'Frequent Flyer High Polluters Club' VIP Check-in desk
A smaller group of people to represent the wealthy frequent flyers, who fly the most, and are driving the 'need' for aviation expansion in the UK.
More details
here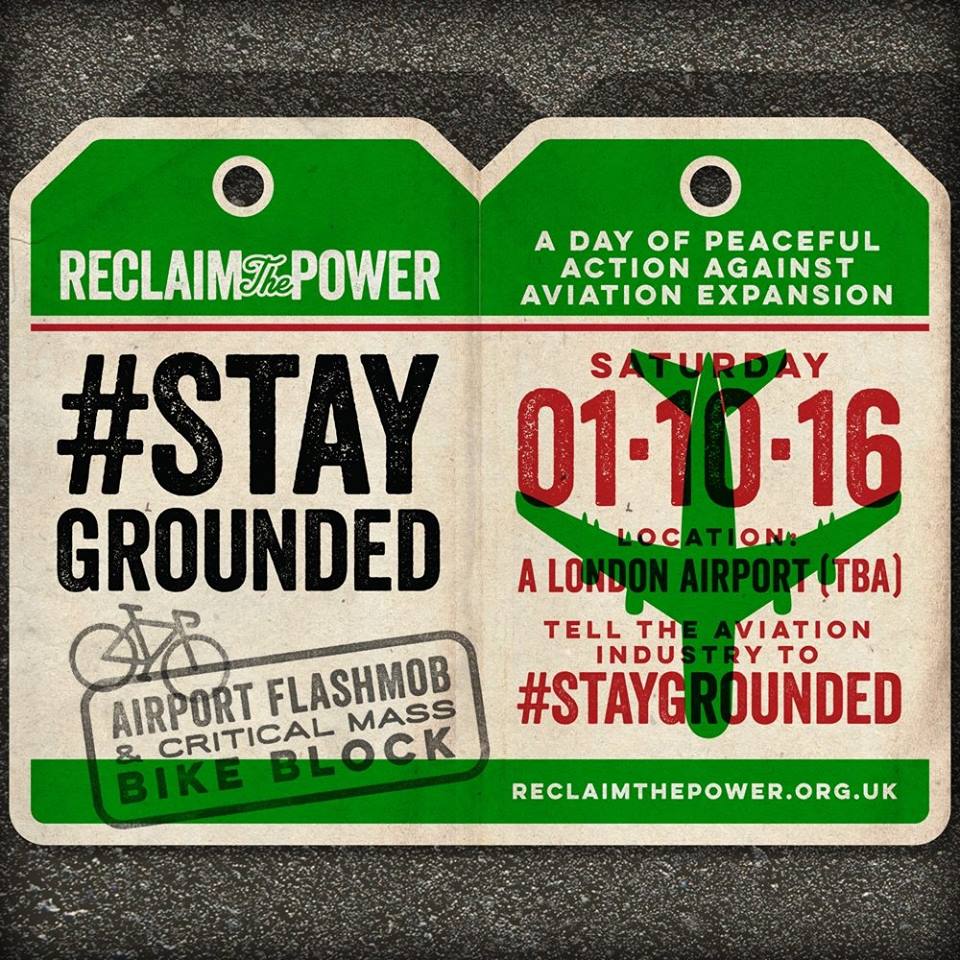 The group, Reclaim the Power, is organising a day of action in a number of countries, against the expansion of the aviation industry. Protests are planned in Turkey, Austria, France, Mexico and England.  And probably in more countries.
Reclaim the Power says: "Neither aviation nor climate change take any notice of national borders, so that's why Stay Grounded will form part of an international wave of action against aviation expansion. We stand in solidarity with communities who are also fighting devastating airport projects all over the world. You can see below what groups in other countries are planning!
While all this is going on, the UN agency for aviation (the ICAO), stuffed full of industry lobbyists, will be meeting in Montreal, Canada to discuss how to achieve 'sustainable growth'. This means failed and false solutions like offsetting, carbon trading and biofuels. Our actions will expose this greenwashing for what it is."
They say: "Will you join our Airport Flashmob and Critical Mass bike ride on Saturday 1st October?
Tell the government & aviation industry to #StayGrounded
We need to #StopAirportExpansion and that means #NoNewRunways anywhere!"
The health and safety of airport staff, passengers and ourselves are of paramount importance, and we will not be going on to any runways!  (or inconveniencing passengers).
.
Sign the petition against a 3rd runway
http://www.betternotbigger.org.uk/petition
from the new campaign, "A Better not Bigger Heathrow" set up by the Labour MP for Hounslow, Ruth Cadbury. Sign up for more information http://www.betternotbigger.org.uk/
The text: 
"NO TO 3RD RUNWAY PETITION
As expected, the Government's Airport Commission has recommended expansion of Heathrow airport.
Noise from Heathrow airport affects more residents than any other airport in Europe. A third of all people in Europe negatively affected by aircraft noise live under the Heathrow flightpath. An extra runway would simply be intolerable with nearly 800 homes demolished. Air pollution in the area is struggling to meet EU limits currently and traffic congestion around the area could grid to a halt.
Please sign this petition against the 3rd Runway and circulate it amongst your friends and contacts."
---
---
How to complain about Heathrow flights:
In case people don't know how to complain to Heathrow, here is their website.
You can use the online form, email noise@heathrow.com
Or Freephone 0800 344844
Don't be surprised to be fobbed off.  But very politely.
If you complain about more than one flight in one call or email, it is classed as just one complaint. If you want to complain about 10 flights, it has to be 10 separate emails, or forms, or calls.
Also tell your MP if you feel there are planes that deserve a complaint. And councillors. The MPs need to know if you are not happy about what is flying overhead. And your councillors too.
WebTrak: You can check which flight it was near you (there is a 24 hour delay on the system though) on Heathrow's WebTrakhttp://webtrak5.bksv.com/lhr4 You can go back 365 days on WebTrak to compare flights up to one year ago, to see if flight paths, heights etc have changed. If they have, ask Heathrow why. (They will not tell you!)
---
CO2Now.org

Follow the CO2Now.org website  for monthly updates of the atmospheric level of CO2 at the Mauna Loa observatory in Hawaii. Also for NOAA monthly climate data.

and follow CO2Now
Check out your own carbon footprint, including how much of it comes from flying
Compare different components of personal carbon footprints, such as car use, domestic gas and electricity consumption, rail travel, and everyday consumption choices, and see how including flights can greatly increase the annual total.
WWF's Travel Smart commitment
WWF is asking as many people as possible to make a commitment that if they travel abroad on holiday, they do so in a way that does least environmental damage. One of its pledges is to take holidays near home, and avoid travelling by air where possible.  Another is to support reputable, conservation-minded tour operators and suppliers.
Check out Skeptical Science …
 … a really useful website which lists almost all the possible arguments used by climate sceptics, and tried to counter them with the current scientific position.
Skeptic Arguments and What the Science Says
 For example:
  and many, many others.
---
Give yourself a break – with Fascinating Aida
 4 minutes of Fascinating Aida's take on cheap flights.   Not to be missed.
YouTube
 50p flights?     Feckin' brilliant !
---
Sign the Manston (Kent International) Airport
Night Flights petition:
"We, the undersigned, object to any night flights (11pm to 7am) into or out of Manston."
Manston Airport is owned by Infratil, a New Zealand-based multi-national. Their long-standing 'S106' agreement with Thanet District Council bans all scheduled night flights in the 8 hours between 11pm and 7am.   Infratil now want to change that, and recently asked TDC for permission to start scheduling night flights.The noise from any flights in the 8 hours between 11pm and 7am is far more intrusive and disruptive than at any other time of day.  Night flights would reduce the quality of life for everyone within earshot of the flightpath. The runway ends less than a mile from the edge of Ramsgate, so thousands of homes are seriously overflown.
---
Businesses – join the WWF "One in Five" Challenge, to cut flights
WWF's report, Travelling Light, has found that there is great potential for businesses to fly less while remaining productive. There are many good reasons why businesses are now flying less and making greater use of audio and videoconferencing.
If you think your business would be interested in taking up the One in Five Challenge, or if you would like to find out more, please contact us at
oneinfive@wwf.org.uk
---
Check out Useful dates relevant to aviation
---