People who live near major roads have higher rates of dementia, research published in the Lancet suggests.
As many as 11% of dementia cases in people living within 50m of a major road could be down to traffic, the study suggests.
The researchers, who followed nearly 2m people in Canada over 11 years, say air pollution or noisy traffic could be contributing to the brain's decline.
UK dementia experts said the findings needed probing but were "plausible".
Nearly 50 million people around the world have dementia.  However, the causes of the disease, that robs people of their memories and brain power, are not understood.
Population growth
The study in the Lancet followed nearly two million people in the Canadian province of Ontario, between 2001 and 2012.
There were 243,611 cases of dementia diagnosed during that time, but the risk was greatest in those living closest to major roads.
Compared with those living 300m away from a major road the risk was:
7% higher within 50m
4% higher between 50-100m
2% higher between 101-200m
The analysis suggests 7-11% of dementia cases within 50m of a major road could be caused by traffic.
The researchers adjusted the data to account for other risk factors like poverty, obesity, education levels and smoking so these are unlikely to explain the link.
Pollution particles 'get into brain'
Dr Hong Chen, from Public Health Ontario and one of the report authors, said: "Increasing population growth and urbanisation have placed many people close to heavy traffic, and with widespread exposure to traffic and growing rates of dementia, even a modest effect from near-road exposure could pose a large public health burden.
"More research to understand this link is needed, particularly into the effects of different aspects of traffic, such as air pollutants and noise."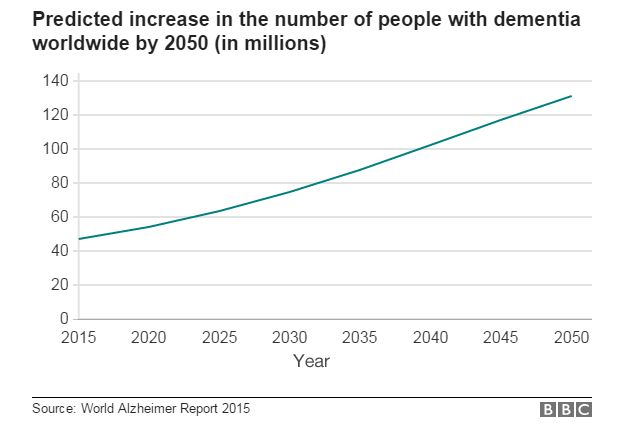 ---
Should I flee to the country?
There are already plenty of reasons to avoid the polluted air in our cities.
The World Health Organization says three million people die every year due to outdoor air pollution.
It increases the risk of stroke, heart disease, lung cancer and respiratory diseases.
However, it is not clear whether dementia should be added to the list.
This study "hints" there may be something going on, but does not definitively prove it.
So if you've not already been persuaded to up-sticks and move somewhere greener, then this study shouldn't change your mind.
But for Prof Rob Howard from UCL: "This study presents one more important reason why we must clean up the air in our cities".
---
The researchers suggest noise, ultrafine particles, nitrogen oxides and particles from tyre-wear may be involved.
However, the study looks only at where people diagnosed with dementia live. It cannot prove that the roads are causing the disease.
'Provocative'
"This is an important paper," says Prof Martin Rossor, the UK's National Institute for Health Research director for dementia research.
He added: "The effects are small, but with a disorder with a high population prevalence, such effects can have important public health implications."
---
Risk factors for dementia
Ageing
Genetics
Being female
Type 2 diabetes
Smoking
Physical inactivity
Unhealthy diet
Source: Alzheimer's Society
---
Prof Tom Dening, the director of the Centre for Dementia at the University of Nottingham, said the findings were "interesting and provocative".
He said: "It is certainly plausible that air pollution from motor exhaust fumes may contribute to brain pathology that over time may increase the risk of dementia, and this evidence will add to the unease of people who live in areas of high traffic concentration.
"Undoubtedly living in conditions of severe air pollution is extremely unpleasant and it is hard to suppose that it is good for anyone."
The best advice to reduce the risk of dementia is to do the things that we know are healthy for the rest of the body – stop smoking, exercise and eat healthily.
Follow James on Twitter.
http://www.bbc.co.uk/news/health-38506735
.
---
Living near heavy traffic increases risk of dementia, say scientists
Study tracking 6.6 million people estimates one in 10 cases of Alzheimer's among those living by busy roads could be linked to air and noise pollution
By Hannah Devlin, Guardian Science correspondent   @hannahdev
Thursday 5 January 2017
People living near a busy road have an increased risk of dementia, according to research that adds to concerns about the impact of air pollution on human health.
Roughly one in 10 cases of Alzheimer's in urban areas could be associated with living amid heavy traffic, the study estimated – although the research stopped short of showing that exposure to exhaust fumes causes neurodegeneration.
Hong Chen, the scientist who led the work at Public Health Ontario, said: "Increasing population growth and urbanisation has placed many people close to heavy traffic, and with widespread exposure to traffic and growing rates of dementia, even a modest effect from near-road exposure could pose a large public health burden."
Previously, scientists have linked air pollution and traffic noise to reduced density of white matter (the brain's connective tissue) and lower cognition. A recent study suggested that magnetic nano-particles from air pollution can make their way into brain tissue.
The latest study, published in The Lancet, found that those who live closest to major traffic arteries were up to 12% more likely to be diagnosed with dementia – a small but significant increase in risk.
The study, which tracked roughly 6.6 million people for more than a decade, could not determine whether pollution is directly harmful to the brain. The increased dementia risk could also be a knock-on effect of respiratory and cardiac problems caused by traffic fumes or due to other unhealthy life-style factors associated with living in built-up urban environments.
Rob Howard, a professor of old age psychiatry at University College London, who was not involved in the study, said: "We know that major road air pollution is bad for general health and this latest study doesn't tell us whether the small increase in dementia risk is driven by indirect effects or whether proximity to traffic directly influences dementia pathology. Regardless of the route of causation, this study presents one more important reason why we must clean up the air in our cities."
However, others cautioned that those living close to main roads should not be unduly alarmed by the findings.
Prof John Hardy, a neuroscientist at University College London said: "The analyses are exceedingly complex … and this always leads to concerns that the analytic complexity is hiding confounding factors in the analytic pipeline. There are several reasons why one might not want to live near a major road, but this study is not an additional one."
The study tracked all adults aged between 20 and 85 living in Ontario, Canada from 2001 to 2012, using postcodes to determine a person's proximity to major roads. The cohort's medical records were examined to see who went on to develop dementia, Parkinson's disease or multiple sclerosis.
Over the study period, more than 243,000 people developed dementia, 31,500 people developed Parkinson's disease and 9,250 people developed multiple sclerosis.
The scientists found no link between living near a road and Parkinson's disease or multiple sclerosis, but dementia was slightly more common in people living close to busy roads and the risk dropped off gradually in less built-up areas. Those living within 50 metres of a busy road had a 7% higher risk in developing dementia, the risk was 4% higher risk at 50-100 metres, 2% higher risk at 101-200 metres and there was no increase in risk in those living more than 200 metres away.
Those who lived in a major city, within 50 metres of a major road and who did not move house for the duration of the study had the highest risk at 12%.
The scientists took into account wealth, education, and various other measures of health and social status in their calculations, although they acknowledged that it was impossible to eliminate the potential for other confounding factors playing a role.
Ray Copes, chief of environmental and occupational health at Public Health Ontario, and a co-author of the Lancet paper, said that those living in cities should consider walking along side streets, jogging in parks and planning cycle routes along quieter roads where possible. "The real implications are not for individual choice, but at the societal and policy level," he said, adding that air pollution should be factored into urban planning and building design to reduce exposure.
https://www.theguardian.com/society/2017/jan/04/living-near-heavy-traffic-increases-dementia-risk-say-scientists
.
---
.
See earlier
Research indicates minute particles of magnetite from car pollution in human brain tissue
Recent research by Lancaster University indicates that as well as heart and lung effects of air pollution, tiny particles of pollution appear to get inside brain tissue. Called "nanospheres", the particles are less than 200 nanometres in diameter – by comparison, a human hair is at least 50,000 nanometres thick. They are made  of magnetite, which is a compound of iron and appear to come from car engines or braking systems.  These magnetite particles may be small enough to pass from the nose into the olfactory bulb and then via the nervous system into the frontal cortex of the brain.  Iron is a very reactive metal, so it is likely they will cause oxidative damage in brain tissue.  It is already known that oxidative damage contributes to brain damage in Alzheimer's patients. It is not known whether these particles could contribute to dementia, but there might be plausible mechanisms for a link. The research, published in the PNAS, analysed samples of brain tissue from 37 people – 29 who had lived and died in Mexico City, a notorious pollution hotspot, and who were aged from 3 to 85. The other 8 came from Manchester, were aged 62-92 and some had died with varying severities of neurodegenerative disease.  The particles issue is yet another reason not to permit vehicle pollution levels to rise, for public health.  
https://www.airportwatch.org.uk/2016/09/research-indicates-minute-particles-of-magnetite-from-car-pollution-in-human-brain-tissue/
.
---
Penn Medicine researchers show how lost sleep might lead to lost brain neurons
Researchers at the University of Pennsylvania School of Medicine have found evidence that not getting enough sleep does actual harm to the brain.  Instead of the usual solution of inadequate sleep, of trying to catch up on the hours when time permits, the Penn Medicine research indicates that chronic sleep loss may be more serious than previously thought and may even lead to irreversible physical damage to and loss of brain cells. It seems extended wakefulness is linked to injury to, and loss of, neurons that are essential for alertness and optimal cognition, the locus coeruleus (LC) neurons. There is a change in a protein linked to mitochondrial energy production in the cells.  The research is published in the prestigious Journal of Neuroscience. The research so far is in mice, and involved normal rest, short wakefulness, or extended wakefulness.  In humans there is some earlier evidence that attention span and several other aspects of cognition may not normalize even with 3 days of recovery sleep, after sleep deprivation, raising the question of lasting injury in the brain.  Researchers say more work needs to be done to establish whether a similar phenomenon occurs in humans and to determine what durations of wakefulness place individuals at risk of neural injury. 
https://www.airportwatch.org.uk/2014/03/penn-medicine-researchers-show-how-lost-sleep-might-lead-to-lost-brain-neurons/
.
.
.
.
.