Petition to government:

Ban domestic flights on routes that can be travelled by train in under 4.5 hours

Follow France's lead and remove air routes where there is a direct rail link of 4.5 hours or less, to help rapidly bring emissions down in line with the UK's legally-binding net zero targets. With rail emissions approx 13 times lower than air, removing the option to fly would make a significant impact on greenhouse gas emissions.

At a time when we need to do all we can to cut carbon, we should follow the lead of France and Spain who have banned, or are considering banning, domestic routes where rail provides a viable alternative.

The 4.5 hour cut-off includes Lon-Edinburgh and Lon-Glasgow, two of the UK's most-used flight routes, where journey times are comparable with rail. (Petition set up by Anna Hughes, of Flight Free UK).
---
Adverts for Air France, Lufthansa and Etihad banned by ASA for misleading environmental claims
Adverts for Air France, Lufthansa and Etihad have been banned, by the Advertising Standards Authority (ASA), for misleading consumers about the airlines' environmental impact. Air France's ad said it was "committed to protecting the environment" and Lufthansa urged passengers to "fly more sustainably". Etihad's ad used the words "environmental advocacy".  The ASA said the ads did not show the impact airlines have on climate change.  Lufthansa and Etihad removed the ads. The ASA said Air France did not provide a "substantive response" to its investigations, and that by claiming Air France enabled people to "travel better and sustainably", customers would think the airline offered a sustainable and environmentally friendly way to travel by air, which was not true.  Lufthansa told the BBC it aimed to be carbon neutral by 2050. It said it had taken the decision to remove "fly more sustainably" from future ads.  The ASA had picked up the adverts using an artificial intelligence (AI) system, which uses the technology to search for possible rule breakers. This has been just the latest in a string of upheld ASA decisions over greenwashing.
Click here to view full story…
Ferrovial to sell its 25% stake in Heathrow for $3 billion to Ardian (15%) and Saudi Arabia's PIF (10%)
Infrastructure giant Ferrovial has reached an agreement with two different buyers to sell its entire 25% stake in Britain's busiest airport, Heathrow, for £2.37 billion ($3.01 billion) the company said in a statement on Tuesday.  Ferrovial said the buyers for the stake in FGP Topco – the parent company of Heathrow Airport Holdings Ltd – were private equity fund Ardian and Saudi Arabia's Public Investment Fund (PIF). Ardian would acquire a 15% stake and PIF a 10% stake.  The transaction is subject to regulatory conditions and must comply with the right of first offer and full tag-along rights, which may be exercised by the other FGP Topco shareholders, Ferrovial added.  Ferrovial expects to complete the sale by mid-2024. Ferrovial also has a 50% stake in three other British hubs: Aberdeen, Glasgow and Southampton. It also has a 49% stake in the new Terminal One at New York City's JFK airport.
Click here to view full story…
Virgin "SAF" flight – it's just unrealistic aviation hype to delay real emissions cuts
There is to be a transatlantic flight by Virgin Atlantic, which is claimed to be fuelled 100% by so called "sustainable" aviation fuels (SAF). It is a publicity stunt, to attempt to persuade government, and the flying public, that in future flying can be low carbon – allegedly "guilt free".  But there is never going to be enough genuinely low-carbon fuel for more than a tiny % of flights. Jet fuels produced by taking agricultural land are recognised as not acceptable. The only fuels that might justify the term "sustainable", e-fuels, would have to be made from hydrogen, produced from surplus renewably generated electricity, combined with CO2 captured from the air, processed using renewably generated electricity. A huge amount of low carbon electricity would be needed to produce e-fuels, and that would far more effectively be used for terrestrial demand – heating, vehicles etc.  When the fuel is burned in a jet engine, it produces CO2 in just the same way as kerosene. The industry claims SAF can reduce the emission of CO2 overall by (up to) 70% compared to kerosene, depending on the fuel and several variables. There is a real danger that the SAF hype being promoted by airlines and governments will reduce pressure for a reduction in flying, which is the only real way to cut aviation CO2. Read the new report by AEF,  "Sustainable Aviation Fuels – Hope or Hype?"
Click here to view full story…
Petition by Greenpeace, to the Prime Minister, Rishi Sunak.
More private jets took off from the UK than any other country in Europe in 2022.
These jets emit massive amounts of carbon and are only available to the ultra-wealthy, who are responsible for half of the world's aviation emissions.
It's unacceptable that a small percentage of people can contribute so much to the climate crisis, while the rest of us bear the consequences.
Sign the petition now and demand that the UK government ban private jets immediately.
---
Research paper from Chatham house suggests way to fairly reduce air travel demand
A new research paper, from Chatham House, sets out how UK demand for air travel could be managed, and reduced to a level that might be compatible with climate targets. At the current level of air travel demand (that the government is unwilling to challenge) the aviation sector will far exceed its target emissions, out to 2050. The Chatham house paper suggests that  "in the UK the top 20% of earners fly 5 times more often than the poorest 20%. It may be possible to achieve a 36% reduction in demand by 2030 if a future demand-management policy shifted behaviour so that most people who currently take more than one return flight per year reduced that number by one return flight and took no more than 4. This would leave the 77% of the UK population who currently take no more than one return flight unaffected. This is a moderate level of behaviour change... affecting only a small proportion of people with a high consumption of flights. Under the frequent flyer levy proposal, produced by the New Economics Foundation and climate charity Possible in 2021, leisure passengers would be charged no frequent flyer levy on their first return flight, increasing to an indicative figure of £585 on their 10th flight of the year. 
Click here to view full story…
More night train services are starting up in Europe, so people can avoid flying
At their best, fares for night trains can be good value, combining the cost of a bed for the night and hundreds of miles of travel, but prices quickly ramp up on busy routes, often putting them out of reach for most travelers.  Wherever they run, night trains are complicated, labor intensive and expensive to operate – one of the major reasons they went into decline in the first place. Until now, the quality of accommodation has been patchy, ranging from modern and comfortable to basic and outdated. But there is now a renaissance in Europe. Spreading quickly from Scandinavia, the flygskam (flight shame) phenomenon is encouraging climate-conscious travelers to seek alternatives to short-haul air travel. Led by Austrian Federal Railways' (ÖBB) "Nightjet" network, overnight links between major European cities have been restored and expanded over the last few years. There are now also small one-person "pods" on some trains.  Working with Swiss Federal Railways and Germany's Deutsche Bahn, ÖBB has reinvigorated overnight routes linking main hubs in Vienna and Zürich with cities in Germany, Austria, Italy, Hungary, Poland, the Czech Republic and, more recently, Paris, Brussels and Amsterdam.   See full article.
Click here to view full story…
Motion passed by London Assembly to protect Richmond Park from increased Heathrow flight paths
A motion has been passed by the London Assembly to protect Richmond Park from increased Heathrow flight paths. The airport submitted proposals for "airspace modernisation" with the aim of making journeys quicker, saving a bit of time.  The Friends of Richmond Park has said these proposals could see up to 60,000 arrival flights passing over the park per year.  Currently there are no arrival flights, just departures. The Liberal Democrats who put the motion forward have also urged Heathrow to "go back to the drawing board". A Heathrow spokesperson said: "No decisions have been made on which flight path options could be adopted from the recently published shortlist."  The Liberal Democrat's transport spokesperson and London Assembly member, Caroline Pidgeon pointed out that thousands of Londoners make their decisions about where to live, based on knowing where flight paths are – and have been for decades  – so they can avoid them. "We also know that noise pollution from aircraft can contribute to a range of mental and physical health problems, most often linked to disturbances in our sleep cycles."
Click here to view full story…
Transport Select Committee urges DfT to redraft planning policy statements to align with net zero objectives
The Transport Select Committee has criticised the DfT's planned revision of the National Networks National Policy Statement (NNNPS) for not giving sufficient weight to Net Zero. The Committee has published its analysis of the government's proposals to revamp planning policies for nationally significant road and rail infrastructure projects (NSIPs).  They urged ministers to redraft sections that would be used to determine whether major new projects are compatible with net zero legislation, based on the carbon emissions that would be produced during and after their construction.  In its current form, the NNNPS would not cut emissions in live with decarbonisation targets. The Committee also made recommendations on the way the DfT looks at different options for projects, how to make its decision-making more transparent, and that calculations of future demand should be more transparent.  It proposes that there should be an over-arching Transport NPS, including airports, which would consider new infrastructure, its carbon emissions and impact on sites of biodiversity or geological interest.
Click here to view full story…
Airlines oppose Dutch plan to phase out EU fossil fuel subsidies
Airline bosses are, unsurprisingly, opposed to a Dutch plan for an EU-wide phase-out of fossil fuel subsidies. They say it should not be introduced, while rail travel is so expensive, and the airline sector does not yet have low carbon fuels. The Dutch government announced last month that it spent up to €46.4bn in 2023 supporting the use of fossil fuels, either through direct subsidies or tax schemes that indirectly led to more polluting energies being used. More than €3.6bn went to airlines, as fuel supplied for use in aviation is currently fully exempt from taxation in the EU.  The Dutch government is keen to reform the tax system and cutting subsidies was "crucial" to achieving a transition to lower carbon industries, and net zero by 2050.  An EU proposal to update energy rules in 2019, which aimed to remove many fossil fuel subsidies, stalled as it requires unanimous approval from all 27 member states, which it is unlikely to get. The Dutch government introduced a cap on flights at Schiphol earlier in the year.
Click here to view full story…
Thomas Woldbye has taken over from Holland-Kaye as CEO of Heathrow
Thomas Woldbye has officially taken over as Heathrow CEO, from John Holland-Kaye. The airport hopes it will improve and grow under his leadership, and says he will "oversee the airport's multi-billion £ plans to upgrade existing facilities over the next three years to provide an even better service for passengers, including the next generation security programme and new baggage system for Terminal 2."  John Holland-Kaye was CEO for over 9 years, and pushed for a third runway, getting parliamentary approval for it, before Covid struck. Thomas Wooldbye was previously CEO of Copenhagen Airport from May 2011 – September 2023, and recently pushed through terminal expansion plans there.  Previously, he worked for A.P. Møller-Maersk for 27 years.
Click here to view full story…
CMA supports CAA decision that Heathrow price cap must fall to £25.43 by 2024
The UK's Competition and Markets Authority (CMA) has issued a verdict largely supporting the Civil Aviation Authority's (CAA) pricing decision concerning Heathrow Airport. The CAA had previously mandated that Heathrow reduce average passenger charges from the current £31.57 per passenger to £25.43 by 2024, maintaining this sort of price until the end of 2026. Heathrow had sought to increase these charges to £40 per passenger, while British Airways, Delta Air Lines, and Virgin Atlantic Airways lobbied for charges below £20 per passenger. In its announcement last month, the CMA endorsed the CAA's pricing strategy but highlighted the need for further consideration of minor pricing-related issues. The CMA's final verdict was officially confirmed on October 17th.  It was seen as a fair level, enabling Heathrow to encourage investors, but not over-charge passengers.  Neither Heathrow nor the airlines are happy with the decision.  There may be inadequacies in the regulatory framework, including the formula used to set fees at Heathrow.
Click here to view full story.
Stansted night flights – how the airport gets far more than its theoretical summer maximum
If you feel that there are more Stansted night flights than ever, you'd be right. Stansted Airport Watch (SAW) has finally been able to establish what's been happening. Stansted is allowed a maximum of 13,700 flights a year during the 6½-hour core night period from 11.30pm to 6.00am [ the 8 hours from 11.00pm to 7.00am. However, the DfT only restricts the number of night flights during the 6½ hours from 11.30pm and 6.00am.]. That, incidentally, is more than twice the number allowed at Heathrow, so local residents in this part of the world are entitled to feel they have drawn the short straw. And that's not the whole story. The annual limit of 13,700 night flights is divided into a summer limit of 8,100 and a winter limit of 5,600. The summer period coincides with British Summer Time, and normally lasts for 31 weeks. The local group, Stansted Airport Watch has found that these theoretical levels have been exceeded, partly as unused numbers from earlier periods can be included. Also because of "dispensations" for delayed flights.  So Stansted handled over 10,500 night flights last summer without breaching the statutory limit of 8,100.
Click here to view full story…
Could Heathrow ever afford to build a 3rd runway?
The possibility of more airport expansion, and growth in the number of flights and passengers, is a serious problem of increasing carbon emissions.  Heathrow is to have a new chief executive, Thomas Woldbye, from Copenhagen airport in October – replacing John Holland-Kaye. He has to decide whether to try to get a 3rd runway.  As well as the increased CO2, Heathrow has the problem of paying for its expansion. Could it ever afford it? Since it got final approval for expansion in February 2020 (Appeal Court), costing about £14 billion, the costs of construction and financing will have hugely increased. Heathrow has vast debts, which it has increased to raise the regulatory value of their assets.  Heathrow now has £16bn of borrowings and posted a loss this year largely due to the rising cost of its inflation-linked loans. The team working on the expansion was disbanded a few years ago, and there are no current estimates of the cost. The forecast for the demand for flying, oblivious of the climate destabilisation now underway, is for over 50% more passengers by 2050.  The airport's shareholders and board are yet to decide whether to push forward with a 3rd runway, and over what timeframe.
Click here to view full story…
JR application to stop Manston airport Development Consent Order denied by judge
An application for Judicial Review of the Manston airport DCO has been rejected by a judge. The DCO was initially granted in July 2020 when the DfT approved the application by RiverOak Strategic Partners to make the airport an air freight hub.  That was refused in the High Court in February 2021 following a legal challenge by Ramsgate resident Jenny Dawes and supporters which resulted in the DfT Secretary of State conceding the decision approval letter issued from the Minister of State did not contain enough detail.  The DCO was granted for a second time in August 2022 by then Transport Minister Karl McCartney.  In response Jenny launched a 2nd JR application, trying to stop the airport plans. The application was initially dismissed by Mr Justice Lane in January but then allowed on partial grounds in a review by Mrs Justice Lieven in March. The latest hearing was before Honourable Mr Justice Ian Dove in July. Jenny plans to appeal the judgement, and remains "firmly of the view that the government's decision to proceed with Manston Airport, in the face of expert evidence to the contrary and in the context of the worsening climate crisis, is nonsensical."
Click here to view full story…
Planning Inspectorate approves Liverpool airport expansion plans
The UK Planning Inspectorate has granted Liverpool John Lennon airport's (LJLA) Lawful Development Certificate (LDC) appeal for a large area of land that is to be utilised for the continued expansion of the airport.  The local Council, Halton, rejected the airport's initial LDC application, once it became aware of the actual facts behind the loss of the land.  The airport plans 14 acres of solar panels east of Dungeon Lane, the energy from which will be used by the airport. However, the airport appealed and this may been influenced by politics. Local campaigners are devastated at this news, since the evidence against the airport expansion in the case was damming.  The solar farm is part of a wider £100m project by the airport. Other components of the initiative include a new road for the airport, a large warehouse to the south of the airport, expansion of the existing terminal, and extension of the runway.
Click here to view full story…
Gatwick airport expansion: people have till 29th October to register to be an "interested party"
Gatwick has now had its expansion plans – to convert its emergency runway into a full runway, for take-offs only – accepted by the Planning Inspectorate.  This is part of the DCO process (Development Consent Order) as the Gatwick expansion is called as a project of national significance.  So the plans will go into the examination process, by which organisations and members of the public can give their opinion on the plans.  This means submitting evidence and applying to appear at the public hearings. The cut off date to register to be an "interested party" is  Sunday, October 29th. That means people can give their opinion at a later date.  People can register online.  After October, 29 the Planning Inspectorate then has 6 months to carry out an examination. During this time registered commentators will be invited to give further details about why they have responded in the way they did. The inspectorate's report will then be sent to the relevant Secretary of State, who will make the decision to grant or refuse development consent.
Click here to view full story…
Grayling leads amendment to energy bill, to get more government funding for SAF
Rishi Sunak is under pressure from over 60 Tory MPs ito subsidise manufacturers of low-carbon aviation fuel in the UK to help the industry [allegedly] cut emissions. The MPs have signed an amendment to the government's energy bill calling on ministers to introduce financial support to create a UK industry producing so-called "sustainable aviation fuels" (SAFs). The only possible hope the aviation industry has to cut its CO2 emissions in future, while growing as much as possible, is finding magical fuels that are considered low carbon. (Large hydrogen fuelled planes, or electric planes, are not realistic for decades, if ever).  The amendment to the energy bill, tabled by former Conservative transport secretary Chris Grayling, calls on the government to step in to create a "price stability mechanism" to incentivise fuel companies to produce more SAFs.  That is just what the sector wants. A subsidy from the public purse, for more flying. The government has pledged £165mn to encourage manufacturers to open at least five plants producing SAF, that they hope will start to be built by 2025. The extra subsidy would be even more.
Click here to view full story…
New NEF report indicates UK airport growth and air travel growth do not boost the economy
A new report, by Dr Alex Chapman of the New Economics Foundation, sets out the real environmental downsides of the growth in flight numbers.  It shows that the the sector has no realistic way to cut its carbon emissions. And contrary to the apparent impression given by the industry and the UK government, the economic assumptions that underpin support for growth in air travel are dated and have not been reviewed for some years. Contrary to expectations, growth in business passenger numbers has effectively ceased and new passengers now derive exclusively from the leisure market. Though there are social benefits from flying on holidays or to visit friends and family, these may be largely for a minority – and the negative impacts are felt by far more.  The airline sector is one of the poorest job creators in the economy per £ of revenue. Two decades of evidence confirms that air transport growth runs counter to the interests of the UK's domestic tourism industry, as far more money is taken out of the country than brought into it. The net national effect is a large travel spending deficit which contributes to the UK's overall current account deficit. There is an urgent need for new, comprehensive UK aviation policy, and assessment of impacts of its future growth.
LOSING ALTITUDE  – THE ECONOMICS OF AIR TRANSPORT IN GREAT BRITAIN. By Alex Chapman.
Click here to view full story…
London City airport expansion plans rejected by Newham – it will appeal to the GLA
London City airport is considering next steps after its local council, Newham, rejected its expansion plans.  The airport wants to raise annual passenger numbers from 6.5 million to 9 million by extending the operating hours on Saturdays, until 6.30pm.  There would also be 3 additional early morning flights on weekdays.  Concerns were raised over increased noise pollution and emissions if extra flights were allowed.  Flights are not allowed from 12.30pm Saturdays to 12.30pm Sundays to provide respite for nearby residents under a long-standing curfew. The airport says it needs more flights to cope with post-Covid passenger demand, with more destinations, especially on Saturdays.  The council considers that the extra flights would "result in a materially new and substantial harm" through noise pollution. The application will now be referred to the Greater London Authority for a final decision. John Stewart, of HACAN East said "People value the weekend break from the noise. It was brought in because people live so close to the airport. Newham Council was right to reject the proposal to eat into it."
Click here to view full story…
Gatwick submits plans for second runway to double passenger numbers
Gatwick has formally submitted plans for a £2.2bn second runway, as the airport looks to double its passenger numbers to 75 million a year.  There are the usual claims of more jobs and "a £1bn annual boost to the region", which ignores the impact of yet more holiday flights, taking money out of the region and reducing tourism spend in the UK.  The additional flights would significantly worsen noise and air pollution, as well as carbon emissions, from the airport.  The 30,000-page application for a Development Consent Order to convert its standby runway for routine use was lodged with the Planning Inspectorate on 6th. The process is expected to take about a year before it reaches the Transport Secretary for final approval.  The project will convert the emergency runway by moving its centreline 12 metres north, allowing planes to take off while others come in to land on the existing runway. There are road changes with additional local road lanes and flyovers. Gatwick has hopes work will start in 2025 for the runway to be in use by 2030. The political decision may potentially be just before or after a general election in 2025.  The extra million tonnes of CO2 per year are totally inappropriate, with worsening climate change and global heating already apparent.
Click here to view full story…
Report by the CCC to government shows failure on climate targets, including on airports and aviation
The Climate Change Committee, the government's advisors on climate, have produced their 2023 report, which shows that targets are being missed on nearly every front. Fewer homes were insulated last year under the government-backed scheme than the year before. There is little progress on transport emissions, no coherent programme for behaviour change, and still no decision on hydrogen and boilers for home heating. Meanwhile the installation of new wind and solar farms and the upgrading of the electricity grid are still too slow to meet net zero. The lack of urgency of government and a failure of political leadership means progress has stalled. Greenhouse gas emissions have been falling by just under 3% a year, but this will need to double over the next eight years. Chris Stark, chief executive of the CCC, said what is missing is the right political leadership, at a high level to get actions done. On aviation it says there needs to be a framework to manage airport capacity. There has been continued airport expansion in recent years, counter to the CCC assessment that there should be no net airport expansion across the UK.
Click here to view full story…
Gatwick Airport expected to submit second runway DCO application within two weeks
The long-awaited Development Consent Order (DCO) application to convert Gatwick Airport's emergency runway into a second runway is expected to be submitted within the next two weeks. No date has been given.  Gatwick wants to rebuild its Northern Runway, which is currently used as a standby and for maintenance, to be used by smaller departing aircraft. This would include moving the centre line of the runway further north by 12m, bringing it within global safety standards to operate dual runway departures. The plan also include provision for road changes, a new pier, improvements to existing terminal buildings and additional parking and hotels. Due to the scope of the plans, the scheme has been deemed a Nationally Significant Infrastructure Project meaning that a DCO is needed before construction can start. The DCO application is expected to comprise of 25,000-30,000 pages with approximately 100 plans. Gatwick is using its legal advisors' SharePoint site to submit the documents.  Most of Gatwick's passengers are leisure travellers, for holidays or visiting friends and family.  The flights enabled by the extra runway would lead to an increase of perhaps 1 million tonnes of CO2 emissions per year. At a time of climate crisis.
Click here to view full story…
Protesters against the expansion of Bristol Airport still "have eyes on" the airport and its impacts
Protesters against the expansion of Bristol airport made it clear they still "have eyes on" the airport, at a demonstration on 22nd June. Members of Bristol Airport Action Network (BAAN), Extinction Rebellion and the local community joined forces on a roundabout at the airport's entrance to tell the world they are still watching – despite plans to expand the airport being approved.  The network has been campaigning against expansion proposals for over four years, during which time the application was refused planning permission by North Somerset Council before the government stepped in to overturn the decision.  A further appeal was rejected by the High Court in January this year, giving the airport the greenlight to expand from 10 to 12m passengers per year.  Local people say they are already experiencing problems caused by increased flights, night flights, more traffic on rural roads and traffic congestion.  Protesters are concerned about extra carbon emissions and the building of a multi-storey car park on local greenbelt land.   Despite their pleas being ignored, protesters want the authorities to know they will continue to hold the airport to account.
Click here to view full story…
Airlines' unrealistic hope that sustainable fuels will propel them to a guilt-free future
Airlines are desperate to believe, and get everyone else to believe, that flying can be made "low carbon", so everyone can continue to fly, with a clear conscience about their impact on irrevocably altering Earth's climate. But the only real option,(while the sector is trying to grow as much as possible) that might make a significant reduction in aviation carbon emissions, is using other novel fuels. So-called SAF (Sustainable Aviation Fuel). Currently if aviation used every drop of available SAF, it would be about 0.1% of total aviation demand. There are grandiose plans to aviation to use 10%, 20%, 30% or whatever within the next 2 or 3 decades. ie. unrealistic growth.  But as Cait Hewitt, of the AEF said: "…there is increasing scepticism about the possibility of scaling up SAFs … There's no feedstock – everything is in demand elsewhere. They work really much more like an offset. ...The idea of using waste from processes such as intensive agriculture or animal fats, or plastic manufacture, that are fundamentally unsustainable … I don't think you can claim that as a sustainable carbon reduction."
Click here to view full story…
'Pigs do fly': Growing use of animal fats in cars and planes increasingly unsustainable
Europe's growing use of animal fats to power its cars and planes is becoming increasingly unsustainable, a new study on behalf of Transport & Environment (T&E) shows. They are asking for greater transparency on use of animal fats, so that consumers know what is going into their vehicle tanks and fuelling their flights.  Use of animal fat biodiesel has doubled in the past decade and is 40 times higher than it was in 2006. European lawmakers have been promoting the by-product of industrial meat farming as a way of attempting to reduce the carbon impact of transport fuels.They are now setting their sights on planes – and to a lesser extent ships. However, there is not enough to go around.  Nearly half of all European animal fats already go into biodiesel, despite being used extensively in the pet food, soaps and cosmetics industries. That can't be sustained without depriving other sectors, which will in turn likely switch to damaging alternatives like palm oil. Only category 1 and 2 animal fats are too contaminated to even be used for animal food or soap etc, so can be used for fuel.  The suffering of pigs and cattle in factory farming (and their slaughter) to provide these fats should be a concern to everyone.
Click here to view full story…
100 climate activists block private jets at biggest business aviation sales event in Europe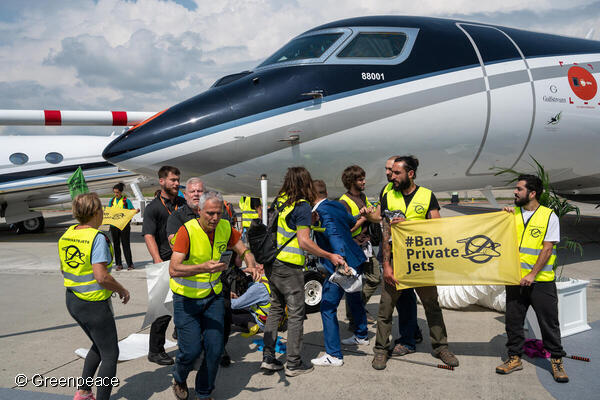 In Geneva, 100 climate activists supporting Greenpeace, Stay Grounded, Extinction Rebellion, Scientist Rebellion and other climate movement groups from 17 countries have disrupted Europe's biggest private jet sales fair, the annual European Business Aviation Convention & Exhibition (EBACE), demanding a ban on private jets. The action follows a series of protests against private jets, including at Amsterdam Schiphol airport and actions as part of the Make Them Pay campaign, in the past months. Activists chained themselves to aircraft gangways and the exhibition entrance in order to keep prospective buyers from entering. The protestors stuck giant tobacco-style health warning labels on the jets marking them as toxic objects and warning that 'private jets burn our future', 'kill our planet', and 'fuel inequality'. Sales of private jets are expected to reach their highest ever level this year, and the global fleet of private jets has more than doubled in the last 20 years. Private flights produce about 10 times the CO2 of a commercial flight per passenger kilometre.  This sort of CO2 emissions are inequitable, and unjustified environmental damage by the very rich.
Click here to view full story…
Head of Boeing not optimistic that SAF will be cheap enough any time soon
The head of Boeing has warned that biofuels will "never achieve the price of jet fuel", expecting that this central pillar of the aviation sector's strategy to slash emissions is not likely to be successful.  Or the UK's dubious "Jet Zero" strategy.  Airlines say that so-called "sustainable aviation fuels" (SAF) — made from food wastes, agricultural and forestry waste, and domestic rubbish, could enable lower CO2 from the sector, by replacing  the kerosene-type fuels, such as Jet A, used in aircraft today.  But SAF currently accounts for less than 1% of global aviation consumption and its price is at least x2 or x3  that of kerosene fuel.  If the fuel could be made in anything approaching the scale the aviation industry wants, and without other serious unintended agricultural and environmental impacts, it would still be expensive.  The extra cost would have to mean more expensive flying, and thus fewer people flying – less future growth for the sector.  "There are no cheap ways to do SAF — if there were, we would already be doing them."  Governments want to mandate use of SAF by airports, even though it is not available in large amounts.
Click here to view full story…
Appeal Court rejects application by BAAN to appeal against Bristol Airport expansion decision
In January the High Court ruled that the airport's major expansion plans could go ahead following a lengthy legal battle, but local group Bristol Airport Action Network appealed against the decision.  Now that appeal has been "refused on all grounds". by the Court of Appeal.  A ruling found that there was not "real prospect of success" of the challenge and no other compelling reason for to allow it. The airport plans to expand its maximum capacity from 10m to 12m passengers a year, had initially been refused planning permission by North Somerset Council in January 2020. The airport's owner Ontario Teachers' Pension Plan later appealed to the Government, and the decision was overturned by the Planning Inspectorate in February 2022. BAAN has been fighting ever since, and commented that "The airport can now expand by an extra 2 million passengers a year, build a multi-storey car park on Greenbelt land, massively increase the number of summer night flights and congest the local roads with an extra 10,000 cars a day." As well as hugely increase its carbon emissions.  BAAN says "the planning system concerning airport expansion has been rigged by the government to ignore the climate crisis."
Click here to view full story..
EU Parliament votes to clamp down on carbon-neutral claims backed by offsetting
The European Parliament voted late last week to support new rules to improve product durability and combat greenwashing.  The proposal for a new directive on empowering consumers for the green transition was voted in plenary by an overwhelming majority of 544 votes in favour, 18 against and 17 abstentions, opening the way for talks with EU member states to finalise the law. Tabled in March last year, the directive aims to help consumers make environmentally friendly choices and encourage companies to offer them more durable products. "This proposal aims to strengthen the fight against greenwashing by banning practices that mislead consumers on the actual sustainability of products," EU Justice Commissioner Didier Reynders told MEPs. Lawmakers introduced a ban on environmental claims based on carbon offsetting schemes, such as 'CO2 neutral' or 'carbon neutral', which are criticised by environmental groups for misleading consumers. Campaigners hailed the Parliament's move, which was not included in the European Commission's draft proposal tabled last year.
Click here to view full story…
Heathrow vs airlines – dispute continues as parties given permission to appeal price cap
Heathrow Airport and separately 3 major airlines (Virgin Atlantic, British Airways and Delta Air Lines) have been granted permission to appeal the Civil Aviation Authority (CAA)'s decision on the Heathrow price cap. The airlines have been locked in a fierce dispute with Heathrow over the amount the airport can charge per passenger.  Both sides launched rival appeals in April against the CAA's decision to lower the cap; the appeal process was then passed to the Competition and Markets Authority (CMA). The appeals followed the CAA's confirmation in March that the levy would remain fixed at the same rate as set out earlier in the year – not allowing Heathrow to charge a higher rate. The CAA  had announced in January that the 2023 cap would be raised to £31.57 per passenger, up from £30.19. It will then fall about 20% to £25.43 per passenger in 2024 and will remain there until 2026.  The airlines argue that Heathrow has played down its recovery from Covid, and used "knowingly undercooked and self-serving passenger forecasts," to attempt to keep the cap, which is set based on passenger numbers, higher. Heathrow argue that the rate should be greater, to boost investment in the airport.
Click here to view full story…
Government consultation about cutting AIRPORT CO2 emissions, but ignores AIRCRAFT emissions
The Government is currently consulting on proposals to introduce a target for airports to achieve zero emissions without offsetting by 2040.  But the target doesn't include the emissions from flights, despite these being responsible – according to the Government's own consultants – for 95% of airports' emissions.  The government's target would actually require a massive reduction, or complete cessation, of flights if it included the CO2 emissions from planes too.  While it is possible to decarbonise (largely by use of electricity) airport operations on the ground, there are no technologies that can do this, on a large scale, for aircraft. The only plan for flights, other than so-called "sustainable aviation fuels" would be speculative future CO2 removal from the atmosphere.  The consultation document says that "The zero-emissions airport target is not intended to hamper economic growth at airports, but to provide a social licence for growth."  ie. making it look as if the aviation industry is working hard to cut its emissions. It would be necessary, for the airport CO2 targets, to include full reporting of the emissions from flights using the airport.
Click here to view full story…
Friends of the Earth threaten legal challenge to Government about inadequate net zero strategy
Ministers may have to rethink their plans for meeting net zero for a second time after green campaigners took the first step towards a legal challenge over inadequate action on climate change. Grant Shapps, the energy secretary, was forced last month to publish a revised version of the government's net-zero strategy, after the High Court ruled the original was unlawful. The new plan included a mandate to ensure that 28% of car sales were electric by 2025, an extension of grants for heat pumps and a Great British Insulation Scheme.  Shapps could now have to revisit the plan again. Friends of the Earth, which brought last year's court case along with the Good Law Project and ClientEarth, has given him until Friday 28th April to respond to a pre-action letter. It is the first step towards applying for a judicial review. The group's focus is the lack of detail on the risk of policies failing to deliver the emissions cuts needed for Britain's legally binding "sixth carbon budget" by 2037. There is no realistic plan to cut the emissions from aviation, other than hopes of so-called "sustainable aviation fuels" (SAF) which is highly unlikely to be available in large amounts.
Click here to view full story…
Climate change will mean aviation has to change, even if very reluctantly
Though the Dutch government lost its legal battle recently, trying to limit the number of flights using Schiphol, this was not the triumph the airlines hoped for.  Airlines are scared that  governments, realising the high CO2 emissions from the sector and no realistic plan to reduce them for several decades, will bring in measures to limit flights or demand for air travel.  UN secretary-general António Guterres has said that the latest report by the IPCC showed a "quantum leap" in climate action was now required – and that should include aviation.  The Dutch government only lost its case, on a technicality – so it may press on. The aviation sector may try to bring in restrictions itself, in the hope of avoiding more draconian measures being imposed.  It is increasingly apparent that the sector's decarbonisation road maps, largely relying on huge amounts of sustainable aviation fuel (SAF), operational efficiencies and technological breakthroughs, will not deliver the "net zero" emissions target by 2050 – especially while the sector tries to grow each year. The chief executive of French airport operator Aéroports de Paris has openly admitted that demand growth has to slow for a time — at least in developed countries
Click here to view full story…
Luton Airport expansion plans to be examined by the Planning Inspectorate
The government has agreed that the Planning Inspectorate (PI) will examine proposals from "Luton Rising", the Luton Council company that owns the airport, to expand Luton Airport from 18 million to 32 million passengers per year. The council makes the usual claims about more employment and great economic benefits for the area. The PI  has six months to examine the plans. The transport secretary [Mark Harper, since October 2022] will then decide whether to grant development consent. The expansion plans include new terminal capacity, some runway changes, and new airside and landside facilities. A council spokesperson said that, "for every additional passenger above the airport's current capacity, it will be able to invest an extra £1 into local communities, helping to tackle deprivation." Really? Andrew Lambourne, a spokesman for protest group Luton and District Association for the Control of Aircraft Noise (LADACAN), said: "It's tragic that the councillors who run Luton Rising have been so obsessed with growing the airport they appear to have lost sight of the need for prudence."  Campaigners said the expansion plans would "create noise blight" across the area. Local MP for Hitchin, Bim Afolami, is strongly against the expansion, due to the additional noise burden it would bring.
Click here to view full story…
Climate groups taking government to High Court over greenwash "Jet Zero" aviation strategy
In July 2022, the UK government published a "Jet Zero" strategy (the best part of which is the catchy name). It aspires to allow the UK airline sector to continue to grow, with unrealistic hopes of being able to decarbonise with novel fuels.  It was widely condemned at the time as being greenwashing, with no credible ways to achieve its goals, and its steadfast refusal to contemplate measures to reduce the demand for flights. Two organisations, GALBA and Possible, challenged the government. In October 2022, with lawyers at Leigh Day, Possible filed for a judicial review of the "Jet Zero" strategy. They now have permission to proceed to a joint hearing. This is a hugely important milestone in climate change litigation in the UK. Experts have judged the plans in Jet Zero to be inadequate, and lawyers will argue that the failure to consider this risk to the delivery of its plans renders its net zero aviation strategy unlawful. The key grounds on which the challenge will be heard in the High Court are: The government failed to lay a report before Parliament setting out how the strategy would enable carbon budgets to be met. And the government failed to consult in a lawful manner by having a "closed mind" before the consultation commenced on whether demand management measures were required.
Click here to view full story…
Getting real: what would serious climate action look like? Not expanding aviation?
The world's governments want, in theory, to try to keep the average global temperature rise to not be more than 1.5C to 2C above pre-industrial. But so far, despite worthy intentions, instead of falling, global CO2 emissions continue to rise. Professor Kevin Anderson is an outspoken climate scientist, who prefers the reality of the climate science to the politically palatable version of it, that can be agreed by the IPCC. Climate science suggests that to have a 50:50 chance of not exceeding 1.5°C, humanity can emit about 400 billion tonnes of CO2. For a good chance of staying below 2°C, this value doubles to around 800 billion tonnes.  400bn tonnes is under 10 years of current emissions, and humanity is currently using up the carbon budget at a rate of almost 1% each month.  We have had 30 years of failures, tweaks to business-as-usual, carbon markets, and the dodgy prospect of future technologies.  We need rapid, huge cuts in CO2 emissions, Kevin says for example "an immediate moratorium on airport expansion and a plan to deliver a fair 80% cut in all air travel by 2030."  Also, no more new internal combustion engine cars would be built from 2025. And many other ideas.
Click here to view full story…
Dutch to introduce limits on the carbon emissions of international flights from its airports
The Dutch cabinet has announced that international flights from Dutch airports will have their CO2 emissions capped from 2025, depending on the airport.  It has not yet specified the different thresholds for each.  This follows the "Aviation Memorandum 2020-2050", a 2020 memorandum which laid down the blueprint for measures to achieve increased "sustainability" in the Dutch aviation sector.  The Minister responsible for aviation said there is not yet any "global, European or national instrument that legally anchors aviation CO2 emissions in absolute terms. The CO2 cap provides this anchorage … and secures the climate goals for aviation by setting clear and enforceable limits on permitted CO2 emissions, thus creating a guarantee for meeting the climate targets …  The targets are currently unenforceable; without introducing a legal cap, there is a risk that CO2 emissions from aviation will in practice turn out higher than agreed, as a result of which the goals of the Aviation Memorandum will not be met." The cap is planned to be implemented in 2025.
Click here to view full story…
Permission for a second judicial review granted, challenging Manston plans to become a freight airport
23.3.2023
A judge has granted a judicial review for plans to turn Manston Airport into an air freight airport.  The government granted permission for the project last year, after the High Court ordered the Department for Transport to reconsider its decision to give the go-ahead for the works in 2021.  North Thanet MP Sir Roger Gale said the news was "bitterly disappointing." At an appeal hearing at the Royal Courts of Justice, judge Mrs Justice Lieven granted the review on three points, and asked for one on climate change to be addressed in writing within a week.  This is the second time a development consent order for Manston Airport has faced a judicial review.  Tony Freudmann, the director of RiverOak, which owns the site, said the review could delay plans to get flights taking off in 2026.  Sir Roger said the announcement was "simply wasting time".  Manston Airport closed in May 2014.
https://www.bbc.co.uk/news/uk-england-kent-65054928
---
UK's biggest airports between them hope for 60% increase in passengers, compared to 2019 level
The UK's 8 biggest airports have plans to fly almost 150 million more passengers per year, in a bet that climate targets will not hold back the industry.  A Financial Times analysis of their expansion projects found that combined they would be able to handle 387 mn passengers annually, a more than 60% increase on the 240mn travellers who used the airports in 2019.  If Heathrow ever managed to build a 3rd runway, it would like to increase the annual passenger number from 81 million in 2019, to 142 million.  If Gatwick is allowed (DCO likely in a few months) to convert is emergency runway into near full use, it could get more than 30 million more passengers per year.  Manchester plans expansion of one of its terminals to handle an extra 15mn passengers annually. Edinburgh completed the work to raise its capacity to 20mn passengers in 2019. Airport executives and investors said airports were looking to push through growth plans because many in the industry believed that it would only get more difficult in the future as environmental pressures grew.  The UK has no proper aviation policy, other than wildly optimistic hopes for novel low carbon fuels, and approval of  "making best use" of existing infrastructure.
Click here to view full story…
IEA, oil demand and aviation growth – sector not on track on lowering CO2 emissions
The International Energy Agency (IEA) says that global oil demand is rising slowly, since the end of Covid restrictions, but is set for a huge boost from resumed air travel and China's economic reopening after its Covid measures. It said "Rebounding jet fuel use and a resurgent China will see an overall 1Q-4Q ramp-up of 3.2 million barrels per day (bpd), the largest relative in-year increase since 2010."  It said that Chinese air travel has increased, with its domestic flights now well above pre-pandemic levels.  IEA said "New aircraft are up to 20% more efficient than the models they replace, but this has been insufficient to keep up with growing activity. Between 2000 and 2010 fuel efficiency improved by 2.4% per annum, and by 1.9% from 2010 to 2019, demonstrating that additional incremental improvements are becoming more difficult. Meanwhile passenger demand grew at over 5% per year from 2000 to 2019, meaning that annual improvements are far below what is needed to align with the Net Zero Scenarios."
Click here to view full story…
Tourists and air passengers like the idea of being "green" but won't pay for it
Tourists around the world and especially in Europe are – in theory – supportive of more eco-friendly leisure trips, but reluctant to carry the extra cost, according to studies and industry executives.  In Germany, for example, 24% of travelers believe ecological sustainability is an important criterion when booking a holiday, according to a survey by motor vehicle association ADAC released this month. But only 5-10% would be willing to pay even a moderate sustainability surcharge, according to the poll of 5,000 people. People are not prepared to pay a bit more, for slight reductions in the environmental impact of their trip. No age group is willing to pay more. Few airline passengers buy carbon offsets, and these are anyway almost entirely ineffective in preventing more CO2 entering the atmosphere, in the short or longer term. Airlines will hope they can use new "sustainable aviation fuel (SAF)" to claim – often misleadingly – that flights emit less carbon. Perhaps they will offer more expensive fares if planes use a bit of SAF.  That is likely to become largely greenwashing, in the same way as carbon offsets.
Click here to view full story…
Likelihood of Heathrow's 3rd runway even lower, after CAA charges decision
The CAA has refused Heathrow's demand for a big increase in the fees it charges airlines.  It had wanted up to £43 per passenger. But its regulator, the CAA, allowed it £27.49 on average. The present charge is higher, which means that fees will have to come down over the next few years. Heathrow can appeal to the Competition and Markets Authority (CMA). It looks increasingly unlikely that Heathrow will be able to build a 3rd runway.  There was little mention of it in the CAA's recent analysis. The 242 page ruling on charges just says: "We [the CAA] have said we will deal with these matters separately and in a way consistent with our statutory duties if Heathrow were to reintroduce proposals for capacity expansion." Heathrow will say only that the plan is under review. There is some evidence in the CAA's prices ruling that the runway will be a long way off, if ever. The CAA said the charges they are allowing would give Heathrow sufficient financial headroom to pay investors £1.5 billion over the next few years, a rate of return in line with other utility investments. But Heathrow has a level of gearing – the ratio of borrowing to equity base — of over 82%, making even that rate of return unlikely. And the negative impact of the CO2 from an expanded Heathrow make the project ever more improbable.
Click here to view full story…
CAA rules that Heathrow average maximum price per passenger will fall from £31.57 in 2023 to £25.43 in 2024
The UK Civil Aviation Authority has published its Final Decision for the annual caps that will apply to the charges that Heathrow levies on airlines for using the airport, until the end of 2026. The CAA confirmed that charges for 2023 will remain fixed at the level set out in its interim decision issued earlier this year. The average maximum price per passenger will then fall by about 20% from £31.57* per passenger in 2023 to £25.43** per passenger in 2024 and will remain broadly flat at that level until the end of 2026. This means the average charge over the five years will be £27.49 compared to £28.39 for Final Proposals, a reduction of £0.90 (all in nominal prices). This lower level of charges from 2024 recognises that passenger volumes are expected to return to pre-pandemic levels, and should allow Heathrow to continue "investing in the airport for the benefit of consumers and supporting the airport's ability to finance its operations." The CAA hopes passengers will benefit from slightly cheaper fares, and better systems when they travel. The current passenger forecasts are higher than in earlier assessments.
Click here to view full story…
Imperial College briefing paper on low-carbon fuels for aviation
A paper has been published by Imperial College, on low-carbon fuels for aviation. The authors looked carefully at the various fuels that the sector is hoping to use in future, to enable it to continue with its expansion plans, flying ever more people each year. The Imperial scientists concluded that hydrogen is impractical and will not contribute significantly as jet fuel in the foreseeable future. They looked at fuels made from various wastes, and their real lifecycle costs, including manufacture and emissions when burned in a jet engine ("well to wake"), and concluded that the scope for production of such fuels, that genuinely offer a CO2 advantage, on a large enough scale, is unlikely.  For fuels made from plant material, it is important to look at the timescale of carbon absorption by plants, and its emissions when burned.  Ignoring the time lag makes these fuels look unrealistically positive. Looking at "power to liquid" fuels, ie. those made using surplus renewably-generated electricity, they conclude that there will not be enough of this electricity available to make jet fuels in sufficient quantity. They appreciate that it is important that novel fuels to not have other negative environmental impacts. All the novel fuels come with serious problems of scalability and dubious carbon savings.
Click here to view full story…
Luton Airport expansion plans for 32 million passengers, up from 18 million, submitted
Luton Rising, the Luton Council company that owns London Luton Airport, has submitted its application for expansion. The Development Consent Order (DCO) application comprises 198 documents, with over 25,000 detailed pages of proposals and plans.  It seeks consent to expand the airport from its current permitted cap of 18 million passengers per annum (mppa) to 32 mppa, including new terminal capacity; earthworks to create an extension to the current airfield platform; new airside and landside facilities; enhancement of the surface access network; extension of the Luton DART; landscaping and ecological improvements; and further infrastructure enhancements and initiatives to support the target of achieving zero-emission ground operations by 2040. Andrew Lambourne, speaking for anti-noise campaign group LADACAN, said the proposal "would create noise blight across north Hertfordshire, with flights increasingly starting at five in the morning and running on into the early hours, keeping thousands more people awake at night. The harms outweigh any possible benefits."
Click here to view full story…
Royal Society report on novel aviation fuels – no option other than cutting demand for flying
The UK government has been promoting the idea of "guilt-free flying" in a few years time. Now a report from the Royal Society says (as has been well known by anyone who properly investigated the issue!) that there is currently no single, clear alternative to traditional fuel. Switching to so-called "sustainable" fuel is key to the government's aim to reach "jet zero" flying by 2050. Realistically, there will be no significant impact on reducing aviation CO2 from electric planes, or hydrogen. Small economies and efficiencies by airlines can only make a small dent, while demand for flights is expected to increase. The Royal Society looked at options for "greener" fuels to replace the 12.3m tonnes of jet fuel used annually in the UK. They conclude that to produce biofuels for UK aviation would require half of Britain's farming land, putting severe pressure on food supplies and nature. There is not enough genuinely low carbon electricity to produce much "green" hydrogen. The Royal Society says research and development is required to understand and mitigate the non-CO2 climate impacts of all the alternative fuel options. But it stops short of the obvious solution to reducing aviation carbon emissions – reducing the demand for air travel, and not allowing it to grow.
Click here to view full story…
How are Heathrow's plans for a 3rd runway coming along? (They are not)
There are still "a number of serious hurdles to overcome" before Heathrow could consider a 3rd runway. Heathrow director of communities and sustainability Becky Coffin confirmed that the project remains paused and under internal review. There are the inevitable impacts on the UK's net zero, noise, air quality and road congestion, which remain serious and although surface transport decarbonisation is advancing, so-called 'jet zero' is some way behind (or probably impossible). The Airports National Policy Statement (ANPS) approving the policy of Heathrow expansion (eventually cleared by the Supreme Court) is nearly 5 years old and calls to revisit it are growing. Meanwhile, other airports are getting on with their expansion plans which mean that any carbon allocation for airports is getting used up at Heathrow's expense, so it will get left behind. ie. Bristol, Southampton, Stansted, Luton, Gatwick, Manston. Despite the ANP win, the £14bn expansion plans have remained frozen due to Covid, and Heathrow's lack of available funds. In March 2021 the airport put its £900M T5 rail link on "controlled pause", citing lack of funds. But in May 2022, Heathrow resumed purchasing houses in proximity to the proposed site.
Click here to view full story…
London City Airport "consulting" on extra flights and extended operating hours at weekends
Newham Council, the planning authority for London City airport, formally started consulting on its expansion proposals on 15th February.  It will last until 17th March. Newham's Strategic Development Committee will then later this year decide whether or not to approve the proposals. The detailed application is on Newham's website   It is a very long consultation with many dozen documents, only available online and hard to plough through. Local campaign group, HACAN East summarise the key points as an extra 6 – 7 hours flying on Saturdays; an extra 2.5 million passengers a year using to the airport; and extra early morning flights.  At present no flights are permitted between 12.30pm on Saturdays and 12.30pm on Sundays. London City proposes for flights on Saturday to end at 6.30pm (7.30pm in summer).  It plans to increase passenger numbers from 6.5m to 9m a year.  It plans 3 extra flights during the first hour of operation, from 6.30 – 7am.   It is not proposing to introduce night flights, or lift the cap of 111,000 allowed to use the airport each year. HACAN East is arranging meetings for local people to find out more.
Click here to view full story…
Extinction Rebellion blockades Luton Airport private jet terminals in Valentine's Day protest
Extinction Rebellion and affiliated groups blockaded the entrances to Luton Airport's Harrods Aviation and Signature private jet terminals. The protest is part of the "Make Them Pay" campaign, by Scientist Rebellion, Extinction Rebellion (XR), and Stay Grounded, which has 3 demands: ban private jets, tax frequent flyers and make polluters pay – due to their high carbon emissions.  The protest was a component of a global co-ordinated action launched last week by climate activists across 11 countries, which is targeting multiple sites in Europe, Australia, New Zealand, and the US. About 30,000 private jets land or take off from Luton airport each year, with celebrities, actors and the very rich using them. It is only a tiny % of the population that uses private jets, which are a very, very high carbon way to travel.  A passenger in a private jet might cause the emission of x10 as much CO2 as a passenger in a commercial plane, for the same distance. Though passengers private jets pay a bit more Air Passenger Duty than on commercial planes, the rate of tax on private jets is, relatively far too low.
Click here to view full story…
London City airport – there may be a consultation about allowing flights on Saturday afternoons
There is speculation about London City airport consulting about changing the times on Saturday afternoons, when the airport is open. However, local group Hacan East says that, as far as they know, Newham Council has made no official announcement about the start of the public consultation into London City's expansion plans, but they will be contacting the Council (10th February) to find out the position. The expectation is that instead of flights ending at 1pm on Saturdays, they would continue until 8.30pm.  This would be deeply opposed by residents in the area, who suffer from considerable plane noise. It is thought that the airport applied for this, to Newham Council, in December.  City Airport previously tried to extend Saturday flight times to 22:00, but backtracked after a public consultation in late 2022.  70% of responses to that consultation opposed any expansion.  The airport also wants 12 extra Saturday flights between 18:30 and 19:30 in the summer months, and 3 more planes taking off each morning.  And it hopes to increase the yearly cap on passengers from 6.5 million to 9 million.
Click here to view full story…
John Holland-Kaye to step down from his role as Heathrow CEO
Heathrow's chief executive, John Holland-Kaye, has announced his resignation and will leave his £1.5m role at some point in 2023 after 9 years in charge.  He has been trying to get a 3rd runway for years, so far without success – and with a new range of problems that make it unlikely.  Holland-Kaye took over in 2014, being promoted from development director when he oversaw the building of Terminal 2. Speaking at an aviation conference earlier this week, Holland-Kaye said that more details of renewed plans for a possible 3rd runway would be unveiled later this year.  He has overseen several years of rows with the Heathrow regulator, the CAA, about landing charges – with opposition from airlines to any increases. There is speculation about who might be the next CEO. One possibility is Emma Gilthorpe, the chief operations officer, who was previously a director overseeing strategy and planning, including the expansion plans. Chief financial officer Javier Echafe is also a possible contender. Holland-Kaye will remain in post to ensure a smooth handover later in 2023
Click here to view full story…
High Court has ruled that expansion of Bristol Airport will be allowed to go ahead
Campaigners against the expansion of Bristol airport legally challenged the decision of the Planning Inspectorate (PI), a year ago.  The High Court has now ruled that the expansion can go ahead.  North Somerset Council rejected the expansion in 2020 on environmental grounds but that decision was later overruled by the PI.  Expansion would see the airport increase its capacity from 10 million to 12 million passengers per year. Opponents of the growth, through the Bristol Airport Action Network (BAAN), are very disappointed, but are already planning on challenging the ruling.  BAAN has been arguing planning inspectors were wrong to ignore the impact a bigger airport would have on climate change.  In his decision Lord Justice Lane said expanding the airport would impact the environment but that the decision is for central government not local. There is no proper law on UK aviation, or any legal means to control cumulative CO2 emissions from many airport expansion. The Climate Change Committee say there are big risks in the airline industry hoping for low carbon fuels in future, and recommend that "there should be no net expansion of airport capacity".
Click here to view full story…
AEF questions the CAA's effectiveness on environmental issues
The Department for Transport recently called for evidence as part of a review of "the effectiveness and efficiency of the CAA.  The consultation, which opened on the 28th of November 2022, closed on 29th January 2023. The main duties of the CAA are on safety and the well-being of its consumers, the air passengers.  Its effectiveness on environmental issues is a subsidiary concern. Aviation Environment Federation submitted comments. Their opinion is that "the CAA's strategy is inadequate in relation to all environmental issues. Many, perhaps most, of the deficiencies in the CAA's strategy arise because it has no meaningful environmental duty and few powers to require the industry to achieve positive environmental outcomes. We believe this can only be remedied if the Government provides the CAA with an environmental duty, regulatory functions and clear guidance."  The AEF says the CAA is required to "have regard to the growth of the aviation sector", but not to prioritise it over environmental sustainability.  It does not act to regulate appropriately the climate or noise impacts of the aviation industry.  See the full AEF response. 
Click here to view full story…
Most avoided deforestation forest carbon offsets are worthless
The avoided deforestation carbon offsets approved by the world's leading provider and used by Disney, Shell, Gucci and other big corporations including airlines are largely worthless and could make global heating worse, according to a new investigation. The research into Verra, the world's leading carbon standard for the rapidly growing £1.6bn voluntary offsets market, has found that, based on analysis of a significant % of the projects, more than 90% of their rainforest offset credits – among the most commonly used by companies – are likely to be "phantom credits" and do not represent genuine carbon reductions. Companies often tell their customers that buying carbon credits means their purchase is "carbon neutral" and not increasing atmospheric CO2. That is usually nonsense. The forest credit is to ensure an area of forest is not cut down, but the study found that often there was only a small threat of deforestation there. If the threat is exaggerated, more carbon credits can be sold. Also there are rarely rigorous scientific methods to measure avoided deforestation. With climate change, the future health of forests – or the risk of severe forest fires – is unknown, and probably unknowable. 
Click here to view full story…
"Don't fly to the UK to visit the Cotswolds" District Council chiefs say
Civic leaders in the Cotswolds don't want tourists to travel by plane to the UK to visit the area. The Cotswolds attract tens of millions of visitors each year.  But Cotswold District Council cabinet members say they want to see fewer tourists from markets such as Asia and the Americas who would have to fly to the UK to visit the region.  They would rather promote the Cotswolds to visitors who can get to the UK by more sustainable means.  British families have taken the opportunity to holiday overseas in 2022 and the Cotswolds has seen a loss of domestic tourism as a result. But there has been a small rise in the relatively low number of overseas visitors.  Some cabinet members would rather see visitors come to the Cotswolds via ferry or rail. Climate change and forward planning cabinet member Rachel Coxcoon (LD, Moreton East) told a recent meeting that she is "a bit disturbed about the idea of promoting flights to the UK". Economic development lead officer Paul James said they have seen an upsurge in domestic tourism since the pandemic.
Click here to view full story…
High Court judge rejects application to legally challenge August 2022 approval of Manston expansion plans
A DCO (Development Consent Order) for the re-opening of Manston airport, and its use mainly for air cargo was approved by the government in August 2022. Then local residents, through Jenny Dawes, made an application for permission to get a Judicial Review of the decision, on 29th September 2022.  A  High Court judge has now announced that this legal challenge has been rejected.  In her 1,200-page appeal, Jenny said the reopening "Manston Airport will cause irreparable harm to the people, environment and the economy of east Kent".  The airport owners, RiverOak Strategic Partners' (RSP), have applied for permission to upgrade and reopen the airport primarily as a freight airport, with some passenger services, with a capacity of at least 12,000 air cargo movements per year.  The plans were given the go ahead in August despite planners recommending that the development consent order application (DCO) be refused.  An earlier DCO for development of Manston as a freight airport was rejected by the High Court in February 2021.This was after Secretary of State for Transport, Grant Shapps, in July 2020 had decided to ignore the advice of the Planning Inspectorate in October 2019, that the DCO should be rejected.
Click here to view full story…
EU considering plans law to force companies to prove green claims are real – not greenwash
The European Union has drafted plans to make companies back up green claims about their products with science-based evidence, in an attempt to fight greenwashing and misleading advertisements. The draft legal proposal by the European Commission aims to clamp down on companies promoting their products as "climate neutral" or other "green" claims unless these can be substantiated. There would have to be proper methodology that tracks environmental impacts of all sorts, including air pollution and CO2 emissions. Currently most green claims are woolly, vague and misleading, and customers are buying products based on unreliable information. Under the proposal, companies that claim their product has a positive environmental impact must also disclose if this causes an negative impact in another area. Claims based on promises of future environmental performance must be backed up by milestones the company will achieve by specific dates, including if carbon offsets are to be used. There is currently no law against greenwashing in the UK, but the Financial Conduct Authority consulted in October 2022 about greenwash claims made for financial products, as it said the financial services sector was a major culprit. As is the air travel industry.
Click here to view full story…
Independent review of the government's Net Zero target and what progress is being made
In 2019, the UK Government and the devolved administrations committed to the Net Zero target as recommended by the Climate Change Committee. Now Chris Skidmore MP has undertaken a review of the government's Net Zero plans. It looks at all sectors what progress has been achieved, and what is needed. There are many mentions of aviation, including how the sector will be responsible for an ever larger % of total UK carbon emissions, unless strong measures are taken. The review wants much more investment in so-called "sustainable aviation fuels" (SAF). It says Government should publish the Low Carbon Fuels Strategy in 2023 and the necessary legislation for the sustainable aviation fuels (SAF) mandate to apply from 2025. "Recognising that an adequate price stability mechanism is vital for investments in SAF, government should set out evidence for barriers to SAF investments and options to address this."  And "In particular in the aviation industry, there are currently several projects looking at so-called recycled carbon fuels. To ensure these fuels deliver carbon savings, it will be important to ensure that these adhere to waste hierarchy principles and potential reduction in waste streams is considered." It also calls for an Office for Net Zero delivery for joined-up, cross departmental work and action.
Click here to view full story…
Cancer charities call for general aviation small planes to stop using leaded fuel
While the kerosene used in the engines of commercial planes, or most private jets, does not contain lead, the AvGas (aviation gasoline) fuel used by the light planes used in "general aviation" – ie. largely hobby flying – does contain tetraethyl lead.  There are 134 recreational, general aviation, airfields in the UK. There is the fear that the little piston-engine aircraft using these airfields are emitting lead, which is causing air pollution in the area.  Ministers have been urged by cancer charities to follow the US and EU with plans to ban the lead-based fuel, by 2030 and 2025 respectively  The charities (Breast Cancer UK and the Cancer Prevention and Education Society, as well as Green Alliance) say the UK is in danger of "falling behind international standards" because it has left the EU's system for regulating potentially harmful chemicals, UK REACH.  Lead accumulates in the body, and there is no safe level of exposure.  It has been banned from use in car fuel since 2000.  There may be over 370,000 homes within 4km of general aviation airports, which may have unacceptable levels of lead pollution.
Click here to view full story…
Campaign for Better Transport says it is time to properly tax private jets
Private planes emit some 50 times more CO2 than trains. The Campaign for Better Transport (CBT) thinks that private passengers who use private jets should start paying for the climate damage they cause.  In 2021, there were 135,505 private aircraft movements (arrivals and departures) in the UK. European private jet carbon emissions have increased by 31% since 2005, far faster than commercial aviation emissions. The UK is responsible for more than any other European country. Few of these private jet trips are necessary, and the  passengers could generally use commercial flights. Depending on the trip and the plane, a passenger in a private jet might be causing the emission of between 5 and 14 times as much CO2 per as a standard class air passenger. A few flights in a private jet could emit as much as an average EU citizen in a whole year, or ordinary living.  CBT is calling for private jets to pay more. Currently they pay the same rate of APD as business or first-class passengers, with a higher rate applied to aircraft of 20 tonnes or more with fewer than 19 passengers onboard. This rate should be increased tenfold; this new 'super' APD tax could raise around £1.4 billion each year. VAT should also be charged.
Click here to view full story…
A different business model is needed for aviation – not high-volume, low-profit per passenger
A new research paper, in the Journal of Air Transport Management (by Stefan Grossling and Andreas Humpe) looks at the likely increase in CO2 emissions from global aviation, with and without managing to use genuinely low carbon fuels.  It concludes that the air travel sector is set to expand significantly, with ever more demand for air travel. But the only method the sector has to cut its CO2 emissions and climate impact is to local new, low carbon fuels. These will inevitably be more expensive than the fossil kerosene used now. The supply of the fuels will also be limiting, and even if electricity for electrofuels can be obtained from nuclear-generated electricity, if will be costly.  This increase in cost will be the mechanism to reduce overall demand for air travel, though it is not the stated intention of governments. The current business model of the airline sector is high-volume, low-profit-margin. That is not a sustainable model for a sector with such high carbon emissions. Historically airlines have usually made losses, unless there are enough passengers. Unless this changes, the CO2  from aviation will continue to increase.
Click here to view full story…
Report questions using renewably generated electricity to make e-fuels for aviation
The aviation sector is desperate to find some form of jet fuel that it can claim is low carbon, so it can justify continuing to fly ever more planes, transporting ever more passengers, against all logic of the carbon emissions generated. Hydrogen-fuelled and electric planes are not going to contribute in any meaningful way, for decades, if ever. That leaves SAF (Sustainable Aviation Fuel), one section of which might be "electrofuels" – ie.  those generated by using surplus renewably generated electricity. But there are huge problems, due to the immense global demand for this electricity, which needs to be used for domestic heating and lighting, for all commercial buildings, all vehicles, trains etc etc. There just is not going to be much spare electricity, to (rather inefficiently) produce jet fuel. Now a new paper from a climate venture capital firm says this is not an efficient use of the electricity. "The figures show that a lot of renewable electricity is spent for scaling the production of synfuels which means it would be more efficient to use that electricity for other things like displacing coal generation or powering an electric vehicle."
Click here to view full story…
EU approves France's short-haul flight ban — but only so far for 3 routes from Paris
The European Commission has approved France's plan to ban short-haul flights when there's a decent rail alternative — but it will only affect 3 routes.  French lawmakers in 2021 voted to prohibit short-haul domestic flights when there's an alternative rail connection of two and a half hours or less. The original proposal, which required the green light from Brussels, was initially to affect 8 routes. Now the Commission has said the ban can only take place if there are genuine rail alternatives available for the same route — meaning several direct connections each way, every day.  So it will just apply to journeys between Paris-Orly and Bordeaux, Nantes and Lyon.  It includes linking flights from those airports. Three more routes might be added — between Paris Charles de Gaulle and Lyon and Rennes, and between Lyon and Marseille — if rail services improve. The EU executive said France was justified to introduce the measure provided it is "non-discriminatory, does not distort competition between air carriers,[and]  is not more restrictive than necessary".  It is not really going to make much of a dent in overall French aviation CO2 emissions.
Click here to view full story…
EU agrees to "watershed" inclusion into the carbon market for shipping; eyes now on aviation
EU negotiators have agreed to bring shipping into the EU's carbon market, the ETS, showing that pricing international emissions is possible. Shipping, (as well as aviation) is one of Europe's largest CO2 emitters, but so far it has not been fully included in the Emissions Trading System.  It means that  shipping polluters will have to pay and shows that the EU can regulate emissions beyond its borders. There had been claims in the past that shipping and aviation could not be included, as much of their emissions take place outside the EU's borders.  T&E wants the same equally ambitious scheme for aviation, so it is fully in the ETS. Currently only flights within Europe are included, not those outside it, which make up about 60% of total European aviation CO2 emissions.  EU negotiators will be discussing aviation emissions next week, and there is no reason for aviation to not be treated in the same manner as shipping.
Click here to view full story…
Reduction in flying only way to achieve net zero, warns sustainability expert
The only way the aviation sector will reach net zero by 2050 is if there is a reduction in the number of people flying. Cait Hewitt, policy director at Aviation Environment Federation, warned Travel Weekly's Sustainability Summit that the aviation sector does "not yet have the technologies" required to achieve the target.  The industry wants a lot more government financial assistance to produce more SAF, and also perhaps "green" hydrogen. But realistically, there is not going to be a lot of these fuels for many years to come, if ever.  There will certainly not be enough for the sector not only to continue at its present size, but also to expand. The industry is desperate to make out that the problem is the need to decarbonise flights, not reduce their number. The sector has to keep growing – that is the universal business model. Cait said  "I've heard all kinds of promises from the aviation sector about cutting emissions, and while it's true that emissions are reducing on a per-passenger basis, overall emissions are not."  Every sector, including aviation, must cut its climate impact.
Click here to view full story…
Airlines want £billions taxpayer handouts to cover cost of developing "sustainable" jet fuel
Virgin Atlantic, BA and EasyJet have been criticised for making 'outrageous' requests for taxpayers to subsidise the attempts to use more lower carbon fuels, and indirectly, subsidise air passengers. Airlines are lobbying the government for £ billions in handouts to help them cover the cost of developing new fuels, called "sustainable aviation fuel" (SAF). Freedom of Information requests by OpenDemocracy found Virgin Atlantic, British Airways and easyJet are among the companies demanding public money to help them meet a requirement to use SAF in future. In any year, about 50% of the UK population do not fly, and the richest fly much more than poorer people. So subsidy for SAF from taxpayer money in inequitable. The airlines claim they pay money to the government, through the ETS and CORSIA. But that small amount of money helps to fund public services. The airlines are trying to claim that boosting SAF production would increase jobs etc … There are not enough genuine sources of waste, that are not doing environmental harm, to produce much SAF – certainly not on the scale they want.  The sector also wants "contracts for difference" to pay SAF producers agreed prices, even if the market price fell. Money for that has to be found from somewhere (taxing fossil jet fuel perhaps?)
Click here to view full story…
Airbus boss warns of delay in decarbonising airline industry – "green" hydrogen and SAF not available in large amounts
Head of Airbus, Guillaume Faury, says there is a shortage of allegedly low carbon fuels, so-called "Sustainable Aviation Fuel" (SAF). He said this is slowing the uptake of SAF. He had concerns about the pace of investment in facilities to produce "green" hydrogen and SAF.  "Green" hydrogen, produced from water using zero-carbon electricity, offers one possible solution, while SAF, made from plant or other wastes or using carbon from the air, can be used in existing gas turbine engines. The hope is that, although SAF burns to create CO2, there is less overall CO2 in the fuel lifecycle than using conventional jet kerosene. Airbus wants to fly zero-emissions hydrogen aircraft in commercial service by 2035 but Faury said this may be later, due to the lack of "green" hydrogen. With every other sector aiming to use genuinely low carbon, renewably generated electricity, is there enough to use on producing jet fuel, largely for discretionary leisure trips?  Rolls Royce and EasyJet are also making efforts to test engines fuelled by hydrogen. So far it has been burned in a jet engine, on the ground, not on a plane in flight.  SAF supplies are likely to remain relatively limited for years.
Click here to view full story…
Taxing kerosene on flights, at the level paid by motorists, could raise £6.7 billion a year for the UK Treasury
Revenues generated from a UK aviation kerosene tax could accelerate the reduction in aviation CO2 emissions, a new study by Transport & Environment (T&E) found. They calculated possible revenues that could be raised by the Treasury if the UK government were to impose a duty on the fuel (in a similar fashion to how road fuel is taxed) uplifted to planes in the UK.  Airlines currently pay no fuel duty at all.  To make matters worse, in further ignorance of the polluter pays principle – long-haul flights are not included in the UK ETS (the carbon market for aviation), long haul carrier airlines do not pay a penny for any of the emissions they cause. In contrast, jet fuel taken on for domestic aviation has been taxed for many years in countries such as the US, Japan, India and Brazil. In 2019 a kerosene tax at the same level as motorists pay, airlines would have collectively had to pay £6.7 billion for their fuel.  Taxing domestic flights, which represent 19% of all UK departing flights, but only 4% of total jet fuel used, could generate £0.26 billion. For flights departing to the EU (65% of flights and 30% of jet fuel), revenues calculated were £1.93 billion. For flights to the US, the Treasury could generate £1.6 billion.
Click here to view full story…
Bristol airport expansion decision legal challenge – it would hinder UK climate goals
There has been a high court hearing in Bristol, about the possible expansion plans of the airport, from 10 to 12 million annual passengers. Campaigners are challenging the decision of the Planning Inspectorate to allow expansion, even though it had earlier been refused.  Lawyers for Bristol Airport Action Network (BAAN) argued the decision did not properly take into account the full environmental impacts of the increase in flights and ignored local climate policies. Bristol Airport Ltd first announced plans to expand in 2018. North Somerset council refused it planning permission in February 2020, citing the inevitable rise in carbon emissions as well as the increase in road traffic, loss of green belt land for parking, and rise in noise and air pollution. Then the airport operator appealed to the Planning Inspectorate (PI), which overturned the local decision in February 2022 after a 10-week inquiry. The climate issue is made difficult, by the absence of proper policy on aviation carbon for all of the UK, ignoring the cumulative impact of numerous airport expansions. It does not take into account local carbon budgets, or the non-CO2 climate impacts of aviation. There are also  legal challenges under way, of the government's inadequate "Jet Zero" strategy.
Click here to view full story…
Luton Airport owner (part of Luton Council) delays DCO plans for expansion to 32mppa
Earlier this year, Luton Rising – a Luton Council subsidiary that owns the airport – consulted on revised expansion proposals that would eventually increase the airport's annual passenger capacity from 18 million to 32 million.  Luton Rising has now delayed the submission of its £1.5bn expansion plans.  The necessary Development Consent Order (DCO) application for a second airport terminal was due to be submitted by the end of 2022.  But Construction News has learned that the application has been pushed back to 2023. The plans consist of two phases, with the first expanding the existing terminal to 21.5 million ann ual passengers, and the second building a new terminal. This second phase is itself split into two parts, with the new terminal boosting capacity to 27M per year and further expansion later increasing it to 32M. It is thought that, if approved, construction would not begin until at least 2025. Consultation documents state that delivering the project would take up to 20 years, "during which there will be periods of construction activity and others with no activity". A previous statutory consultation was held in 2019, but the airport struggled financially due to Covid, and forced it to borrow several hundred £million from Luton council.
Click here to view full story…
Greenpeace and XR climate activists storm Amsterdam Schiphol airport and block private jets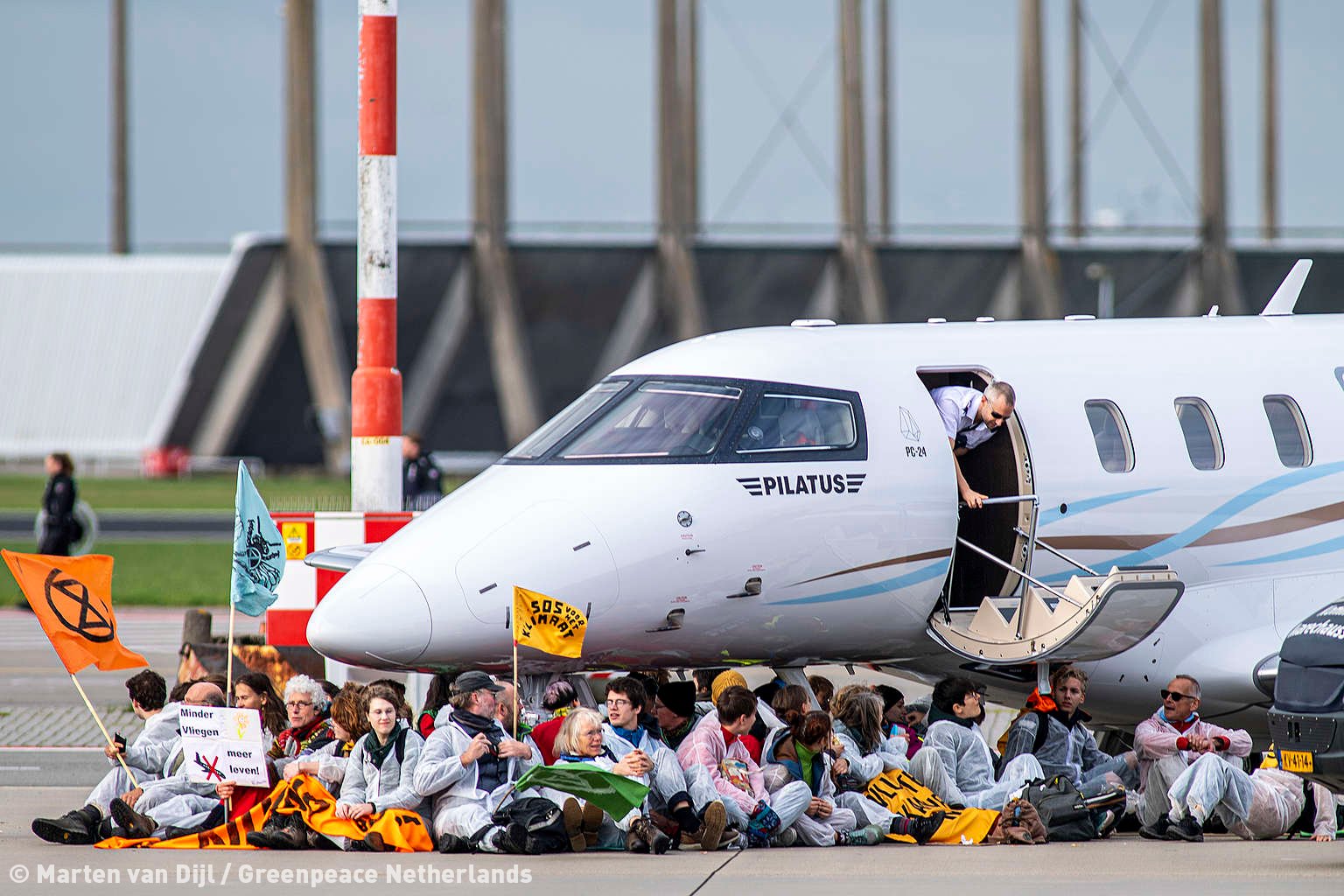 Dutch border police arrested hundreds of climate activists who stormed the private jet area of Amsterdam's Schiphol airport and sat in front of the wheels of aircraft to prevent them from leaving. Several hundred protesters from Greenpeace and Extinction Rebellion entered an area where private jets are kept, as part of a day of demonstrations in and around the airport organised by environmental groups to mark the start of the COP27 talks in Egypt.  Greenpeace says Schiphol is the largest source of CO2 emissions in the Netherlands, emitting 12 billion kilograms annually.  Around 200 activists were arrested, and there is video of many escaping on bicycles, while the police try to catch them on foot (one activist received a head injury). The airport says the usual greenwashing stuff about becoming an emissions-free airport by 2030 etc (conveniently ignoring the flights) and being net zero by 2050. Blah blah.  The Dutch transport minister, Mark Harbers, told parliament last month that his office could not control growing private jet traffic, and the government was considering whether to include the issue in its climate policy. Private jets emit greatly more CO2 per person than even on commercial planes.
Click here to view full story…