---
AEF RESPONDS TO GOVERNMENT'S 'JET ZERO' STRATEGY
In July, the DfT set out its "jet zero" strategy – with the intention of bringing down UK aviation CO2 emissions to "net zero" by 2050, (after allowing an increase) with sub-targets to make domestic flights and airports "net zero" by 2040.  Environmental groups are distinctly unimpressed, as the strategy has very low ambition or real measures to cut the CO2. The groups say there should be detailed policy proposals on how the strategy's ambitions will be achieved, with specific policy mechanisms to create incentives for the development and deployment of "zero emission" aircraft and "sustainable aviation fuel" (SAF). There also needs to be a clear decarbonisation pathway to cut emissions by 2035, compared to 2019, not by 2050.  It needs to cut air travel demand, which is the only sure way to cut emissions, but the strategy studiously avoids doing that.  There should be no airport expansions allowed. And the non-CO2 impacts should be included, which they are not.  The AEF considers that the near term policies are too ineffective – just using the UK ETS and more SAF, and the cost of decarbonisation measures should be borne by the aviation industry, not the taxpayer.
Click here to view full story…
Heathrow's Spanish owner Ferrovial considers selling stake if airport does not make enough money
Ferrovial, which owns 25% of Heathrow, is considering selling its stake. A French investor, Ardian – which has other airport interests – might buy it. Ferrovial considers it has not made, and is not making, enough money from Heathrow.  It is displeased by the CAA ruling, that Heathrow cannot hugely increase its landing fees charged per passenger at Heathrow. Heathrow wanted to put this up to over £40 per person, but recently the CAA ruled that it will have to fall from £30.19 to £26.31 by 2026, despite a furious lobbying effort by the airport. Ferrovial is understood to have been approached by Ardian, a Paris-based private equity firm, about a possible joint deal with Saudi Arabia's Public Investment Fund. Ardian held a 49% stake in Luton airport between 2013 and 2018.  Ferrovial has said it would be sceptical about committing further funding to Heathrow if the airport cannot get CAA agreement on charges.  The lower landing charges are a disincentive to new investors, who fear low profits.  Experts consider that any decision to cut off funding was likely to scupper plans for a 3rd runway, with progress already disrupted by a sharp fall in air travel during the pandemic and huge debts.
Click here to view full story…
ICCT report shows that only small, very short distance, commuter planes could be electrified any time soon
A recent report by the ICCT (International Council for Clean Transportation) on electric aircraft concludes that electric models will be limited to short range flights (< 500 km) in the foreseeable future.  Despite improvements in battery technology in the past three decades, batteries remain inadequate to the task of electrifying most of passenger aircraft. They are just not powerful enough.  The energy density of lithium batteries increased 3-fold over the past 30 years, but improvements way greater than that would be needed.  The ICCT report looked at the size of battery, the space it would take up, how much power it could provide, and the % of total plane weight.  Some key parameters are the "eb" – the amount of energy stored per unit of battery mass, and the "vb", the energy stored per unit volume.  eb is measured in watt-hours per kilogram (Wh/kg) and vb is measured in watt-hours per litre (Wh/L). Fossil jet fuel has a specific energy nearly 50 times higher than the best lithium battery. Looking at the 4 categories of plane, commuter, regional, narrowbody, and widebody, only the commuter (up to 19 passengers, up to 450km range – ideally not over 200km) could be electrified.
Click here to view full story…
Schiphol airport in Amsterdam limits flights to prevent emissions, in world first
The Dutch government has announced that the number of flights arriving at Schiphol airport will be capped to bring down emissions. Schiphol, the third largest airport in Europe after Heathrow and Charles de Gaulle, will be limited to 440,000 flights a year from 2023. That is an 11% reduction from the airport's pre-pandemic numbers in 2019  – and most importantly, it is a first in terms of putting climate before economic growth. The Dutch government, a majority stakeholder in Schiphol, says the change will bring down both noise and nitrogen oxide pollution (NOx). By limiting air traffic at one of Europe's major airports the Dutch government is taking a major step to tackle air travel, which is one of the most polluting sectors. The aviation industry is not happy about it, and want instead to persist with the myth of being "net zero by 2050" (which is uncertain, too little, too late).  A pro-aviation body ACI Europe "warned against governments caving in to 'climate populism'." The decision was welcomed by Greenpeace, which has been campaigning to reduce flights at Schiphol for years.
Click here to view full story…
Appeal by Southampton campaigners, against runway extension, refused by Court of Appeal
The Court of Appeal has refused an appeal by a local campaign group, GOESA Ltd (Group opposed to expansion of Southampton Airport), upholding the decision by Eastleigh Borough Council that the Southampton Airport runway can be lengthened by 164 metres.  An associated blast screen and an expansion of the current long-stay car park are also part of the approved scheme. It is now over 18 months after the runway extension was first approved by the council.  In August 2021, campaigners from the Airport Expansion Opposition Southampton group challenged the planning permission in court over concerns that the proposal would increase noise, traffic, pollution and carbon emissions. The High Court rejected the claim. In December 2021, the application was renewed and the campaigners were granted a judicial review. The campaigners argued that the decision to extend the runway was "unlawful" as it was rushed, and skipped essential assessments and formalities. In May 2022 the High Court rejected the JR and ruled that the approval had not been unlawful. Campaigners appealed against this decision. That has now been rejected. There are no further legal options.  It is totally at variance with the rapid action needed in the next few years, to cut the UK's carbon emissions.
Click here to view full story…
Carbon Brief Analysis: UK's 'jet-zero' plan would allow demand for flying to soar 70% – with higher emissions
In a detailed analysis, Carbon Brief looks at the DfT's "Jet Zero" strategy and how realistic it is for UK aviation to continue to expand, based on future technologies. Under the strategy's plans, the UK aviation sector will not reach net-zero by 2050, but instead will still be emitting 19m tonnes of CO2 equivalent (MtCO2e). It plans for aviation emissions rising from 38MtCO2e in 2019, to 52MtCO2e by 2050.  A range of speculative tech brings the 52 down to 19MtCO2e. For the UK to reach its legal net-zero target, these emissions will need to be removed from the atmosphere. The plans will also see passenger numbers increase by 70% from 2021 to 2050, representing an additional 200 million passengers. The government has no intention of reducing air travel demand – contrary to the advice of the CCC. In its "high-ambition" scenario, the use of "sustainable aviation fuels" (SAF) in UK flights would reach 10% of overall fuel use by 2030 and 50% by 2050.  The CCC has said this reliance is a major risk. SAF is currently barely used because, as the government acknowledges, they are expensive and their production relies on technology that is "yet to be proven at scale".
Click here to view full story…
Environmental Audit Cttee calls for rapid implementation of key environmental principles in policymaking across Government
The Environmental Audit Committee (EAC) argues that there is no reason for any further delay to the roll-out of the Government's Environmental Principles, (integration, prevention, rectification at source, polluter pays and precautionary principles) which are intended to be binding on policymakers across many areas of central government. Including aviation. The Government has been designing its environmental principles for over four years. Now that the requirement on policymakers to observe environmental principles has been enacted in the Environment Act 2021, there is concern that further delay in implementation will risk principles being sidestepped by Whitehall rather than embraced.  The EAC is calling for rapid finalisation and implementation of the policy statement presented to Parliament in May 2022. The Government must deliver on its ambition for the policy statement to be finalised and embedded across government policymaking, by autumn of 2022. The UK was previously obliged to follow environmental principles in the EU Treaties, and is still bound by a number of international agreements on environmental protection. Brexit offered a significant opportunity to shape the implementation of environmental principles to domestic circumstances.
Click here to view full story…
Heathrow makes a loss in first half of 2022; debt increases; RAB increases
Heathrow airport has reported a £321m adjusted pretax loss for the first half of the year after weeks of lengthy queues and flight cancellations, with passenger numbers back at near pre-pandemic levels.  It recently had to announce a daily cap of 100,000 passengers until early September.  It estimated that airlines were lacking about 30% of ground handling staff compared with before Covid. The airport said it did not expect to pay any dividends to its shareholders for the rest of the year.  Heathrow's revenue in the 6 months to 30th June was £1,280 million, compared to £348 million in 2021, and £712m in 2020, and £1,461m in 2019.  The £231 million loss in 2022 compares with a loss of £787m in 2021, a loss of £471m in 2020, and a £153m profit in 2019.  Heathrow's Regulated Asset Base (RAB), on the size of which it can levy passenger charges, was £18,425m in 2022, compared to £17,474m in 2021, £16,516m in 2020 and £16,598m in 2019. Heathrow Finance plc consolidated nominal net debt was £15,561 million in 2022, compared to £15,440m in 2021, £14,932m in 2020 and £14,361m in 2019. ie. it has risen a lot.
Click here to view full story…
Inadequate Jet Zero strategy criticised by environmental groups and even pilots
The DfT has produced its "Jet Zero Strategy" which is the nearest thing there is to an aviation policy for the UK. Though, as that, it is entirely inadequate.  Leading environmental groups – Green Alliance, Friends of the Earth, Possible, Transport & Environment and AEF – have explained why the strategy is ineffective, in cutting future aviation CO2 emissions. The Climate Change Committee's annual report, published in June, found the aviation industry (also agriculture) is unprepared for meeting the UK's legally binding climate targets for "net zero" by 2050. The Jet Zero strategy needs to have detailed policy proposals on how its ambitions will be achieved, with specific policy mechanisms to create incentives for the development and deployment of zero emission aircraft and sustainable aviation fuels. It should have a detailed decarbonisation pathway that achieves genuine carbon reductions before 2035, not only after then.  It needs to have a plan to curb air passenger demand, as novel and untested technological solutions – on which the strategy largely depends – cannot be relied up. Even BALPA, the pilots' union, has said the strategy places too much faith is future technologies, that may not deliver.
Click here to view full story…
DfT publishes "Jet Zero Strategy" … "so passengers can look forward to guilt-free travel"
The DfT has published its "Jet Zero Strategy", such as it is.   For net emissions, not all emissions.  Predictably, it does not propose realistic cuts in aviation carbon emissions, nor any measures to reduce air travel demand.  The Strategy says: "We are introducing a CO2 emissions reduction trajectory that sees aviation emissions peak in 2019. [39.6MtCO2]. This trajectory from 2025 to 2050, is based on our "High ambition" scenario, and sets ambitious [sic] in-sector targets of 35.4 MtCO2e in 2030, 28.4 MtCO2e in 2040, and 19.3 MtCO2e in 2050." The level was about 18MtCO2 in 1990. So it will take 30 more years, to get them back to the 1990 level (by which time, the UK should – miraculously – have become "net zero".  The strategy makes no mention of air travel demand management, which would be the simplest and most effective mechanism to cut emissions. Instead there are hopes of tech solutions of all sorts (none that could become commercially viable for decades) and the intention to have a mandate for jet fuel to contain 10% SAF by 2030. Problem with that is "sustainable aviation fuels" have their own considerable carbon and environmental downsides.  The aviation industry will be happy – they can keep on growing …
Click here to view full story…
Protesters at Farnborough as Government launches deeply inadequate "Jet Zero Strategy"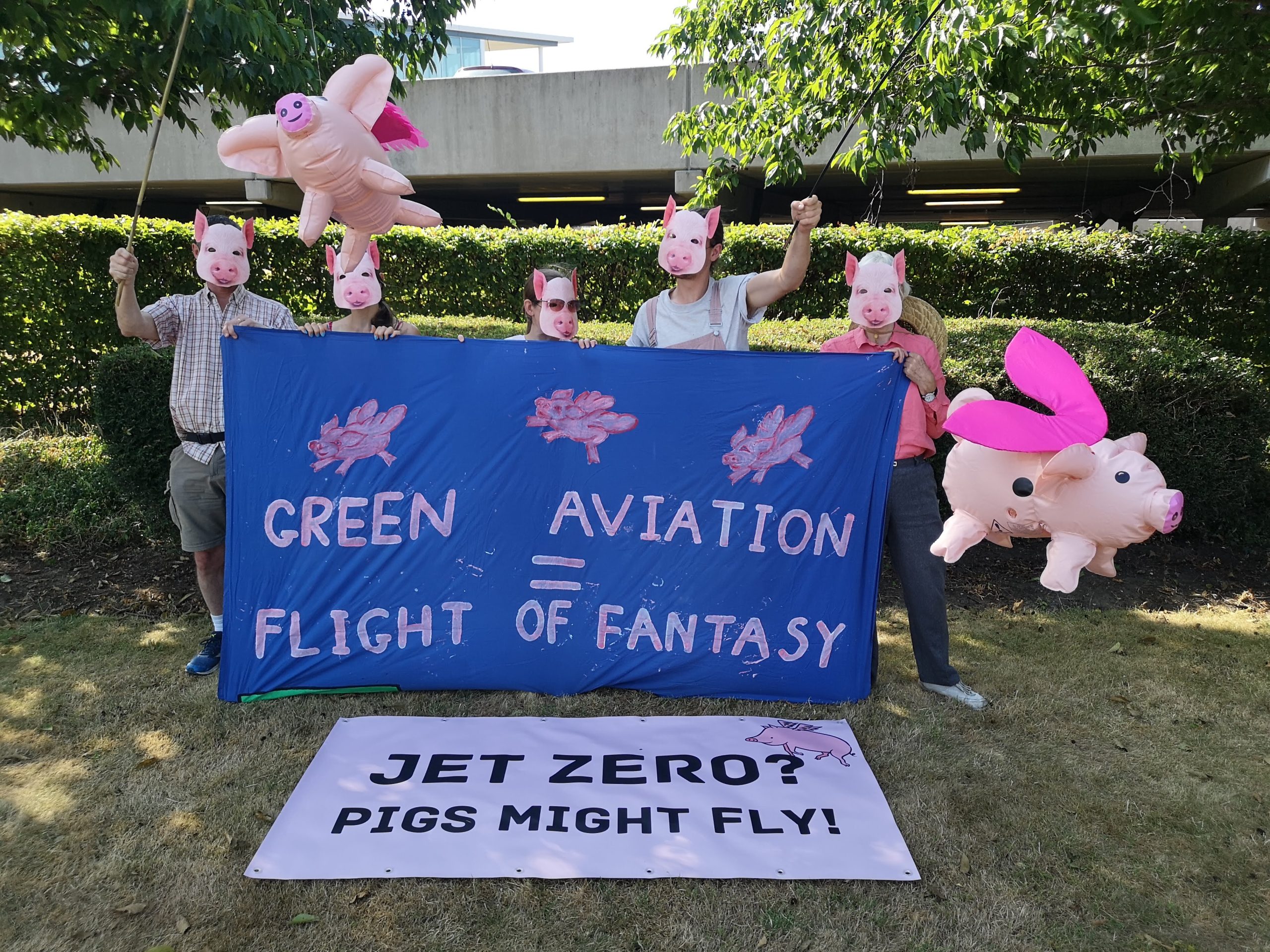 Earlier in the year, the DfT had a consultation on its "Jet Zero" proposals. At the Farnborough air show, it has now announced it Jet Zero Strategy. Predictably, it does not propose realistic cuts in aviation carbon emissions, nor any measures to reduce air travel demand – as had been recommended by the Climate Change Committee. Yet Jet Zero supports the unconstrained growth of flying and airport expansion. The strategy has been criticised by independent experts and climate campaigners for its failure to include any measures to limit demand for flying. Instead, it takes a high risk approach of assuming that emissions reduction will be achieved solely by the introduction of alternative fuels, new technologies and widely discredited offsetting. The strategy allows for UK aviation emissions to continue to rise, rather than the drastic cuts in all greenhouse gas emissions that are urgently needed, by 2030.  Protesters went to Farnborough, to mark the launch of the (non) strategy, with the slogans "Pigs Might Fly" and "Green Aviation = Flight of Fancy."
Click here to view full story…
High Court rules UK "net zero by 2050" plan is too vague, with no clear policy pathway
The high court has ordered the UK government to outline exactly how its "net zero" greenhouse gas (GHG) policies will achieve CO2 emissions targets by 2050.  Friends of the Earth, ClientEarth and the Good Law Project had made a legal challenge about the government's vague climate change strategy, as it lacks the necessary policies to achieve its targets.  Now Justice David Holgate has ruled that the plan is unlawful, regarding government obligations under the Climate Change Act.  The government does not know how various individual policies could contribute to achieving the legally binding climate target, and therefore could not properly assess the plan's credibility. Judge Holgate said a detailed and quantified explanation of how the policies would achieve net zero GHG emissions by 2050 was important for holding ministers to account and for "transparency", for everyone to understand. He ordered ministers to publish an updated strategy by the end of March 2023.  The Climate Change Committee has aid there was "scant evidence" of delivery against the high-level target, with major policy gaps in key areas – such as aviation.
Click here to view full story…
The madness of cutting down forests to grow food crops for supersonic aircraft biofuels
Dan Rutherford, shipping and aviation director at the ICCT (International Council for Clean Transportation, in the US) has set out the nonsense of United Airlines attempting to convince people that flying supersonic could be "low carbon" or "sustainable." United have said they intend to buy 15 supersonic jets, and fly them using 100% "low carbon" fuels. Dan's calculations show that, as well as fuels produced from renewably produced electricity being implausible at scale, fuels derived from crops of any sort would have high lifecycle carbon emissions. Already, crazily, in 2020, the US devoted about a third of its corn and soybean harvests to production of ethanol and biodiesel for road transport. The volume of jet fuel United would want for its (very high fuel consumption) supersonic jets would require millions of hectares of agricultural land, competing with food crops and driving up the price of food globally.  United also has another 860 or so other planes, which it might try to fuel with novel fuels. And so called "sustainable aviation fuels" (SAF) derived from plants would probably, at best, reduce CO2 emissions by perhaps 27% compared to conventional jet fuel.  Just say no to the "supersoynic" renaissance.
Click here to view full story…
Delayed Heathrow flights making sleep 'impossible' for surrounding areas
Residents living under Heathrow's flight paths are being kept awake until after midnight by an increase in late arriving and departing night flights due to disruption across the aviation sector. Planes are being allowed to arrive and depart later than planned. In theory, Heathrow has no scheduled departures between 10.50pm and 6am, or scheduled arrivals between 10.55pm and 4.40am, but take-offs and landings occur within those periods – especially if planes are delayed. Flight punctuality has plummeted in recent months as airlines and airports have been unable to cope, due to lack of staff. Overflown residents are given little respite, with flights at 12.30am and then at 4.33am.  There are the inevitable problems of those wanting planes to climb faster, so at higher altitude over many suburbs – but meaning more noise for those nearer the airport. People across a very wide area are being negatively affected by the night noise. which mean that local communities are facing greater disturbance. The industry has no intention of reducing night flights. For decent health, adults need 7 hours of sleep each night.
Click here to view full story…
Government's brief airport landing slot amnesty ended on 8th July
The government's short, one-off "amnesty" on airport slots rules, that started on 21st June, came to and on 8th July.  The relaxation policy was announced by transport minister Grant Shapps and aviation minister Robert Courts on 21st June, to help airlines deliver a "realistic summer schedule" to minimise disruption and avoid last-minute flight cancellations. Airlines did not have to use 70% of their slots, which is the usual requirement. Airlines cancelled a lot of flights, as they did not have enough staff. Some relinquished slots may have been used by airlines that had better staffing.  Airlines will now have to use 70% of their slots, or lose them. The level had been 80% before the pandemic. The necessity of using slots means a higher chance of airlines flying almost empty planes – with high unnecessary CO2 emissions.  In March an MP got information from the DfT and CAA, to a parliamentary question, revealing that there had been almost 15,000 "ghost flights" (ie. with under 10% of passengers) that took off from the 32 UK airports between March 2020 and September 2021.
Click here to view full story…
Dutch environmental groups suing KLM for its misleading, greenwashing, adverts
Environmental groups are suing the Dutch subsidiary of Air France KLM over an advertising campaign that they allege breaches European consumer law by misleading the public over how environmentally "sustainable" its flights are.  Dutch campaigners Fossielvrij NL, supported by environmental law charity ClientEarth and Reclame Fossielvrij, have filed the first lawsuit alleging greenwashing in the airline industry in the District Court of Amsterdam. KLM wants to persuade its customers that it is working hard to cut carbon emissions, while in reality doing practically nothing, and aiming to grow flights and emissions. Campaigners have launched hundreds of climate change-related suits against companies, governments and authorities to try to fight an escalating climate crisis.  Campaigners want to stop KLM's 'Fly Responsibly' adverts, saying they violate the Dutch implementation of the EU's Unfair Consumer Practices Directive by giving the false impression its flights will not exacerbate the climate crisis. The Dutch court will decide whether the case can proceed before KLM has to file any defence, ClientEarth said.
Click here to view full story…
London City Airport consultation on plans to increase passenger numbers from 6.5 million to 9 million per year, and end Saturday flight restriction
London City Airport has a consultation (ends 9th September) about further expansion.  It wants to increase passenger numbers from 6.5 million to 9 million per year. It wants to end the ban on flights on Saturday afternoon and evening; and operate more flights during the first hour of operation after 6.30am, and also in the late evening. The annual cap on the number of flights permitted will remain at 111,000. Earlier proposals to raise it to 151,000 have been dropped. The 8 hour night period with no flights will also remain in place. The airport will stipulate that only the "cleaner, quieter " planes (ie. in theory, slightly lower carbon emissions, and slightly less noisy) can fly during the additional hours of operation. Hacan East says these planes will be noticeably quieter but only on departure and only within about 4 miles from the airport. The difference is negligible elsewhere. There will be "more flexibility" (ie. allowing later flights) for delayed departures and arrivals in the last half hour of operations each day (10pm – 10.30pm) – they are currently limited to 400 per year. There will be larger planes (ie. noisier), to increase the annual number of passengers (most are now leisure).
Click here to view full story…
---
Gatwick Airport northern runway plans will add traffic that Surrey roads 'cannot take'
Tandridge District Council's planning policy committee is concerned that the planned expansion of Gatwick airport (bringing their standby runway into routine use) will put too much strain on the roads around the airport. Councillors consider that the roads "cannot take" the extra traffic that will come with changes to the airport currently being proposed. Gatwick currently has a public consultation about some aspects, especially roads, of its growth plans. Most roads in the area, that would become busier,  would not see any improvements. Gatwick claims that in 2019, its busiest year, it had 46.6million passengers and a record 47.4% of passengers and 40% of staff travelled to the airport by public transport including by rail, bus or coach. A Tandridge officers' report said the council was required to respond to various initiatives within legally set time frames. The report said: "The local implications of proposals surrounding Gatwick Airport are significant." Campaigners around the airport have a large number of concerns about more flights, more or altered flight paths, congested trains, more noise, more night flights, more air pollution and higher CO2 emissions, for the expansion.
Click here to view full story…
Schiphol flights to be limited to 11% below 2019 levels to cut noise
After pressure from communities in the Netherlands, the Dutch Parliament has said Schiphol must reduce its flights from 500,000 a year to a maximum of 440,000 by 2023 in order to cut the noise experienced by impacted communities. That cut is 11% less than in 2019 (about 510,000).  It is understand from the Dutch aviation campaigners that the mix in the current Dutch Parliament helped. The Netherlands has proportional representation and enough small parties backed the proposals to get it agreed.  The decision follows a move by Schiphol itself, in which the Dutch state is the majority shareholder, to impose a cap on the number passengers it can carry this summer – although that was due to staffing shortages. Part of the reason is awareness fo the carbon emissions.  Airlines, predictably, are not happy.  Greenpeace, which had lobbied for traffic at Schiphol to be reduced, hailed the decision as a "historic breakthrough".  This might be the first time a major airport has been asked to reduce flight numbers.
Click here to view full story…
Government allows a temporary summer "amnesty" on airport slots rule, to help the industry
The Government has announced a temporary "amnesty" on the airport slots use rule, to prevent last-minute summer flight cancellations. The new regulations will allow a one-off "amnesty" on airport slots rules, enabling airlines to plan ahead and deliver a realistic summer schedule. This is being provided as an exceptional measure while industry makes progress in recruiting necessary staff.  As the aviation sector got rid of so many staff during the first year and a half of the pandemic, it now has trouble finding workers willing to put up with the pay and conditions. So many flights had to be cancelled at short notice, and slots could not be used, to the lack of staff.  The government will now give airlines a short window to hand back slots for the rest of the summer season that they are not confident they will be able to operate.  Slots that are handed back would be available for other airlines to use in the current season before being returned to the airlines that normally own them in the next season. Due to Brexit, the UK no longer has to abide by EU slot rules.
Click here to view full story…
Aviation industry wants large scale government "incentives" to hugely ramp up SAF
The aviation industry only really has one way to cut its carbon emissions, without hugely cutting the number of passengers and flights. That is changing fuels, to allegedly "sustainable aviation fuel" (SAF). Those fuels can basically be produced from one sort of waste or another, or by using surplus renewably generated electricity (which is already in demand by other sectors). So what constitutes a genuine waste as feedstock, that is not competing with food or doing other environmental harm? Making fuel from domestic waste is hard. Taking crop and forestry wastes brings other environmental problems, such as the definition of waste being stretched too far. Then there is "used" cooking oil, and the problem that much of the oil is in fact virgin oil, that has been deviously branded as used. And there are animal fats and greases, such as beef tallow. Leaving aside the obscene concept of raising sentient animals, in poor conditions, to produce meat, then taking the fat from these sadly abused beings to burn in jet engines. There are many other markets and uses for animal fats, such as tallow. The industry, hell bent not only maintaining the current level of global flying, but increasing it, wants a range of government help and incentives to produce more SAF.
About 125 million litres of SAF are produced per year now. The global commercial airline industry, in 2019 pre-Covid, used about 430 BILLION litres of jet fuel.
Click here to view full story…
New smaller Gatwick consultation, largely on road changes, before its 2023 DCO application
In autumn 2021 Gatwick held a consultation on its plans to use its northern, standby, runway as a full runway, for routine use for departing aircraft (not arriving) – alongside the main runway.  The expansion plan means having to reposition the centre line of the standby runway, moving it 12 metres north. The 2021 consultation was not the Development Consent Order (DCO) application itself.  Gatwick hopes to get consent to start the first stages of the runway process by 2023. It is now consulting again, (start 14th June – ends 27th July) on a few aspects of its plans, not the whole thing. This new consultation is largely about road changes, and Gatwick says some of the proposals have been amended, due to responses to the earlier consultation. Gatwick plans a significant redesign of the original plan for the North Terminal junction; the addition of a new lane westbound over the Brighton main rail line; and the addition of a third lane westbound to the A23 approaching Longbridge roundabout. There are also some proposals relating to car parking (slightly fewer than before); more hotel rooms than previously; and a new office block. Gatwick hopes the new runway could be operational by summer 2029.
Click here to view full story…
Aviation campaigners from across Britain call on government to stop all airport expansion plans
GALBA (the Group for Action on Leeds Bradford Airport) and 24 other airport campaign groups across the country send an open letter to Robert Courts, Minister for Aviation, and Michael Gove, Minister for Levelling Up and Communities, calling on ministers to re-think their policy of supporting an unconstrained growth of flying. The campaigners want the government to immediately stop all plans to expand airports to help the UK cut its greenhouse gas emissions as much as possible and as quickly as possible. The letter echoes advice from independent experts and national environmental organisations. Due to global heating, we are at an unprecedentedly dangerous moment in human history. Every sector of the economy must halve its greenhouse gas emissions by 2030 if we are to preserve a liveable planet for future generations.  They urge the government to stop supporting unconstrained aviation growth and airport expansion plans, until aviation emissions are actually falling and wider emissions are on track to keep global heating to no more than 1.5C.
Click here to view full story…
Bristol Airport expansion case highlights loopholes in national climate policy
The Bristol the campaign group against the airport's expansion, BAAN, has successfully secured an appeal hearing at the High Court, this coming autumn, where a judge will consider whether a decision to allow the airport to expand was lawful. Lawyers bringing the case want to emphasise that the cumulative climate impact of many airport expansions across the country is not being considered properly.  Currently the UK has no airports policy, and no proper policy on aviation carbon emissions.  As well as this omission, planning law looks at the emissions from the airport activities on the ground, ignoring the CO2 emissions from the planes, and flights facilitated by an enlarged airport. Climate and carbon issues are set at a national level, enabling the Planning Inspectorate (PI) to ignore impact of specific airports.  If BAAN is successful the airport's planning permission would no longer be valid.  The PI would need to take the judge's ruling into account when making the decision again and possibly re-run parts of last year's inquiry. That would set a precedent.
Click here to view full story…
New study: Expanding the EU ETS to non-European flights would significantly reduce aviation CO2
A new analysis, commissioned by Carbon Market Watch and Transport & Environment (T&E), shows the expansion of the scope of the EU's Emission Trading System (EU ETS) for aviation could bring several environmental and economic benefits without significantly increasing operating costs for airlines. The study showed that including flights to areas outside the EU would lead to significantly higher emission reductions, create more balanced pricing between low-cost carriers and legacy airlines and generate higher EU ETS revenues that can be used to decarbonise aviation, all with limited costs for airlines. Currently, only intra-European Economic Area (EEA) flights are included in the EU ETS proposal, but the study shows that expanding the scope to all departing flights, not only European, would result in 50% more emissions reductions. Including all departing and arriving flights could lead to reductions113% greater than the EEC's proposal. The cost would be minor, compared to the total operating costs of airlines – some 3.4 to 5.5% more, or a maximum 6.8% more. This would be far more effective in limiting CO2 than the feeble international CORSIA scheme.
Click here to view full story…
Anglesey to Cardiff PSO route scrapped by Welsh government – with the money going to public transport
The Welsh Government has scrapped its North to South Wales funded, PSO funded, air service, between Anglesey and Cardiff, saying it will instead use the annual £2.9m public subsidy to improve integrated public transport. The route had been suspended since March 2020 and will not be re-started. The Welsh Government said pre-Covid some 77% of people using route did so for work, but that a shift to hybrid and home-working has cut demand. There is far less demand for business flying.  Instead the money saved from running the service will be used to improve public transport in north Wales. This will benefit more people and help reach the Welsh net zero target by 2050. The decision follows an independent study commissioned by the Welsh Government into the carbon impact of the service on the environment. It said this shows the service had a more negative impact on the environment than any other form of travel between Anglesey and Cardiff. Often travel by rail was actually faster, door to door, than by plane.
Click here to view full story…
UK government in court over 'unlawful' and 'irresponsible' net zero climate strategy
Friends of the Earth, ClientEarth and the Good Law Project are going to the High Court (8th June) to challenge the government about its "net zero" strategy, which is both "irresponsible" and "unlawful". The groups say the government's plans are in breach of climate law as they omit vital details and "completely fail" to show how targets would be met. It is the first time the government has faced a legal challenge to its net zero strategy, which was formally published in October. The strategy outlines how the UK is supposed to emit no more carbon in 2050 than it did in 1990. It proposes various measures including the construction of more nuclear power stations, restoring peat, encouraging walking and cycling, hydrogen as fuel and CCS.  But the strategy does not detail emissions reductions each proposed policy is meant to achieve. They argue this means it is unclear if the initiatives can deliver on the targets the government is legally required to meet under the Climate Change Act.  So without the details, government progress, with the targets in Carbon Budgets, can not be checked adequately. There is nothing in policy or realistic targets for aviation carbon.
Click here to view full story…
Client Earth joining legal action against Dutch airline KLM for greenwashing
ClientEarth and 2 Dutch organisations are taking legal action against Dutch airline KLM, over misleading marketing that promotes the sustainability of flying. Instead of the only action that will actually cut aviation carbon emissions – fewer flights – the industry pretends that it can continue to grow, using novel technologies, mainly different fuels. KLM's marketing campaign attempts to convince consumers otherwise, giving a false impression of the sustainability of its flights and plans to address the climate harm of flying. The legal action focuses on KLM's Fly Responsibly ad campaign and its offers for customers to buy carbon offset products to reduce the impact of their flight by funding reforestation projects or KLM's purchase of biofuels.  If KLM doesn't comply with demands to cease greenwashing, the lawsuit will argue that its campaigns and carbon 'compensation' schemes are misleading its customers, and violate European consumer law. Instead of giving them real information about the carbon impact of a flight, KLM's marketing undermines the urgent action needed to minimise climate damage, giving the impression that all is OK, and flying can continue – and be guilt free.
Click here to view full story…
Report says airport capacity constraints and demand reduction on flying needed to hit UK net zero target
A report by low carbon energy consultants Element Energy (EE) analysing the UK government's 'Jet Zero' strategy to hit net zero aviation emissions by 2050, with interim reduction targets for the 2030s, concludes the scenarios are over-optimistic. The report concludes that measures to limit demand for air travel would be more effective and less risky as a means of reducing carbon emissions. EE estimates the aviation sector will need to cut emissions faster and deeper in the near term than the government is currently projecting. The report argues that the government's plans overestimate the likely improvements in operations, technology and alternative fuels, along with out-of-sector solutions such as engineered GHG removals, and are unlikely to be developed at the speed and scale necessary. An obvious way to limit growth in air travel demand is to stop airports expanding, at least until there are proven, workable ways to fuel aircraft without emitting carbon or creating contrails.  It is highly risky to depend on unproven, speculative technologies to remove CO2 from the atmosphere. 
Click here to view full story…
New review of cerebral consequences of environmental noise exposure – including plane noise
A group of scientists, mainly in Germany, have done further studies on the impact of noise on health. This includes aircraft noise, as well as noise from roads, railways, wind turbines and general background noise. They say there has been more research on cardiovascular impacts, but little on brain and "associated neuropsychiatric outcomes."  These impacts include depression, anxiety, cognitive decline and risk of strokes. As with the impacts on the cardiovascular system, the mechanism of damage may be the involvement of reactive oxygen species/oxidative stress and inflammatory pathways. The authors looked at a number of studies, some on mice. The results are unclear, but indicative of the negative impact of noise – perhaps especially the intermittent but loud noise from aircraft – is potentially damaging. The impact may be worse when aircraft noise exposure is in addition to other noise sources. Anecdotally, the mental health impacts of depression and anxiety, for vulnerable people, from inescapable plane noise, at home, are well known. .
Click here to view full story…
Government policy document "Flightpath to the Future" – hand in glove with aviation industry, for more growth
The UK government has published a new statement on aviation, called Policy paper "Flightpath to the future: a strategic framework for the aviation sector"  –  medium-term strategic framework for the UK aviation sector.  It is a 10-point plan that "supports the Department for Transport's vision for a modern, innovative and efficient sector over the next 10 years." The DfT wants the sector to be "successful."  The plan is focused on growing a "sustainable" sector; it wants airport growth "within our strict environmental criteria." (sic).  It wants to help the consumer by cutting ticket prices. Nowhere is there any substantive ambition to reduce carbon emissions, other than aspirations to deliver "on our aspiration for zero emission flights across the UK this decade. We will also seek to deliver our ambition for 10% SAF to be blended into the UK fuel mix by 2030".  It demonstrates how closely the DfT and the aviation industry are aligned. There is nothing concrete on noise.  It is far more interested in the convenience of air passengers, the financial success of the sector, and numbers of jobs, than environmental impacts.
Click here to view full story…
Gatwick to start new 6 week consultation, on its expansion plans, on 14th June
Gatwick airport says it will start a new statutory public consultation into its plans to turn its northern, standby runway into a full runway for departing flights. The 6-week consultation will run from 14th June to 27th July. The airport says the consultation will also have updates, including on the highway design changes, from the Autumn 2021 consultation, based on responses received.  Full details of the revised plans for the roads around the airport will be published at the start of the consultation. There are changes to the plans for the North Terminal junction, and additional road lanes in two places. The main expansion proposal is to reposition the centre line of the northern runway by 12 metres, so planes can use both runways at the same time (though only departures from the northern runway). There are the usual claims about jobs and economic benefits … The only mentions of the carbon emissions are how, magically, more flights are going to help the airport "meet its goal of zero airport emissions before 2040." Amazing [it excludes the flights …]. They hope the runway could be operational by summer 2029.
Click here to view full story…
New "Travel Smart" campaign asks businesses to reduce their air travel and report on progress
A new T&E (Transport & Environment) ranking of corporate air travel shows that some companies are reducing the amount their staff fly, but most are not doing enough. The ranking, launched as part of T&E's new Travel Smart campaign, grades 230 US and European companies according to eight indicators, relating to emissions reduction targets, reporting and air travel emissions.  The analysis, which includes 39 UK businesses, sheds light on the significant efforts certain UK businesses have still to make to reduce their corporate travel emissions.  Some companies make no specific effort to reduce business travel emissions, nor disclose their air travel emissions.  Many companies can be as effective and even more efficient by flying less. Cutting down on business travel makes financial sense for companies.  The Travel Smart campaign, launched with a coalition of 12 partners, asks companies to commit publicly to an absolute target of at least 50% reduction in flying compared to the 2019 level, by 2025 or sooner; to implement reductions in flying and choose other modes of connectivity and transport; and to report on progress towards decreased emissions.
Click here to view full story…
Mr Justice Holgate refused permission for JR of Southampton airport expansion
Southampton Airport won planning permission to extend its runway in April. Now a High Court judge, Mr Justice Holgate, has dismissed campaigners' claims that the planned extension of Southampton Airport's runway would be unlawful.  GOESA Ltd (Group Opposed to the Expansion of Southampton Airport) was set up after Eastleigh Borough Council gave permission to extend the runway by 164m (538ft) in April 2021. It said the council was wrong to approve it and in justifying it.  But now Mr Justice Holgate declined the group's claim for a judicial review. If the runway is extended, the airport will be able to handle larger planes, carrying more passengers – the type of planes used by EasyJet or Ryanair to take people on sunshine holidays to Mediterranean beaches and European short breaks. If GOESA does not appeal, then the runway construction can begin. The airport would likely start that next winter, to be ready for the 2023 season.
Click here to view full story…
NGOs write to Aviation Minister asking that airport expansions are stopped until aviation CO2 emissions can actually be reduced
Currently there are expansion plans by 7 UK airports (Gatwick, Stansted, Luton, Bristol, Leeds Bradford, Southampton and Manston) and government has no coherent policy on aviation carbon emissions in relation to the UK "net zero" by 2050 target. So a group of NGOs (AEF, AirportWatch, Friends of the Earth, Green Alliance, Greenpeace, Possible and T&E) has written to Aviation Minister, Robert Courts, calling on the Government to withdraw its policy support for airport expansion until aviation carbon emissions are actually falling, and wider UK emissions are substantially below a 1.5C-compliant trajectory.  It also voices concerns that the Government's draft Jet Zero strategy is built around assumptions that future increases in sustainable fuels and carbon removals will occur after 2030, but with no clear policy plan to ensure that happens. The letter points out that neither the Airports National Policy Statement (ANPS) for a new runway at Heathrow nor the Making Best Use (MBU) policy for other airports – both released in 2018 – have yet been assessed for their compatibility with achieving net zero aviation by 2050.  Planning authorities should not be left reliant on out-of-date policies when determining applications for airport expansion – as happens now.
Click here to view full story…
Element Energy report shows air travel demand reduction is essential, to cut UK aviation carbon
New report for the Aviation Environment Federation, by Element Energy, looks at the reality of the UK government's reliance on novel technologies to eventually cut aviation carbon emissions. The DfT is depending on greatly improved aircraft energy efficiency, as well as electric planes, planes powered by hydrogen, and a huge component of new lower-carbon fuels, SAF (sustainable aviation fuels) replacing kerosene, and carbon capture and storage. The DfT does not consider reducing demand for flying, and considers an increase of 70% above the level in 2018, by 2050, as acceptable. Element Energy show the aspiration of 2% annual plane efficiency gains is unrealistic, and even 1.5% will be difficult. They consider that novel fuels might, at best, produce a carbon saving of 60%, not the 100% the DfT hopes for.  The price of carbon in future needs to be high, for international flights, and if it does not increase enough, flying demand will not decrease – to the DfT forecasts are unreliable. The study concludes that, even with a high proportion of SAF being used, and optimal fuel efficiency gains, by 2050 there would need to be a reduction in flights and passengers of around 45%, if the sector is to achieve the target of 15MtCO2 (even that is a huge amount of carbon).
Click here to view full story…
High Court hearing granted on the Bristol Airport expansion ruling
Bristol Airport Action Network (BAAN) campaigners have been given permission to go to the High Court to appeal against the expansion of Bristol Airport.  The date is still to be set.  A judge has decided that BAAN raised arguable grounds following the Planning Inspectorate's (PI) decision to permit expansion of annual capacity, from 10 to 12 million passengers.  The airport will continue to fight for their expansion. Government planning inspectors granted permission for the expansion plans, on appeal in February, after the plans were rejected by North Somerset Council in 2020 on environmental grounds.  These include far higher carbon emissions, more noise, more air pollution and more road traffic. BAAN has raised more than £20,000, through crowd funding, to pay for legal costs to support its appeal.  Stephen Clarke, from BAAN, said: "The idea that airports can just continue to expand without limit, in the middle of a climate and ecological crisis, is so obviously wrong. We are delighted that the judge agrees we have arguable grounds that the inspector's decision has errors in law and we look forward to the full hearing."  If the court rules in favour of BAAN, then the PI will have to reconsider its decision.
Click here to view full story…
For 20 years the aviation industry has missed every one of their sustainability targets [except one] – that will probably continue
A report commissioned by the climate charity Possible assessed every target set by the airline industry since 2000 and found that nearly all had been missed, revised or quietly ignored. This undermines a UK government plan to leave airlines to reduce their emissions through self-regulation. There are a range of targets that cover various measure of carbon efficiency. The levels of ambition underpinning the targets were generally insufficient, even if met, to reduce the absolute climate impact of aviation in the context of ongoing anticipated growth in demand.  Business behaviour does not appear to be driven by environmental targets. The target setting often appears to function principally as a tactic for giving an impression to the public and policymakers, of progress and action being taken to address aviation's environmental impacts in order to prevent any policy barriers to ongoing growth in the industry. The research found unclear definitions, opaque monitoring and inconsistent reporting made many targets difficult to assess, with many also suddenly changed, replaced or dropped. Even if met, they were insufficiently strong to reduce aviation's climate impact.
Click here to view full story…
EU urged to cut emissions from aviation faster – and address the aromatics problem
Ciarán Cuffe, a Green MEP who is shadow rapporteur for the ReFuelEU Aviation file in the European Parliament's transport committee, has called for the EU's "clean" aviation fuels law to be amended to include non-CO2 effects. This includes the release of soot and harmful gases, including sulphur and nitrogen oxide, as well as water vapour, from jet engines. The EU's proposed green aviation law overlooks the true climate cost of flying, with the non-CO2 effects of air travel producing 2-4 times the impact of CO2 emissions. He says it is not credible to delay by another decade and rely solely on voluntary industry efforts. This hasn't worked up until now, and it won't work in the future.  Some of the non-CO2 impacts are due to aromatics in the fuel (compounds like propyl benzene, tetralin and p-xylene). So there are demands to reduce the amount of these, and sulphur content, in jet fuel. However these aromatics are important in current jet engine design, as they help swell seals and improve flow.  If the industry goes for more novel fuels in future, these do not contain aromatics. So either aromatics will have to be added to the fuels, to protect the engines – or engines will have to be adapted.
Click here to view full story…
How middlemen carbon brokers take a cut from money meant to help offset CO2 emissions
Many airlines like to encourage their passengers to buy carbon offsets, so they can hope the impact of the carbon their flight puts into the atmosphere is somehow reduced. There are many arguments against the uses of offsets, and reasons why they are ineffective – what is needed is preventing the CO2 being emitted today, not hopes of it being removed in several years. But now joint research by Greenpeace's Unearthed, and others, has found that much of the money that is paid for a carbon offset – in the hope it will go to some project that is attempting to reduce carbon – in practice is ending up in the hands of brokers and middlemen. The carbon offset market is booming, with many new schemes – and money to be made by those working in finance, who themselves do nothing to reduce carbon emissions.  There is a serious lack of regulation and transparency in the carbon markets, and that needs to change.  The research found cases where brokers bought carbon credits from forestry projects in poorer countries, and sold them on to consumers and companies, including airlines and oil firms, at much higher prices – making a huge profit.
Click here to view full story…
Government needs 'coherent position' and policy on aviation carbon emissions' before giving CAA more responsibility on environmental issues
The Transport Committee has told the government that it must review the powers granted to the Civil Aviation Authority (CAA) to facilitate the introduction of more environmental constraints. In its new report, "UK aviation: reform for take-off" the Transport Committee says: "The Government must review how the Civil Aviation Authority's powers can be reformed to enable the regulator to enforce environmental mandates that the Government may introduce for the aviation sector." The problem is that the government does not have much policy on the environmental impacts, especially carbon emissions and noise, for aviation.  The AEF says that, as an arm of the central government, the CAA is hamstrung by whichever regulations are put in place ­– or not – by Downing Street. If there are no standards or policies from government, there is little for the CAA to regulate. This is the case for noise, since the government closed down the ICCAN and handed its responsibilities to the DfT. We need the Government to actually introduce some meaningful environmental standards for aviation before the CAA can be brought in to enforce them.
Click here to view full story…
Climate Change committee stresses need to reduce demand for air travel
The Climate Change Committee (CCC), in its report following up the outcome of the COP26 talks, says that rolling out the Net Zero Strategy must lead to emissions falling in all sectors (i.e. going beyond recent progress dominated by the power sector). They say there is a gap on behaviour change (e.g. shifting diets away from meat and dairy and limiting aviation demand growth). That needs to be changed, in order to get emissions reductions.  Reductions in aviation are especially important for the UK, as we have very high per person aviation emissions. The Committee has repeatedly stressed that an element of demand reduction for air travel is needed. The Government has repeatedly ignored that, knowing that anything restricting or make flying more expensive, is a vote-loser.  The COP26 Glasgow Pact said there should be no "inefficient" fossil fuel subsidies. The CCC has said that the absence of VAT or fuel duty on air travel are post-tax subsidies.
Click here to view full story…
Luton Council approves plans for Luton to increase from 18 to 19 million passenger per year
In February, Luton airport submitted a planning application to Luton Borough Council (its owner) to increase the annual cap on passenger throughput from 18m to 19 mppa. Also to expand the day and night noise contours by 11.3% and 15.3% respectively until 2028. Now Luton Borough Council has approved the plan to increase to 19 million – and the plans to change the noise contours, to the huge disappointment of many local groups already negatively affected by aircraft noise. The Council said this application did not affect the airport's long term proposals to increase capacity to 32 million per year, which would be determined by government, through a DCO, not the council. The airport is owned by a company that has changed its name to Luton Rising – and that is owned by Luton Council.  How well the airport will do in future years is unknown, with the impact of Covid, targets for aviation to become "carbon neutral" and growing awareness of the climate impact of air travel.  Luton's passenger numbers dropped almost 70% between 2019 and 2020 due to Covid. 
Click here to view full story…
Climate Change Committee says there needs to be a reinvigorated UK effort on climate change
The Climate Change Committee says how far Glasgow can be considered a success can only be assessed by the actions that follow over the coming year and beyond. There is now a path to expected global warming of under 2°C, but only if all the ambition in new mid-century Net Zero targets is delivered, alongside national 2030 emissions targets. Current climate policies around the world do not come close to achieving these aims. For the UK it says "The Glasgow Climate Pact makes notable reference to 'phase-out of inefficient fossil fuel subsidies'. The UK has a duty to act on this in common with other countries. The CCC recommends that the Treasury initiates a review of the role of the tax system in delivering Net Zero, including the role of tax in achieving a higher and more consistent carbon price across the economy. Low carbon prices are effectively a subsidy. No fossil fuel subsidies should be classed as 'efficient'."   The CCC did not mention it, but the absence of any fuel tax on jet fuel, and no VAT on air travel, and effectively a subsidy to air travel. The CCC has repeatedly said that air travel should not be expanded unless there is effective progress on cutting aviation carbon emissions.  Demand for air travel must be reduced.
UK had a tourism deficit of £33.9 billion in 2019, with 88% of that (ie. about £30.04 billion) due to air travel
The current clampdown on international air travel has helped the UK Balance of Payments, by reducing the country's trade deficit by an estimated nearly £3 billion per month.  This is from the "tourism deficit", which is the amount by which the amount spent by British people travelling and spending abroad, exceeds the amount spent by visitors to the UK. Figures released on 22nd May by the government's  Office of National Statistics (ONS) show that the UK posted a record trade deficit of £33.9 billion on international tourism in 2019.  This is more than £2 billion above the 2018 figure which was itself a record tourism trade deficit.  The ONS data shows 88.2% of the tourism deficit was due to air travel.  UK residents made 93.1 million visits abroad in 2019, spending a total of £62.3 billion overseas. By contrast, overseas residents made 40.9 million visits to the UK, spending £28.4 billion. The net result was a £33.9 billion deficit in the UK Balance of Payments. Just 9.0 million of the 93.1 million overseas visits (9.7%)  by UK residents in 2019 were for business purposes. The lack of money leaving the UK comes at the expense of countries such as Spain, Greece and Italy losing billions of €s in revenue from UK tourists.
Aviation now contributes 4.9% of climate change worldwide
Work by the IPCC now estimates that aviation accounted for 4.9% of man-made climate impacts in 2005. This contrasts with the 2% figure that is constantly quoted by aviation lobbyists, and 3% which the same authors quoted two years ago. They have now revised their estimates with 2 important changes: including for the first time estimates of cirrus cloud formation and allowing for aviation growth between 2000 and 2005. The effect of these is to increase aviation's impacts to 3.5% without cirrus and 4.9% including cirrus. 23.5.2009  More  …
---