---
See also
*

*

*

*

 main 

Heathrow

news

stories

*

*

*

* 
---
Rishi Sunak might bring back 3 or 4 band APD, with a higher long-haul rate, but lower domestic rate
Air Passenger Duty (APD) is currently charged in two bands, to destinations under 2,000 miles (£13 for passengers aged over 16) and above 2,000 miles (£82), with business class passengers paying more, and more for private jets. There was a consultation about rates of APD and the distance bands earlier in the year. It is thought that the Chancellor will announce, in his autumn budget, that APD will be reduce for domestic flights (passengers pay £26 for a return domestic flight, but only £13 for a return European flight).  Until 2015 there were four bands for APD, with under 2,000 miles, 2,000 to 4,000, 4,000 to 6,000 and over 6,000 miles. It is thought likely that Rishi Sunak will bring back the higher distance band, for higher APD for flights of over 6,000 miles.  It currently makes no sense, in terms of carbon emissions, that the APD on a flight to Cairo or Dubai is the same as one to Thailand or Australia. Scrapping the APD on domestic flights does not help encourage people to take the train, when often the journey by train is quite easy – but far more expensive. A recent trial by campaigners compared the train and plane between central London and central Edinburgh. The plane was two minutes faster.  UK aviation is seriously under-taxed, paying no VAT and no fuel duty.
Click here to view full story…
Government puts up, then almost instantly withdraws, document showing need for behaviour change to cut carbon emissions
Published with the government's decarbonisation, net zero, strategy on 20th October, was a document called "Net Zero: principles for successful behaviour change initiatives". It was produced for BEIS, by the Behavioural Insights Team (aka the Nudge unit).  It contained many suggestions for ways the public's behaviour could be "nudged" to help lower carbon emissions. But the document was only on the BEIS website for an hour or two, before being withdrawn. Luckily one sharp-eyed and quick-witted aviation campaigner spotted it and saved a copy.  The document suggests ways in which behaviour could be changed – while the government, and Boris himself, claims behaviour change will not be needed, and we will all be able to fly, guilt free, in future.  BEIS says it does not wish to suggest behaviour change. The behaviour change paper said, of business aviation, that there needs to be a change in social norms, to international in-person meetings no longer seen as a sign of importance or pride, but "being  an immoral indulgence or embarrassment." It also says government should lead by example, in not backing airport expansion for financially supporting the airline industry with little demands for decarbonisation in return.
Click here to view full story…
Independent assessors for Manston expansion plans say there is no need for the extra air freight capacity
The Development Consent Order (DCO) for the re-opening and development of Manston as a freight airport was rejected by the High Court in February 2021. This was after Secretary of State for Transport, Grant Shapps, in July 2020 had decided to ignore the advice of the Planning Inspectorate (PI) in October 2019, that the DCO should be rejected.  Grant Shapps said it should go ahead, but the court said there had not been enough detail for reasons to go against the advice of the PI.  Grant Shapps then had to "re-determine" the DCO application, and people could submit reasons to the PI for why the airport proposal should be refused. A team was set up as "independent assessor" to investigate the justification for the airport's expansion, and report back to Mr Shapps.  The team's report has now been published.  It concludes that "the levels of freight that the Proposed Development could expect to handle are modest and could be catered for at existing airports … Manston appears to offer no obvious advantages to outweigh the strong competition that such airports offer. ...the Applicant has failed to demonstrate sufficient need for the Proposed Development". Further submissions are welcomed until 19th November.
Click here to view full story…
Lord Deben – head of Climate Change Cttee – UK must drop plans for airport expansion
Lord Deben, the Chair of the Climate Change Committee, has told the Airport Operators Association that the UK must drop plans for airport expansion if it is to meet carbon reduction targets.  Lord Deben said "There is not any space for airport expansion … The idea we are going to have a whole lot of airports expanding – we are just not in that world." Currently there are up to 10 UK airports planning physical expansion, including Heathrow and Gatwick.  Lord Deben said "The government has to make it easier and simpler to be good and hard and expensive to be bad. At the moment it is often more expensive and more complicated to be good….This is not about fiddling about around the edges … We've allowed climate change to get out of hand."  Meanwhile a document produced by the government's "nudge" unit (the Behavioural Insights Team), about necessary UK behaviour changes, was removed from the BEIS website.  It contained a few suggestions about reducing demand for air travel, including encouraging more domestic holidays and more rail travel to Europe – acknowledging that stopping British people wanting foreign holidays, by air, would be very, very hard.
Click here to view full story…
Campaigners tell the Treasury that aviation taxation must be reformed
In a joint letter to the Chancellor, AEF, T&E, Tax Justice, Green Alliance, Bellona and Greenpeace have called on the UK Government to reform UK tax in order to better reflect the environmental costs of aviation. The letter has been sent in advance of the Autumn Budget and Spending Review plans which expected to be announced soon. Since 1990, UK's aviation's emissions have increased by 125%, and were rising steeply till the pandemic. Now that the government has decided to include international aviation and shipping in future carbon budgets, immediate taxation reforms are needed. The letter suggests a jet fuel tax, of at least the level proposed by the European Union, of €0.38/ litre. There also needs to be VAT on all air tickets, at a rate of 20%. To properly account for the climate warming effect of air travel, which is likely to be up to 3 times as much as that of the CO2 alone, there needs to be an additional charge. That would be world-leading.  It the aviation sector was taxed in a more realistic manner than now, it would incentivise progress on decarbonisation initiatives. The government is not prepared to restrict air travel demand, but higher ticket prices, due to higher tax, would have this effect
Click here to view full story…
Government considering counting aviation biofuel as generating zero CO2 emissions, in the UK ETS
The UK Government has proposed an amendment to the UK Emissions Trading Scheme (UK ETS) legislation to allow aviation biofuel (one type of sustainable aviation fuel or SAF) to be treated as having zero emissions as long as it meets the sustainability criteria in the Renewable Transport Fuel Obligation (RFTO).  The UK ETS will only cover domestic flights, and those from UK airports to European countries – not long haul.  Airlines are permitted a number of free 'allocations' in the ETS per year. Once these allocations are used, airlines must buy unused allocations from other operators or sectors.  The Aviation Environment Federation (AEF) says counting aviation biofuel as having zero emissions would mean that no allocations would need to be surrendered for that fuel. It is highly misleading to claim that biofuels provide 100% CO2 savings, in life cycle analysis. Currently fuels with a 50% emissions saving or more can benefit from the RTFO policy. The way the carbon saving is calculated can be complicated, and include different factors.  When burnt, SAFs emit at least as much CO2 as kerosene, and as such, should only be considered to offer a 'net', and not 'actual' emissions reduction. AEF comments: "The aviation sector has a history of being given favourable treatment in policy. This has to stop if the sector is to achieve net zero."
Click here to view full story…
UN chief, António Guterres, urges airlines and shipping firms to do more to cut GHG emissions
António Guterres, Secretary-General of the United Nations, says current efforts to cut carbon emissions, from international aviation and shipping, are more consistent with global heating 'way above 3C' – not 1.5C.  He was speaking at the Global Sustainable Transport Conference, and said airlines and shipping companies – and others – have failed to cut their greenhouse gas emissions, and must step up with fresh commitments on the climate crisis as COP26 approaches. Otherwise the world faces catastrophic global heating. Guterres said: "Adopting a new set of more ambitious and credible targets that are truly consistent with the goals of the Paris agreement must be an urgent priority for both [ICAO and IMO] in the months and years ahead."  ICAO has been ineffective. He wants carbon emissions per passenger to be cut by 65% by 2050. But Leo Murray, from Possible commented renewable energy would be better used by other sectors, than making allegedly "sustainable" jet fuel (SAF) – as the process is "incredibly inefficient".  Leo said that the priority should be reducing flying rather than shifting planes to SAFs.
Click here to view full story…
Greenpeace calls for end to carbon offsets – they just allow large polluters to continue as normal
Greenpeace International has said that carbon offsets are allowing the world's biggest polluters to forge ahead with business plans that are threatening global climate goals. The offsets do not have the effect of lowering global emissions, either now or in future. The practice of buying carbon offsets means polluting companies – such as airlines – can buy carbon credits from projects that reduce or avoid the release of CO2 elsewhere. Examples would be mass tree plantings or solar farms.  Instead of making every effort to emit less CO2 themselves, the companies hope equivalent amounts of carbon are being removed from the atmosphere, by others. This cancels out the reduction in CO2 emissions achieved by the provider of the carbon credit. Few carbon credits are reliable, and can guarantee carbon is not emitted, or is removed from the atmosphere.  One of the most popular is planting trees. When a tiny sapling is planted, if will (if all goes well and it does not die from neglect, or the impacts of worsening climate change) only become large enough to sequester much carbon in several decades. Eventually the tree will die, returning the carbon to the atmosphere. The only real offset would be permanent, for-ever, underground storage of carbon.
Click here to view full story…
Bristol Airport awaits decision on expansion as inquiry draws to a close
The 36-day public inquiry into Bristol Airport's proposal to expand from 10 to 12 mppa has ended, with a decision by the planning inspectors expected early next year. The inquiry is into the appeal by the airport of the rejection in February 2020, by North Somerset Council, of the growth plans; councillors refused the planning permission by 18 votes to seven. The authority's barrister, Reuben Taylor, said allowing millions more passengers a year to fly from Bristol airport would affect thousands more local people with significant impacts, as well as a negative effect on climate change and the green belt.  Mr Taylor said the scheme was unacceptable and unlawful and urged the inspectors to make it clear to airport operators that they do not have a licence to expand. He said the airport "is a company that puts the pursuit of profit before the wellbeing of the people its operations affect."  As well as being refused by North Somerset Council, the expansion has been opposed by Bristol City Council, Bath and North East Somerset Council, the West of England Combined Authority and numerous parish councils. There will be a decision letter eventually, after which there is no further right of appeal – other than a judicial review into the process.
Click here to view full story…
Campaign for Better Transport urges a ban on UK domestic flights (where the train takes under 5 hours) and subsidised rail travel
The Campaign for Better Transport (CBT) says domestic flights should be banned on routes where the train journey would take under 5 hours (or to islands). They also want long-distance domestic train fares subsidised, in order to reduce the carbon emissions from travel within the UK. There should NOT be any cut in the rate of Air Passenger Duty for domestic fights, as the aviation industry is lobbying for. The CBT says there should also be mandatory emissions labels on tickets and a frequent flyer levy for those taking more than three international flights per year. There can be no justification, in terms of carbon emissions, for flights – for example – between Manchester and London, London and Edinburgh or Birmingham and Glasgow. Sadly at present, rail fares are often FAR higher than plane fares. In a staged "race" from central London to central Glasgow, the person taking the train arrived two minutes later (5 hours 17 minutes, and 19 minutes), and the train journey emitted less than one-sixth of the carbon emissions of the flight – 20kg compared with 137kg. But it cost twice as much at £109 v £52.
Click here to view full story…
Local Councils asked to reject Newcastle Airport's request for a £5.1 million loan of taxpayers' money
Local group, Aircraft Noise Action Group (ANAG), at Newcastle say the 7 North East Councils, which own 51% of the Airport, are being asked to prop up (by £5.1 million of taxpayers' money) for an at-risk business which mostly enables people to take holidays and visit friends and relatives. Newcastle Airport has suffered huge financial losses as a result of Covid with revenues falling by £46 million according to its 2020 Annual Report. The airport is struggling financially – so it is asking for loan facilities to support its continued functioning. As well as the councils, the airport is asking the 49% private shareholder, AMP Capital, for a similar sum £4.9 million. Newcastle Airport claims to be a key driver of business in the North East. In practice, it is primarily a holiday and leisure facility with a small proportion of business specific travellers. Most travellers are British, taking their holiday spending money out of the country. ANAG says people need holidays, but a loan for this purpose is not an investment in the economic future of the north east. They also think it is environmentally short sighted and irresponsible and that the loan request should be rejected.
Click here to view full story…
Bid to block expansion of Stansted, to 43mppa, hits the final buffers
Uttlesford District Council (UDC) had applied to the High Court to judicially review the decision by the planning inspectorate, to allow expansion of Stansted, citing noise and environmental concerns.  A High Court judge has now dismissed UDC's challenge as "unarguable", and awarded yet more costs against the authority.  UDC has decided not to challenge this decision.  UDC's Planning Committee originally refused Stansted permission to boost capacity from 35mppa to 43mppa, in January 2020. (Earlier, in November 2018, UDC had approved the plan, when the council was under Conservative leadership).  Government inspectors then overturned the UDC decision in May 2021, after a process which cost Uttlesford taxpayers something approaching £2 million.  The Council had fought hard to prevent the increase in Stansted flights, largely due to the increased noise problem, as well as the higher carbon emissions. Local campaign, Stansted Airport Watch, says this latest rejection marks the end of the road for moves to block the expansion. However, with the Covid pandemic and growing awareness of climate breakdown, Stansted may never actually reach 43mppa anyway. 
Click here to view full story…
Departing ICCAN tell Aviation Minister that the aircraft noise issue should be dealt with by an independent body, with "clout"
The DfT decided, at the start of September, that the Independent Commission on Civil Aviation Noise (ICCAN) would be closed down at the end of September. This happened even though there is no replacement for them, to give an independent voice on aircraft noise issues. The Commissioners have written to the Aviation Minster, Robert Courts. In their letter they say, on the breakdown of trust by overflown communities, the government and the aviation industry: "That breakdown was simplistically interpreted as an issue between airports and communities, although our work has revealed that there was also a disconnect between Government policy, regulation, industry and community ambitions." And "We hope you will look objectively at who is best to carry ICCAN's work forward and we offer our views in good faith. However, for the vast majority of our work it is hard not to conclude that only a body independent of Government and aviation regulation, empowered with sufficient clout by the Government, can deliver a coherent programme for change in how aviation noise is managed."
Click here to view full story…
Aviation demand in Scotland needs to fall by one third by 2030 to hit climate aims
The SNP Transport Minister Graeme Dey has demanded "radical behavioural change" in Scots' transport choices – amid a warning that journeys by both plane and car will need to be permanently cut to end the country's contribution to the climate crisis.  An independent report, by consultancy Element Energy, says transformational change in individual and business behaviour, alongside shifting travel choices will be needed as well as advances in technology.  A reduction of 33% in the number flight kilometres travelled is needed, between the number in 2019 and 2030.  Transport is Scotland's biggest contribution to greenhouse gas emissions, but there is little progress in making cuts.  The SNP government has pledged to cut GHG emissions by 75% by 2030 and to become carbon "net zero" by 2045 (5 years ahead of the UK). The SNP Government has been told to rip up its contract with Heathrow which supports it building a 3rd runway, in light of the findings.
Click here to view full story…
Extinction Rebellion blocks entrances to Farnborough, protesting about the high CO2 from private jets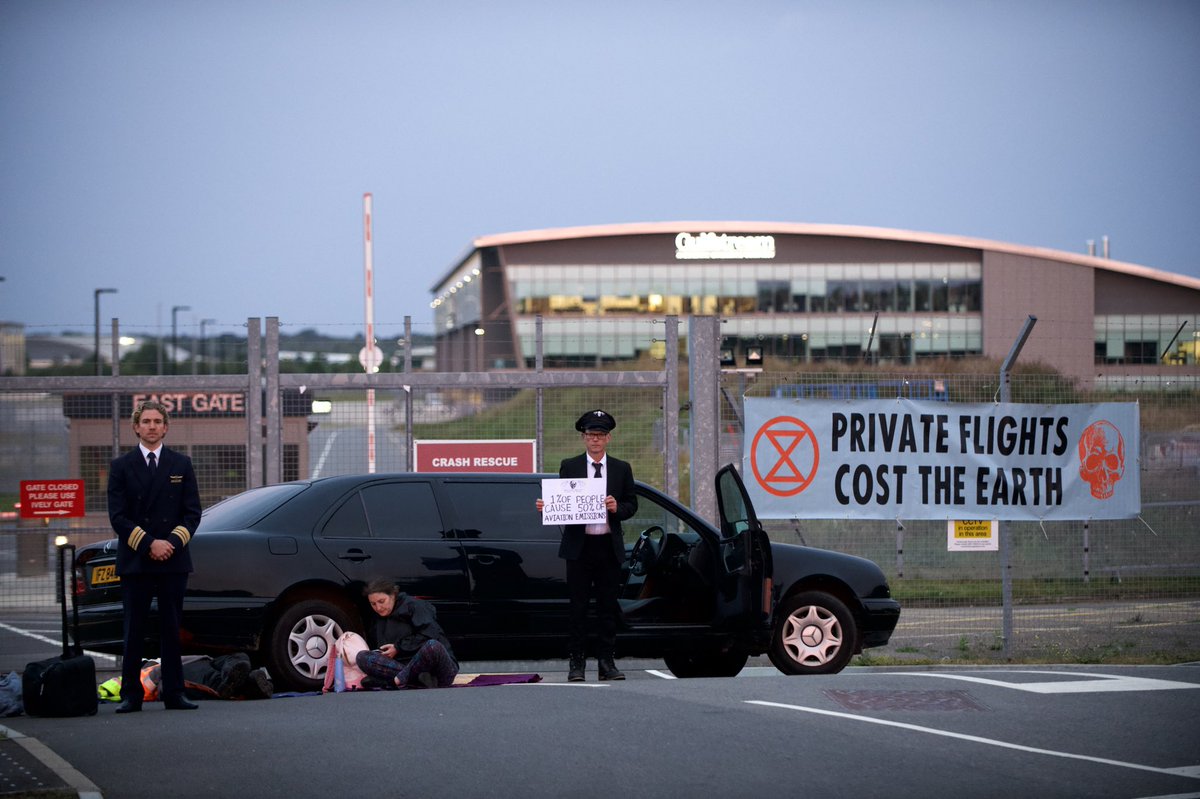 Extinction Rebellion Farnborough activists blocked three entrances to Farnborough, which is a private airport in Hampshire.  They are protesting at the very high carbon emissions produced by private jet flights – which could be x20 per person as high carbon as a trip on a commercial plane. Farnborough airport is the largest for private jets in the UK, with no commercial flights and few military. The flights are largely used by the very rich, celebrities and business leaders. Some of the protesters locked themselves to a stretch limousine, with a driver being locked onto the steering wheel, and to fuel barrels and a 3-metre steel tripod.  At one point they moved flags blocking a road, in order to allow a car leave the airport to take someone to hospital. The airport continued to operate during the protest.  Farnborough boasts of "offering a 5 star service with no compromises." It operated over 32,500 flights in 2019, with 27% at weekends.  There was a reduction in flights in 2020 (Covid) but a far  smaller reduction than for commercial airlines. People who could afford to preferred to continue to travel, but on private jets. These jets tend to carry, on average, about 2.3 passengers. The airport hopes to expand to 50,000 flights per year. 
Click here to view full story…
Report finds Heathrow is world's 2nd most polluting airport (after Dubai)
London's 6 airports make it the most polluting city by aviation emissions, according to a new interactive tool and accompanying report. The tool allows users to explore emissions data for the world's airports. It shows Heathrow is the 2nd highest-emitting airport in the world, (after Dubai) and accounts for two thirds of the aviation carbon from the London area.  It is (2019) the single biggest polluter in the UK.  The authors of the report, by Transport & Environment, ODI and the International Council on Clean Transportation (ICCT), said they hoped its findings would support challenges to airport expansion and force a "focus on the infrastructure that enables air travel and leads to more CO2 emissions in future decades".  The report shows that 86 of the 100 most polluting airports are located in the Global North – and that about 1% of the global population responsible for over 50% of all aviation-related CO2 emissions. But the climate impact of air travel is not only from the fuel burned, but also the non-CO2 warming impacts, including the insulating effect of contrails.  The report says the global aviation sector was responsible for 2.5% of global CO2 emissions in 2018, with total emissions increasing by 5% annually in the 5 years before that.
Click here to view full story…
BA plan for new low cost "BA Lite" at Gatwick, for short-haul flights, abandoned
At the end of August British Airways announced that it hoped to start a new low-cost airline, called "BA Lite" to operate from Gatwick, and compete with Ryanair, EasyJet and Wizz. BA would therefore move short-haul flights back to Gatwick, after deciding to move them to Heathrow because of the pandemic.  BA had consultations with trades unions – telling them that change was essential if it was to return to Gatwick.  But the contracts for staff were less generous than before. Now the plan to create "BA Lite" has been scrapped, as agreement could not be reached with the pilots' union, BALPA.  The union says the benefits and protections its members would have under the new company are not good enough.  So BA has shelved the plan and will now cut the short haul routes it already flies from Gatwick. The news may come as a blow for Gatwick as it looks to grow passengers numbers and bring its emergency runway into regular use to increase its capacity.  The loss of BA and its routes means Gatwick has even less need for its costly, climate-wrecking, expansion plans to bring its standby runway into full use, by 2029.
Click here to view full story…
Heathrow hopes to be allowed to increase long-haul passenger charge from £38.33 to £67.86 in 2022
The Telegraph has obtained details of plans by Heathrow to increase its charges for long-haul passenger next year, by about £30 per person, up from about £38. Heathrow has massive debts, bad before Covid and far worse now.  It has one of the biggest debt piles in British corporate history.  Heathrow says it is not expecting more than a quarter of the number of passengers in 2022, compared to the number (81 million) in 2019 – so it has to increases prices.  It has had to ask lenders for waivers on banking conditions, to avoid defaulting on its loans.  Heathrow will have to get agreement from the CAA for an increase in costs, under its regulatory framework. The CAA is likely to decide on this in the next month, and it may not be favourable to Heathrow.  The airlines are predictably angry. However, in order to reduce aviation carbon emissions, some demand reduction is needed – such as higher prices – though the government will not consider that.  Heathrow is also planning a new levy on air cargo, to make more money.  It is also planning to introduce a new lower noise level, to encourage less noisy planes.
Click here to view full story…
UK government minister claims people must keep flying to help cut aviation CO2
A government minister has angered scientists and environmentalists by claiming people need to keep flying in order to help cut carbon emissions. Junior transport minister Rachel Maclean said the aviation sector needed to have "confidence in its future" and that the government had no plans to try and reduce demand for flights. She said lower carbon planes and fuels would not be invented if they were rendered unprofitable by people abandoning air travel.  So we have to have lots of people flying, causing the emission of more CO2, in order for the industry to pay for future changes to cut emissions.  (Wonderful logic).  She said flying was one of the things that "make life worth living" and that the government would not place restrictions on it, for business or leisure … and "We believe that we can reach zero in aviation [by 2050], without having a demand management policy." Dr Doug Parr, chief scientist for Greenpeace UK, said: "According to the minister… it's like advocating donuts as the confidence boost you need to make yourself go to the gym … the Committee on Climate Change, and the Airports Commission, insisted that demand constraint was essential for aviation to meet our carbon targets."
Click here to view full story…
Airport groups write to Aviation Minister, voicing concerns about ICCAN being wound up
The DfT has decided to close down the ICCAN (the Independent Commission on Civil Aviation Noise) at the end of September. Now a large number of community groups at airports, for people negatively affected by aircraft noise, have written to the Aviation Minister, Robert Courts. They say they "were surprised and disappointed by your announcement that ICCAN will be wound up later this month and its functions transferred to the CAA next year. We were particularly surprised you saw no need to discuss this significant change with communities impacted by aircraft noise." ICCAN was supposed to "give communities a greater stake in processes which propose to make noise changes, and ensure such processes better and more transparently balance the needs of all parties" and "be instrumental in ensuring that the needs of local communities are properly taken into account when considering the noise impacts of any airport expansion." There are therefore serious concerns of overflown communities, in the absence of ICCAN. The letter suggests 4 key actions and changes that will need to accompany any transfer of roles to the CAA if it is to command the confidence of adversely impacted communities.
Click here to view full story…
Hope is not a Strategy – Aviation cannot be allowed to keep adding to the climate crisis
With just two months to go before the UK Government hosts the vitally important COP26 International Climate Change Summit in Glasgow, Stansted Airport Watch ('SAW'), and a host of other environmental campaign groups from all across the UK, are pressing the Government for immediate action to tackle aviation's growing impact on climate change. UK aviation was responsible for 38 million tonnes of CO2 emissions in 2019 and the Government is content to allow this to continue to increase until 2030 and still to be more than 30 million tonnes in 2040 – by letting airports expand. In response to the DfT consultation, on its "Jet Zero by 2050" strategy, SAW has submitted a highly critical evidence paper challenging the DfT's 'business as usual' strategy and its total reliance on technological solutions emerging from beyond the horizon over the next 20-30 years (new biofuels, novel fuels, electric and hydrogen fuelled planes, and carbon storage technologies). The key message from SAW is that "Hope is not a Strategy". SAW has also submitted evidence to the House of Commons Environmental Audit Committee Inquiry into the apparent contradiction between the Government's expansionist aviation policy and its declared commitment to tackling climate change.
Click here to view full story…
Gatwick public consultation begins on plans to convert standby runway to full use as 2nd runway
Gatwick airport has started a public consultation on its plans to bring its standby runway, just north of the main runway, into routine use for departing aircraft – alongside the main runway.  It means having to reposition the centre line of the standby runway, moving it 12 metres north. That then just meets international runway safety standards.  The consultation ends on 1st December 2021. Due to the size of the proposal, increasing the annual number of passengers by over 10 million, it is classed as a Nationally Significant Infrastructure Project. Therefore Gatwick will next have to  apply for a Development Consent Order (DCO) to build and operate the altered runway. This consultation is not the DCO application itself.  Gatwick hopes to get consent to start the first stages of the runway process by 2023, starting actual building work in 2024, with the runway finished by 2029. The work is expected currently to cost £500 million – there are extravagant claims about numbers of new jobs and local economic benefit.  This growth is in addition to more growth by increased use of the main runway, but that does not need a DCO application. Gatwick's annual CO2 emissions could rise by a million tonnes.
Click here to view full story…
Gatwick's Big Enough – a 2nd runway at Gatwick would be 'disaster for the climate'
Protesters, organised through the Gatwick Area Conservation Campaign (GACC), gathered near the airport, chanting 'Gatwick is big enough', to express their opposition to the airport's plans to convert its standby runway into a runway for routine flights. Campaigners, residents and councillors held a peaceful demonstration next to a noise monitor in Charlwood, to coincide with the midnight launch of Gatwick's public consultation into its proposed expansion. Operating as a 2-runway airport would see Gatwick increase its annual passenger capacity from 62 million to 75m by 2038  – making it almost as large as Heathrow today. GACC chairman, Peter Barclay said the expansion of the airport would have negative impacts for people over a wide area – in terms of noise and air pollution, more night noise and sleep deprivation, and impacts on local infrastructure.  All that affects people's quality of life. While humanity urgently needs to reduce greenhouse gas emissions, if we are to avoid the most catastrophic impacts of climate change, it makes no sense d to allow Gatwick to expand, adding another 1 million tonnes of CO2 emissions per year.
Click here to view full story…
BEIS sets new much higher prices for the valuation of greenhouse gas (GHG) emissions in policy appraisal
The government (BEIS) sets the price it uses for the valuation of greenhouse gas (GHG) emissions in policy appraisal. This has been updated in September following a cross-government review during 2020 and 2021. Greenhouse gas emissions values ("carbon values") are used across government for valuing impacts on emissions resulting from policy interventions. They represent a monetary value that society places on one tonne of carbon dioxide equivalent (£/tCO2e). They differ from carbon prices, which represent the observed price of carbon in a relevant market (such as the UK Emissions Trading Scheme). To reach net zero in 2050 and meet UK 5-yearly carbon budgets, there needs to be a realistic value on GHG, in order to reduce emissions. The price has now been set, for 2021, at £245 per tonne (central value) rising to £378 per tonne by 2050. Even that may be too low. The prices now are around £70. This will have significant implications for the forecast economic costs/benefits of future infrastructure, such as airport expansion projects. The claimed economic benefits will be lower, with the realistic carbon prices, than the current low levels.  Airport expansion plans will need to be reassessed. 
Gatwick in talks with lenders, after losing another £245 million in the first half of 2021
Gatwick says it made a loss of £245m in the first half of 2021, as passenger numbers collapsed to 569,000. It expects to have 9 million passengers by December, but that is lower than the 10 million in 2020.  In 2019 it had 46.5 million. The airport is now in talks with its lenders to ease the terms of its loans, due to the losses.  It lost £465.5 million in 2020.  Due to its weak finances and continuing low demand for air travel, Gatwick has asked its lenders to agree to short-term waivers on its loans to avoid it defaulting. This was also done last year, and the same thing happened at Heathrow. Virgin Atlantic, one of Gatwick's longest-standing airline customers, has ceased its operations at Gatwick for now, while British Airways has moved all of its short-haul flights to Heathrow, due to the low level of demand. However, BA said it will continue with at least long-haul operations from Gatwick. The airport said it had  779m of liquidity at the end of June, which it hopes would last it for the next 12 months, with no more staff being made redundant.  It has cancelled or deferred more than £570m of capital spending that had been planned for 2020, 2021 and 2022.
Government will not review the Airports National Policy Statement, on any of the challenge grounds
The Government had the option of reviewing the Airports National Policy Statement (ANPS) after the legal challenges, which took place during 2019 and 2020. One key issue of the challenges was the impact on the UK's climate targets of allowing Heathrow to increase its carbon emissions by up to 50%. Now the DfT has decided it will not review the ANPS, so it continues to be the underlying policy through which Heathrow could expand. The airport still has to go through the Development Consent Order (DCO) process, to get approval for a 3rd runway.  Grant Shapps, Transport Secretary of State, says that even though the UK now has a target of 78% cuts in CO2 emissions by 2035 and international aviation should be included in that target (compared to 1990 levels) and "considers that it is not possible to conclude properly that any of the policy set out in the ANPS would have been materially different had these circumstances been anticipated at the time of designation [June 2018]." The overall impact of Heathrow expansion, combined with expansion of other airports, will be considered by the Planning Inspectorate at the DCO stage.  It appears an opportunity to reduce UK aviation CO2 emissions has been missed, and government will do as little as possible on the issue.
Click here to view full story…
After two and a half years, Government closes down the ICCAN
The Independent Commission on Civil Aviation Noise (ICCAN) was finally set up by the government in March 2019, with the aim of looking into how the extra noise from airport expansion would affect those overflown, and the impacts of changes to flight paths.  Its aim was not to reduce the amount of aircraft noise suffered, but to find out more about it, consult etc.  Its creation had been a recommendation of the Airports Commission in June 2015, to make Heathrow expansion seem less unpalatable. Now Robert Courts, the Parliamentary Under Secretary for Transport, has announced that it is to be wound up at the end of September. Back in June 2015 ICCAN had said it would take them two years to: "Review existing enforcement mechanisms and consider whether enforcement powers are necessary".  It had been stated in 2019 that "ICCAN will be reviewed in two years' time and a decision will be made about its future direction as an organisation, including whether to give it increased powers. In the meantime, ICCAN's role is threefold: to listen, to evaluate and to advise."  The government now says its role will mainly be taken on by the CAA, and part by the DfT. That will not bring reassurance to those suffering from aircraft noise problems.
Click here to view full story…
Unless hydrogen is "green" hydrogen, or all CO2 produced is genuinely stored for ever, it is not a low carbon fuel
The DfT is pushing the idea of planes fuelled partly by hydrogen, as part of its "Jet Zero" strategy – hoping to find ways in which people can continue to fly, without huge carbon emissions that make reaching the UK target of net zero impossible. However, the Government's "Jet Zero Council" said, at the end of June, that government was launching "the first round of £3 million Zero Emission Flight Infrastructure (ZEFI) competition, supporting development of infrastructure required to aid electric and hydrogen aircraft such as charge points for planes." Hydrogen can be produced in various ways, most using a fossil fuel and producing CO2 in the process. The hydrogen could only be a "low carbon" fuel if all this CO2 is captured and stored, for ever – not just reused (which is what usually happens at present.) Now a study by academics at Cornell and Stanford universities in the US, warned that blue hydrogen (produced by 'steam reforming', needing carbon capture and storage for the CO2 created) could be up to 20% worse for the climate than fossil gas owing to the emissions that escape during its production, multiplied by the amount of gas required to make the equivalent amount of energy from hydrogen.
Click here to view full story…
Airbus and Boeing will not be fuelling planes with hydrogen for perhaps 15 – 20 years
Airbus has said that most airliners will rely on traditional jet engines until at least 2050,  burning conventional fossil jet fuel.  Airbus says it plans to develop the world's first "zero-emission" commercial aircraft by 2035, but not whether the technology will be ready for the replacement for the medium-haul A320, due to be produced in the 2030s. It is working on several concepts for a novel plane.  Until there is ample "green" hydrogen (no CO2 emitted in its production) any plane burning "blue" (or other types) hydrogen is not zero carbon. Airbus said that it if can produce planes that burn hydrogen, they will be regional and shorter-range aircraft – from 2035. It will be harder for long haul aircraft.  The technology of using hydrogen to fuel planes is still on the drawing board. The aviation industry is wanting public money from governments, to develop hydrogen or electric planes, or low carbon liquid fuels. If the industry had to pay all the costs themselves, the price of flights would go up, and thus demand would go down.  Not a profitable prospect for airlines. Boeing has also said that it will not be using hydrogen as fuel on a significant scale before 2050.
Click here to view full story…
Gatwick in talks with lenders, after losing another £245 million in the first half of 2021
Gatwick says it made a loss of £245m in the first half of 2021, as passenger numbers collapsed to 569,000. It lost £465.5 million in 2020.  It expects to have 9 million passengers by December, but that is lower than the 10 million in 2020.  In 2019 it had 46.5 million. The airport is now in talks with its lenders to ease the terms of its loans, due to the losses.   Due to its weak finances and continuing low demand for air travel, Gatwick has asked its lenders to agree to short-term waivers on its loans to avoid it defaulting. This was also done last year, and the same thing happened at Heathrow. Virgin Atlantic, one of Gatwick's longest-standing airline customers, has ceased its operations at Gatwick for now, while British Airways has moved all of its short-haul flights to Heathrow, due to the low level of demand. However, BA said it will continue with at least long-haul operations from Gatwick. The airport said it had  779m of liquidity at the end of June, which it hopes would last it for the next 12 months, with no more staff being made redundant.  It has cancelled or deferred more than £570m of capital spending that had been planned for 2020, 2021 and 2022.
Click here to view full story…
Inspector at Bristol Airport expansion inquiry says views of the public will be properly taken into account
The public inquiry into the possible future expansion of Bristol airport started on 22nd July and is expected to last for 10 weeks. There are concerns, as at many inquiries, that the views of the public will not be taken into account, and not fully considered. Campaigners have warned that ignoring thousands of comments opposing the expansion of Bristol Airport, from residents and others, would damage public trust and threaten the integrity of local democracy.  However, planning inspector Phillip Ware said: "We've read an enormous amount of written material that's come in from people for and against. We've obviously got a lot of people appearing at the inquiry in person and virtually.  It is absolutely not a tick-box exercise.  We will be dealing with the public views in our decision whichever way the decision goes."  Green MP Caroline Lucas said: "Local democracy thoroughly considered the airport's plans and decided against them and despite this the airport has now ignored these voices and called for this appeal. Now not only does that threaten to override local democracy, it also threatens the efforts that local communities and councils are trying to take to address the climate crisis themselves."
Click here to view full story…
Tom Tugendhat letter to Aviation Minister – on need for proper scrutiny of Gatwick future main runway growth
The expansion that Gatwick might perhaps eventually be allowed, by using its emergency runway as a full runway, would require proper scrutiny through the planning Development Control process (DCO). The airport might be able to handle up to an extra 50,000 annual flights by doing that.  However, more expansion and more extra annual flights could be added, by making more use of the single main runway.  That might add another 60,000 annual flights (about 16 million annual passengers).  But because there would be no physical building work required (no extra runway length or extra terminal) there would be no planning permission needed, and no chance for public scrutiny of the impacts of the gradual expansion. Now Tom Tugendhat (MP for Tonbridge & Malling) has written to Robert Courts, the Aviation Minister, to ask for a meeting to discuss this anomaly. He says the main runway growth would be "more than the aggregate growth at the 5 UK airports that are currently seeking expansion.  In each of those cases the proposed growth has been robustly scrutinised and communities have been able to have their say. The government cannot simply ignore the greater impacts at Gatwick because it has different planning position."
Click here to view full story..
Heathrow losses now £2.9bn and consolidated net debt £15.2 bn
Heathrow has announced that its cumulative losses from the Covid-19 pandemic have hit £2.9 billion. In its results for the first half of 2021, Heathrow's revenue dropped from £712 million in the first six months of 2020 to £348 million in the first half of 2021, which is 51.1% less than in the first half of 2020, and 76.2% less than the first half of 2019. Its pre-tax loss widened 18% to a little over £1 billion.  It had 3.85m passengers, which is 75.1% less than the same period in 2020, and 90.1% less than the first half of 2019.  Heathrow (it has a complex structure of numerous companies and levels) had  consolidated net debt of £15.2 billion — not much less than the airport's £16.9 billion regulated asset base (RAB), or the CAA's proxy for its value.  Heathrow had been allowed, by the CAA, to increase its RAB by £300 million, to £16.9 billion.  Its chief executive John Holland-Kaye is using the half-year figures to warn about a covenant waiver on its various loans.  The group of Heathrow companies has £4.8 billion of liquidity, (ie. ability to borrow) with average cost of debt just 1.64%.
Click here to view full story…
Taxpayers face near £900m bill for Heathrow western rail link, if airport won't pay
It was announced in September 2020 that the Great Western rail link between Reading and Heathrow would be delayed by up to two years. It was first proposed in 2012. A DCO application to construct the new line is not expected for some time – end of 2022. Heathrow was set to pay for much of the cost, as the link would benefit its passengers. But in April Heathrow withdrew its funding, because of the crisis in its finances due to the pandemic.  Other funding from the private sector will be "much smaller" than previously envisaged.  So it looks as if taxpayers may have to fund most of a £900m bill. The rail minister, Chris Heaton-Harris, told a parliamentary committee last week that he would recommend that taxpayers pay instead, as part of Chancellor Rishi Sunak's spending review this autumn.  Network Rail said that the Department for Transport had asked it to delay beginning the project by a year until the winter of 2022.  It said it would not progress until there was a satisfactory financial arrangement, "including an appropriate financial contribution from Heathrow Airport Limited (HAL); this requires endorsement by the Civil Aviation Authority (CAA) as the relevant regulator."
Click here to view full story…
SAF competing for fuel feedstocks will have negative impacts on many other sectors
The aviation industry, and its enthusiastic backers like the UK government, are keen to claim the problem of the sector's vast carbon emissions can be solved, fairly soon, by SAF ("sustainable aviation fuels"). They agree these should not come directly from agricultural crops, competing with human food and animal fodder for land. They will instead come (as well as fuels produced using electricity) from agricultural, forestry and domestic wastes. These would be the feedstocks.  But there are significant problems, so far apparently overlooked by governments etc, about competing uses for those feedstocks. There are already markets for used cooking oil, and it can all be used for animal food, or in other industries. Taking crop wastes off the land not only means lower organic matter returned to the soil, reducing its structure and fertility, but also its removal for other uses – such as for animal bedding. There are competing uses for forestry waste, such as the paper and pulp industry.  Feedstocks could be used to make diesel for road vehicles, or burned to produce electricity. So if aviation wants these feedstocks, there will be competition and higher prices for other sectors. These problems should not be ignored in the mindlessly optimistic rush for the illusion of "jet zero".
Click here to view full story…
Chris Stark (CCC) on how aviation needs to cut its emissions, only using CCS – which it must pay for – as a last resort
The Head of the Climate Change Committee (CCC), Chris Stark, has given evidence to the Commons Environmental Audit Committee (EAC) on the aspirations of the aviation sector to get to "net zero" by 2050, and the government's "jet zero" plan. He said aviation, unlike other transport sectors, was unlikely to meet targets for net zero by 2050.  The sector should pay for costly engineered carbon removal technologies (CCS) rather than rely on using the planting of trees to claim they are reducing CO2 emissions.  And these offsets and removal technologies should only be used as a last resort, after direct cuts of carbon and emissions by the industry itself. He said carbon removal technologies are not a "free pass" for the industry. Removals are expensive, and the sector should pay for them themselves – which would put up ticket prices. It was regrettable that the DfT's transport decarbonisation plan had not mentioned the necessity of reducing air travel demand. There is a danger that the tech does not deliver. The plans need to be assessed every 5 years, and though that is a difficult choice for government, demand management may have to be considered in future.
Click here to view full story…
Stansted Airport Watch submits response to CMA consultation on greenwash; examples from Stansted and Ryanair
The Competition and Markets Authority (CMA), which regulates business behaviour, has finally stepped in to try to end 'greenwashing' and has asked for evidence. Greenwashing is where businesses make dubious claims in an attempt to boost their environmental credentials, and thus sell more product.  The CMA consultation ended on 16th July. Greenwashing is all too common in the aviation industry and Stansted Airport Watch (SAW) submitted detailed evidence to the CMA relating to both Stansted Airport and Ryanair. Some of the examples of dubious claims by the airport are that it claims to be "carbon neutral", but this conveniently ignores the carbon emissions from the aircraft (hugely higher than emissions by the airport itself). It also relies of "offsetting", so making payments to some carbon reduction activity elsewhere, while itself continuing to emit. Ryanair has made a number of claims about being "green", such as claims to be Europe's "cleanest, greenest airline" but this has been ruled against by the Advertising Standards Authority, for being misleading (February 2020).
Click here to view full story…
Start of Inquiry into refusal by North Somerset Council of Bristol Airport plans to expand by 2mppa
The public inquiry into Bristol Airport's expansion proposal began on 20th July with the airport hoping to overturn North Somerset Council's decision to refuse the expansion plans in February 2020. The inquiry is overseen by the Planning Inspectorate, and is scheduled to run until mid-October with three independent inspectors appointed to consider the airport's appeal. The airport wants to be allowed to have an extra 2 million annual passengers, from 10 million to 12 million. In its recently-published Transport Decarbonisation Plan (TDP), the DfT committed itself to achieving net zero within the aviation sector by 2050. Allowing airport expansion scheme is not going to help with that – quite the reverse. The worry is that, though the various expansion schemes for Gatwick, Stansted, Luton, Bristol, Leeds Bradford and Southampton – taken separately – look relatively small, collectively (and including Heathrow) the increase in carbon would be huge. The recent TDP does not follow the recommendation from its official advisors, the CCC, that any airport expansion should be offset by reducing flights elsewhere.
Click here to view full story…
DfT decides to roll over the night flights regime for 3 more years (not 2) for Heathrow, Gatwick and Stansted
The government consulted, in December 2020, on its night flights regime (closed 3rd March 2021). Part of the consultation was whether to "roll over" the current regime for the three designated airports, (Heathrow, Gatwick and Stansted) for another 3 years, and it closed on 3rd March 2021. The second part is about wider night flights issues for all issues, and that closes on 3rd September 2021. The DfT has now published its "Decision Document" on the night flights regime and the designated airports. It has decided – despite pleas from numerous groups and individuals for change – not only to roll over the existing scheme, but to set this for THREE years more, rather than the two years originally proposed. The DfT says: "The restrictions will be reassessed in time for a new regime to commence in October 2025…" Airport groups at the designated airports are upset and furious. Night flight noise is probably the most hated, and the most damaging element of aircraft noise. The justifications given for night flights, about their economic necessity, are unconvincing. Sadly, people living with night flight noise from Heathrow, Gatwick and Stansted will be stuck with the problem, at least until 2025
Click here to view full story…
Jet Zero consultation – what it says on "sustainable aviation fuels" (spoiler…crazy over-optimism)
The DfT's consultation on reducing aviation carbon emissions, "Jet Zero" places a lot of faith in finding novel, low carbon fuels, so people can continue to fly as much as they want. These are called "Sustainable Aviation Fuels" (SAF). The consultation says SAF "could play a key role in decarbonising aviation, whilst also representing an industrial leadership opportunity for the UK." The economic opportunity aspect, and producing jobs, is key for the DfT.  They say "Many experts view SAF as the only alternative for long-haul flights up to 2050, which are the flights with the biggest climate impact." The DfT is hoping SAF could "result in over 70% CO2 emissions saving on a lifecycle basis and could deliver net zero emissions with the addition of greenhouse gas removal technologies." SAF would either be biogenic, non-biogenic (from wastes) or made using zero-carbon electricity.  There are huge problems, glossed over by the consultation. A key problem is that "there is currently no comprehensive global regulatory standard for SAF sustainability. The UK is therefore active at ICAO in negotiating for a full set of sustainability criteria for SAF." The DfT "will shortly consult on a UK SAF mandate setting out our level of ambition for future SAF uptake."
Click here to view full story…
Jet Zero consultation – what it says on "Influencing Consumers" – keep flying, depend on techno-optimism
The DfT has launched its consultation, called "Jet Zero" on how the UK might decarbonise flights, by 2050. One really effective way to do that would be to reduce the demand for air travel, which is what the Climate Change Committee  (CCC) recommended. The CCC said (24th June) "Lack of ambition for aviation demand management would result in higher emissions of 6.4 MtCO2e/year in 2030 relative to the CCC pathway for aviation emissions." But the Jet Zero consultation just says "We want to preserve the ability for people to fly whilst supporting consumers to make sustainable travel choices." And "This Government is committed to tackling the CO2 emissions from flights, whilst preserving the ability for people to fly." And "we currently believe the sector can achieve Jet Zero without the Government needing to intervene directly to limit aviation growth" and cut aviation CO2 by as much as the CCC says is needed, but by other means – SAF, hydrogen, electric planes etc. It then says it will "seek to address residual carbon emissions through robust, verifiable offsets and additional greenhouse gas removals." And it acknowledges that these are all "currently at a relatively early stage of development and [their deployment] requires collaboration and commitment across all parts of the sector if it is to succeed." It also considers carbon information for flights, but only so people can still fly, but choose different airline options.
Click here to view full story…
DfT Decarbonising Transport plan – various consultations to come on aviation carbon
The DfT has produced its transport decarbonisation plan. There is a lot of aspiration for aviation, depending on future increased use of "sustainable aviation fuels", hydrogen and electric planes – as well as carbon capture and storage. ie. dependence on technologies that do not yet exist on any scale, and which would take years/decades to develop. The aspirations for aviation are for "net zero" (ie. allowing offsets) for the sector by 2050, and net zero for domestic aviation by 2040. [Also plans for zero carbon airports, but they contribute only a tiny amount of total aviation carbon].  So lots of hopes. Nothing specific.  And absolutely no mention of the need to reduce demand for air travel, as their climate advisors, the Climate Change Committee, had recommended. The DfT consultation on the Jet Zero strategy – for aviation net zero by 2050 – has now been published, and runs till the 8th September. Also there will be consultations on making domestic aviation net zero; airport carbon; and on a UK sustainable aviation fuels mandate.  The DfT is supporting the development of new aircraft technology through the Aerospace Technology Institute (ATI), and hopes to further develop the UK ETS.
Click here to view full story…
Government is keen to tell people they can continue to fly, with a clear conscience – and the aviation sector can continue with "business as usual" for the time being.
Click here to view full story…
Local Authorities must question if it is justifiable, or a financial asset, to own an airport
There is a glaring logical inconsistency between the declaration of "climate emergencies" by councils, and the backing of local airports. That is particularly the case where the airport owns, or partly owns, the airport.  The Local Government Chronicle has written that "councils' declarations of climate emergency will be mere weasel words unless they lead to painful but necessary decisions being made." To achieve action on climate, councils need to take urgent and significant action. Helping an airport expand and increase its number of passengers, flights and CO2 emissions should no longer be happening. And while some airports were useful sources of income for councils in pre-Covid years, there is no certainty at all that will continue. Instead airports have been a sink for public money over the past year. Councils should not attempt to confuse the situation, by claims that airports are cutting carbon, becoming carbon neutral etc. That is only for their buildings, conveniently ignoring the carbon from the flights the airport facilitates. Councils need to accept that the restoration of passenger numbers to previous levels is not desirable.
Click here to view full story…
Uttlesford Council applies for judicial review of Stansted airport expansion plans
In May, the Planning Inspectorate (PI) approved plans by Stansted airport to expand its maximum number of annual passengers from 35 to 43 million. This had been opposed by Uttlesford Council, but the decision was challenged by the airport.  Now Uttlesford District Council  UDC) is trying to get this PI decision reversed, as it goes against the decision by a democratically elected council.  UDC submitted its application to the court for a JR one day before its submission deadline, and the UDC leader John Lodge said the decision to apply for Judicial Review was taken after seeking legal advice. Local campaign, Stansted Airport Watch, had asked for a JR, so the decision is taken by the Secretary of State for Transport, not the PI. Since the PI decision, the government enshrined a new "Carbon Budget" into legislation. The Sixth Carbon Budget now aims to cut emissions by 78% by 2035 compared to 1990 levels, and for the first time, the carbon emissions of international aviation will be included in UK totals. That should mean the collective increases in carbon of all the airport expansion plans will have to be considered together, and none of the airports seeking expansion should be considered in isolation.
Click here to view full story…
Teeside Airport bottomless pit for council cash – given another £10 million by TVCA
Teeside Airport is to get an extra £10m from the Tees Valley Combined Authority (TVCA), hoping to keep it afloat after Covid impacts. TVCA spent more than £40m buying the loss-making airport in 2019 following a previous election pledge by Mr Houchen to take it back from previous owner Peel. TVCA has also provided a further £19.4m to support operational expenditure, along with £15m towards capital expenditure, which has helped pay for a multi-million pound terminal redevelopment, new passenger lounges, bars etc. The Local Democracy Reporting Service (LDRS) said in November 2020 that the airport made a £2.6m loss in the previous 12 months. Its advocates say it could be profitable in about 6 years. Teeside Airport Ltd is governed financially by TVCA via another limited company, Goosepool, both being subsidiaries of TVCA, a structure which has been criticised by some for its apparent lack of transparency. Stobart Aviation, which operates Teesside Airport, has a 25% shareholding in Goosepool. Opponents of the handouts to the airport say too much is being spent on the airport and "The time for vanity projects is at an end – it's time he started to deliver on the real needs of our people." 
Click here to view full story…
Bristol Airport expansion (for 2 mppa more) public inquiry to will start on July 20th, for 10 weeks
The expansion plans would see passenger numbers grow from 10 million to 12 million a year.  The public inquiry into the expansion plans is due to start on July 20 and last 10 weeks. The airport appealed against a decision by North Somerset Council last year to reject its expansion plans. Bristol City Council has also opposed the expansion with North Somerset Council saying it will 'robustly defend' the appeal. The inquiry will be held in person and online, via Teams, though requests had been made for it to be online only, due to Covid. Campaigners say any expansion of the airport would lead to higher carbon emissions, congested roads and more plane noise. A number of campaign groups including the Bristol Airport Action Network (BAAN) , the Parish Councils Airport Association and Stop Bristol Airport Expansion (SBAE) are all set to give evidence at the inquiry. The Planning Inspectorate team will be led by Philip Ware.
Click here to view full story…
Scottish Climate Assembly – many recommendations to cut aviation carbon emissions
The Scottish Climate Assembly reported its recommendations for action on 23rd June. The Assembly included over 100 ordinary members of society, and met from November 2020 to March 2021, online for 7 weekends. Their recommendations relating to aviation include that Scotland should:  "Lead the way in minimising the carbon emissions caused by necessary travel and transport by investing in the exploration and early adoption of alternative fuel sources across all travel modes." 93% agreed. And "Commit to working to decarbonise all internal flights within Scotland by 2025." 87% agreed.  And "…requiring transport providers to declare the carbon impact of flights and train journeys in a clear and meaningful way at the time of booking." 94% agreed.  And "Reduce the incentives to fly by introducing tax on high carbon aviation fuels and making it mandatory that this cost is passed on to the customer in their ticket price."  And "Discourage air travel by introducing a frequent flyer tax or levy." 78% agreed.  And "Eliminate frequent flyer and air mile bonuses to reduce the number of flights taken for business, encouraging the use of alternatives like video conferencing for meetings." 92% agreed.
Click here to view full story…
Climate Change Committee progress report to UK Government – aviation carbon policies sadly lacking
The Climate Change Committee has published its 2021 Progress Report to parliament, on the UK's actions on climate change.  It says "The Prime Minister's Ten-Point Plan was an important statement of ambition, but it has yet to be backed with firm policies." The report says the government has still not produced its Decarbonisation Strategy, which had been due in 2020. The CCC says government should "Commit to a Net Zero goal and pathway for UK aviation as part of the forthcoming Aviation Decarbonisation Strategy, with UK international aviation reaching Net Zero emissions by 2050 at the latest, and domestic aviation potentially earlier."  It says government should assess its "airport capacity strategy in the context of Net Zero and any lasting impacts on demand from COVID-19, as part of the aviation strategy. There should be no net expansion of UK airport capacity unless the sector is on track to sufficiently outperform its net emissions trajectory and can accommodate the additional demand. A demand management framework will need to be developed (by 2022) and be in place by the mid-2020s to annually assess and, if required, control sector GHG emissions and non-CO2 effects." Lack of demand management would mean the sector missing its targets. And more …
Click here to view full story…      See also assessment by the AEF 
Airport expansion plans looking less likely due to Covid and climate awareness
UK airports continue to do badly, due to the pandemic and travel restrictions, and it is anticipated that they could lose £2.6bn between April and September, if Covid continues to limit travel. The industry is also, unwillingly, having to consider their role in worsening climate breakdown, and whether it is acceptable for the sector to be expanding. "Many investors and fund managers could question in future whether airports sit well within their portfolios".  Only Gatwick, which is 50.01% per cent owned by Vinci, has made use of the Bank of England's Covid corporate financing facility, for temporary grants and loans.  Most airport owners have pared down their operations, staffing and costs, and cut dividends, to save money.  Lenders are appreciating that the airports have huge financial problems, that they cannot solve while Covid continues to limit air travel.  But the FT says there will be limits to the goodwill by lenders, as it is no longer certain that airports will remain a safe investment, generating predictable and high income streams – or be acceptable ethically. Now ACI warned of a "severe airport investment crunch" in Europe as it had to take on more than €20 billion of additional debt last year. That makes expansion plans look doubtful.
Click here to view full story…
UK government will not commit to immediate lowering of air pollution levels to WHO limits
The government has refused to commit to an immediate lowering of legal levels of air pollution.  The death of Ella Kissi-Debrah, from asthma cause by air pollution, sparked calls for the immediate lowering of legal air pollution levels to bring them in line with those recommended by the World Health Organization (WHO). The WHO says particulate pollution from fine particulate matter PM2.5 should not exceed an annual mean of 10 μg/m3. For PM10 the limit is 20 µg/m3 annual mean. But the UK currently has higher limits for fine particulate matter: 40 µg/m3 annual mean for PM10 and 25 µg/m3 for PM2.5. The coroner investigating Ella's death, called for legally binding levels of particulate pollution to be lowered to meet the WHO limits. He said: "The evidence at the inquest was that there is no safe level for particulate matter and that the WHO guidelines should be seen as minimum requirements." There will be a public consultation on air pollution levels in January 2022, with a view to setting new air pollution targets in October 2022.  There are  various nice sounding, empty, statements from government about air pollution. Airports are a major source of both NO2 and particulate air pollution, from both planes and surface vehicles – with Heathrow producing the most. It is now known the pollution spreads downwind far from an airport.
Click here to view full story…
Southampton legal challenge against airport decision by Eastleigh Borough Council
The local campaign against the expansion of Southampton airport, AXO, has now decided to make a legal challenge against Eastleigh Borough Council, and their decision to allow extension of the runway.  That extension would have the effect of increasing the number of flights using the airport, and allow flights to more distant destinations – increasing the overall carbon emissions.  Decisions such as these, resulting in more climate heating, need full scrutiny and that can now only happen by Judicial Review. The opponents of Southampton Airport expansion have instructed a legal team led by Leigh Day and David Wolfe QC to pursue the case, and are launching a public appeal for money to help finance the action.  AXO believe strongly that the council's decision was wrong both in the way it was taken and the arguments to justify it. The airport has greatly overstated the economic benefits of expansion, which will adversely affect the quality of lives of around 46,000 residents, whilst hugely underplaying the environmental impact. Hence they are calling for the decision to undergo independent scrutiny. There is a crowdfunder, to raise £10,000, to help pay the legal costs.
Click here to view full story…
Howard Davies, whose "Airports Commission" decided a Heathrow 3rd runway was needed and justified, now says it no longer is
Back in 2015, Sir Howard Davies chaired the Airports Commission, which had been given the task – by George Osborne – of making the case for a 3rd runway at Heathrow, so the Conservative government could press ahead with it, once they were out of coalition with the LibDems, who opposed it.  Sir Howard had financial connections which might be considered to make him biased towards the airport. In July 2015 the Commission produced its report, recommending Heathrow's 3rd runway, as a way to meet anticipated air travel demand in the south east. Now, with the impact of the Covid pandemic, and Heathrow struggling with 72% fewer passengers in 2020 than in 2019, Sir Howard has admitted that no extra runway is now needed, nor will it be for some time. In 2015 he believed there was an economic case for it, and spending up to £18 billion on the expansion. Now, even with the cheaper planned scheme at about £14 billion, he has said: "I would have to redo the numbers to see if the economics made sense."  The whole Airports National Policy Statement was based on building a 3rd Heathrow runway, on the recommendation of Sir Howard Davies, before deciding on airport policy for the whole of the UK.
Click here to view full story…
Airbus tells the EU hydrogen won't be widely used in planes before 2050
Airbus has told the EU that most commercial planes will rely on traditional jet engines until at least 2050. They say they plan to develop the world's first zero-emission commercial aircraft by 2035, but have not publicly said whether the technology will be ready for the replacement for the medium-haul A320, due to be rolled out in the 2030s. That seems unlikely, especially for long or medium haul flights.  In its presentation to the EC, Airbus did not give details of its hydrogen technology, and how it could be introduced into small, short haul aircraft.  The technology is very much still on the drawing board. Although research remains at an early stage, possible paths to replacement of the A320 are already a major focus of debate as rival Boeing ponders how to get lower carbon emissions from the competing 737 MAX and engine makers focus on evolving gas turbines. Boeing's Chief Executive has said they will not be flying planes on hydrogen on a significant scale before 2050.  A key problem for using hydrogen in future is the infrastructure needed globally to support it, as well as ensuring hydrogen is "green", ie. made only from genuinely renewably sourced surplus electricity. In the meantime, airlines want to use "sustainable aviation fuel" (SAF), hoping some can be genuinely low carbon. 
Click here to view full story…
Airports and airlines expect to make huge losses this summer and want more government financial help
Airports are likely to have a bad summer, with far fewer air passengers than they had hoped for. The Airport Operators Association (AOA) have told the government that they might collectively lose £2.6 billion this summer, between April and September, not the recovery they dreamed of. It could be even worse than summer 2020 for them.  In summer 2020 there were, at their highest, about <20% of the level in 2019. It is likely to be lower this year. The AOA says "1.6 million jobs in the UK aviation and tourism industries rely on aviation having a meaningful restart."  And "If the government decides it cannot reopen travel more meaningfully, then they should stand ready to give substantial financial compensation to airports and others in aviation and tourism.... As airports remain open for critical services, support should include operational costs, such as policing, air traffic and CAA regulatory costs, and extending business rate relief in full until the end of the tax year."  Airlines UK are also demanding government help, asking for continuation of furlough, extension of repayment terms for any Covid loans, and a new grant scheme for airlines.
Click here to view full story…
New study shows exposure to plane noise at night causes vascular endothelial dysfunction, hence cardiovascular disease
A new study shows exposure to plane noise at night causes higher circulating levels of stress hormones eg. adrenaline, stiffened blood vessels, and these caused vascular endothelial dysfunction. These increase the chance of atherosclerosis leading to cardiovascular events. The scientists said: "In addition to being associated with an increased incidence of coronary heart disease, noise may serve as an acute trigger of cardiovascular problems. For example, a study published earlier this year established that for nighttime deaths, noise exposure levels two hours preceding death were significantly associated with heart-related mortality." And "Importantly, comparing participants exposed to 30 versus 60 aircraft noise events per night revealed a dose-dependent worsening of endothelial function. Moreover, previous exposure to 30 aircraft noise events caused 60 events to have larger adverse effects on endothelial function. Thus, rather than any sort of habituation to the noise, there appeared to be a priming effect: prior exposure amplified the negative effect of noise on endothelial function."
Click here to view full story…
Eastleigh BC confirms its decision to allow Southampton airport 164 metre runway extension
Eastleigh Borough Council (EBC) has confirmed, on 3rd June, its decision to permit Southampton airport's 164 metre runway extension. The PCU (Planning Casework Unit at the Ministry of Housing, Communities & Local Government) had an informal agreement with Eastleigh to hold off on the decision while the Sec of State, Robert Jenrick, considered the call in request. The PCU said the planning permission would not be issued until the S106 Legal Agreement was completed. On 14 May EBC told the PCU that they had completed the S106 and would grant permission at the end of May unless they heard back to the contrary, from the PCU … which they didn't. It is now too late for the application to be called in. Extinction Rebellion Southampton said the Secretary of State must be held to account for his failure to act on climate grounds.  Work on the runway extension could start later this summer. Campaigners have not confirmed whether they will challenge the final decision.
Click here to view full story…
After years of cheap carbon allowances, price has doubled from around €25 to around €50 in the past 6 months
Airlines flying within Europe have to pay for their carbon emissions, through the Emissions Trading System (ETS). They have to buy carbon allowances, for the carbon emitted. Until 2020, the price of those allowances did not rise beyond about €25. Before that, till around 2018 it was more like €8 per tonne. But there has been a sharp rise in the price in the past 6 months or so, reaching €56 recently and now being around €49.  This is not what airlines like, as like other carbon intensive sectors in Europe, they must buy the tradable credits to cover the amount they pollute under parallel emissions systems in both the UK and the EU. The nascent UK carbon trading system, which launched this month, started trading at higher prices, of above £50 a tonne.  The higher prices hit the dirt-cheap airlines hardest, with their low ticket prices – Ryanair, easyJet and Wizz Air have been hit particularly hard as almost all their flights are in Europe or the UK, requiring carbon allowance payments.  Traders and market participants expect the price of carbon to keep rising as net zero pledges of governments and corporates become more ambitious. 
Click here to view full story…
Stansted wins appeal, against refusal by Uttlesford Council, of its plans to increase capacity to 43 million passengers per year
Expansion plans for Stansted Airport have been approved by the Planning Inspectorate (PI) after an appeal.  In January 2020 Uttlesford District Council (UDC) rejected proposals to increase Stansted's passenger cap from 35 million to 43 million a year. However, the councillors voted against the advice of council officers, who had recommended approval of proposals. The council had originally approved the plan, in November 2018 but only by the casting vote of the chairman; many councillors then had not read, or properly understood, all the documents. Then after the Residents for Uttlesford group took control from the Conservatives in May 2019, the decision was referred back to the planning committee – the rejection decision. Stansted already had permission to increase capacity from 28 million to 35 million passengers per year.  The airport appealed against the decision, despite Covid and the near collapse of air travel in 2020.  A public inquiry was held in January to March 2021 by the Planning Inspectorate.  In its decision, the PI said:  "there would be a limited degree of harm arising in respect of air quality and carbon emissions" but that was "far outweighed by the benefits of the proposal". UDC has also been ordered to pay the costs of Stansted's appeal.
Click here to view full story…
DfT and MHCLG both reject application to have Stansted expansion called in
There was a Planning Inquiry from January to March, into the rejection by Uttlesford council of the application by Stansted airport to increase its annual air passenger cap from 35 million passengers, to 43 mppa. Local campaign, Stop Stansted Expansion (SSE) asked the government (two departments) to call in the application, for consideration by government, rather than just by Uttlesford District Council. Now SSE has received letters from both the Ministry of Housing, Communities and Local Government, and the Department for Transport, refusing the request for a call in. The MHCLG said "the Secretary of State has carefully considered your request but has decided in this case not to issue a direction for joint determination under s266 of the 1990 Act. The jurisdiction of the case therefore remains with the appointed planning Inspectors, and the Planning Inspectorate will inform you of a decision in due course." Grant Shapps (DfT) said that "the application is not of sufficient scale or significance to justify a direction. I will therefore not be making a direction in relation to this appeal." SSE said they were unsurprised, and concerned that this may set a bad precedent for appeals by other airports, where the planned increase in  annual passengers is lower than that at Stansted.
Click here to view full story…
Night Flights Consultation (Part 2) deadline extended to 3rd September
The closing date for the second part of the DfT night flight restrictions consultation has now been extended to 3 September 2021 (23:59 hours). It had been 31st May. The deadline for the first part was 3rd March.  The extended deadline is in response to a request from HACAN, ACF, AEF, SSE & LADACAN along with other community representatives on the DfT's Aviation Noise Experts Group.  The DfT had been intending to publish the CAA's Survey of Noise Attitudes 2014 : Aircraft Noise and Sleep report ("SoNA Sleep") before the Night Flights Consultation deadline. It is likely to contain vital information on the impact of noise annoyance at night.  When it became clear that this important report would not be available before the 31 May deadline the groups wrote to the DfT requesting the extension. The SoNA Sleep report is now expected to be published early in the summer.  Extending the consultation into early September will allow respondents the time needed to consider and comment in detail in light of this further research. If anyone has already made a submission, that will still be counted and they can make a supplementary submission, taking the SoNA data into account, in due course. As soon as SoNA Night is published the various airport and noise expert groups will be analysing the details and sharing a summary with their members, so they have help in making their submissions.
Click here to view full story…
EU Treasury Ministers support future tax on fossil aviation fuel (after decades)
For decades, there has been no international agreement on the taxing of aviation fuel, and it has been wrongly assumed that taxing it was impossible. But now the EU is considering how the fuel should be taxed, as part of the bloc's attempts to cut carbon emissions over all its activities.  The EU now has the target of a 55% cut in CO2 emissions by 2030, and reach "net zero" by 2050.  Aviation must play its part in the reductions.  Higher fuel prices would increase ticket prices, thus reducing slightly demand for air travel.  In July, the European Commission will put forward an overhaul of its energy taxation directive that sets minimum taxation rates for fossil fuels, but has not been updated for nearly 20 years. There have been difficulties in getting agreement on carbon cuts from the newer EU members, and every country effectively holds a veto on taxation policy.  Some countries such as the Netherlands have been pushing for aviation fuel taxation, which says it will introduce a national aviation tax in the absence of an EU-wide agreement.  Aviation should also be charged through the EU Emissions Trading System, which currently only adds small costs to intra-European flights.
Click here to view full story…
New NEF report shows the climate impact of regional airport plans has been considerably underestimated
A report by the New Economics Foundation (NEF) says the climate impact of expansion plans at regional airports in England has been dramatically underestimated and would threaten the UK's legally binding climate commitments.  NEF calculated that proposals to expand 4 airports (Bristol, Leeds Bradford, Southampton and Stansted) will lead to an increase in CO2 emissions up to 8 times higher than the airports previously claimed. This means the alleged economic benefits claimed, from more aviation, were overestimated, as they ignore around £13.4bn worth of climate damage the extra flights could cause. Alex Chapman, the author of the report, said the findings raised concerns about the level of scrutiny the airport expansion proposals had received from government. Alex said: "The secretary of state should step in and conduct an independent review of all four of these proposals and their compatibility with the UK's climate targets."  The airports all use unproven and undeveloped technologies to achieve future fuel-efficiency savings. Most airports only took account of CO2 of outbound flights, not of inbound flights, and ignored the non-CO2 impacts of flights.
Click here to view full story…
Luton scaling back airport expansion plans, delaying 2nd terminal, to save £1 billion
Luton Airport, which is owned by Luton council, is planning to scale back its expansion plans in order to save perhaps £1 billion.  In 2019 the airport consulted on plans for a new terminal that would enable the annual number of passengers to be increased from 18 million to 21 million by 2039. There will now be a new consultation, later in 2021 or in 2022, for initially improvement of the existing terminal, and then eventually a second terminal, at some future date. The airport's finances have been seriously hit by Covid. The Council benefitted greatly from the airport (before Covid), in 2019 receiving a £19.1m, and £15.8m servicing debt. In 2020 the airport had huge public subsidy, and more will follow for 2021. Local campaigners will be looking very carefully at what might emerge from proposals for further passenger growth using the existing terminal. This might be by creative use of "permitted developments" which Luton Borough Council could approve on its own. If such growth could accommodate more than an additional 5 million passengers per year (taking Luton to 23Mppa) it would then become possible for the declared ambition to reach 32Mppa to be achievable without need for a DCO, as below the 10 Mppa threshold.
Click here to view full story…
In open letter to Ministers, campaigners say moratorium on UK airport expansion needed, due to policy vacuum on future aviation CO2 cap
In an open letter to ministers, Grant Shapps and Robert Jenrick, a large number of airport groups (15) say the government's aviation strategy is needed, now that the sector is included in the UK's binding climate targets. Currently there are expansion plans at 7 airports in England: Leeds Bradford, Luton, Bristol, Southampton, Heathrow, Stansted and Manston. Gatwick is also expected to submit plans soon, to make more use of its emergency runway.  The letter says the UK government must suspend all airport expansion plans until it sets out how they fit with its legally binding climate targets and the advice of its own experts, the Climate Change Committee.  The CCC said, in December 2020, that there should be no net expansion of UK airport capacity "unless the sector is on track to sufficiently outperform its net emissions".  Which it is unlikely to be, in the next 20 years.  The growth of the industry, that the expansions would permit, could not be accommodated with a stricter overall carbon cap. The campaigners say: "Until the government has consulted on its preferred strategy for net zero aviation, and published its policy, it is impossible to see how local authorities or the government could justify any given airport expansion as conforming to binding carbon budgets and targets."
Click here to view full story…
Stop Stansted Expansion chairman Peter Sanders reflects on two decades of campaigning against airport expansion
After 17 years of campaigning, 82-year-old Peter Sanders CBE is stepping down as Stop Stansted Expansion (SSE) chairman as the organisation begins a new era with a fresh name – Stansted Airport Watch (SAW). SSE was founded in 2002 in response to Government proposals which shocked the local community by setting out options for expanding Stansted with up to 3 additional runway – at the time the low cost airlines were getting going. Stansted could have become twice as big as Heathrow.  In its White Paper of 2003 the Government declared its support for an extra runway at Stansted, to be open by 2012 at the latest. After years of campaigning, in 2010, one of the first acts of the newly-formed coalition Government was to withdraw its support for a 2nd Stansted runway. It was, of course, too good to last for very long. The Airports Commission was set up, but in the end it did not even short-list Stansted for a second runway. It did say that if, in the 2040s, another runway was needed, Stansted could be one of the options. The Government accepted these recommendations. Meanwhile, the work for SAW continues, to contain the negative impacts of Stansted Airport.
Click here to view full story…
Amsterdam banning advertising for fossil fuel products (eg. flights) from the subway stations
Adverts for 'fossil fuel products', such as air travel and cars that run on fossil fuels, will no longer be seen in the subway stations in Amsterdam.  Amsterdam is the first city in the world that wants to keep fossil fuel advertising out of the streets. Never before has a city taken the decision to ban advertising solely on the basis of climate change. The agreement about advertisements in the metro stations is the municipality's first step towards making advertising in Amsterdam fossil-free. The Dutch campaign, Reclame Fossielvrij (Fossil Free Advertising), which strives for a nationwide ban in the Netherlands on advertising by the fossil fuel industry and advertising for polluting transport, congratulated Amsterdam and calls it an important step. Some other Dutch cities, The Hague, Utrecht and Nijmegen have said they were "open to a ban on fossil fuel advertising."  Motions have also been filed in Canada, England (we have the Badvertising campaign), Sweden and Finland.  Fossil Free Advertising strives for a nationwide 'tobacco-style law' for the fossil fuel industry, to change public attitudes – as happened with smoking.
Click here to view full story…
Unconvincing airline hype about large future use of so called "sustainable aviation fuels"
Airlines are falling over each other, to say how much "Sustainable Aviation Fuel" (SAF) they plan to use in future, and how this will greatly increase their carbon emissions. Ryanair says it will use 12.5% SAF by 2030; IAG says it will use 10% by 2030; easyJet says they will use SAF in the short term, but "we must avoid all resources being drawn into SAFs, which don't fully solve the problem."  According to the European Commission, SAF currently accounts for just 0.05% of jet fuel use in the EU, and without further regulation, the share is expected to reach just 2.8% by 2050. There is disagreement between low cost, short haul airlines and those flying longer routes, about whether SAF fuel quotas should apply to all flights, not only short haul. Long-haul air services departing European airports accounted for 48% of CO2 emissions from all operations in 2019, while making up just 6% of flights, according to Eurocontrol data.  It is unclear what all this SAF is going to be made from. One of the very few fuels thought to genuinely be low carbon, up to now, has been used cooking oil. But it has been revealed that there is considerable fraud, with virgin palm oil (causing deforestation) being passed off as used.
Click here to view full story…
Study shows carbon offsets, by forest protection, used by major airlines are based on flawed system
An investigation by the Guardian and Greenpeace's Unearthed has found that the forest protection carbon offsetting market used by major airlines for claims of carbon-neutral flying faces a significant credibility problem, with experts warning the system is not fit for purpose.  Air passengers can buy offsets that, allegedly, help prevent the emission of a quantity of carbon, so they can claim their flight was "carbon neutral".  The theory is that money is needed for projects to keep intact areas of forest healthy, and prevent deforestation. That depends on knowing how much forest there was, how much would have been destroyed unless the offset money had been paid, and how much has been saved in good condition. In practice, that is not easy to calculate. The study found there is often considerable over-counting, with schemes saying there would have been far higher rates of deforestation than were likely. And some of the areas that remained forested did so for other reasons – like government policy – not the offset money. If forestry offsets are to be used, it is vital that the methodologies they use to calculate the reduction in emissions – and additionality – are rigorous and accurate.
Click here to view full story…
In 2019 the CO2 emissions of British Airways were almost as high (18.4 MtCO2) as ALL the vans on UK roads
British Airways flights emitted almost as much CO2 in 2019 as all the vans on UK roads, according to data obtained by non-profit group Transport & Environment (T&E). It emits just under a third of all of the cars in the UK.  It was the 2nd highest-emitting airline in Europe before Covid, with 18.4 million tonnes (Mt) CO2 released in 2019, just short of the 19.4 Mt CO2 equivalent emitted by the UK's vans in 2018.  It ranks, by CO2 emissions, just behind Lufthansa, which emitted 19.1 MtCO2 in 2019, with Air France in third place at 14.4 MtCO2.  The overall climate impact of aviation CO2 is 2 to 3 times that of burning the same fuel at ground level – that is not included in the 18.4 MtCO2 figure. T&E and partners obtained the data using FoI requests to governments, which now haveto gather CO2 statistics from airlines as part of the UN's international offsetting scheme for aviation, Corsia. The data has not been made public before. In the UK, about 15% of people take 70% of flights. Accordingly, a large part of the emissions by BA will be by people – those richer than average – who fly often.
Click here to view full story…
Climate Change Committee professor says demand for flights will need to be cut, eg. by taxing frequent fliers more
Professor Piers Forster, a climate scientist and a member of the Climate Change Committee, who has taken a keen interest in the problem of aviation carbon emissions, has said that the government is likely to have to bring in a tax on frequent fliers and a ban on airport expansion if it is to meet its new climate targets – a 78% cut of carbon emissions on the 1990 levels – for 2035. This new, stricter, target will "squeeze" the amount of emissions the rest of the economy can emit over the coming decades. Prof Forster said: "By including [international shipping and aviation] within the target it actually reduces the allowable emissions that are there for the rest of the economy. So all the rest of the economy gets squeezed quite significantly."  It will be decades ahead, if ever, that flying could be low carbon. In the interim, Professor Forster said the government will need to bring in measures to reduce the amount of flights taken in and out of the UK. Frequent flyers should be deterred, while in the short term, there may be enough carbon budget for the occasional leisure flight.
Click here to view full story…
CAA rules that Heathrow can only raise £300m out of £2.6bn through higher charges, plus another £500 m
Heathrow's bid to increase airport charges to recover £2.6 billion lost during the coronavirus pandemic has been rejected by the aviation regulator, the CAA – which said its expenditure had been "disproportionate and not in the interests of consumers". The CAA is allowing Heathrow to initially raise only an additional £300 million through higher charges, out of the £2.6 billion it asked for. "The CAA has agreed to a limited, early adjustment to HAL's RAB of £300m and will consider this issue further as part of the next price control (H7)" which starts on 1st January 2022. The CAA has agreed to allow Heathrow to raise charges to recover the £500 million "it incurred efficiently" on its plans for a 3rd runway, between 2017 and 1st March 2020. Heathrow said it faces loses of around £3 billion due to the Covid pandemic.  IAG, which owns British Airways, the largest airline at Heathrow, said it is "extremely disappointed" with the CAA decision, which means more expensive tickets for its consumers from 2022. Heathrow wants concessions by the CAA, though its shareholders have earned nearly £4 billion in dividends in recent years. 
Click here to view full story…
Good Law project, Dale Vince and George Monbiot start legal proceedings to force Government to suspend & review ANPS
In just months, a Government policy – the Airports National Policy Statement (ANPS) – that pre-dates the Net Zero commitments in the Climate Change Act. could form the basis for a decision to expand Manston Airport in Kent.  Government has refused to say whether a decision on Heathrow expansion will be made under the ANPS but, with an application for a development consent order (DCO) on Manston imminent, the Good Law project hopes it can force its hand – on Manston and on Heathrow. The ANPS is inconsistent with government commitment to tackle the climate crisis. Though the Supreme Court, in December 2020, ruled that the ANPS was legal, it is necessary for the government to suspend and review it. Now the Good Law project, with Dale Vince and George Monbiot, have issued a pre-action protocol letter to the government legal department, asking for the ANPS to be suspended and reviewed. Not only would proper updating of the ANPS prevent expansion of Manston and Heathrow, it would do the same for others in the pipeline – Southampton, Leeds Bradford, Bristol, Stansted and Gatwick. Now government has agreed to include international aviation in carbon budgets, and a 78% cut in UK CO2 emissions by 2035, there is even greater urgency for correct UK aviation policy.
Click here to view full story…
Heathrow's 3rd runway plans are 'dead', say campaigners, as government tightens UK CO2 targets
Plans for a 3rd runway at Heathrow have been struck a massive blow by the government's new emission targets.  The government announced the new climate change target on April 20th, with an aim to cut carbon dioxide equivalent emissions by 78% by 2035 when compared to 1990 levels. For the first time, the Sixth Carbon Budget, covering the period 2033 to 2037, will include international aviation emissions (and also shipping emissions). Previously these had just been "taken account of" in setting the budget. The total emissions cap for the 2033-37 period is set at 965 MtCO2, which is far lower than the cap for the 5th carbon budget.  Heathrow vies with Drax power station to be the UK's largest source of CO2, emitting (in 2019) about 19 – 20 MtCO2 per year. That is around 52 – 55% of total UK aviation emissions (37Mt CO2 in 2019). A 3rd runway, adding another 7 MtCO2 or more per year, would mean that – in order to meet the new legally binding targets – most other UK airports would be required to close. Paul McGuinness, chair of the No 3rd Runway Coalition, said: "Heathrow expansion is dead. It is simply not compatible with the UK government's commitment to do our part in protecting the climate."
Click here to view full story…
Government inclusion of aviation into carbon budgets heralds the beginning of the end for fossil-fuelled aviation
The UK is to become the first major economy to extend its legal 'net zero' emissions commitment to departing international flights, including international aviation and shipping in the Sixth Carbon Budget.  AEF Deputy Director Cait Hewitt said: "This should mark the beginning of the end for fossil-fuelled aviation. After many years of slipping the net when it comes to climate change, and expecting special privileges, airlines will now need to start planning for a very different future.  Including international aviation in UK climate law gives a strong message from ministers that all sectors of the UK economy need to be on the same path towards net zero emissions. Now the Government will need to make sure that's delivered."  The Government is expected to consult next month on what measures it plans to introduce to put aviation onto a path of cutting CO2. Options it will need to consider include the setting of annual emissions targets for airlines; a review of policy on airport expansions; and new financial measures to limit flying demand such as an air miles tax. So far, the aviation industry has primarily focused on carbon offsetting as a way to attempt to negate carbon emissions – and aspirations for low carbon flight … many years into the future.
Click here to view full story…
UK to include international aviation and shipping in carbon budgets, and aim for overall UK 78% CO2 cut by 2050
In December 2020 the Climate Change Committee (CCC) published its guidance for the UK government on its Sixth Carbon Budget, for the period 2033 – 37, and how to reach net-zero by 2050.  That included the recommendation on aviation that there should be no net airport expansion, and that international aviation and shipping (IAS) should be fully included in the carbon budgets.  Now the government has accepted many of their recommendations, including that the UK should cut carbon emissions by 78% by 2035. This is 15 years earlier than had been the original goal.  The CCC recommended  that IAS should be properly within carbon budgets; also that the target for aviation, instead of being allowed to emit 37.5MtCO2 per year by 2050, should be reduced to 23MtCO2 by 2050, following the BNZ (balanced net zero) pathway. There is no commitment yet by government to insist on that reduction.  It would mean a large amount of UK engineered greenhouse gas removals by 2050 having to be assigned to making the aviation sector net-zero.  People would have to pay for the carbon they emit being removed, rather than just "fly-tipped into the atmosphere", which would make flying more expensive. Ways (taxation?) will be needed to make that fair.
Click here to view full story…
Campaigners call for temporarily moratorium on airport expansion until there is new UK policy on aviation carbon
There is currently no UK government policy on aviation carbon emissions, or airport expansion policy across the country. While the Committee on Climate Change says there should be no NET increase in airport capacity, it is unclear how this is to work. Meanwhile many airports are trying to push through expansion plans, to get them approved by local authorities as soon as possible. In the absence of proper UK policy, local decision are just being made by local councils, with no over-arching big picture logic.  The Aviation Environment Federation (AEF) is asking for a temporary moratorium on airport expansion plan decisions. Cait Hewitt of AEF said local airport applications show "the climate impact of airport expansion is not something that can be easily determined at a local level. The government really needs to get its act together in terms of setting out how the aviation sector in the UK is going to play its part in delivering net zero … We would support a moratorium on airport expansions until the government has figured out what its policy is on aviation and net zero."  AEF research showed that if all expansion plans put forward by UK airports were to proceed, it would cause an additional 9 MtCO2 to be emitted each year by 2050.
Click here to view full story…
French lawmakers in the National Assembly approve a ban on domestic flights, where train takes under 2hrs 30mins
In a recent vote, the French National Assembly voted to abolish domestic flights by any airline on routes than can be covered by train in under two-and-a-half hours, as the government seeks to lower carbon emissions – even while the airline industry has been hit by the pandemic. A citizens' climate forum established by Macron to help form climate policy had called for the scrapping of flights on routes where the train journey is below 4 hours, (or others say 6 hours). The bill goes to the Senate before a third and final vote in the lower house, where Macron's ruling party and allies dominate. The measure is part of a broader climate bill that aims to cut French carbon emissions by 40% in 2030 from 1990 levels, though activists accuse President Emmanuel Macron of watering down earlier promises in the draft legislation.  However, the French government will contribute to a €4 billion ($4.76 billion) recapitalisation of Air France, more than doubling its stake in the airline, to keep it going during the Covid crisis. The Industry Minister said there was no contradiction between the bailout and the climate bill (sic) and despite carbon targets, companies had to be supported.  McKinsey analysts forecast that air traffic may not return to 2019 levels before 2024.
Click here to view full story…
YouGov poll shows 45% of business travellers (in 7 European countries) planning to cut future flights
A YouGov poll surveyed business travellers in 7 European countries including the UK, in December 2020 and January 2021. It found overall 45% said they would be flying less often in future – when Covid restrictions end – and 38% said their air travel would be about the same as before. The reduction would be because of videoconferencing. The reduction in the need to take business flights and travel abroad had been seen as positive by 20% of business flyers, and it had not negatively affected their work life or productivity. Business fliers tend to fly far more often than most holidaymakers, with 10% of those in the poll taking more than 10 flights in the year up to the first lockdown in March 2020.  Business passengers provide a huge part of legacy airline income, so without them, the price of air tickets would have to rise. Carbon emissions from aviation were growing at 5.7% a year before the pandemic, despite many countries committing to cut all emissions to net zero by 2050 to tackle the climate crisis. Green campaigners argue that the aviation shutdown provides an opportunity to put the sector on a sustainable trajectory.  The poll was commissioned by the European Climate Foundation.
Click here to view full story…
Southampton Airport runway extension plans approved by Eastleigh Council
Eastleigh Borough Council has voted (finally at 2.15am!) to agree to allow Southampton Airport to extend its runway by 164 metres. This will lead to larger planes using the airport, and thus flights to more distant destinations, more passengers and higher carbon emissions. 22 councillors voted in favour of the proposals; 13 councillors voted against the plans and 1 abstained. This followed 19 hours of debate. Opponents have fought against the plans not only due to the carbon emissions, but also the extra noise for surrounding areas, and air pollution.  The standard justification for these expansions are local economic benefit, and more jobs – even though the net impact is to encourage more local people to fly abroad on holiday, spending their holiday money there.  It is likely that the number of people affected by noise would go from 11,450 in 2020 to 46,050 in 2033, if the expansion happens.  Officers hoped that increased home noise insulation would help, but that has no impact if windows are open, or when outdoors. There are claims of "1,000 new jobs" – based on experience at other airports, that is very unlikely indeed. The CCC advice is that there should be no net airport expansion; so if one expands, another should contract.  Likely?
Click here to view full story…
Climate campaigners call for halt to regional UK airports expansion, to avoid aviation CO2 growth
The Aviation Environment Federation says the UK government must intervene to stop the planned expansion of a number of small airports around the country if it is to meet legally binding environmental targets and avoid the worst impacts of the climate crisis. Seven regional airports have devised plans to expand their operations, despite fierce opposition from climate scientists and local people, who argue the proposals are incompatible with UK efforts to address the climate and ecological crisis.  The decision on whether to allow a new terminal at Leeds Bradford has been delayed. The AEF says the government must go further and intervene to halt the other schemes which, taken together, would release huge amounts of greenhouse gases into the atmosphere. The expansions are against the recommendations fo the government's climate advisors, the Committee on Climate Change, who say there should be no net airport expansion.  ie. if one expands, another has to contract (there are no volunteers).  The time is well overdue for government take a proper strategic overview of the climate impact of airport expansion proposals rather than leave it up to individual local authorities. There needs to be proper policy for aviation carbon, which is sadly lacking.
Click here to view full story…
UK government criticised by prominent scientists and lawyers, for ignoring Paris climate goals in infrastructure decisions
Prominent scientists and lawyers (including Jim Hansen, Sir David King and Prof Jeffrey Sachs) have written to the Supreme Court and ministers, to say the UK government's decision to ignore the Paris climate agreement when deciding on major infrastructure projects undermines its presidency of UN climate talks this year.  The Heathrow case is a key example, when a 3rd runway was approved in principle by government (2019) and the Supreme Court finally ruled in December 2020 that the government had not needed to take the Paris climate goals into account. The UK is due to host the Cop26 summit in Glasgow in November, regarded as one of the last chances to put the world on track to meet the Paris goals.  It is dangerous for the highest court in the land to set a bad precedent. The letter, signed by over 130 scientists, legal and environmental experts, says that the Supreme Court "set a precedent that major national projects can proceed even where they are inconsistent with maintaining the temperature limit on which our collective survival depends." And "Indeed, the precedent goes further still. It says that the government is not bound even to consider the goals of an agreement that is near universally agreed."
Click here to view full story…
Plans for expansion of Leeds Bradford airport put on hold – after government direction – giving time for a decision to "call in"
The government has issued a direction to Leeds City Council, preventing councillors from granting planning permission for Leeds Bradford Airport (LBA) expansion, without special authorisation. This means the expansion of LBA is now on hold.  The direction preventing councillors from granting planning permission – set out in section 31 of the Town and Country Planning (Development Management Procedure) (England) Order 2015 – will give further time to Robert Jenrick, the Communities Secretary, (MHCLG) to consider whether to formally "call in" the planning application for a public inquiry. The plans to build a new terminal building on the green belt had been given conditional approval by Leeds City Council in February, despite widespread opposition from local MPs, residents and environmental groups. Campaigners argued the expansion would make a mockery of efforts to tackle the climate crisis and undermine the government's credibility ahead of a key climate conference later this year. The issue is of more than local importance, and a full public inquiry – chaired by a planning inspector, or lawyer – would mean all the evidence being properly considered. The inquiry would then make its recommendation to Robert Jenrick, to make the final decision.
Click here to view full story…
Treasury consulting on a Frequent Flyer Levy to tax aviation (Treasury not keen on it)
The Treasury has a  consultation (ending 15th June) on several aspects of the taxation of aviation. The first section was on domestic APD (Air Passenger Duty); the second part is on changes to the international APD bands  and also on a Frequent Flyer Levy (FFL). The Treasury document says:  "The Committee on Climate Change and several environmental stakeholders have suggested that the government should introduce a frequent flyer levy, in order to tackle the environmental impacts of flying in an equitable way. … A frequent flyer levy would seek to constrain overall demand for flights, by increasing the amount of tax liability due, according to the number of flights a passenger had previously taken. Unlike APD, the tax would be levied on the individual, rather than the airline."  It stresses the various difficulties in administering the tax (a great deal of data to be collected, people with multiple passports, people who need to fly often…) It makes out that people who fly a lot already pay more APD, ignoring the key point of the FFL that the tax ramps up for each flight, so the 5th or 10th flight in one year costs a great deal more, than the standard APD rate on each. It concludes: "The government is therefore minded to retain APD as the principal tax on the aviation sector and not introduce a frequent flyer levy as a replacement, and welcomes views on this position."
Click here to view full story…
Southend Airport to pay out £86k due to runway extension noise, under the Land Compensation Act
A court has ordered that Southend Airport should pay a total of £86,500 in compensation to owners of 9 neighbouring homes who say their values were diminished by noise, following the extension of the runway in 2012.  In its ruling, the Upper Tribunal's Lands Chamber ordered that payments ranging from £4,000 to £17,000 be made in respect of the 9 homes, while a claim for a 10th property was dismissed. The claims for compensation are under the Land Compensation Act 1973. There is more noise, as larger planes land and take off from the airport.  The longer runway enabling the airport to "attract low-cost commercial airlines operating much larger aircraft than had previously flown from it". The Tribunal agreed that the extra noise had meant depreciation in the value of most of the lead properties.  In 2013, the value of the lead properties ranged from £150,000 to £280,000, and the claimants sought compensation of between £32,200 and £60,100.  The Land Compensation Act says it applies to cases where there have been alterations to runways or aprons.  ie. something physical has been built (not buildings).
Click here to view full story…
A few frequent flyers 'dominate air travel' (so dominating aviation CO2 emissions) – in all richer countries
Research for the climate campaign group, Possible, shows that a small minority of frequent flyers dominate air travel in almost all countries with high aviation CO2 emissions.  In the UK, 70% of flights are made by a wealthier 15% of the population, with 57% not flying abroad at all, in any one year. The Possible research suggests the frequent flyer trend is mirrored in other wealthy countries.   USA: 12% of people take 66% of flights.  France: 2% of people take 50% of flights. Canada: 22% of the population takes 73% of flights.  The Netherlands: 8% of people takes 42% of flights.  China: 5% of households takes 40% of flights.  India: 1% of households takes 45% of flights.  Indonesia: 3% of households takes 56% of flights. There are calls for a frequent flyer levy – a tax that increases the more you fly each year.  John Sauven, executive director of Greenpeace: "Taxing frequent fliers is a good idea – but we also have to do something about air miles, which reward frequent fliers for flying more frequently. This is obscene during a climate crisis – and it should be stopped." The Treasury take the line that "Frequent flyers already pay more under the current APD (Air Passenger Duty) system" but that misses the point. They pay the same rate of APD on each flight, the first, the fifth or the tenth that year. A tax that ramped up on each successive flight would be a greater deterrent to frequent flying.
Click here to view full story…
Letter to Jenrick from nearly 80 organisations and groups urges Leeds Bradford Airport decision be 'called in'
Nearly 80 West Yorkshire community groups, environmental organisations and councillors from all parties have urged the decision on Leeds Bradford Airport (LBA) to be 'called in'. Signatories of the letter to Robert Jenrick, Secretary of State for Housing, Communities and Local Government, include Bradford councillors, Shipley Constituency Labour Party, Thornton, Allerton and Sandy Lane Branch Labour Party, Keighley and Ilkley Green Party, Bradford Green Party, Clean Air Bradford, Bradford Green New Deal, Baildon and Shipley Friends of the Earth, Extinction Rebellion Bradford, Shipley Town Council and more. The Group for Action on Leeds Bradford Airport (GALBA) has asked the Secretary of State to hold a public inquiry because they say "there are significant effects beyond LBA's immediate locality and there is substantial cross-boundary and national controversy; these issues have not been adequately addressed by Leeds City Council; and airport expansion conflicts with national policies on important matters". The UK needs a proper national policy on airports, airport expansion, and carbon emissions. The CCC has said there must be no net airport growth, but many airports plan to expand – none plan to contract.
Click here to view full story…
New airline CO2 data: Lufthansa, BA, Air France were Europe's most polluting airlines pre-Covid
Official data, obtained by Transport & Environment, and Carbon Market Watch, shows 3 of the biggest recipients of airline bailouts – Lufthansa, British Airways and Air France – were the 3 biggest European airline carbon emitters before Covid grounded flights. Those 3 airlines got a third or airline bailout money.  It is the first time ever that the total emissions of European airlines have been disclosed, including flights entering and leaving the EU – not only within it. This has exposed airlines which previously emitted most of their CO2 by long-haul flights.  Currently only the carbon emitted on intra-EU flights is included in the ETS (Emissions Trading System for the EU). The non-EU flights made up 77% of the emissions by Lufthansa; 86% for British Airways; and 83% for Air France.  In 2019 Lufthansa emitted 19.11 MtCO2 (bailout about €6,840 million); BA emitted 18.38 MtCO2 (€2,553 million); Air France emitted 14.39 MtCO2 (€7000 + ? €300 bailout); Ryanair 12.28 MtCO2 (€670 million bailout); EasyJet 4.84 MtCO2 (€2,240 bailout).  And many more airlines … Ryanair remains the No 1 emitter on flights within Europe.  There is no data for Alitalia, as the government would not send data. The UN's ineffective and deeply flawed CORSIA scheme is meant to be a disincentive to airlines increasing their carbon emissions, but it will not have any significant impact.
Click here to view full story…
Government First-Tier Tribunal to hear Heathrow appeal against having to disclose environmental information
Heathrow is trying to overturn a ruling in February 2020 that it must disclose environmental information. The Information Commissioner's decision that Heathrow counts as a public authority and must disclose the information will be subject to an appeal next week. The ruling last year followed a similar one concerning energy producers and suppliers, extending a duty that the water industry has been subject to since 2015. They all resulted from the ambiguity of the Environmental Information Regulations 2004, which states that any organisation that "that carries out functions of public administration", or has public responsibilities, functions or provides services related to the environment, is subject to the law. Heathrow does not want to have to answer demands for information about planning applications, aircraft noise or environmental impacts of the airport. The appeal comes as the Good Law Project, which is pursuing a legal challenge against government policy approving the third runway, said that it was making "a focussed request for documents and communications between Heathrow Airport and the DfT, for a Development Consent Order, for a 3rd runway.
Click here to view full story…
Treasury consulting on APD distance bands change; perhaps to 3 or 4 (just 2 now)
The Treasury has a current consultation on "Aviation Tax Reform."  Part of it is whether the level of Air Passenger Duty (APD) on domestic flights should be changed. Currently a passenger on a return domestic flight pays £13 x2 = £26, as they leave a UK airport twice. The cost is only £13 for a return flight to a European (under 2,000 miles) destination. They are also consulting about whether there should be more bands for APD for longer journeys. The government is aware that air travellers should pay more, if they fly further and thus cause the emission of more carbon.  In 2008 it was decided there would be 4 distance bands with increasing APD costs; under 2,000 miles; 2,000 – 4,000; 4,000 to 6,000; and over 6,000. But in 2014 this was changed to just two bands, under and over 2,000 miles. The consultation asks if the bands should be changed; if they should revert to the 4 levels there were between 2008 and 2014; or if there should be a new system, with three bands. These would be under 2,000 miles; between 2,000 and 5,500 miles; and over 5,500 miles. There were some potential technical difficulties with very large countries – eg. the US or Russia – so only considering the capital city, to categorise the country, can be unfair. Consultation closes 15th June 2021.
Click here to view full story…
Virtual tourism – the expanding new (zero carbon) way to see the world
Pre-pandemic there wasn't a lot of virtual travel. The technique was often used to market holidays, to show the customer what they would see and do on their trip. But with Covid, there is renewed interest in virtual tourism and virtual travel. Not only can we look at Google maps street-view, and see for ourselves what a place looks like. There are increasing numbers of companies providing, and selling, virtual travel. Due to Covid, people cannot travel physically. Many are frustrated at being so confined and long to see other places. Some have lost jobs and no longer have the money to travel physically.  So being able to see cities, amazing scenery, the seaside, cultural sites and so on is really welcome.  Virtual tourism has been found to be beneficial for people who, for health reasons, cannot travel; it is a very positive experience in care homes.  There are virtual tours, getting ever better and more sophisticated, of museums. There are online painting trips, showing the scenery that can be painted. There are virtual safaris.  If people are prepared to pay a little for the virtual experience, it helps the destination.  And there are almost no carbon emissions from travel, or negative tourism impacts on the destination.  Virtual tourism should have a great future.
Click here to view full story…
How airlines make huge profits by monetising frequent flyer programmes
Frequent Flyer programmes are a really pernicious way for airlines to get people, who already fly a great deal, to fly even more. They are also a nice money-earner for the airlines.  Some US airlines are probably dependent on them. Their mileage programmes are often worth many billions of dollars. Airline mileage programmes have 2 main sources of revenue: the airline itself and third parties. One of the key ways the schemes work in by partnerships with banks. However, airlines are generally tight-lipped about just how valuable these partnerships are. There is partly the cost of future travel, and airlines do not want customers  to fly with another airline. They also do not really want customers to redeem their points, unless they then earn some more.  The airlines make a lot of money selling point to other organisations and companies, including American Express. Airlines love it when you earn a credit card welcome bonus or otherwise earn miles through credit cards. In order to give you those miles, the bank needs to buy more miles from the airline. When it does, the airline receives an influx of cash—which is especially needed right now. Also, the airline is able to record at least some of that mileage sale as an immediate profit.  And there is more …
Click here to view full story…
DfT spending £5.5 million on airspace change, to "drive improvements to UK's 'motorways in the sky'"
There is much talk, in the DfT and the CAA about "modernising airspace". The main aim is to make it easier for more aircraft to use UK airspace safely. It means more planes flying along exactly the same route – which the DfT refers to as "motorways in the sky."  The industry would also like to get the amount of noise nuisance from aviation to be as low as is possible with ever more planes. There has never been any satisfactory solution to whether to fly most planes over fewer routes (concentrated routes) or to fly planes on more routes. So the choice is affecting a smaller number of people very severely, or a larger number less badly.  There has never been decision on the alternatives. The concept of "respite" is popular with some – so more planes fly a certain route part of the time, giving those under another route some rest from the noise – then switching the two. Now the DfT has announced it is spending £5.5 million will (in the greenwash) "support airports to develop and evaluate design options aimed at making journeys quicker, quieter and cleaner."  It will "deliver for all the UK."  And help the sector to "build back better." ... The main aim is to fit in more flights, and ensure planes do not stack on their arrival at an airport.
Click here to view full story…
Report for the European Commission shows the CORSIA carbon scheme inadequate – EU ETS more effective in cutting CO2
The aviation industry's carbon offsetting system (Corsia) risks being ineffective and poorly enforced.  A report commissioned by the European Commission (EC) is highly critical of Corsia, which it says may do almost nothing to reduce international aviation emissions. The EC is expected to propose in June how aviation industry emissions should be mitigated, including whether to include international flights in the EU Emissions Trading Scheme (ETS) – currently only those within the European Economic Area are included. The ETS has its faults, but would be hugely more effective in cutting European aviation carbon.  A key problem with Corsia, apart from it being voluntary, is the use of cheap, ineffective carbon credits. Currently the price of Corsia-eligible offsets is under $2.50 per tonne. The ETS price is up to $43. Many of the credits are dubious, with inadequate certification or quality control of offsets. The rationale of just allowing airlines to compensate for their emissions, rather than encourage reductions, is misguided. The report concludes that the most effective way to cut EU aviation carbon would be to use the ETS, not Corsia, and include all international flights. The UK is considering how to do its own ETS, including aviation.
Click here to view full story…
Concerns that in the US airlines got too much Covid taxpayer support, which greatly benefited shareholders
In the US, there were taxpayer-funded bailouts to many airlines, with a total of around $50 billion.  It is unlikely that so much money was necessary and taxpayers over-paid.  Probably the money helped save some 75,000 jobs, but with the cost of each about $300,000. The money kept the airlines from filing for bankruptcy, and ready to re-start flying.  The money was not only, as claimed, to save jobs.  In practice airline shareholders have been the biggest beneficiaries. That includes airline executives, many of whom have been paid in stock for years and stood to lose millions of dollars if their holdings were wiped out. Some had, in the past, boosted their companies' share prices by regularly buying back tens of billions in shares. That meant setting aside less money for a rainy day (eg. a pandemic). Now, the shared of United airlines, traded below $20 in May, are now above $60. The patterns are similar for the other major carriers. "It is fair to say that we socialized the airline industry's losses and largely privatized the gains." The airlines managed to persuade government (unjustifiably) that they were more indispensable that other struggling sectors, and they were vital once Covid was under control.
Click here to view full story…
Hydrogen very unlikely to be used in long-haul planes; huge problems even for short-haul
There is a lot of hype around about planes eventually being fuelled by hydrogen. This is dangerous, because it gives the false impression that a solution to aviation CO2 is just around the corner, and no measures need to be taken to reduce demand. There are immense problems of using hydrogen in aircraft. Liquid hydrogen, which is easier to store onboard than gas, has to be kept at -253C or it boils off. The tanks to contain it are not only heavier but x4 the size of conventional fuel storage. This imposes constraints on range and capacity for airlines.  It might be necessary to remove 25% of the passengers from a conventional single-aisle aircraft to fit in fuel tanks.  If it proves possible, in a decade or more, to use hydrogen, its use would be confined to short-haul, and could not be used on long-haul, which produce the most CO2 (+ non-CO2 impact). Flights of over 1,500km account for roughly 80% of the sector's carbon emissions, according to the industry's ATAG.  Even for the shorter-range aircraft, hydrogen's deployment would require huge costs for new infrastructure, transport and storage. Airlines could face increased operational complexities and higher costs from mixed fleets. And burning hydrogen generates water vapour, which adds to aviation's non-CO2 climate impact.
Click here to view full story…
Stansted Public Inquiry – MAG challenging Uttlesford's refusal – has ended. Inspectors' decision by June?
The Stansted Airport Public Inquiry to consider plans for further airport expansion (from 35 to 43 mppa) came to a close on Friday 12 March after 8 weeks of evidence hearings and cross-examinations.  QCs for the 3 main parties – Manchester Airports Group (MAG), Uttlesford District Council (UDC) and Stop Stansted Expansion (SSE) – presented their closing submissions at the end of last week.  It will now be for the Panel of 3 Inspectors to decide whether to approve the airport expansion proposals.  A decision is expected in around 3 months (June?).  UDC's Planning Committee had voted 10-0 to refuse permission, though officers had recommended acceptance. SSE says the Inquiry might not have been necessary if UDC had supported SSE's call, 3 years ago, for the Secretary of State for Transport to deal with the Stansted Airport Planning Application nationally.  Instead, UDC insisted on dealing with the application itself, despite its limited resources and expertise in this area.  During the inquiry, most of the legal attack by MAG was against the detailed evidence produced by SSE, as UDC did not present much.
Click here to view full story…
People overflown by Heathrow dreading the resumption of increased plane noise, when flight restrictions are eased
While for many people lockdown has been a really difficult and isolating time, for those living under the Heathrow flight paths it's given them the respite from noise that they have really wanted and needed. One resident in Windsor said: "The worst thing for me is the night flights. I worked in a pressurised full time job and we had done as much insulation as possible. But when you wake up at 4.30am  – when the first arrivals start – you start thinking about work and you can't get back to sleep and it almost drove me round the bend. For your mental health the night flights are an absolute nightmare." The problem can be worse in summer, in warm weather, when people want the window open – the noise is then far worse, and people get woken up. One resident said, about the prospect of high numbers of planes returning, when restrictions on air travel are lifted: "I am absolutely dreading it, in fact I am thinking about moving away which is a shame because I love this area and I love where I live." The campaign group No 3rd Runway Coalition ran a noise survey during lockdown which received 3,419 responses. It showed a high number noticed a beneficial impact on their sleep, from fewer planes.
Click here to view full story…
Government advised to halve domestic APD and review distance bands for the tax
Boris Johnson is set to authorise a 50% cut in APD for domestic flights. Senior Whitehall sources say he will announce a review of the tax, which is the only tax on air tickets (on which no tax or VAT is paid). Currently APD is charged at £13 for any adult leaving a UK airport, so that is the cost for any return flight to anywhere in Europe.  For domestic flights (for which there is usually a rail alternative) the tax is £26, so it is charged on leaving both airports. The review will also look at the case for increasing the number of international distance bands. Since 2015, there have only been two bands, one covering flights of up to 2,000 miles and the other those in excess of that. The plans to change APD will be put to a consultation, so it is unlikely to be introduced until 2022. The recommendations are part of a wider Union Connectivity Review by Sir Peter Hendy, the chairman of Network Rail, to be published on 10th March, proposing a new "UK Strategic Transport Network" to oversee British transport priorities. Critics say the 50% domestic APD cut — coming just days after fuel duty was frozen for the 10th consecutive year —  and rail fare rises, further undermine ministers' commitment to cutting carbon a target of net-zero carbon by 2050. Doug Parr, chief scientist for Greenpeace UK, said this would "continue our nonsensical trend of the higher the carbon, the lower the tax."
Click here to view full story…
Changed future for air travel with likely 20 -30% (or more) fall in business passengers
For airlines other than low-cost, business passengers – paying hugely more than those in economy class – have been vital for revenues. Business travel may have generated over 75% of airlines' revenue on some international flights. Due to the huge rise in Zoom and other internet calls, due to the pandemic, there is very likely to be a fall in business air travel. Nobody knows how large this fall could be – perhaps 30% or more. Without the large income from premium business travellers, ticket prices would rise overall.  Economy passengers would have to pay more. That could mean a reduction in the size of airlines.  The growth in business travel had been slowing globally, according to the Global Business Travel Association.  In the UK, the fourth-biggest economy in terms of business travel expenditure, for example, data from the Office for National Statistics shows that while international air travel for leisure increased 3.4% per year between 2000 and 2019, international business travel grew just 0.2% annually.  Companies have been hit by Covid.  One survey indicated m any will reduce discretionary spending such as travel even further in 2021.
Click here to view full story…
20 years after Manchester's 2nd runway, the forecast jobs did not materialise – about 1/3 less than forecast
In 1997 there were lengthy, determined protests – for around 6 months – involving tunnels and tree houses, to stop the building of a 2nd runway at Manchester airport.  In the end the bailiffs the protesters (including Swampy) were removed and the runway finally opened on February 5, 2001. This is an account of the protests.  The runway was meant to increase the number of passengers at the airport from just below 15 million per year to 30m by 2005. In reality, in 2010 there were 17.7m and only by 2019 there were 29.4m. That was WAY below the forecasts. The runway was meant to create 50,000 jobs in the longer term, to add to around 45,000 – 55,000 jobs associated with the airport in 1997.  The government inspector then ruled that even if the passenger and job forecasts were wrong, the impact on the region's economy 'would be huge'. In 2019 (just before the pandemic) the airport employed 3,500 workers directly and a further 19,300 indirectly  – while the total number of jobs said to be supported by the airport was 45,000. All that comes – in 2019 – to about 68,000 jobs, some 30,000 fewer than had been envisaged prior to Runway 2. This is just another airport in which the predictions of thousands of jobs did not materialise.
Click here to view full story…
Greenpeace France "greenwash" an AirFrance plane at Charles de Gaulle airport
Greenpeace France activists got onto the tarmac at Paris Roissy-Charles de Gaulle airport to denounce the government's greenwashing of aviation. They painted the side of an AirFrance plane green – greenwashing it. They say we need to reduce air travel, in order to be compatible the Paris Agreement targets.  This comes a few days before the start of parliamentary debates on the "Climate and Resilience" bill. Greenpeace says airport expansion must be stopped – several French airports have such plans at present. They say now only should flights be replaced by rail journeys if the train time is under 2hours 30 minutes, but when the trip is under 6 hours.  Greenpeace is not against novel technologies, but they say these will not be enough to make a sufficient difference, in the necessary timescale. The proposed technical solutions are a risk, as they delay real action. They explain why biofuels, hydrogen planes, or electric planes are not going to cut aviation emissions any time soon, if ever.  Synthetic fuels made from surplus renewably generated electricity offer a small potential, but they will be expensive and only produced in small amounts. So air travel needs to be regulated and reduced.
Click here to view full story…
"The climate crisis can't be solved by 'net-zero' carbon accounting tricks" like offsets
We are all being encouraged to put our faith in pledges to become "net zero) by 2050, or some other date. Or "carbon neutral."  But that does not mean zero carbon. It just means every sector of every country in the world needs to be, on average, zero emissions. For some sectors, including air travel and some agricultural emissions, there is no prospect of getting to zero emissions in the near future.  Prof Simon Lewis explains why the current "net zero" claims often involve very dubious claims and practices: "the new politics swirling around net zero targets is rapidly becoming a confusing and dangerous mix of pragmatism, self-delusion and weapons-grade greenwash." What is needed is actual removal of carbon from the air. Not just hoping to stop some future emission.  But there is far too little land to plant enough trees to counter today's emissions, and large-scale hi-tech methods do not yet exist. He says: "Emitting carbon at the same time as building solar capability does not equal zero emissions overall. Offsetting needs to be used to remove CO2 from the atmosphere to counter difficult-to-remove emissions, and not just be an enabler of business-as-nearly-usual." Read the full, very important, article.
Click here to view full story…
Birmingham airport getting £32.5 million in loans from 4 of the 7 councils that half own it
Seven councils of the West Midlands own a 49% stake in Birmingham airport, a further 48.25% is owned by the Ontario Teachers' Pension Plan and the remaining 2.75% belongs to an employee trust.  The councils are putting in a lot of money, as loans, to the airport to keep it going. The total so far is about £32.8 million. The airport is getting £18.5 million from Birmingham City Council, plus  £4.9 million from Walsall Council, plus £3.7 million from Solihull Council, plus probably a £5.7 million emergency loan from Coventry City Council.  Coventry's cabinet will discuss a loan up to £5.7m on March 9th before approval at full council on March 16th. Earlier Sandwell and Wolverhampton councils confirmed they will not be offering loans to the airport but Dudley declined comment. Ontario Teachers' Pension Plan will also provide a loan.  The Coventry loan "would be made available as and when needed by the airport to ensure it can have the maximum impact on Covid recovery."  A Coventry cabinet member said the airport had "given us a return on income of over £1.6m in the last two years."
Click here to view full story…
Open letter from 246 University of Leeds academics, to Robert Jenrick, asking him to "call in" the Leeds Bradford decision
246 University of Leeds staff (including 46 professors and associate professors) ,and postgraduate researchers have signed an open letter, asking Robert Jenrick (Sec of State) to 'call in' the decision on Leeds Bradford Airport. The government should take responsibility for the decision, which is of national importance because of the increased carbon emissions and their impact on UK carbon commitments. The academics say expanding LBA's passenger numbers by 75% exceeds the maximum rate of growth that the Climate Change Committee considers compatible with the UK's legally adopted net-zero target. It would make it much more difficult – and more costly – for the UK to achieve its climate targets and would require reductions in passenger numbers elsewhere in the UK. "In the year that the UK is hosting the COP26 conference, it is vital that we show leadership on climate change and take the necessary actions to secure a safe, zero-carbon future. We therefore urge you [Robert Jenrick] to call in this application so that the issues highlighted are considered in light of national and international climate targets and associated guidance." The alleged economic benefits of the expansion, or jobs created, would be unlikely to materialise.
Click here to view full story…
Campaigners tell Heathrow to accept reality, and give up on plans for a 3rd runway
Campaigners say Heathrow should accept what is now financial reality and give up on its plans for a 3rd runway. Heathrow made a £2bn loss in 2020, and is asking for more government finance in the form of extending the furlough scheme – and also full relief from business rates. Heathrow's financial frailty is obvious; it has net debt of £15.2bn as of September 2020. It is now so highly geared with debt, that it has reached a leverage ratio of 97% — higher than any comparable UK infrastructure or utility operation.  In June last year the ratings agency, Standards & Poor's, put Heathrow on "credit watch with negative implications" — a 2nd credit downgrade in just 2 months. Then Heathrow sought waivers on covenants from holders of £1.1 billion of bonds. Any further downgrade would render these bonds junk, making the airport an extremely unattractive asset for investment. Its shareholders have not contributed more cash. John Holland-Kaye has told staff that the publicised "£3.2bn war chest" is merely the liquidity that can be mustered when "we have drawn down all the cash and credit facilities at our disposal".  ie. more future borrowing. With its precarious finances, it is no longer appropriate for Heathrow to be pursuing a 3rd runway.
Click here to view full story…
Heathrow adding a new £8.90 per passenger pandemic tax from April
Heathrow has added a new charge on all outbound flights from April.  It will charge £8.90 extra in what the airport is calling a United Kingdom Exceptional Regulatory Charge. It may only last for a year, and Heathrow says the CAA has approved it.  Other major UK airports have said they will not be implementing a similar fee. Paul McGuinness, chair of the No Third Runway Coalition, criticised the airport for adding on the extra charge. "Yes, aviation has dipped during the pandemic, but it's the shambolic financial management of Heathrow – the massive borrowing, the large dividends payments to its foreign owners and the total lack of reserves – that is forcing the airport's management into trying, by stealth, to raise these passenger tariffs."  A Heathrow spokesperson said: "Heathrow makes absolutely zero profit from these services [sic]. The price is calculated purely to cover the cost of operating and maintaining the infrastructure that supports them." Airlines say the reason for the increase is the amount it charges them for baggage handling, water, electricity and other services. It is possible the tiny extra charge will make some people choose another airport to fly from (but it is probably too low to do that).
Click here to view full story…
Gatwick made a £465.5m loss in 2020 as passenger numbers collapsed due to Covid
Gatwick Airport made a £465.5m loss in 2020 due to Covid.  While the airport remained open all of 2020, passenger numbers fell by 78% as lockdowns and travel restrictions took their toll.  All its revenue streams were affected and its loss before interest, tax, depreciation and amortisation (EBITDA) was £25.1m.  The airport cut over 40% of its workforce as a result of the travel slump.  The airport's CEO Stewart Wingate wants the government to provide further financial support by extending the furlough scheme and providing full business rates relief for airports for the current financial year, not just the £8 million on offer.  Gatwick said it reduced operating costs by £140m last year and deferred more than £380m from the investment originally planned for 2020 and 2021.  In April 2020 it got a £300m loan from a consortium of banks, and it has had £250m under the Bank of England's Covid Corporate Financing Facility.  It has been granted a waiver to address breaches in Financial Covenants at 31 December, 2020. In December it had liquidity of £573m to meet cashflow, investment levels and interest payments for this year.
Click here to view full story…
British Airways owner IAG hit made a record loss of – €7.4bn in 2020 (cf. +€2.6bn profit in 2019)
International Airlines Group, owner of BA, has reported a record annual operating loss of €7.4bn  (£6.4 billion) for 2020.  Its passenger capacity last year was only a third of 2019 and in the first quarter of this year is running at only a fifth of pre-Covid levels.  The loss included exceptional items relating to fuel and currency hedges, early fleet retirement and restructuring costs. The loss compares with a €2.6bn profit in 2019.  IAG is trying to cut its cost base and increase the proportion of variable costs to better match market demand.  IAG's passenger revenues fell 75% from €22.4bn to €5.5bn last year but its cargo business had "helped to make long-haul passenger flights viable" during the pandemic. Cargo revenues increased by almost €200m to €1.3bn and IAG also operated more than 4,000 cargo-only flights in 2020. It is not providing guidance on its finances for 2021. Airlines do seem to understand, at last, that for acceptable Covid safety of air travel, people need to be vaccinated or have proper proof they are not able to spread the virus.  IAG spent  €4.1bn in cash last year – almost €80m a week (£11.4 million per day). IAG's market value has halved to £9.6bn since the start of the pandemic.  When Covid is less of a threat,  low-cost carriers may emerge in stronger shape than airlines like BA.
Click here to view full story…
Open letter from NGOs to government: aviation and shipping must be fully included in UK net zero legislation (carbon budgets)
A group of leading environmental NGOs has written an open letter to the government in support of the Climate Change Committee's recommendation that international aviation and shipping emissions (IAS) should at last be formally included within the UK carbon budgets.  IAS are now the only emissions category not so included, resulting in a situation where aviation emissions are insufficiently controlled by policy and the industry is in a privileged position compared to all other businesses. In its 6th Carbon Budget recommendations published in December, the CCC identified reasons why IAS exclusion from the UK carbon budget can no longer be justified. These include their inclusion opening up the possibility of the two sectors achieving lower emissions; the UK's overall emissions reduction strategy should be integrated across the whole economy; doing this would set a good example to other countries; and there is no longer any justification, in terms of difficulty of calculation, for omitting them from carbon budgets. The CCC said inclusion of IAS will "ensure that the UK takes full responsibility for these emissions and that, where necessary, effort in other sectors can be altered to ensure overall UK emissions are within the necessary limits". 
Click here to view full story…
Heathrow makes £2bn loss in 2020 due to the pandemic – warning on continuing to be a "going concern"
Heathrow lost £2 billion in 2020 because of the fall in passenger numbers due to the Covid pandemic. The numbers are lower than for perhaps 50 years, and the airport is issuing a warning about its future.  Its pre-tax loss was £2.01bn for its full-year compared to a £546m profit in 2019.  Revenues fell 62% £1.18bn, with passenger were at 22.1 million, 73% less than in 2019.  This led the airport to issue a warning, that the "existence of a material uncertainty… could cast significant doubt upon the group and the company's ability to continue as a going concern". Nobody knows how much air travel will happen this year.  Heathrow desperately wants relief on all its business rates, an extended furlough scheme for its staff, and a revival of VAT-free airport shopping for tourists to the UK. John Holland-Kaye makes his usual statements about how vital Heathrow is to Britain … Since the start of the pandemic, the airport has cut operating costs by nearly £400m, reduced capital expenditure by £700m and raised £2.5bn in funding. And it says it ended 2020 with £3.9bn of liquidity, which it says is enough to last until April 2033 even if there is no recovery in passenger numbers. Which begs the question of why it needs more government support now.
Click here to view full story…
Tourism desperately wants a return to the 'old normal' but that would be a disaster
An Australian professor of sustainable tourism has said that it's time the global industry seriously reconsiders its business model, and overall purpose, in a post-pandemic world. Before COVID-19, international aviation emissions were forecast to potentially triple between 2015 and 2050. Likewise, emissions from the cruise ship industry were also growing.  The "mass global tourism is emblematic of this voracious, growth-at-all-costs mentality."  The UN now says it is the time to "rethink how the sector impacts our natural resources and ecosystems". But the sector is not looking to transform, and its plans to get people travelling again make little mention of environmental impact, in the short or long term.  The "aspirational" goal of IATA to improve global fuel efficiency by 2% each year until 2050 is, by its own admission "unlikely to deliver the level of reduction necessary to stabilize and then reduce aviation's absolute emissions contribution to climate change". Much could be done to reduce the impact of global tourism, including – as suggested by the UN Sustainable Development Group:  a frequent flyer levy; incentives for domestic tourism; restrictions on flight advertising; no more airport expansions in high-income countries; better transport alternatives to aviation.
Click here to view full story…
GALBA has written to Sec of State, Robert Jenrick, asking that the Leeds Bradford airport application is "called in"  – it could be the next "

Cumbria Coal Mine" Case
On 11 February, Leeds City Council (LCC) provisionally approved a planning application to expand Leeds Bradford Airport (LBA), despite the Council having declared a climate emergency in March 2019. Now anti-airport expansion campaign, the Group for Action on Leeds Bradford Airport (GALBA), has written – through their Barrister, Estelle Dehon – to Robert Jenrick, the Secretary of State at DCLG, asking him to 'call in' the decision on LBA.  If he agrees, the airport's planning application will be dealt with at a public inquiry. GALBA believes that LBA expansion is the aviation equivalent of the Cumbria coal mine case. There are striking similarities: a local authority decision which would result in significantly increased greenhouse gas emissions and which flatly contradicts the latest advice to government from the Committee on Climate Change in the 6th Carbon Budget. One of the key reasons that Leeds councillors felt able to support airport expansion is because their planning officers told them that international aviation emissions are not a matter for local authorities to consider in the planning process. GALBA believes that is legally incorrect and reserves the option of challenging LCC in the courts. The planned expansion raises the type of issues where consideration at national level, by the Secretary of State, is required."
Click here to view full story…
Airport expansion plans show that local planning decisions on airports must be aligned with national carbon targets
Aviation CO2 accounted for 7% of UK greenhouse gas emissions in 2018, but this figure will inevitably grow if demand for air travel is allowed to increase. Allowing more demand means it would be even harder to meet UK carbon targets, as there are no realistic ways to reduce aviation emissions, other than by tiny amounts several decades ahead. Better infrastructure planning is needed in the UK, with local decisions aligned towards meeting national climate targets; currently they are not.  France has blocked the building of a 4th terminal at Paris Charles de Gaulle airport, on grounds of carbon emissions. But UK airport expansion plans contradict its climate commitments, with expansion plans pushing ahead fast – while there is still no coherent UK policy on aviation carbon.  Plans for new building at Leeds Bradford, Southampton, Bristol, Luton, Stansted, Gatwick and Heathrow would mean far, far more carbon being emitted by the extra flights and passengers generated than the UK aviation passenger limit – advised by the Committee on Climate Change.  Demand needs to be reduced.  The government should align its national policy statements, used to guide planning, with its net zero target, to compel local authorities to factor climate change into their infrastructure decisions.
Click here to view full story…
Manston DCO officially quashed – fresh decision from Sec of State only way the freight hub could proceed
Manston airport becoming a freight airport is the first Development Consent Order (DCO) for an airport. The Planning Inspectorate (PI) advised the DfT that plans should be rejected in October 2019. The DfT then wanted more information about the plans, from the airport developers, RiverOak Strategic Partners (RSP).  In July 2020, Sec of State Grant Shapps, for the DfT decided to ignore the PI's advice, and allow the DCO. This was then legally challenged by local campaigner, Jenny Dawes, and the challenge was allowed to go ahead, in October 2020. By December the Grant Shapps had agreed that his decision approval letter did not contain enough detail about why approval was given against the advice of the PI – so the DCO was quashed. Now on 15th February a High Court judge has ruled that the DCO is quashed.  The Defendant (Secretary of State for Transport) and RSP will pay Jenny Dawes' "reasonable costs" up to £70,000. Grant Shapps, will now need to issue a renewed decision on the DCO.  If there is another DCO similar to the original, the same arguments against it still stand, based on need, breach of procedural requirements, and the Net Zero carbon duty.  If he decides against another DCO, then RSP may bring another legal challenge, or give up.
Click here to view full story…
Airport growth plans are for way more passengers than carbon targets could permit
Despite the dire financial state of airports and airlines due to Covid, airports are pressing ahead with huge expansion plans – in the hope these could be approved before the government produces proper policies on UK carbon emissions. Leeds City Council (11th Feb) approved plans for a new airport terminal, to increase the number of passengers. Heathrow, Stansted, Luton, Gatwick, Bristol and Southampton airports all want to expand – increasing the number of passengers. But the advice to the UK government by its official advisers, the CCC (the Committee on Climate Change), is that there should be no more than 365 million passengers per year (mppa) by 2050, up from about 297 mppa in 2019 – a 23% rise – about 68 million. [And that depends on far lower CO2 emissions per passenger/km than now].  But if all the airport expansion plans went ahead, that might mean 532 mppa by 2050, (235 mppa more) which is over x3 the cap needed to meet UK climate pledges. This means if some airports expand, others cannot – or would have to contract. The government must decide by June whether to incorporate this into law, or to explain why it is rejecting the CCC's advice. Heathrow's 3rd runway alone could add 55 mppa.  The UK has to create a more effective way to allocate the remaining capacity for growth, rather than allow an "expansion frenzy" with decisions made by different bodies. 
Click here to view full story…
Leeds City Council approves Leeds Bradford airport plans for new terminal (ie. more passengers, more carbon, more noise)
Leeds City Council has approved (subject to additional conditions still to be negotiated) Leeds Bradford Airport's plans for a larger terminal to accommodate more passengers. This decision will entrench in the Leeds economy the growth of a carbon intensive industry. There is no certainty that the promised jobs will actually materialise, as the sector increasingly automates work. Objectors including climate scientists, transport experts and residents' groups, warned such an expansion would help facilitate catastrophic climate change, as well as unbearable levels of noise pollution for those living close by. The application sought to demolish the existing passenger pier to accommodate a new terminal building and forecourt area. This would also include the construction of supporting infrastructure, goods yard and mechanical electrical plant. There are also plans to modify flight time controls, and to reduce the night-time flight period, with a likely increase from 5 to 17 flights between 6am and 7am.  A professor of transport planning said there are inadequate contributions to road and rail infrastructure. Local group GALBA says there could still be a legal decision against the  proposals.
Click here to view full story…
Birmingham Airport to get £18.5m emergency loan from some of the councils that half own it
Birmingham Airport is to get an £18.5m emergency loan from Birmingham City Council, approved by the cabinet, to help avoid the threat of insolvency.  Since the start of the Covid pandemic, the airport has seen passenger numbers fall by 91%. However, some councillors questioned whether the airport would want more money in future, as the pandemic restriction on flying continues.  The fear is that if the airport becomes bankrupt, without a loan, even more money would be lost, and the councils could lose their control over it. The 7 councils of the West Midlands county – including Birmingham City Council – own a 49% stake in the airport's holding company, BAHL; a further 48.25% is owned by the Ontario Teachers' Pension Plan and the remaining 2.75% belongs to an employee trust.  Four of the local authorities will contribute to the loan, with the other shareholder, Ontario Teachers' Pension Plan.  The airport is getting public money already, through the government's Job Retention Scheme.
Click here to view full story…
France drops plans to build 4th terminal at Paris Roissy (Charles de Gaulle) airport on climate concerns
In order to avoid increasing carbon emissions, the French government has decided not to allow plans for a 4th terminal at Charles de Gaulle (Roissy) airport in Paris.  It says the project is obsolete.  The Minister of Ecological Transition, Barbara Pompili, said:  "The government has asked the ADP group [Aéroports de Paris] to abandon its project and to present a new one, more consistent with its objectives of fighting against climate change and environmental protection."  The plan had been for construction to start in 2021. The board of directors of ADP Group should ratify this decision next week. ADP's chairman and chief executive Augustin de Romanet said ADP had taken note of the government decision and would consider its future plans on how to develop the Charles de Gaulle airport to make it less environmentally damaging. It will consider reducing energy use, more surface access, and perhaps different jet fuels.  The French government has a stake of just over 50% in ADP's share capital. In 2019 Heathrow had 80.8 million passengers, and Roissy had 76.1million. The 4th terminal was intended to cope with 35-40 million passengers. Covid has caused uncertainty about future air travel demand for Paris.
Click here to view full story…
Feb 18th – deadline for comments on application by Luton airport to increase passenger cap from 18m to 19mppa
Luton Airport has submitted a planning application (21/00031/VARCON) to Luton Borough Council to increase the annual cap on passenger throughput by 5.5% from 18m to 19mppa. Also to expand the day and night noise contours by 11.3% and 15.3% respectively until 2028, when they would be reduced somewhat, but still a net growth from today's levels. Annual plane movements are forecast to grow by no more than 0.8%. The deadline for responses is February 18th. The airport is arguing that more larger planes means that the extra passengers can be accommodated without a huge increase in plane numbers. They also claim the anticipated new planes will be less noisy and emit less carbon … ('twas ever thus…) These wonderful planes or technologies don't yet exist. The motivation for the increase in the passenger number cap has been rising demand, before the Covid pandemic struck. Future air traffic demand is uncertain.  The "elephant in the room" is  the conflict of interest of Luton Borough Council being both the planning authority and the owner of the airport.  But Hertfordshire County Council is set to formally object to the plans, largely on grounds of noise nuisance.
Click here to view full story…
Open Letter to Leeds City Council – MPs, Councillors, Scientists and Community Groups ask them to oppose Leeds Bradford airport expansion
An open letter has been sent to Leeds City Council (LCC) councillors, written by local opposition group GALBA & supported by 114 various groups, councils, organisations, residents' associations and climate scientists. They ask the council to decide (on 11th February) against allowing expansion of Leeds Bradford airport, by NOT allowing the building of a new terminal. The work is designed to increase passengers from 4 million a year to 7 million by 2030. The letter says:  "Expansion would mean health damaging increases in noise, traffic and air pollution for thousands of people in our local communities. Above all, it would mean a huge increase in greenhouse gas emissions exactly when we need to cut them to prevent the worst effects of the climate crisis. Expansion would be fundamentally wrong. Leeds City Council has declared a Climate Emergency and aims to reach net zero carbon by 2030. Yet from 2030 onwards, aircraft from an expanded airport would pump out more greenhouse gases than the whole of the rest of the city. Allowing LBA to expand would immediately make the Council's own net zero target impossible."
Click here to view full story…
Campaigners challenge the DfT on inflated figures for economic benefit, and number of jobs, created by the aviation sector
There are frequently statements by UK government ministers, by the DfT and by the aviation industry, about the level of economic benefit the sector creates for the UK economy – and the number of jobs it produces. Some figures mention direct jobs or benefits, and some more indirect.  The figure of "£22 billion benefit to the economy" is often heard, and numbers of jobs that vary from around 130,000 to half a million. Campaigners wrote to the DfT in November, and have written again now, to ask for clarity on the figures, and consistency in what numbers are used. Figures of air transport, and work associated with it, are very different from those of the aerospace sector, making or maintaining aircraft and spacecraft.  The economic benefit of air transport itself is far nearer £10 billion per year, than £22 billion. The number of direct jobs is nearer 137,000 than many hundred thousand.  By repeating unsubstantiated numbers, the DfT creates an inaccurate picture of the value of air travel to the UK and its importance. The numbers often quoted by the DfT and the aviation sector also omit mention of the tourism deficit, and was (ONS figures) £33.9 billion in 2919. The DfT is also challenged for its continuous support for the sector, overlooking its negative impacts. 
Click here to view full story…
Prof Julian Allwood: The only way to hit net zero by 2050 is to stop flying
The UK aviation industry this week pledged to bring its net carbon emissions down to zero by 2050 while growing by 70%, which is probably a lot of hype – to which they cannot yet be held accountable.  But Professor Julian Allwood, an engineer from Cambridge University, argues that not only is it impossible and unrealistic for aviation to have zero carbon emissions, the only solution is to have a period with almost no flying at all.  He says: "Let's stop placing impossible hopes on breakthrough technologies, and try to hit emissions targets with today's technologies." And "There are 3 ways to deliver net-zero aviation: invent new electric aircraft, change the fuels of existing aircraft or take the emissions out of the atmosphere." None of which can be done, at the scale necessary, any time before 2050, if at all. Long haul large electric planes will not be feasible for decades, if ever. There will not be enough spare renewably generated electricity to produce "green" hydrogen for planes. And  "there are currently no meaningful negative emissions technologies. It requires more energy to recapture carbon dioxide from the atmosphere than was generated when it was released."  "Rather than hope new technology will magically rescue us" we need to "commit to halving flights within 10 years, hoping to phase them out entirely by 2050."
Click here to view full story…
DfT night flights consultation – deadline for first section is 3rd March (second section 31st May)
The DfT has a consultation currently, on night flights.  The consultation has two parts. First, by 3 March the DfT seeking views on its proposals to extend the current night flight restrictions, set in 2017, for an additional two years from October 2022, and to ban the noisiest category of aircraft from operating in the night from October 2022 (this is only relevant for the few airports at which these planes are permitted). Then second, by 31st May it is seeking wider views on its national night flight policy and the structure of night flight restrictions beyond 2024.  Groups concerned about aircraft noise are very much opposed to the DfT's proposal to extend current night flight restrictions for an additional 2 years, as it is widely acknowledged that plane noise at night disturbs sleep thousands, and negatively affects their mental and physical health.  The government has repeatedly rolled forward night flight limits set many years ago, without any proper re-examination of the issues. There are claims of the economic benefits of night flights, and these need to be re-assessed. With falling business flights, one frequent justification is to increase the number of daily "rotations" by low-cost airlines, keeping their fare prices low. There is advice on how to respond.
Click here to view full story…
Leeds Bradford Airport expansion decision soon – there have been almost 2,000 objections
A final decision is set to be made on the future of the Leeds Bradford airport at a meeting on 11th February, on the proposals for a new £150m terminal that would allow more annual flights and passengers, and thus higher carbon emissions. Over 1,950 objections to the plans have been submitted, and around 1,200 in favour of it, including (predictably) the West and North Yorkshire Chamber of Commerce.  Environmental campaigners and climate academics had warned flights in and out of Leeds needed to dramatically reduce in order to help humanity have a fighting chance of averting climate catastrophe in the coming years. Council planning officers have now set out their recommendation in a report to the authority's City Plans Panel that suggests they approve the blueprints, albeit with 50 conditions on the developers.  Several councils have opposed the plans, and Bradford West MP Naz Shah, Bradford East MP Imran Hussain and all 5 Leeds Labour MPs have also raised concerns.  Local campaign group The Group for Action on Leeds Bradford Airport (GALBA) has been fighting the plans for several years.  Airports like to confuse the issue, with how low-energy their airport buildings will be, trying to pretend the flights are nothing to do with them.
Click here to view full story…
UK airlines can keep airport slots this summer without having to use them
UK airlines including British Airways, easyJet and Virgin Atlantic will hang on to lucrative take-off and landing slots without having to use them this summer after the DfT extended waivers to airport slot rules. Airlines have parked their fleets during the pandemic, prompting the suspension of rules forcing airlines to "use or lose" their slots 80% of the time. The suspension of the requirement has been opposed by rival airlines Ryanair and Wizz Air, as they hope to profit from the disruption in the industry. Gatwick is also unhappy, as it hoped to trap airlines there, while they would prefer to go to Heathrow.  The body, ACI, controls the slot market and slot allocation. The decision indicates that the DfT and Grant Shapps are expecting another difficult summer for the European airline industry as travel curbs widen.  The suspension will be a relief for BA, EasyJet and Virgin as they have been able to trim back their schedules while hanging on to spots at capacity-constrained airports. Airlines may decide there are better opportunities for growth [they always want to grow, regardless of the climate crisis] through gaining slot rights elsewhere in Europe.
Click here to view full story…
Airports can get up to £8 million in business rates relief – Heathrow wants a lot more
The government's financial Airport Support Scheme has now opened to applications but was swiftly criticised by Heathrow and other airport operators. Under the scheme, airports and baggage handlers can apply for up to £8m in business rates relief. But Heathrow has a business rates bill of around £120m per year, so the £8 million will cover little of it. Indeed it is less than the money it is burning through in two days – which is around £5 million per day.  Holland-Kaye said "the Treasury has yet to explain why it has handed out £3 billion of rates relief to retail businesses that didn't need it while ignoring the worsening crisis facing our industry." The government announced the scheme back in November when international travel was banned under the second national lockdown, and we now have the 3r lockdown.  Most airports are grateful for the help, but want more – as the £8 million was arranged before the current tight Covid travel restrictions. Thousands of retailers have received government help with business rates, including many that have done very well during the pandemic. Some are returning the money; many are not.
Click here to view full story…
Carney's carbon offset taskforce unclear about environmental integrity and effectiveness of private sector market
As Mark Carney, the UN special envoy for climate action and finance, unveiled plans for a new "taskforce" to scale up the private sector voluntary carbon market, campaigners warn key criteria for carbon offsets, that could be effective and might improve environmental integrity, are missing.  The taskforce includes some of the world's largest carbon emitting companies, including EasyJet, Boeing, BP, Shell, Total, and Tata Steel. There are no green groups among its members.  Businesses increasingly realise they are expected to take carbon seriously, and set net-zero targets, as far ahead as possible. And they want the cheapest way possible to do this. Hence the drive for cheap carbon credits, which are often from developing countries, such as tree-planting, ecosystem restoration, energy efficiency or waste management. Demand for carbon credits is anticipated to rise, as companies continue to grow and emit more carbon (instead of genuinely reducing their emissions, themselves).  Climate campaigners warn these ineffective carbon credits could give polluters a free pass. They also help to delay real cuts in companies' carbon emissions, or investment in the necessary technologies. What is needed is real carbon removal.
Click here to view full story…
Hillingdon Council's new leader, Ian Edwards, pledges to continue fight against Heathrow 3rd runway and HS2
January 21, 2021
Hillingdon Council (15th January) has appointed Councillor Ian Edwards as new leader of the local authority.  He replaces London and Hillingdon's longest serving council leader, Cllr Ray Puddifoot, who announced he was stepping down in October last year after 20 years of service.  Sir Ray said:  "As I step down tonight I do so in the knowledge that that Hillingdon Council has the administration, resources and first class staff which will see this council and our residents through the current pandemic and beyond."  Cllr Edwards, who also replaced Cllr Puddifoot as Conservative group leader, pledged to continue defending the borough's environment and residents against a 3rd runway at Heathrow, and mitigate the impact of HS2.
Click here to view full story…
PwC report says airlines need to shrink their fleets and restructure their businesses, post-Covid
PWC report says drastic cuts are needed to airline fleets, and also business restructuring.  PWC's 2021 Aviation Industry Outlook says the disruption caused by the Covid-19 pandemic has permanently realigned the finances of airlines and many will go under.  It also says investors are ready to pick up bargains in distressed aviation deals.  "In order to survive and thrive in the post-Covid world, airlines will have to fundamentally re-think their fleets, their business models and their finances. For most, a return to business as usual is not going to be a viable option." Airlines will not just be able to pick up where they left off last March, as many markets may have become uneconomic to serve. There are too many aircraft for the likely demand, which will not return for ages to the 2019 level of around 4.5 billion passenger trips.  About 30% of the global passenger airliner fleet – over 8,500 aircraft – are inactive. The massive debt of airlines will need "root and branch restructuring" in order to return to profitability.  IATA predicts the global airline industry will lose €98bn in 2020 and a further €32bn in 2021. Airlines have had at least €149bn to date in government support.
Click here to view full story…
Airlines and others depend on the "giant loophole" of future (unproven) carbon removal technologies
Governments and businesses worldwide are hoping they will be able to avoid making drastic carbon cuts, and instead somehow remove carbon from the air – avoiding climate breakdown. The UK's Committee on Climate Change has advised the UK government that carbon dioxide removal (CDR) at scale, will be needed. All climate goals for "net-zero" depend to some extent on this rather dubious future "get out of jail free" technology. Now a paper by Greenpeace shows the extent to which these aspirations to remove CO2 from the atmosphere have become (as was predicted) a huge loophole.  Aviation is one of the sectors that most needs to depend on carbon removal, as its plans for continuing growth mean more fuel burned – and more carbon. The IPCC reports that the maximum sustainable CO2 removal in 2050 by new forests is between 500 – 3,600 Mt per year. The maximum for BECCS is 500 – 5,000 MtCO2.  Greenpeace says IAG alone anticipates using forests to offset 30 MtCO2/ year by 2050: thus exhausting up to 6% of the available total (if that was 500Mt). For American Airlines, CDR will be used to offset emissions equivalent to about 50% of the present total; for IAG it is over 95%.
Click here to view full story…
Heathrow passengers down 72.7% in 2020 (cf. 2019). ATMs down 57.8%. Cargo down 28.2%
Heathrow has published its figures for 2020, which was a year made completely abnormal, by the Covid pandemic.  Heathrow's number of passengers was 72.7% lower than in 2019, with 22.1 million passengers, compared to 80.9 million in 2019 (ie. 58.8 million fewer).  As planes were less full than usual, with lower load factor, the number of flights (ATMs) was down by 57.8% for the year, compared to 2019 .The amount of cargo carried was down by 28.2%, which Heathrow blames partly on the limited number of passenger planes, the holds of which normally contain cargo.  The largest reduction in air passengers was to North America (79.5% down).  Until Covid, the number of Heathrow passengers rose relentlessly, even though the airport claims it is "full" (it always had extra terminal capacity).  In 2009 it had 65.9 million passengers;  in 2016 it had 75.7 million; in 2017 it had 78.0 million; in 2018 it had 80.0 million; and in 2019 it had 80.9 million.  The number of flights  (ATMs) in 2020 was 200,905; in 2018 was 480,339 and the number in 2019 was 479,811 (the figure is capped at 480,000 per year).
Click here to view full story…
Stansted Airport Public Inquiry into expansion plans – started 12th January
After over 3 years of fierce resistance by the local community, the proposed expansion of Stansted Airport will be decided by a Public Inquiry which opens on Tuesday 12th January.   The outcome will determine whether Uttlesford, East Herts, and other surrounding districts will continue to consist of largely rural communities or will, in time, become further blighted and urbanised in the same way as large areas around Gatwick and Heathrow airports.  Stop Stansted Expansion (SSE) considers it entirely irrational, and potentially dangerous, for the Government's Planning Inspectorate to insist that the Public Inquiry must start at the height of the Covid pandemic.  Stansted already has permission for 35 million passengers and its passenger throughput peaked at 28 million in 2018, with passenger numbers in decline since mid-2019, long before the pandemic. It is applying to expand to 43mppa.  In 2020, Stansted handled just 7 million passengers and has forecast that it will take years to return to pre-pandemic levels. Plainly, there is no urgency to increase the current planning cap.
Click here to view full story…
Letting Gatwick convert its emergency runway for full use would require capacity restrictions at other airports
Plans to bring Gatwick's emergency runway into regular use would only be possible with a government intervention to prevent other airport expansions. This is what the Committee on Climate Change (CCC) advice indicates. The deputy director of the Aviation Environment Federation, Cait Hewitt, said: "Allowing Gatwick's emergency runway to be used routinely as a second runway would only be possible if the government was to intervene to restrict capacity elsewhere in the UK, presumably by removing existing planning permissions – not an easy step to take"  – and that the CCC advice makes it clear that "aviation can no longer be let off the hook when it comes to UK climate policy … The CCC's advice should represent a line in the sand when it comes to airport expansion. … Airport expansion runs directly counter to the net zero agenda. It has to stop."  The Gatwick plans mean the emergency runway could be operating short-haul flights, by the end of the decade.  The CCC's advice to government on the Sixth Carbon Budget, published on 9th December 2020, advises the government that any increase in UK airport capacity would need to be matched by restrictions at other airports to ensure no 'net increase'.
Click here to view full story…
UK to need any arrivals to have negative Covid test under 72 hours earlier, but 10 day proper quarantine mandatory after arrival
The UK government is saying that, from Thursday 14th January, all international travellers, including Britons abroad, will have to produce evidence of a negative coronavirus test result (test under 72 hours from leaving the country) to enter England and Scotland, under new restrictions. This applies to those arriving by air, or by ferry or the Channel Tunnel. Those who arrive in England and Scotland without a negative test will face £500 on-the-spot fines. The period of 72 hours was chosen rather than the (better) 48 hours, as people abroad may find it difficult to get the test results that fast. The measure does not, of course, prevent people arriving in the UK carrying Covid virus, that either was not detected in the test (some are only 50-60% accurate), but also virus infection that they were incubating at the time of the test.  People will be required to isolate themselves for 10 days – "mandatory self isolation" – though there is no means to enforce it, or prevent people going to shops, on public transport etc, on their way home. Children aged under 11 and hauliers will not have to be tested.  Some have called for a test on arrival in the UK too, as well as as enhanced monitoring and enforcement of the quarantine. There are fears the South African strain of Covid may not be prevented by some vaccines, and it can enter the UK (some already has) and vaccines are the only way to stop the pandemic.
Click here to view full story…
Petition to government:  
Ban Night Flights
Aviation Communities Forum started this petition to The Secretary of State for Transport.
Night Flights are a real problem for many people impacted by flight paths to and from airports. They disturb sleep, cause annoyance, stress people out and can lead to real health problems.
Night flights are not essential to the UK economy.  [Many are just to allow low cost airlines to fit more "rotations" in per day, to get more people flying, more cheaply – not helping climate change].
From January to 21st March 2021, the UK Government is consulting on the future of night flights.  There is more information about the consultation here.
This is our chance to tell the DfT to ban night flights for good.
---
Letter to DfT: The Airports National Policy Statement should now be withdrawn, as it is out of date
The Supreme Court ruled, on December 16th, that the Airports National Policy Statement (NPS) was legal. The ANPS is the policy document necessary to Heathrow to proceed with plans for a 3rd runway. But the Court ruling does NOT give the runway consent. The government did not challenge the earlier ruling, in February, by the Appeal Court. The ANPS was written around 2017-18 and approved in Parliament in June 2018. Since then, life has moved on, and it is very out of date. The economics of the situation have changed; awareness of the climate implications of a runway is hugely greater; the Committee on Climate Change has given its advice on the Sixth Carbon Budget, and that aviation growth has to be constrained; knowledge has increased about the health impacts of air pollution from aircraft; and now Covid has reduced demand for air travel, which may never recover to its 2019 level.  Neil Spurrier, from the Teddington Action Group (TAG) has written to the DfT to ask that the ANPS is now withdrawn. He says the ANPS "is now completely out of date and should be withdrawn. I request that this is done pursuant to a review under section 6 of the Planning Act 2008 …"   See Neil's full letter.
Click here to view full story…
Government legal restrictions on flying abroad in Covid lockdown – holidays, leisure trips are NOT allowed
The government guidance on travel abroad, under Covid lockdown in the UK, from 4th January 2021. "You can only travel internationally – or within the UK – where you first have a legally permitted reason to leave home. In addition, you should consider the public health advice in the country you are visiting. If you do need to travel overseas (and are legally permitted to do so, for example, because it is for work), even if you are returning to a place you've visited before, you should look at the rules in place at your destination and the Foreign, Commonwealth and Development Office (FCDO) travel advice. UK residents currently abroad do not need to return home immediately. However, you should check with your airline or travel operator on arrangements for returning.  Foreign nationals are subject to the 'Stay at Home' regulations. You should not travel abroad unless it is permitted. This means you must not go on holiday.  If foreign nationals are visiting the UK, you may return home. You should check whether there are any restrictions in place at your destination. You cannot leave your home or the place where you are living for holidays or overnight stays unless you have a reasonable excuse for doing so. This means that holidays in the UK and abroad are not allowed."
Click here to view full story…
British Airways to get a £2 billion loan, backed by UK Export Finance. It had a £300 million loan earlier
British Airways has been asking for financial help, to get it through the Covid pandemic. Now it has had a new £2 billion funding boost, through a state-backed loan. Its parent company, IAG, has secured commitments for a 5-year loan, underwritten by a syndicate of banks. It is being partially guaranteed by state-backed credit agency UK Export Finance (UKEF) and details are being finalised. The loan has covenants, including perhaps restrictions on dividend payments by the airline to IAG. The money will keep BA going until, it hopes, effective Covid vaccines during 2021 will enable air travel to resume, in high numbers. IAG said it "continues to have strong liquidity with cash and undrawn facilities of €8 billion as at November 30, excluding the UKEF facility." But it is also looking at other sources of money.  BA had previously received £300 million over a year from a Bank of England loan programme for the UK's biggest companies. It also claimed support from the taxpayer-funded furlough scheme.  IAG made a pre-tax loss of £6.2 billion pre-tax loss for the first 9 months of 2020, on revenues down 66% to £6.5 billion. BA is also cutting a quarter of its workforce – so losing 12,000 staff.  UK government said in December the UKEF would stop funding fossil fuels ….
Click here to view full story…
Gatwick investors say they will put in the money to develop its emergency runway for routine use
VINCI Airports and infrastructure fund GIP say they have committed to funding the next stage of a scheme to upgrade Gatwick's 'standby' northern runway, for routine use. That would add around 90 extra flights per day. The northern runway is currently short, and is used as an emergency runway.  It is too close to the main runway to be used independently, for safety reasons.  But it could take short-haul planes in gaps between use of the main runway.  Gatwick – struggling with the impact of the Covid pandemic – says it will now develop the development consent order (DCO) application for the project, including environmental surveys. The airport intends to launch a public consultation this summer.  Gatwick's biggest airline customers – BA, easyJet, Norwegian and Virgin Atlantic – have suspended or scaled back flights, or moved some to Heathrow.  Gatwick hopes passenger traffic will recover fast, once vaccination against Covid makes it safer to travel, with traffic back to the level in 2019 by 2023.  Gatwick claims the runway will not add to carbon emissions (as it does not include the emissions from flights). The CCC has said there should be no net airport expansion in the UK. If an airport expands, another should therefore contract.
Click here to view full story…
Effects on cardiovascular and respiratory systems of short-term exposures to ultrafine particles in air, near an airport, in healthy subjects
There is a growing body of research into the negative health impacts of very tiny particulate air pollution. The nanoparticles of ≤20 nm are produced by vehicle engines, but seem to be produced in considerable amounts by jet engines. A new study in the Netherlands looked at impacts on the respiratory and cardiovascular systems of 21 healthy young (18 – 35), non-smoking volunteers. They were exposed between 2 and 5 times to 5 hour periods of the ambient air near Schiphol airport, while doing intermittent moderate exercise like cycling. Various aspects of their circulation and respiration were measured. The study found the exposures were associated with decreased FVC (forced vital capacity – a measure of lung function) and prolonged QTc intervals (the time it takes the heart to re-polarise for the next beat).The effects were relatively small, but they appeared after single exposures of 5 h in young healthy adults. "As this study cannot make any inferences about long-term health impacts, appropriate studies investigating potential health effects of long-term exposure to airport-related UFP (ultra fine particles), are urgently needed."
Click here to view full story…
Another study, this one from Switzerland, shows exposure to aircraft noise during sleep can trigger heart attacks
A study carried out by Swiss researchers looked at 24,886 deaths from cardiovascular disease from 2000–2015, in people living near Zurich Airport. They investigated the deaths in relation to night-time aircraft noise exposure. They found that those exposed to 40–50 decibels noise had a significantly higher risk (about 33%) of heart attacks in the few hours after the noise.  The risk was higher for noise above 55 decibels – about 44%.  For those susceptible, the effect of planes passing overhead can lead to death within 2 hours of the noise.  The Zurich study found aircraft noise contributed to about 800 out of 25,000 cardiovascular deaths that occurred between 2000 and 2015 in the vicinity of Zurich airport, which was 3%.  The study used a so-called 'case-crossover' model to determine whether the subject's noise exposure around their time of death was unusually high in comparison to sounds levels they experienced at other, randomly-selected times. Previous research for the European Environment Agency estimated that noise exposure road, rail, aircraft, industry) causes 12,000 premature deaths and contributes to 48,000 new cases of ischemic heart disease per year across Europe. 
Click here to view full story…
Global air passenger traffic drop by 60% to 1.8 billion in 2020, compared to 4.5 billion in 2019
Global air passenger traffic is expected to be down by 60% in 2020, compared to 2019, at 1.8bn passengers – about the level in 2004.  Before the coronavirus outbreak hit the globe, the airline industry grew at a steady pace across all countries. IATA global data showed the number of scheduled airline passengers increasing for the last 15 years, from 1.9bn in 2004 to 4.5bn in 2019. The increase was both due to low cost airlines, and more affluent middle class people in the Asia Pacific region. It is possible, though nobody can predict what will happen with the Covid pandemic, that the number of air passengers might rise to around  2.8bn in 2021, which is still 40% less than pre-COVID 19 estimates for the year.  While the number of passengers was down around 60%, the number of flights was down about 43.5% – because planes were emptier. The number of air travellers in the UK was down around 73% this year, and Germany bout 76 % down.  Before Covid, the COVID-19, worldwide commercial airlines' passenger revenues grew each year and jumped from $323bn in 2005 to $612bn in 2019.  But IATA expect their revenues to be down for 2020 by 67% to $191 billion. The figure in 2021 might, if Covid is controlled, be half the number in 2019.
UK had a tourism deficit of £33.9 billion in 2019, with 88% of that (ie. about £30.04 billion) due to air travel
The current clampdown on international air travel has helped the UK Balance of Payments, by reducing the country's trade deficit by an estimated nearly £3 billion per month.  This is from the "tourism deficit", which is the amount by which the amount spent by British people travelling and spending abroad, exceeds the amount spent by visitors to the UK. Figures released on 22nd May by the government's  Office of National Statistics (ONS) show that the UK posted a record trade deficit of £33.9 billion on international tourism in 2019.  This is more than £2 billion above the 2018 figure which was itself a record tourism trade deficit.  The ONS data shows 88.2% of the tourism deficit was due to air travel.  UK residents made 93.1 million visits abroad in 2019, spending a total of £62.3 billion overseas. By contrast, overseas residents made 40.9 million visits to the UK, spending £28.4 billion. The net result was a £33.9 billion deficit in the UK Balance of Payments. Just 9.0 million of the 93.1 million overseas visits (9.7%)  by UK residents in 2019 were for business purposes. The lack of money leaving the UK comes at the expense of countries such as Spain, Greece and Italy losing billions of €s in revenue from UK tourists.
Aviation now contributes 4.9% of climate change worldwide
Work by the IPCC now estimates that aviation accounted for 4.9% of man-made climate impacts in 2005. This contrasts with the 2% figure that is constantly quoted by aviation lobbyists, and 3% which the same authors quoted two years ago. They have now revised their estimates with 2 important changes: including for the first time estimates of cirrus cloud formation and allowing for aviation growth between 2000 and 2005. The effect of these is to increase aviation's impacts to 3.5% without cirrus and 4.9% including cirrus. 23.5.2009  More  …
---