Heathrow 3rd runway would affect south Buckinghamshire, especially Heathrow Hub impact on Iver area
People in south  Buckinghamshire are very concerned about the threat of an expanded Heathrow, and the impact it would have on the south of the county.  How badly they would be affected depends on whether a 3rd runway was built as Heathrow Airport Ltd wants, to the north west, or an extension of the northern runway, as Heathrow Hub wants. With either they face much more noise, and much more traffic. If the Heathrow Hub design was permitted, it includes plans for a transport hub near Iver (to the north west of the junction of the M25 and the M4.) It would mean building on green belt land between Richings Park and Iver village centre, with access to it from local roads.  Iver Parish Council are very concerned about the increased traffic, especially HGVs, which would change Iver massively. They have been given no proper information about how the traffic scheme would work, and there are real fears this would change Iver and Richings Park forever.  People in this area will be attending the large rally being held on 3rd March in central London, against a 3rd Heathrow runway.
.
Tweet

How Heathrow growth could affect Buckinghamshire
11 February 2015
By Jack Abell (Get Bucks)
…..
Map showing Heathrow Hub proposal for rail hub near Iver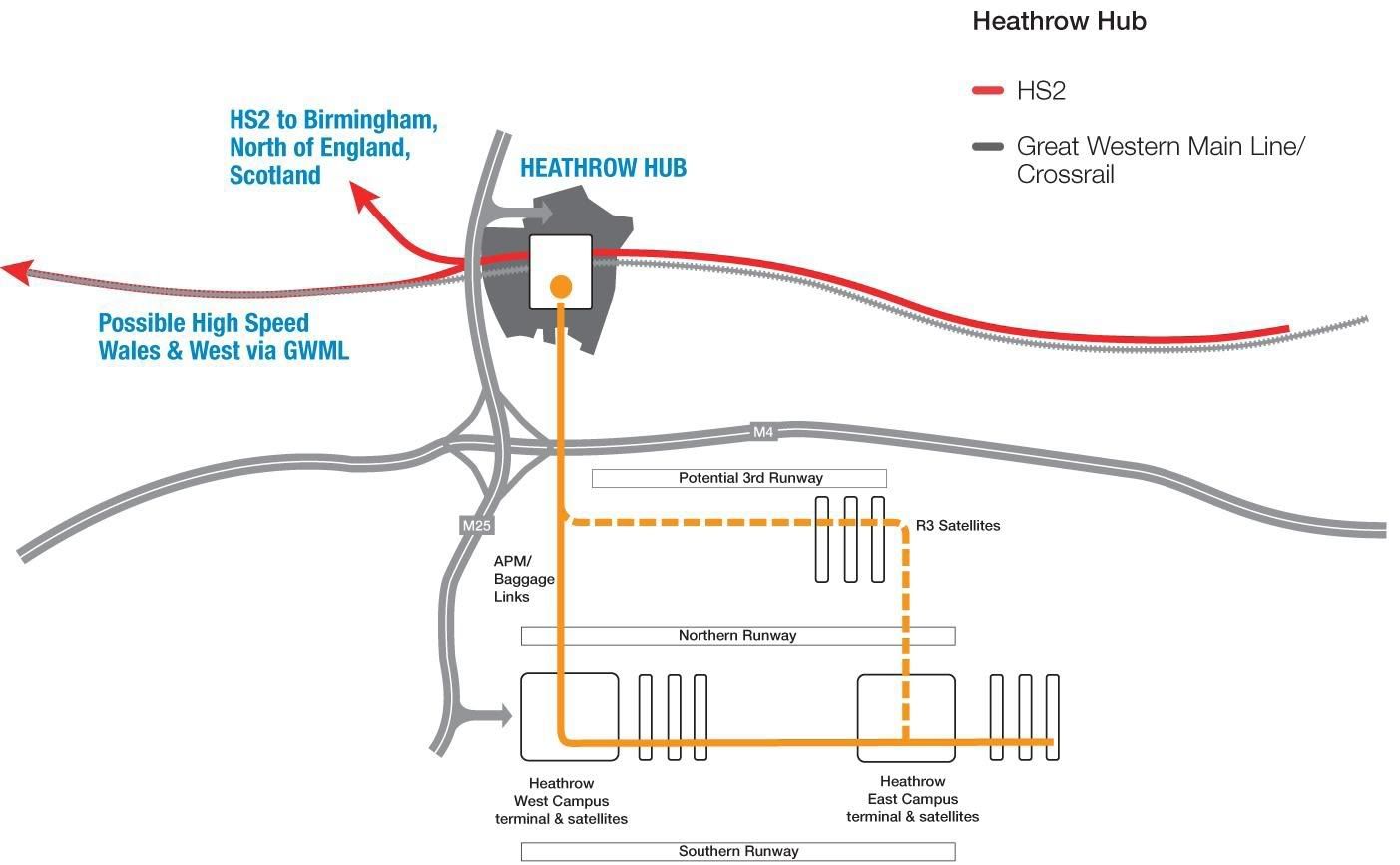 Depending on where a potential third runway is built, South Bucks could face an increased number of flights each day, and Iver could even face the prospect of the M25 motorway being moved closer to the village in order to accommodate the new runway.
There is also the possibility of expanding [Heathrow, by the "Heathrow Hub" proposal] which could also affect Iver.
Proposals for the expansion [of Heathrow by either scheme – the airport's north west runway or the Heathrow Hub extended northern runway]  both include the possibility of a [transport ]hub, which could take the form of either a station of a distribution centre, being built on green belt land between Richings Park and Iver village centre, with access to it from local roads.
Parish councl chairman Wendy Matthews said: "It could change Iver massively. Traffic generated by the hub, which would include a lot of HGVs, would be using narrow roads to get there, which would cause disruption, and there is no information about how this would work."
She added: "There is also a big issue with increased noise which would affect a lot of South Bucks, so there's a lot of strength of feeling on this."
She added that other issues which could affect the area include air pollution and the potential cost of having to replace infrastructure.
The Airports Commission is now in the process of reading the responses it has received before making its recommendations later this year as to how the expansion of either airport should proceed and what changes, if any, should be made before any further progress is made.
http://www.getbucks.co.uk/news/local-news/how-heathrow-growth-could-affect-8623066#ICID=sharebar_twitter
.
---
.
Heathrow expansion will affect Bucks villages
21 January 2014 (Get Bucks)
Proposals could lead to the moving of the M25 close to Iver and Richings Park
PEOPLE living in Bucks village which could be greatly affected by Heathrow's expansion plans will be given the chance to quiz airport officials at a public meeting.
Last month, the Airports Commission Interim Report was published, which detailed possible expansion options for Heathrow.
One of these involves building a new runway to the North West of Heathrow's current site, and if this happened, it would mean changing the location of part of the M25, bringing it much closer to Iver and Richings Park.
This has caused great concern for people living in the area, and because of this, Iver Parish Council has arranged a public meeting with officials from Heathrow Ltd to explain the proposals further.
People will be able to ask questions of the staff at the meeting, while also discovering exactly how the area would be affected.
Parish council chairman Wendy Matthews said: "It is very worrying for people living here.
"It could change Iver and Richings Park forever, and so we need to have this meeting to have things explained to us properly.
"People need to come along and ask questions about it.
"We have already drawn up a list of points we want to raise, but it is very important that as many people as possible come along to the meeting."
Another option mentioned involves extending the site's northern runway to the west, which would involve building a sixth terminal between Iver and West Drayton.
Dr Matthews added: "Both of these proposals would have a huge effect on this area, so we need to get that message across at the meeting. These plans are a very big threat to Iver and Richings Park and it is very important that we find out more about them, and ask the right questions when we have the meeting."
The meeting takes place at Richings Park Sports Club on Tuesday, February 4, at 7.30pm.
http://www.getbucks.co.uk/news/local-news/heathrow-expansion-affect-bucks-villages-6535495
.
---
.
South Bucks people encouraged to rally against third runway
21 January 2015
By Jack Abell (Get Bucks)
PEOPLE living in South Bucks are being encouraged to go along to a rally later this year to protest against a third runway at Heathrow.
Britain's biggest airport is keen to expand its site to include a new runway, and depending on where it decides to put it, the runway could have a major effect on people living in the area.
A major rally is being organised to take place in the capital on March 3 by people living near Heathrow to express concern at the plans.
Cabinet ministers, environmentalists, trade union leaders, party leaders and business leaders will join together to speak out against the plans.
It is being organised by the Heathrow Association for the Control of Aircraft Noise (HACAN), and is being designed to give people the chance to tell the government their views on a third runway ahead of the general election in May.
One of the areas which could be affected by a third runway if it is built is Iver, and the parish council has posted a notice on its website, encouraging people to attend the rally.
Speakers at the rally are set to include Vince Cable, secretary of state for business, leader of the Green party Natalie Bennett, former transport minister Steven Norris, John Sauven, chief executive of Greenpeace, and Andy Atkins, chief executive of Friends of the Earth.
The Airport Commission is in the process of assessing options for a new runway, and will report on its findings shortly after the general election.
The rally will go ahead on March 3 at 7pm at the Church House Conference Centre in Westminster.  DETAILS 
http://www.getbucks.co.uk/news/local-news/south-bucks-people-encouraged-rally-8488691
.
---
.
NetworkRail plans for improved rail link to Heathrow T5 from the west, by tunnel, go on show
NetworkRail has put plans for consultation, for a new rail tunnel, connecting the main line into London from the west with Heathrow Terminal 5. The proposed link, subject to planning permission, includes a 3.1 mile (5km) tunnel from the Great Western Main Line at Langley to T5. This could cut journey times between Reading and Heathrow and reduce road congestion, if passengers travelled by train instead of by car. A series of public consultation events is to be held in Iver and Slough. The rail plan was given the go-ahead by the government in 2012. There would need to be a new junction created between Langley and Iver stations. There are claims that the rail link would mean a quarter of people in the UK "within one interchange" of Heathrow. The tunnel only travels under 2 houses so is not expected to cause too much disruption locally. The tunnel would go ahead regardless of whether there is a new runway, or not. It is expected the tunnelling would take a year. It has the potential to make journeys from the west faster and easier. The timetable is for informal consultation now; formal public consultation in summer 2015; submission of application in early 2016; work starts spring / summer 2017; work completed and trains running by the end of 2021.
Click here to view full story…