Start of Inquiry into refusal by North Somerset Council of Bristol Airport plans to expand by 2mppa
The public inquiry into Bristol Airport's expansion proposal began on 20th July with the airport hoping to overturn North Somerset Council's decision to refuse the expansion plans in February 2020. The inquiry is overseen by the Planning Inspectorate, and is scheduled to run until mid-October with three independent inspectors appointed to consider the airport's appeal. The airport wants to be allowed to have an extra 2 million annual passengers, from 10 million to 12 million. In its recently-published Transport Decarbonisation Plan (TDP), the DfT committed itself to achieving net zero within the aviation sector by 2050. Allowing airport expansion scheme is not going to help with that – quite the reverse. The worry is that, though the various expansion schemes for Gatwick, Stansted, Luton, Bristol, Leeds Bradford and Southampton – taken separately – look relatively small, collectively (and including Heathrow) the increase in carbon would be huge. The recent TDP does not follow the recommendation from its official advisors, the CCC, that any airport expansion should be offset by reducing flights elsewhere.
.
Tweet
Bristol Airport: Inquiry into expansion refusal begins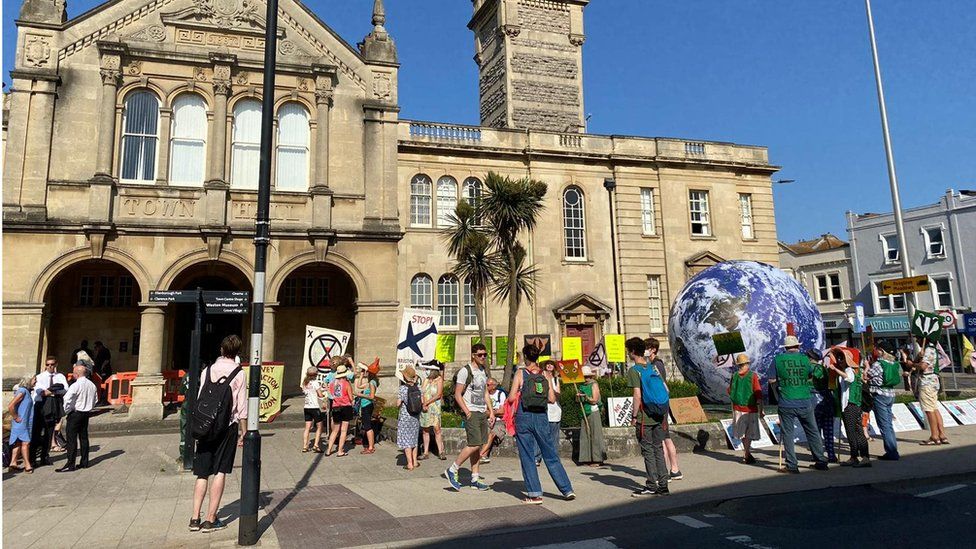 A council has defended its decision to reject expansion proposals of an airport despite the threat of a costly planning appeal.
North Somerset Council voted overwhelmingly to reject Bristol Airport's plans in February 2020.
The hearing began earlier after Bristol Airport challenged the decision.
Council leader Don Davies (Independent) said: "This unfortunately is used by big business the world over to try and cow members to do things for profit."
Heat dome
"This airport is not owned locally, it's owned by a Canadian pension scheme and what is the motivation for the appeal?
"They barely got eight million passengers per annum previous to the planning application.
"They have permission for up to 10 million passengers so there was a 12% window of expansion there already.
"It is ironic that a country like Canada was wrecked … by the heat dome – but they can't see the impact of the expansion on the environment here in north Somerset," Mr Davies added.
The expansion will mean capacity will rise to 12 million passengers per year which the airport says will create new jobs and support the local economy.
Critics protesting outside the hearing venue in Weston said more flights would increase global warming.
Witnesses will range from Bristol Airport executives, industry experts, environmental campaigners and parish councillors.
If the decision is overturned, there will be more flights and extra car parking spaces to grow the business.
The hearing which began at 10:00 BST saw a representative for the airport put forward its case.
Counsel for Bristol Airport, Michael Humphries QC said: "The government has made clear the importance it attaches to airports and their expansion.
"The merits of government policy are not a matter of debate for this local planning inquiry.
"The expansion of the airport does not cut across climate change ambitions that we all share.  It is consistent with and complements them."  (sic)
Carbon footprint
Ahead of the hearing, the airport's procurement manager Susannah Caws said: "Would you stop going on holiday?
"Would you stop flying? If I asked whether they would ever stop flying because of the carbon footprint I'm not sure anybody would.
"All we can do is do everything we can to reduce our carbon footprint where possible.
"People will always fly and it's how we mitigate that where possible."
Chairwoman Hilary Burn said: "I commend anybody who moves forward in an environmentally-friendly way.
"We know we have a biodiversity crisis and a climate crisis and we know that we have to act for 2030.
"We have to do our utmost to reduce carbon."
CEO of Bristol Airport, Dave Lees said: "Bristol Airport is important to the region and its recovery and that includes a greener future.
"We want to improve connectivity – that's what businesses are telling us.
"We want to avoid people having to travel up to London – it's new and existing demand from people in our region."
The appeal is expected to last at least two months and will be streamed on North Somerset Council's YouTube channel.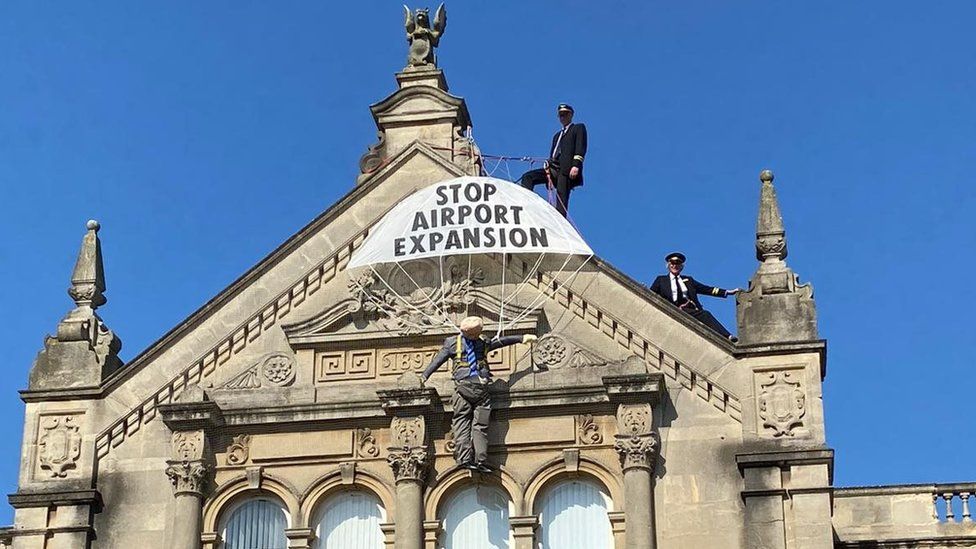 Last year 18 North Somerset councillors voting against the plan, and seven voting for it. https://www.newcivilengineer.com/latest/bristol-airport-waiting-on-feedback-after-expansion-is-rejected-25-02-2020/
https://www.bbc.co.uk/news/uk-england-bristol-57898791
.
---
See earlier:
Bristol Airport expansion (for 2 mppa more) public inquiry to will start on July 20th, for 10 weeks
The expansion plans would see passenger numbers grow from 10 million to 12 million a year.  The public inquiry into the expansion plans is due to start on July 20 and last 10 weeks. The airport appealed against a decision by North Somerset Council last year to reject its expansion plans. Bristol City Council has also opposed the expansion with North Somerset Council saying it will 'robustly defend' the appeal. The inquiry will be held in person and online, via Teams, though requests had been made for it to be online only, due to Covid. Campaigners say any expansion of the airport would lead to higher carbon emissions, congested roads and more plane noise. A number of campaign groups including the Bristol Airport Action Network (BAAN) , the Parish Councils Airport Association and Stop Bristol Airport Expansion (SBAE) are all set to give evidence at the inquiry. The Planning Inspectorate team will be led by Philip Ware.
Click here to view full story…
New NEF report shows the climate impact of regional airport plans has been considerably underestimated
See original image in the Guardian article here
For UK to properly take account of the overall climate impact of UK aviation – it needs to consider the emissions from departing AND arriving flights (it currently ignores arriving flights). And also the non-CO2 impacts on climate. Maximum impact is multiplier of x3 (shown here). The multiplier could be x2.
A report by the New Economics Foundation (NEF) says the climate impact of expansion plans at regional airports in England has been dramatically underestimated and would threaten the UK's legally binding climate commitments.  NEF calculated that proposals to expand 4 airports (Bristol, Leeds Bradford, Southampton and Stansted) will lead to an increase in CO2 emissions up to 8 times higher than the airports previously claimed. This means the alleged economic benefits claimed, from more aviation, were overestimated, as they ignore around £13.4bn worth of climate damage the extra flights could cause. Alex Chapman, the author of the report, said the findings raised concerns about the level of scrutiny the airport expansion proposals had received from government. Alex said: "The secretary of state should step in and conduct an independent review of all four of these proposals and their compatibility with the UK's climate targets."  The airports all use unproven and undeveloped technologies to achieve future fuel-efficiency savings. Most airports only took account of CO2 of outbound flights, not of inbound flights, and ignored the non-CO2 impacts of flights.
Click here to view full story…
Bristol Airport withdraws application to be allowed many more night flights
Bristol Airport is pushing on with its expansion plans, despite withdrawing the application to the DfT to join the UK's list of "coordinated airports". The application, which would allow Bristol Airport to operate night flights all year round, has been withdrawn due to the pandemic-driven drop in passenger numbers.  It would have given the airport complete freedom to schedule night flights across the year, with the declared intention to increase summer (summer is 7 months) night flights.  Flights are currently allowed to operate between 11pm to 7am in the summer season. Allowing more flights at night would improve airline profits and "efficiency" (allegedly).  And airport spokesperson said the application for coordinated status is separate from the airport's expansion plans, and the airport will resubmit the coordinated status application when/if passenger numbers return to high levels – such as numbers in 2019. There is currently an appeal by the airport, against their rejection by North Somerset council last year.  There are now 7 airports that have coordinated status, (Heathrow, Gatwick, Stansted, London City, Luton, Birmingham and Manchester) and this is normally for congested airports. The airport currently has a cap of 10 million annual passengers.