New NEF report shows the climate impact of regional airport plans has been considerably underestimated
A report by the New Economics Foundation (NEF) says the climate impact of expansion plans at regional airports in England has been dramatically underestimated and would threaten the UK's legally binding climate commitments.  NEF calculated that proposals to expand 4 airports (Bristol, Leeds Bradford, Southampton and Stansted) will lead to an increase in CO2 emissions up to 8 times higher than the airports previously claimed. This means the alleged economic benefits claimed, from more aviation, were overestimated, as they ignore around £13.4bn worth of climate damage the extra flights could cause. Alex Chapman, the author of the report, said the findings raised concerns about the level of scrutiny the airport expansion proposals had received from government. Alex said: "The secretary of state should step in and conduct an independent review of all four of these proposals and their compatibility with the UK's climate targets."  The airports all use unproven and undeveloped technologies to achieve future fuel-efficiency savings. Most airports only took account of CO2 of outbound flights, not of inbound flights, and ignored the non-CO2 impacts of flights.
.
Tweet
Expansion of English airports could threaten climate commitments – report
Impact on climate of expansion plans at regional airports has been underestimated, report finds
By Matthew Taylor (The Guardian)
Fri 21 May 2021
The climate impact of expansion plans at regional airports in England has been dramatically underestimated and would threaten the UK's legally binding commitments, according to a report published ahead of a key summit later this year.
The study from the New Economics Foundation (NEF) calculated that proposals to expand four airports in England will lead to an increase in emissions up to eight times higher than previously claimed.
The report also found that plans to expand Bristol, Leeds Bradford, Southampton and Stansted airports had overestimated their economic benefit – ignoring up to £13.4bn worth of climate damage the plans could cause.
Alex Chapman, the author of the report, said the findings raised concerns about the level of scrutiny the proposals had received.
"The secretary of state should step in and conduct an independent review of all four of these proposals and their compatibility with the UK's climate targets," he added.
Four airports, Leeds Bradford, Bristol, Southampton and Stansted are expanding by amounts under 10 million additional annual passengers, so they do not count as NSIPs (Nationally Significant Infrastructure Projects) and so do not need to go through the DCO (Development Consent Order) process.  Luton, Gatwick and Heathrow would require the DCO process.
The report found:
All four airports relied on currently unproven and undeveloped technologies to deliver rapid fuel-efficiency savings over the next few decades.
Three out of the four – Bristol, Leeds Bradford and Stansted – only took account of the climate impact of outbound flights, not the emissions from those arriving at the airport.
Bristol, Leeds Bradford and Stansted did not account for the impact of non-CO2 emissions such as aerosols, water vapour and nitrogen oxides, which can double or even triple the climate impact of airport expansions.
Leeds Bradford, Southampton and Stansted did not put a monetary value on the climate impacts of expansion and have therefore overestimated the projects' economic benefits in each region.
The expansion plans have already met fierce opposition from local groups, environmentalists and climate scientists over the past 18 months. Last week in a letter to ministers, groups opposing planned expansions said the UK government must suspend all the plans until it sets out how they fit with its legally binding climate targets and the advice of its own experts.
This week teenagers from West Yorkshire hand-delivered a petition with more than 54,000 signatures to the communities secretary, Robert Jenrick, calling for a public inquiry into Leeds Bradford airport expansion plans.
In total there are expansions planned at seven airports in England: Leeds Bradford, Luton, Bristol, Southampton, Heathrow, Stansted and Manston – all of which are at various stages in the process. Campaigners are also expecting Gatwick to imminently submit plans to increase capacity.
According to the NEF report, Leeds Bradford and Bristol's expansion plans would cause six times more emissions than previously thought, Stansted eight times and Southampton 1.5 times.
For UK to properly take account of the overall climate impact of UK aviation – it needs to consider the emissions from departing AND arriving flights (it currently ignores arriving flights). And also the non-CO2 impacts on climate. Maximum impact is multiplier of x3 (shown here). The multiplier could be x2.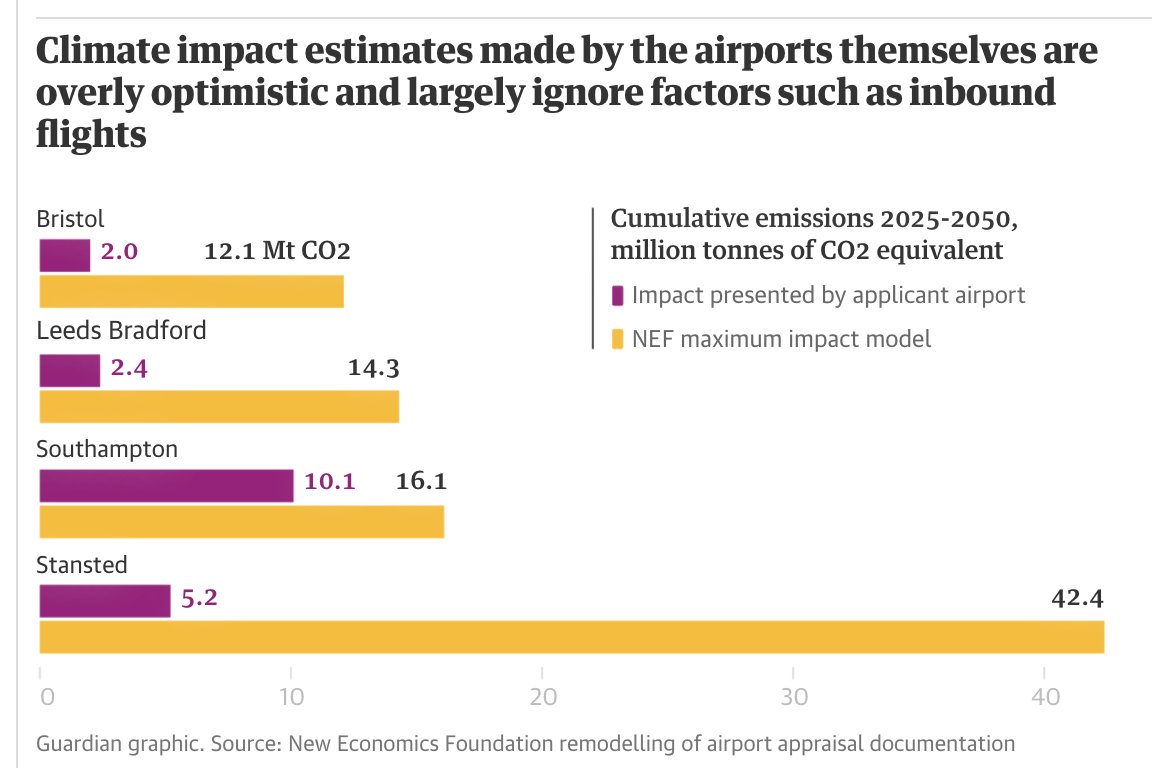 See original image in the Guardian article here
It says that the four schemes are likely to account for an increase in annual airport-level emissions of up to 3.7m tonnes of CO2 and CO2-equivalent in 2035, the year of the government's new climate target. The equivalent to putting about 1.8m additional cars on Britain's roads.
The airports defended the climate impact of their expansion plans.
Steve Szalay, operations director at Southampton airport, said it was "wholly committed to working with the wider aviation industry to tackle climate change through new technologies and the introduction of new, more sustainable fuel, however we appreciate that there isn't an overnight solution".
"With that in mind we have delivered a worst-case scenario in the environmental impact assessment presented during our recent planning application which would see just a 164-metre extension to our existing runway, this conservative approach doesn't rely on fuels or technologies that are under development and includes all in-bound and outbound flights."
A spokesperson for Leeds Bradford airport (LBA), said its plans were "not about expansion, but about achieving what we already have consent to do in a more sustainable way".
"Development will make LBA an outstanding net zero airport with a much-improved passenger experience, connecting Yorkshire with other parts of the country and the world for business and tourism."
A spokesperson for Bristol airport said it had a "comprehensive package of measures … to minimise the adverse environmental impacts of an additional 2 million passengers".
"Expanded capacity at Bristol airport will offer passengers more routes and flights from the south-west directly, create jobs, facilitate inward investment and inbound tourism, and support greener and more sustainable, regional economic growth."
A spokesperson for Stansted airport said: "Our proposals would mean a small increase in the number of passengers that could use Stansted, but they would not mean an increase in the permitted number of flights. The application to increase the number of passengers using the airport has now gone through a public inquiry with evidence from all parties on all relevant topics, including climate impacts, presented to an independent panel of inspectors. We now await the inspectors' report."
https://www.theguardian.com/environment/2021/may/21/expansion-of-english-airports-could-threaten-climate-commitments-report
.
.
---
The report:
TURBULENCE EXPECTED
The climate cost of airport expansion
Despite the challenging period that the UK aviation sector has experienced since the start of the pandemic, a host of airports are moving to expand their capacity. These airports can be divided into two groups. Gatwick, Heathrow and Luton have officially notified government of their intent to apply for expansion as part of the ​'nationally significant infrastructure' (NSI) process, but have yet to submit their full applications and appraisal documentation. Four smaller, non-NSI expansions at Bristol, Leeds Bradford, Southampton and Stansted airports are going through the local planning process. These latter applications are more advanced and all four have received an initial planning decision – two approved and two refused.
In the context of rapidly evolving scientific understanding of aviation's climate impact, and significant policy and forecast uncertainty as a result, in this report we look at the credibility of estimates of climate impact put forward by the four non-NSI airports as part of their planning applications. In this report, we conduct comparative analysis and ​'re-modelling' of carbon costs in order to present a credible range of estimates of the potential climate impact of each scheme at the airport level and put a monetary value on this impact. We identify a number of important failures of the non-NSI airport appraisals to follow best practice, often leading to significant understatement of the climate impact of the proposed schemes:
All four schemes rely on optimistic estimates of long-term fuel-efficiency gains, and two do not test lower rates of technological development and roll-out, despite this assumption impacting significantly on the final climate impact estimate.
Research shows that emissions such as aerosols, water vapour and nitrogen oxides have the potential to double or even triple the climate impact of airport expansion, yet only one of the four applicant airports quantifies this impact.
Three out of the four airports do not present the climate impact of inbound flights. While not part of national emissions accounting protocol, emissions from new inbound flights may still represent a material impact of airport expansion and are therefore appropriate to include in an appraisal.
Only one out of the four airports has submitted any monetised climate impacts. As a result, applicant airports have also failed to test the impact of higher future carbon prices and lower discount rates, despite the government warning that both may be on the horizon.
Taking these omissions in aggregate, applicant airports have ignored their exposure to uncertainty and risk and obscured potential airport-level climate impacts between two and eight times greater than indicated in their appraisal documentation. Expansion scheme promoters have also failed to account for the monetised cost of emissions caused by expansion, collectively worth £2.4 billion to 13.4 billion, and have overstated the economic case for expansion. Around 65% of this emissions cost will not be captured by current regulations on the aviation sector and will therefore be borne by society, either in the costs of capturing emissions elsewhere in the economy or in the social damage resulting from climate change.
This report questions whether decision makers had access to a complete and robust set of evidence upon which to base their determination; and further, whether local authorities are even the appropriate stakeholder to appraise the climate cost of expansion. In the case of the three large expansions at Luton, Gatwick and Heathrow which will be considered by central government, this report highlights the importance of ensuring applicants adhere to best practice in the appraisal process.
RECOMMENDATIONS
The Secretary of State should call in all of the currently active airport planning applications and assemble a more robust and precautionary evidence base on climate change issues. This evidence can be measured against the forthcoming aviation decarbonisation strategy and the government's new 2035 emissions target, which is expected to include international aviation emissions. In addition, the government will need to demonstrate how the proposed expansions can be reconciled with the Climate Change Committee's recommendation of a no net-expansion policy on airports.
The Department for Transport (DfT) should ensure a more robust evidence base is assembled for the appraisal of future airport expansions, including in the case of future NSI proposals, all of which are expected to involve significant climate impacts. This should include tighter guidelines and expectations on the integration of non-CO2 climate impacts, and the monetisation of said impacts.
.
.
In open letter to Ministers, campaigners say moratorium on UK airport expansion needed, due to policy vacuum on future aviation CO2 cap
In an open letter to ministers, Grant Shapps and Robert Jenrick, a large number of airport groups (15) say the government's aviation strategy is needed, now that the sector is included in the UK's binding climate targets. Currently there are expansion plans at 7 airports in England: Leeds Bradford, Luton, Bristol, Southampton, Heathrow, Stansted and Manston. Gatwick is also expected to submit plans soon, to make more use of its emergency runway.  The letter says the UK government must suspend all airport expansion plans until it sets out how they fit with its legally binding climate targets and the advice of its own experts, the Climate Change Committee.  The CCC said, in December 2020, that there should be no net expansion of UK airport capacity "unless the sector is on track to sufficiently outperform its net emissions".  Which it is unlikely to be, in the next 20 years.  The growth of the industry, that the expansions would permit, could not be accommodated with a stricter overall carbon cap. The campaigners say: "Until the government has consulted on its preferred strategy for net zero aviation, and published its policy, it is impossible to see how local authorities or the government could justify any given airport expansion as conforming to binding carbon budgets and targets."
Click here to view full story…
.
.
.