Bosses call for airports rethink and claim we mustn't ignore the "economic benefits of flying"
29.3.2011 (Evening Standard)
A group of Britain's top business leaders has urged the Government to recognise
the "economic benefits of flying" in its forthcoming aviation review.
In a letter to the Times, 74 chief executives, chairmen or senior executives
from industry, finance and the service sector say Britain needs a "strategy for
growth".
The signatories, which include senior figures at Siemens, Lloyds Banking Group
and PwC, welcomed investment in London's Crossrail and Birmingham's New Street
Station, but called for a plan "to secure the UK's international connectivity".
They wrote: "Our main airports – particularly in the South East – are blighted
by overstretched infrastructure, where the slightest disruption results in thousands
of passengers queuing in the terminal and dozens of aircraft circling overhead."
Their intervention comes after British Airways cabin crew voted by more than
8-1 to stage fresh strikes in their long-running row with the airline.
Ministers are this week expected to announce a policy review following decisions
to reject a third runway at Heathrow and to ban expansion at Stansted and Gatwick.
In their letter, the business leaders said the review must address carbon reduction
targets and local air pollution but, they added, "it cannot and must not ignore
the economic benefits of flying".
"All options must be considered, short and long term, to address growing demand,"
they said.
Andreas Goss, the chief executive of Siemens, told the newspaper: "There is a
fair chance that if Britain does not wake up and recognise that there needs to
be a strategic decision in setting the stage for a new transport era, they will
fall back."
---
also
Planning Resource
29.3.2011
Government has no aviation strategy, firms complain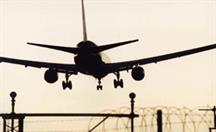 Philip Hammond, the Transport Secretary, will publish a "scoping" document for
a "sustainable framework for UK aviation", which balances arguments for economic
growth and impact on the environment.
Signatories to today's letter — including senior people at Siemens, Lloyds and
PwC — are concerned that in the meantime Britain risks being left behind. "There
is, as yet, no plan to secure the UK's international connectivity," their letter
says.
They urge ministers to revisit decisions rejecting a 3rd runway at Heathrow and
new runways at Stansted and Gatwick.  The letter says  "All options must be considered,
short and long-term, to address growing demand."
The aviation industry says it directly contributes £11.4 billion to the British
economy and supports 520,000 jobs.
It also claims to add a further £12 billion comes from tourists who fly into
Britain. [There is in practice a "tourism deficit" – the balance between money spent
by Brits abroad over that spent by foreign visitors to the UK, using the government's
own figures, of some £15 – 18 billion per year  – link ].
Signatories told The Times that passengers and the wealth that they generated would desert
Britain if a decision was not taken soon to address the capacity constraints.
Some business leaders say that Heathrow must be allowed to grow to create greater
links with the emerging economies of Asia. Others encourage serious consideration
of plans to build a new hub airport in the Thames Estuary, while some say that
shelved plans to create a four-runway hub at Stansted should be revived.
Many fear that narrow electoral concerns in seats close to the airports are holding
back Britain in relation to competitors in Europe and the Middle East.
The Legal and General chairman, said: "Most of our infrastructure is starting
to get overworked but airports in particular are really congested and giving us
a problem."
There is little prospect of Conservative ministers reversing their decision to
overturn plans for a third runway at Heathrow, still Europe's busiest airport.
Several marginal seats in the M4 corridor and the Tory embrace of green issues
at the last election make an about-turn unlikely.
Labour, too, is reconsidering its support for expansion at the West London airport.
 Ministers claim that construction of a high-speed railway will relieve the pressure
when trains replace thousands of short-haul flights. Environmentalists say that
fewer flights and smarter use of technology such as videoconferencing are the
answer.
A constant complaint from industry sources is that while they are clear what
the Government does not want — it overturned permission for a third runway at
Heathrow and has ruled out new runways at Gatwick and Stansted — they have little
idea of what ministers do want. As a result, blue-chip international corporations
have to make strategic business decisions blind.
As one industry source put it: "Sooner or later politicians are going to have
to wake up to the fact that this is a pretty small island on the western edge
of Europe and it desperately needs aviation to be able to compete. At some point
Government is going to have to take difficult decisions on capacity. This country
is short of aviation capacity and if we do not do something about it pretty soon
we are going to slide down the league table and we will be in the Championship."
Another said: "Heathrow, if it stagnates or declines — and all the indications
are that it is in decline in the destinations it serves — then the UK economy
will suffer."
The airport is already losing routes. In January, bmi became the latest airline
to take services out of Heathrow when it cancelled flights from Glasgow.  Since
2005 the number of destinations served has fallen from 200 to 183.
Some fear that as the cost and delays associated with flying to London escalate,
airlines will transfer to other cities in Europe, depriving Heathrow of feeder
traffic and undermining its status as the pre-eminent hub.
Boris Johnson, the Mayor of London, has been a leading advocate of an aviation
hub to sustain the capital's standing in the world. His call for a four-runway
airport to be built in the Thames Estuary is derided by Conservative peers as
ill-conceived and unaffordable.
Having ruled out expansion in the South East, ministers insist that airports
must focus on improving the passenger experience and becoming more efficient.
Theresa Villiers, the aviation minister, said: "We have got a coherent aviation
policy. We have said very clearly that the cost of building new runways at Heathrow,
Gatwick and Stansted is too high in terms of the environment, particularly the
local environmental impact. That is why it is essential that those airports are
better rather than bigger. We can improve the way those airports operate . . .
without having to inflict the environmental damage that would come with additional
runways. We are against a third runway at Heathrow. David Cameron has said he
would never say 'yes' to a third runway at Heathrow."
Aviation is a highly visible source of environmental degradation as jets leave
trails of gas hanging in the sky and millions strive for tranquillity beneath
the flight paths.
To the green lobby, expansion would put at risk Britain's global climate change
commitments. "The Government's entire climate plan relies on aviation levels being
kept within sustainable levels. That simply can't happen if ministers approve
airport expansion around the UK," said Vicky Wyatt, a climate campaigner for Greenpeace.
But to some, the green agenda threatens to hold Britain back as it struggles
to emerge from recession. "We need to balance environmental and economic interests
for the UK and at least have a proper debate about where the balance is," said
Charlie Cornish, chief executive of Manchester Airports Group.
As Labour tries to pick itself up after its defeat at the polls, the party is
ready to shelve its commitment to expansion at Heathrow.
The leader, Ed Miliband, has made no secret of his opposition. But would he turn
his party against airport expansion in the South East? Maria Eagle, Shadow Transport
Secretary, said: "No, it does not rule it out if it can be done without driving
a coach and horses through our carbon targets. I am not set against aviation growth."
A document setting out the parameters of the inquiry this week will be followed
by public consultation. But it will not be until 2013 that the Government adopts
its sustainable aviation framework.