Two great articles, by John Harris and by Geoffrey Lean, on growing rebellion about infrastructure projects being imposed on countryside
John Harris: "All over the country, an old story is back with a vengeance: the power of corporations and government colliding with much more human imperatives, and sparking trouble. It's there in an increasingly widespread juxtaposition of hi-vis jackets, drilling kit and security guards, and serene British countryside. " "In a country as deindustrialised as the UK, ministers will always go weak-kneed about grand projects and new technologies. But the lingering effects of the crash have pushed their thinking into the realms of the neurotic, as government has been seized by a mixture of fear, profiteering zeal and metropolitan arrogance. All of these extend beyond energy policy into such issues as road-building, the dazzlingly stupid plan for high-speed rail, the current mania for airport expansion". "… people rattled by what's happening to their communities may cite such functional concerns as traffic congestion and noise pollution, but their take on things runs a bit deeper than that, into the profound stuff of place, history and collective identity." "… as events in Balcombe prove, plenty of people are now standing in the way of an economic system that has never been more rapacious and corrupt, and demanding something surprisingly radical: peace and quiet."
.
Tweet

Once, the Tories understood rural Britain. Not any more
The anti-fracking protest in Balcombe is just the tip of the iceberg. All over Britain, a new countryside rebellion is brewing
by John Harris
31 July 2013   (The Guardian)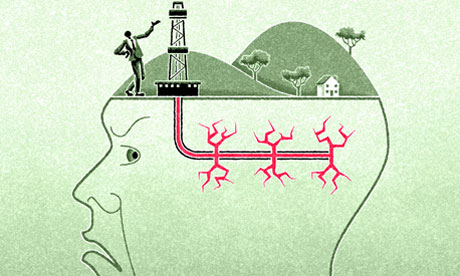 Illustration by Matt Kenyon
Sight unseen, you would hardly have expected an explosion of rage in the West Sussex village of Balcombe. It sits just to the north of that well-known hotbed Hayward's Heath, and suggests a mixture of chocolate-box cutesiness and commuter-belt quiet – hardly the most obvious setting for a carnival of dissent that has been supported by droves of local people, and such visitors as Bianca Jagger. There again, neither does Balcombe look like the kind of place that prospectors might identify as a potentially rich source of oil: even though we have long had a small-scale inland industry, oil is a resource that most British people have always understood as coming exclusively from under the North Sea.
Now, though, with George Osborne in a state of high excitement, freshly announced tax breaks and planning exceptions, and the word "fracking" all over the media, a new reality is upon us. For the moment, the Balcombe stand-off is its most obvious manifestation – though the big story is less about oil than natural gas, and the supposedly plentiful supplies that lie in shale rock deep beneath whole swaths of the country. The British Geological Survey reckons that Lancashire's Bowland basin could supply the UK's gas needs for 40 years. Meanwhile, prospecting licences for shale gas, coalbed methane and new oil supplies cover such diverse locations as Dorset, the Mendip Hills, the New Forest, and the East Riding of Yorkshire.
All over the country, an old story is back with a vengeance: the power of corporations and government colliding with much more human imperatives, and sparking trouble. It's there in an increasingly widespread juxtaposition of hi-vis jackets, drilling kit and security guards, and serene British countryside. It was also evident in this week's claims by the Tory grandee Lord Howell – George Osborne's father-in-law – that though some parts of the country might have justified fears about fracking, in such "desolate" places as the rural north-east we should just get on with it.
In a country as deindustrialised as the UK, ministers will always go weak-kneed about grand projects and new technologies. But the lingering effects of the crash have pushed their thinking into the realms of the neurotic, as government has been seized by a mixture of fear, profiteering zeal and metropolitan arrogance. All of these extend beyond energy policy into such issues as road-building, the dazzlingly stupid plan for high-speed rail, the current mania for airport expansion – and such delicate issues for the liberal-left as house-building on green-belt rather than brownfield land, and wind farms.
""Infrastructure" is this year's most ubiquitous word, even though it probably leaves most people feeling either indifferent or slightly nervous. This year's Tory conference, I would imagine, will hear rhetoric more suggestive of a Soviet party congress than a gathering of British Tories: lots of talk about energy security, salutes to the wonders of pipelines and power stations, and exhortations to further boost our growth figures and keep up with the Indians and Chinese.
By way of answering back, the people rattled by what's happening to their communities may cite such functional concerns as traffic congestion and noise pollution, but their take on things runs a bit deeper than that, into the profound stuff of place, history and collective identity. Once upon a time, the Conservative party would have understood them: somewhere in its soul, after all, was an innate understanding of the more transcendental aspects of life outside big cities, and the elements of national life best kept away from the brutal ways of the market.
"The beauty of our landscapes, the particular cultures and traditions that rural life sustains – these are national treasures, to be cherished and protected for everyone's benefit. It is not enough for politicians just to say that. We need leaders who really understand it, and feel it in their bones. I do." David Cameron said that, five years ago. Now, by contrast, his party's view of things is summed up by a pledge in Osborne's 2011 budget, to "introduce a new presumption in favour of sustainable development, so that the default answer to development is 'yes'". The word "sustainable", of course, was for the birds – here was a crude invitation to tarmac the planet.
Make no mistake: just as New Labour's London-centric prejudices fed the revolt led by the Countryside Alliance, so another rebellion is brewing, stoked by the Mail and Telegraph – and spread much wider than the hoo-hah over foxhunting, from the UK's rural wilds to the outer edges of the suburbs.
Given that the left is even more metropolitan than the right, as it grows louder, supposed progressives will doubtless come out with their standard sneers, bemoaning nimbyism and condemning anyone with small "c" conservative instincts as a hopeless throwback.
To that, there are two answers. First, it's probably worth bearing in mind that the worship of concrete, smokestacks and growth for its own sake has tended to be a much more congruent fit with dictatorship than democracy. Second, as events in Balcombe prove, plenty of people are now standing in the way of an economic system that has never been more rapacious and corrupt, and demanding something surprisingly radical: peace and quiet.
http://www.theguardian.com/commentisfree/2013/jul/31/once-tories-understood-rural-britain 
.
comments (445)   …. one of which says:
I'm a lifetime rural dweller and all for a less frenetic lifestyle than that imposed on us by rapacious capitalism.
The problem is that so much of the countryside is a pale shadow of the vibrant communities of my long ago childhood and now inhabited by largely wealthy urban retirees living out their distorted vision of a rural idyll.
I don't want to see fracking or drilling for oil but because the continued burning of fossil fuels can only exacerbate climate change but so many of those protesting such proposals are happy to have their houses heated by cheap gas and an endless supply of petrol for their SUVs but they don't want it brought out of the ground anywhere near where they live.
If the protestors signed a pledge to get rid of their cars, to never use air travel and to insulate and ventilate their homes to Passiv House standards so they didn't need heating systems, I'd take them a bit more seriously.
Good luck to the genuine protestors but not to the NIMBYs
.
---
.
see also, on the rise of Middle England against destruction of its countryside:
.
HS2, fracking and planning have given rise to mutiny in Middle England
The demonstrations in Balcombe over drilling for oil and gas reserves are just the beginning
Protesters in Balcombe, West Sussex, after the granting of a permit to Cuadrilla to drill an exploratory borehole Photo: Rex Features
26 Jul 2013 (Telegraph)
431 Comments
I guess it's the Shire effect. Tolkein tells us that the inhabitants of that green and pleasant corner of Middle Earth are "slow to quarrel" but "doughty at bay". Much the same could be said of the people of our own shires: it takes a lot to anger them, but once roused they form a formidable, almost unstoppable, force.
And as Tory and Lib Dem MPs are discovering – on returning to their constituencies for the summer recess – the patience of rural Britain is now wearing thin. More and more local people are mobilising against increasing incursions from inappropriate housing developments, wind farms, shale-gas exploration, HS2 and a massive new road-building programme. Indeed, the conflict hit a new peak yesterday with the arrest of protesters at a potential fracking site near Balcombe, West Sussex.
Planning – long seen as boring, but now one of the most explosive issues in politics – lies at the heart of the rising rural revolt. A couple of years ago – when The Daily Telegraph was deep in its successful campaign to improve the Government's flawed planning reforms – it was hard to find Coalition politicians prepared to give public voice to their private concerns. Now, by contrast, it is hard to spot the parapet beneath all the heads poked defiantly above it.
This week, for example, a new Conservative-led 50-strong group of backbench MPs held the first meeting in a campaign, as its secretary Guy Opperman puts it, "to defend our precious green belt from developers who are simply looking for a quick profit". They have ample reason for alarm. More than 95,000 homes, as The Sunday Telegraph reported last week, are to be built on England's green belts, even though the Government repeatedly promised during our campaign that they would remain protected.
Ten days ago, 15 Tory and Lib Dem MPs queued up to reflect "the growing concern in our constituencies" about "speculative developers charging in" to their areas, with official encouragement, and overriding local planning policies, in a parliamentary debate lasting only about an hour and a half. Just two defended the Government and one, Robert Neill, was a former minister who had helped draw up the reforms in the first place.
Andrew Bingham (High Peak) spoke of a "free-for-all". Stuart Andrew (Pudsey) said that "local anger and frustration… cannot be overstated". Nicholas Soames (Mid-Sussex) warned that it would "shortly amount to a credibility question throughout the country".
And afterwards, Nick Herbert (Arundel and South Downs) – the former minister who initiated the debate – told me: "There's trouble ahead. The Government cannot have failed to notice the level of concern shown by the number of contributions to the debate. It will have to deal with the issue."
Of course, ministers have already tried to head off a revolt over wind farms, promising last month to allow local communities to veto them. But it has failed to deliver. Planning magazine reported yesterday that five new applications have been approved by the official Planning Inspectorate on the grounds that "national policy has not been changed by the recent ministerial statements".
Next up, as yesterday's events in Balcombe painfully demonstrate, is fracking, which is already attracting far more opposition than any previous energy technology at this early stage of development, with resistance groups springing up all over Britain. MPs of all parties raised the alarm in another debate last week, with Tory Eric Ollerenshaw (Lancaster and Fleetwood) saying he had "fought wind turbines" and now had similar concerns about shale gas. And Conservative-controlled Bath and North East Somerset council has unanimously opposed exploration in its area.
Indeed, ministers appear to be stoking up conflict. Chancellor George Osborne last week announced the world's "most generous" tax regime for shale, even though the strongly pro-fracking Peter Lilley said this was probably "unnecessary". And new planning rules specifically stop councils from considering some of the most important issues to local people – including the integrity of the wells, the chemicals injected into the ground, flaring from the rigs, and waste treatment. Extraordinarily, it is not even putting these rules out to public consultation.
As if this were not enough, objections to HS2 are escalating alongside its costs and expected environmental toll. And 240 road-building schemes have already been announced for the next decade, with more on the way.
Twenty years ago, the shires saw off the last major road-building scheme, causing it to be abandoned before it was fully under way. Now countryside groups are reporting even more resistance building up to what is a whole collection of threats, striking simultaneously at what they hold dear. Perhaps the rural people of Britain are concluding, like hobbit Robin Smallburrow in The Lord of the Rings, "If we all got angry together, something might be done."
http://www.telegraph.co.uk/earth/energy/10204677/HS2-fracking-and-planning-have-given-rise-to-mutiny-in-Middle-England.html?fb
.
.
.
.
.