Baffling world of airport retail; cheapest possible tickets, most expensive possible terminal shopping
A frequent flier writes in a blog how he is baffled by airport retail policy and why "shops that you find in airports succeed or how this market is designed. If you consider that a large percentage of the folks wandering around the terminal spent a disproportionate amount of time online searching for the cheapest possible deal, then surely you wouldn't expect them to walk into this terminal-come-shopping mall and spend £495 on a pair of socks? Ok, maybe not £495 but you get the point. It doesn't make sense." Heathrow Terminal 5 looks more like Rodeo Drive, except for maybe Dixons and Boots, which are the only visible high street options.  Even at Stansted, where " 90% of the passengers spent more on their McDonald's breakfast than they did on their tickets" though it has sensible shops landside, but after security, only up market shops.  Yet the airports make immense  profits from their retail sales.  So much for the need for cheap flights and complaints about paying APD.  In 2012 Heathrow was 3rd in the world for the amount of airport retail spending ( £831.7m – $1.34 bn –  by 70 million passengers);  Incheon Airport in Seoul was in 1st  place $1.73 bn by 38.4 million); and Dubai in 2nd place ($1.6bn by 57.6 million passengers).  Hong Kong, Singapore Changi, Bangkok, Paris, Frankfurt, Schiphol came next.
.
Tweet

Industry blog
Retail Therapy
By: Jeremy Clark | INFLAIR |
January 2014
There are quite a few things in this world I simply don't understand: the Euro-zone fiscal policy, IKEA assembly instructions, camping holidays, how to manage my social media accounts, and people who choose Ryanair, these are amongst the things that totally baffle me. But fairly high up on this list is airport retail policy.
For the life of me I cannot understand how the shops that you find in airports succeed or how this market is designed. If you consider that a large percentage of the folks wandering around the terminal spent a disproportionate amount of time online searching for the cheapest possible deal, then surely you wouldn't expect them to walk into this terminal-come-shopping mall and spend £495 on a pair of socks? Ok, maybe not £495 but you get the point. It doesn't make sense.
Heathrow Terminal 5 looks more like Rodeo Drive, except for maybe Dixons and Boots, which are the only visible high street options. The other shops here don't feature on most high streets.
I live in a moderately affluent area of leafy England, but even we don't boast a Gucci, Cartier or Louis Vuitton nestled between Poundland and Oxfam.
Perhaps passengers go though some mental metamorphosis when they are given a boarding pass, or maybe there's something in those security scanners that rids us of all traces of fiscal sense.
Surely, airports can't think we're all first class passengers?
Terminal 5 retail departure lounge. Images courtesy of Heathrow Airport's Media Library
It's very annoying for those of us for whom the airport terminal is almost a second home, especially when you actually need something. I recently needed an extra shirt while in transit. My options were Paul Smith – who had nothing under £1,000 – Pink, Gucci, Salvatore Ferregano or Harrods. What I really needed was Marks & Spencer, T.K. Maxx or British Home Stores. Even Tesco would have done.
And at airports serving mostly low-cost carriers, where 90% of the passengers spent more on their McDonald's breakfast than they did on their tickets, retailers such as Asda/Walmart, Tesco and Primark are more likely to make decent profits.
Take London Stansted, for example: landside, in the terminal, there are a variety of shops like Accessorize (affordable bling), Monsoon (affordable clobber for girls), Coral (for a flutter on the gee-gees), Claire's Accessories (more affordable bling), and Clarks (sensible shoes). As you pass security, like Judy Garland into Oz, your choices are Hackett (huntin' shootin' and fishin' wear for the gentry), Hamleys (toys for spoilt brats), Mulberry (like Burberry, only with bags), Swarovski (Stansted's answer to Cartier), and Ted Baker (pricy jeans).
Food-wise it's much the same story. Landside it's usually Burger King and Pizza Hut for the masses and M&S food for the gymkhana set. Go airside and it's Caviar House Oyster Bar (fish 'n' chips for the rich), Gordon Ramsey's Plane Food (plain, but not cheap), and Caviar House & Prunier Seafood Bar (for those who missed the Caviar at the Oyster Bar).
My thinking now is that as the airlines have trained us into such frugalness, they should be the ones to run the retail operation, and then we should get Aquascutum and Burberry to run the airlines – that way we can all fly first class!
http://www.airtransportpubs.com/airports/blog/post/airport-retail-therapy
.
---
.
London Heathrow Airport airport served  around 70m passengers in 2012 and took £831.7m ($1.34bn) from airport retail in that time.  
Link 
.
Highest Grossing Airports in Duty Free and Travel Retail Announced
International duty free and travel retail publication, The Travel Retail Business (TRBusiness), has published a list of the world's leading global airports with the highest retail sales turnover in 2012.
31.7.2013 (PR web)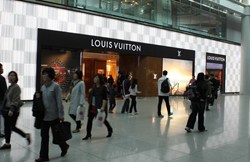 This Louis Vuitton store generated $92m in sales at Incheon International Airport in 2012. It was bought in by the airport's management specifically to attract Chinese Mainland shoppers.
The Top 10 Airports Report, compiled by The Travel Retail Business (TRBusiness) from official statistics and exclusively obtained data, shows that travelling consumers increased their average spend by between 3-12%, with the top ten global airports accounting for combined takings of $9.2bn. This figure represents almost 1/5th of the $49.4bn (1) global travel retail sales total in 2012.
The report reveals that Incheon International Airport in Seoul takes the number one position, with passenger traffic totaling 38.4m, and a 15% increase in spending bringing in an impressive $1.73bn. The increase in the mix of Asian nationalities travelling to South Korea has had a huge effect on the purchasing levels at Incheon, with 2.84m (+28%) Mainland Chinese, and 3.52m (+7%) Japanese passengers passing through in the last year.
TRBusiness announced that Dubai International Airport was in close second place, with 57.6m passengers spending $1.6bn in 2012 – a 10% increase on 2011 figures. Dubai International has also moved ahead of Paris Charles de Gaulle to become the world's second busiest international facility, according to Airports Council International.
London Heathrow Airport is in third place, having provided TRBusiness with exclusive access to a breakdown of 'pure retail' sales figures for the first time. The airport served 70m passengers and took £831.7m ($1.34bn) in the twelve-month period.
Hong Kong, Singapore Changi, Bangkok, Paris, Frankfurt, Amsterdam Schiphol, and Sao Paolo Guarulhos make up the rest of the list.
The Top 10 Airports saw a combined total of 502.9m passengers pass through their doors in 2012. This represents a growth of 66.9m passengers across all of the facilities since 2010.
TRBusiness Executive Editor, Doug Newhouse, spoke of the positive response to the report.
"The travel retail industry has come to view The Top 10 Airports Report as a league table and guide of sorts, and it is still important that we try and encourage airports to provide us with transparent retail sales figures – although huge advances have been made in this direction in recent years. If we can form a better understanding of how traveller numbers and regional or global pressures can affect profits in airport retail environments, then it is obviously beneficial to the industry as a whole."
Note for editors: (1) $49.4bn global duty free and travel retail sales total in 2012 = source: Generation Research figures announced by Tax Free World Association at TFAP 2013.
About: Since October 1997 The Travel Retail Business magazine (TRBusiness) has been a provider of news, statistics and analytical commentary to business leaders and decision makers in the duty free/travel retail industry
http://www.prweb.com/releases/2013/7/prweb10978149.htm
.
---
.
Earlier:
Consumerism gone mad: Dubai Duty Free smashes all records with 30th anniversary sales of US$30.65 million
Date added: December 24, 2013
To mark its 30th anniversary, on 20th December, Dubai International and Dubai World Central airports set about beating their sales records for their anniversary day. Dubai Duty Free (DDF) set an all-time daily sales record with turnover of US $ 30.65 million. That is 40% more than on 20th December in 2012. They gave their customers up to 30% discounts, to get them to buy more and more. Dubai boasts that some of their customers even"book their flights in order to shop on that day." By 6pm, DDF sales reached US $23.2 million and an amazing 158,931 transactions. By the end of the day it was US $30.65 million with 208,000 transactions. Sickening. Consumerism out of any reasonable scale. Perfume was the highest selling category with sales of US $8.5 million and representing 27.9% of the total daily sales. Watches & clocks was the second most popular category with sales of US$7 million. Cosmetics in 3rd place, category wise, with sales of US$3.9 million. Alcohol in 4th position followed by cigarettes. Other notable increases were seen in confectionery, which rose by 33% to US$1.2 million and delicatessen, which recorded US$619,000. That's airports and mindless, rampant consumerism for you.
Click here to view full story…
.
Airport retail now altering ad displays according to the sort of customers passing through
Date added: September 9, 2013
In the departure lounge of Heathrow's Terminal 5, passengers buy over $450 million per year of perfumes, clothing, scarves, sunglasses, jewellery, watches, bags and small leather goods from top expensive brands. A similar scene plays out each day at a plethora of major international airports across the world and the last 20 years, airside retail has undergone a radical transformation.The passengers at airports constitute a captive audience, passing "the magic hour," between clearing security and boarding their planes. Airports have a lot of information on passengers — who they are, where they are going, on what airline, at what time, in what class. Now by digitising product displays, retailers may soon be able to more rapidly adjust their merchandising strategies, in real-time, to reflect the profiles of much larger numbers of customers currently passing through the airport. eg. if you have got the English going through in the morning and they like their Johnny Walker Black you will put it on the advertising screens, and if later there is a Chinese plane coming through, you advertise something else that they like buying.
Click here to view full story…
.
Airports and airlines eyeing up passengers to increase their retail spend
Date added: April 24, 2013
If the airlines can't make enough profit from flying their passengers from A to B, then they want to extract every bit of cash they can from them, in the airport shops. An anna-aero article discusses how airports and airlines might work more effectively together, to get passengers to buy more stuff. The airlines have more personal data about the passengers, and the airports want this data in order to maximise the retail earnings in their shops. But the airlines don't want to share the chance of profit with the airports. The Chief Commercial Officer at Manchester Airports Group said – "airport retail is vital precisely because airport charges paid by airlines are already well below the cost of the infrastructure they use." The airports and airlines don't see eye to eye on this. There is a problem for retailers, with the low cost airlines that limit baggage, and the 'one-bag rule', which is a disincentive to buy a lot at the airport. An ACI conference next spring will look at actual practical solutions to enhance "Airline-Airport Cooperation to Increase Passenger Spend."
Click here to view full story…
.
Heathrow award for top airport for shopping for 3rd year. Net Retail Income per passenger £6.21 in 2012 (£5.64 in 2010)
Date added: April 18, 2013
For the third year, Heathrow got the award (within the airports industry) for the top airport for shopping. Heathrow has over 52,000 square metres of retail space and more than 340 retail and catering outlets. Heathrow overtook Dubai International to win the title of "World's Best Airport for Shopping" for 2012. Heathrow has the highest retail sales of any airport in the world ahead of Incheon airport in South Korea. Figures from the Moodie Report in February 2013 said that Net Retail Income per passenger at Heathrow was £6.21 (up 4.4% on 2011, partly due to the Olympics) in 2012 and £5.95 in 2011, while it was £5.64 in 2010. (By comparison the Net Retail Income at Stansted in 2012 was £4.27 per passenger). At Heathrow in 2012 the gross retail income increased +5.7% to £460.1 million
Click here to view full story…
.
Airport retail: rise and rise of the shopping centre, with an airport attached
Date added: April 15, 2012
A huge, and growing, proportion of the money made by airports is from retail. It seems that the industry expects significant increases in this spending over the coming years, and airports do all they can to get passengers to spend as much time as possible in retail, put retail outlets in arrivals, etc etc and devise means for them to buy goods for collection on their return, to avoid baggage problems. The industry expects most growth in the Far East, where women tend to spend a lot of designer brands. The airport retail industry finds passengers buy less when they are stressed by airport security waits and queues, and they buy more when calm and happy. Airports need a ticket as proof of identity, so they can monitor the types of travellers, and the routes, which generate the most cash. Seems the Chinese, the Russians and the Nigerians tend to spend the most. At Heathrow, the average passenger spends £4.35. But for fashion, the average BRIC passenger spends £45.50. No wonder BAA wants more.
Click here to view full story…
How much profit do airports make from their retail activities, rather than flying?
Date added: February 13, 2012
Heathrow got 21.3% of its income from retail in 2010, compared to 53% from aeronautical. On average each Heathrow passenger spent about £5.70 (maybe £5.90) at the airport, with women spending more than men (!). BAA data say frequent fliers spend more than infrequent fliers. In the year 2010/2011 Gatwick airport made £115.6m from retail, and another £51.7m from car parking, with an average of £5.80 spent on retail per passenger. Stansted retail spending per passenger is about £4.00 to £4.20. In the year 2010/2011 Heathrow made about £380 million per year on retail, Gatwick about £115, and Stansted net retail income fell from £79.8m in 2010 to £73.9m. Manchester made about £70 million on retail, with about £3 per passenger.
Click here to view full story…
.
.
.