Strong "No New Runways" bloc gets its message across at the London Time To Act Climate March
The huge "Time To Act" on Climate Change march was held in London on Saturday 7th March. There was a good turnout, described by some as "over 5,000" and by others as nearer 20,000 (numbers are always hard to be accurate on). The "No New Runways" bloc had a good attendance, from Gatwick and from Heathrow opposition groups, as well as many individuals. Gatwick protesters from CAGNE wore pantomime devil horns, and T-shirts with the logo "Gatwick, Neighbour From Hell." Many people who stand to lose their homes, to be bulldozed for a new Heathrow runway, too part. The AirportWatch banner read "No New Runways", and another" Aviation Expansion = Climate Threat.  The runway bloc were with others in the transport bloc,  and marched from Lincoln's Inn Fields to Parliament, where the speeches took place. During the speeches John McDonnell (the MP for Hayes and Harlington, which the Heathrow north west runway would wipe out) spoke of the need for climate action, not least to oppose a new runway – digging up the village of Harmondsworth. He described the level of protest and direct action that would happen, if the north west runway was recommended, as unprecedented and the "mother of" all environmental battles. The aim of the march is to put pressure on political parties before the general election, and raise the profile of climate change ahead of crucial climate talks in Paris in December.
.
Tweet

CAGNE protesters from Gatwick.(with Stewart Wingate masks).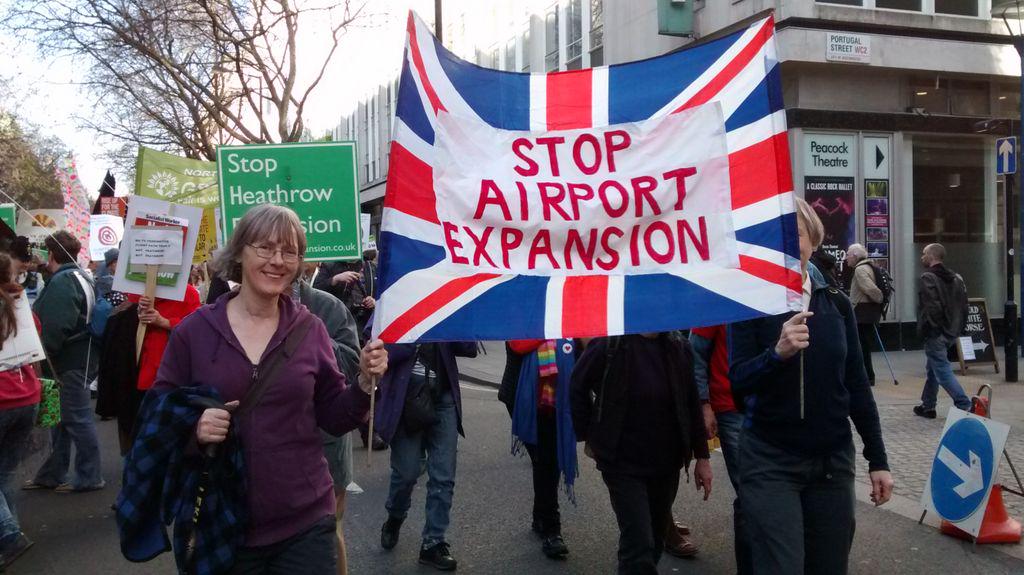 One of the aviation banners.
 Heathrow campaigners and Gatwick campaigners united  against either new runway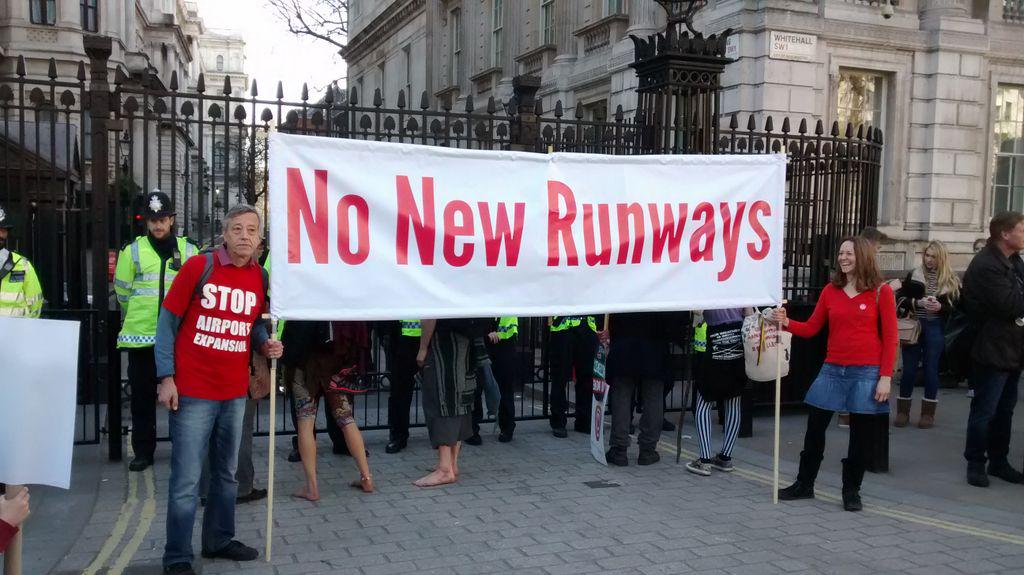 The "No New Runways" banner outside the gates of Downing Street.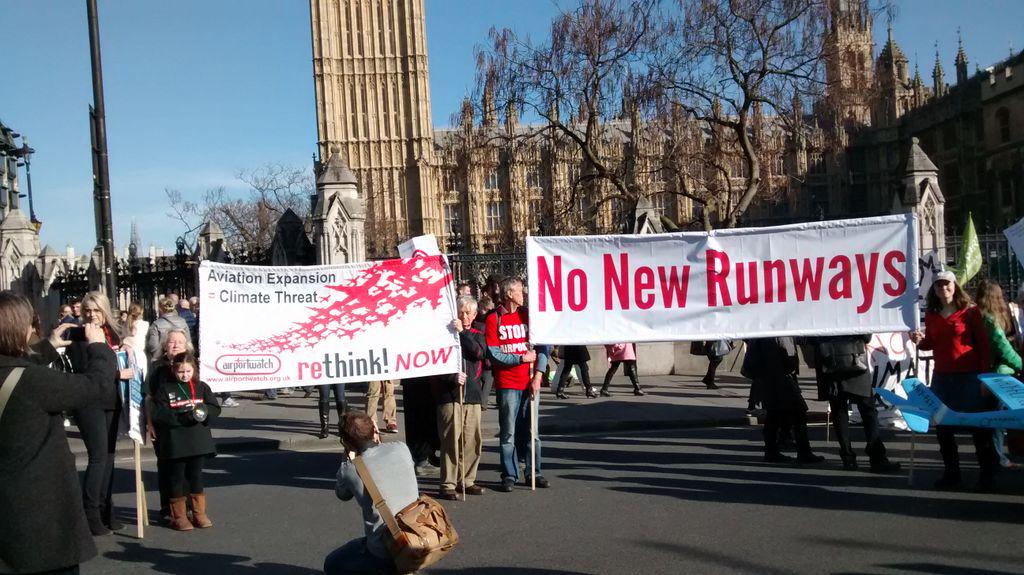 The banners, and the marchers, arrive at Parliament.
.
---
People's Climate March In London Draws 5,000, Including Russell Brand And Naomi Klein
By Paul Vale
7/03/2015 (Huffington Post) More than 5,000 protesters gathered in London on Saturday for a climate change march, which is to end with a rally outside Parliament.
The event is one of around 2,500 around the world calling for tougher action on climate change.
Caroline Lucas, Green Party MP for Brighton Pavilion, said: "Climate change is here, visible, and we know it's time to act. …It's time to stand up against those determined to burn the last drops of oil and gas and be confident in our power to build a better future. In coming together we help build the climate movement and inspire others to join us."
She added: "Young people, parents, grandparents, those new to the movement and veteran campaigners, we can all play our part, demanding our government legislate for the common good and not short-term vested interests. We're raising our voices for a year of climate action the UK and the world has never seen before."
Last September Emma Thompson and her daughter joined thousands of people at the 2014 People's Climate March in London.
Vivienne Westwood addressed the protesters by video link, warning "the clock is ticking." The fashion designer said: "As you march my models will be walking down the catwalk. It's very important you are there. I believe this demo is super important for the whole world. At the moment we in the UK need to do two things to handle everything for the best, we need to demonstrate, we need to vote in the elections."
She continued: "The main parties just want power, they believe everything should be owned by a few people that don't want change. We want MPs who don't agree with the old system. The press and the TV do not reflect public opinion, the internet does. You're not alone, people know what's going on. We must keep up the fight against climate change, the clock is ticking."
She was joined by Matt Wrack, general secretary of the Fire Brigades Union. He said: "We are delighted to see a growing alliance between workers and climate activists demanding a just solution to climate change. It is sick that millions around the world suffer without energy."
He added: "It is sick the energy companies push the prices through the roof… multinationals care not a damn for you or their families but about their profits, that's what this system is built on. For us the answer is in democracy and that means challenging those who are in power. I ask, do you trust the banks to deal with climate change? Do you trust the multinationals to deal with with climate change? No. That's why we say it's time to put our democracy where it belongs, with ordinary people across the world."
John Sauven, executive director at Greenpeace UK, added: "We can have clean energy, we can have clean jobs, we can have clean power if everyone on this planet is to stick together. This year is going to be the most important year, this is going to be the start of the biggest mobilisation we have seen on this issue of climate change and poverty."
http://www.huffingtonpost.co.uk/2015/03/07/thousands-gather-in-london-for-climate-change-march-led-by-russell-brand-and-naomi-klein_n_6822680.html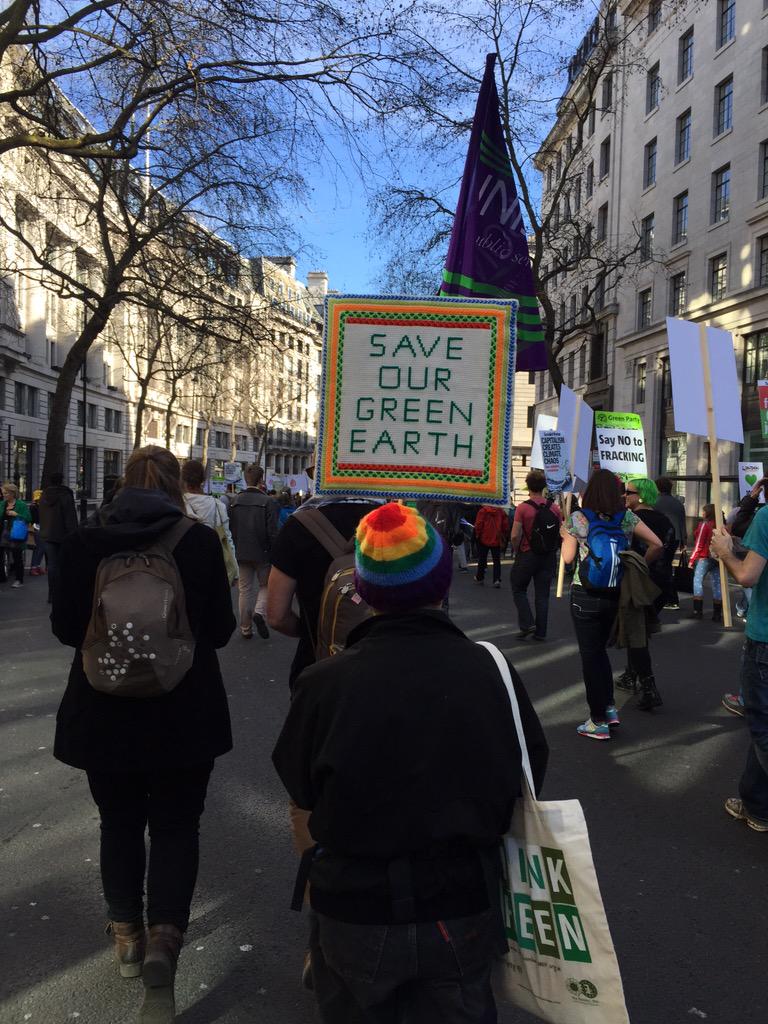 ---
.
A few days earlier, John McDonnell (MP for Hayes and Harlington) said:
Real action on climate change is the demand from thousands of people, including PCS members, who are expected to march in London on Saturday.
The Time to Act on Climate Change march brings people together on the streets of London to demand real change and tell politicians seeking election that there is no mandate for climate-wrecking business as usual. The march was initiated by the Campaign against Climate Change, who are carrying forward overall responsibility for administration, budget and logistics. But it has always been envisaged as a coalition event, in the spirit of the People's Climate March.
Across the UK people are already building change – from divestment of funds which prop up the fossil fuel industry, to frontline communities fighting unsustainable energy extraction and fracking, through to those paving the way for a transition towards a 100% renewable energy future which would bring about an estimated one million new climate jobs in the UK alone. This is a campaign backed by PCS.
Saturday's demonstration aims to put pressure on political parties before the general election, and raise the profile of climate change ahead of crucial climate talks in Paris in December. It is also intended to energise and strengthen the climate movement – not an end-point but a stepping stone, it will be followed by local action immediately before the general election, the Climate Coalitionlobby of parliament in June and planning throughout 2015 towards the Paris meeting.
Speakers on the day include:
Caroline Lucas (Green party MP)
Chris Baugh (PCS assistant general secretary)
John McDonnell (PCS parliamentary group chair)
Matt Wrack (FBU general secretary)
Francesca Martinez (Comedian, speaker, actress, writer and campaigner for a fairer system).
http://www.pcs.org.uk/en/news_and_events/pcs_comment/pcs_comment.cfm/join-the-time-to-act-on-climate-march
.
---
Time to Act: climate change protesters march in London
Caroline Lucas among speakers and Naomi Klein records video message for event, which is part of a series in cities around the world
7 March 2015  (Guardian)
Thousands of climate change protesters gathered in central London on Saturday to urge strong action at the Paris climate conference in December.
Protesters set off from Lincoln's Inn Fields and headed for Westminster to hear from speakers including the Green party MP Caroline Lucas and the head of Greenpeace UK John Sauven.
The Campaign Against Climate Change, who organised the march, said "well over 20,000" people attended. The number of attendees was buoyed by the bright sunshine of early spring. Last September 40,000 people took to London's streets as part of the biggest demonstration on climate change action in history.
Sauven said the protest on Saturday was the first step in a year of climate action. "This is much smaller in terms of its aims and objectives [than the global day of action in 2014]. But I think it's also just the beginning. By the time we get to Paris then we have to have far bigger numbers than we had last year in September."
Lucas said climate change was visible and demanded action. "It's time to stand up against those determined to burn the last drops of oil and gas and be confident in our power to build a better future," she said. "In coming together we help build the climate movement and inspire others to join us."
She said there had been a failure of political leadership: "It's a refusal on the part of most politicians to stand up to fossil fuel lobbyists, listen to the scientists, and act in the public interest."
The author Naomi Klein urged grassroots activists to redouble their efforts during the months before December's climate change conference in Paris. In a video message for the rally, she said it was not only political leaders who held the power to act on climate change.
"Here we are, with just nine months ahead of those critical climate talks in Paris. It's not nine months to pressure our leaders to act. We have nine months to act ourselves. Nine months to become the leaders we need. To lead from below, from the streets, from the neighbourhoods, from the smallest towns to the biggest cities," the author said.
The designer Vivienne Westwood, who also made a video message, said: "You're not alone, people know what's going on. We must keep up the fight against climate change, the clock is ticking."
Leila Wilmers, 30, who attended the rally, said both government and big business needed to do more than "just telling people to switch their lightbulbs off and so on".
Andrew Musser, 30, a physicist at Cambridge University, said: "The government policy is quite bizarre. They say they're concerned about the environment but then they propose wide-scale fracking. I think they need to move to renewable energy, particularly hydropower and solar power."
The Guardian has launched a campaign to examine the consequences of climate change. Alan Rusbridger, the editor-in-chief, wrote: "The coming debate is about two things: what governments can do to attempt to regulate, or otherwise stave off, the now predictably terrifying consequences of global warming beyond 2C by the end of the century. And how we can prevent the states and corporations which own the planet's remaining reserves of coal, gas and oil from ever being allowed to dig most of it up. We need to keep them in the ground."
Metropolitan police officers were stationed around the march following a back down on their previous refusal to police peaceful protests last month.
http://www.theguardian.com/environment/2015/mar/07/time-to-act-climate-change-protest-london
.
.
.