Any estate agent will tell you about typical property buyers' most obvious dealbreakers: think location, space, condition, transport links, crime, local schools and so on. But what about the many hidden factors that could make an otherwise keen property buyer reduce their offer – or worse, lose interest in the purchase entirely?
Does having a bad mobile reception matter to buyers more than living next door to a cemetery? What about energy efficiency – it may be a legal requirement but do buyers really take any notice of that Energy Performance Certificate?
SellingUp has conducted an exclusive survey with Populus, one of the UK's leading market research firms, to look into some of the lesser known reasons that potential buyers may be put off entirely, or encouraged to make a reduced offer.
Survey question & summary of results

Populus, on behalf of SellingUp, asked a 1000+ sample of the general UK adult population the following question:
Imagine you are looking to buy a property, and you noticed there was an issue. To what extent do you think each of the following would influence your offer on the property?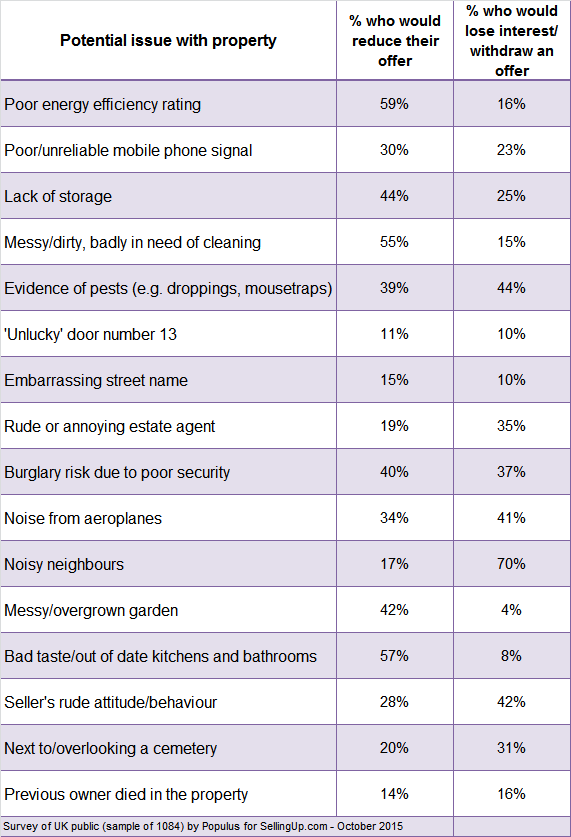 http://www.sellingup.com/property-buying-dealbreakers-survey
Copied below is just the section on plane noise:
Noise from aeroplanes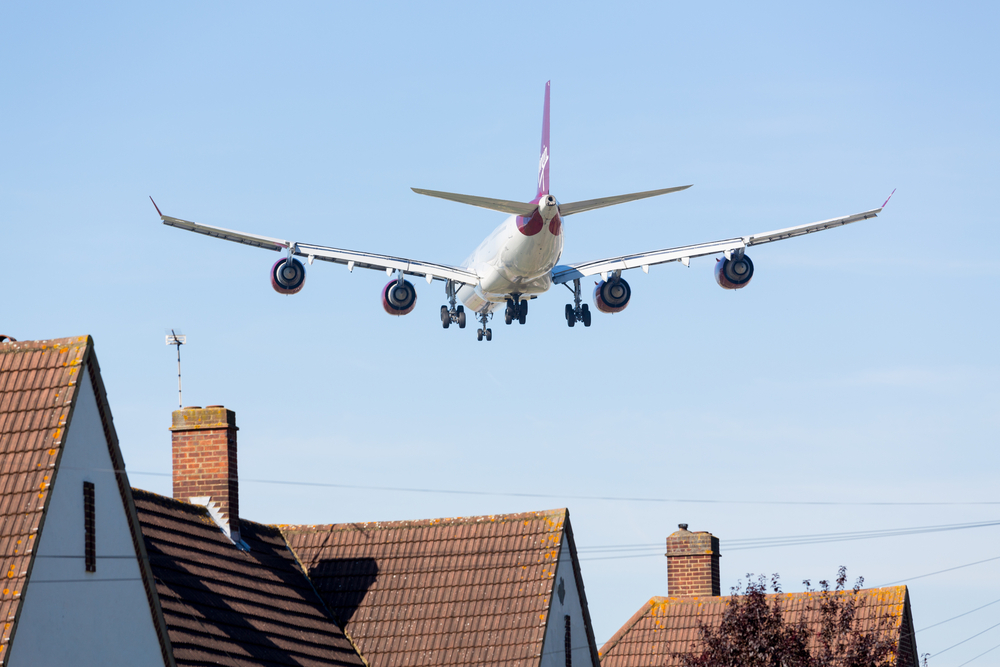 Campaigners fighting against the expansion of the UK's biggest airports, Heathrow and Gatwick, might feel vindicated by our survey when it comes to their concerns about the effect of airborne noise pollution on property values. A jumbo-sized41% of buyers would be prepared to see a purchase fly off into the horizon if they noticed serious noise from the skies above. More than one third (34%) of buyers would expect a price reduction (23% in the thousands and 11% in the hundreds of pounds) no doubt to make up for sleepless nights and the cost of triple glazing.
Below is just a part of the data given on the website:
Full article at
http://www.sellingup.com/property-buying-dealbreakers-survey
---
See also