Heathrow fares badly in party manifestos – small, limited reference in Tory manifesto
By inserting only a small and limited reference to Heathrow expansion in the Conservative Manifesto (published on 18th May) is interpreted as meaning the Tories are leaving themselves room to drop the proposed runway, if necessary. The manifesto only says: "…We will continue our programme of strategic national investments, including High Speed 2, Northern Powerhouse Rail and the expansion of Heathrow Airport – and we will ensure that these great projects do as much as possible to develop the skills and careers of British workers."   The No 3rd Runway Coalition, set up earlier this year, includes over a dozen campaign groups, parliamentary candidates, local authorities and NGOs, working together to oppose Heathrow expansion. The Coalition believes the weak reference could indicate recognition of the insurmountable challenges that expansion at Heathrow faces including poor air quality, climate change, noise reduction, surface access difficulties and costs to the public, and the demolition of thousands of homes. The Labour manifesto only said the party "recognised the need for additional capacity in the south east" and it would "guarantee that any airport expansion "adheres" to Labour's four tests. The LibDems made an explicit commitment not to support a 3rd Heathrow runway, or one at Gatwick or Stansted.
.
Tweet
HEATHROW FARES BADLY IN PARTY MANIFESTOS
8th May 2017  (No 3rd Runway coalition)
A small and limited reference to Heathrow expansion in the Conservative Manifesto published on Thursday afternoon leaves the Government room to drop the proposed expansion of the airport, a major campaign organisation said today. The manifesto simply refers to a wider objective of "our programme of strategic national investments, including….the expansion of Heathrow Airport" (Conservative Manifesto. 2017 P. 26 ).
The No 3rd Runway Coalition, set up earlier this year, includes over a dozen campaign groups, parliamentary candidates, local authorities and NGOs, working together to oppose Heathrow expansion. The Coalition believes the weak reference could indicate recognition of the insurmountable challenges that expansion at Heathrow faces including poor air quality, climate change, noise reduction, surface access and the demolition of thousands of homes.
Both Labour and the Liberal Democrats published their manifestos earlier this week, with Labour's stopping short of endorsing Heathrow, simply suggesting that the party "recognised the need for additional capacity in the south east" and that the party would "guarantee that any airport expansion "adheres" to four tests set out by the party (Labour Manifesto 2017, p. 92). The Liberal Democrats provided an explicit commitment not to support a 3rd runway (Liberal Democrat Manifesto 2017, p. 66).
Robert Barnstone, Coordinator of the Coalition, said: "Heathrow expansion is a toxic issue, in particular in relation to air quality and noise pollution. The lack of detail in the manifesto is a concern for both the local communities affected and for the taxpayers who are being held liable for an unspecified contribution of public capital. The proposals for delivering a third runway are simply not credible."
The Coalition has recently launched a new website www.no3rdrunwaycoalition.co.uk, can be followed on twitter @NoR3Coalition and has a Facebook page.
For more information:
Rob Barnstone – 07806947050; robert.barnstone@outlook.com
.
---
The Conservative Manifesto says:
Investing in transport
We are working through one of the largest-ever investment programmes in our roads and railways, putting some £40 billion into transport improvements across the United Kingdom over the rest of this decade.
We are investing to reduce travel time and cost, increase capacity and attract investment here in the UK. We will continue our programme of strategic national investments, including High Speed 2, Northern Powerhouse Rail and the expansion of Heathrow Airport – and we will ensure that these great projects do as much as possible to develop the skills and careers of British workers.
and 
Protecting the global environment
The United Kingdom will lead the world in environmental protection. As Conservatives, we are committed to leaving the environment in better condition than we inherited it. That is why we will continue to take a lead in global action against climate change, as the government demonstrated by ratifying the Paris Agreement. We were the first country to introduce a Climate Change Act, which Conservatives helped to frame, and we are halfway towards meeting our 2050 goal of reducing emissions by eighty per cent from 1990 levels. We will champion greater conservation co-operation within international bodies, protecting rare species, the polar regions and international waters. We will work with our Overseas Territory governments to create a Blue Belt of marine protection in their precious waters, establishing the largest marine sanctuaries anywhere in the world.
[To which Doug Parr from Greenpeace commented on Twitter: 
doug_parr 

  "

Why does #torymanifesto reference 2050 carbon targets & not 5th carbon budget (for 2030) passed into law last summer. Is this roll-back?" ]
---
.
What is in the Labour and LibDem manifestos in relation to aviation
The Labour party has not given more than vague support for a Heathrow runway, merely reiterating their "4 tests" that had been mentioned several years ago. Now their manifesto says: "Labour recognises the need for additional airport capacity in the South East. We welcome the work done by the Airports Commission, and we will guarantee that any airport expansion adheres to our tests that require noise issues to be addressed, air quality to be protected, the UK's climate change obligations met and growth across the country supported …. We will continue working with our neighbours … negotiating to retain membership of the Common Aviation Area and Open Skies arrangements." They also say on carbon emissions: "We will reclaim Britain's leading role in tackling climate change, working hard to preserve the Paris Agreement and deliver on international commitments to reduce emissions while mitigating the impacts of climate change on developing countries." The LibDem manifesto says they will: "Develop a strategic airports policy for the whole of the UK, taking full account of the impacts on climate change and local pollution. We remain opposed to any expansion of Heathrow, Stansted or Gatwick and any new airport in the Thames Estuary and will focus instead on improving existing regional airports such as Birmingham and Manchester. We will ensure no net increase in runways across the UK."
Click here to view full story…
.
Press release by Friends of the Earth:
Conservative manifesto –
Friends

of the

Earth

reaction

Thursday, May 18, 2017

https://www.foe.co.uk/resource/press_releases/conservative-manifesto-friends–earth–reaction_18052017

Commenting on the content of the Conservative Party Manifesto [1] launched
today (18 May), Dave Timms, Friends of the Earth campaigner, said:

"The mantra of 'take back control' will ring hollow for communities who
face having fracking forced down their throats and their rights stripped
away.

"The lack of policies to deal with the dirty air crisis is astounding.
Polluting car manufacturers will sleep easy knowing that they have been let
off the hook, while children with asthma will continue to choke. This is a
national disgrace which can't be hidden behind planting a few trees.

"The Conservatives have comprehensively rejected the siren voices calling
for the UK to walk away from its international and domestic commitments to
tackle climate change. This sends a strong message to both Donald Trump and
opponents of action in the UK. However, far too many of the policies to
deliver on this welcome pledge are inadequate or absent.

"We welcome the commitment to leave the environment better than we found
it, and fully transfer EU environmental protections to UK law, but we must
ensure that these laws can't be rewritten later without full parliamentary
scrutiny."

.
---
For information – and not from the manifestos:
More about Transport for the North  and Northern Powerhouse Rail
http://www.transportforthenorth.com/#transport-plan
Map showing where the rail links might be improved.
"Northern Powerhouse Rail is our ambitious plan for a rail network that will provide fast, frequent and reliable links between the North's six biggest city regions and its largest airport."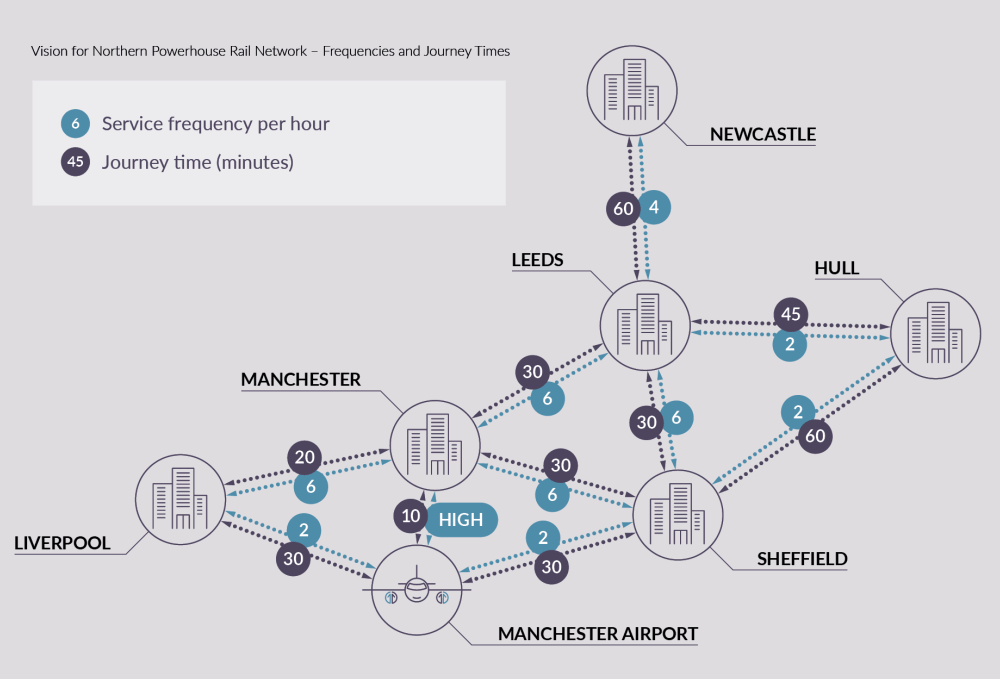 .
.
.