Newly-built homes in Yorkshire face destruction, as Government reveals HS2 routes
Chris Grayling has announced that sixteen brand new homes in Mexborough, in South Yorkshire, will be demolished to make way for the new HS2 railway line. This comes as the Government unveiled the route for the section phase of the project. The eastern section of the HS2 line, linking Birmingham and Leeds via Sheffield, will go through a newly-built housing estate.  South Yorkshire "won't get a proper stop" on the line. The compensation from the government, for the compulsory purchase, is not generous. The government website says there is a cash offer of a lump-sum payment of 10% of the un-blighted open market value of the property (from a minimum of £30,000 to a maximum of £100,000). The government will cover your legal fees up to £500 (plus VAT) if the application is successful. If a householder qualifies, the government will pay 100% of the un-blighted open market value, as assessed by 2 independent valuers. The government will not cover additional costs, for example legal fees or removal costs. …… and there is a lot more detail on the website   The money offered is not likely to be enough to enable them to buy equivalent homes nearby. People facing compulsory purchase and demolition of their homes for a Heathrow runway are very much in sympathy with those affected by HS2.
.
Tweet
Newly-built homes in Yorkshire face destruction, as Government reveals HS2 routes
High-speed trains will run from London to Birmingham and then on to Manchester and Leeds beginning in 2026
By Neil Lancefield, and Jon Vale (Independent)
17.7.2017
More than a dozen new homes in South Yorkshire will need to be demolished to make way for the new HS2 railway line after the Government unveiled the route for the section phase of the £55.7bn project.
The eastern section of the line, linking Birmingham and Leeds via Sheffield, will go through a newly-built housing estate.
Sixteen properties in Mexborough will be bulldozed to make way for the high-speed railway, the Department for Transport (DfT) said.
Residents will lose their homes because ministers decided the line should serve the existing Sheffield city centre station after proposals to run trains to Meadowhall shopping centre were shelved.
The Western branch of the HS2 line will connect the West Midlands with Manchester via Crewe.
Labour's Rotherham MP Sarah Champion said she was "furious" because South Yorkshire "won't get a proper stop".
Transport Secretary Chris Grayling's decision on the route from Crewe to Manchester and Birmingham to the East Midlands and Leeds confirms six of the seven changes included in the November consultation.
Mr Grayling decided not to proceed with a proposal to move the line to the east of Measham, Leicestershire.
The proposed route for the HS2 high-speed rail scheme in the north-west, East Midlands and Yorkshire (PA)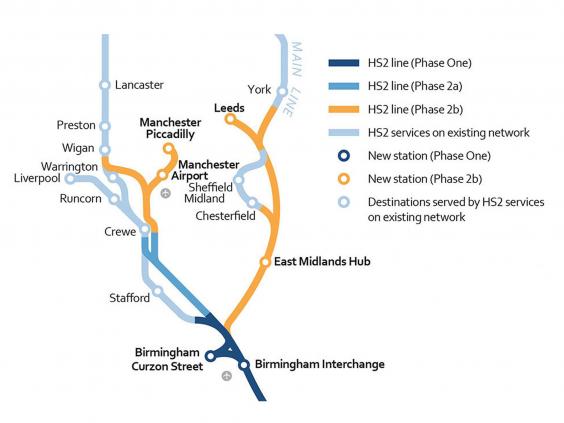 The railway will run to the west of the village with a viaduct extended to mitigate the impact on commercial properties.
Meanwhile, Ed Miliband has accused Mr Grayling of a "gross discourtesy" after it emerged the announcement on the final route for HS2 was likely to be "sneaked out" in a written statement.
The former Labour leader was joined by Conservative and Labour MPs in raising points of order in the Commons to voice their displeasure with Mr Grayling.
Earlier on Monday, troubled construction giant Carillion was among firms awarded contracts for the building of phase one of the line.
The deals are worth £6.6bn in total and will see tunnels, embankments and viaducts constructed between London and Birmingham.
High-speed trains are expected to begin operating between London and Birmingham in 2026.
Mr Grayling said: "This is a hugely important step in the construction of Britain's new railway and underlines this Government's determination to deliver an economy that works for all.
"HS2 will deliver vital links between some of our country's biggest cities, helping to drive economic growth and productivity in the North and Midlands.
"As well as providing desperately needed new seats and better connecting our major cities, HS2 will help re-balance our economy.
"We will now get on with building the railway, while continuing to ensure affected communities get appropriate support and are treated with fairness, compassion and respect."
Opponents of the project claim it will run over budget, create havoc during construction and have disastrous environmental consequences.
Joe Rukin, of the Stop HS2 campaign, said: "The case for HS2 has been invented by the very cheerleaders who intend to rake in billions of taxpayers' money which is desperately needed elsewhere, so it really is time to ditch this gigantic white elephant before it is too late."
But supporters hope it will reduce the need for environmentally-damaging domestic flights between London and northern cities.
In February, Parliament granted powers to build the first phase of the line, which will see trains travel at high-speed between London and Birmingham before running on from Birmingham on the existing West Coast Main Line.
Preparatory work has begun and major construction projects are due to launch in 2018-19.
Services on phase 2a from the West Midlands to Crewe are expected to begin in 2027.
Phase 2b from Crewe to Manchester, and Birmingham to the East Midlands and Leeds, is due to open in 2033.
http://www.independent.co.uk/news/uk/home-news/hs2-route-homes-demolished-high-speed-line-london-birmingham-manchester-leeds-a7845986.html
.
---
This is from the Government website about compensation offered to those forced to move out:
https://www.gov.uk/claim-compensation-if-affected-by-hs2/cash-offer-or-voluntary-purchase-scheme
What you'll get
Cash offer
The cash offer is a lump-sum payment of 10% of the unblighted open market value of your property (from a minimum of £30,000 to a maximum of £100,000).
The government will cover your legal fees up to £500 (plus VAT) if your application is successful.
Voluntary purchase
If you qualify, the government will pay 100% of the unblighted open market value, as assessed by 2 independent valuers.
The government will not cover additional costs, for example legal fees or removal costs.
…… and there is a lot more detail on the website
https://www.gov.uk/claim-compensation-if-affected-by-hs2/cash-offer-or-voluntary-purchase-scheme
.
Farming family in HS2 shadow fear for their livelihood
17.7.2017 (ITV)
A family of farming brothers say they will see their homes destroyed and business disrupted if the new High Speed 2 rail line goes ahead as expected.
It's thought the Government will confirm later that the route will go straight through the Schofield brother's land in Mexborough.
The brothers claim they've had no communication with HS2 planners even though it will mean bulldozing their houses. Here's Christopher Schofield.
…….. and there is a film clip ……
http://www.itv.com/news/calendar/update/2017-07-17/farming-family-in-hs2-shadow-fear-for-their-livelihood/
.
---
See also the BBC report:
HS2 route: Mexborough residents 'deserted' by demolition plan
17 July 2017 (BBC)
Residents of a new housing estate set to be partly bulldozed for HS2 say they feel "deserted" after the move was confirmed.
Homes on the Shimmer estate in Mexborough, South Yorkshire will be cleared to make way for the high-speed rail line.
No new stations have been announced for the area, with a spur serving Sheffield using existing track.
The government said HS2 will create a "stronger and fairer" Britain.
The proposed South Yorkshire HS2 route, part of phase 2b of the project, runs east of Sheffield towards the M18 and was consulted in 2016.
A Department for Transport report states the route requires 16 residential demolitions on the Shimmer estate, with people affected arranging compensation packages with the government.
Sue Douglas and her husband Peter are reluctantly searching for somewhere to move away from Shimmer. She said: "We've had a year in limbo, our health has been affected by this and we no longer feel like it's our home. It's an unfinished estate, there are unfinished houses, no proper roads, no proper pavements."
Some people living on the Shimmer estate have signs on their doors saying "Stop HS2", others have a temporary 'no media' taped below.
It shows how angry and dispirited many have become since the BBC revealed the new route a year ago. Today then was a rubber stamp on what they had feared.
This is not just about the value of bricks and mortar, but the notion of "home" itself.
It seems likely many will choose to sell up and move on – for some their second move in three years.
Her husband, Peter Douglas, said: "There is only one way in and out of the estate and we have been told by HS2 that nobody would be allowed to live here because of the construction traffic coming in and out, blocking the access.
"Bear in mind this is the construction of a viaduct that's going to be 20ft in the sky coming within 10ft of your property, and they say, 'it's ok, your property isn't one that has to be knocked down.'"
……. and it continues  …..
http://www.bbc.co.uk/news/uk-england-south-yorkshire-40634364
.
.
---