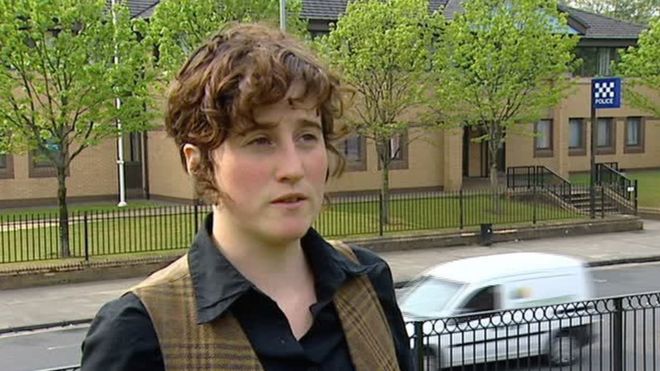 Image captionTilly Gifford was a 24-year-old environmental campaigner when she was arrested in 2009
Environmental campaigner Tilly Gifford wants a public inquiry to investigate claims that she was "targeted" by undercover police officers who wanted her to spy on fellow activists.
In 2009, Ms Gifford was working with Plane Stupid, which was protesting about the environmental damage done by airport expansion.
She told BBC Scotland's Good Morning Scotland that she was arrested during a protest at Aberdeen Airport and police wanted her to feed them intelligence on the group in exchange for cash.
Ms Gifford said: "They wanted information about the groups I worked with, the individuals I worked with and what we were planning."
She later released recordings of conversations with unnamed men in which they claimed to have a network of hundreds of informants inside protest organisations across the political spectrum.
Nine years later she is at the forefront of attempts to win a judicial review to force either the UK government to extend its inquiry or have the Scottish government set up its own.
She told BBC Scotland: "Everything I was doing was totally peaceful and non-violent.
"The question here is not about undercover policing, it is about undercover political policing."
.
Ms Gifford said other campaign groups in Scotland had been targeted, such as groups planning to disrupt the G8 meeting at Gleneagles in 2005.
She said: "We know now that up to thousands of campaigns across the whole of the UK, in Scotland as well, have been targeted by undercover political policing and it is time for a full public inquiry."
Ms Gifford added: "We need to know who was targeted, how and why, and who commissioned these policemen to come into our lives and affect not only our campaign but to destroy personal lives?"
She added: "I want to know how long I was followed for.
"I want to know who decided I was to be a target. I want to know who these officers were."
'Already winning'
She said she had tried for years to find out this information.
In England, the judge-led inquiry has a remit to investigate undercover practices dating back to 1968.
However, in Scotland a review by HM Inspector of Constabulary has a much narrower remit.
Ms Gifford said: "There is zero in Scotland. No inquiry. As it stands now I'll never find out."
She is challenging Scotland's decision not to have a full public inquiry.
"In the court of public opinion we are already winning," she said.
"I think people have lost trust in the police.
"We know, it is established, these abuses have taken place on Scottish soil.
"We will probably win in the court of law eventually so they would be saving time to agree to an inquiry now."
Ms Gifford said she could see the need for undercover policing but it should not be used for political purposes.
She said: "It is important to recognise that advances in our society are built on political campaigns working for these rights."