The UK cannot go climate neutral much before 2050 unless people stop flying and eating red meat almost completely, a report says.
But it warns that the British public do not look ready to take such steps and substantially change their lifestyle.
The report challenges the views of campaign group Extinction Rebellion.
It believes the UK target of climate neutrality by 2050 will result in harm to the climate.
The claim comes from the government-funded research group Energy Systems Catapult, whose computer models are used by the Committee on Climate Change, which advises government.
Its report says: "A number of groups have called for net zero to be accelerated to 2025, 2030 or 2040.
"Achieving net zero significantly earlier than 2050 in our modelling exceeds even our most speculative measures, with rates of change for power, heat and road transport that push against the bounds of plausibility."
Glimmer of good news
But the authors offer some optimism too. They calculate that the UK can cut emissions fast enough to be climate neutral by 2050 – but only if ministers act much more quickly.
They say the government urgently needs to invest in three key technologies: carbon capture and storage with bioenergy crops; hydrogen for a wide variety of uses; and advanced nuclear power.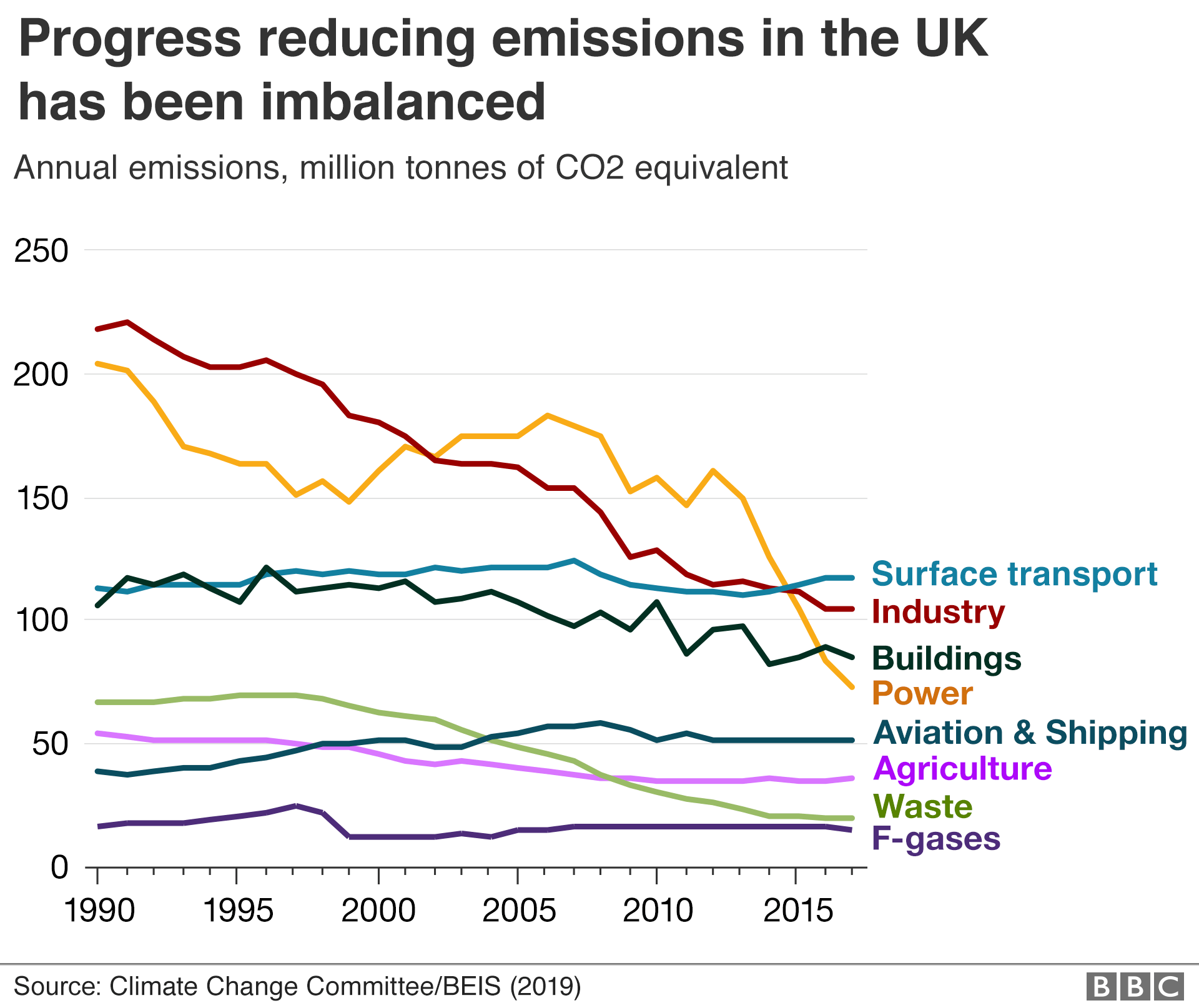 The report modelled options for society to 2050. It concluded that if decisions are made early, the cost of climate neutrality can be held down to 1-2% of national wealth – GDP.
Scenarios rely on some technologies still in their infancy, which will be controversial. For instance, it draws heavily on burning energy crops, capturing the carbon emissions and burying them underground.
It says hydrogen use will need to grow to supply industry, heat and heavy transport.
Electricity generation will need to double with heavy reliance on solar power and offshore wind.
Controversially, it calls for small, modular nuclear reactors to support three-quarters of heating in cities through district heating systems. Modular reactors are much smaller than conventional reactors, and brought to a site in a kit of parts to be assembled.
It warns that livestock production for dairy and meat may need to be cut by 50% rather than the 20% currently envisaged by the Committee on Climate Change. And people will need to eat less meat and dairy by the same amount.
The report's author, Scott Milne, said: "Whichever pathway the UK takes, innovation, investment and inducements across low-carbon technology, land use and lifestyle are essential to achieve net zero.
"And there are massive economic opportunities for the UK to lead the world in these areas."
However, the report warns that the public do not appear ready for substantial lifestyle changes. It warns, for instance, that if people's homes are better insulated, they may choose to spend the same amount on heating to deliver a warmer home.
It says: "Early evidence suggests a general willingness to adopt new technologies (such as new heating or mobility) as long as these can deliver the same experiences as before.
"Conversely, approaching the subject of dietary change or aviation often elicits a more resistant and emotional response."
Some experts will be critical of the report's expectation that new technologies such as carbon capture and storage will be rapidly adopted.
A recent report said it was unrealistic to expect that carbon capture and hydrogen will develop fast enough to achieve the net zero target.
A spokesperson for Extinction Rebellion told BBC News: "The global response to coronavirus shows we can radically address crises if we put our minds to it. Meanwhile, the net zero date has not been put to the people of the UK.
"The science tells us that net zero by 2050 means a hell of a lot worse than giving up flying and red meat – people are dying now around the world as you read this due to governmental inaction."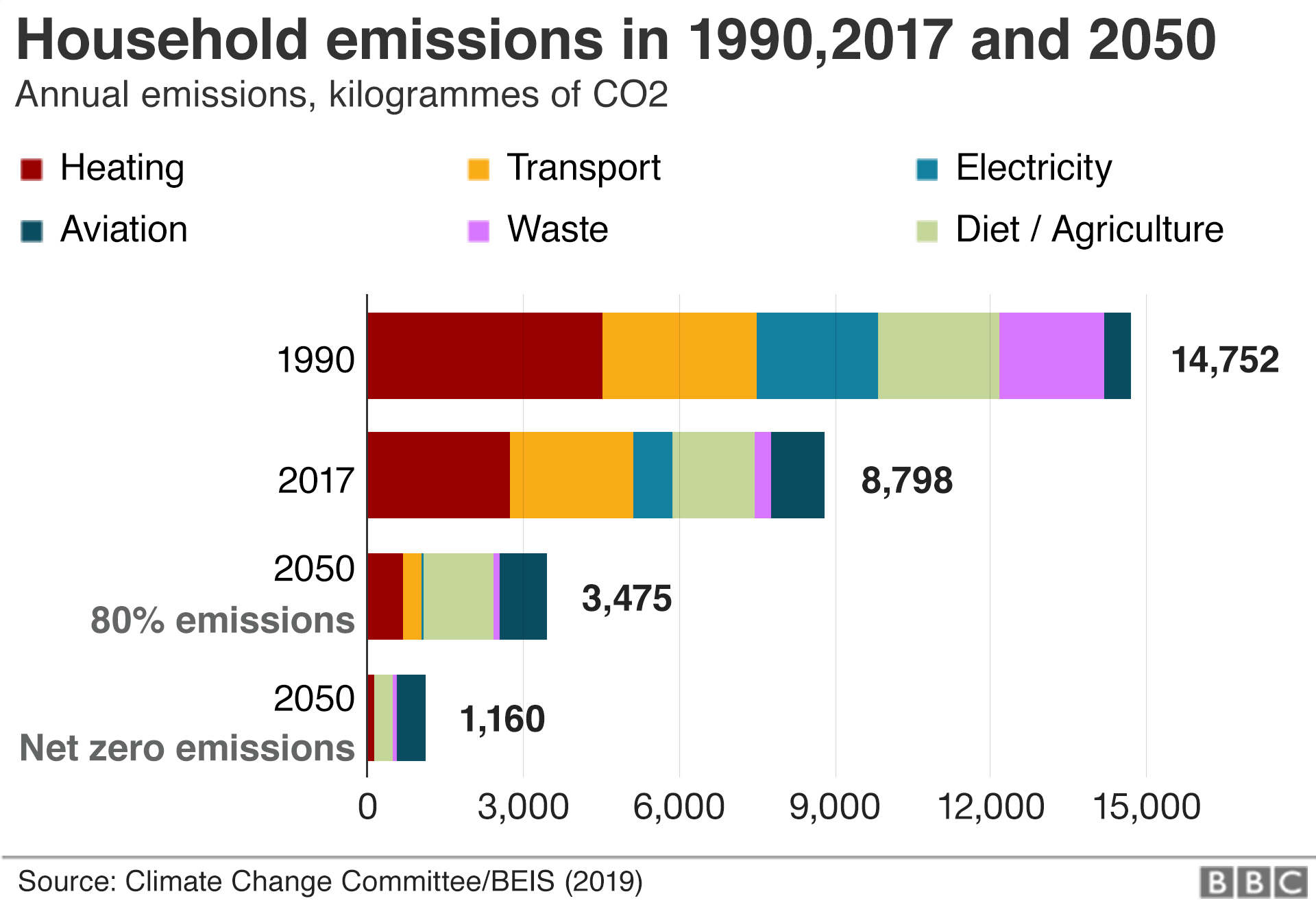 The report was not welcomed by the National Beef Association.
Its spokesman Neil Shand told BBC News that scientific studies typically underestimate the role of livestock in capturing carbon in the soil.
He said: "It does seem rather unfortunate that the report links beef production and aviation in this way.
"The timing is more than a little ironic; the shops are full of people panic-buying and it seems clear that the nation's food sector relies very heavily on imports, and the associated transport that brings them into the UK.
"Food produced on their own doorstep, using a system where animal and non-animal foods are symbiotic requires very little air travel, and makes excellent use of the resources our beautiful country provides. Foreign travel does not have the same necessity."
In addition, a report from a group of environmentally-minded business leaders has called on the government to show increased ambition and delivery of carbon-cutting policies to get the UK on track to meet climate goals.
It said there was an urgent need especially for policies to bring low-carbon heating to people's homes.
Follow Roger on Twitter.
https://www.bbc.co.uk/news/science-environment-51804212
.
---
Innovating to Net Zero
Published: 10 March 2020
(From Catapult Energy Systems's website)
Introduction
A new report by Energy Systems Catapult has found Net Zero by 2050 is possible if the UK supports innovation and scale-up across three essential areas – Low Carbon Technology, Land Use and Lifestyle.
The Innovating to Net Zero report modelled 100s of potential pathways to 2050 – ramping up or down different technologies and behaviour changes – to understand the combinations, interactions and trade-offs of competing decarbonisation approaches.
Meeting the UK's Net Zero target will require unprecedented innovation across the economy. Innovation not just in new technologies, but in new ways of deploying existing technologies, new business models, new consumer offerings, and, crucially, new policy, regulation and market design.
The Challenge and Opportunity
In 2018, the International Panel on Climate Change published evidence on what would be required for a 1.5°C limit and the implications of not doing so.
In May 2019, the CCC recommended to the UK Government a Net Zero emissions target by 2050. Advice that was accompanied by supporting research, including our Living Carbon Free report which set out the implications for households.
In June 2019, the UK Government amended the Climate Change Act from 80% to 100% GHG emissions reduction – or Net Zero – by 2050. 'Net' means balancing any residual emissions with an equal quantity of carbon removals from the atmosphere, as long as this takes place in the UK.
In March 2020, Energy Systems Catapult released an update of its internationally peer-reviewed Energy System Modelling Environment (ESME) to take account of Net Zero targets.
The new ESME report Innovating to Net Zero has found that meeting the UK's Net Zero target will require unprecedented innovation across the economy. Innovation not just in new  technologies, but in new ways of deploying existing technologies, new business models, new consumer offerings, and, crucially, new policy, regulation and market design.
While the challenge is daunting, the commercial opportunity for those companies able to deliver the innovations needed is huge. This analysis will help identify those opportunities, and what may be needed to unlock them. While our assumptions should be challenged, our goal is to show 'what you have to believe' in order to deliver Net Zero.
The Innovation
The internationally peer-reviewed Energy System Modelling Environment (ESME) is the UK's leading techno-economic whole system model – it has been used by the Committee on Climate Change, industry, academia and the UK Government. EMSE is independent of sector interests and identifies cost-optimised decarbonisation pathways.
ESME is a whole-system optimisation model and finds the least-cost combination of energy resources and technologies that satisfy UK energy service demands along the pathway to 2050. Constraints include emissions targets, resource availability and technology deployment rates, as well as operational factors that ensure adequate system capacity and flexibility.
Importantly, ESME includes a multi-regional UK representation and can assess the infrastructure needed to join up resources, technologies and demands across the country, such as  transmission and distribution of electricity and gas, and pipelines and storage for CO2.
The previous options in ESME were sufficient for exploring 80% pathways. For Net Zero, new technology and behaviour change options have been added for different scenarios:
Ships fuelled by hydrogen/ammonia
Decarbonisation of industry via electrification or hydrogen have been extended
Off-road mobile machinery to transition away from fossil fuels
Carbon, capture and storage with 99% capture rates (up from 95%)
Direct air carbon capture and storage
More UK biomass and forestry
Larger reductions in livestock farming.
Slower aviation demand growth.
Key points
Net Zero narrows the set of viable pathways for the future energy system. Where an 80% target allowed considerable variation in relative effort across the economy, with some fossil fuels still permissible in most sectors, Net Zero leaves little slack. Innovating to Net Zero has found:
Success depends on innovation across the whole system: in technology, land use change and behaviour.
Net Zero before 2050 is not possible without highly speculative changes to lifestyle, land use and low carbon technologies. Even if demand for aviation and livestock products were eliminated by 2050, and technology deployment raised to even more ambitious rates, Net Zero could only be brought forward to 2045.
CCS and bioenergy are both essential to delivering Net Zero. While an 80% target was still possible without CCS and scaling up biomass but with a much higher system cost. Failure to deploy either option means foregoing the negative emissions essential to offsetting continued demand for aviation and livestock products. Under Net Zero, CCS is also vital for mitigating industrial emissions and hydrogen production.
Land use must be optimised to balance carbon sequestration with other priorities. New forestry can provide a net carbon sink for decades during growth and bring wider environmental benefits. Biomass crops, when regularly harvested for energy (coupled with CCS), offer more intensive and indefinite sequestration.
Hydrogen may need to grow from virtually zero to levels equivalent to today's electricity generation to supply industry, heat and heavy transport.
Electricity generation will need to double to supply huge increases in heating and transport (perhaps treble if hydrogen uses electrolysis). Offshore/onshore wind and solar will need to grow significantly under any scenario. Advanced nuclear technologies and small modular nuclear – 7GW or around 20 odd reactors at 300MW each – supporting ¾ of all District Heat in cities – more than a 10-fold rise.
Net Zero cost can be limited to 1-2% of GDP  with stable, credible policies enacted this Parliament to help reduce the cost of capital for the private sector.
Policy and Regulatory reform
Robust and enduring policies and regulation will be essential to building the necessary confidence with innovators to  invest in low carbon products and services.
Economic incentives to go low carbon – balanced, economywide framework of market, pricing and regulatory interventions – such as new carbon standards for buildings to promote adoption of low or zero carbon heating and potentially road transport, and new incentives for climate friendly land use choices.
Local Area Energy Planning – rolled out to identify the unique low carbon solutions, infrastructure and investment needs in different local areas to shape decision making
CCS and hydrogen production – direct support for innovation and early deployment in industrial clusters, including funding mechanisms for CO2 transport & storage infrastructure.
Reform of power markets – to improve efficiency and unlock flexibility and distributed low carbon technologies, including to match user needs and local system circumstances.
Open energy data and digitalisation governance framework in line with recommendations of the Energy Data Taskforce to enable tailored consumer-focused innovation, business models, market designs and consumer protections.
Development of tradable instruments such as carbon credits, and associated market arrangements, to enable capital to flow to sectors where emissions reductions are being delivered most efficiently, so for markets to reveal least-cost combinations.  https://es.catapult.org.uk/reports/innovating-to-net-zero/
---