Opening of Southend Airport's new terminal and runway extension
On 5th March Southend held its official opening of its new terminal building, and of its runway extension that is now completed. Local opponents fought a long and hard battle against the runway extension.  At present the airport has just one destination airport – Waterford in Ireland.  On 2nd April, easyJet flights to bucket-and-spade Spanish destinations start (including Malaga, Ibiza and Mallorca) taking tourists and their money out of the UK. There will be 20-30 passenger daily flights this year, but Stobart hopes to eventually carry up to 2 million passengers annually and plans to extend the terminal further this summer.  easyJet came to Southend due to cheaper landing charges than at Stansted.  Some passengers will find the empty terminal and the easy train journey from London's Liverpool Street easier than a trip to Stansted or Luton. Alistair Welch, the CEO, says he expects there to be 500 jobs created at the airport this year.   500? He said 150 last summer.
A new passenger terminal at Southend Airport has been officially opened by transport secretary Justine Greening. The £10m building at the Essex airport is the latest expansion by its owners, the Stobart Group, which is aiming for 20 million passengers by 2020.
This is a sort of fan club article – singing the praises of how lovely the new airport is:
London Southend airport: flying under the radar (and to the left of the pier)
With a speed to make Heathrow green with envy, London Southend has undergone ambitious expansion
by Gwyn Topham  (Guardian)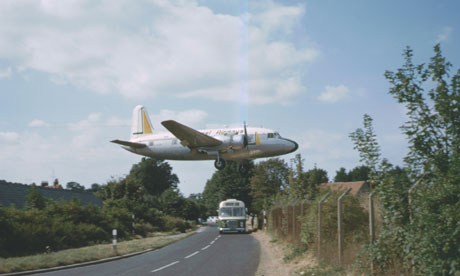 A Channel Airways flight in 1964, Southend airport's heyday.                                            Photograph: Ken Elliott/Air-Britain
In one small, sunny corner of south-east England, many miles from the congested M4 corridor, is a sight to make the owners of Heathrow weep with envy.  Under the benevolent gaze of local parishioners, construction workers finish surfacing a brand-new runway, [runway extension] and – even as it lops off the corner of his churchyard – the vicar is going along to the opening celebrations.
Welcome to the ambitiously named London Southend airport, officially reopening on Monday, with a runway now large enough for easyJet's planes, and set to export the holidaymakers of south Essex and to lure unwary Spanish visitors.
Given the opposition airport expansion has faced elsewhere, many in Southend on Sea are astonishingly serene about the development on their doorsteps. A new terminal building gleams proudly opposite the bungalows of Southend Road, close enough for residents to peer from behind the net curtains into departures. The transformation is clear from the green expanses still displayed on Google Earth.
As Alastair Welch, the beaming director, put it: "You start with a field, then add a railway station, a terminal building, train up a crew and then the planes start coming. Happy days!"
Perhaps even more surprising than its renaissance is the airport's claim to have once been Britain's third largest, before BAA built Stansted and grabbed all its business. Pathé footage records Southend's glamour days, when passengers could take their cars to the continent aboard British Air Ferries planes.
After decades in the doldrums, with nothing more than a flying club, the odd cargo flight and aircraft coming in for repair, the airport was purchased by the firm of the legendary lorry magnate Eddie Stobart.  Welch joined in 2007 with a vision to extend the runway to cope with the demands of flights to the Mediterranean.
An investment of £100m has brought a control tower, ("You couldn't actually see the runway from the old one," said Welch), a distinctive steel railway station (a £2.70, five-minute journey from the town centre) and a Holiday Inn under construction – the basic infrastructure for Stobart Air to have a fully-fledged international passenger airport on its hands.
From 2 April, easyJet starts flying from here to destinations including Malaga, Ibiza and Mallorca, routes to excite the Towie stars who graced the airport's launch party, where the leader of the council spoke of bringing "jetsetters" from Spain to Southend.  Visitors may have reason to be tempted: a 52-minute ride to Liverpool Street station makes its rail connection to the capital roughly equivalent to Stansted's, but cheaper, and on a line that stops at Stratford for the Olympic Park.
The first arrival to reach the new terminal landed shortly after 2pm on its first day of operation this week, an Aer Arran propeller-engined aircraft from Waterford. First off was Michelle Hill, 37, from nearby Benfleet, a competition winner who had departed via the old, fading wooden terminal hut to return to Southend's bright future. "Really nice," she said. "Most people are into it – it's creating jobs, bringing tourism." Did she think they would really be heading here from Spain? "Yeah, why not? We've got a lot to offer: doorstep to London, the town centre, a beach, the pier." Although, she conceded, the pier has been closed since a fishing trawler crashed into it last month.
Only 10 passengers had yet troubled the check-in attendant, who sat waiting for standby passengers on the day's only departure, back to Waterford. A well-heeled Irish couple eventually ran through, boarding with just 15 minutes to spare. They had been on holiday in London – and this was a lot easier to deal with than Heathrow, the woman explained.
Although its limited destinations don't yet allow duty-free, the manager of the airport store – stocking Eddie Stobart memorabilia alongside obligatory Toblerones – said they had were already exceeding sales targets.
According to Welch, there will be 500 more people working at the airport this summer than last.  (  see below )  The old terminal, a hundred yards or so away, is still open to the public with a dozen or so people, mainly pensioners, congregating inside. "They like to wander in and have a bite to eat, so we'll just leave it open, as long as they want it," said Welch. "It's a community facility."
Not everybody is convinced, though. Denis Walker is spokesman for Stop Airport Extension Now, (SAEN) a local group.  While his opposition is partly environmental, as a member of Friends of the Earth, he believes the council has failed in its duty to warn the people of Southend of the extra noise and pollution. "It's a really stupid place for an airport," he says. "There will be 20,000 people directly under the flight path."
Despite a tortuous process of consultations, planning appeals and aborted judicial reviews, he says there has never been the full public inquiry and independent scrutiny a development such as this deserves. Southend will have 20-30 passenger daily flights this year,  (see below )but Stobart hopes to eventually carry up to 2 million passengers annually and plans to extend the terminal further this summer.
But opposition has been limited, and the church was the key, Welch said, to winning over locals: something that previous would-be expansionists failed to factor in.  At St Laurence's, a former churchwarden, who gave her name only as Beryl, recalled: "When they sat in the chancel in 2003 and said this church has to go, hackles did rise."
The eventual compromise has been one demolished wall and a lost row of trees; Stobart has stumped up for a new road, a low yew hedge and a "much nicer" driveway with a turning circle big enough for hearses. "It is nicer," Beryl agreed. Looking over the new wire fence separating the graves from the runway, she added: "They'll get over the trees."
http://www.guardian.co.uk/world/2012/mar/04/london-southend-airport?CMP=twt_fd
---
Also
Back to a golden age of aviation: Southend Airport to thrive once more after £100m makeover
By MATT BLAKE  (Daily Mail)
5th March 2012
£100 million makeover hopes for 2m passengers a year

Critics warn of noise and environmental fears
It used to be Britain's third busiest airport and a roaring travel hub during the golden age of commercial flight… until London Stansted opened its gates and took all its business.
Since then, the ancient runway at Southend Airport has been lying almost dormant, but for the odd cargo flight and hobby-plane from its resident flying club.

But the airport, that used to ferry hundreds of British holidaymakers across the Channel every day, is set to return to those glory days once more thanks to a £100 million makeover.
and it continues ………… much as the article above.
High hopes: The new terminal at the re-branded London Southend Airport where £100m has been spent to ensure it can cope with millions more passengers
Get away! Passengers wait to board one of the first flights out of London Southend Airport
Simple: Southend Airport before the revamp. Managers hope to see two million holidaymakers a year pass through its gates. The church is in the foreground.
http://www.dailymail.co.uk/news/article-2110368/Welcome-London–Southend-Capitals-sixth-international-aiport-opens-Essex-100m-makeover.html?ITO=1490
---
It's not quite what they told the Echo (local paper in Southend) last July:
EasyJet to fly from Southend Airport
16th June 2011 (Echo)
EASYJET will start operating from London Southend Airport from April 2012, with the creation of 150 new jobs.
The 10-year agreement between airport owners Stobart Group and the UK's largest airline will see three A319 aircraft based at the Essex terminal in summer 2012.
There will be 70 easyJet flights per week and passengers will have a choice of around ten different European destinations including Barcelona, Faro and Ibiza.
Tickets will go on sale at the end of July.
The new jobs will be a mixture of cabin crew, pilots and ground staff.
 London Southend Airport's managing director, Alastair Welch says "We are delighted to announce our partnership with EasyJet, servicing a comprehensive variety of routes into Europe and hot on the heels of other significant developments at London Southend.
"As the operator of the newest fleet of any commercial airline in Europe, EasyJet operate a quieter and more environmentally friendly fleet. Our target is to serve two million passengers a year, and with 800,000 easyJet passengers and a further 100,000 Aer Arann and Flybe passengers, we will be meeting almost half that target in year one."  (ie. 1 million passenger ….)
EasyJet's Customer and Revenue Director Catherine Lynn added: "We are excited to be opening London Southend as easyJet's 20th base airport.
This is a unique opportunity to offer a world class customer experience, with passengers able to get from the plane to the train in 15 minutes.
"Through offering easy and affordable travel, we expect the new routes to appeal to customers in Essex and London looking for a convenient new departure point for many top European destinations.
"We also believe that the European city links will also attract a high number of inbound business and leisure passengers next year."
http://www.echo-news.co.uk/news/9086275.EasyJet_to_fly_from_Southend_Airport/