Architects, Grimshaw, with complicated London Hub City proposal, for future airport capacity. Bit of an unrealistic muddle.
Grimshaw, a firm of  architects that have offices in London, have put forward their own idea for what should happen about airport capacity in the south east. Their idea is to focus on London, the city, as the hub rather than any one airport.  They want to have a 3rd runway at Heathrow, so it can deal with problems like snow, and then link London from Stansted, Gatwick, Luton and an airport in the Thames estuary, by high speed rail to London  No one  airport would be the main hub.  They rather unrealistically anticipate that many transit passengers would want to break their journey at Heathrow, then travel into London on a special ticket on fast rail, to do a bit of tourism and spending, before getting their return flight. This scheme needs to have very efficient immigration and baggage transfer facilities to avoid being a nightmare. The report questions whether the view of the airlines, on the need for a hub airport, should dominate the planning of capacity for London.  It also says that: "It is extremely difficult to predict what will happen to aviation beyond the next few years. Recent decades have demonstrated this"  And it cites Stansted's decline. However, they say "Looking ahead, we might confidently predict growth in aviation".
Article by Building.co..uk below:
Welcome to hub city: Grimshaw's airport plans for London
25 January 2013 (Building.co.uk)
By Will Hurst
These are the projects involving air travel that Grimshaw have done.
Projects
Grimshaw is the latest architect with a scheme to expand the UK's airport capacity. But its plan – revealed here exclusively – takes a different approach by placing London at the centre of it all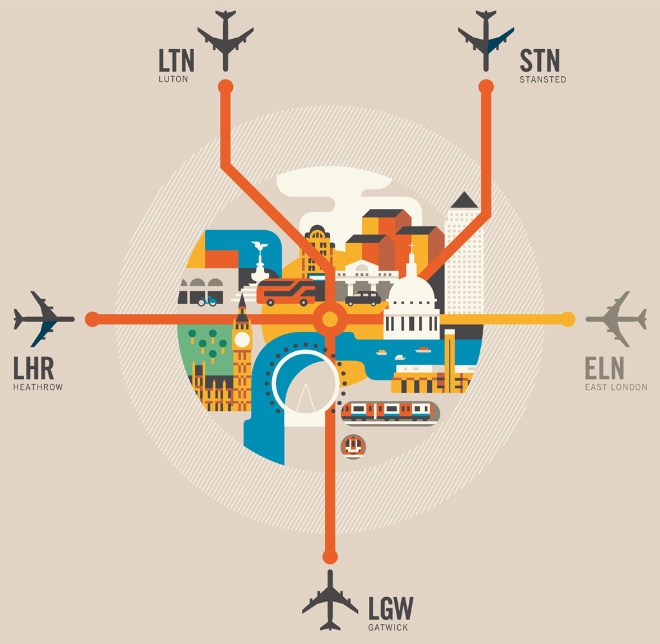 The challenge of expanding the UK's aviation capacity sure is keeping the country's architects busy. Since Foster + Partners unveiled its highly ambitious Thames Hub proposal – a scheme also worked on by engineer Halcrow – a host of rival firms have revealed plans of their own.
Gensler has put forward the idea of a floating four-runway airport which – like Fosters' scheme – would be located in the Thames Estuary, while Make Architects is working up a scheme to expand Stansted.
Urban planning guru Terry Farrell favours improving connectivity between existing airports such as Gatwick and Heathrow while Weston Williamson came forward in October with a plan for a new four-runway airport at Luton.
In this context, you might be forgiven for sighing at another leading architecture firm entering the fray. But a new scheme by Grimshaw, unveiled exclusively in Building, is very different from what's come before.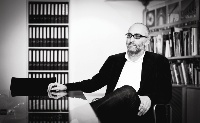 The plan, called "London: Hub City", is the brainchild of the firm's chief executive Jolyon Brewis and aims to tackle the fundamental challenges of meeting the need for more airport capacity in the UK without proposing a single "superhub" airport.
With an independent inquiry under way on airports, led by former Financial Services Authority boss Sir Howard Davies, the plan comes at a vital moment. And given the tens of billions of pounds of investment and hundreds of thousands of jobs at stake, it could influence a debate that is pivotal to the fortunes of the construction industry.
Rather than the "grand projet" approach taken by, for example, Fosters' Thames Hub, the plan from Grimshaw – the firm that designed the Eden Project as well as masterplanning Heathrow's aborted third runway – envisages a more incremental, more British approach starting with a vision for the capital.
"Most of these proposals effectively ignore London," Brewis explains. "They lack a singular vision for the city building on the best of London's attributes, around which an integrated transport strategy might be formed. At best, they indicate ways to bypass the metropolis."
A hub airport takes advantage of combining local and transfer passengers to offer flights to more destinations more frequently than local demand alone could support. Offering low minimum connect times (MCT) of less than one hour, they tend to be built relatively far outside cities, allowing space for associated infrastructure and expansion.
But the Brewis blueprint questions whether this airline-driven orthodoxy is right for the UK and argues that London boasts the size and cultural vibrancy to be itself the hub, to become the world's first "hub city". The idea is that this would result in London deriving more economic benefits, spread more evenly across the city, as a result.
City breaks
It contends that London – like just a handful of other world cities such as Hong Kong and New York – has the attractions necessary to persuade a large proportion of transfer passengers to extend their lay-over and spend their time between flights in central London rather than an airport lounge.
After all, a recent study found over 30% of international passengers travelling through Heathrow leave the airport and spend more than £500 per head in central London. Airline Virgin Atlantic has also noted that its passengers prefer travelling through Hong Kong than the Middle East for similar reasons.
To make London: Hub City work, Grimshaw envisages splitting aviation capacity between a number of existing airports and, crucially, achieving a step-change in the speed and reliability of transport links into the city.
Especially given the recent performance of the UK Border Force, the scheme clearly also relies on improvements in baggage handling and passport and immigration checks and might also benefit from an Oyster-type travel card for transferring passengers.
"The focus would be on allowing passengers to reach the city centre less than 30 minutes after leaving the aircraft, meaning that passengers can choose a meaningful connect time that includes a number of hours spent in the city," Brewis says. "Airports are therefore located in relatively close proximity to the city centre and, as a result, are limited in their potential for expansion."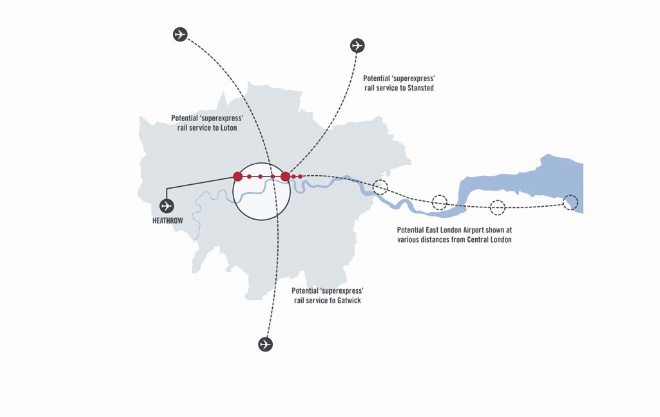 But doesn't the idea lack ambition? Given that rival airports on the continent boast several runways – Amsterdam's Schiphol has six  [which, of course, cannot all be used at once. In effect only two are used at a time] – isn't Grimshaw inviting us to tinker with a problem which really needs to be grasped with both hands? Brewis insists not, saying his scheme is ambitious in its own way, sustainably making use of existing airport infrastructure and turning London into the world's most accessible city.
He says: "Britain has a terrific pedigree of finding ingenious solutions that are pragmatic, creative and efficient. We should seek a similarly ingenious answer to our current aviation needs."
He agrees that Fosters' Thames Hub is an attractive proposition, but calls it "dangerous" as well as visionary.
"It is a curiously un-British way of doing things and it arguably has way too much ambition," he says. "The sustainability side is something we should focus on and aviation is a very difficult sector to predict long-term.
"There is a real risk that any "super-hub" airport could become a white elephant or vanity project."
Brewis claims his scheme could also cater for the "significant proportion" of passengers who do not wish to extend their lay-over and simply want the shortest connect time. He says that Heathrow already offers MCTs (minimum connect times) of 45 minutes and says this could be provided for more passengers through"physical improvements" and the dispersal of some of its traffic.
And what would this actually mean for the airports around London?
Grimshaw says all alternatives should be considered including developing the capabilities of Heathrow, Gatwick, Luton and Stanstead and a potential new airport to the east of the capital.
But the firm says that Heathrow is currently closest to operating in the right way to support a hub city and controversially says a third runway must be considered as part of its plan.
With many including the mayor of London implacably opposed to Heathrow expansion and committed to a hub airport in the east, Grimshaw still has its work cut out.
---
.
What others make of Grimzshaw's big idea

Baroness Jo Valentine, chief executive of non-profit lobby group London First
"We agree that the South-east aviation capacity shortage needs to be looked at holistically rather than on an airport-by-airport basis. In the short term, the only way to increase capacity is to make more use of the existing runway capacity, so all of London's airports have a potential contribution to make.
"Improving transport links into central London is part of the picture. Crossrail and the Thameslink upgrade will benefit Heathrow, Gatwick and Luton, but more needs to be done to make Stansted easily accessible and we should not overlook the fact that many passengers arriving at London's airports want to travel on to other parts of the country and need good links in the opposite directions."
.

Mike Davies, senior partner at Rogers Stirk Harbour & Partners and project architect on Heathrow Terminal Five
"I think Jolyon is absolutely right to see this as a strategic, large-scale, regional planning issue. You have to think urbanism as well as transport and people should remember that powerful transport authorities wrecked British cities in the sixties.
"You could easily be seduced by nice images of new airports but, in overview terms, the idea of London as a hub city is right. I think we are a hub city but with poor connections at present. [With all London's 5 airports, it is in practice, actuallt one of the best connected].
"However, I think money will drive the eventual solution. Heathrow and Stansted will take the brunt of expansion and the numbers will dictate a third runway at Heathrow while local communities will have to be properly compensated."
.

Daniel Moylan, aviation adviser to the Mayor of London and TfL board member
"What we're up against is competition from Munich, where they're targeting a 30-minute transfer time, gate to gate, and from Frankfurt, where they're targeting 45 minutes.
"If you're an American businessman wanting to go to Islamabad and want to transfer through somewhere, the idea that you want to go on a tour of Harrods, is to my mind, a joke … most people just want to complete their journey.
"If you spread your investment across three or four airports around London then you lose any hub capacity and would see hub capacity outsourced to airports like Frankfurt or Munich.
"I think this plan also throws up potential security implications and any claim it has to be a sustainable solution is totally flawed by the idea of expanding Heathrow. After all, 28% of the people in the EU adversely affected by airline noise live near Heathrow."
.

Airport specialist working at leading international engineer [anonymous]
"I like Grimshaw's focus on London – everything is considered in the context of London and that wider perspective is a useful contribution to the debate. It's different because it doesn't try to promote a specific solution and what's particularly admirable is that it's trying to integrate the different modes of transport. The Heathrow and Gatwick Express and Crossrail would all be working with our airports to the benefit of passengers.
"While aviation continues to grow, there are blips and a scheme where you can incrementally grow may be better than building the full four-runway, 24hr operation now, although I don't doubt that may eventually be required.
"It's not necessarily an 'either or' question, you need to improve connectivity as well as tackling the future aviation needs. There may be a need for short, medium and long-term solutions."
.

Tony Douglas, former Heathrow chief executive and leader of the Terminal Five project
"Like other schemes put forward, this is a well thought-out concept but lacks understanding of how regulated aviation policy works within the UK.
The fundamental question to ask is: "How is it fundable and what do the airlines want?" Many of these schemes are trying to answer a completely different exam question.
"An airport is there to serve airlines.  Airports are largely paid for through retail – 50% in Heathrow's case. And if you listen to what airlines want it's something that gives access to extra capacity. One big hub makes more sense to them."
.

Mike Forster, aviation and infrastructure consultant at Forster Associates
"I'm working with Foster + Partners and Halcrow on the Thames Hub proposal. What matters to airlines is to offer that competitive minimum connect time (MCT). They don't see the idea of an extended lay-over as a core principle – it's a 'value add' but it's not central.
"You're dealing in a competitive market where the passenger is sitting in position A, trying to get to position C with a choice of Bs and the Bs are competing for this traffic. The passenger wants to know if it's going to be punctual, is my bag going to come with me, is it going to work?
"This plan would put London at a disadvantage because you would lose potential transfer traffic. A single hub gives you the maximum choice of connecting flights."
http://www.building.co.uk/analysis/features/welcome-to-hub-city-grimshaws-airport-plans-for-london/5048560.article#
.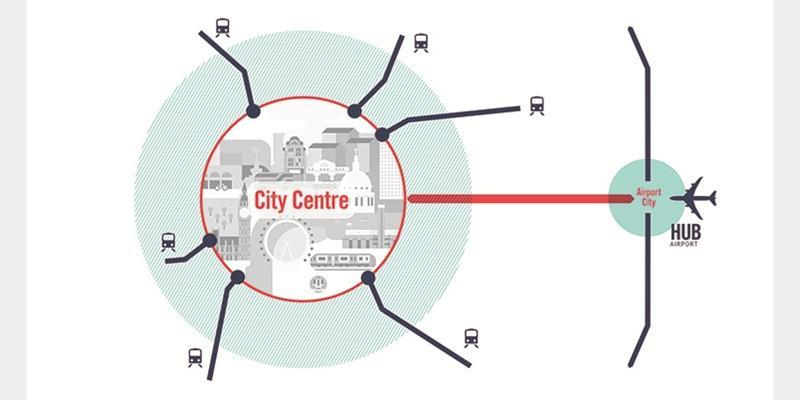 http://www.bdonline.co.uk/news/grimshaw-reveals-vision-for-london-hub-city/5049297.article
---
.
This is their report (12 pages)
https://static.squarespace.com/static/50ef39f1e4b0e72d6f8dbef0/t/5101cb55e4b091edd3eff1fe/1359072085103/London%20Hub%20City.pdf
without even one mention of climate.
It says:
Additional aviation capacity will still be required to serve London and the UK.  Priority should be given to capacity that can be delivered effectively and support the Hub City concept. All alternatives should be considered, including existing airports and potential new locations.
A 3rd runway at Heathrow should form part of this consideration, with a focus on further improving resilience and reliability; it might also represent the quickest way to increase overall capacity in the medium term, but should be looked at in the context of a network
of airports serving London.  (Page 8)
It also says (Page 4)
Redefining the concept of an aviation hub Heathrow Airport Limited have defined a hub
airport as "an airport where local passengers combine with transfer passengers to allow airlines to fly to more destinations more frequently than could be supported by local demand alone."
Much is made of the narrow economic margins involved in airline business
models. Some argue that, if a single hub model is not adopted, the UK will fail to connect to
enough places around the world to support our economic well-being.
It is questionable, though, whether the current model of airline, alliance and airport economics should dominate the aviation strategy of London so completely.
It is extremely difficult to predict what will happen to aviation beyond the next
few years. Recent decades have demonstrated this.
Stansted Airport was originally planned ultimately to accommodate four runways and a substantial proportion of long-haul, full service operation. The current situation, with a single runway dominated by budget airlines operating short-haul routes, was not the intention.
Looking ahead, we might confidently predict growth in aviation, and should provide fertile
conditions for the UK to capture this growth. The operating models of aviation will change
in the future as they have in the past, and will ultimately respond to passenger demand as
markets always do.
London has the opportunity to influence that demand by establishing a coordinated
approach to its airports and transport connections and, crucially, project an image of
accessibility to a world audience.
.
More projects by Grimshaw