Mayor of London reveals set of criteria that his panel will use to assess airport options
In early February Boris appointed what he modestly described as his "mighty team of experts" to look at possible options to build a huge hub airport for the south east of England. There was a GLA consultation on the criteria between 21 Dec 2012 and 8 Feb 2013. Boris has now announced the criteria he is setting out for a new airport – the Airports Commission under Sir Howard Davies are also consulting on their "sifting criteria" for the same thing (their consultation closes on 15th March). The GLA (Greater London Authority) says the Mayor's recently appointed team "will work with TfL to carry out detailed feasibility studies on that shortlist, to inform the Mayor's submission to the Davies Commission later this year."  Concerns have been raised that the panel is very much biased towards those pro-expansion or aviation industry and lacks environmental or community members.
.
Tweet

As part of this ongoing work, the Mayor has published a set of criteria against which Transport for London (TfL) will assess options for increasing aviation capacity. The criteria were consulted upon between 21 Dec 2012 and 8 Feb 2013 and TfL has also published a report that outlines the responses that were received:
New airport capacity options – assessment criteria (PDF 102KB)
2013 consultation results (PDF 261KB)
Mayor of London confirms his key tests for airport options
13 March 2013 (Greater London Authority website)
The Mayor of London has confirmed the criteria that he will be using to provide the fairest possible evaluation of the multiple proposals for solving the UK's aviation capacity crisis in the southeast of England.
The six criteria cover:
– Economic impact,
– airport infrastructure,
– airspace,
– surface access,
– environmental impact, and
– deliverability.
.
They are the result of an open consultation with the public and members of the aviation, business and political communities, and come with the backing of an independent Peer Review Group made up of expert advisers.
The Mayor has made it clear that he wishes to see the speediest possible resolution to the debate on where to build a multi-runway airport, so that we can get on with building the infrastructure that the British economy desperately needs if it is to compete on an international level. The criteria will form the foundation of the next stage of the Mayor's work on aviation.
These key tests will be used to whittle down the field of around 20 different proposals that have already been made public to a more manageable number by applying rigorous assessments of their suitability to meet the identified needs. The Mayor's recently appointed team of world-class expert aviation consultants [the GLA's words] will work with TfL to carry out detailed feasibility studies on that shortlist, to inform the Mayor's submission to the Davies Commission later this year.
The Mayor of London, Boris Johnson, said: "The whole question of airport capacity in this country is one of critical importance, and it is vital that we get to the right answer as soon as possible. While we debate, our global rivals are streaking ahead and leaving us in the dust. These criteria are the result of collaboration and independent verification and will allow us to establish clearly which of the proposals have the best chance of giving us that right answer for London and the UK."
The Mayor's criteria fall under six categories:
Economic: The primary driver for an increase in aviation capacity is its economic impacts; it is essential that any proposals taken forward support regional and national economic objectives and maximise the economic and social benefits for the UK.
Airport infrastructure: Any new airport facilities should meet the needs of airlines, passengers and freight by enabling an efficient, effective, safe airport operation that is competitive with the best airports in the world.
Airspace: Aviation safety remains paramount. Any increase in aviation capacity must address conflicts with existing airports and comply with current and future airspace regulations, including the continuing 'Single European Sky' initiative.
Surface access: These criteria are designed to ensure that an airport has the required access provision: drawing on the widest pool of passengers, staff and freight will be essential to any airport's success. Sufficient new road and rail capacity is integral to any airport option, and a high public transport access mode share will be key to ensuring sustainable airports. New-build airports such as Hong Kong have achieved a public transport access mode share in excess of 70%.
Environmental: The impacts of aviation on local communities and the natural environment must be minimised if any expansion of aviation is to be sustainable.
Deliverability: Any new aviation capacity must be capable of being delivered. This must take into account likely planning and construction issues, the commercial and economic case and the ability to secure funding and finance.
Daniel Moylan, the Mayor of London's advisor on aviation, said: "It is imperative that we elevate the airport capacity debate in this country above vested interests and guarantee any analysis of options has the nation's best interests at heart. Proper criteria are an important tool in achieving that, and the Mayor's list will allow us to evaluate all the proposals fairly. We must ensure that the UK secures maximum economic and regenerative benefit from what is a crucial decision on infrastructure, the results of which could echo for generations to come. This comprehensive and impartial set of criteria reflects the importance of that decision."
The Mayor will also be submitting his criteria to the Davies Commission for them to use in their work.
The Mayor proposes to announce in the coming weeks the short-list of sites he will be commissioning feasibility studies on.
ENDS
The Mayor's final set of criteria can be found online at:http://www.tfl.gov.uk/aviation.
The Davies Commission have announced they are seeking submissions of suggested criteria for assessing additional aviation capacity options by Friday 15 March 2013, and the Mayor will be submitting his criteria in line with this request.
Transport for London has appointed a Peer Review Group to support the Mayor's aviation work programme. This group has been asked to provide independent advice and expertise to the Mayor, in a personal capacity. It comprises the following individuals:
Chris Cain, Principal, Aviation Strategy and Policy Consultancy. [He is a former DfT civil servant, part of the team who produced and published the now discredited 2003 Air Transport White Paper]
Mike Forster, Director, Forster Associates  http://www.forsterassociates.co.uk/
John Green, Managing Director, Face Group  http://www.facegroupuk.com/Group_Profile/group_profile.html
Professor Sir Peter Hall, Bartlett Professor of Urban Regeneration and Planning, UCL. [He is a veteran supporter of a Thames Estuary Airport; a relic of a bygone age when climate change was not on the agenda]
Professor Paul Hooper, Chair of Environmental Management and Sustainability, MMU http://www.cate.mmu.ac.uk/people/prof-paul-hooper/
Bridget Rosewell, Senior Partner, Volterra Partners.  [She is deepy expansionist; was an adviser to Ken Livingstone when he failed to get the Gallions Reach river crossing through; the Inspector just did not believe her evidence on its role in regeneration]
Bob Schumacher, Managing Director, UK & Ireland, for a leading airline.  http://www.bar-uk.org/directors/schumacher.htm  [He is Chair of the Board of Airline Representatives in the  UK – BARUK and Managing Director UK & Ireland, Sales  UNITED AIRLINES].
Roy Vandermeer OBE QC, Inspector, Heathrow Terminal 5 Inquiry.   [He is opposed to further expansion at Heathrow; he only gave the go-ahead to T5 on the basis that flights at Heathrow are capped at 480,000; however, a 3rd Heathrow runway would mean over 700,000 flights]. http://www.ftb.eu.com/find-out-more/find-out-more.asp
The Mayor announced his appointment of a world-class consultancy team [GLA's description] on Monday 11th February. That team consists of:
Airport design & infrastructure
Atkins – one of the world's leading design, engineering and project management consultancies.   Projects they have worked on include the London 2012 Olympics, Bahrain World Trade Centre and the Dubai Metro. Atkins will also lead on consideration of surface access and environmental impacts.
Zaha Hadid Architects – Zaha Hadid was awarded the Pritzker Architecture Prize (considered to be the Nobel Prize of architecture) in 2004 and is internationally renowned for her theoretical and academic work. Time Magazine included her in their 2010 list of the 100 most influential people in the world. She has worked on globally celebrated projects such as the London 2012 Aquatics Centre and Guangzhou Opera House in China.
Pascall & Watson architects – Previous projects include Heathrow Terminal 5, Dublin Airport Terminal 2, Rome Fiumicino Airport Masterplan.  They also designed St Pancras International Station.
Atkins will also be undertaking work on surface access and environmental impacts
Socio economic impacts
Ramboll – a leading international engineering and management consultancy with a track record of examining the economic impact of airports and other infrastructure from around the world, supporting key developments in European air traffic control, working on the new Thames Crossing and developing National Policy Statements.
Oxford Economics – a world leader in global forecasting and quantitative analysis for business and government with unrivalled experience of exploring the economic impact of the aviation sector and airports for clients including IATA, ATAG, BAA and Airbus and developing economic forecasts and scenarios for London.  [Oxford Economics' words – they have produced a number of reports very skewed to the aviation industry, always with highly exaggerated claims on the economic benefits of aviaiton. They are not part of Oxford University. They are the safe and discredited consultancy that the aviation industry turns to.  Publications include the much-maligned 1999 Report on which the 2003 White Paper was based.  Gives the industry the answer it wants.].
York Aviation – a leading firm specialising in the assessment of the economic impacts of aviation and aviation demand planning. [As with Oxford Economics above] – another pro-aviation industry organisation].
Professor Peter Tyler – Peter is a Professor in urban and regional economics in the Department of Land Economy, University of Cambridge and Fellow at St. Catharine's College. Peter has an extensive track record in undertaking research for the public and private sector and an established reputation in the field of urban and regional economics with a particular emphasis on the evaluation of policy. He has been a Project Director for over seventy major research projects for Government.
Commercial viability
Ernst and Young – a global leader in assurance, tax, transactions and advisory services. E&Y has a specialised group of professional focusing on projects across the UK and internationally covering transport, accommodation, healthcare, power and renewable energy, waste water, defence, PPP secondary markets, and accounting and tax issues
Legal and regulatory
Ashurst  – The leading global law firm, which specialises in advising corporates, financial institutions and governments.  Their core businesses are in corporate, finance, energy, resources and infrastructure.
.
The TfL criterion 5C is about air quality. It says it should "Minimises the number of people affected by poor air quality". This is widely regarded as inadequate because EU legal targets must be met – it would be unlawful to add a breach, to take a receptor over an EU legal limit when it would not breach the limit without the addition. Air quality cannot legally be worsened where it is already over the legal limit.
Earlier see
London Mayor Boris Johnson appoints "airport experts"
11.2.2013  (BBC)
London's mayor has announced he has appointed "a mighty team of experts" (sic) to help develop his hub airport plans.
Boris Johnson opposes a third runway at Heathrow and supports the idea of an airport in the Thames Estuary or the expansion at Stansted.
He said: "The government has set a timetable that dawdles when dash should be the order of the day."
The Whitehall-appointed Davies Commission on aviation is not due to make its final report until 2015.
The Department for Transport is yet to respond to Mr Johnson's latest comments.
Mr Johnson said: "It is absolutely imperative that work to progress a new hub airport in the South East is completed as soon as possible.
"That is why I have assembled a mighty team of experts who I have tasked with delivering a fulsome examination of the most realistic solutions to our aviation crisis in the shortest time possible, which I look forward to sharing with the government."
The mayor's airport team will include design, engineering and project management consultants Atkins.
Architects Pascall & Watson, whose previous projects include Heathrow Terminal 5, Dublin Airport Terminal 2 and St Pancras International rail station, will also take part.
'Fantasy airports'
About 15 different proposals for a new hub airport in south east England have already been made public.
Mr Johnson has consulted on criteria that will be used to evaluate each proposal and to form a shortlist.
That shortlist is expected to be announced within weeks and the team now assembled by the mayor will combine their expertise to produce detailed feasibility studies that he will submit to the Davies Commission.
Speaking to the Transport Select Committee, the mayor said: "Personally I think that agenda could be accelerated and and it would be possible by early next year to come to a pretty clear view about what the right way forward is but we're content to be as useful as we can for the time being.
"I think the parties could get together and agree a way forward and we intend to be as useful as we can in helping that to happen."
Ed Mitchell, the Environment Agency's environment and business director, told the committee that [talking about a Thames estuary airport] habitat protection requirements would be "quite a stiff challenge" and there could be flood risks.
He said his gut instinct was that it was "possible although not easy and not cheap" that solutions to problems posed by an estuary airport could be found.
London Assembly Green Party member Jenny Jones said: "Instead of squandering taxpayers' money on developing fantasy airports that will inevitably lead to massive carbon emissions, he should be prioritising climate mitigation and adaptation projects."
http://www.bbc.co.uk/news/uk-england-london-21416847
.
---
.
Zaha Hadid appointed to Boris's airports review
7 February 2013
By Elizabeth Hopkirk  (Building Design.com)
Pascall & Watson and Atkins will also advise Mayor of London
Zaha Hadid Architects has been appointed to advise Boris Johnson on the options for expanding London's airport capacity.
The practice will work with Atkins and transport specialist Pascall & Watson to assess the recommendations due to be made by his aviation panel.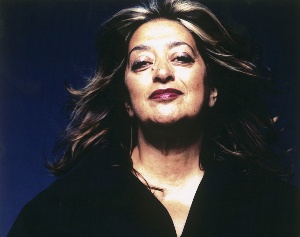 Zaha Hadid
There are currently around 15 alternatives, including proposals by Foster & Partners, Farrells and Gensler.
Frustrated by the pace of government decision-making, Boris appointed his own aviation panel including UCL's Peter Hall to establish the criteria on which a decision should be made.
A consultation on these criteria ends tomorrow.
Zaha Hadid, Atkins and Pascall & Watson will work with the mayor to apply the criteria to a shortlist of options.
They are expected to pick one or two favoured options which will then be submitted to the government-appointed Davies Commission whose interim report is due out at the end of the year.
The Mayor of London is open about his support for a brand new airport in the Thames Estuary but has promised to listen to alternative ideas, including expanding Heathrow.
http://www.bdonline.co.uk/news/zaha-hadid-appointed-to-boriss-airports-review/5050025.article