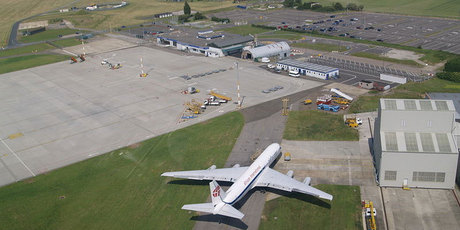 An aerial view of Manston Airport, in Kent, England.
Infratil, the Wellington-based infrastructure investor, has agreed to sell Manston Airport in the UK for 350,000 British pounds to Stagecoach Group co-founder Ann Gloag and her brother Brian Souter.
Infratil agreed to sell the airport for £1 plus adjustment for working capital variances and cash injected by Infratil, the company said in a statement.
The latest sale comes after Infratil last week said it was in talks to sell its Glasgow Prestwick Airport to the Scottish government, allowing the infrastructure investor to exit the unprofitable overseas airports it earmarked for sale in March last year. Infratil expects to write down the value of the assets in its books by about £11 million to zero in its earnings for the 6 months to September 30, the company said today.
"From Infratil's perspective, while Manston was a very small part of the company's overall asset base, this sale will result in a more focused portfolio and improve our future cash flow position," Infratil chief executive Marko Bogoievski said in the statement.
The announcement comes a day after news that 
David Newman
, a director of Infratil for almost two decades and chairman for the past nine years, had died in Wellington.
Shares in Infratil last traded at $2.535, having gained 12% this year. The stock is rated a 'buy' according to the consensus of analysts polled by Reuters.
Infratil bought Manston in August 2005  for £17m from the administrator of the bankrupt Planestation group.
http://www.nzherald.co.nz/business/news/article.cfm?c_id=3&objectid=11140329
.
Manston and the other UK Infratil-owned airport, Prestwick, make significant losses. In May 2011 Infratil's annual report showed that losses from Infratil's European airports grew from £9million to £11 million in 2010.
---
.