Thousands of passengers were left stranded on Saturday after hundreds of flights were grounded at airports following a technical fault at the country's main air traffic control centre.
The problem at Swanwick air traffic control centre led to delays to flight across southern England, Ireland and Europe, with Heathrow, Stansted, Gatwick, Luton, Southampton, London City and Dublin airports reporting flight delays.
Manchester Airport was also caught up in the chaos and flights south from Edinburgh were also affected.
The fault might not be fixed until 6pm, according to reports on Saturday afternoon.
From FlightRadar24  http://www.flightradar24.com
Problems began when the control centre's computer systems failed to automatically switch from night to day operations, forcing flight controllers to carry out the procedure manually.
The Swanwick centre, which opened in January 2002 at a cost of £623 million, reduces its operations at night when only a handful of the average 5,000 flights the centre handles every 24 hours are in the air.
Only a few airspace sectors are needed at night, with more sectors becoming operational as traffic builds up in the early morning. As these sectors grow, so does the number of controllers handling them.
But on Saturday morning problems with the telephone system led to Nats having difficulty reconfiguring the sectors.
A Nats spokesman said: "Due to a technical problem at Swanwick we are currently experiencing some difficulty switching from night-time to daytime operation. At night, when it's quiet, we can combine sectors of airspace.
"When it gets busy in the daytime, we split the sectors out again. The voice communications system is configured to enable this to happen.
"We experienced a technical problem in the early hours of this morning, which means that it hasn't been possible to reconfigure the voice communications system to split out the sectors for the busier daytime traffic in some areas of the UK enroute airspace.
"Engineers are working to rectify the problem as soon as possible, but this is resulting in some delays. Safety has not been compromised at any time, and we sincerely apologise for any inconvenience being caused to passengers."
Stansted Airport warned that all of its departing flights were subject to delays of between 30 minutes and two hours.
Gatwick Airport said 20 per cent of its departures had been delayed, with passengers warned they could wait for "a couple of hours".
At Heathrow planes were departing every five minutes instead of every 90 seconds and more than 40 flights were were cancelled between 2pm and 5pm on Saturday afternoon.
Sergio Coelho, 26, an entrepreneur from California, was among passengers told their 10.50am flight to Casablanca from Gatwick had been cancelled.
Instead they would be driven on a shuttle bus to Heathrow to take an evening flight.
"None of us were told it was cancelled until we got here and there is no one at the check-in desk to talk to us," he said.
"Most of the people on this flight will miss all of their connecting flights."
Mr Coelho said he had intended to take a train to travel 60 miles from Casablanca to Rabat, Morocco's capital, where he was due to stay with friends, but feared the delay would mean he was too late to make the journey.
"I'm probably going to be stranded now in a country I have never been to," he said.
Redouane Jamil, 50, a designer who was meant to be on the same flight, said: "Air Maroc here didn't seem to know what was going on. I needed to be there on time because I've got meetings over there.
"I had booked a car to pick me up and I'm going to have to phone to either cancel it or get them to pick me up later so I can get home."
Daisy McAndrew, another passenger, said she had been caught in the "unholy mess" at Gatwick as she tried to fly to Barcelona for work.
"As ever, staff have been fantastic but they know nothing other than the fact it is going to be a very, very long delay – very frustrating," Ms McAndrew said.
"And also, it's embarrassing, isn't it? When you look around a lot of people on my plane are not British, they are flying British Airways, they are probably trying to get back to Spain and they will inevitably be thinking this is something that could have possibly been prevented.
"It doesn't show our air traffic control system or our travel system in a good light.
"I have never heard of an example where every single plane is grounded – it's quite eerie when I look out of the window to see the tarmac in Gatwick, normally so busy, and also the sky above Gatwick which is normally busy – completely static, there's nothing moving."
Eugene and Joan O'Sullivan, both 74, from Worlingworth, Suffolk, flew from Lima to Madrid for a connecting flight to Gatwick, only to be delayed for two hours in the Spanish capital.
Arriving at Gatwick shortly before midday, Mrs O'Sullivan said: "We heard various stories – they first told us we would be delayed for half an hour and then it was another 40 minutes. We were eventually stuck there for two hours."
Mr O'Sullivan added: "Are we pleased? No."
Helena Lucas, the Paralympic sailor, wrote on Twitter: "Lots of angry people at Heathrow! Customer services is crowded with unhappy people! My flight looks on time fingers crossed!"
Ryanair warned of "significant flight delays and possible cancellations" and said it had been advised of an equipment failure within UK air traffic control.
Flights at Cardiff Airport were also experiencing delays, with a flight to Paris delayed with no estimated time of arrival.
A flight to Malaga has been delayed from 9.10 to an estimated take-off at 10.55, with one to Amsterdam delayed from 10.25 to an estimated time of 11.10.
A spokesman for Cardiff Airport said: "Both (departures and arrivals) have been delayed because of the knock-on effect of the late arrivals of the service. We are currently looking at an estimated 1hour 40 minutes delay."
EasyJet warned passengers to expect delays throughout the day, possibly spilling over into Sunday.
In a statement the airline added: "We're doing everything we can to ensure that our passengers are well taken care of while our flights await clearance to depart, by keeping them up to date with the latest information and providing them with free refreshments on board."
The delays added to the disruption to transport links following the storms which hit Britain on Thursday night, causing flooding in Scotland, north Wales and the east coast.
The Association of British Travel Agents said: "Customers due to travel today should liaise with their airline to establish if there are any changes to their flight arrangements. Furthermore, customers should be prepared for potential delays and are advised to carry essential items such as medication in their hand luggage."
http://www.telegraph.co.uk/travel/travelnews/10502466/Thousands-delayed-after-flights-grounded-at-UK-airports.html
.
The software failure happened when the 23 controllers working overnight were due to hand over to the 125 on the day shift at around 06:00 GMT.
---
.
and
Stansted: Flights Resuming After NATS Glitch
8th December 2013, (Heart)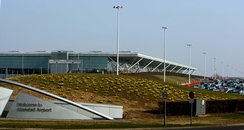 Airline passengers at Stansted may face further delays today, after a major air traffic control glitch caused major disruption at airports across the UK and Ireland.
Hundreds of flights were cancelled or delayed yesterday after problems with a telephone system at the National Air Traffic Service (Nats) centre in Swanwick, Hampshire.
Thousands of people endured hours of frustration as flights were affected across the country, including the major airports of Heathrow, Stansted and Gatwick.
The problem was resolved at about 7.30pm yesterday, Nats said, and while the disruption is likely to have a knock-on effect today, the three main London airports predicted a largely trouble-free day.
A statement from Stansted Airport reads: "Due to an ongoing air traffic control issue affecting airspace in southern England, flights to and from Stansted Airport are currently subject to delay and possible cancellation.  
For more information, and to check the status of their flight, passengers are advised to check their airline website before setting off to the airport.
To speak to a member of our Customer Contact Centre call 08714 777 747."
A spokesman for London Heathrow said last night: "There are no planned flight schedule changes for Sunday.
We still advise passengers to check with airlines prior to travelling though."
Gatwick said that operations had returned to normal and it was "not anticipating significant disruptions" today.
The problem occurred when the 23 controllers on a night shift at Swanwick handed over to the 125 controllers on the day shift at about 6am.
Nats' night-time operating system, which combines sectors of airspace for when it is less busy, did not properly switch over to the daytime system, causing a communication problem with the centre's internal telephones. 
They stressed that safety was not at risk at any time.
Heathrow was the worst affected, with 228 cancellations – 112 in arrivals, and 116 departures, with most being short-haul flights.
A spokesman for the airport said the cancellations represented 15% of their usual daily total of 1,300 flights going in and out of the airport. 
Frustrated passengers were left in long queues to rebook flights, while others reported having to wait for hours to speak to airline representatives.
The glitch affected flights across Europe, with 1,300 flights, nearly 8% of all traffic in Europe, "severely delayed", according to Eurocontrol, the European organisation for air navigation safety. 
A spokesman for Nats said last night: "As of 7.30pm we had handled 3,250 flights today – around 90% of the traffic handled last Saturday (3,613 flights)."
In a statement yesterday, Nats apologised for the disruption, saying: "The reduction in capacity has had a disproportionate effect on southern England because it is extremely complex and busy airspace and we sincerely regret inconvenience to our airline customers and their passengers.
To be clear, this is a very complex and sophisticated system with more than a million lines of software.
This is not simply internal telephones, it is the system that controllers use to speak to other ATC agencies both in the UK and Europe and is the biggest system of its kind in Europe. 
This has been a major challenge for our engineering team and for the manufacturer, who has worked closely with us to ensure this complex problem was resolved as quickly as possible while maintaining a safe service."
http://www.heart.co.uk/cambridge/news/local/stansted-flights-resuming-after-nats-glitch/
.
.
.
.