Southend airport had many more passengers in 2013 than in 2012, but much less profit
Southend Airport's parent company Stobart Group has revealed earnings from its aviation division fell from £400,000 to £100,000 last year. Passenger numbers grew 38% to over one million and a newly completed terminal extension raised its capacity to 5 million. To stimulate further growth, the airport has entered into a new partnership with low-cost carrier Flybe to launch a new airline, Stobart Air, which will use two Flybe aircraft to launch 6 new routes to Europe (Antwerp, Caen, Groningen, Maastricht, Munster and Rennes).  Stobart said "..there is still work to be done to improve profitability with renewed focus on revenue per passenger and controlling costs." The company said it was continuing to develop plans for Carlisle Lake District Airport, but these remain dogged by ongoing challenges around planning. Southend airport had 9,476 air transport movements in 2013, which was an increase of 30.4% on 2012, and it had  969,940 passengers, an increase of 57.2% over 2012.  So 57% more passengers in 2013 but 75% fall in profit. Aviation is an odd industry.

.
Tweet



Southend Airport sees profits fall despite rapid growth
21.5.2014 (TravelMole)

Southend Airport has retained its position as the fastest growing airport in Europe but it needs to do more to improve profitability, said chief executive Andrew Tinkler today after parent company Stobart Group revealed earnings from its aviation division fell from £400,000 to £100,000 last year.

Passenger numbers grew 38% to over one million and a newly completed terminal extension raised its capacity to five million.

To stimulate further growth, the airport has entered into a new partnership with low-cost carrier Flybe to launch a new airline, Stobart Air, which will use two Flybe aircraft to launch six new routes to Europe.

"We understand the importance of building new routes and new partnerships to help increase passenger numbers in line with our predictions," said Tinkler.

"We aim to grow again in the year ahead and this passenger growth should drive our various revenue streams at the airport. Despite our passenger growth, there is still work to be done to improve profitability with renewed focus on revenue per passenger and controlling costs."

The company said it was continuing to develop plans for Carlisle Lake District Airport, but these remain dogged by ongoing challenges around planning.

"The airport remains a key priority for development by our local authority partners who are aiming to increase inbound international visitor numbers to Cumbria and the Lake District," added Tinkler.
http://www.travelmole.com/news_feature.php?news_id=2011629&c=setreg&region=2
.
.
---
.
Stobart Air to Begin Six Flights From Southend Airport
 by Dave Lewis (Rhino car hire)
Despite seeing a fall in profits last year, Southend Airport is continuing with its expansion plans to become one of the UK's leading medium sized airports.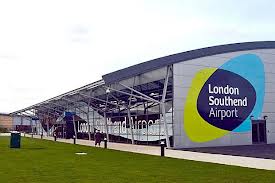 Southend Aims to be a Top Ten UK Airport
This year, expectations were that the airport would top a million passengers for the first time but that target is likely to be dwarfed now the new multi-million pound terminal has opened. Instead, the capacity of the airport has risen to five million and it's hoped that some of the capacity will be absorbed by the creation of a new airline; Stobart Air, as a joint venture with Flybe.
The new airline will initially offer six new destinations across Europe from June this year; to 
Antwerp
, Caen, Groningen, 
Maastricht
, Munster and Rennes.
Joining the Stobart Air group will be Aer Arann which currently offers Irish and Scottish routes.
The new ventures in 2014 look set to propel Southend Airport up the list of busiest airports in the UK, settling just inside the top ten [No, this is wrong, It was 21st in the UK by number of air passengers in 2013.
link
]and busier than Newcastle or East Midlands Airports. It will be the only airport in the UK that is owned and operated by an airline, mimicking Doha International but on a much smaller scale!
Ideally positioned for residents of the east of London, the airport has become a viable and often cheaper way of escaping from the continent. There are quick and easy routes from the capital to the airport meaning that for parts of London, it's quicker to travel to Southend than to Heathrow.
The new terminal brings the airport firmly into the 21st century with a wide selection of facilities including shops, restaurants and car hire desks from which pre-booked car hire can be collected.
http://www.rhinocarhire.com/Car-Hire-News/May-2014/Stobart-Air-Six-Flights-From-Southend-0324.aspx
.
.
.