Over 1,000 attend packed Ascot protest meeting against Heathrow flight path trials
 A hostile audience grilled Heathrow officials over trial flight paths at a public meeting in Ascot on 13th October. It was standing room only in the Pavilion at Ascot Racecourse as well over  1,000 people gathered to question the airport about the trials which have affected residents across Bracknell, Ascot and the surrounding villages. The airport has received a deluge of complaints from residents about the 'intolerable' and unacceptable noise caused by aircraft flying over their homes since the trials began in August.  Angry residents asked about the level of noise, impact of air  pollution and about the data the airport are collecting. They want the trial to stop, and for these flight path plans to be abandoned. Following the protests, Heathrow agreed to shorten the trials. Instead of ending in January, they will now end on November 12. Heathrow officials were stunned by the turnout, and are now in no doubt that they will have to radically reassess the extent of noise misery that people living in the areas affected by Heathrow are prepared to put up with in future.
.
Tweet

Over 1,000 attend packed Ascot protest meeting against Heathrow flight path trials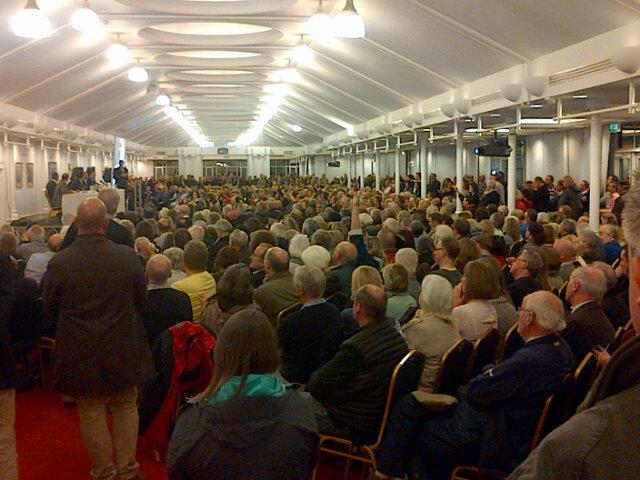 The meeting clearly demonstrated to Heathrow just how angry and upset residents in the Ascot area at being subjected to a flight path trial, of a concentrated route. It seems Heathrow were left in no doubt whatsoever about the strength of the determination not to suffer the misery that a 3rd runway would bring. John Stewart tweeted: "@ascotflightpath sometimes the anger of the audience overcame coherency of argument but the meeting could turn out to be a game-changer." When the audience were asked "Does this community want a 3rd runway" the residents shouted back "NO!'
---
Audience grill Heathrow bosses at public meeting
14 Oct 2014  (Bracknell News)
A hostile audience grilled Heathrow officials over trial flight paths at a public meeting last night (Monday Oct 13).
It was standing room only in the Pavilion at Ascot Racecourse as more than 1.000 people gathered to question the airport about the trials which have affected residents across Bracknell, Ascot and the surrounding villages.
The airport has received a deluge of complaints from residents about the 'intolerable' noise caused by aircraft flying over their homes since the trials began in August.
Cllr David Hilton, who represents Ascot and Cheapside, chaired the meeting and said: "I think the key thing we have heard is that the aircraft noise that we are experiencing now is unacceptable and should stop, stop now and not restart."
Angry residents asked about the level of noise, impact of pollution and about the data the airport are collecting.
The trials form part of the Government's Future Airspace Strategy which requires all airports to modernise how they use airspace by 2020.
A petition against the flightpath trials over Ascot has so far gathered more than 6,000 signatures.
Following the protests, Heathrow agreed to shorten the trials. Instead of ending in January, they will now end on November 12.
See this week's Bracknell News for full coverage of the meeting, plus reaction and pictures – on sale tomorrow (Wednesday, October 15).
To sign the petition visit, http://www.change.org/p/please-sign-this-petition-to-stop-a-switch-of-heathrow-flightpaths-over-ascot
http://www.bracknellnews.co.uk/news/roundup/articles/2014/10/14/104500-audience-grill-heathrow-bosses-at-public-meeting-/
.
---
More than 1,000 people turn out to meeting over Heathrow flight path noise
Oct 17, 2014
By Jennie Slevin
Thousands of people have been losing sleep due to the trials being carried out by the airport
More than 1,000 people plagued by aircraft noise over their homes put their complaints to Heathrow Airport representatives at a public meeting on Monday.
Families who claim to have lost sleep due to the increase in air traffic above the north of Bracknell Forest attended the Airspace Modernisation Trials event at Ascot Racecourse.
The meeting was organised by campaigners and Bracknell Forest and The Royal Borough of Windsor and Maidenhead councils, along with bosses from the airport, the Civil Aviation Authority (CAA) and National Air Traffic Services (NATS), after Heathrow launched air corridor trials in July.
Councillor Tony Virgo, who represents Ascot on Bracknell Forest, said: "Heathrow wanted to test this system and didn't seem to think it would affect the thousands of people who aren't used to any noise.
"They were somewhat surprised by the fact that so many people had complained.
"They told us they had done these trials for 18 months in other places and hadn't had a response like this. It was like they didn't think it would matter."
Last month Bracknell Forest Council – which was not warned the trials would be taking place – contacted Heathrow after a motion was put to ensure residents' views were considered by the airport.
Cancer patient claims Heathrow Airport flight path trials have made her garden like a 'runway'
The trial, which has seen an increase in the number and frequency of planes flying above homes in the area due to new take-off and landing corridors being tested, was expected to end on January, but has now been cut short to end on Wednesday, November 12.
Andrew Jones, of St George's Lane, Ascot, is a member of campaign group Stop the Flightpath Trial around Ascot – which got 6,294 people to sign a petition against the trials.
Heathrow Airport flight path trials branded an "omnishambles"
He said: "I think it's fair to say NATS, CAA and Heathrow were walking into the lion's den.
"People were very angry, but I think we got our points across despite not really getting answers about why they didn't tell us what was happening.
"Hopefully, the trials will now be brought to an end sooner than November."
However, not all neighbours felt the meeting went well.
Gill Jackson, of Forest Park, said people spoke over the panellists and "chose not to hear" their answers.
Adam Afriyie: Great to secure another small victory in the battle over aircraft noise
She added: "They were angry and not prepared to listen. It was such a shame that heckling, shouting and making rude comments deteriorated the evening.
"I agree these trials have been intrusive and very loud and low at times, but there are many stages before any kind of decision can be made.
"Everything else has gone in leaps and bounds with technology, why wouldn't Heathrow?
"Perhaps I am being dense but, having lived in Langley and now Bracknell for over 55 years, the airport was always going to get bigger, as were the aircraft, and it was always going to have a knock-on effect to the surrounding areas. It is what it is."
http://www.getreading.co.uk/news/local-news/more-1000-people-turn-out-7950156
.
.
.
.
.