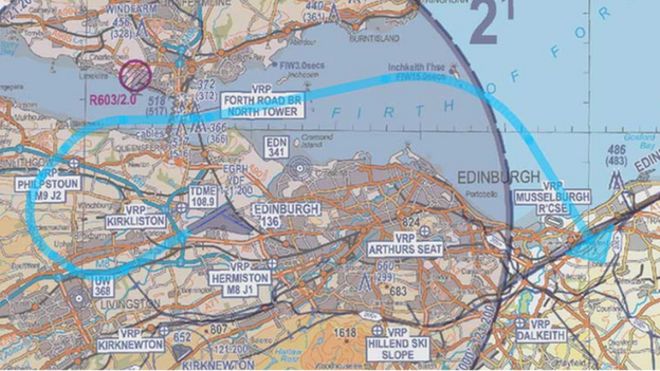 An MSP has called for the trial of a new flight path from Edinburgh Airport to be halted saying the community was not consulted on the plan.
Labour MSP Neil Findlay said there was "widespread concern" from communities in the trial flight path, which now has planes travelling over West Lothian.
He said residents were experiencing sleep disruption and noise pollution.
An airport spokesman said: "We note Mr Findlay's and the community's concerns regarding the trial."
He added: "It was always our intention, and it remains so, that in the event the route is technically viable – and it is important to establish that through the trial process – we will undertake a full and thorough consultation with local communities and affected stakeholders.
"All the feedback we receive during the trial phase will be presented to the CAA as part of our trial findings."
The Labour MSP called for the airport's management to halt the trial and to carry out a full consultation with all of the communities affected.
The trial, which started on 25 June, is due to end on 24 December.
There are three existing flight routes to the west but Edinburgh Airport launched the six-month trial to establish if it could increase its take-off capacity by cutting the departure interval between flights from two minutes to one.
Scottish Green MSP Alison Johnstone said there was no advance notice of the trial flight path.
She said: "Residents found out about it when flights roared overhead, so low that they can clearly read the livery."
http://www.bbc.co.uk/news/uk-scotland-edinburgh-east-fife-34210442
.
---