….enabling under-11s to play at break times and to take part in outdoor education lessons with less disruption from passing jets.
…..
It is seen as an attempt to bolster support for a third runway ….
…….
However, the blueprint failed to ­address calls for an all-out ban on night flights, six months after the recommendation was made by the ­government-appointed airports ­com­mission as a condition of expanding Heathrow.
……
The first shelter in west London was built at Hounslow Heath infant school in 2013, where incoming flights pass as low as 180 metres over the playground.
Sound tests at the time ­indicated that the noise level of 87 ­decibels over the school was cut by 17 decibels inside the domes. [ie. the noise is still 70 decibels, louder than normal speech, which  is about 60 decibels.  AW comment]  The duration of noise caused by passing aircraft also was significantly reduced.
Two schools have had funding ­confirmed for shelters this year and another five are in the pipeline, in ­addition to the seven already built. Applications are open to other schools to bid for funding for them.
….. full Times article at
http://www.thetimes.co.uk/tto/education/article4656068.ece
.
Some comments on the article:
An absurd  sticking plaster solution. Our children are being turned into termites.
£85,000 each! Someone has been seen coming.
…..
There seems to be inconsistent logic here. Heathrow Airport apparently is finally admitting that its current pollution levels are too high and that vulnerable people require protection that has been withheld until now.
…..
Why are they doing this now? In order to get permission to increase pollution levels further by building an additional runway!
.
---
Comments from AirportWatch members who have visited Hounslow Heath infant school to see the shelters
I was very impressed with Kathryn Harper-Quinn. They are lucky to have such a wonderful Head Teacher.  I think she said her husband was a Qantas pilot.
The Hounslow Heath school buildings were never built to withstand the level of aircraft noise being experienced.  These days with modern acoustic insulation and mechanical ventilation (expensive), mitigation is better – albeit it means never opening any windows.
But if the half-hourly Leqs inside the classrooms are still 64dBs at Hounslow Heath, then it's really hard for a teacher to ensure that cognitive communication is effective, especially for SEN (Special Educational Needs) pupils and those for which English is not the first language.
Ideally, for good speech intelligibility, the level of the teacher's voice needs to be at least 10 to 15dB above the background noise level – so he/she would need to talk at a level above 75dB in the classrooms there – which is shouting – just to be heard.
If the noise outside in the adobe structures is reduced to 70 decibels, that means the teacher has to try to bellow at over 80 decibels. That must almost be impossible, and certainly cannot be maintained other than for a quick comment or instruction.
The problem outside is in the playground/sports areas and particularly those areas specified for outside teaching, the  latter being an essential part of primary school education.  These Adobe huts are really only a band-aid solution which doesn't deal with the cause of the problem.  The most that can be said is it's better with them than without them.
However, as primary school teachers know, it is during the break times, when young children are outside, that are the key formative periods for learning social skills.  And not forgetting that Hounslow Heath is also a Nursery as well as a Primary School.
If children cannot hear each other – this significantly impairs this part of their development.
Of course the 3pm runway alternation helps since the traffic switches to the northern runway and doesn't fly directly over Hounslow Heath.
.
And another member:
In 2008, when the Government policy was to build a second runway at Stansted, I took a group of local primary school people to Hounslow Heath.  I wanted to show our two primary schools at each end of the proposed Stansted second runway how bad life would be.  I was considerably assisted by the Head Teacher of Hounslow Heath primary school and Hounslow Council.
It would not be an exaggeration to say that we rural community people were numbed by the experience and our hearts went out to the teachers and particularly the young children.  In the event, whilst the second runway Public inquiry had started about a new Stansted runway, the incoming Coalition Government cancelled it in May 2010.
Extracts from my notes are below:
Notes on Visit to Hounslow Heath Primary School 19 June 2008
The visit was hosted by Kathryn Harper Quinn, Head Teacher of Hounslow Heath Infant & Nursery, a passionate advocate for pupils learning in environments blighted by aircraft noise.
Kathryn has previously taken a delegation of pupils to Westminster, spoken out in the media (including interviews by Channel 4's Dispatches and BBC's Panorama) and given speeches at public events
In addition to representatives from the Hounslow Heath school, the following representatives from Hounslow Council attended (names given).
Hounslow school is 3km east of Heathrow perimeter almost in line with southern runway. 400 pupils. Runway in use 27 (75% of time).   Runway alternation from south to north at 3pm.
Aircraft landing every 55 secs, each aircraft interrupts conversation outside for 20 secs.
Head teacher said 'aircraft noise is relentless. Sometimes worse depending on weather. Often has large vibration content   Can get used to it.  Children find it hard to talk to their friends.  Children also have to live in this noise environment at home.  Outdoor teaching is affected.  48% of intake does not have English as native language. Children's attention span is short, frequency of aircraft interruptions means children lose attention during class (e.g. story reading ≈12 mins)'.                                              
Aircraft fly almost directly over the school when landing on runway 27 south. When changed to runway 27 north, the reduction in noise is very evident. Head teacher said 'you can hear the sound of the wind in the trees again' – and we did.
Aircraft mix at Heathrow is predominantly heavier aircraft than at Stansted.
As far as head teacher is aware, the noise climate has not deterred teachers joining or caused them to leave. There is no obvious movement of people out of the area, but there is evidence of properties sold for buy-to-rent and property speculation.
One teacher said 'fortunately I live well away from the school, so I get relief. That is not the case for those living locally. And it's also a relief after the 3pm runway change'       
No half-hour Leq noise measurements have been taken at the school – which is the standard BB93 Building Regulations for schools (Note: I find this a little surprising). However the 16-hour Leq figure outside is 62 dBA and it is therefore likely that the half-hour Leqs will be in the order of 64 dBA.  This is well over the limit.
BAA has funded new windows which helps but only when the windows are closed. BAA total budget £5M/year is 'a drop in the ocean'. There is some possibility of building acoustic shelters outside.  But head teacher's opinion of respite measures (i.e. taking children out of school occasionally) is 'a waste of time and administratively onerous'. The school sees BAA as doing as little as possible to help.
19 June 2008
Heathrow finally completes £4.8 million of insulation work on schools etc – after 10 years
Heathrow has finally finished installing noise insulation at the 42 schools and other community buildings (31 in Hounslow) where it promised in 2005 to carry out the work. It has taken 10 years, and it cost Heathrow £4.8 million.  Heathrow said in 2005 it would install double glazing and make other improvements to minimise the din from aircraft, at selected schools etc under its flight paths. Now, pressing for a runway, John Holland-Kaye ensured the work under the Community Building Noise Insulation scheme was completed this April.  Part of the cost is the adobe buildings for school playgrounds, in which children can be taught "outdoors" under the dome. How being inside an adobe dome counts as being "outdoors" is a mystery. The adobe buildings have cost £1.8 million, from Heathrow, and have been installed in 5 schools in Hounslow and Slough – with 5 more due to be completed in Hounslow this year. If Heathrow gets a 3rd runway, it has "promised" to spend £700 million insulating homes, schools and other buildings affected by aircraft noise – more than 20 times the £30 million currently on offer. But is it not saying if it will make any improvements, if it does not get a runway. John Stewart, chairman of HACAN, said: "What's important is that further insulation should not be dependent on a third runway."
As one wit asked: "If it has taken them 10 years to do £4.8 million of insulation work, how long could it take them to get round to £700 million?"   A fair question indeed ….. 
https://www.airportwatch.org.uk/2015/04/heathrow-finally-completes-4-8-million-of-insulation-work-on-schools-etc-after-10-years/
---
Adobe earth houses in school playground give pupils refuge from Heathrow noise
Pupils at the Hounslow Heath Infant school ( children aged 3 –  7) just under a Heathrow flight path, have very loud and intrusive aircraft noise from the planes flying some 180 metres approx overhead. The problem is so bad that BAA (as it was) paid for the construction of some adobe structures in the playground, so the children can spend at least part of their time outdoors in places where they can hear each other speak. At some times of day, there is aircraft noise for 25 seconds out of every 90 seconds. Classes of up to 30 children can be seated inside the main dome, and inside the noise is reduced by some 17 decibels. Outdoor learning is valued by teachers and is also a statutory part of the national curriculum. The headteacher said the adobe structures are important as refuges because  "When kids are playing they are also developing their language skills, and in the playground again they're being interrupted." Schools should not be located under flight paths where planes are low. 
https://www.airportwatch.org.uk/2013/04/adobe-school-buildings/
.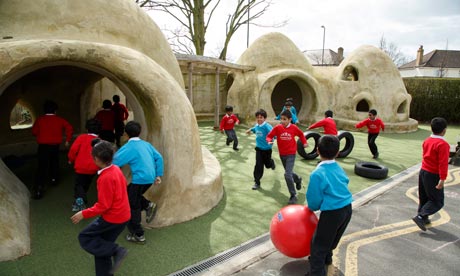 ---
Heathrow pays £1.8m for noise-reducing adobe huts in playgrounds of 21 schools under its flightpaths
It was reported in April 2013 that four adobe domes had been put  up in the grounds of Hounslow Primary school, which is under the southern runway at  Heathrow, in order to enable the children to use the playground despite the plane noise. Now Heathrow says it will spend £1.8 million to extend the scheme to 21 schools that are badly affected by aircraft noise. Heathrow is desperate to try and persuade London residents that aircraft noise is being dealt with, and a 3rd runway will not cause intolerable noise to those overflown. The 21 schools, which have not been  named, will each get around £85,000 for the building of these structures. The largest can hold 30 children, and the level of noise can be 17 decibels lower than outside. Children can hear the teachers inside the domes, so teaching does not have to stop for a considerable time every 90 seconds or so, when planes go over. Children can also hear each other, and so develop their language skills. However, the domes do not solve the problem of providing ventilation and soundproofing of classrooms.