Six women and seven men have avoided jail for trespassing at Heathrow, following a protest against the possible expansion of the airport.
The activists, dubbed the Heathrow 13, were given sentences of six weeks suspended for 12 months, meaning they would not have to go to prison immediately.
They had been found guilty in January of aggravated trespass and entering a security-restricted area of an aerodrome. They had been warned by district judge Deborah Wright to expect a custodial sentence.
During the trial at Willesden magistrates court in north-west London, the defendants had argued that their actions were reasonable, proportionate and necessary to prevent death and serious injury via air pollution and climate change, saying that 31 people a year die prematurely around Heathrow due to its pollution, and thousands die due to the effects of climate change.
They had also been backed by John McDonnell, the shadow chancellor, and Caroline Lucas, the Green party MP – who both said jailing the group would be a mistake.
Sentencing the 13 on Wednesday, Wright said: "It was very clear your stated intention was to cause as much disruption as possible. You have achieved your aim." She said the protest led to 25 flights being cancelled and that "each and every one of those people who had their journeys disrupted was a victim of your actions".
Judge Wright said she was impressed by the defendants' good character and commitment. However, she said "the fact that you are principled and have strong views about public interest doesn't mean you can break the law".
[The Judge did not ask for compensation despite what she called "enormous losses" to Heathrow Airport.  In considering sentence, judge would have given 13 weeks but reduced to 6 weeks due to the Heathrow 13's consideration of safety, in their protest, and their good character. The Judge listed, one by one, the defendants and their traits and principles – including their academic degrees and their charity work.
All Heathrow13 are banned from coming within 500 metres of Heathrow terminal buildings and 5 meters of perimeter fence – for ?? one year.
The Judge gave the number of victims affected as 92,000 – including those affected by flight cancellations and delays, though the actual number was difficult to establish, as by early afternoon on 13th July 2015, it was very windy. Therefore some flight delays were due to wind, not the occupation].
A loud cheer went up as the defendants left the dock. Outside the court, one of them, Danielle Paffard, said: "I'm so relieved. It's a triumph for democracy, a triumph for the movement."
She said that while the sentence meant she was banned from Heathrow for a year, others would continue protesting against the third runway.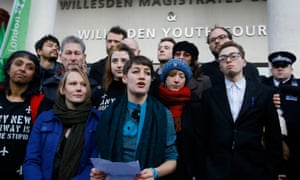 "As a result of today's sentencing there will be plenty more people prepared to go out and cut the perimeter fence," she added.
The families of the 13, aged 22 to 67, watched proceedings from the public gallery following emotional scenes as their loved ones prepared themselves for a jail sentence.
Speaking earlier in the day, the families made clear their anger at the prospect of prison terms. David Thacker, whose son Edward is one of the 13, said: "I'm feeling very proud of both Edward and the wonderful people who made this stand. But I'm angry at the possibility of a custodial sentence."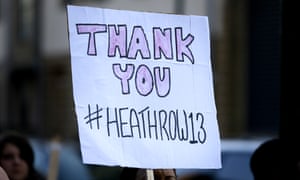 Kirsty Brimelow QC, of Doughty Chambers, who represented four of the defendants, described all 13 as professional, qualified individuals who were "not fanciful or frivolous", but instead "people who have real conscience who care about the planet and the human beings on the planet".
Brimelow said all 13 had acted in the public interest and felt that all other avenues of protest had been exhausted. She said there was no evidence anyone was endangered by the protest, that the activists had taken steps to alert the police and had caused "minimal effect" on the airport.
Brimelow said that Britain's history of political protest was long and honourable. "We've come a long way since the suffragettes and those people would be locked up and treated appallingly," she said.
She said the last time someone was sent to prison for environmental protest was over the Kinder Scout mass trespass in 1932.  [ Kinder Scout mass trespass Wikipedia ]
Brimelow objected to the prosecutor's application for compensation from Heathrow airport for "considerable expense and damages". It was accepted 25 flights had to be cancelled but, she said, there was no reliable evidence of a figure.
In a statement on Tuesday 23rd February, the Heathrow 13 said: "Clearly, none of us would choose to go to jail, but this shouldn't be singled out as the main 'injustice'.Climate change is the real injustice, with the majority of the world's population, those in the global south, being the ones who continue to be most affected.
"The science is clear … There can be no new runways in the UK if we are to take climate change seriously."
http://www.theguardian.com/environment/2016/feb/24/heathrow-13-climate-change-protesters-avoid-jail