HACAN welcomes plan to build Adobe huts on playing fields of Eton
1st April. This story is, sadly, not true. But it is a lovely thought …...Campaign group HACAN has welcomed today's announcement from the Government that it will fund deluxe Adobe huts for Eton College if it gives the green light to a third runway at Heathrow. Eton will be directly under the flight path of a new runway.  There have been concerns expressed of the noise impact on Eton's famous playing fields.  HACAN chair John Stewart said, "Parents will undoubtedly welcome this announcement that Adobe huts will be built on the playing fields of Eton". The huts will be an upmarket version of those already seen the playgrounds of a number of schools in Hounslow in west London.  The Government had said that it will fund three in the first year after the opening of any new runway.  They will be named after two of the school's most famous old boys: Dave, and Boris. And also George (not at Eton, but at St Paul's).  It was reported in April 2013 that four adobe domes had been put  up in the grounds of Hounslow Primary school, which is under the southern runway flight path at Heathrow, in order to enable the children to use the playground despite the plane noise.  In April 2013 Heathrow said it would spend £1.8 million to extend the scheme to 21 schools that are badly affected by aircraft noise. Heathrow is desperate to try and persuade London residents that aircraft noise is being dealt with.  Including at Eton.
.
Tweet

HACAN welcomes plan to build Adobe huts on playing fields of Eton
1.4.2016 (HACAN)
Campaign group HACAN has welcomed today's announcement from the Government that it will fund deluxe Adobe huts for Eton College if it gives the green light to a third runway at Heathrow. Eton will be directly under the flight path of a new runway.  There have been concerns expressed of the noise the impact on Eton's famous playing fields.
HACAN chair John Stewart said, "Parents will undoubtedly welcome this announcement that Adobe huts will be built on the playing fields of Eton".
The huts will be an upmarket version of those already seen the playgrounds of a number of schools in Hounslow in west London (2).  The Government had said that it will fund three in the first year after the opening of any new runway.  They will be named after two of the school's most famous old boys: Dave and Boris. And George (who actually went to St Paul's).
First picture of what the huts will look like on the playing field of Eton
An existing Adobe hut in Hounslow
John Stewart on 0207 737 6641 or 07957385650
---
Earlier:
Heathrow finally completes £4.8 million of insulation work on schools etc – after 10 years
Heathrow has finally finished installing noise insulation at the 42 schools and other community buildings (31 in Hounslow) where it promised in 2005 to carry out the work. It has taken 10 years, and it cost Heathrow £4.8 million.  Heathrow said in 2005 it would install double glazing and make other improvements to minimise the din from aircraft, at selected schools etc under its flight paths. Now, pressing for a runway, John Holland-Kaye ensured the work under the Community Building Noise Insulation scheme was completed this April.  Part of the cost is the adobe buildings for school playgrounds, in which children can be taught "outdoors" under the dome. How being inside an adobe dome counts as being "outdoors" is a mystery. The adobe buildings have cost £1.8 million, from Heathrow, and have been installed in 5 schools in Hounslow and Slough – with 5 more due to be completed in Hounslow this year. If Heathrow gets a 3rd runway, it has "promised" to spend £700 million insulating homes, schools and other buildings affected by aircraft noise – more than 20 times the £30 million currently on offer. But is it not saying if it will make any improvements, if it does not get a runway. John Stewart, chairman of HACAN, said: "What's important is that further insulation should not be dependent on a third runway."
As one wit asked: "If it has taken them 10 years to do £4.8 million of insulation work, how long could it take them to get round to £700 million?"   A fair question indeed ….. 
https://www.airportwatch.org.uk/2015/04/heathrow-finally-completes-4-8-million-of-insulation-work-on-schools-etc-after-10-years/
---
Adobe earth houses in school playground give pupils refuge from Heathrow noise
Pupils at the Hounslow Heath Infant school ( children aged 3 –  7) just under a Heathrow flight path, have very loud and intrusive aircraft noise from the planes flying some 180 metres approx overhead. The problem is so bad that BAA (as it was) paid for the construction of some adobe structures in the playground, so the children can spend at least part of their time outdoors in places where they can hear each other speak. At some times of day, there is aircraft noise for 25 seconds out of every 90 seconds. Classes of up to 30 children can be seated inside the main dome, and inside the noise is reduced by some 17 decibels. Outdoor learning is valued by teachers and is also a statutory part of the national curriculum. The headteacher said the adobe structures are important as refuges because  "When kids are playing they are also developing their language skills, and in the playground again they're being interrupted." Schools should not be located under flight paths where planes are low. 
https://www.airportwatch.org.uk/2013/04/adobe-school-buildings/
.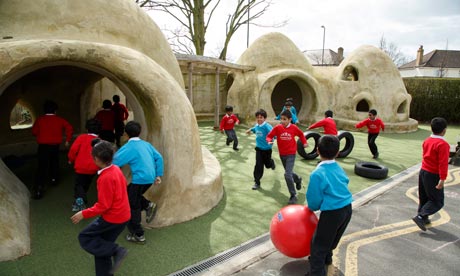 ---
Heathrow pays £1.8m for noise-reducing adobe huts in playgrounds of 21 schools under its flightpaths
It was reported in April 2013 that four adobe domes had been put  up in the grounds of Hounslow Primary school, which is under the southern runway at  Heathrow, in order to enable the children to use the playground despite the plane noise. Now Heathrow says it will spend £1.8 million to extend the scheme to 21 schools that are badly affected by aircraft noise. Heathrow is desperate to try and persuade London residents that aircraft noise is being dealt with, and a 3rd runway will not cause intolerable noise to those overflown. The 21 schools, which have not been  named, will each get around £85,000 for the building of these structures. The largest can hold 30 children, and the level of noise can be 17 decibels lower than outside. Children can hear the teachers inside the domes, so teaching does not have to stop for a considerable time every 90 seconds or so, when planes go over. Children can also hear each other, and so develop their language skills. However, the domes do not solve the problem of providing ventilation and soundproofing of classrooms. 
https://www.airportwatch.org.uk/2013/11/18296/
.
.
.