Speaking to Sky News after MPs overwhelmingly backed the expansion, International Airlines Group's Willie Walsh said: "I don't believe that Heathrow Airport can build this in an efficient manner and a cost-effective manner.
"When you talk about an expected bill of £14bn sterling, it's a perverse amount of money. It's ridiculous. It's outrageous."
:: MPs back third runway at Heathrow
The airport can expect to recoup about £20 from the ticket price when passengers arrive and depart the airport.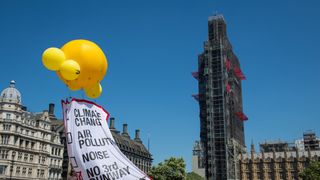 Mr Walsh, whose company holds the most coveted landing slots at the west London hub airport, said: "We do support the expansion of Heathrow but it has to be at the right price and it cannot be the consumers using Heathrow that are expected to pick up the bill because of inefficiency of the airport."
The airport hopes to deliver the third runway and expanded airport by 2026.
However, Mr Walsh believes there is "zero" probability of that but there is a 60% chance of delivery by 2028-2030.
IAG shares were the biggest fallers on the FTSE 100 on Tuesday – the first trading session since the MPs' vote on Monday night – closing down 3.5%.
https://news.sky.com/story/iag-boss-willie-walsh-slams-14bn-plan-to-expand-heathrow-11417526
It's not the first time that the company, which owns BA, Iberian and Aer Lingus, has clashed with Heathrow Airport.  Mr Walsh has been accused of attempting to "maintain a dominant monopoly for BA" at the airport by John Holland-Kaye, Heathrow's chief executive.