A London council has spent more than £1.4m fighting plans for a third runway at Heathrow.
Hillingdon Council spent the money on legal challenges and funding local campaign groups, newly released figures have revealed.
The council's leader previously said it would provide funding for "however long it takes to win this battle".
"This is all money that could have been spent on crucial local services," pro-expansion group Back Heathrow said.
The expenditure was made public after Back Heathrow made a formal complaint to the Information Commissioner that Hillingdon Council had refused to disclose its finances.
Back Heathrow is a campaign group launched with funding from Heathrow Airport. [See details of this funding from Heathrow below].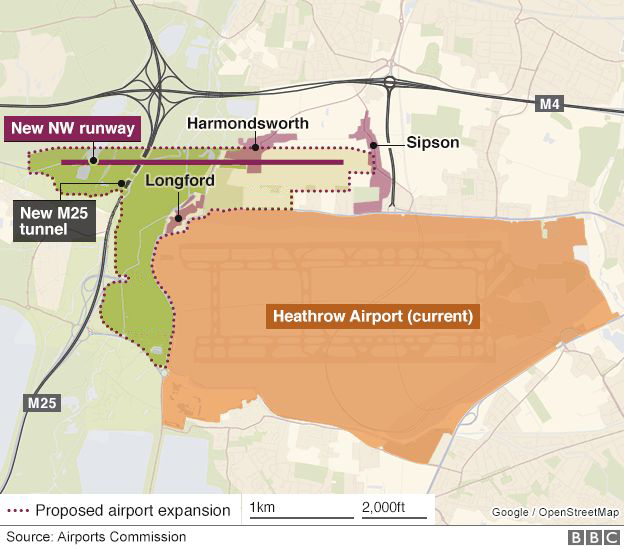 Hillingdon – along with Richmond, Wandsworth and Windsor and Maidenhead councils and Greenpeace UK – failed in an attempt to challenge the decision to build the runway at the High Court in January 2017. The government officially backed Heathrow expansion 18 months later.  [The attempt did not "fail". It had to be delayed, as it was not possible to challenge the draft Airports NPS, but only when it was finalised and published by the DfT. The legal challenges will now be heard in Court in March 2019]. 
Between January 2007 and August 2016, in the lead up to the legal battle, Hillingdon Council spent £827,000 on legal services, campaigning and community engagement.
Since then the council has spent £620,000, with £275,000 going towards funding local campaign groups.  [ie. £1,452,000 ]
Hillingdon Council has received £330,000 in contributions towards these funds from other boroughs.  [ie. £1,4352,000  minus £330,000 = £1,117,000 ]
'Procrastination and secrecy'
Parmjit Dhanda, Director of Back Heathrow, said: "Councillors didn't want local residents to know £1.4m of their hard earned cash was being wasted, whilst local services were being cut to the bone.
"There has been a complete lack of scrutiny in this borough. Its as if they knew their expenditure goes against the grain of local opinion on the new runway."
The union Unite has questioned whether "fighting the expansion of the airport is the best use of council taxpayers' money, given that thousands of future jobs depend on the airport's growth."
Unite's London regional secretary, Pete Kavanagh, said: "The procrastination and secrecy by the council, with the information having to be squeezed out of them, is not the way that a democratically-elected authority should behave."
Hillingdon Council has been approached for comment.
https://www.bbc.co.uk/news/uk-england-london-46108745
.
---