Heathrow to close southern runway for several weeks, then use it for daytime only, till October
Heathrow has announced, with no warning, that it will be only using the northern runway from 13th July to 2nd August. It is doing extensive repairs (probably in fact resurfacing) on the southern runway, that means it cannot be opened even part of the day.  So people living under the approach path to the northern runway, or under the departure flight paths, will not get the respite period they are used to.  Normally flights are switched at 3pm each day. The disruption is planned to last until early October. After 2nd August, there will be flights on both runways, but the southern runway will be closed from 7pm to 7am. Therefore those under flight paths for the northern runway will get all the noise. Campaigners fear that the use of "mixed mode" (ie. landings and take-offs using the same runway) could become the "new norm" if Heathrow seek to use this method of operating permanently, post-pandemic, as a way of increasing the current flight cap of 480,000, to an estimated 565,000 flights per year. Mixed mode would allow that increase in flights without building a 3rd runway, which Heathrow probably can no longer afford.
.
Tweet
Heathrow unexpectedly closes southern runway for repairs
Months of Plane Noise Misery Ahead for Brentford
13.7.2020   (from Brentford TW8.com)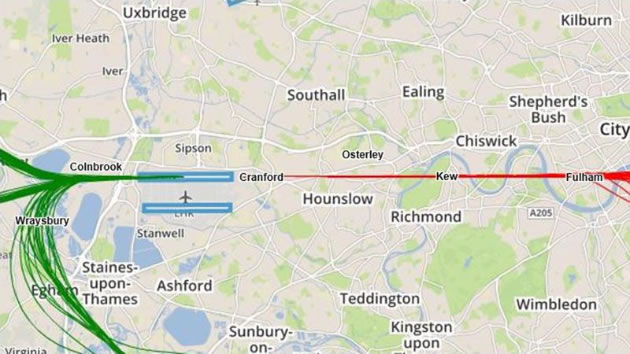 Northern runway flight paths
Residents of Brentford and Isleworth are set to experience an unremitting level of aircraft noise due to the decision by Heathrow to close their southern runway.
The northern runway flight path overflies the area and until October there will be a significant increase in plane noise. Normally Heathrow alternates between the two runways to give residents some respite.
There has been an angry reaction to the announcement with no notice having been given and the works starting this week. Campaigners argue that this concentration of all operations on the northern runway will bring "noise misery" to those living under and around the northern runway flightpath, as they will experience all of the noise generated by Heathrow's operations for the next three months.
From Monday 13 July the southern runway will be fully closed (day and night) so that Heathrow can carry out more extensive repairs that require deeper excavation. During this period, only the northern runway will be in operation. Heathrow say they do not currently anticipate this work to be completed before 2 August.
They say that because of the length of time required to carry out this type of repair, it would not be possible to carry out these repairs overnight as they have done for previous runway maintenance, such as routine runway resurfacing.
In the second phase of the work there will be a switch to overnight working which will mean the southern runway will reopen and partial runway alternation can resume. At 7pm each evening, the southern runway will close until 7am the following morning – meaning the northern will be the only runway in use during that time. This means that all early morning flight arrivals will be coming in over the Brentford area.
During this period, Heathrow will follow the published runway alternation schedule – and runway alternation will take place at its usual time at 3pm when they are on westerly operations. They anticipate these works will continue into September and possibly through to October.
A spokesperson for Heathrow said, "We recognise this may be disruptive to local communities, however by carrying out the repairs now whilst flight volumes are significantly lower than normal, we believe this provides us with the opportunity to carry out the works in the most efficient and quickest way. This should then minimise unplanned repairs in the future, causing less disruption to both our operations and local communities e.g. with fewer interrupted respite periods."
Heathrow scaled down the use of the runways at the beginning of April, with the introduction of "mixed mode", allowing aircraft to both land and take off on the same runway, with runway use alternating every Monday.
Campaigners fear that the use of mixed mode could become the "new norm" if Heathrow seek to use this method of operating permanently, post-pandemic, as a way of increasing the current flight cap of 480,000, to an estimated 565,000 flights per year.
Stop Heathrow Expansion are calling for Heathrow to offer those that will now experience an increase in noise – just as flight numbers are increasing – a better deal, such as ceasing operations at night, from 11pm until 6am.
Geraldine Nicholson from Stop Heathrow Expansion, said, "Heathrow have had three months of significantly fewer flights and now they choose the time where flights are picking up to close a runway. This means noise misery for hundreds of thousands of people living under the northern runway flight paths and close to the northern runway. We were given no notice of this change whatsoever."
http://www.brentfordtw8.com/default.asp?section=info&page=conhrw001.htm
.
---
HEATHROW TO RELY ON JUST ONE RUNWAY UNTIL OCTOBER
Residents will lose their usual respite from aircraft noise as 'mixed-mode' takes over
By  Simon Calder, Travel Correspondent  (The Independent)
@SimonCalder
12.7.2020
After decades of insisting it needs three runways, Heathrow airport will make do with just one ⁠– with closure of the southern runway either partially or fully until October.
A "Notice to Airmen" (Notam) has been issued to pilots and airlines warning that the runway, known as 09R/27L, will close at one minute to midnight on Sunday 12 July until the same time on 30 September.
The reason given is "WIP" (work in progress).
The airport is taking advantage of the lull in air traffic to conduct repairs on the southern runway.
All operations will be concentrated on the northern runway (09L/27R), which will run a "mixed mode" operation of landings and take-offs. Normally one of the two runways is used for arrivals and the other for departure. Air traffic controllers usually switch them at 3pm each day, giving respite to residents.
But instead, west Londoners will hear the arrival of aircraft from before 5am to nearly 11pm daily.
John Stewart, chair of Hacan, the group opposed to expansion at Heathrow, said: "Runways always need repairing from time to time but this is going to be tough on people living under the northern flight path.
"It will mean all-day flying. Even at a time when there are fewer planes, it is going to present problems."
A Heathrow spokesperson said: "Reduced passenger demand as a result of Covid-19 means we have an opportunity to undertake necessary repairs to the southern runway with less disruption caused than if we were operating at full capacity.
"Over coming weeks, we will close the southern runway for an initial short period to allow preliminary works to take place.
"Once these initial works are completed, we will reopen the runway during the day and undertake subsequent works at night. This will allow us to limit the impact on local communities by providing runway alternation."
British Airways, the main airline at Heathrow, is steadily expanding operations. All its short-haul flights from Gatwick have been temporarily moved to Heathrow.
With only one runway, queues to depart and arrive could start to build up.
Until the coronavirus pandemic, Heathrow was the busiest airport in Europe ⁠– even though it has just two runways, fewer than its rivals in Amsterdam, Frankfurt and Paris.
The government has approved expansion, though this is being challenged in the courts.
The airport insists that extra capacity will be needed by the 2030s.
But anti-expansion campaigner John Stewart says: "It comes at a time when there are real doubts about a third runway. If it doesn't go-ahead, Heathrow will be tempted to use both runways all day long. This all-day flying could be a foretaste of things to come."
The busiest single runway airport in the world until the coronavirus crisis was Gatwick, which is currently running a skeleton operation.
https://www.independent.co.uk/travel/news-and-advice/heathrow-airport-one-runway-flights-coronavirus-a9614606.html
.
.
.
.