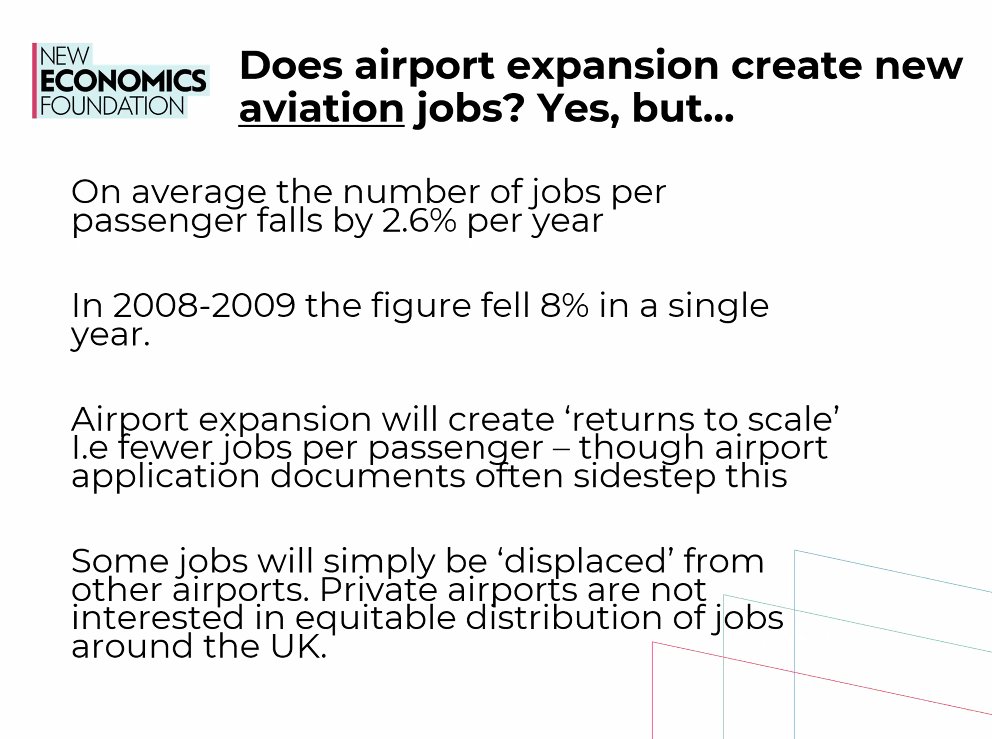 Slide from a presentation by Alex Chapman of NEF (New Economics Foundation).
---
Facial recognition and biometric technology to end airport passport queues
By Matt Dathan, Home Affairs Editor (The Times)
Priti Patel, the home secretary, has published plans to install "contactless corridors" that passengers would pass through at border controls. Facial recognition and biometric technology would check all passengers who walk through the specified area against a database of details that all visitors will have to submit before travelling to the UK.
Similar measures are already being trialled in the United Arab Emirates but would not be fully operational in Britain until 2025.
Passport e-gates will also be expanded for use by all passengers under the plans in an attempt to significantly reduce the need for Border Force officials to carry out manual identity and security checks. At present, only travellers from about 40 countries can use the automated e-gates and they must also have a biometric passport.
A policy paper setting out the digital border proposals, which are set to be fully operational within four years, will drastically reduce queues at border controls by "ensuring the smooth flow of those legitimately coming to the UK".
The automated security and identity checks will be enabled by the introduction of a US-style electronic travel authorisation (ETA) that all visitors will be required to apply for at least 48 hours before they arrive.
The checks, which will apply to all nationalities apart from British and Irish citizens, will require visitors to upload their details and photo to allow the government to carry out security and criminal checks before they arrive.
Immigration and customs officials would still be able to stop passengers for manual checks if necessary.
Officials said that the plans would radically enhance passengers' experience at the border by reducing waiting times while also making it easier for border authorities to identify and focus on illegitimate travellers.
…
and it continues, about stopping criminals etc ….
.
---
Touchless travel could threaten airport jobs
By Joann Muller  (Axios)
Nov 20, 2020
Air travel is becoming a touchless, self-directed journey, which poses a threat to traditional airport customer service jobs.
Why it matters: Automation and artificial intelligence have long been viewed as a threat to jobs, but the unprecedented disruption that the coronavirus pandemic is posing to the travel industry could have lasting workforce implications.
Where it stands: Self-service kiosks have already replaced jobs traditionally performed by airport or airline staff, such as check-in, security, concessions and immigration.
Yes, but: No one wants to use a touchscreen during a pandemic.
Many airports are quickly moving toward "touchless" technology using facial recognition, AI, automation and biometric scanners.
American Airlines, for instance, is testing mobile ID technology at its bag drop area at Dallas/Fort Worth and Reagan National airports.
Instead of passengers handing their ID to the airline agent, a digital token on their smartphone can verify their identity.
At Abu Dhabi International Airport, Etihad Airways is testing a bag-drop system that uses AI to recognize unique scuff marks and other characteristics on nearly identical suitcases and match them to the correct passenger with a digital tag.
At Hong Kong International Airport, self-driving, "intelligent sterilization" robots clean public areas and restrooms.
The big question: Could airline industry jobs lost during the pandemic be gone for good?
No way, says Sara Nelson, president of the Association of Flight Attendants-CWA and a leading advocate for aviation workers.
Even automated baggage systems need humans behind the scenes, she notes.
Besides, the airline industry is highly regulated and employees require extensive training and certification, she said.
"Ground personnel, gate agents, flight attendants, mechanics, pilots — all of them have to be checked off with certification. These jobs can't be performed with automation."
But it's the entire ecosystem around airports that faces workforce disruption, said Robert Puentes, president and CEO of the Eno Center for Transportation, a nonprofit think tank.
Concessions and ancillary businesses like parking lot shuttles are often disadvantaged business enterprises hired by government airport authorities. Some employees are municipal workers.
"Airports will look a lot different, but there's still a need for airport workers" when demand returns, he said.
A new report from MIT's task force on the Work of the Future makes the case that worries about automation and AI leading to widespread job destruction are likely overblown.
As with other technological shifts, the researchers found some jobs are destroyed by automation and AI while others are created.
While they didn't examine the airline industry in particular, they noted that unmanned aircraft require many more people to operate than traditional aircraft.
Context: Prior to the Sept. 11, 2001 terrorist attacks, airline employment peaked at 546,000 people, according to the Bureau of Labor Statistics.
By 2010, it had fallen to 377,000, the lowest level since early 1987.
Jobs had been on the upswing, however, in recent years, and the industry was preparing to add about 100,000 jobs in 2020, Nelson said.
Instead, an estimated 90,000 airline jobs will be gone by year-end, according to the Airlines for America.
What to watch: Technology can't be truly judged until air travel returns to normal levels, says Madhu Unnikrishnan, editor of Airline Weekly, a trade publication.
"It all may seem like it's working really well right now, this automation, but we're talking about one-third of the usual traffic."
https://www.axios.com/airport-jobs-touchless-travel-coronavirus-pandemic-08cf2497-fb9f-41bc-9a13-b7994d0311b2.html
.
---
See earlier:
There may be even fewer airport jobs in future – if robots take on much of the work
We are often given estimates of large numbers of new, good quality, jobs that will be produced if an airport expands. Those very rarely materialise, as the sector works hard to mechanise and automate as much as possible, to reduce numbers of staff. There are growing numbers of robots at airports, carrying out a range of jobs. A survey by Air Transport IT Insights recently found that almost half of global airlines and 32% of airports are currently looking for partners to further develop their robotic involvement in the next 3 years. The latest developments see robots staffing airport check-in desks, carrying out security protocols, cleaning and delivering food (ordered through a contactless system) to passengers while they wait in lounges for their flights.  There has been more cleaning needed, due to Covid – and people are increasingly happy to avoid physical contact or interaction with staff. However, the robot technologies are not yet properly developed and there will be a lot of issues on safety, reliability etc before they become very widespread. 
https://www.airportwatch.org.uk/2021/05/there-may-be-even-fewer-airport-jobs-in-future-if-robots-take-on-much-of-the-work/
.
.
---
BA introducing biometric boarding gates at Heathrow, further reducing numbers of airport jobs
Airports always promise huge numbers of jobs if they expand. The reality is that airports and airlines are cutting jobs as fast as they can, and having everything mechanised. It is cheaper not to have many employees. Now British Airways (BA) is introducing automated biometric technology to create self-service boarding gates at Heathrow. Passengers passing through the security channel will have a digital scan of their face recorded. When they arrive at the gate and scan their own boarding pass, their face is matched with the previously recorded data. If the two digital images match, the passenger is allowed to board.  The system was trialled in June 2016, and is now being rolled out, with 3 of these gates (for domestic flights only) at Terminal 5. BA plans to open 3 more of these self-boarding gates every week until mid-June.  It will finally be extended to international flights.  BA has also opened self-service bag drops at both Heathrow and Gatwick – doing away with more jobs.  Back in 1999 when Heathrow got consent for its 5th Terminal, the airport said there would be 16,000 more jobs by 2016.  When probed, Heathrow is unable to even give a number for the jobs at T5, let along prove there has been much of a rise in employment. All they will say is that in July 2013, 76,600 were directly employed on the Heathrow site. 
https://www.airportwatch.org.uk/2017/04/ba-introducing-biometric-boarding-gates-at-heathrow-further-reducing-numbers-of-airport-jobs/
.
.
.