UK government will not commit to immediate lowering of air pollution levels to WHO limits
The government has refused to commit to an immediate lowering of legal levels of air pollution.  The death of Ella Kissi-Debrah, from asthma cause by air pollution, sparked calls for the immediate lowering of legal air pollution levels to bring them in line with those recommended by the World Health Organisation (WHO). The WHO says particulate pollution from fine particulate matter PM2.5 should not exceed an annual mean of 10 μg/m3. For PM10 the limit is 20 µg/m3 annual mean. But the UK currently has higher limits for fine particulate matter: 40 µg/m3 annual mean for PM10 and 25 µg/m3 for PM2.5. The coroner investigating Ella's death, called for legally binding levels of particulate pollution to be lowered to meet the WHO limits. He said: "The evidence at the inquest was that there is no safe level for particulate matter and that the WHO guidelines should be seen as minimum requirements." There will be a public consultation on air pollution levels in January 2022, with a view to setting new air pollution targets in October 2022.  There are  various nice sounding, empty, statements from government about air pollution. Airports are a major source of both NO2 and particulate air pollution, from both planes and surface vehicles – with Heathrow producing the most. It is now known the pollution spreads downwind far from an airport.
.
Tweet
UK refuses to commit to immediate lowering of air pollution limits
Government accused of disregarding coroner's words about death of Ella Kissi-Debrah, aged 9
By Sandra Laville Environment correspondent (The Guardian)
Thu 17 Jun 2021 14.31 BST
The government has refused to commit to an immediate lowering of legal levels of air pollution as a result of the death of a nine-year-old child from toxic air.
Ella Kissi-Debrah was the first person in the UK to have air pollution listed as a cause of their death in a historic ruling by a coroner earlier this year.
The schoolgirl died after an asthma attack following multiple seizures and hospital admissions. Her death sparked calls for the immediate lowering of legal air pollution levels to bring them in line with those recommended by the World Health Organization (WHO).
The WHO says particulate pollution from fine particulate matter PM2.5 should not exceed an annual mean of 10 μg/m3. For PM10 the limit is 20 µg/m3 annual mean. But the UK currently has higher limits for fine particulate matter: 40 µg/m3 annual mean for PM10 and 25 µg/m3 for PM2.5.
In his findings, Philip Barlow, the coroner for inner south London, said that during her life Ella was exposed to nitrogen dioxide and particulate matter (PM) pollution in excess of WHO guidelines, the principal source of which were traffic emissions.
Quarter of UK pupils attend schools where air pollution is over WHO limit
Failure to reduce pollution levels to legal limits possibly contributed to her death, as did the failure to provide her mother with information about the potential for air pollution to exacerbate asthma, he found.
The coroner called for legally binding levels of particulate pollution to be lowered as a result of Ella's death, to meet the WHO limits. "The national limits for particulate matter are set at a level far higher than the WHO guidelines," he said. "The evidence at the inquest was that there is no safe level for particulate matter and that the WHO guidelines should be seen as minimum requirements. Legally binding targets based on WHO guidelines would reduce the number of deaths from air pollution in the UK."
In its response to the coroner's findings released on Thursday the government said it would put the issue out to public consultation next January, with a view to setting new air pollution targets in October 2022.
In a statement Defra said: "The government has used the World Health Organization guidelines on PM2.5 to inform its ambitions in shaping these targets.
"Further to this, the new Office for Health Promotion will consider as a priority how public health benefits can be achieved through reductions in population exposure to PM2.5, taking into account the particular circumstances experienced in London and the south-east."
The government also promised an extra £6m for local authorities to help fund improved public awareness about risks of air pollution, to develop what it called a "more sophisticated population exposure reduction target" to drive reductions of air pollution in all areas and significantly increase the monitoring network, and that NHS England and Improvement (NHSEI) would continue work to identify environmental triggers for asthma and more personalised care.
Sarah Woolnough, the chief executive of Asthma UK and the British Lung Foundation, said the government's plans just scratched the surface of the health impacts of toxic air.
"Air pollution causes new lung conditions and worsens existing ones. It can even trigger life-threatening asthma attacks and COPD [chronic obstructive pulmonary disease] flare-ups … We need ambitious new laws that tackle the cause of the problem, with targets that meet the coroner's recommendation to adopt World Health Organization guidelines.
"Without bold action, tens of thousands of people will continue to die early from air pollution each year."
Jocelyn Cockburn, the lawyer representing Ella's mother, Rosamund Kissi-Debrah, said: "The ongoing failure to address toxic levels of emissions and to bring them to within legal limits means that air pollution continues to blight the lives of children like Ella.
"The global debate around air quality has now become an urgent priority … We expect a robust and coordinated plan from the UK government for bringing levels of key pollutants down in line with WHO recommendations and for initiating a strong public awareness campaign which will safeguard generations of children to come. Anything less will be a disgraceful response to an issue which has dominated headlines, particularly during the pandemic."
Katie Nield, a lawyer at the environmental law charity ClientEarth, said: "The coroner couldn't have been clearer on the need to align UK law with the World Health Organization guidelines on PM2.5. He said it would save lives. Yet the government has totally disregarded this.
"What they are announcing today to deal with this lethal pollutant is nothing but old commitments repackaged. This is a disgrace given what happened to Ella and what continues to happen to children and adults across the country because of toxic air.
"If the prime minister really wants to make the environment bill a lodestar, his government has to massively step up."
The environment secretary, George Eustice, said: "Ella's death was a tragedy and I would like to pay tribute to her family and friends who have campaigned so tirelessly on this issue, and continue to do so.
"Today's response is part of a much wider cross-government effort to drive forward tangible and long-lasting changes to improve the air we breathe, as well as doing more to inform the public about the risks.
"We know that there is more to do, which is why we are setting new legally binding targets on particulate matter pollution and building on our clean air strategy to accelerate action to clean up our air."
https://www.theguardian.com/environment/2021/jun/17/uk-refuses-to-commit-to-reduction-of-legal-air-pollution-levels
.
---
Of all UK airports, Heathrow produces by far the most air pollution, affecting thousands of people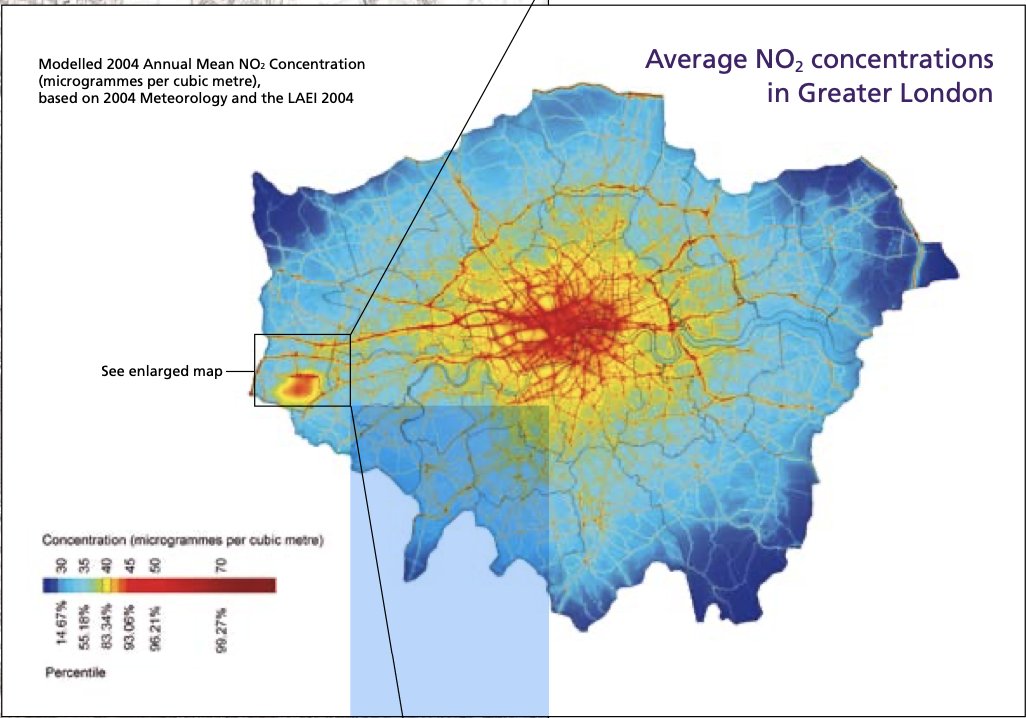 see
https://www.london.gov.uk/about-us/londonassembly/meetings/documents/s6457/Minutes%2520-%2520Appendix%25202%2520-%2520Heathrow%2520Air%2520Quality%2520Map.pdf
.
.
---
There are many news items on air pollution in relation to aviation and airports at
https://www.airportwatch.org.uk/latest-news/air-quality/
---
See earlier:
Study from Los Angeles shows huge extent of spread of particle air pollution downwind of airport
A study in California looking at air pollution from Los Angeles International Airport has shown far more widespread impacts that had previously been expected. The scientists measured the spatial pattern of particle number (PN) concentrations downwind from the airport with an instrumented vehicle that enabled a larger area to be covered than allowed by traditional stationary measurements. The study found at least a 2-fold increase in PN concentrations over un-impacted baseline PN concentrations during most hours of the day in an area of about 60 km2 that extended to 16 km (10 miles) downwind and a 4- to 5-fold increase to 8–10 km (5–6 miles) downwind. Locations of maximum PN concentrations were aligned to eastern, downwind jet trajectories during prevailing westerly winds. They found the levels of PM miles from the airport were higher than those from motorways. They say "The freeway length that would cause an impact equivalent to that measured in this study (i.e., PN concentration increases weighted by the area impacted) was estimated to be 280–790 km) "The total freeway length in Los Angeles is 1500 km. These results suggest that airport emissions are a major source of PN in Los Angeles that are of the same general magnitude as the entire urban freeway network. They also indicate that the air quality impact areas of major airports may have been seriously underestimated." 
.
---
Evidence on air pollution, given to the High Court hearings on a 3rd Heathrow runway, by Neil Spurrier
Neil Spurrier, a solicitor from Teddington, made one of the 5 legal challenges against the Secretary of State for Transport's decision to approve a 3rd Heathrow runway, through the Airports National Policy Statement. The legal hearings from the councils, the Mayor of London, Greenpeace, Friends of the Earth, Plan B Earth and Mr Spurrier took place between the 15th and 19th March. There are transcripts of each day's proceedings here. Neil addressed the issue of air pollution in particular, and the emissions of NO2 and particulates from planes themselves. He made important points, such as that air pollution is known to spread much, much further from an airport than the 2 km that the DfT has tried to use. Also that there is evidence of possible damage to the foetus from particulates found in placentas of people affected by air pollution, and that the government should not be risking the health of future generations. He made the point, on ultrafine particles, that merely because they have not been specifically studied (being part of the wider category of PM 2.5), is no reason for the government to discount them or consider their impact to be negative. The absence of evidence is not enough to avoid the precautionary principle. Read the full transcripts for details.
Click here to view full story…
Severe impact of 3rd Heathrow runway on residents laid out in High Court hearing
The Government's approval of a third runway is being challenged at the High Court by a coalition of councils, residents, environmental charities and Mayor of London Sadiq Khan.  Representing five London boroughs, Greenpeace and Mr Khan, Nigel Pleming QC said the plans could see the number of passengers using Heathrow rise to around 132 million, a 60% increase.  Mr Pleming said: "The new development, if it goes ahead, will add, in effect, a new airport with the capacity of Gatwick to the north of Heathrow" and that the adverse effects and consequences for local residents of such an expansion are "bound to be severe". The legal challenges (other than the one by Heathrow Hub) say the Government's National Policy Statement (NPS) setting out its support for the project fails to properly deal with the impact on air quality, climate change, noise and congestion.  The claimants argue the NPS is unlawful and should be quashed, which would mean the Government would have to start the process again and put it to another vote in Parliament. Scores of demonstrators gathered outside the court ahead of the hearing, addressed by MPs, Council leaders and campaigners. All are determined that this runways is NOT going to go ahead. The hearings will last for 2 weeks.
Click here to view full story…
.
.
.