Liverpool Airport expansion plans to be reviewed, as contrary to council climate aims – Oglet shore reprieved
Liverpool Airport had been hoping to expand by extending its runway by 314 metres, to attract direct transatlantic flights, to try to more than double its passenger numbers. This has been fiercely opposed, especially as it would take land to the south of the airport, where there is the Oglet shore – a natural section of coast, valued by walkers and important for wildlife, including some Red List species. Now Liverpool City councillors have agreed to review policies relating to any future extensions. Councillors from all parties expressed concerns over the proposals to extend the runway.  At a full council meeting, they also agreed to consider – after investigating the evidence – selling the council's 10% stake in the airport, as it iis ncompatible its efforts to fight climate change.  The airport put forward the plans before the council declared a climate emergency, in 2018.  Campaigners fighting to save the Oglet shore are delighted, as the airport masterplan ear marked it to be covered in concrete for new hangers, maintenance services, cargo facilities and warehouses. 
.
Tweet
.
Liverpool Airport future expansion plans in doubt
27.1.2022 (BBC)
Liverpool Airport's expansion plans have been thrown in doubt after city councillors agreed to review policies relating to any future extensions. Councillors from all parties expressed concerns over any proposals to extend Liverpool John Lennon Airport (LJLA).
At a full council meeting, they agreed to consider selling its 10% stake in the airport since it was "incompatible" with fighting climate change.
LJLA declined to comment on the meeting.
Councillor Lena Simic, who chairs the climate change and environment select committee, told the meeting: "Let's be clear, nobody wants airport expansion."
She added that Liverpool should "lead the way" when it comes to tackling climate change.
The world is very different from when the council and airport published their original plans, she added.
Labour councillor Alan Gibbons – who also expressed his "total" opposition to expansion – said those rallying against the plans had "done a great service".
He said the local authority should work with activists campaigning against airport expansion and "use them as a resource".
Green councillor Anna Key put forward a motion asking the city council to sell its stake in the Speke-based airport.
She told the meeting: "You cannot move to a net-zero economy by 2030 and expand the airport – that cannot happen."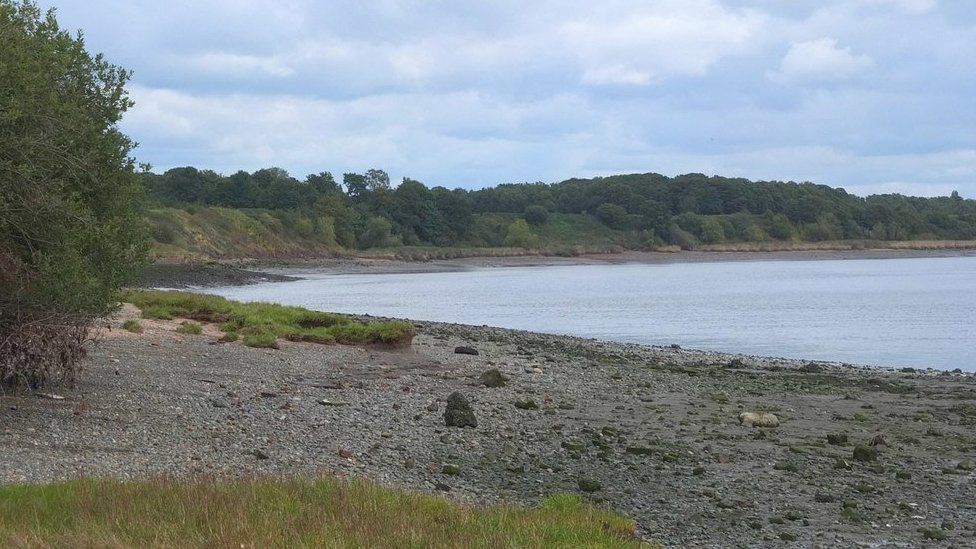 But Labour councillor Hetty Wood proposed the cabinet undertake an "evidence-based review of all council policies and plans relating to green space and the environment" alongside a report "detailing the process for, and consequences of, removing all financial support from LJLA".
The Riverside ward councillor said making any financial decisions without a report would be "irresponsible".
Councillors agreed to her amended motion unanimously, with a report to be brought before the next full council meeting.
It also voted to review the local plan which would see the removal of the Oglet Shore from the green belt.
It came after hundreds of people gathered outside the Town Hall before the meeting to protest against such a move.

By Claire Hamilton, BBC Radio Merseyside political reporter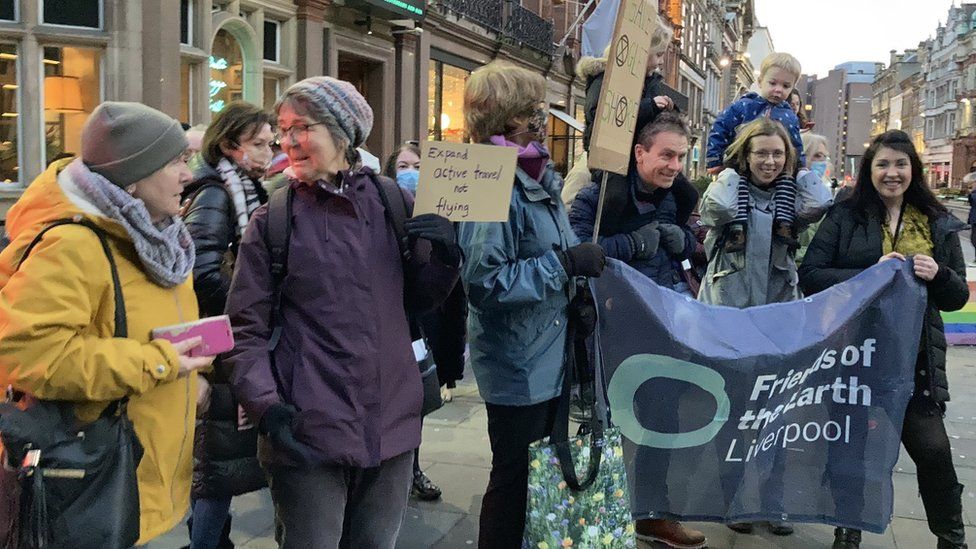 Campaigners outside Liverpool Town Hall
The Oglet Shore runs along near the airport and next to the famous Tudor splendour of Speke Hall.
It was reportedly a favourite day out for the young Paul McCartney as his family lived quite nearby.
Families protesting outside the town hall said it had been invaluable to them during lockdown. They said it provided a genuinely rural getaway from city life.
It is a Site of Special Scientific Interest and regarded as a site of international importance for the wetland birds that live there.
The fields that lie between the airport runway and the shore are designated greenbelt.
They would be removed from this designation under the local plan.
The Save Oglet Shore group says any airport expansion plans would see "this beautiful area, with its woods, ponds and streams, home to bats, owls and many Red list, endangered farmland birds disappear under concrete".
The airport masterplan ear marked it for new hangers, maintenance services, cargo facilities and warehouses by 2050.
.
Petition to ask Liverpool and Halton Councils to Save Oglet Shore
2020 and 2021
There is an area of unbuilt land and shoreline, just south of Liverpool airport. Called Oglet Shore. It has been a useful area for local people to walk and enjoy the outdoors, and it is of considerable wildlife benefit.
The 
Liverpool Airport Master Plan
 (nothing official, just their "wish list" by which to try to impress politicians, business etc) shows large amounts of building on this unspoilt land, as the airport tries to expand.
The petition is asking people to get the council to ensure the land is protected, for people and for nature.
.
.
---
Fears Liverpool airport future runway expansion could demolish beautiful beach loved by Paul McCartney
Plans for Liverpool John Lennon Airport to extend its runway for long haul flights have been slammed by residents who fear the expansion will demolish a popular Merseyside beach.  Furious residents from Hale and Speke are holding a protest picnic against the airport's expansion plans at Oglet Shore, the threatened location.  Oglet Shore is an agricultural coastal area between Speke and Hale Villiage and is well known for being one of Paul McCartney's favourite places to visit as a child. The fields that lie between the airport runway and Oglet are often described as the "last truly rural area" in Liverpool – but will lose their designated Green Belt land status as part of the proposed expansion plans. The Oglet lies south of the runway and is classified as Undeveloped Coast Land, which can be used for development if there is no other suitable location for the plans. The airport wants to expand, and have been led to believe they could have more business aviation, cargo and even links to Heathrow in future …
Liverpool airport wants to extend runway for some long-haul and transatlantic flights
Liverpool John Lennon Airport wants to extend its runway by 314 metres, so it can attract direct transatlantic flights, to try to more than double its passenger numbers. It has published another Master Plan (these are more wish lists to impress investors, rather than firm future plans!). The Plan is out to 2050 and has all sorts of optimistic aspirations. The airport wants to grow passengers numbers from 4.8 million per year today, to 11 million by 2050. To do that, they want to get direct links to many new destinations. The current runway is too short for even the newer smaller long-haul aircraft. The runway extension would take it to 2,600m length. They hope not only to have European flights, as now, but also flights to the USA and to the Middle East. There are the usual bits of hype about the number of jobs this would create and the economic benefits to the area.  The reality is that most of the passengers would probably be going on holidays abroad, taking their holiday/leisure money out of the country.  Liverpool hopes it can attract passengers who currently use Manchester, Heathrow, Gatwick and Birmingham airports. And Liverpool airport also wants to increase the amount of cargo it handles, which has been falling.
.