Swapping plane travel for low-carbon travel and staycations would create many more jobs – says new report
There is a real interest in how to provide good jobs, in lower carbon sectors, for people who currently work in high-carbon industries, such as aviation. This just transition is something society needs to achieve, quite fast. A new report by the organisation, Possible, and thinktank Autonomy, has crunched the numbers and found that there could be many more jobs, in local tourism and associated activities, such as rail and ferries, than in the aviation sector. Possible says job losses in the aviation sector would be far outweighed by those created elsewhere. The number of flights and passengers will have to reduce, in order to keep the CO2 emissions from aviation low enough, as there are no realistic low-carbon alternatives at scale for many decades, if ever.  In the scenario which reduced aviation demand by half, around 139,000 jobs were lost and 422,000 jobs were created, generating a net increase in employment of around 283,000. In the scenario which reduced aviation by two thirds, 187,000 jobs were lost and 521,000 created, providing a net increase in jobs of around 337,000.  This would help with the transition to a low-carbon economy. 
.
Tweet
Creating jobs with climate-friendly travel
18.2.2022  (from Possible's website)
Tackling the climate crisis is going to mean making some big changes for the better. And a key change is reducing the amount of flights that are taken – in the UK and around the world. Aviation, however, employs lots of people, from cabin crew to pilots, from airport staff to aeronautical engineers.
So the question is, how do we reduce the number of flights to protect the climate while also protecting people working in aviation?
We decided to team up with Autonomy to take a look and got a rather surprising answer – reducing flights and replacing them with climate-friendly ways of travelling could give the UK the opportunity to create a huge number of jobs. In fact, if we reduced flights, for every job that was lost, about three could be created in its place.
We looked at two scenarios – the first reducing flight demand by half and the second by two thirds. Both scenarios also explored an increase in journeys made on lower carbon modes of transport, an increase in domestic tourism and a ramp-up in the use of alternative fuels made from renewable electricity to replace current plane fuel, kerosene.
If passengers moved to lower-emissions forms of transport, then enough jobs would be created to more than compensate for those lost from the reduction in flights. Jobs could be created in industries including rail, low-emissions ferries, domestic tourism and the research and development of cleaner fuels generated from electricity, which could be used to reduce emissions from remaining flights.
In the scenario which reduced aviation demand by half, around 139,000 jobs were lost and 422,000 jobs were created, generating a net increase in employment of around 283,000. In the scenario which reduced aviation by two thirds, 187,000 jobs were lost and 521,000 created, providing a net increase in jobs of around 337,000.

A little-known fact is that jobs per passenger in aviation have also been in decline for a while – a trend that is expected to continue into the future. The recovery in passenger numbers from the impact of Covid is also expected to be lengthy, and employment is expected to take longer to recover than passenger numbers.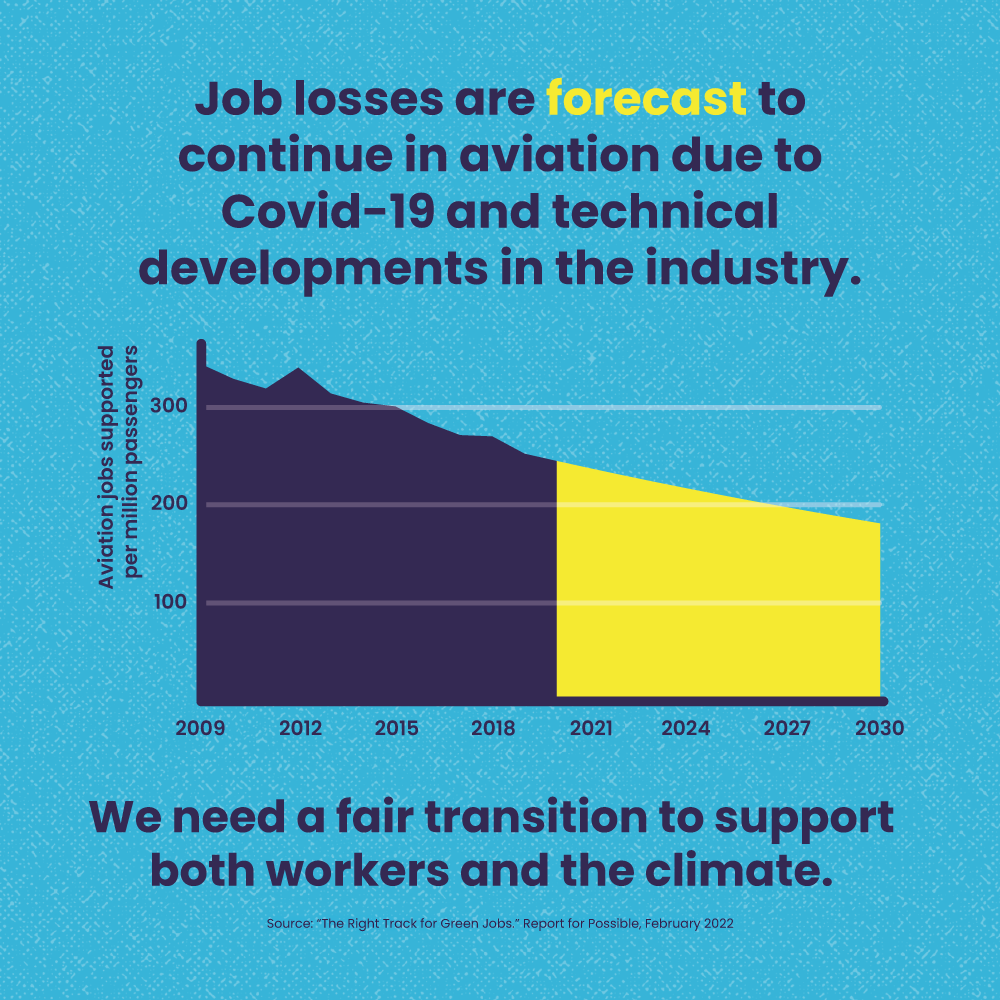 So what can we do? Well, if we make the right investments now in green transport and supporting people moving from high-carbon sectors to low-carbon sectors, we'll create good, green jobs and protect both people and the climate.
And what do aviation workers think? We surveyed more than 1,000 people working in aviation. We found that just 21% of respondents thought that the industry offered them secure employment for the future, and that financial support would be useful for them to move into another sector. It's vital that, as we transition to a greener economy, we do everything we can to protect workers and encourage employment in other sectors.
Read The Report Now.
http://www.wearepossible.org/s/The-Right-Track-for-Green-Jobs.pdf
What next?
As well as support for climate-friendly alternatives to plane travel, we're calling for a frequent flyer levy – a progressive tax which increases as someone takes more flights, or flies greater distances, every year. This means that people who save for an occasional holiday or family visit wouldn't be unfairly impacted, but the minority who fly multiple times each year would pay more. This would allow us to tackle climate change in a fair way which shares access to remaining flights more equitably.
We're also calling for a "right to retrain" scheme – a support scheme for people working in aviation who would like to move into lower-carbon sectors. The report estimates that the annual cost of this scheme, along with the required investment in increased research within aviation and the new clean energy capacity required for e-fuels, would be around £9.5 billion, of which just under £8bn billion would be additional funding – a similarly sized sum to the aviation industry's annual pre-Covid £7bn tax breaks.
https://www.wearepossible.org/latest-news/creating-jobs-with-climate-friendly-travel
Learn More About The Frequent Flyer Levy
https://www.wearepossible.org/latest-news/why-we-need-a-frequent-flyer-levy
.
.
---
Ditching planes for green travel could create 300,000 more jobs than would be lost, report says
Exclusive: Study suggests reducing the number of flights for the climate would have positive impact on job market
By Zoe Tidman
18.2.2022
Travellers choosing green modes of transport over airplanes could result in hundreds and thousands of more jobs than would be lost, according to a new report.
It would give a boost to other industries – such as domestic tourism – that would mean job losses in the aviation sector would be far outweighed by those created elsewhere, the research – shared with The Independent – said.
It comes months after the UK government's climate advisers said more needed to be done to reduce demand for flying to reach net-zero emissions by 2050.
Low-carbon alternatives are not available at scale in the aviation sector and may not be for several decades, according to the new report by climate change charity Possible and think-tank Autonomy said.
It said reducing demand was therefore crucial to keeping emissions down in line with climate commitments – but this strategy must also ensure it creates green jobs at the same time.
The study looked the impact of two scenarios on the job market. Both kept overall travel the same, but slashed the number of flights by a half or by two thirds. In both cases, the number of jobs created "can more than compensate for the jobs lost from aviation as a result of reducing demand".
This was due to the boost a shift towards greener travel would give to rail, low-emission ferries and domestic tourism, among other sectors.
In the scenario where the number of flights are cut in half, it was estimated 140,000 jobs but 420,000 jobs would be created. When slashed by two thirds, the difference was even greater: 185,000 jobs lost compared to 525,000 created.
Kyle Lewis from the Autonomy think-tank said: "The science on climate change makes it very clear that we have to reduce the number of flights we take in the UK."
He added: "This study shows that reining in the aviation industry would actually have a positive impact on jobs and would help with the transition to a low-carbon economy. "
The UK was among a number of countries to commit to working to reduce aviation's carbon dioxide emissions in line with a global target to limit temperature increase to 1.5C.
A Department for Transport spokesperson said: "The government has long been committed to going further and faster to tackle climate change and creating thousands of green jobs across the country. Before COP26 we had already published, the Transport Decarbonisation Plan, the Net Zero Strategy and our Jet Zero Consultation."
https://www.independent.co.uk/climate-change/news/air-travel-green-transport-jobs-b2017632.html?r=44870
.
.
.