Protesters against aviation expansion held inflatable winged pigs outside the entrance to the air show and held a banner saying "Jet Zero? Pigs might fly!", to highlight fundamental problems with the government's approach to cutting aviation's greenhouse gas (GHG) emissions. 
As the UK is scorched by an extreme heatwave hitting Europe this week, the UK Government prepares to launch its "Jet Zero" Strategy" at Farnborough Airshow which campaigners argue will add fuel to the fire. "Flying is the fastest way to fry the planet".  
People representing airport and climate groups from across the country protested at the Farnborough Air Show today, as the UK government finally announced its Jet Zero strategy. They brought inflatable flying pigs to oink out the message "Jet Zero? Pigs might fly!", warning that the government's flawed strategy for cutting GHG emissions caused by flying is based on little more than a 'hot air' and does not even address aviation's non-carbon emissions.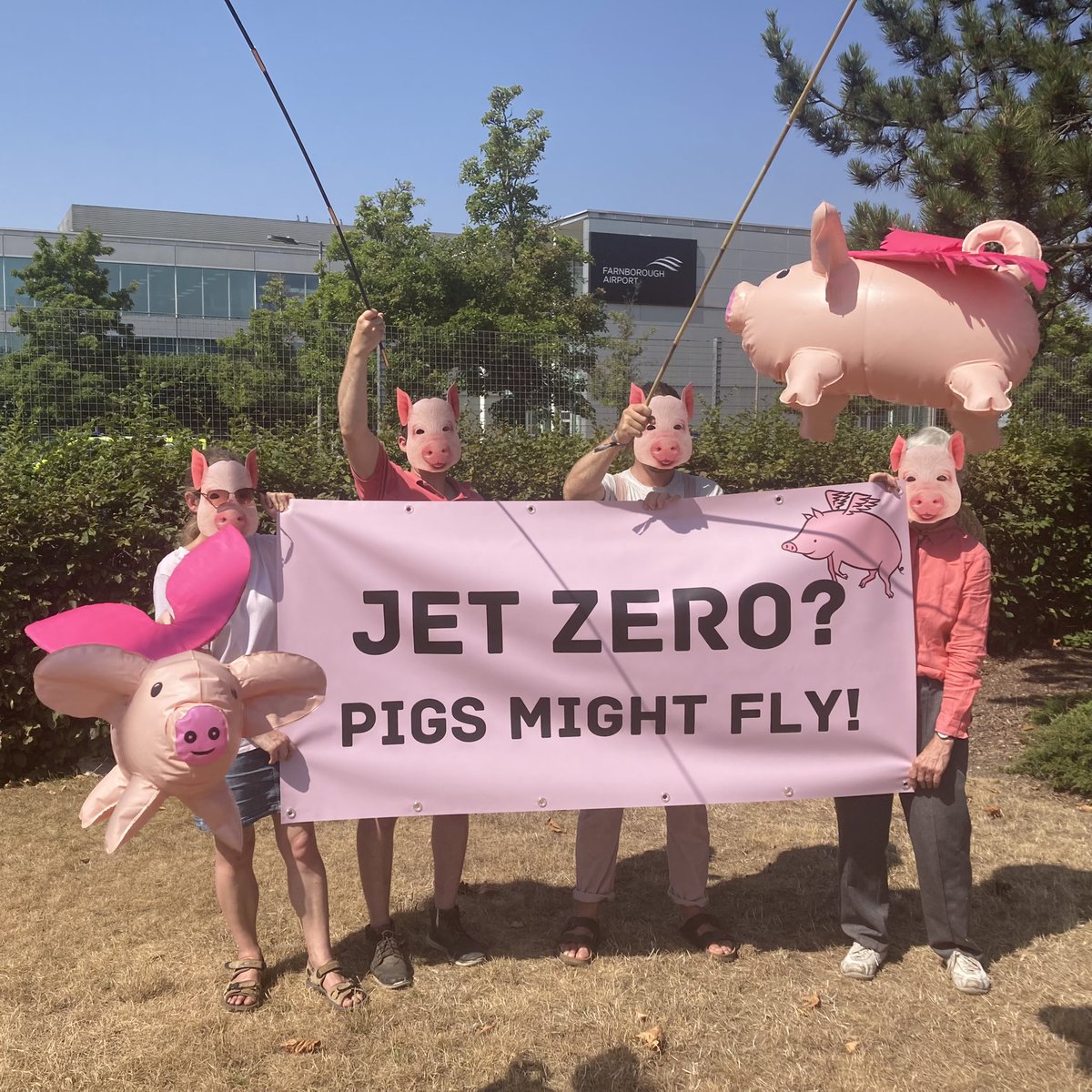 Jet Zero is part of the UK government's strategy for decarbonising the entire transport sector, to help meet its legally binding duty to make the UK carbon net-zero by 2050.
Yet Jet Zero supports the unconstrained growth of flying and airport expansion. The strategy has been criticised by independent experts and climate campaigners for its failure to include any measures to limit demand for flying. Instead, it takes a high risk approach of assuming that emissions reduction will be achieved solely by the introduction of alternative fuels, new technologies and widely discredited offsetting.
Furthermore, critics point out that these new fuels and technologies either don't currently exist or have not yet been tested at the scale envisaged in Jet Zero, and are anything but 'sustainable'.
Chris Foren, Chair of the Group for Action on Leeds Bradford Airport, emphasised: "We know from repeated warnings by the world's scientists that we must cut all emissions in half by 2030 to stand any chance of keeping global heating below 1.5°C and avoid the worst extremes of climate breakdown. Jet Zero allows UK aviation emissions to rise up to and beyond 2030. It's madness! The UK government's hope that new fuels and new technologies will reduce aviation emissions sometime around 2040 is not based on any credible evidence – and anyway, that's too late."
Calum Harvey-Scholes, Research Fellow at the University of Exeter, said: "Just a couple of weeks ago, UK government advisors, the Climate Change Committee (CCC), warned the government not to put all its 'aviation eggs' in the new tech basket because it's simply too risky. It's unlikely that the new tech will deliver, especially at the emergency speed required. The CCC said the government should ramp up measures to limit demand for flying until we know for sure that Jet Zero's promised new fuels and technologies actually work and aviation emissions are falling."
Claire James, from the Campaign against Climate Change, outlined: "Airports around the country are planning to expand, threatening a huge rise in emissions, and the government is just letting this happen. A privileged minority – about 15% of the population – take around 70% of all flights. So instead of wishful thinking on aviation technology, we need a sensible strategy to manage demand, with measures such as a frequent flyer levy and investment in our rail network."
Anna Hughes, Director of Flight Free UK, said: "The Jet Zero plans show an absolute lack of reality when it comes to cutting aviation emissions. The government is dead set on the continued growth of the sector, whilst presenting false solutions that won't achieve the rapid emissions reductions that we desperately need to see. Jet Zero relies on techno-fixes that won't be commercially viable for at least another 10 years, so-called 'sustainable fuels' which have no net benefit for the environment; and offsetting, which is just another way of kicking the can down the road. The government has been told time and again that the only way to reliably reduce emissions is through reducing the amount people fly, but continues to turn a blind eye to this simple and effective solution."
Finlay Asher, from the aviation worker's group Safe Landing, added: "As aviation workers, we believe that the 'business-as-usual' growth of air traffic planned by the UK Government is unsustainable and is flying us towards a major industry crash. We'd like to avoid such a crash by transforming the industry through early design, rather than late disaster. We're calling for a sector-wide Workers' Assembly to empower aviation workers to develop an independent vision for the future of air travel. We can still choose a better future for ourselves and the planet, but we have to act now to cut all emissions – including those from aviation – and plan a just transition for everyone affected.
ENDS