Extinction Rebellion blocks entrances to Farnborough, protesting about the high CO2 from private jets
Extinction Rebellion Farnborough activists blocked three entrances to Farnborough, which is a private airport in Hampshire.  They are protesting at the very high carbon emissions produced by private jet flights – which could be x20 as high carbon as a trip on a commercial plane. Farnborough airport is the largest for private jets in the UK, with no commercial flights and few military. The flights are largely used by the very rich, celebrities and business leaders. Some of the protesters locked themselves to a stretch limousine, with a driver being locked onto the steering wheel, and to fuel barrels and a 3-metre steel tripod.  At one point they moved flags blocking a road, in order to allow a car leave the airport to take someone to hospital. The airport continued to operate during the protest.  Farnborough boasts of "offering a 5 star service with no compromises." It operated over 32,500 flights in 2019, with 27% at weekends.  There was a reduction in flights in 2020 (Covid) but a far  smaller reduction than for commercial airlines. People who could afford to preferred to continue to travel, but on private jets. These jets tend to carry, on average, about 2.3 passengers. The airport hopes to expand to 50,000 flights per year. 
.
Tweet
Farnborough Airport entrances blocked by XR protesters
2.10.2021  (BBC)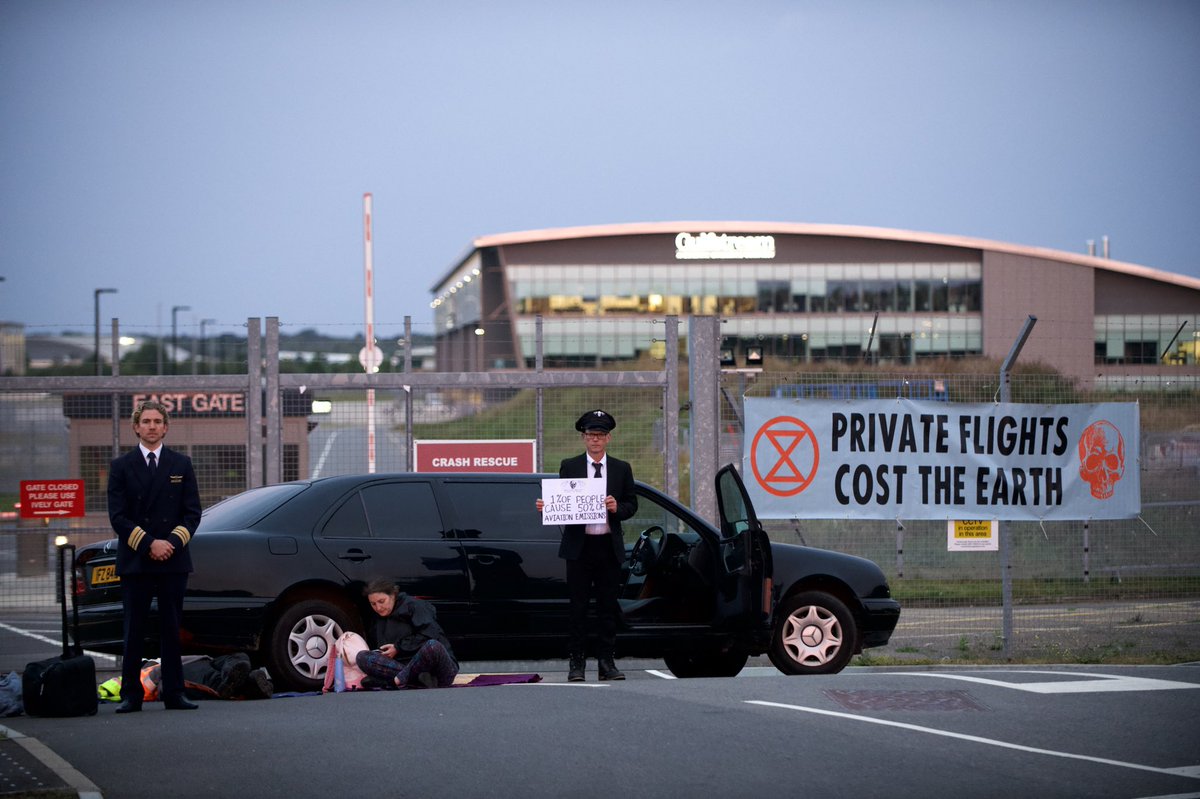 Environmental activists have blocked three entrances to Farnborough Airport, which is a private airport in Hampshire.
Campaign group members are outside three entrances to Farnborough Airport protesting against carbon dioxide levels produced by private flights.
Some of the protesters have locked themselves to a stretch limousine, fuel barrels and a steel tripod.
An airport spokeswoman said authorities were monitoring the situation and the airport was still fully operational.
An Extinction Rebellion spokesman said: "As world leaders gather for the Cop26 climate summit in Glasgow this month, protesters are calling on the world's super-rich elite of celebrities, oligarchs and business leaders to ditch private flights."
Protesters have accused the airport of "greenwashing" after it announced a switch to sustainable aviation fuel (SAF) which is created using non-recyclable household waste.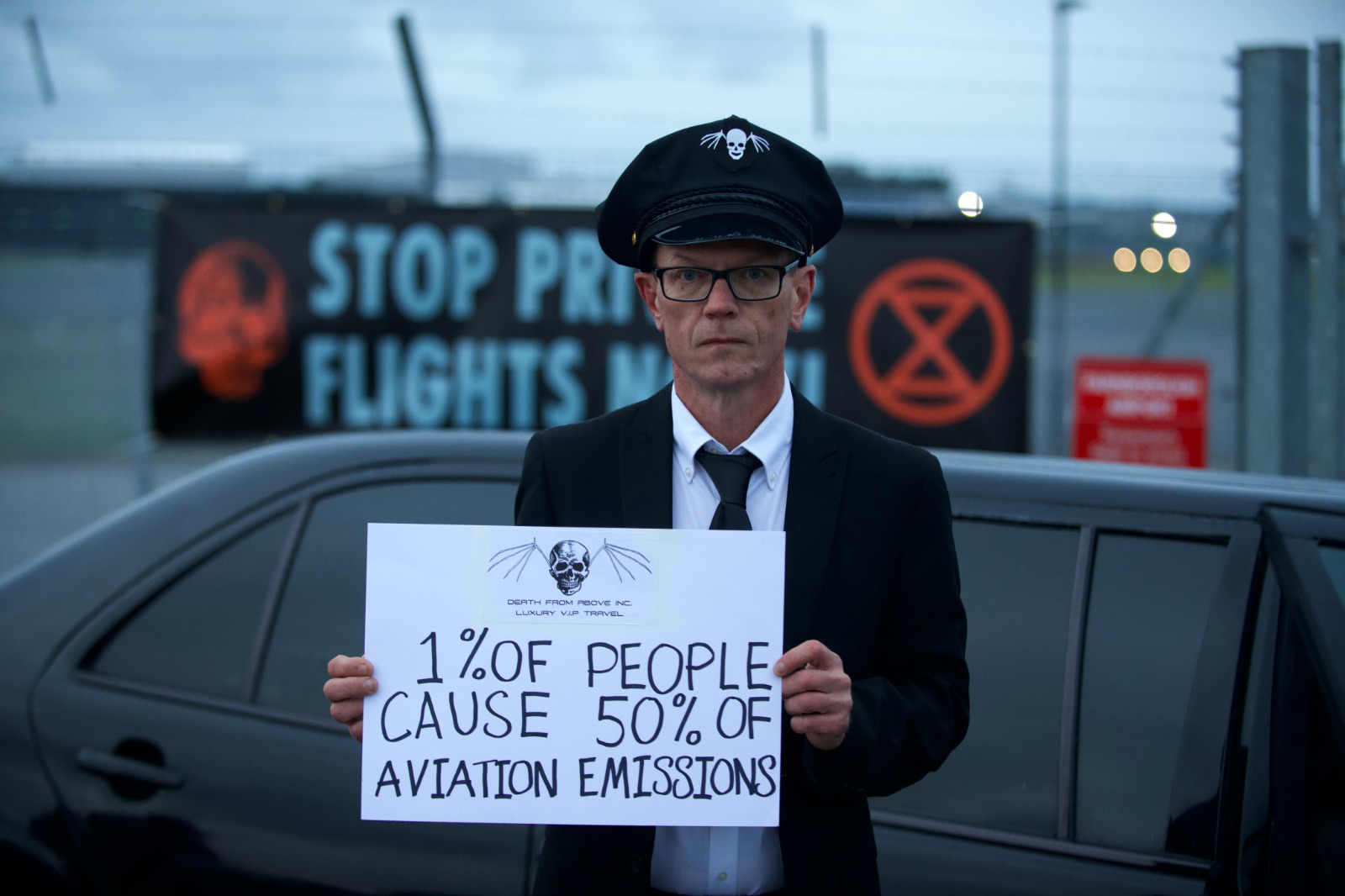 Greenwashing is a term used for companies allegedly using misleading information to make products or services sound more environmentally friendly.
Todd Smith, 32, activist and former airline pilot from Reading, Berkshire, criticised Farnborough Airport's move to offer sustainable aviation fuel as an alternative.
He said: "The term 'sustainable aviation fuel' was coined by the aviation and fossil fuel industry to deceive the public and greenwash the utterly destructive nature of biofuels.
"Biofuels result in land grabs, deforestation, biodiversity loss, water scarcity, rising food prices and land-use emissions which can be worse than the fossil fuel they are replacing."
A government spokesperson previously told the BBC: "We share the passion of many to end our contribution to climate change and protect the plant for this generation and those to come."
Hampshire Constabulary has been approached for comment.
https://www.bbc.co.uk/news/uk-england-hampshire-57858103
---
Farnborough Airport is the UK's largest private airport.
Activists locked themselves on top of a three-metre high steel tripod at one gateway and then to fuel barrels at another.  The third was blocked by a stretch limousine, with a driver being locked onto the steering wheel.
Farnborough airport operates private flights and boasts of "offering a 5 star service with no compromises." It operated over 32,000 flights in 2019, with 27 per cent of those on the weekend.
A video posted to social media at the start of the protest on Saturday morning showed cars driving around one of the blockades into the airport.
XR Farnborough, a regional group of Extinction Rebellion, said on social media that some of the blue flags obstructing the road had been removed by security to let a car leave the airport to head to the hospital, before they were then replaced.
Hampshire police said that no arrests have been made and "everyone has the right to free speech and protest".
Protester Todd Smith, a former airline pilot from Reading, said: "It's strange being outside an airport in my uniform. I'm used to waking up at 3 in the morning, putting on my uniform, and going to work.
"Unfortunately that's not a reality for me any more. Once I fully understood the reality of the situation that we are in I felt compelled to do something about it."
The Farnborough airport protests were organised by one of Extinction Rebellion's regional groups, XR South East. They posted photos and videos of one activist using wire cutters to get into the airport on Saturday morning.
https://www.independent.co.uk/climate-change/news/extinction-rebellion-farnborough-airport-b1931117.html?r=92641
.
---
See also:
Some key information about Farnborough (2020):
Farnborough is exclusively private jets, with no commercial operations and only the very occasional military flight.  So its comparative reduction as a consequence of COVID, (15,562 movements up to 30.9.2020 compared to 32,522 in all of 2019)  with annual flights estimated to be down by around a third, versus commercial aviation in the UK, is interesting.  Local campaigners say they have no way of checking whether rule compliance is good.
The % of weekend flights was 16% in 2008; it had risen to 27% by 2019, to 8,750 in 2019.
The overall number of flights increased by 42% between 2009 and 2019, to 32,366 movements.
Weekend movements are now close to their permitted maximum of 8,900.
Local campaigners expect, assuming a full recovery from COVID, that the airport owner will seek an increase weekend movements.
The forecasts made for the airport by Mott MacDonnald in 2009, for the airport's growth, were highly inaccurate and exaggerated. They anticipated 50,000 annual movements by 2019, when in fact there were 32,366. The forecast developed by the Council, which opposed the increase, developed their own forecast (by Forbes) of 33,800 by 2019 – which has proved to be substantially more accurate.
In February 2011, the airport has won its fight to nearly double the number of flights each year. This allowed the airport to cater for 50,000 flights every year, almost twice the earlier 28,000 limit. It can also now have 8,900 flights on weekends and Bank Holidays – up from 5,000.
---
See earlier:
Rising use of private jets (most in UK using Luton and Farnborough) sends CO2 emissions soaring
An analysis by campaign group, Transport & Environment, has found that CO2 from private jets in Europe increased by about a third between 2005 and 2019.  Flights that entered or left the UK accounted for nearly a fifth of these emissions, giving the UK the largest share of any European country.  Private jet use continued in 2020.  By August 2020, when the number of commercial flights was about 60% down in the UK, the level of private jet use was almost as high as in 2019.  Of the top ten highest carbon private flight routes that take off or land in Europe (the 27 EU members plus Britain, Switzerland, Norway and Iceland) six involved either Luton or Farnborough airports.  The Luton to Teterboro New York route had the  highest private jet emissions, with 565 flights a year, despite a commercial alternative routes between Heathrow and John F Kennedy airport. The private jet sector has grown rapidly, and provides convenience for the very rich, and the ability to reduce personal Covid infection risk at airports, and in crowded planes.  The CO2 emissions from a private jet, with very few passengers, is hugely more per person (5 to 14 times) than on a commercial flight – even first class. The inequity of private jet use, and the huge climate impact, mean the sector should be under the spotlight, especially for the UK in the year it hosts the COP26 talks, in November in Glasgow.
Click here to view full story…
Farnborough Airport gets go ahead on airspace expansion despite inevitable 'increase in noise'
Farnborough Airport has been given the green light to go ahead with a planned airspace expansion despite suggestions from the Civil Aviation Authority (CAA) that there could be an increase in noise. The aviation authority also suggested there could be an increase in noise for those who already experience noise pollution, but there would be no new people significantly affected by noise. TAG Farnborough Airport's application has been "largely" approved by the CAA, which provides guidance and regulation on all aspects of civil aviation in the UK. The CAA said that given the increase in business aviation at the site, there was a material safety case for introducing controlled airspace around the airport. However, TAG will have to concede some of the controlled space it applied for to collaborate on reasonable access arrangements for gliders in 3 airspace blocks in the vicinity of RAF Odiham and Lasham Airfield. Though the flight paths do not go directly over Guildford, Aldershot and Farnham, there is a lot of overflight of the southern limit of Farnham, causing noise intrusion. While in theory there are "no new people who will be significantly affected by noise as a result of this proposal" in reality many will experience an increase in noise, even if technically there is no theoretical increase.
Click here to view full story…
.