Luton Airport News
Some recent news stories about Luton Airport
Local MP, Bim Afolami, and community groups ask Gove to call-in Luton expansion plans
Bim Afolami, MP for Hitchin and Harpenden, has called on the government to review plans to allow for a million more passengers per year through Luton Airport, rising from 18 million to 19 million. On 2nd December, Luton Borough Council (which owns the airport and decides its planning applications) approved the airport's expansion plans and varying the noise conditions it operates under.  Now Bim Afolami has asked Communities Secretary Michael Gove, at the Department for Levelling Up, Housing and Communities (DLUHC) to "call-in" the decision. The DLUHC says it would consider requests for a call-in, taking the decision from the council, to government.  This is usually when an application has wider impacts than just the local area, which Luton's extra flights definitely would. Another reason for call-in is if an application conflicts with a national policy – climate in this case. Bim said the decision to approve the expansion "completely ignores the environmental and cross-boundary impact". Local groups, including the Luton and District Association for Control of Aircraft Noise (LADACAN) and Harpenden Sky, have also written to the Minister asking for call-in.
Click here to view full story…
Luton Council approves plans for Luton to increase from 18 to 19 mppa
In February, Luton airport submitted a planning application to Luton Borough Council (its owner) to increase the annual cap on passenger throughput from 18m to 19mppa. Also to expand the day and night noise contours by 11.3% and 15.3% respectively until 2028. Now Luton Borough Council has approved the plan to increase to 19 million – and the plans to change the noise contours, to the huge disappointment of many local groups already negatively affected by aircraft noise. The Council said this application did not affect the airport's long term proposals to increase capacity to 32 million per year, which would be determined by government, through a DCO, not the council. The airport is owned by a company that has changed its name to Luton Rising – and that is owned by Luton Council.  How well the airport will do in future years is unknown, with the impact of Covid, targets for aviation to become "carbon neutral" and growing awareness of the climate impact of air travel.  Luton's passenger numbers dropped almost 70% between 2019 and 2020 due to Covid.
Click here to view full story…
Luton airport continuing to be a financial drain (maybe £550 million+) to owners Luton Council
In the last few days, the company (owned by Luton Borough Council) that owns Luton Airport, has changed its name from London Luton Airport Ltd, to "Luton Rising". That will be its trading name. The company that operates the airport is London Luton Airport Operations.  London Luton Airport Operations has obtained agreement from Luton Rising that it can retain £45 million over three years.  This will support the airport's recovery from the pandemic.  The money would have been paid by the operator to Luton Rising (ie. the council) if it had not been for the impact of Covid reducing passengers and flights. Luton council usually, pre-Covid, made a good profit from the airport, but that has now been reversed. The Council in 2019 receiving a £19.1m, and £15.8m servicing debt.  In September 2020 there was a £60m loan by Luton Borough Council to its airport company and it was expected that another £23 million would be paid. Then in June 2021 Luton Council loaned a further £119m to the airport. Now this is another £45 million, over three years. The airport is not looking like a great investment for the council …
---
Rising use of private jets (most in UK using Luton and Farnborough) sends CO2 emissions soaring
An analysis by campaign group, Transport & Environment, has found that CO2 from private jets in Europe increased by about a third between 2005 and 2019.  Flights that entered or left the UK accounted for nearly a fifth of these emissions, giving the UK the largest share of any European country.  Private jet use continued in 2020.  By August 2020, when the number of commercial flights was about 60% down in the UK, the level of private jet use was almost as high as in 2019.  Of the top ten highest carbon private flight routes that take off or land in Europe (the 27 EU members plus Britain, Switzerland, Norway and Iceland) six involved either Luton or Farnborough airports.  The Luton to Teterboro New York route had the  highest private jet emissions, with 565 flights a year, despite a commercial alternative routes between Heathrow and John F Kennedy airport. The private jet sector has grown rapidly, and provides convenience for the very rich, and the ability to reduce personal Covid infection risk at airports, and in crowded planes.  The CO2 emissions from a private jet, with very few passengers, is hugely more per person (5 to 14 times) than on a commercial flight – even first class. The inequity of private jet use, and the huge climate impact, mean the sector should be under the spotlight, especially for the UK in the year it hosts the COP26 talks, in November in Glasgow.
Click here to view full story…
Luton scaling back airport expansion plans, delaying 2nd terminal, to save £1 billion
Luton Airport, which is owned by Luton council, is planning to scale back its expansion plans in order to save perhaps £1 billion.  In 2019 the airport consulted on plans for a new terminal that would enable the annual number of passengers to be increased from 18 million to 21 million by 2039. There will now be a new consultation, later in 2021 or in 2022, for initially improvement of the existing terminal, and then eventually a second terminal, at some future date. The airport's finances have been seriously hit by Covid. The Council benefitted greatly from the airport (before Covid), in 2019 receiving a £19.1m, and £15.8m servicing debt. In 2020 the airport had huge public subsidy, and more will follow for 2021. Local campaigners will be looking very carefully at what might emerge from proposals for further passenger growth using the existing terminal. This might be by creative use of "permitted developments" which Luton Borough Council could approve on its own. If such growth could accommodate more than an additional 5 million passengers per year (taking Luton to 23Mppa) it would then become possible for the declared ambition to reach 32Mppa to be achievable without need for a DCO, as below the 10 Mppa threshold.
Click here to view full story…
Feb 18th – deadline for comments on application by Luton airport to increase passenger cap from 18m to 19mppa
Luton Airport has submitted a planning application (21/00031/VARCON) to Luton Borough Council to increase the annual cap on passenger throughput by 5.5% from 18m to 19mppa. Also to expand the day and night noise contours by 11.3% and 15.3% respectively until 2028, when they would be reduced somewhat, but still a net growth from today's levels. Annual plane movements are forecast to grow by no more than 0.8%. The deadline for responses is February 18th. The airport is arguing that more larger planes means that the extra passengers can be accommodated without a huge increase in plane numbers. They also claim the anticipated new planes will be less noisy and emit less carbon … ('twas ever thus…) These wonderful planes or technologies don't yet exist. The motivation for the increase in the passenger number cap has been rising demand, before the Covid pandemic struck. Future air traffic demand is uncertain.  The "elephant in the room" is  the conflict of interest of Luton Borough Council being both the planning authority and the owner of the airport.  But Hertfordshire County Council is set to formally object to the plans, largely on grounds of noise nuisance.
Click here to view full story…
London Luton Airport: Consultation into moving holding area from Herts to Cambs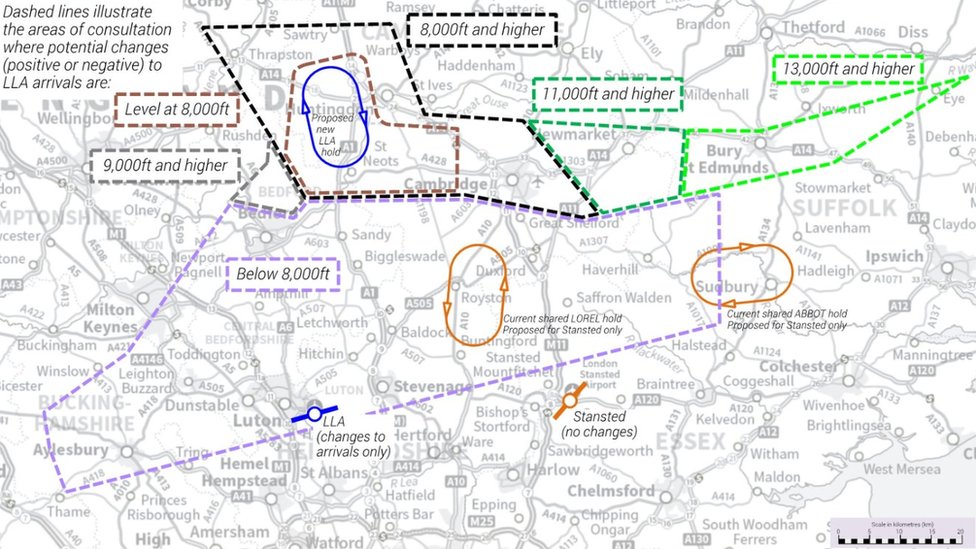 A public consultation to help determine new arrival routes for flights into London Luton Airport has started.  The airport currently shares arrival routes and airborne holding areas with Stansted in Essex, with a key position above Royston in Hertfordshire.  The proposed new holding area would be above the A1 between Alconbury and St Neots in Cambridgeshire. Luton and Stansted currently use zones above Royston, and above Sudbury in Suffolk, at about 8,000ft. The proposed changes would create a new holding area for Luton arrivals, to ensure that operations for Luton and Stansted do not have an impact on each other. For more information check out the consultation website.  This consultation runs until 5 February 2021.
Click here to view full story…
---
Luton Council's £60m loan to Luton Airport company set for approval 'in private'
A £60m loan by Luton Borough Council to its airport company is set for approval, in private, by the executive later this month. The first of two emergency loans – together totalling £83m – has gained the support of Luton Council's scrutiny finance review group, at the second attempt. The second loan worth £23m to London Luton Airport Limited (LLAL) is scheduled for the 2021/22 financial year, after the council's emergency budget in July.  The Labour controlled council were forced by the Liberal Democrats to discuss the loan report in public. But officers asked for the council to take legal advice and defer the issue. It seems that 5 five Labour councillors recommended the council's executive approve the £60m loan deal, with the 3 Liberal Democrats in opposition.  The executive will formally decide upon the loan at its meeting on Monday, September 14th. The Liberal Democrats said the almost £400m in loans are secured against the assets of the company. But, the council already owns all of LLAL's assets by virtue of its 100% ownership of the company. It follows that for all practical and accounting purposes the £400m loans are unsecured."
Click here to view full story…
Luton airport delays expansion plans, due to Covid and stated intention to be "greener"
In 2019 Luton airport put out plans to expand, from 18 million passenger per year, (mppa) up to 32 million. This expansion, being over 10 mppa, needs to go through the Development Consent Order (DCO) route, rather than a normal planning application.  The airport is owned by Luton Borough Council which is also the local authority that should regulate it.  Now with a massive decline in air travel demand, due to Covid, Luton airport has decided to delay the process, and not submit its DCO this summer, as originally intended, but in 2021. It claims it wants to be more "green" with less environmental impact, etc etc (tricky with so many more passengers and flights, and thus more noise, more CO2,  more air pollution and more congested surface transport). Local opposition groups are pleased about the delay, as is Hertfordshire County Council, which is against the plans due to the adverse noise impact. Luton is too dependant on the airport, and so has suffered from the loss of jobs, and income from the airport, due to the pandemic. It would be wiser to delay until there is clarity on the government policy on aviation carbon, in its ambition of aiming for zero carbon by 2050.
Click here to view full story…
Campaigners criticise CAA's PIR report on Luton flight path changes and noise increase
The CAA have published the results of a post-implementation review (PIR), which analysed the impact of RNAV between its introduction in 2015 and 2017. RNAV means concentration of planes down a narrow flight path, intensifying noise for those over-flown. The CAA concluded that the airspace change "achieved the objectives set out in the original proposal".The introduction of RNAV has meant the majority of departures have moved closer to Harpenden, south Harpenden and the less densely-populated areas of Redbourn, while still not to flying directly over those areas.  The number of flights increased by 30% between 2015 and 2017, but the PIR says the flight paths was not an "enabler" for an increase in airport capacity, or for an increase in flights during the early morning and late evenings. The CAA says the increase in noise complaints 2015 – 2017 was due to there being more plane – not the narrowing of the flight paths. Local campaigners are angry and disagree with the CAA, saying much of the noise nuisance is due to RNAV, not just more flights.  Andrew Lambourne (LADACAN) commented: "The whole thing feels like a rubber-stamping exercise, and was not worth waiting three years for," he added.
Click here to view full story…
Environmentalists protest outside Luton Airport expansion consultation event in Stevenage
Environmental campaigners gathered to protest against the proposed expansion of Luton Airport outside a consultation event. Protesters from Extinction Rebellion, Friends of the Earth, LADACAN and SLAE joined forces for the peaceful demonstration. The airport plans to build a new terminal and increase passenger numbers from the current 18 million per year to 32 million a year. Former Herts county councillor Amanda King is now an active member of Extinction Rebellion which she set up locally in Stevenage; the airport expansion demo was its first action.  She said: "Flying has the highest carbon footprint of all forms of transport. Taking one return flight generates more carbon than people in some countries produce in an entire year. …[aviation] is expected to account for 25% of CO2 emission by 2050."  As well as CO2, the protesters emphasised the airport expansion will also increase noise, traffic congestion and air pollution. The airport knows there will be hugely increased carbon impact from the expansion, as well as the other negative consequences, but falls back on the old chestnut of there being more jobs and more local prosperity.  In reality, most passengers using Luton are British people taking leisure trips abroad (spending their money there).
Click here to view full story…
Hertfordshire County Council objects to Luton Airport expansion, due to negative environmental impacts
Proposals to expand Luton Airport have been described as "madness" by a Hertfordshire county councillor.  The council unanimously voted to oppose further expansion of Luton airport at a meeting on 26th November, as they realised the expansion plans to increase to 32 million passengers a year by 2039 (from almost 17m now) would harm the environment. The airport's proposals – to be decided by Luton Borough Council – include a second terminal north of the runway, an extensive new airfield infrastructure and a third station. There is a huge conflict of interest, as Luton Council both owns the airport, and decides on its planning applications.  At a time of growing realisation of the climate crises the planet faces, and with no realistic ways to reduce the carbon emissions from aviation, the industry should NOT be given permission to expand. The growth plans of airports across the country add up to a massive expansion in the number of flights and passengers, way above what could be compatible even with aiming for net-zero carbon by 2050 (and that is at least 20 years too late). The motion also called for Luton's plans to be deferred until the new government has set out the Aviation Strategy, for the UK aviation sector, taking into account the advice of the CCC.
Click here to view full story…
Groups write to Government asking for a moratorium on airport expansion planning applications
Representatives of groups at some of the largest UK airports have written to both the Secretaries of State for Transport, and Housing, Communities and Local Government, to request a halt to airport expansion.  The letter asks them to suspend the determination by all planning authorities of applications to increase the physical capacity of UK airports, or their approved operating caps, until there is a settled UK policy position against which such applications can be judged.  Many UK airports are seeking – or have announced their intention to seek – planning approval to increase their capacity and/or their operating caps. In aggregate it has been estimated that proposals announced by UK airports would increase the country's airport capacity by over 70% compared to 2017.  There is no settled UK policy on aircraft noise, or  policy on aviation carbon and how the sector will, as the CCC advises,  "limit growth in demand to at most 25% above current levels by 2050". The letter says: "Until a settled policy with set limits is established for greenhouse gas emissions and noise there should be a moratorium on all airport expansion planning applications."
Click here to view full story…
Bim Afolami, MP for Hitchin & Harpenden, says Luton Airport expansion plans to 38 mppa 'unsuitable'
Conservative Bim Afolami, MP for Hitchin and Harpenden, has said the proposed expansion of Luton Airport is both "unsuitable" and "unsustainable", and its growth would be "Bedfordshire's gain – Hertfordshire's pain" in terms of noise and pollution. The airport, owned by Luton Borough Council, published its ambitious growth plan – to expand not only to 18 million annual passengers, but to 36 – 38 million  – in December. It hopes to reach the 38 million by 2050 with 240,000 flights a year, using its one existing runway. The local geography is such that adding a second runway would be virtually impossible – slopes. Mr Afolami told a Westminster Hall debate on Tuesday that he "was not against airports" and "recognised the jobs and economic growth the airport brings to the UK and to Luton" ….but "The proposed expansion to more than double Luton's passenger numbers is both unsuitable to the local area and unsustainable in the context of the constraints that exist in rural Hertfordshire.  Luton is just not the right place for an airport of the proposed size of 38m passengers. However, Transport Minister Paul Maynard said that the airport was already "actively engaged" in local consultation.
Click here to view full story…
Luton airport now hoping not only for 18 million annual passengers, but up to 38 million
Luton airport is planning to increase its annual number of passengers to 18 million, from around 15 million at present. Work is under way to achieve this, with new buildings, new taxiways etc. However, the airport is now saying it plans to take advantage of an apparent shortage of runway capacity in the south east, in the coming decade, to try to grow to 36 – 38 million annual passengers.  This has come as a surprise to many. Only two weeks earlier an airport senior manager was asked what happens when Luton reaches 18mppa, and he said they would flat-line as the terminal could not cope with any more people. The Chairman of LLACC (the Consultative Committee) did not about it either. Also, LLAL (the arm of Luton BC that owns the airport) recently purchased a huge tract of land nearby (Wigmore Park) and said it would not be used to expand the airport but to diversify business-land investment. However it appears that the airport may be planning a new terminal on the land, as the only way to achieve new growth aspirations.  Hertfordshire County Council are doubtful about the expansion, raising many possible negative impacts for the area, including surface access traffic.
Click here to view full story…
Labour Shadow Transport Secretary Andy McDonald: "Heathrow is not a silver bullet for solving our air capacity constraints"
Andy McDonald said:  "Following the decision to leave the EU, supporting UK aviation has become more, not less, critical if the UK is to remain a global, outward-looking trading nation. A third runway at Heathrow remains subject to a Commons vote and, even if given the final go-ahead, it will not be completed for at least another 10-15 years.  Heathrow is not a silver bullet for solving our air capacity constraints.  We face capacity challenges here and now. That's why more needs to be done to support connectivity into and out of other airports across the UK to unlock existing unused capacity, and develop the huge potential they have." Airports like Luton are keen to capitalise on the years before any new runway was built, if it ever happens. The CEO of Luton hopes of fast rising air passenger demand for years, and that the aviation industry "must be granted the conditions to help it capitalise on this growth potential … If the UK is to fully realise the economic potential of the aviation industry, airports must be supported by better transport links. The East of England CBI says the "re-letting of the new East Midlands Rail franchise offers the opportunity to deliver more fast trains to Luton Airport by simply stopping trains that already pass through the station every day", which would help Luton serve more passengers.
Click here to view full story…
Stevenage aircraft noise: Luton airport extends delayed landing gear trials
Planes flying over Stevenage on their way into Luton will continue to delay lowering their landing gear as part of an extended trial to reduce noise over the town.  Luton airport started the trial between May and June this year, with more than 75% of aircraft delaying their landing gear deployment – which cuts down drag and reduces noise for the areas that benefit. The trial started after discussions between the airport, Stevenage residents, town MP Stephen McPartland and Stevenage Borough Council. Over the trial period, Luton airport says average noise from aircraft reduced by 2.7dB at six nautical miles and 3.4dB at seven nautical miles from the airport, meaning (technically) that noise on the ground was reduced by an average of 50%. (In reality, 3 dB is the smallest change in noise the human ear can detect, and the "50%" reduction is just because noise is measured on a logarithmic scale …. that makes the cut sound far better than it is ….) But there has been a small but noticeable reduction in noise and communities that have benefited have asked the airport to continue running the trial. Luton airport has revised its arrival code of practice to include recommendations to delay the deployment of landing gear. Three airline operators have also amended their standard operating practices to include the recommendations.
Click here to view full story…
---
KPMG wins right to sell Monarch's airport slots
22.11.2017
Monarch's administrators have won their appeal against a High Court decision which prevented them from selling valuable take off and landing slots at Gatwick and Luton. The slots are deemed to be the failed airline's most valuable asset, but two weeks ago a court ruled that the slots for summer 2018 no longer belonged to Monarch as it had gone out of business, backing a decision by independent body Airport Coordination Limited. However, administrators KPMG said today that they had won an appeal against the ruling, meaning that they will be able to sell the slots to other airlines. EasyJet, IAG, Wizz Air and Norwegian Air Shuttle have all previously expressed an interest in buying the slots. Monarch's owners, Greybull Capital, have the first call on the failed carrier's assets, after which any surplus will be shared out amongst its creditors.
Click here to view full story ….
---
Luton demands more trains
September 2017
Luton airport is to ask ministers for four express trains an hour to its railway station from the centre of London.   The airport is trying to overturn the plan in the retendering of the East Midlands train franchise for the number of fast trains to Luton Airport Parkway to remain at one an hour and even to reduce that at some periods during the day.
Nick Barton, chief executive of Luton, who is overseeing more than £350 million of investment to expand its capacity to 18 million passengers a year and to build a fast monorail from the station to the airport, said that an express service every 15 minutes from St Pancras would attract business travellers and was the level of connection an international airport should expect.   "It will not cost the department for transport any new money in infrastructure or trains," Mr Barton said, explaining that all it required was a reconfiguring of the East Midlands timetable. "It would bring in £110 million of new revenues [to the train operator and Treasury]."
---
Luton Airport plans further growth to 25 million passengers (not just 18 million) within 10 years
Luton Airport is planning to expand to 25 million passengers, in a move campaign groups are arguing could increase noise pollution above Hertfordshire. Luton is planning significant expansion, while NATS says the skies over south east England are overcrowded and close to saturation. Neil McArthur of local group, Harpenden Sky, submitted a Freedom of Information Request which revealed that the LLAL planning strategy is for steady growth to 25 million passengers within 10 years. This represents nearly a 40% increase over the current planning limit of 18 million passengers, which was agreed by Luton borough council.  Residents who live under flight paths in St Albans, Harpenden and elsewhere in Hertfordshire have made multiple complaints to the airport about plane noise, due to a new routing system which has narrowed the flight paths and concentrated the noise over a smaller area. Over the past year, noise complaints have increased from 191 in the first quarter of 2016, to 1,849 in the first quarter of 2017. Neil said the airport is not being properly managed, and changes are being rushed through too fast. Andrew Lambourne, from campaign group LADACAN (Luton and District Association for the Control of Aircraft Noise) said the airport's focus is entirely on growth for airlines, giving no mention of making the :airport a better neighbour to local communities.
Click here to view full story…
easyJet puts first slightly less noisy A320-neo into service at Luton – campaigners hope for more
Campaigners fighting to stop aircraft noise pollution above St Albans and Harpenden are calling for targets to be set for the introduction of quieter planes.  easyJet, based at Luton, has introduced their first neo-engined A320 aircraft, which are a bit quieter than standard planes, and the Luton and District Association for the Control of Aircraft Noise (LADACAN) is calling on airport operators to expand their roll-out of these aircraft to decrease noise pollution. LADACAN spokesman Andrew Lambourne said: "We welcome this long-awaited step, but let's remember that we were promised quieter aircraft hand-in-hand with significant expansion. We've had much faster than anticipated expansion, so now we're asking for an accelerated roll-out of these quieter aircraft, instead of continuing to add more of the noisiest types to the mix.  Let's hear details of proactive measures to attract quieter planes to Luton by way of reducing landing fees for quieter types and increasing fees for noisier types. Meanwhile we are still calling on the airport operators to tighten their noise controls and raise the penalties for noisy flights as an added incentive to change." While easyJet makes nice-sounding statements about reducing CO2 and noise impacts per flight, they plan to increase the number of flights as much as possible – negating any improvements.
Click here to view full story…
New bus service to link Slough and Maidenhead with Luton Airport
10..3.2017
A NEW bus service taking holidaymakers to Luton Airport will operate in Slough and Maidenhead. Courtney Buses, based in Bracknell, will launch a new route at the start of April that will link Slough and Maidenhead with the Luton.  Dubbed 'The Luton Flyer', the coach service will run twice daily from Bracknell, Wokingham, Reading, Maidenhead and Slough and will be timed to connect with the peak morning and evening flights. "The Luton Flyer gives travellers an alternative to taking a taxi or having to park their car in an unfamiliar location." http://www.sloughobserver.co.uk/news/15146085.New_bus_service_to_link_Slough_and_Maidenhead_with_airport/
---
Rise in complaints in St Albans district about Luton plane noise – residents are angry
Three campaign groups, representing St Albans, Harpenden and wider-Hertfordshire have banded together to call upon local politicians to do more on the problem of increasing aircraft noise, than merely call for a review or consultation on the problem. Campaigners from the alliance of HarpendenSky, Save our Skies (SoS) and Herts-based LADACAN say St Albans is at risk of 'turning into Heathrow' unless the rise in noise pollution is stopped. Luton had more passengers than ever in 2016, at about 14.5 million. But there was also a 150% increase in complaints about noise. Residents in Hertfordshire want Bedfordshire, which owns the airport, to suffer more of its noise. Luton airport is owned by Luton council, and people in Hertfordshire say as Bedfordshire gets the profit, they should take more of the pain. Planes are getting bigger, heavier and noisier, and are flying even earlier in the morning and later at night. There is more noise affecting Flamstead, Redbourn, Harpenden, St Albans, and on to Sandridge and Stevenage. People overflown by increasingly narrow flight paths want politicians to do something and challenge the airport. However, politicians are always nervous of saying anything that might do perceived damage to economic growth, such as demand a ban on night flights.
Click here to view full story…
Parliamentary question. 13.10.2016
Lord Berkeley, Labour.  To ask Her Majesty's Government whether, in the light of the planned expansion of Luton Airport from 10 million to 18 million passengers a year, they intend to include in the specification for the new Midland Main Line longer-distance passenger service a requirement that four trains per hour per direction should call at Luton Parkway in order to increase the percentage of air passengers arriving by rail.
Reply by Lord Ahmad of Wimbledon (Parliamentary Under-Secretary of State (Department for Transport) (Jointly with the Home Office), Parliamentary Under-Secretary (Department for Transport)
The next East Midlands franchise is due to start in July 2018 and we are currently undertaking a process of information gathering to develop the high-level view of the franchise specification. We are due to begin a public consultation later this year to inform the specification. Until the views submitted through the public consultation are understood and further analysis is conducted on the options for the franchise, a firm decision cannot be taken at this stage. I would encourage the noble Lord to make his views known through the formal public consultation process when it opens.     Link to They Work For You.
---
Luton Airport flight path changes "unfair to Hertfordshire residents"
Luton Airport's change in flight paths are affecting residents throughout Herts, including those living in Stevenage, Harpenden, Welwyn Garden City and St Albans – but avoids Luton itself.  Complaints about plane noise from Luton Airport have leapt by 78%, with residents saying their lives have been "devastated" by detrimental flight path changes. The latest edition of the airport's quarterly monitoring report has also revealed a 60% rise in the number of complainants.  Flight movement maps in the report, recording westerly and easterly movements over a 24 hour period in March, show a concentration of planes flying over many urban areas in Herts, including St Albans district, Stevenage, Letchworth and Welwyn Garden City.   Yet, the skies above Luton, and the immediate area around the town – apart from the airport's location in the south – appear to be mostly devoid of aircraft by comparison.  Between January and March this year, there were 191 noise complaints, compared to 107 in the first quarter in 2015. The airport has been expanding rapidly since its owner, and prime beneficiary, Luton borough council, controversially approved its bid to near double passenger throughput to 18 million a year in December 2013.
https://www.airportwatch.org.uk/2016/07/luton-airport-flight-path-changes-unfair-to-hertfordshire-residents/
---
EasyJet in talks with several EU member states on moving main HQ there, from Luton, due to Brexit
EasyJet says it has opened talks with EU member states' aviation regulators about relocating its legal headquarters from the UK, due to the Brexit decision. Sky News believes easyJet's Carolyn McCall has had meetings with several unidentified EU states to explore the possibilities, but details could take months to be ironed out. It is thought that the most likely workable structure would be to be an EU-registered entity with a UK subsidiary". easyJet would need to obtain a air operator's certificate (AOC) that would enable it to base its HQ in an EU country. Some of the states would want an airline with an AOC to move the bulk of their operations there, but it is understood that easyJet is not willing to do that. One insider said moving the HQ could entail relocating just a handful of staff, depending on the regime operated by the individual country's aviation regulator. Moving the AOC to another country would mean the current AOC in the UK would become just a subsidiary. Whether that would mean jobs being lost at easyJet's main UK base, Luton, is not known. British Airways' parent, International Airlines Group, already operates using a similar structure with its AOC. Ryanair, whose main source market is the UK, has also said it will obtain a UK AOC should it need to.
Click here to view full story…
Luton plans light rail link to speed transport, making it a stronger competitor against Gatwick
Luton plans to replace its much-maligned bus transfer service, from the station to the airport, and instead build a light rail link, costing £200 million. The 1.3 mile rail link could cut the journey time from London St Pancras to the Luton airport terminal to less than 30 minutes, which is faster than the time to Gatwick. It would connect to the terminal from within the Luton Airport Parkway railway station, one level above the platforms. A normal rail link has not been possible due to the steepness of the climb uphill to the terminal. The automated light rail service will be funded by Luton Borough Council, which owns the airport freehold and owns the necessary land. The role of the council will be controversial and the scheme will need to be scrutinised for conflict of interest. The airport is spending a further £110 million on redeveloping its terminals and layout to expand capacity from 9 million to 18 million passengers per year by 2020. EasyJet, the biggest airline using Luton, said the redevelopment was a key factor in its pledge to double the size of its operations there over the next decade. A planning application would be made in autumn for work to begin in 2017. The DfT is also working to enable travel between London and Luton by Oyster card or contactless payment by 2018.
Click here to view full story…
Luton Airport wants to relax aircraft noise violation limits as it starts expansion programme
Luton Airport has submitted an application to 'simplify' noise limits as it starts its expansion programme. The airport has asked its owner, Luton borough council, to change a condition on the planning permission it granted in 2013, to lessen stringent noise limits. St Albans district council has been warned in an officer's report that this change would "increase noise over and beyond levels that were previously considered unacceptable". Luton Airport is worried it will struggle to meet one of the conditions attached to its approval, and that airlines found exceeding noise levels will face more penalties very frequently – day and night. Within 6 months of starting its expansion – to ultimately nearly double passenger numbers – the airport is supposed to reduce noise from all aircraft, to lessen the impact upon neighbouring residents. Instead of the condition placing a limit over all 24 hours of the day and night on noise levels generated by all aircraft., Luton wants the reduction to affect planes flown overnight only – between 11pm and 7am. The report by the St Albans council officer says there are already planes exceeding current noise limits. Luton Council has yet to decide on the application.
Click here to view full story…
Luton has plans for direct rail line to cut train journey from central London to 20 minutes
Luton airport wants to have a rail link that connects directly to the Midlands mainline and reaches central London in 20 minutes. Luton is starting a £100 million project that would increase its passenger capacity by 50%, up to 18 million per year. That follows a significant upgrade of the nearby stretch of the M1 and the creation of its own airport junction. Currently getting to the airport by public transport is a hassle, and airport staff agree that it puts off many travellers despite Luton's destinations offered by easyJet, Wizz Air and Ryanair. Luton wants to be an integrated part of the transport network. The work starting now is to increase aircraft runway access, the number of boarding piers, and terminal space (including more shops) should be finished by 2020. The airport's operators — Aena, the Spanish-owned largest airport group in the world and Ardian private equity — are funding the present construction programme, the question of who pays for a rail link is unresolved. The airport's freehold is owned by Luton borough council and Aena and Ardian's operating concession expires in 2031. So will the taxpayer have to pay for rail improvements? Luton wants to attract Norwegian from Gatwick, and Vueling from Heathrow.
Click here to view full story…
Luton plans to change flight paths for departing aircraft submitted to CAA for approval
Luton airport held a consultation on changing some of its flight paths, between March and June. The changes involve using precision navigation, RNAV, enabling aircraft to fly more precise routes. In effect this means the flight paths are concentrated, and the the aircraft are all channelled down a specific track. The trial departure route is the one which heads out to the west and then turns left to navigate between Markyate and Flamstead, and left again to navigate between Hemel and St Albans to the south, and Redbourn and Harpenden to the north. Previously, its planes had not made this second turn at all accurately. For people who do not live very close to that track, it's probably a better way to control wayward flights. But those who live underneath it may get all the flights thundering overhead. Luton has now submitted its proposals to the CAA for approval. The Safety and Airspace Regulation Group (SARG) will analyse the consultation feedback and technical merits behind the proposal against the requirements. Assuming all the necessary information has been provided, the SARG aim to provide a decision within 16 weeks.
Click here to view full story…
---
Monarch airlines plans to slash workforce by 1,000 jobs, up to 30%, to compete with Ryanair and EasyJet.
Up to 1,000 jobs, about one third of its work force, will be cut at Monarch as it tries an overhaul to reposition itself as a low-cost airline competing with easyJet and Ryanair. Monarch is currently controlled by a wealthy Swiss-Italian family, and has been undertaking a strategic review of its business in order to attract new investors. It will drop its charter flights and focus on short-haul scheduled flights. It will cut its fleet of aircraft from 42 to 30. It will keep its focus on holiday destinations like Spain, the Canary Islands and Turkey but add more European cities and skiing destinations. Overall, it will fly more frequently to fewer destinations. They will no longer fly from East Midlands Airport. Monarch has its HQ at Luton airport, is made up of Monarch Airlines, tour operator Cosmos Holidays and an aircraft maintenance division. Monarch's MD said "We're on a trajectory of changing from a charter airline to a scheduled European low-cost carrier." They recently ordered new planes, at the Farnborough air show. This is a £1.75bn order for 30 new Boeing 737 aircraft to be delivered by 2020. They carried about 6.8 million passengers in 2013.
Click here to view full story…
---
Luton Airport expansion plan gets final approval
2.7.2014
Plans for the £100m expansion of London Luton Airport, increasing its capacity to 18 million passengers a year, have been granted final approval.  Luton Borough Council has now given consent for work to begin on a modernised terminal building, providing up to 45,000 extra flights a year.  Link
---
Spain approves partial privatization of Aena Airports
June 18, 2014
Aena manages 46 airports and 2 heliports in Spain, and provides management services at 15 more airports (including Luton) around the world.  AENA is the major shareholder in London Luton Airport Operations Ltd (LLAOL) which has the operating concession for Luton airport.  Now Spain's Council of Ministers has given the go-ahead for a partial privatization of the country's airports.   Minister of Development Ana Pastor said that up to 49% of Aena Aeropuertos—the airport arm of the Aena Group—will be sold off, with the Spanish government retaining a 51% stake in the company. "The greater efficiency of Aena will be a positive stimulus for the aviation sector in Spain, as well as for other strategic related sectors, such as tourism," Pastor said.
http://atwonline.com/airports-routes/spain-approves-partial-privatization-aena-airports
---
Residents in areas near Luton urged to record the aircraft noise
Residents in the Luton area have held a meeting to voice their concerns following the decision in early May by the Government (Eric Pickles) to not call in the planning application for the expansion for Luton Airport. The meeting, chaired by Luton and District Association for the Control of Aircraft Noise (LADACAN), was held in Breachwood Green and was attended by about 50 people. They were encouraged to record aircraft noise, to keep details of the current situation. The expansion application would see passenger capacity rise from 12.5 million to 18 million a year by 2026. That decision has been widely criticised by local people,and by their MPs who realise it will adversely affect local quality of life for thousands. It means the expansion can now be granted by Luton Borough Council – which also owns the airport. There is very real and widespread concern about the number of night flights, noise both of departures and arrivals, road congestion, and air quality – as well as climate change implications.
Click here to view full story…
---
Eric Pickles decides against calling in Luton's plans – trampling on views of local residents
May 1, 2014
Luton Airport operators LLAOL have announced that Eric Pickles, Secretary of State at the DCLG, has decided not to call in Luton airport's expansion plans. This means Luton Borough Council can now grant planning permission for works designed to achieve a doubling of annual passenger capacity. Local opponents of the expansion are horrified and saddened. Earlier a local opinion poll showed some 70% of the public who responded to the consultation over Luton Airport Expansion said "NO" to it. Local community group opposing the expansion, HALE, commented that the application is effectively large enough to be a NSIP (Nationally Significant Infrastructure Project) as it could perhaps add 10 million passengers per year. NSIPs have to be called in, as their scale and the extent of their influence warrant proper scrutiny, in detail. The airport and the government, have failed to take proper account of the local impacts of an extra 9 million passengers per year on local transport infrastructure, and the effect of noise from 60% more flights. "The throwaway comment at the end about being a good neighbour is meaningless …" Luton Council gave consent to the plans in December but Eric Pickles asked to review the decision.
Click here to view full story…
EasyJet 10 year deal with Luton airport to increase passengers from 4 to 9 million per year
March 31, 2014
easyJet has announced the signing of a new 10-year price deal with Luton which could lead to easyJet expanding from 4 million to 9 million passengers per year. EasyJet started off its life at Lution, in 1995. There are, of course, the usual claims about the large number of jobs that would be created – some 2,500 job, they suggest. Luton has a small proportion of business passengers (around 19% in 2010) and 80% of its customers are charter airlines for cheap beach etc "bucket and spade" holidays abroad. The airport also boasts that it is "the biggest airport in the UK for private jets." Commenting on the easyJet deal, the local opposition group, HALE said they were very concerned about the extra noise that would be caused by this huge rise in number of flights, and they want a commitment from easyJet to a clear timetable for introduction of quieter airframes and engines. EasyJet are currently switching from A319s to the larger, heavier and currently noisier A320, which won't help. HALE are also worried that the expansion of easyJet will mean even earlier departure slots and even later arrivals slots. At present Luton's expansion plans at Luton, which involve extending the airport's terminal and improving road access, are currently on hold pending a decision by the Secretary of State whether to "call in" the application or not.     Click here to view full story…
FT reports that uncertain privatisation of AENA casts doubt over its stalled Luton expansion plans
February 22, 2014
Spanish airport operator, AENA, bought Luton airport in summer 2013 from Abertis. AENA is one of the world's biggest airport operators in terms of passenger numbers, and manages Spain's major airports. It also owns minority stakes in 15 more airports around the world. The FT says that now their plans are in doubt and Luton has a question mark over its future. Luton is the UK's 5th largest airport in terms of passengers, and is the base for easyJet. AENA had plans to expand Luton, taking its annual number of passengers from around 9 million to 18 million – plans that have been fiercely opposed locally. AENA had plans to compete with French airport operator ADP, Germany's Fraport and Singapore's Changi. The FT says now AENA's future is unclear and whether it will allow it to be largely privatised. This is having an impact on its Luton plans. The Luton expansion is being held up, or is on a back burner. The privatisation is a political matter within the Spanish government, and whether it has to sell assets to rescue the nation's economy. The government hope to avoid selling much of AENA, and if it stays under state control, its Luton expansion plans may be scrapped.      Click here to view full story…
Luton Airport expansion plan should be called in, say three local MPs
January 7, 2014
Communities Secretary Eric Pickles has again been urged to call in the major expansion of Luton Airport. Harpenden MP Peter Lilley has repeated his plea for Mr Pickles to "objectively" consider the scheme, after Luton borough council controversially approved expansion of the airport, despite being its owner. On December 20, just 6 members of the council's 11-strong development control committee turned up to a planning meeting where they agreed to nearly double passenger throughput to 18 million a year. Mr Lilley condemned the council's decision to "sneak in the planning hearing just before Christmas" and said: "I have again written to the Secretary of State urging him to call in the planning application to ensure it receives proper consideration, which is seen to be objective. It is essential to make sure that any growth in throughput is made tolerable for those living near the airport and under the flight paths. There are concerns that concessions originally proposed by the operator have not been enshrined in the planning approval granted by Luton." Stevenage MP Stephen McPartland and MP for North East Hertfordshire Oliver Heald, are also asking for the government to take the decision out of Luton Borough Council's hands.     Click here to view full story…
Action group critical of 'expensive charade' of Luton council meeting approving airport expansion
Date added: December 29, 2013
The controversial decision by Luton Borough Council to approve the expansion of Luton Airport has been widely criticised by community groups. Michael Nidd, secretary of the London Luton Airport Town and Village Community Committee (LLATVCC),has described the delayed, 8-hour meeting on 20th December, in which the decision was made as a "very, very expensive charade." Only 6 of the development control committee's 11 members attended the meeting, which had already been postponed. This came after Herts County Council demanded a second, impartial, legal opinion on Luton Borough Council's suitability to make the decision, given it owns all of the shares in the airport. Michael Nidd said: "Only six of [the councillors] bothered to turn up, and we had hours and hours of very highly-paid people in the morning saying what a splendid scheme it is, but when it came time to debate, discuss and vote they spent as long as 10 minutes on it." There is concern about the manner in which this decision, which has such colossal effects on all the surrounding communities, has been taken. Hemel Hempstead MP Mike Penning has written to Eric Pickles, to request that the decision be called in, due to the impacts on his constituency.
Click here to view full story…
Luton campaigners expose 'broken promise' over aircraft noise at Luton
December 23, 2013
Luton campaign group, HALE, has exposed a broken promise at the heart of the planning conditions which are supposed to control future night noise from Luton Airport. A specific commitment made in the planning application, to reduce night noise limits to 80dB by January 2015 and thereafter to 77dB, has been omitted from the planning conditions attached to the recently passed planning application, so the night noise limit is set to stay at its current 82dB level. There is an overall planning condition to ban noisier classes of aircraft by an unspecified date some time between now and 2028, and to set overall noise limits by aircraft class. But the public consultation and the planning application both presented this "Quota Count" method as being in addition to a reduction in night noise limits, not a replacement for it. Commitments to reduce daytime noise limits are reflected by a planning condition with a definite timeframe, but the unconditional promise to reduce night-time noise limits to 80dB by January 2015 has been dropped. HALE say this is a scandal, and they have written to the Council insisting that the public commitments made by the airport to reduce the night noise limit by 1 January 2015 to 80dB, with a 5-yearly review to bring it down to 77dB, are both enshrined in the planning conditions.     Click here to view full story…
A sad day for democracy as Luton Council approves Luton airport expansion
December 22, 2013
HALE have commented, on the hastily convened development control committee meeting on Luton airport's expansion application, that it was a sad day for democracy. A 9-hour meeting ended by approving plans for doubling the capacity of Luton Airport from 9 million to 18 million passengers per annum. Only 5 voting members of the 11-strong development control committee were present, plus the chair. Objectors from local town and parish councils, campaign groups and private individuals voiced serious concerns about the proposals. These included number of late evening and early morning flights; reduction in quality of life due to aircraft noise; damage to health from noise and air pollution; and noise control, among others. Unfortunately none of the councillors had the courage to oppose the plans. Andrew Lambourne, from HALE, said: "Ultimately this was such a big decision that to make it with half the committee absent was simply not democratic – and is another good reason why it should be called in" he added.      Click here to view full story…
Council backs Luton airport expansion but it needs Sec of State Eric Pickles' authorisation
December 21, 2013
Luton Airport's expansion bid to fly over eight million more passengers a year has been given the green light by its owner, Luton borough council. It was agreed to by just six members of the council's 11-strong development control committee at the rescheduled meeting, which ended after eight hours. The scheme includes nearly doubling passenger throughput to 18 million people a year, which could mean 45,000 extra flights per year. It involves extending terminal and car park buildings, constructing a new parallel taxiway and extending aircraft parking aprons. However the approval must now be communicated to the Secretary of State for Local Government Eric Pickles. On November 18th Luton council received a direction, under the Town and Country Planning Management Order 2010 not to grant permission without specific authorisation from him. This direction was issued to enable him to consider whether he should direct that the application be referred to him, under Section 77 of the Town and Country Planning Act 1990. Councillors at the meeting heard objections from residents and councillors from St Albans, Harpenden, Stevenage, Luton, Hitchin and Flamstead. People are very concerned the expansion would bring an unacceptable increase in noise and air pollution. The airport is proposing 60% more planes and many very late in the evening and very early in the morning.    Click here to view full story…
---
Still time to send in objections
HALE – the Luton opposition group – have set out  here http://www.hale.uk.net/top-level-objections/  the main areas on which local people oppose the  expansion plans. They are urging anyone, those affected by the airport in particular, to write to Luton borough council, and express their views. Even now that the planning application has been approved – but is still waiting for Pickles' decision.
Write to  developmentcontrol@luton.gov.uk including your name and address and quoting planning application 12/01400/FUL.
 http://www.hale.uk.net/top-level-objections/ 
---
LBC approves expansion plans
At a packed meeting on 20th December, half the members of Luton Borough Council's development control committee voted to accept plans to expand Luton Airport's capacity, with throughput to be capped at 18 million passengers per year – double the number in 2011. The other half of the members sent apologies – presumably due to the haste with which the meeting had been convened just before Christmas in order to avoid the year-old planning application from timing out – or in the case of David Franks declared an interest and withdrew from the discussion and vote.
A notable absence from the committee seats was Amy O'Callaghan, Councillor for Luton South, the ward most affected by aircraft noise. This democratic deficit did not go unnoticed by members of the public from South Luton who had attended to make their voices heard.
Objectors from local town and parish councils, campaign groups and private individuals made very clear in 5-minute verbal submissions their wide-ranging concerns including:
a disproportionate number of additional flights planned for late evening and early morning (doubling between 10pm and midnight)
weaknesses in the proposed planning conditions which would limit the effectiveness of night flight and night noise control
the general reduction to quality of life caused by the proposal to increase numbers of flights by 60% even if each may become marginally quieter in future
the fact that increasing road and rail traffic would have a detrimental effect on local transport infrastructure
concerns that the proposals are not sustainable in the context of climate change and global warming
concerns that the proposals will damage the health of people living locally due to increased particulates from traffic aircraft plus being awoken at night
that despite what its PR may claim, the airport already has a bad track record on noise and its Noise Action Plan is short on real measurable actions
that the local economy would be better served by diversification rather than by continuing to put all its economic eggs in one basket
Expert advisers retained by the Council were on hand to hear these points, and HALE has followed up on a specific omission to the planning conditions in which commitments previously made by the airport to reduce night noise violation limits have been quietly dropped.
The most unfortunate aspect of the meeting was that because objectors were barred from questioning the consultant experts, and the Councillors could not reasonably be expected to have the same understanding of the technical detail as experts from either side, the farcical situation existed in which key technical points could not be properly explored in open democratic dialogue. Such is the planning system we have created.
The voting process when it came was heart-rending: all the Councillors expressed their deep concern over the seriousness and difficulty of the decision they were about to take given on the one hand the need to do right by Luton, and on the other hand the need to do right by the concerns of the people of Luton. In the end, Luton won – and hence lost.
http://www.hale.uk.net/top-level-objections/
---
Campaigners fear democratic deficit as Luton Council decides on expansion application of the airport it owns
December 20, 2013
A hastily reconvened development control meeting at Luton Borough Council on 20th December decides on the planning application for doubling the capacity of Luton Airport from 9 to 18 million passengers / year. The timing of the meeting, just before Christmas, means many people who wanted to speak at the meeting are unable to attend, which is not democracy working well. An additional democratic problem is that the decision is being made by the Council which owns the airport. The local group, HALE, said "This decision should not be made by airport shareholders – it should be called in for independent scrutiny. It is a hugely unpopular plan: 88% of the respondents are opposed to further expansion, with only 9% in support." A Hertfordshire County Councillor has succeeded in getting an article 25 planning order issued which prevents Luton Council from actually granting planning permission until the Secretary of State decides whether or not to call in the application. The scale of the proposed works are such that the application counts as a Nationally Significant Infrastructure Project, based on the extra capacity this would allow, though the airport has tried to claim otherwise. There are serious concerns locally about the noise impact, and therefore health impact, if the expansion is allowed.     Click here to view full story…
Luton plans to increase passenger capacity to be heard at Luton council meeting on 20th December
December 1, 2013
Plans to increase capacity at Luton Airport will be heard at a council meeting on 20th December. The meeting had been due for 21st November, but was postponed. The 10am meeting will be open to the public to attend. The application would effectively allow an increase in passengers of 10 million, so it should be regarded as an Nationally Significant Infrastructure Project and therefore referred to the Secretary of State, and not determined by the local council. The plans are not for any new runway capacity but road improvements, a new mult-storey car park, car park extensions, terminal improvements and extensions, and more taxi-ways and aircraft parking – enabling more planes and more passengers.Local campaign, HALE, says the reason for the hurry is that the the planning application expires on 27th December. As well as the NSIP issue, the other key area of disagreement is a lack of clarity relating to the noise levels governing the airport. Luton Borough Council has not justified the basis for its interpretation of the 1999 noise levels. This means that governance of the noise environment around Luton remains open to question and lack of clarity.     Click here to view full story…
Unresolved issues on noise and NSIP status delay Luton Airport planning application
November 25, 2013
The planning application for expansion at Luton airport remains unresolved. There was due have been a meeting of the Luton Borough Council Development Control committee to specifically debate the matter on 21st November, but this was cancelled. Two crucial issues remain unresolved. The first is whether the project counts as a Nationally Significant Infrastructure Project (in which case it must be referred to the Secretary of State); the second is an apparent ambiguity on noise levels. Legislation is clear in defining whether an airport expansion project counts as an NSIP: if the work would deliver capability to handle more than an extra 10 million passengers/ year. It appears that the plans would indeed result in the capability to deliver 10 million/year. There is current argument about which set of noise levels in 1999 should be used as the baseline level. Luton Borough Council has postponed the planning meeting and engaged a QC to review the NSIP issue. It may also be the Commissioner for Local Government might issue a holding direction preventing LBC from granting planning permission – even though the application can still go to the committee.  Click here to view full story…
Meeting deferred, with no future date suggested.
Luton Airport planning application recommended for consent by Luton Borough Council for 21st November meeting (now postponed)
November 15, 2013
Luton Borough Council's Development Control Committee will be discussing the application for expansion at Luton airport, at a special meeting on 21st November. The officer recommendation is that they approve the application, with various conditions. One of the conditions is that: "At no time shall the passenger throughput of the airport exceed 18 million passengers per annum unless express consent is obtained from the Local Planning Authority." It also says: "Before any part of the development hereby permitted is commenced, a day to day noise control scheme shall be submitted to the Local Planning Authority which sets out the proposals for ensuring that individual aircraft noise impact from the Airport's operation is reduced as far as is practicable in the light of development to facilitate 18 mppa." ie. a degree of wishful thinking on noise controls. Local campaigners are arguing that the expansion is likely to increase the annual number of passengers by over 10 million. That would mean the application should be a Nationally Significant Infrastructure Project, which the Planning Act 2008 requires to be decided by the Planning Inspectorate, not the local council. https://www.airportwatch.org.uk/?p=18375
New rail franchise includes requirement for more night trains to serve Luton Airport
October 13, 2013 Britain's biggest ever rail franchise will include a requirement for more trains to serve Luton Airport Parkway station. There have been complaints for years that Luton airport does not have a good enough rail service, to too many passengers arrive by road. Documents supporting the new rail franchise, issued on September 26, stipulate there must be a minimum of two trains per hour arriving at Luton Airport Parkway between 3am and 6.59am from Blackfriars on Monday to Saturday morning, with a maximum interval of 40 minutes between consecutive arrivals. The Department of Transport says the new combined Thameslink, Southern and Great Northern (TSGN) Franchise will be the largest UK rail franchise ever let. It is anticipated the successful bids will be announced in May 2014. The Thameslink and Great Northern elements of the TSGN franchise will start in September 2014 with the Southern element being phased in by July 2015. The franchise will run for seven years. https://www.airportwatch.org.uk/?p=17887
AENA adds Luton Airport to its portfolio
1 August 2013 Spain's AENA and the infrastructure fund of AXA Private Equity are to acquire the management concession for Luton Airport from TBI for £394.4m. Luton Airport is publicly owned by Luton Borough Council but is operated, managed and developed by a private consortium, London Luton Airport Operations Ltd (LLAOL). TBI, which is jointly owned by AENA (10%) and Spanish infrastructure group abertis (90%), became the majority shareholder in LLAOL in March 2001. AENA said the acquisition of Luton marked its first step in a strategy to replace those minority stakes with a portfolio of airports in which it has management control. The purchase will be financed by existing credit lines and by the sale of the minority stakes. Luton handled 9.6m passengers last year, making it both the UK's and AENA's fifth biggest airport.The Spanish government plans to partially privatise AENA in the coming months. For more details of the Luton deal from AENA click here and for a statement from abertis here. http://www.e-tid.com/aena-adds-luton-airport-to-its-portfolio/83658/
Spanish group Aena to take over control of Luton airport from Spanish group Abertis
June 2, 2013     The Sunday Times reports that Luton airport operating concession, which is controlled by the Spanish infrastructure company, Abertis, is to be sold. The buyer is another Spanish company, Aena which owns other airports across the world. The airport is owned by Luton Borough Council. The airport's operating company is London Luton Airport Operations Ltd, which is in turn a wholly-owned subsidiary of an alliance between two Spanish-based companies: Abertis, being the majority shareholder, and AENA (Spain's equivalent of NATS) the minority. Aena has now exercised its right – as it has first refusal – to become the new owner of Luton under an agreement with Abertis. By passenger numbers, Luton is the UK's 5th largest airport, with some 9.6 million passengers in 2012 (around 9.5 million in 2011) and around 72,000 air transport movements, by low cost airlines. Abertis owned Cardiff and still owns Belfast International airport. This explains why there has been no news on the airport's planning application for some time.    Click here to view full story…
Hale releases damning analysis of Luton Airport noise track record
April 2, 2013     Opponents of expansion at Luton (HALE) have released a damning analysis of the noise track record at Luton Airport over the past 5 years. The airport has just produced a 5 page Noise Fact Sheet, which claims that though it had a 23% increase in aircraft movements between 2011 and 2012 there was a huge reduction in the very noisiest planes. This is distorting reality, as the Fact Sheet does not properly deal with noise from other flights. HALE highlights that the Airport's claims are entirely misleading because they are not based on a statistically representative sample of the data. It has found that in reality on average flights are getting noisier over time, not quieter, with 60% of daytime departures now registering at or above the 73dB annoyance level when they reach the noise monitors 4 miles from the airport, compared to 45% in 2007. Night flights are louder too. The airport is planning to add 60% more flights, taking the average daily total from 270 to 430; many of these would be clustered in the peak early morning and late evening periods, resulting in a doubling of flights between 10pm and midnight.  Click here to view full story…
Fantastic demonstration in Luton against night flights
March 14, 2013   Dozens of campaigners concerned about the proposed doubling of night flights at Luton airport rallied at Luton Town Hall and handed in a 1,000-signature petition calling for planning controls to limit any further increase in night noise and disturbance to people's sleep. The event was a huge success and shows just what people power can do.  To the chant of "What do we want? No More Night Flights! How do we get it? Planning Controls!" the protestors made the point that Luton Borough Council needs to act responsibly in order to limit the continued growth of an airport which campaigners claim is in the wrong place for any further expansion. The airport wants to almost double the number of passengers, up to 18 million per year, and has set such a high night noise quote and noise cap that it could double its night flights to 16,000 per year and still be within its so-called limits.   Click here to view full story…
Calls to delay Luton's expansion plans after news of airport sale by Abertis
February 27, 2013     Calls to delay planning permission for Luton airport's expansion have come following news that the airport may be sold off by its Spanish owner, the infrastructure group, Abertis. Protesters against the expansion of Luton argue any plans should be put on hold in the wake of a potential sale. Andrew Lambourne of HALE – Hertfordshire Against Luton Expansion – said: "In terms of Luton airport expansion the timing of this news couldn't be worse, since it clearly threatens the investment on which their hugely expensive expansion plans are based. "The airport has not yet secured its planning permission – and given the significant grounds for objection, this is not going to be an easy ride. " HALE said that a postponement of the planning application may well be in the best interests of Luton. "The last thing Luton Borough Council would want is for them to overstretch and then go bust."     Click here to view full story…
Abertis considers sale of UK airports – Luton, Cardiff and Belfast International
February 25, 2013     Abertis, the Spanish owner of Luton, Cardiff and Belfast International airports, may sell them. According to The Sunday Times, Abertis has decided to sell the 3 airports as part of a review of its €1 billion transport division, and Citi and AZ Capital have been appointed to review the division. Luton airport has been surrounded by controversy over its development plans with the local council opposing Abertis' plans for its development. The Welsh government is reported to be on the verge of buying Cardiff airport, which has had a large drop in traffic during the past few years. Albertis' airport assets in Bolivia were nationalised by President Evo Morales last week, and it has lost money in Spain in recent years. Campaigners at Luton said the timing of the sale was unfortunate, with the airport's current planning application – for which planning permission has not been secured. The sale threatens the investment on which the airport's hugely expensive expansion plans are based.    Click here to view full story…
Bed protest. Hertfordshire & Bedfordshire residents call for a cut in Luton airport night flights
February 19, 2013    A group of protestors arrived at Luton Borough Council on 15th February to deliver a bed signed by people who are fed up with night noise from Luton Airport. The BANN (Beds Against Night Noise) protest was given good media coverage and made the point that it's not only Hertfordshire which suffers noise and disturbance – plenty of residents in Bedfordshire are also woken up by late night arrivals, cargo planes and early morning departures. One of the protesters said the PR spin in Luton airport's Master Plan claimed they would "consult" the public, and they were taking noise seriously by adding 6 new noise mitigations. However, those so-called mitigations would only affect a fraction of 1% of the total flights – and Luton plans to double night flights between 10pm and midnight and start the morning departure rush at 5am, which is utterly unacceptable. Local people are now demanding that there is legislation to control night flights at Luton in the same way as at other London airports. There is currently a petition to significantly reduce night flights at Luton, not increase them.   Click here to view full story…
Luton local residents say "Enough is Enough" on aircraft noise – and do not accept the planned expansion
February 15, 2013 Luton airport has a consultation – that ends on 18th February – into their planning application, to almost double the number of passenger, from around 10 mppa now to 18mppa before 2030. The extra flights would mean a lot more noise for those living locally under flight paths. One of the local residents' groups, LANAG, has now submitted its response to the consultation, and say that while local residents support the desire for Luton to have a top quality airport, the airport already has twice the number of people affected by noise than there were in 2002 and 4 times the number of aircraft movements at night. They therefore say, "Enough is Enough" and do not accept the increases in aircraft movements and noise that would result from expansion. LANAG wants no more people affected by noise than currently , and say there must be a plan to take 2,800 people out of an environment that, according to the WHO is deleterious to health – due to noise levels. Click here to view full story…
Chief of Bedfordshire Chamber of Commerce irritated that HALE criticise the distortion of consultation responses
1.2.2013     A business leader has launched a blistering attack on anti airport expansion campaigners.   Cheryl Smart, chief executive of Bedfordshire Chamber, based in Kimpton Road, Luton, has responded to a claim by Hertfordshire Against Luton Airport Expansion (HALE) that if "Chambers of Commerce, airport staff and other stakeholders" are sifted out, most people oppose expansion plans.  Mrs Smart fired a broadside in response. She wrote: "Bedfordshire Chamber of Commerce is appalled by HALE's reactionary stance which shamefully dismissed the recent results of a consultation on development at Luton Airport as "flawed" and "misleading"."  And it continues. The airport got all the local business interests, all the airport staff etc, to submit comments in favour of expansion. In contrast, most local residents consulted were opposed to the plans. (see below)  Story from Luton Today
Luton airport planning application would increase night flights (11pm to 7am) by 50%
January 29, 2013    Local campaign group HALE (Hertfordshire Against Luton Expansion) says that Luton Airport's expansion plans are based on projections to increase flights at night by 50%. This is based on information in the airport's planning application which shows that the number of take-offs and landings between 11pm and 7am is projected to rise to 52 by 2028, compared to 34 in 2011. HALE points out that this is just the average figure – during the summer peak there could be as many as 80 flights each night. There is a public consultation on the application until 18th February. HALE is urging people to respond to this planning application by demanding that Luton Borough Council forces its Airport to reduce, not increase, night flights; to monitor and fine night arrivals as well as night departures; and to install a noise monitor on the approach to runway 08 for the purpose.    Click here to view full story…
New jet terminal for business users at Luton Airport
17.1.2013   A new passenger terminal and hangar are being built at Luton Airport for business users and private jets. Signature Flight Support says its hangar will be able to house two jets and could be finished by the autumn.  The new passenger terminal, which could open by the end of next year, will include conference and catering facilities. Signature said the new terminal and hangar would replace its existing facility, which it bought in 2000 and  would provide a "world-class travel experience".  link
Luton airport planning application submitted – to demands that it should be called in
January 9, 2013      Luton airport has submitted its planning application for expansion up to 18 million passengers, to its local authority, Luton Borough Council. However, Luton Borough Council is also the owner of the airport, and so local people are asking that the application should be called in. The application does not include a runway extension, but does include changes to taxiways, access roads, parking aprons, car parks and changes and extensions to terminal buildings. The work proposed is focused primarily on removing the bottlenecks which affect throughput of passengers and planes at peak times. By dualling the access roads and increasing the security check lanes, passengers can arrive and be processed more quickly. By extending the taxiways and adding more piers, planes can be filled up can get into position for takeoff more quickly. And by adding more customs and baggage reclaim facilities, arriving passengers can be moved more rapidly through the terminal. There are 250 documents in the application, making it difficult for local people to assess. The consultation period ends on 18th February. There is local concern about the amount of extra aircraft noise there will be, if Luton is allowed such significant expansion. There are also serious concerns about road congestion – currently about 80% of the airport's passengers travel to it by road.     Click here to view full story…
Luton Airport expansion master plan consultation 'flawed and misleading'
January 15, 2013     London Luton Airport Operations Ltd submitted its planning application to expand the airport, to the local authority (which is also the airport's owner) Luton Borough Council, on 7th January. The deadline for comment is the 18th February. Luton Airport released its assessment of the recent Master Plan consultation, in which is gave the impression that some 65% of those consulted were in favour of the airport expansion. In reality, 612 votes were from airport employees, airlines, airport union members and businesses associated with the airport who, unsurprisingly, were 100% in favour of expansion. Only 450 responses came from the public, and those were 73% opposed. There were 94 from responses that were undecided. The fact that 29 of the 47 responses from stakeholder organisations, a group which included local councils, were 'undecided' indicated that the plans "didn't have enough information" as the master plan did not include an environmental statement or details of where the aircraft would be flying. It simply proposed they would be doubling the capacity of the airport from about 9.5 million passengers and increase the number of flights by 60%.   Click here to view full story…
Luton airport claims 65% of respondents in favour of its expansion plans. But in reality 75% of the public are opposed.
January 7, 2013    Luton Airport has sent out a press release claiming, misleadingly, that it has 65% support from the recent consultation on its airport expansion proposals, to increase passenger numbers from the 9.5 million per year now up to 18 million. However, looking more closely at the data shows quite a different story. There were 1,360 responses in total and the Statement of Community Involvement" (SCI) provided with the planning application documents breaks down the responses a little further. It shows only around half were from members of the public other than Chambers of Commerce, airport staff and other stakeholders. Of the members of the public who responded, 75% oppose the expansion plans. Many of the responses in favour of the proposals actually came from the airport's own staff. Andrew Lambourne of HALE said the spin doctors at the airport must have worked overtime to gloss the community response data. Many residents opposed the expansion because the airport says the impact of a 60% increase in flights will not increase noise and that simply does not add up.    Click here to view full story…
Criticism by MP Stephen McPartland over Luton Airport application
26.10.2012       An application to double to size of Luton Airport is expected soon, but there is fresh criticism of the plans. The MP for Stevenage, Stephen McPartland, has said he would continue to fight the expansion and criticised a motion passed last week by Stevenage Borough Council in favour of the expansion. He says that he, and the Comet newspaper, will continue to oppose expansion of the airport, due to the local aircraft noise nuisance and road traffic congestion. North Hertfordshire District Council has also now criticised the airport's plans, and sent in comments against the expansion plans in its consultation response. There are also serious concerns about Luton Borough Council – which owns the airport – being the body that decides the outcome of the airport's planning application. A council spokesman gave this unconvincing response: "The council's role as local planning authority is entirely separate to that as shareholder of London Luton Airport Ltd (LLAL). Each is run wholly independently of each other with their respective functions entirely separate."   https://www.airportwatch.org.uk/?p=2047 
Another day. Another bonkers idea. A 4-runway Luton. Proposed by architects. Airport says it is unworkable
October 25, 2012   
Why does the Evening Standard keep doing it? At least every week, there is another story about some sort of science-fiction type airport proposal. Barely thought through. Barely plausible. This time is the turn of Luton to have 4 runways proposed by a firm of architects, Weston Williamson – which seems to have mainly worked on railway stations in the past, in terms of transport projects. The scheme's backers claim that, of the capital's six airports, only Luton has good enough UK-wide links to make it a nationally accessible hub, next to the M1 and on the high-speed Midlands rail line to St Pancras as well the Thameslink route to central London and the south coast. A spokesperson for London Luton Airport Ltd, said: "We don't think these plans are workable.The idea of a new airport immediately to the south of Luton was first raised in a 2002 masterplan which was subsequently found to be unrealistic, largely because of the cost and the site's valley location." They were "setting themselves apart" from the proposal. The topography is not suitable.  Click here to view full story…
Some of the comments from Luton campaigners about the Policy Exchange plan for a 4 runway Luton airport
October 5, 2012     The Luton campaign group, HALE (Hertfordshire Against Luton Expansion) has commented on the remarkable proposals by the Policy Exchange, to put a 4 runway airport at Luton, if 4 runways cannot be built at Heathrow. The Policy Exchange plans are full of flaws and unimpressive failures of logic. But on Luton the failings are especially apparent, appearing as if the authors do not know the area at all. HALE points out that the area round Luton is quite hilly, and levelling out the hills is a major undertaking. The numbers affected by increased noise would be huge, and some villages would need to be destroyed. The local roads, including the M1, would not be able to cope with the passengers from a 4 runway airport, and suggestions of fast trains every 5 minutes to London would cause local problems. Not to mention issues of price of oil, future passenger number projections, carbon emissions and the myth that nobody can do business unless it involves flying.     Click here to view full story…
Policy Exchange produces report hoping to shift Heathrow a few km to the west, with 4 runways over the M25 …or a 4 runway airport at Luton …
October 5, 2012   The Policy Exchange, which says it is a leading think tank to deliver a stronger society and a more dynamic economy (nothing about care of the environment) have put forward a proposal to expand Heathrow, by building 4 new runways. And moving the existing two a mile or two to the west, on top of the M25. Then there would be a two more runways, one parallel to each of the shifted runways. The Policy Exchange then says that if this cannot be built, 4 runways could be be built at Luton instead. They claim around 700 properties (in Poyle) would need to be demolished compared to the 1,400 that would need to go to make way for the estuary airport, and its purpose would be to send a "much needed signal to people that Britain is open for business." They dismiss the problem of carbon emissions by presuming that all homes in the UK will be insulated, so leaving fossil fuel for transport – and that travelling is much more appealing so we can "have the money and carbon allocation to see the world." A very odd report, with some very dubious logic …..  Click here to view full story…
Luton Airport's revised master plan released – with increased noise "the elephant in the room"
September 3, 2012     Luton Airport has today released its revised Master Plan for airport expansion, starting a 6-week public consultation. However, detail on the environmental impacts of the proposals is not going to be made available until the planning application is submitted in November. Local campaign group, HALE, commented that the owners and operators want to increase capacity to match Stansted and Manchester, even though Luton Airport is on a cramped site and surrounded by towns and villages. The proposals for expansion would result in 58% more flights than in 2011 – an average 160 extra flights per day. There would also be a longer morning 'rush hour' with flights every 90 seconds at peak times. The noise limits set are so high that they would have little effect, and the larger planes are likely to be more noisy than those currently using Luton. The noise insulation offered by the airport does not cure the problem.    Click here to view full story…
London Luton owner extends contract with airport operator, LLAOL, until 2031
August 24, 2012    The owners of Luton Airport (Luton Borough Council) have signed a deal with the airport's operators (London Luton Airport Operations Ltd. – LLAOL), extending their contract until 2031. In June it was announced that LLAOL's concession to run the airport was being extended to 2031. That has taken some of the urgency out of the need to produce planning applications as the 2014 break-point in the concession is no longer a factor. The signing of the contract between the owner and operator is to be followed by a planning application later in the autumn, which will be lodged by LLAOL.   Click here to view full story…
Luton airport expansion plans for 18mppa given decisive "thumbs down" on environmental grounds
August 15, 2012     Luton Airport's owner (Luton Borough Council) and operator (London Luton Airport Operations Ltd) have together announced they are set to submit plans to increase capacity to allow for a maximum of 18 million passengers per year, from current levels of around 10 million. The reasons put forward by Luton Borough Council for these proposals centre around creating wealth, and they hope it would allow the airport to "continue to deliver sustainable growth" benefiting residents and passengers". The local campaign group HALE (Hertfordshire Against Luton Expansion), which opposes further expansion at the airport, commented that Luton Borough Council in only interested in milking the airport for cash, and talk of "sustainable" airport growth is an oxymoron. Another local campaign group, LADACAN (Luton & District Association for the Control of Aircraft Noise) criticised the absence of any mention of the environmental impact of increased aircraft noise, which would inevitably be a result of a flight leaving every 90 seconds – resulting in continuous noise over people's heads starting at 6 am in the morning. Public consultation on the plans is scheduled to start on Sept 3rd. Click here to view full story…
Luton councillor and Luton airport senior director fail to attend local community meeting
July 7, 2012     Luton Airport operators and owners failed to show up at a meeting at a local village close to Luton's runway. More than 80 residents from local towns and villages met to engage in dialogue with them about plans to expand the airport. Robin Harris, who is a Luton Borough Council councillor, and Neil Thompson is Operations Director, at Luton Airport, were meant to attend. The campaign group, HALE (Hertfordshire Against Luton Expansion) said that though the airport and the council say they want to consult with people about their views, the empty chairs show there is no real commitment to listen to what people are saying about their proposals to expand the number of passengers to 16 million per year.     Click here to view full story…
Rival plans for Luton Airport expansion to be merged
June 7, 2012     Not altogether surprisingly, the hitherto-separate plans produced by the airport owner and the airport operator have been combined, and the airport operator's concession to run the airport has been extended to 2031. That takes some of the urgency out of the need to produce planning applications as the 2014 break-point in the concession is no longer a factor. There is likely to now be a planning application later this summer. More details will be released when the plans are finalised in July. The new scheme is likely to have a passenger throughput up to "about 18 million a year" and an additional 40% more aircraft movements a year. However, earlier this year the operator -London Luton Airport Operations Limited (LLAOL) – said 15 million was more realistic.    Click here to view full story…
Shock of discovery of Luton Airport plan to expand up to 30 million passengers (not just 18 million)
May 25, 2012     Herts County Council has just discovered that Luton Airport's owners – Luton Borough Council – are hatching plans to increase capacity not just to 18m passengers per year – but to 30 million. HCC says this is frightening. 30 million is triple what the airport currently handles. Their pre-application to the National Infrastructure Planning body refers to a planning application as early as end of 2013. The airport (and its owners, Luton BC) have indicated from the start that they would eventually like to see the capacity increased to 30m passengers per year. Yet the planning consultation they put forward publicly only talks of 18m. The current airport operators (a different company) made it very clear that even this would constitute over-investment, and that a realistic maximum for this "local" airport would be more like 16m passengers per year. To aim for 30 million would require the application to be called-in by government.   Click here to view full story…
Luton Airport expansion plans 'ludicrous', says Herts County Council
March 26, 2012   Herts County Council say the plans are ludicrous and the application needs to be called in and decided by the Secretary of State. They say they are surprised "how little intelligence accompanies this consultation" and that having two consultations and two applications going on in parallel is very confusing for everyone.The Cabinet Member for the Environment said: "I would urge the borough and the operator to consider their respective positions and – regardless of the merits or otherwise of growth at the airport – come forward with a mutually acceptable proposal"   Click here to view full story…
Second consultation at Luton Airport – this time it's the Master Plan
March 18, 2012   Back on 13th February, the London Luton Airport Ltd, that owns the airport, launched its public consultation into expansion plans, called "futureLuToN:Optimisation". This consultation ends on 25th March. But on 14th March, the operators of the airport, London Luton Airport Operations Ltd (LLAOL) launched their own consultation on a new, draft Master Plan, prior to submission of a planning application. This Master Plan consultation ends on 25th April. Both consultations are to increase the number of flights greatly, with the LLAOL proposal anticipating 15- 16 million passengers per year eventually, which is lower than the London Luton Airport Ltd plans. The plans appear to be relatively similar, neither propose extending the runway, and both are unconvincing on noise – which is bound to get significantly worse for all those overflown, with almost doubling of flights.    Click here to view full story…
Dacorum Borough Council's Overview & Scrutiny Committee opposes expansion of Luton
March 13, 2012    Dacorum Borough Council's Overview and Scrutiny Committee discussed the expansion of Luton Airport on 6th March and gave it a clear thumbs down. Committee Members voted to recommend that the Council object to the expansion of the airport to 18m passengers per annum, and were particularly concerned about the noise impact that would be caused by the extension of the operations – particularly during the night. They expressed the following concerns, among others: * the expansion needs to be taken forward in an environmentally sensitive and sustainable way; * all impacts must be properly accounted and mitigated for; and * the proposal must minimise disturbance to local communities. Any expansion must be underpinned by effective noise and environmental controls.  Click here to view full story…
Luton Airport expansion plans spark birth of new campaign group, HALE
February 24, 2012   A new campaign group called "Hertfordshire Against Luton Expansion" (HALE) – has been formed by angry residents living under Luton Airport's flight paths, in response to Luton Borough Council's plans to create an airport potentially bigger than Stansted or Manchester on the already congested site. HALE is seeking to mobilise people's interest and awareness around Luton's expansion plans, because to double the amount of noise, traffic and flights will be unbearable. HALE held their first public meeting on 23rd February. Feelings are running high, and the airport's consultation is flimsy and inadequate, with insufficient information on almost all topics. HALE has researched noise figures and found that flights from Luton are getting noisier each year despite the myth that modern planes are quieter – the fact is that the fleets are getting larger, heavier and louder. Click here to view full story…
"futureLuToN:Optimisation" consultation on expanding Luton airport to 18 mppa
February 13, 2012    London Luton Airport Ltd, that owns the airport, has now launched its public consultation into expansion plans. The consultation (ends 26th March) is based on a few web pages of sketchy information and will include public exhibitions in village and community halls during February and March. They then plan to submit a planning application in April, expecting a decision by Luton Borough Council by Autumn 2012. The airport is operated by London Luton Airport Operations Limited on a 30 year concession (granted in 1998). The owner has the opportunity to terminate the current concession agreement from 2014. They want to increase passenger numbers from the current annual 9.5 million (in 2011, up to 18 million, while improving the passenger experience. This is what they call Optimisation. There is not one mention of climate change, or of carbon dioxide, in the entire proposal. They acknowledge there will be more noise, but there are no details and just thin, waffly assurances that everything possible will be done to minimise it.
Luton Airport expansion consultation delayed by a week
February 9, 2012     The public consultation by Luton Airport and Luton Borough Council to get the public's views on the proposed expansion of Luton Airport has been delayed by a week. They will be looking to double the capacity of the airport up to 18m passenger per annum, with a view to submitting a planning application in April. The 6 week consultation will now start on Monday 12th Feb. A number of exhibitions are to be held in conjunction with the consultation, and some have been rescheduled.    Click here to view full story…
Luton Airport hopes to boost passenger numbers by 7- 9 million per year
January 16, 2012     Luton airport – the UK's 5th biggest – has announced a 4 week consultation on its plans that will start on 6 th February. It has plans to increase the annual number of passengers. It would handle 18 million passengers a year under the plan, up from 11.5 million. Work "can be achieved within the airport's existing boundary and using the existing runway". Once the consultation ends, the airport hopes to submit a planning application in April. The airport says: "Impacts on the environment, noise and road traffic flows will be fully evaluated as part of the process." The airport announced plans for road improvements in November to reduce anticipated congestion at the time of the Olympics. Some of the work is paid for by public funds.     Click here to view full story…
Noise fears over Luton Airport expansion
December 12th 2011      LUTON Airport's proposal to double the number of passengers to 18 million a year has alarmed residents in Harpenden, with one labelling the move as "utter madness". The airport is also looking at what its future potential capacity could be, if not constrained by its current boundary.  However following a Freedom of Information request from local campaign group HarpendenSky.com, a spokesman has admitted it was inevitable that flying more passengers will increase air traffic and plane noise. The airport is owned by Luton borough council, but operated, managed and developed by a private consortium, London Luton Airport Operations Ltd.  Click here to view full story …..
Residents around Luton fear airport development plans will increase noise
6.10.2011  Luton Borough Council, the main shareholder of London Luton Airport , is considering the airport's future. At an Executive meeting, it said it wants to increase the annual passengers to 18 million – almost double the current number, with a view to increasing up to 30 million passengers a year in due course. This would cause more road congestion and more noise across flight paths in the area, including Stevenage, Hitchin and Baldock.   Click here to view full story…
Airport trolley charges double at Bristol, Luton and Cardiff
6th July 2010    The cost is rising from £1 to £2 and is non-refundable. The cost increase will be rolled out across a number of other airports later in the year.    
Click here to view full story…
Luton airport launches Draft Noise Action Plan Consultation
28th September 2009   The Airport has launched its "Noise Action Plan" for public consultation until 17th January 2010. The Luton NAP has no targets and dates, other than a few mentions of increased monitoring of noise. There is no mention of reducing aircraft noise, and no measures that might inconvenience or add costs to airlines. The only mention of "reduce" is in the numbers of people affected by noise.    Click here to view full story…
Luton airport misery as drop-off fee causes chaos
6th July 2009    Passengers arriving for early-morning flights last week were horrified to find traffic tailing back for more than a mile beyond the airport perimeter. With taxis and private cars crawling at a snail's pace, desperate passengers got out and started the long, uphill hike to the terminal. scheme to charge drivers to drop passengers at a "priority set-down area" alongside the terminal. If you're in and out in 10 minutes, the fee is £1, for longer it's £50. (Times)     Click here to view full story…
Luton – Call for review of night flights
20th April 2009     Dacorum Borough Council is calling on Luton Airport to review the number of night flights from its runway. The council hss written to the airport urging it to review its Night Noise Policy – to take effect from 1 April 2010, and says local residents are subjected to twice the number of night flights (36) than take-off from Heathrow (16). It is asking that aircraft movements do not rise above their current numbers during the night period. (BBC)  
Click here to view full story…
Call for limit on Luton night flights
28th February 2009     Councillors are calling on Luton Airport to restrict the number of night flights in response to complaints about noise disturbance. A full meeting of Dacorum Borough Council on 25th Feb unanimously supported a motion urging the airport to review its policy and limit night flights to 'at most the current number'. Total flights at Luton had increased from 7,000 in 2000 to 10,000 in 2007. There are currently 36 flights at night, more than Heathrow. (Hemel Today)  Click here to view full story…
New Runway Plans at Luton shelved:   (6.7.2008)
Bosses at London Luton Airport have unexpectedly withdrawn plans to build a new runway.  TBI, the company which owns the airport, planned to build a full length replacement runway to the south of the existing runway, with a new terminal.  They said the reason plans had been shelved was because it would take too long to make a return on the money that it would cost to build.
TBI said it would now focus on the existing airport site instead.  The airport says it will publish plans later this year about what it wants to do by 2015.   Bosses at Luton Airport had previously announced proposals for the replacement runway and said a new terminal would be completed in time for London's 2012 Olympics.  The plans, aimed at catering for growth in air travel during the next 25 years, led to protests.  The new runway would have been built 950m south of the existing runway. Up to 9,000 jobs would have been created.  The existing runway would have been used for emergencies and while maintenance work was carried out on the new runway.  People living near the airport had staged protests over the plan.  Environmentalists had also warned such an expansion would just feed travellers' appetite for cheap air travel, which they described as a serious threat to the global climate.  (BBC   6.7.2007)
More comment on this on the LADACAN (Luton and District Association for the Control of Aircraft Noise) website at:
New runway plans at Luton shelved
News stories about the airport can be found at the UK Airport News website
a few of which (most being about easyJet) are:
23.10.11 Confusion over Luton Airport expansion plans
07.10.11 Council plans expanded Luton Airport
22.09.11 Luton Airport apologises over increased noise
08.09.11 Villagers challenge Luton Airport
All articles in reverse date order