Gatwick News Stories
---
Tom Tugendhat MP letter to Aviation Minister – on need for proper scrutiny of Gatwick future main runway growth
The expansion that Gatwick might perhaps eventually be allowed, by using its emergency runway as a full runway, would require proper scrutiny through the planning Development Control process (DCO). The airport might be able to handle up to an extra 50,000 annual flights by doing that.  However, more expansion and more extra annual flights could be added, by making more use of the single main runway.  That might add another 60,000 annual flights (about 16 million annual passengers).  But because there would be no physical building work required (no extra runway length or extra terminal) there would be no planning permission needed, and no chance for public scrutiny of the impacts of the gradual expansion. Now Tom Tugendhat (MP for Tonbridge & Malling) has written to Robert Courts, the Aviation Minister, to ask for a meeting to discuss this anomaly. He says the main runway growth would be "more than the aggregate growth at the 5 UK airports that are currently seeking expansion.  In each of those cases the proposed growth has been robustly scrutinised and communities have been able to have their say. The government cannot simply ignore the greater impacts at Gatwick because it has different planning position."
Click here to view full story..
DfT decides to roll over the night flights regime for 3 more years (not 2) for Heathrow, Gatwick and Stansted
The government consulted, in December 2020, on its night flights regime (closed 3rd March 2021). Part of the consultation was whether to "roll over" the current regime for the three designated airports, (Heathrow, Gatwick and Stansted) for another 3 years, and it closed on 3rd March 2021. The second part is about wider night flights issues for all issues, and that closes on 3rd September 2021. The DfT has now published its "Decision Document" on the night flights regime and the designated airports. It has decided – despite pleas from numerous groups and individuals for change – not only to roll over the existing scheme, but to set this for THREE years more, rather than the two years originally proposed. The DfT says: "The restrictions will be reassessed in time for a new regime to commence in October 2025…" Airport groups at the designated airports are upset and furious. Night flight noise is probably the most hated, and the most damaging element of aircraft noise. The justifications given for night flights, about their economic necessity, are unconvincing. Sadly, people living with night flight noise from Heathrow, Gatwick and Stansted will be stuck with the problem, at least until 2025
Click here to view full story…
British Airways might abandon Gatwick, for Heathrow, if 80% slot use rules are reinstated
British Airways has revived plans to abandon Gatwick and concentrate operations at Heathrow, according to industry sources. This is due to fears by BA's owner, IAG, that it could lose lucrative take-off and landing slots at Heathrow.  BA first considered leaving Gatwick more than a year ago in anticipation that demand for air travel will remain depressed for a number of years. The landing slots at Heathrow are very much sought-after and expensive, each costing tens of millions of pounds. Usually airlines have to make use of 80% of their slots, or risk losing them.  This was suspended due to Covid, and this waiver was initially due to end in late March. Transport Secretary, Grant Shapps, then extended it, with no given end date. If the waiver is finally ended, then British Airways would want to be sure of keeping its lucrative Heathrow slots, by moving more of its activities there, from Gatwick – where the slots are less valuable.
Click here to view full story…
CAGNE and GACC join call to suspend expansion of Gatwick  – and an airport expansion moratorium
10th May 2021
Both Gatwick groups have joined 14 other UK community groups from eight airports in calling for all airport expansion to be halted, because of the Government's move to include international aviation in carbon budgets, from 2033, and legislation. The campaigners' letter to the Secretary of State for Transport (Grant Shapps) and the Secretary of State for Housing, Communities and Local Government (Robert Jenrick) to 'suspend the determination of all applications to increase the physical capacity of UK airports, or their approved operating caps, until noise and climate policies were in place, against which such applications could be judged.'  There is due to be a consultation on UK aviation carbon emissions in the next month or so. It is irresponsible act for Government to allow any airport expansion plans before this, prejudging the outcome of its net zero aviation and low carbon transport consultation.  Peter Barclay, chairman of GACC, added: "Airport expansion is completely inconsistent with the Government's new approach to aviation emissions and the formal advice from the Committee on Climate Change."   See full article at
https://www.wscountytimes.co.uk/news/environment/two-campaign-groups-join-call-to-suspend-expansion-of-gatwick-airport-3231379
.
---
The letter
https://www.aef.org.uk/uploads/2021/05/Airport-expansion-moratorium-letter-May-2021.pdf
.
Gatwick Airport: Can Crawley turn away from aviation and go "green"?
Crawley relies on nearby Gatwick Airport for thousands of jobs, but it is now hoping to become less reliant on aviation and instead encourage sustainable business. With future demand for air travel, especially in the next year or two, uncertain, people who lost their jobs want local "quality" jobs soon. Gatwick had employed about 6,000 people from Crawley, and supported many more jobs in industries like hospitality and catering.   With uncertainties about what British Airways, Virgin Atlantic and Norwegian will do about keeping flights at Gatwick, it is unlikely numbers of passengers will return to 2019 levels perhaps for another four years. It is unlikely as many people would be employed in aviation then as in 2019, as airlines and airports increase automation of jobs as fast as possible.  In early March the government gave Crawley £21.1m to help achieve what it called "plans to become a modern, vibrant and healthy digital town with a thriving green economy". The council aims to offer training in areas like insulation and solar power installation, while driving demand by "retrofitting" council homes and ensuring new developments are sustainable.
Click here to view full story…
Campaign groups call for ban on Gatwick Airport night flights
Both community groups at Gatwick, GACC and CAGNE, are calling for a ban on night flights from Gatwick. "If night flights continue to be allowed, GACC argues they should be limited to those that are genuinely essential for economic reasons, not leisure flights, and that they should be far more strictly regulated."  Successive governments have acknowledged that noise from aircraft at night has significant health, economic and other impacts on communities near airports and under flight paths, and have asserted that they take this very seriously. But there has been no bottom-up review of the UK's night flight regime since 2006. Instead, the government has repeatedly rolled forward night flight limits set many years ago, without any re-examination of what we believe are the very limited economic benefits, whilst failing to take account of the increasingly strong evidence of the adverse physical and mental health impacts night flights have on communities. There is no reason to continue to operate services at night when there is ample capacity at times of day that have less serious health and community impacts. The first part of the DfT consultation on night flights ended on 3rd March; the second part ends on 31st May.
Click here to view full story…
Gatwick made a £465.5m loss in 2020 as passenger numbers collapsed due to Covid
Gatwick Airport made a £465.5m loss in 2020 due to Covid.  While the airport remained open all of 2020, passenger numbers fell by 78% as lockdowns and travel restrictions took their toll.  All its revenue streams were affected and its loss before interest, tax, depreciation and amortisation (EBITDA) was £25.1m.  The airport cut over 40% of its workforce as a result of the travel slump.  The airport's CEO Stewart Wingate wants the government to provide further financial support by extending the furlough scheme and providing full business rates relief for airports for the current financial year, not just the £8 million on offer.  Gatwick said it reduced operating costs by £140m last year and deferred more than £380m from the investment originally planned for 2020 and 2021.  In April 2020 it got a £300m loan from a consortium of banks, and it has had £250m under the Bank of England's Covid Corporate Financing Facility.  It has been granted a waiver to address breaches in Financial Covenants at 31 December, 2020. In December it had liquidity of £573m to meet cashflow, investment levels and interest payments for this year.
Click here to view full story…
British Airways owner IAG hit made a record loss of – €7.4bn in 2020 (cf. +€2.6bn profit in 2019)
International Airlines Group, owner of BA, has reported a record annual operating loss of €7.4bn  (£6.4 billion) for 2020.  Its passenger capacity last year was only a third of 2019 and in the first quarter of this year is running at only a fifth of pre-Covid levels.  The loss included exceptional items relating to fuel and currency hedges, early fleet retirement and restructuring costs. The loss compares with a €2.6bn profit in 2019.  IAG is trying to cut its cost base and increase the proportion of variable costs to better match market demand.  IAG's passenger revenues fell 75% from €22.4bn to €5.5bn last year but its cargo business had "helped to make long-haul passenger flights viable" during the pandemic. Cargo revenues increased by almost €200m to €1.3bn and IAG also operated more than 4,000 cargo-only flights in 2020. It is not providing guidance on its finances for 2021. Airlines do seem to understand, at last, that for acceptable Covid safety of air travel, people need to be vaccinated or have proper proof they are not able to spread the virus.  IAG spent  €4.1bn in cash last year – almost €80m a week (£11.4 million per day). IAG's market value has halved to £9.6bn since the start of the pandemic.  When Covid is less of a threat,  low-cost carriers may emerge in stronger shape than airlines like BA.
Click here to view full story…
Heathrow, Gatwick and East Midlands apply for UK Freeport status
Heathrow, Gatwick, East Midlands and Bournemouth airports have applied to the government for Freeport status. The period for applications closed on 5th February.  There are 33 applicants, and the government is expected to announce 10 – for all the UK – by "the spring" (ie. probably by June). The scheme comes following Brexit and as the government looks to create new trade links.  Freeports are sites where normal tax and customs rules do not apply.  They can be airports or maritime ports, and can be made up of a consortium of both as long as all sites are within a similar geographic location. Companies using Freeports will be able to import goods without paying tariffs, process them into a final good and then either pay a tariff on goods sold into the domestic market, or export the final goods without paying UK tariffs.  Areas given Freeport status will also benefit from a wide package of tax reliefs, including on purchasing land, constructing or renovating buildings, investing in new plant and machinery assets and on Employer National Insurance Contributions.  There were 7 freeports between 1984 and 2012 (eg. Liverpool and Southampton ports), after which UK legislation changed and their use was not renewed.
Click here to view full story…
Gatwick increased its Government borrowing by £75m to shore up its finances during the Covid period
Gatwick has increased its Government borrowing by £75 million, trying to shore up its finances during the extended Covid travel reduction.  It is thought that Gatwick has also borrowed £250 million under the Bank of England's Covid Corporate Financing Facility (CCFF) scheme. Gatwick applied to access the CCFF in August, saying at the time it was a contingency measure and hoped not to touch the money, but now it needs the £250 million. It has 12 months to repay it. Gatwick still has the option of accessing a further £50 million under its £300million CCFF facility. The airport had a £344 million pre-tax loss for the six months to June 2020.  During 2020 its number of passenger numbers fell by about 80%. It is owned by France's VINCI Airports and $71billion fund GIP, which should be able to provide money Gatwick needs. Local community group GACC says, despite the airport's dire financial state, it is still finding money to spend on expansion plans which will have major adverse consequences for local residents & would also fly in the face of climate change concerns.
Click here to view full story…
Norwegian is ending its low-cost long-haul flights, to focus on European routes only
Norwegian Air says it is ending its long-haul operation, and end its plans for low-cost long distance flying. It had to ground most of its fleet throughout 2020 – its long-haul Boeing 787 Dreamliner jets have not been used since March.  Even before Covid, it long-haul flights (to the US, Argentina and Brazil) at stupidly low prices were not making money, and Norwegian had financial troubles.  In 2013, after 20 years as a standard short-haul carrier, it had its first  budget transatlantic flights – firstly from Oslo, and in 2014 from Gatwick. One-way economy fares between the UK and US cost from just £125. For that price there was no free check-in baggage, or food or drink.  The first flight between Gatwick and Seattle cost £150. Gatwick was its long-haul base in the UK. In 2019, it flew more passengers between the US and UK than any other airline, to 12 US destinations. Margins were very tight, and the airline had rising debt in 2019. By April 2020, 80% of its staff were on furlough. So there will be no long-haul flights by Norwegian at Gatwick, but their flights to European destinations will continue.
Click here to view full story…
Gatwick delayed consultation about its expansion plans until 2021.
It had intended to consult in 2020, but has been so badly hit by the fall in air travel demand that it is now not even likely to re-open its southern terminal until perhaps summer 2021. 
---
Gatwick investors say they will put in the money to develop its emergency runway for routine use
VINCI Airports and infrastructure fund GIP say they have committed to funding the next stage of a scheme to upgrade Gatwick's 'standby' northern runway, for routine use. That would add around 90 extra flights per day. The northern runway is currently short, and is used as an emergency runway.  It is too close to the main runway to be used independently, for safety reasons.  But it could take short-haul planes in gaps between use of the main runway.  Gatwick – struggling with the impact of the Covid pandemic – says it will now develop the development consent order (DCO) application for the project, including environmental surveys. The airport intends to launch a public consultation this summer.  Gatwick's biggest airline customers – BA, easyJet, Norwegian and Virgin Atlantic – have suspended or scaled back flights, or moved some to Heathrow.  Gatwick hopes passenger traffic will recover fast, once vaccination against Covid makes it safer to travel, with traffic back to the level in 2019 by 2023.  Gatwick claims the runway will not add to carbon emissions (as it does not include the emissions from flights). The CCC has said there should be no net airport expansion in the UK. If an airport expands, another should therefore contract.
Click here to view full story…
DfT publishes night flights consultation (the 3 designated airports) – no concessions to airport groups for another 4 years…?
Historically, the DfT has set the night flight regime – for the "designated" airports, Heathrow, Gatwick and Stansted – for periods of 5 years. The last regime was in 2017, for the period from October 2017 to October 2022. The DfT says: "The aim of the regime was to maintain the status quo and ensure that communities do not experience any overall increase in the noise created by night flights." It has allowed a high level of night flights, with no reductions on earlier numbers, despite significant community opposition.  Seventeen airport groups wrote to the Aviation Minister on 10th November, asking that night flights should be limited in future, with a proper night period in which no flights are permitted (other than genuine emergencies). The aim was to make their point before the DfT consultation (by which time the DfT has decided what it intends to do …). The government has now published its new night flights consultation, for the period 2022 to 2024. The DfT intends there to be no change to the current regime (no concessions to suffering from being overflown at night) other than phasing out the noisiest planes, which airlines are getting rid of anyway, due to Covid. DfT says: "… we are also seeking early views and evidence on policy options for the government's future night flight policy at the designated airports beyond 2024, and nationally."
Click here to view full story…
Overturn airport jobs crisis with a Green New Deal for Gatwick
There is great concern around many airports, about the number of people who have lost their jobs, or will lose them in coming months. A new report by 3 organisations, the PCS trade union, Green New Deal UK, and the Green House Think Tank shows how new jobs could be created in the Gatwick area, for those now unemployed. Their analysis indicates that around 16,000 "green" jobs could be created around Gatwick if an ambitious job creation strategy was adopted. And they calculate that the cost would be comparable to the amount of APD that Gatwick air passengers might pay in 2021 – around £329 million (calculated as the proportion of all UK air passengers that go via Gatwick – about 15.6% in 2019). This number has been chosen, as the airlines (through Airlines UK) have been lobbying to have APD suspended for a year in 2021; if that happened, it might mean a loss to the Treasury of around £2.1 billion. The £329 million (approx) would be able to fund perhaps x13 as many "green" jobs (such as building retrofits, low-energy transport, restoring nature, and social care) as would be secured in the aviation sector. And these jobs would help avoid the excessive vulnerability of the Gatwick area of being too dependent on aviation.
Click here to view full story…
Suspension of airport "80/20" slot usage rule to last till end of March 2021 – Gatwick not happy
Gatwick airport wants the UK and European regulators to reinstate rules that force airlines to use 80% of their lucrative take-off and landing rights, or lose them, before summer 2021. He wants airlines to give back slots they cannot use, so other airlines such as Wizz Air can come to Gatwick, driving down air fares and getting more bums on airline seats (helping Gatwick survive). The European regulations insisting 80% of landing slots are used were suspended for 6 months, from March, due to the decimation in air travel demand caused by Covid. This was done so airlines would not fly empty planes, just to say the slot has been used.coronavirus pandemic. The restriction has been extended for another 6 months, to March 2021, as air travel demand will remain very low. There is discussion within the industry if this should continue into next summer, and even industry lobby body, Airlines UK, is in favour of not wasting fuel and generating CO2, with flights by empty planes. Gatwick's Stewart Wingate wants the UK to do its own thing on the "80/20" slot rule, after it leaves the EU. Several airlines have said they will leave Gatwick, some going instead to Heathrow.
Click here to view full story…
Norwegian Air faces 'very uncertain future' after further state aid from Norway denied
The Norwegian government has refused to grant further financial assistance to Norwegian Air. It was bailed out in the spring, through state aid from Norway of 3bn krone (£255m), with stringent conditions attached, after the first wave of the grounding of airlines due to Covid.  Now with the return of Covid across Europe, air travel demand is not returning for this winter, so Norwegian's finances are in a grim state.  But the Oslo government is not giving more money. The airline has, in the past, annoyed trade unions in Norway for using cheaper, foreign labour. It said it would now be forced to furlough another 1,600 staff, leaving only 600 employed out of more than 10,000 people at the start of the pandemic. It said it would park all but 6 aircraft (out of its fleet of 100 planes) and operate only domestic routes through the winter.  It was flying from 6 UK airports, with its base at Gatwick. As well as cheap European leisure flights, it offered cheap trans-Atlantic routes. Before Covid it was one of the biggest airlines at Gatwick. Norwegian is fragile, as it has expanded too fast in recent years, and has a lot fo debt.  The airline is expected to have losses of 5.3bn krone (about £450m) for the first half of 2020.
WHY GATWICK EXPANSION IS A FLIGHT TO NOWHERE
Nov 7, 2020
By Anne Davies, for the South East Climate Alliance
Despite the dramatic downturn in air traffic caused by the Covid pandemic the owners of Gatwick Airport are pressing ahead with plans to expand capacity by opening up a second runway. Although Gatwick declares itself green, it does this because it purchases renewable power from elsewhere and has water fountains. But it omits to mention the on-site incinerator and the fossil fuel burning planes, over 285,000 in 2019. Pre-lockdown, Gatwick planned on 297,000 aircraft movements annually by 2050, generating 2.7MtCO2. With two runways this would add nearly 1MtCO2 to this figure.
Click here to view full story …
---
Local campaign GACC sets out the actions needed for Gatwick to "build back better"
The local campaign group, GACC (Gatwick Area Conservation Campaign) has set out the steps that need to be taken to ensure Gatwick does "build back better."  Gatwick's operations and the flights it facilitates need to become compatible with climate change imperatives and  the airport must reduce its noise and other environmental impacts, in contrast to what has been happening at the airport during the past decade. At a meeting of the airport's statutory consultative committee, GATCOM, on 15th October, GACC laid out a series of national and local measures needed to build Gatwick back better. GACC's full statement  The measures include setting legally enforceable zero carbon targets for aviation; ensuring aviation pays a higher, fairer, contribution towards public finances through more equitable taxes, focused particularly on frequent flyers; phasing out of public subsidies that distort the industry's economics; putting in place effective noise regulation; and ending night flights, that negatively impact people's health and welfare. There also needs to be diversification around Gatwick, so the area is no longer so economically dependent on one sector. Gatwick should not be allowed to even to return to its 2019 size, let alone expand.
Click here to view full story…
Gatwick could lose 600 jobs, and it could take 4-5 years for passengers to return to 2019 levels
Gawick plans to cut a quarter of its workforce due to the impact of coronavirus. So about 600 jobs could be lost following an 80% reduction in the 2019 number of passengers in August. It only has the North Terminal working.  CEO Stewart Wingate said the cuts were a result of the "devastating impacts" coronavirus had on the airline and travel industries.  In March, Gatwick announced 200 jobs would be lost, and it later took out a £300m bank loan. With the collapse in passenger numbers, the company said it was looking to further reduce costs. About 75% of staff are currently on the government's furlough scheme, which is due to end in October. The DfT says: "If people need financial support quickly they may be able to claim Universal Credit and new style Jobseekers Allowance."  Many staff belong to the union, Unite, which will fight to minimise redundancies.  The airport has said it will take "four to five years" for passenger numbers to return to pre-pandemic levels. Its revenue fell by 61% in the half year, January to June, compared to 2019. While Covid remains a very real issue, and levels are slowly rising in many countries, air passengers have no certainty about from which countries they would need to quarantine themselves for 14 days, on their return.
Click here to view full story…
Wizz Air wants to expand UK operations with plan for creating a Gatwick base
Low-cost Wizz Air (Hungarian) is to open a new base at Gatwick. It wants the CAA to allow it to obtain more slots from its rival airlines that are not able to use them, due to the Covid pandemic. Wizz plans to launch four new routes from Gatwick by late October as it hopes to get people flying again.  It is using the crisis in air travel as an opportunity to grab market share from less agile competitors with higher costs, that are looking to conserve cash until passenger demand recovers. Air travel within Europe remains very unclear, with the numbers of Covid cases changing rapidly in some countries, and fast changing regulations and restrictions.  Wizz previously operated a limited schedule of flights using Gatwick, but the creation of a base will allow it to operate aircraft and crew from south London permanently for the first time as it shifts resources there. It hopes to get more Gatwick slots, as they become available. Airlines like easyJet and BA are likely to be unable to use many of their slots. Wizz announced in April its plans to cut close to 20% of its workforce and cut the wages of top management, pilots and crew.
Click here to view full story…
Passenger on easyJet Gatwick flight to Jersey tests positive for Coronavirus
July 6, 2020
Fifteen people have gone into self-isolation after an easyJet passenger tested positive for Coronavirus. The passenger was on the service from Gatwick on 3rd July – the second commercial flight to arrive into Jersey on the day that borders reopened.
In a statement, spokesperson for the Jersey government, said: 'A passenger arriving from Gatwick on Friday evening has tested postive for Covid-19. The passenger was asymptomatic and is isolating at a private residence.  Contact tracing has already taken place for the 15 passengers seated in the adjoining rows and they are self-isolating in private residences.'
A total of 72 passengers were on the flight which landed at 7.41pm. It took 35 minutes for passengers opting in to Covid-19 testing to pass through the Airport's dedicated arrival test centre.
https://jerseyeveningpost.com/news/2020/07/06/passenger-on-easyjet-gatwick-flight-tests-positive-for-coronavirus/
---
BA shifts short-haul operations from Gatwick to Heathrow
June 30th 2020
British Airways is to move all its short-haul and domestic operations at Gatwick to Heathrow until September.   A "small number" of long-haul BA services will fly from Gatwick from mid-July as outbound UK air travel begins to resume, but the bulk of its ex-London programme will fly from Heathrow.  BA said the move would cut costs "at a time when demand is yet to return" and travel restrictions remain in place. They say that throughout July and August, we'll be consolidating our Gatwick and Heathrow short haul flying to operate from our Heathrow base.
https://www.travelweekly.co.uk/articles/376926/ba-shifts-short-haul-operations-from-gatwick-to-heathrow
---
Many BA flights for July moved from Gatwick to Heathrow, to rationalise operations there
British Airways is switching many short-haul flights from its second-biggest base, Gatwick, to Heathrow in July. BA has already warned that it may abandon Gatwick permanently, or drastically cut its operations there. For 30 years, Gatwick has been the base for BA's leisure routes, including Mediterranean, Caribbean, Latin American and Indian Ocean destinations. BA Airways has a majority of the slots at Heathrow, but this summer it will use only a small fraction of them, for its much-reduced international network.  The move may help the airline to cut costs, by increasing the efficiency of the operation at its main base, Heathrow. A daytime short haul holiday flight to the Mediterranean can be slotted in between early and late long haul trips, making better use of aircraft and crew. It will also remove some key BA routes from direct competition with easyJet, which is the dominant airline at Gatwick potentially enabling both airlines to increase fares. There may be more BA routes from Gatwick later in the summer, depending on how the Covid pandemic is being dealt with. BA has been described, by the Transport Select Committee, as a "national disgrace" for the way it has treated its staff, forcing them to leave, and then being re-employed on much worse contracts.
Click here to view full story…
GACC asks Gatwick to build back better – less noise, no night flights
Flights using Gatwick will slowly restart from 15th June, so noise, air pollution and CO2 emissions are set to increase again. Local campaigners, GACC (Gatwick Area Conservation Campaign) are asking Gatwick to embed noise and other environmental improvements into their recovery plans. During Covid lockdown, Gatwick was only open for a period each afternoon and evening with no night flights. People normally adversely affected by plane noise have benefited hugely from the welcome break from plane intrusion.  GACC wants a continuing ban on night flights, especially as air traffic will not return to pre-Covid levels for an unknown time. The Covid pandemic is a unique opportunity for the airport to re-establish a pattern of working that is less environmentally damaging, in terms of noise and carbon. GACC is asking that as well as a night ban, airlines should prioritise flying their least noisy aircraft in their fleets – and provide incentives that encourage airlines permanently to retire older, noisier and more polluting aircraft.  Also to use air traffic control to disperse noise, minimise arrival noise impact, and achieve higher, quicker, departures.
Click here to view full story…
UK airports face multimillion-pound business rates bills – money that should be paid to councils
Heathrow and Gatwick airports are facing £ multi-million business rates bills, despite the pandemic having grounded aircraft and dramatically cut their incomes.  The airports are among thousands of UK companies set to appeal against their rates bills. Heathrow apparently owes £113.2m for the current tax year, the highest of any site in England and Wales, according to an annual review of business ratepayers by Altus Group, a real estate adviser. Gatwick has the next biggest bill at £29.2m.   Business rates, which are paid to local councils, are calculated on the basis of rateable values — effectively an estimate of a property's rental value at a given date. Rateable values are set according to rents on April 1 2015.  They are not based on how well, or how badly, a company is doing.  Heathrow bleated that the rates were based on "a world in which people flew". The airports argue that rates relief will help them protect jobs.  Some sectors – – retail, hospitality or leisure –  have been given rates holidays. The money from the rates is a key part of the income of councils, and if not paid, then the funding and spending of councils is at risk.
Click here to view full story…
Gatwick has been urged to drop expansion plans by GACC campaigners due to the Covid pandemic
There are almost no flights at Gatwick, nor have there been for weeks, due to the Covid pandemic lockdown. When flights will resume is not known, but even aviation optimists think it could take 3-4 years (or more) for air travel demand to again reach the level in 2019 – if it ever does.  However, the airport says it is still going ahead ahead with plans to bring its current emergency runway into use as a full runway. But local campaign, GACC (the Gatwick Area Conservation Campaign) has written to Gatwick's CEO, Stewart Wingate, asking the airport to drop its expansion plans, arguing not only that there is no credible demand case, but it would be incompatible with national and local environmental goals. Peter Barclay, GACC chairman, said the group sympathised with employees and others whose jobs had been affected, but believes there is no credible case for expansion at Gatwick. It is also undesirable that the planning process would absorb council and other resources that should be focused on supporting people and businesses impacted by the pandemic. GACC says the plans for the emergency runway should be withdrawn.
Click here to view full story…
CAA says Gatwick proposal for a 2nd runway would not need airspace change, for the 50,000 extra flights on a 2nd runway
Gatwick airport has said will push ahead with plans for a 2nd runway after the Civil Aviation Authority (CAA) ruled that the plan for another runway will not require changes to the airspace around Gatwick. That had potentially threatened to pose a significant barrier.  The CAA (paid for by the airlines) that is the regulator for the airlines, said that there would be no change to the design of flight paths in or out of Gatwick as a direct result of the new runway, adding: "The environmental impact relating to this proposal is assessed as nil." (sic) [Presumably they are ignoring the carbon emissions which will not, of course, be nil].  Gatwick wants to have an extra 50,000 annual flights (up from around 285,000 now) by using its existing emergency runway as a full runway, part of the time. The airspace consent by the CAA effectively allows Gatwick to push ahead with a DCO (Development Consent Order), which is needed for the development, Currently the airport has been hit very hard by the Covid pandemic, with flights down by over 98% compared to last year, airlines facing almost no air travel demand, saying they may leave Gatwick, for Heathrow.
Click here to view full story…
Covid-19: Virgin Atlantic to cut 3,000 jobs and shut down Gatwick operations
Virgin Atlantic has announced it is to cut more than 3,000 jobs in the UK and end its operation at Gatwick airport, due to the collapse in air travel demand because of the Covid-19 pandemic. This comes soon after rival British Airways said it could not rule out closing its Gatwick operation. Virgin was Gatwick's 9th largest airline, while British Airways was the 2nd largest, after EasyJet, which is largest – Norwegian is 3rd largest. Virgin Atlantic said it will move its flying programme from Gatwick to Heathrow, but it intends to keep its slots at Gatwick "so it can return in line with customer demand".  The job losses amount to about 30% of the total (the job losses at BA are 28%). Virgin Atlantic also plans to reduce the size of its aircraft fleet from 45 to 35 by the summer of 2022. Even the lobby group, Airlines UK admits that "Airlines are having to adapt to a sector that will be smaller and leaner in future, with no guarantees as to when we will return to pre-crisis levels."  When lockdown restrictions ease and flight schedules are increased again, there will be fewer passengers, fewer and probably more expensive flights and thousands of  job losses. The area around Gatwick was too dependent on the airport for jobs etc.
Click here to view full story…
BA to cut Gatwick operation and lay off 1,130 pilots – and might not return to Gatwick post-pandemic
British Airways plans, due to Covid, to lose more than 1,100 pilots and make heavy cuts to its Gatwick airport operation as part of 12,000 redundancies – which is up to 30% of its workforce.  Letters sent to union representatives for all sections of the airline set out the deep cuts, as well as drastic changes to terms and conditions across the company. BA plans to lay off almost 80% of crew managers at Gatwick and 60% of other cabin crew, more than 1,100 of almost 1,900 staff. The jobs of just over 400 ground staff will be outsourced to the airport and its contractors.  The airline knows "there is no certainty as to when services can return" to London City or Gatwick airports. So BA may not continue at Gatwick. And they had "not ruled out suspending the remainder of our Heathrow operation". Ground staff at Heathrow are also likely to be forced to accept new contracts with significantly lower pay. All 4,346 BA pilots will be asked to sign new contracts changing their terms and conditions, and accept new rostering arrangements. BA will be seeking to lay off 1,130 pilots. Around 22,000 BA employees were furloughed in April and May.
Click here to view full story…
Gatwick: Likely to take 4 years for passenger levels to recover to 2019 levels (if ever …)
Gatwick has said it will not ask the Treasury for emergency loans despite fearing that passenger numbers will not return to pre-Covid levels for up to 4 years. Gatwick has already secured a £300m loan from existing banks.  It has also cancelled dividends, cut a lot of costs and furloughed around 2,000 staff.  Boss Stewart Wingate said: "We think it is probably going to take somewhere between 3 and 4 years to get back to the levels that we were at in 2019."  Gatwick hopes it can ride out months of losses, but want to have flights re-starting by the end of May.  Unlike rivals, Gatwick said "you should do absolutely everything you possibly can that is within your control to protect the business" before asking for state aid. Gatwick is open from 2-10pm each day, for a handful of flights. Unlike rival Heathrow, which gave out over £100 million in dividends to shareholders in February, Gatwick's owners will not be taking a dividend despite the airport announcing an 8% rise in earnings of £432m in the 9 months to December 2019. There may not be dividends till 2022.  It is possible that British Airways might leave Gatwick in due course.
Click here to view full story…
Coronavirus: Areas reliant on aviation industry 'to suffer worst' – especially Crawley, too dependent on Gatwick
The Think Tank, the Centre of Cities, believes jobs in cities and towns which depend on the aviation industry will be most under threat by the coronavirus crisis. They estimate about 20% of jobs in these areas are vulnerable to the economic impacts of Covid-19. The economy of Crawley is likely to be hardest hit, as it is too dependent on Gatwick. More than 53,000 jobs are classed as vulnerable and very vulnerable in Crawley, of about 94,000 in the area. About 18% of jobs in Crawley are in aviation, compared with 1% on average across other big towns and cities. There are a lot of taxi drivers, whose work depends on the airport. People have warned for years about the dangers of areas "having all their eggs in one basket" on jobs, with too high a dependence on one industry. As much of the UK airline sector has almost closed down, with at least a 75% cut in flights at Heathrow, and over 90% cut at Gatwick, almost no flights using Luton, and so on. Luton is another town that is overly dependent on the airport, and now suffering. Also Derby and Aberdeen.  The areas worse affected by job losses due to Covid-19 will be asking for government help, once the lockdowns are lifted.
Click here to view full story…
Gatwick Airport will consolidate operations into the South Terminal from 1 April and limit runway opening hours to 2-10pm
Gatwick will close its North Terminal and consolidate operations into the South Terminal from 1 April, for a month, due to the lack of demand for air travel because of COVID-19. The runway to be in use between 1400 and 2200 for scheduled flights, but will be available for emergency landings and diversions only, outside these hours. The situation will be reviewed after a month, by 1st May.  A decision on reopening the North Terminal will be taken when airline traffic eventually increases and Government public health advice – including on social distancing – is relaxed. Gatwick is hoping to make out that it is being "responsible" in closing, to protect the health of its staff and passengers, while it has been quite happy to have as many flights as it can, to and from other countries suffering high levels of Covid-19 infection, up until now.  It is only closing because of the economics, and to "protect its business."  In addition London City Airport has announced that it was suspending all commercial and private flights until the end of April. It is also possible that Birmingham Airport could serve as a mortuary during the Coronavirus crisis.
Click here to view full story…
GACC welcomes the judgement by the Court of Appeal that ANPS was unlawful – that would also apply at Gatwick
GACC (Gatwick Area Conservation Campaign) welcomes the judgement by the Court of Appeal that the Government's Airports National Policy (ANPS) was unlawful, as it failed to take into account the Government's commitment to the provisions of the Paris Agreement on climate change. The ANPS was an important and relevant consideration in respect of applications for new runway capacity and other airport infrastructure elsewhere in London and the South East. GACC believes the Court's decision therefore raises the bar for all airport expansion decisions. It is good news for communities impacted by any UK airport that wants to expand, and for our environment more widely. For Gatwick the Court's decision, if confirmed by the Supreme Court, has important implications, as the climate impacts of a new Gatwick runway would be similar to those of Heathrow. Also if Gatwick tries to make greater use of its existing runway, adding another 50,000 annual flights, and another 12 million annual passengers, would be a huge increase in carbon emissions. This would be clearly contrary to the Government's commitment to achieve net zero carbon by 2050.
Click here to view full story…
Extinction Rebellion staged another protest at Gatwick on Saturday 15th Feb, to raise awareness of aviation carbon emissions.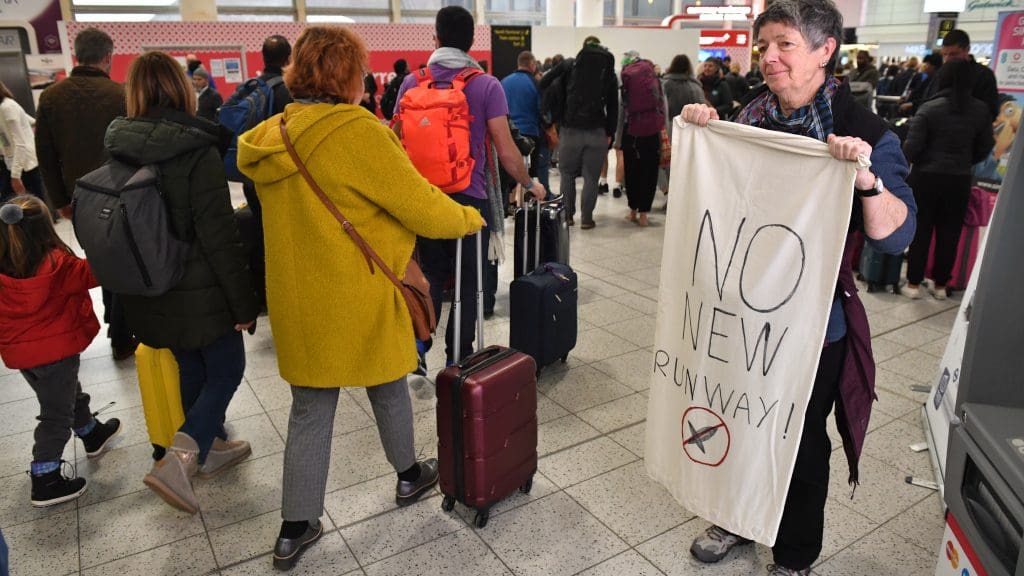 XR activists in disguise gathered by Costa Coffee in the airport's South Terminal at about 9.30am before revealing themselves.  However, once assembled, the group of about 10 activists unveiled their full complement of Extinction Rebellion banners. shirts and badges, and began mingling with the public.
Passengers landing on flights from Salzburg, Madrid and Kingston were greeted by activists in bright colours – including a man in a tiger onesie waving a banner saying "Climate Alert".
GCSE student and youth activist aged 16, said it is important to act now to prevent climate catastrophe, saying "We are already in climate crisis. We need to act now …"  He said most people at the airport have been happy to talk to him and his XR comrades.   "Some people just ignore us if they are in a rush. A few people might get a bit annoyed at us but that's all right."
Among the aims of the group is to halt plans to expand Gatwick Airport and get people to cut down on their air miles.
https://www.thecanary.co/uk/2020/02/15/extinction-rebellion-stage-flights-pollution-protest-at-gatwick/
---
CPRE report shows UK monitoring of aircraft noise 'seriously underestimates' disturbance to people's quality of life and health
CPRE is calling on the Government to improve the way it monitors aircraft noise after new research shows current maps seriously underestimate the problem.  This comes at a time when there are proposals for airport expansion across the country, and as the Government prepares a new aviation strategy. The research, commissioned by CPRE, was carried out by Aviation Consultants, To70.  It looked at the impact of noise pollution at lower levels than those usually mapped in the UK now. These lower levels, already used for monitoring noise pollution in other European countries, are believed to be a better indicator of the true impact of noise pollution below and near flight paths.  The report uses Gatwick airport as an example, but the findings would apply at any airport.  Currently the standard measure above which plane noise is regarded to "annoy" people if 55dB (a noise average),but this is far too high. A noise contour is produced for this noise level. But the WHO recommends reducing aircraft noise levels to 45 decibels in the day. The noise contour for 45dB is hugely larger than that for 57dB. CPRE says the government should commission independent research into the impact of aviation noise on health. Also that the ICCAN should be given statutory powers on noise.
Click here to view full story…
New calls by CAGNE on Grant Shapps and MPs to curb Gatwick expansion plans
Campaign group, CAGNE, against the expansion of Gatwick, are appealing to newly-elected MPs to help curb the airport's growth plans. They are also urging local residents, along with the MPs, to protest to the Secretary of State for Transport, Grant Shapps.  CAGNE says Gatwick's expansion proposals will lead to an extra 55,000 flights per year by 2033 – and that there is insufficient infrastructure to cope with the growth. It will also lead to large increases in noise levels and CO2 emissions, which are environmentally unsustainable. Air quality will also deteriorate. CAGNE is calling on transport secretary Grant Shapps to subject Gatwick's expansion proposals to more scrutiny by declaring the proposals a 'National Significant Infrastructure Project' (NSIP), which requires it to be subject to a different process than a smaller expansion, of under 10 million more annual passengers. A project that qualifies as an NSIP has to go through the Development Consent Order process.  CAGNE  said in their letter to Shapps that Gatwick's growth plans "are neither compatible with the current climate emergency, nor with achieving the Government's net zero carbon target."
Click here to view full story…
Gatwick's Big Enough Campaign writes to local authorities to ask that all Gatwick expansion plans should be properly scrutinised
The newly formed coalition of community groups, opposing the expansion of Gatwick airport and the noise made by its flights, has written to all the Leaders and CEOs of all Gatwick's Host and Neighbouring local authorities. The letter proposes actions that Councils could take to ensure that all Gatwick's proposed growth is properly scrutinised, as is the case at every other major UK airport. In particular it urges Councils to ask the Secretary of State for Transport to direct that Gatwick's main runway development should be considered a Nationally Significant Infrastructure Project (NSIP) requiring development consent (a DCO) using his powers under section 35 of the Planning Act 2008. This would ensure that there was proper scrutiny of all proposed growth, of more flights on the existing runway – as well as more flights by using the current emergency runway as a full runway.  As things stand at present, the approximately 60% increase in flights that Gatwick plans would not require any particular planning scrutiny, while the use of the emergency runway (about 40% of the growth) would.  This is an anomaly. The groups are also keen to discuss the issues with the affected councils.
Click here to view full story…
John McDonnell says Labour could scrap Heathrow expansion, as it does not meet key criteria – those also apply to other airports … like Gatwick…
John McDonnell has suggested that Labour would cancel the expansion of Heathrow if it wins power, and it might even also block other airport projects.  John said climate change would dominate the party's agenda in government. Labour have said for some time that the current 3rd runway plans "very clearly" do not meet Labour's key criteria – its 4 tests – on protecting the environment. On climate grounds alone, plans to increase capacity at Manchester, Leeds Bradford, Bristol, Gatwick, Stansted and East Midlands airports would need to be assessed by the same criteria.  He said that ensuring the "survival of our planet" would be Labour's "number one priority" in government, with climate change becoming a "key" factor in all policy and investment decisions. Labour have the problem that some unions hope airport expansion will provide more jobs, and therefore back it, while knowing there is a carbon problem.  John McDonnell's constituency, Hayes & Harlington, would be the worst affected by a Heathrow runway, in terms of homes destroyed and area covered in airport infrastructure. The 3rd runway fails not only on environmental grounds (carbon, noise, air pollution) but also on economic and social impacts.
Click here to view full story…
Groups write to Government asking for a moratorium on airport expansion planning applications
Representatives of groups at some of the largest UK airports have written to both the Secretaries of State for Transport, and Housing, Communities and Local Government, to request a halt to airport expansion.  The letter asks them to suspend the determination by all planning authorities of applications to increase the physical capacity of UK airports, or their approved operating caps, until there is a settled UK policy position against which such applications can be judged.  Many UK airports are seeking – or have announced their intention to seek – planning approval to increase their capacity and/or their operating caps. In aggregate it has been estimated that proposals announced by UK airports would increase the country's airport capacity by over 70% compared to 2017.  There is no settled UK policy on aircraft noise, or  policy on aviation carbon and how the sector will, as the CCC advises,  "limit growth in demand to at most 25% above current levels by 2050". The letter says: "Until a settled policy with set limits is established for greenhouse gas emissions and noise there should be a moratorium on all airport expansion planning applications."
Click here to view full story…
Gatwick Area Conservation Campaign (GACC) announce a major campaign to challenge Gatwick's Master Plan
Under the banner Gatwick's Big Enough community groups around Gatwick have joined forces with GACC (Gatwick Area Conservation Campaign) to call Gatwick to account over their Master Plan growth proposals.  The airport plans to grow to be the size of Heathrow today, with an increase in flights in the next 10 years to 390,000 pa (1,050 or more per day), and passenger numbers to 70 million passengers per year (190,000 or more per day). By contrast the current numbers are around  283,000 flights in 2018, and 46 million passengers.  That growth will bring increased misery to thousands through noise, pollution and impacts on local infrastructure.  They also mean a massive increase in CO2 emissions caused by the additional flights estimated at an increase of almost 1 million tonnes CO2 (circa 37% increase) per annum by 2050. The new campaign group is already challenging Gatwick's attempts to bypass full scrutiny on its main runway growth plans through use of the Planning Permitted Development processes. It has made a submission to the Planning Inspectorate for Gatwick's use of its emergency runway to be fully used. It is also planning challenges to plans for a 3rd runway.
Click here to view full story…
AEF explains why Gatwick expansion adds to UK's aviation CO2 headache – at least 1 million tonnes more CO2 per year
If Gatwick was allowed to increase its number of flights and passengers, that would be a huge increase in its carbon emissions. Already the UK aviation sector is not on track to stay under even the outdated cap of 37.5MtCO2. That was when the UK was aiming for an 80% cut in carbon emissions, compared to 1990, by 2050. But now the UK has signed up to zero carbon  – ie. 100% cut – by 2050.  The corresponding carbon cap for aviation would then be more like below 30MtCO2 by 2050. As the ongoing growth, from incremental increases in flights and passengers from most UK airports, will take the UK aviation sector well over the 37.5MtCO2 limit, let alone the 30MtCO2 cap. So there is absolutely no room for a Heathrow 3rd runway, or the semi-new-runway at Gatwick – achieved by making use of its emergency runway for much of the time. The AEF has pointed out that Gatwick's Masterplan is for 390,000 flights per annum by 2032/33, around 39% more than in 2018.  Gatwick carefully avoids giving any CO2 estimates in future, let alone to 2050. Extrapolating the carbon emissions from 2017 estimates by the DfT, it is likely that Gatwick's carbon emissions would rise by about 1Mt CO2 per year, to 3.6MtCO2 (or more, if Gatwick has a larger % of long-haul flights in future) if it uses its emergency runway as a second runway.
Click here to view full story…
Letter by Gatwick area MPs opposing Gatwick 2nd runway expansion plans – that will cause 50% more passengers, and 36% more flights
MP's from the Gatwick Co-ordination Group have expressed concerns about the rapid growth plans for Gatwick, in their "master plan".  The MPs say more people are negatively impacted by Gatwick's noise operations than 10 years ago, both close to the airport and many miles away under flightpaths, creating health issues and congestion locally through inadequate infrastructure. They say: "Over the past few years Gatwick Airport has continually under invested in the local amenities and social infrastructure that would be required to support a project of this size and scale. We cannot support expansion of the airport without a comprehensive investment in the local area which would ease pressure on the over-stretched road and rail systems serving the airport.  At a time of increasing concern about the environmental impact of global aviation growth, the proposed expansion plans would see a marked increase in carbon emissions, with clearer environmental consequences for us all. … The safeguarding of land for a new full runway is a clear indication that Gatwick has future plans to build a 3rd runway, as well as converting the current standby runway into a second runway."
Click here to view full story…
Gatwick plans to use emergency runway as 2nd runway, to increase passengers by 50% by 2030
Gatwick has published its Final Master Plan which confirms its plans to use its emergency runway as a second runway, by widening and re-aligning it.  Gatwick says it is not considering building another runway to the south of the existing main runway, but wants to keep that land "safeguarded" for up to 25 years, in case it wants another (3rd) runway in due course. It hopes to have the emergency runway brought into use for departures by the mid-2020s. They will start to prepare a planning application for this, which will have to go through the Development Consent Order (DCO) process. Local group GACC commented that Gatwick's new owners, the Vinci Group, have shown immediate disregard for their local community neighbours. The plans will damage and blight the lives of thousands of residents surrounding the airport, due to the noise and severe effects on a local infrastructure that is already overburdened. The extra flights, including those at night, will have serious impacts on those further away living under flight paths. The proposals to grow the airport's capacity by between 20% and 50% over the next 10 – 12 years involve not only the 2nd runway, but also use of new technology on the main runway.  This will hugely increase the airport's carbon emissions.
Click here to view full story…
£150 million (at least £100 million from the taxpayer) to fund improvements to Gatwick railway station – to deal with more passengers
The government has announced it will spend £100 million to upgrade Gatwick train station's facilities (total cost £150 million) including a larger concourse, 5 new lifts and 8 new escalators.  It says "holidaymakers and commuters to benefit" and "improvements set to reduce train delays and provide easier connections across the south-east." Chris Grayling said: "We want to see Gatwick Airport's success continue to flourish and ensure that it is ready for even more passengers in the future. Through this £150 million investment, we will deliver vital upgrades to boost the station's capacity and provide better, seamless journeys for all." The aim is to get more passengers using Gatwick.  But to get more of them using rail to get to and fro.  The DfT says "The number of people using Gatwick Airport station each year has grown by 6 million since 2010. Currently the station is not designed for the high volume of daily passengers, often carrying bulky luggage." Gatwick  will pay £37 million out of the £150, and Coast to Capital Local Enterprise Partnership will pay £10 million.  The £150 million budget is £30 million higher than originally estimated back in 2014.
Click here to view full story…
"Pledge to Fly Less" campaign launched at the House of Commons – asking people to reduce their flying
Campaigners from the Gatwick group, CAGNE (Communities Against Gatwick Noise and Emissions) are launching a new campaign, at the House of Commons to encourage people to "Fly Less". This is part of the national climate change MP lobby day  #thetimeisnow at which thousands of people will be talking to their MPs about climate breakdown, and the role the UK should be playing. "Pledge to fly less" has a website www.pledgetoflyless.co.uk  where anyone, individuals, groups, businesses, can sign up to this campaign and "pledge to fly less".  A running total will show how many have signed and the website goes live on the 26th. The campaign says:  "In an ideal world we would all stop flying until aviation truly found a way not to be such a major threat to our planet, but as a start we are asking residents and businesses to think before they fly; pledge to fly less to reduce their own carbon footprint as we must …" Sally Pavey, Chair of CAGNE said it is about what future generations will have to deal in terms of climate breakdown. We need to concept of "flying shame" that originated in Sweden, to catch on in the UK. There is also the Flight Free UK campaign, which is asking people to cut down on flying and pledge not to fly in 2020, and is associated with the new "Pledge to fly less campaign.
Click here to view full story…
France's Vinci completes takeover of majority stake – 50.01% – in Gatwick
French construction and transport concession group Vinci sealed a deal to take a majority stake in Gatwick airport. This was first announced in December 2018. Vinci formally completed its £2.9 billion deal to buy a 50.01% stake in Gatwick.  Vinci took advantage of a Brexit-related hit to UK asset prices to buy the stake – its is President Nicolas Notebaert said he did not think that Brexit would change Gatwick's prospects. There are tourists who want to come to the UK, and even more Brits want to fly out on cheap holidays – which is what Gatwick caters for. The acquisition gives Vinci, which already runs 45 airports in 12 countries, access to the world's largest metropolitan aviation market.  It is now the second largest airport operator in the world, behind Spain's Aena but it has overtaken French rival ADP.  Gatwick hopes to expand, by using its emergency runway as a 2nd runway. It said"a consultation response summary and final master plan will be published later in 2019."  Local group, CAGNE, commented that the noise burden from Gatwick flights is already too high, day and night, and should not be allowed to increase.
Click here to view full story…
West Sussex County Council votes to do more on climate – but Gatwick airport intends to instead vastly increase its CO2 emissions
West Sussex County Council has agreed unanimously to back an amended motion pledging action on climate change. South East Climate Alliance campaigners hailed this as a potential 'tipping point' for the area. Two of the commitments made were to try to make the C County Council itself carbon neutral, and encourage residents and businesses to do more to help tackle climate change.  Council members were invited to make personal pledges on things like saving water and energy, and making low carbon journeys (air travel not mentioned specifically). Louise Goldsmith, Council Leader, said:  " … we really do need everyone young, old and not so old and all businesses to come together and do their bit to become more sustainable…"  CAGNE attended the meeting, and Sally Pavey commented that aviation issues were included in the debate – Gatwick airport is in West Sussex, and is probably the largest carbon emitter in the area (about 4.5 million tonnes of CO2 per year). Cllr Liz Kitchen and Cllr Bill Acraman, raised the issue of Gatwick expansion, which would hugely increase the airport's carbon, undoing any good done by local carbon cuts by individuals, businesses or the council.
Click here to view full story…
Gatwick will get a Brüel & Kjær system to provide better flight and noise info for local people
Gatwick says it will soon improve the technology it uses ,so local residents can get information on the details of planes using the airport. It will be using the EMS Brüel & Kjær system, also used by Heathrow. The website is due to be available in a few months. The system will also allow noise complaints to be submitted via an automated telephone line, which has been a key request from local communities for several years, since this was withdrawn by Gatwick and they had made complaining about noise very difficult. There will be "up to" 23 new noise monitoring terminals in surrounding areas, to monitor noise levels. These can then be presented in real time alongside flight information from the airport radar and other airport systems. Gatwick hopes this will be preferred by local people, and provide them with better information. Also that airlines might "use the data to analyse how they might improve the performance of their flights in terms of track keeping and noise." A Gatwick public affairs person said "… we know that some residents are concerned by the impacts of aircraft noise."… and Gatwick hopes it will " improve our engagement with communities that are negatively impacted by aircraft noise."
Click here to view full story…
Driving tired, with under 6 hours of sleep per night, increases vehicle accident risk
In the USA the National Highway Traffic Safety Administration estimates that "drowsy driving" is responsible for a lot of vehicle crashes, deaths and injuries.  Evidence from the CDC (Centre for Disease Control) in the USA shows that getting 6 hours of sleep a night or less more than doubles your chances of falling asleep at the wheel.  It seems likely that most accidents to sleepy drivers happen between midnight and 6 am, although late afternoon also has a spike in incidents. Many UK airports are allowed night flights, eg. Gatwick, Stansted, East Midlands etc. This is going to increasingly be a problem for people affected by the noise from Heathrow planes. Already planes taking off, heading away, may be heard routinely till 11pm (often later) on some routes. Each morning planes can be hear arriving from about 4.20am. That does not leave anyone who is sensitive to the noise enough time for healthy sleep. There are many known health risks, of noise disturbance during the times people are sleeping, or trying to. The risk of more vehicle accidents, to those who are woken up an hour or two before they want to wake, is another cost of aircraft noise. The loss of quality of life, and the health costs, need to be part of the calculation of the economics of a 3rd Heathrow runway.
Click here to view full story…
Gatwick Airport parking could soon be done by robots to maximise numbers of parked cars
You know how airports are so keen on telling everyone they intend to not increase use of private cars, but encourage public transport to and fro? Well, they make a lot of money out of car parking.  And it is just sooooo convenient for the passengers. Now it has been announced that Gatwick has submitted plans to have futuristic robots parking people's cars. There may be a pilot project in Zone B of the South Terminal long stay car park starting by August, fitting 270 cars into the space that now holds 170. The scheme is by French company Stanley Robotics, which has created a robot valet that parks your car more efficiently and securely. It can move the car to an exact position, and as it can park without the need to open the doors, it takes less space. So the car park owner can cram more vehicles into the car park, perhaps about 40% more, and thus provide more passengers to the airport – and make more money. The autonomous robots, known as 'Stan', would carry your car from a garage bay near the terminal, to an outdoor parking space. Where cars can be parked densely, using every available metre of space. The machines have already been trialled at airports in Lyon and Paris. The plans have been submitted to Crawley Borough Council's (CBC) planning department. The company claims the robot is "zero carbon."
Click here to view full story…
Gatwick airport: majority stake 50.01% sold to French group Vinci; GIP and partners retain 49.99%
New owner says Brexit threat helped Vinci get 50.01% stake in UK's second-busiest airport for 'reasonable' £2.9bn. A consortium led by the US investment fund Global Infrastructure Partners (GIP) is selling a majority stake of 50.01% in the airport to Vinci Airports, one of the world's top airport operators and part of the infrastructure group Vinci. Vinci and GIP will manage Gatwick together.  Gatwick will be the largest in Vinci's portfolio of 46 airports spread across 12 countries. The French group's network includes Lyon-Saint-Exupéry airport, Nantes Atlantique and Grenoble Alpes Isère in France; Lisbon and Porto in Portugal, Funchal in Madeira, and Osaka Itami and Kansai International in Japan.  The GIP-led consortium bought Gatwick from the airport operator BAA for £1.5bn in 2009 and spent £1.9bn modernising the airport in subsequent years. The shareholders are selling down their stakes, leaving GIP with 21%, the Abu Dhabi Investment Authority with 7.9%, Australia's sovereign wealth fund with 8.6% and two public pension funds in California and South Korea with 6.4% and 6% respectively.
Click here to view full story…
Crawley Council object to Gatwick Master Plan – due to detrimental effect on the local environment
Recently a YouGov poll commissioned by Gatwick airport – unclear what the exact wording was, or who was polled – claimed about three quarters of residents backed the airport's expansion. However, at a Crawley full council meeting, the majority vote was against the proposal. This is what they will put in the council response to the Gatwick Master Plan consultation that is currently going on. The opposition is unsurprising as Crawley council have made their feelings clear in previous years, objecting to the 2nd runway. A year ago Crawley approved the building of a new Boeing hangar, for aircraft maintenance, as they hoped this would bring local jobs.  In the council there is a real concern that the growth proposed would have too detrimental an effect on the environment. Gatwick claim it is making less noise now (a claim that many severely overflown residents would not believe, especially with noise at night) and "30% of its fleet will comprise quieter aircraft by 2022."  Local group CAGNE has asked hat the airport disclose details the safety incidents that have already occurred whilst using the emergency runway when the main runway is closed for maintenance. Crawley opposed the 2nd runway strongly (25:11) in January 2015, during the time of the Airports Commission.
Click here to view full story…
New structure for GACC Committee as they continue longstanding fight to protect residents from Gatwick airport
GACC, Gatwick Area Conservation Campaign, announces a new structure to better utilise the dedicated long standing GACC Committee, with the aim of being more agile and responsive in its work to counter the threat from Gatwick Airport and its expansion master plan. Brendon Sewill, having being the Chairman of GACC for over 6 decades and hugely respected, is now GACC President.  Lisa Morris, after 5 years on the GACC committee, becomes Chairman, and said "I am honoured to be entrusted with the role of Chairman at a time when GACC seeks to fight Gatwick's master plan for a 3 runway airport. The GACC committee is poised to use its combined forces of knowledge, expertise and sheer determination, to challenge Gatwick's master plan, which includes bringing the emergency runway into routine use and safeguarding land in the Gatwick vicinity for a 3rd runway".  Peter Barclay, Brendon's successor last year, steps down from his role as Chairman to take on the important role of Vice President in addition to continuing to be the GACC lead with Gatwick, nationally and regionally.  GACC will be further strengthening and enlarging the Committee, to fight on behalf of all communities negatively affected – and not only from noise – by Gatwick airport.
Click here to view full story…
Councils need to be bold enough to oppose all new runways, not try to pass the buck on to others
While rightly opposing the expansion of Heathrow airport, with its hugely negative noise and air pollution impacts on hundreds of thousands of Londoners, and its unacceptable increase in aviation carbon emissions, many London councils still want to see the pain inflicted on people affected by Gatwick instead. With increasing awareness that we cannot meet climate targets, of keeping a global rise of 2C – let alone 1.5C – we need to prevent any new runways. After all, logically, not increasing the extent of the aviation carbon problem, before trying to deal with it, is a sensible approach. The most effective, easiest and cheapest way to stop increasing demand is not to expand airport infrastructure. [eg. if someone badly needs to go on diet to lose 4 stone, for their health, no responsible doctor would first advocate gaining another 2 stone, and starting the weight loss after that ….]  Gatwick's hopes to use its emergency runway to add more annual flights will be devastating to people already suffering Gatwick's noise, traffic etc impacts. We really need councils to be bold and wise enough to opt for no new runways anywhere, to help protect citizens and residents everywhere, not only those in their narrow patch.  Interesting if more Gatwick flights would have a negative impact on Heathrow's finances, making the financial case for a 3rd runway even more shaky (negative).
Click here to view full story…
Error in Gatwick Route 4 flight track-keeping figures undermines trust in airport
Local group, Plane Wrong, says Gatwick Airport have always maintained they are 'good neighbours' but it is becoming increasingly clear that – as a commercial enterprise – Gatwick have their own agenda and are single minded about achieving their growth and bottom line profit. Gatwick have been reporting that Route 4, the busiest departure route out of the airport to the west, heading north and then east, has significantly improved its track-keeping throughout 2018. The experiences of local supporters of campaign group, Plane Wrong, have suggested the contrary and that Gatwick's figures on track-keeping are wrong.  In fact, since January 2018 Gatwick has mis-calculated the percentage of aircraft flying outside the designated route. They have now admitted that instead of the 1-2% claimed and published on their website, the actual level of non-compliance was up to 8%. It is also a concern that Gatwick's noise and track-keeping monitoring group, NATMAG, failed to pick this up. In the past 4 years, the number of passengers using Gatwick has risen by about 25%, but there has been no consultation or no account taken of the impact on the health and well-being of local communities.
Click here to view full story…
Campaigners fighting Gatwick expansion issue "State of Emergency" for the Sussex countryside
CPRE Sussex has taken the unprecedented step of declaring a "Countryside State of Emergency" in response to Gatwick Airport's new expansion 'Master Plan', published on October 18th.  The Master Plan details the airport's proposal to expand from one to potentially three runways. A 2nd runway created from Gatwick's existing emergency runway could result in an estimated 14 million extra passengers travelling through Sussex to/from the airport every year. A 3rd runway to the south – on the "safeguarded" land – would add millions more passengers and require "significant changes to the airport and surrounding roads".  "This plan would have a devastating impact on our countryside," says CPRE Sussex Chair, David Johnson. "It would change the landscape and rural character of Sussex forever – scaring our Areas of Outstanding Natural Beauty (AONBs) and deeply damaging the tranquillity and ecology of our National Park." He commented: "It would be unthinkable to allow Gatwick to urbanise Sussex in this way, so we will be joining with all other community and conservation groups to oppose these plans". We need to give our National Parks and AONBs more, and better protection – not risk ruining them with the impacts of developing an airport about the size Heathrow is now.
Click here to view full story…
CAGNE points out that Gatwick's planned local consultation events ignore most areas worst impacted by noise
Local group CAGNE has written to Gatwick to express their concern that the consultation events for the Gatwick Master Plan, including adding over 30% more flights per year,  are being held in peripheral areas that are not constantly, if at all, affected by aircraft noise. The Gatwick "Master Plan", launched on 18th October, reveals plans to use the emergency runway and continue to safeguard the land for a 2nd runway, providing details of a three-runway airport eventually. CAGNE commented that the 5 consultation events planned are not in the areas where people will be experiencing the worst noise problems, or those getting noise for the first time. The events are in areas like Crawley, Brighton and Croydon – where there may be support for the expansion, and people are not affected negatively. Many people in areas to be affected in future are probably totally unaware of what is being proposed by the airport. By holding events in areas like Croydon, Gatwick hopes it can manipulate the responses to their loaded questionnaire whilst avoiding holding events in affected areas as Reigate, Redhill, Dorking, Alfold, Lingfield and Copthorne. Everyone in areas to be affected, including the elderly and those without internet access, should be given full information.
Click here to view full story…
Canada Pension Plan Investment Board is looking to buy part of GIP's 42% stake in Gatwick
The Canada Pension Plan Investment Board is looking to buy part of a stake in Gatwick airport that could be worth more than 3 billion pounds $3.92 billion, Sky News on Friday. CPPIB is said to be part of a group of investors proposing to buy out Global Infrastructure Partner's (GIP) 42% stake in the second-busiest airport in Britain, the Sky News report said.  The Canadian pension fund would invest "hundreds of millions of pounds" in the airport, if the deal gets finalised, insiders told Sky News.
Click here to view full story…
Gatwick opens 12 week consultation on using its emergency runway, for some take-offs, adding 30% + more flights
Gatwick has announced its draft "Master Plan" which (quote) "sets out how Gatwick can grow and do more for Britain."  In order to cram more flights into a one-runway airport, they hope to make more use of their emergency runway, parallel but close to the main runway. It is too near to be used properly as a second runway, on safety grounds. There will now be a 12 week consultation period on the plans, and Gatwick hopes to finalise its plans some time into 2019. The plans also include how the airport hopes to "meet future aviation demand with sustainable growth" (sic) into the 2030s. Under its 40-year current planning agreement, Gatwick's existing standby runway is only used when the main runway is closed for maintenance or emergencies. But Gatwick hopes it "could potentially bring its existing standby runway into routine use for departing flights, alongside its main runway, by the mid-2020s."  This could mean a maximum of 390,000 flights annually (P. 88) compared to 290,000 in 2016, (ie. about 34% more.). That could mean up to 70 million annual passengers, compared to 43 million now – and a current theoretical maximum of 61 million (ie. about 15% more). "We would be able to add between 10 and 15 additional hourly aircraft movements in the peak hours." (P.10)   Oh …. and  with no extra noise …. obviously….
Consultation details at  https://surveys.ipsosinteractive.com/mrIWeb/mrIWeb.dll
Click here to view full story…
Gatwick's subterfuge with its emergency runway – or a 2nd runway, by any other name. Comment by GACC
In response to Gatwick airport announcing they plan to use their emergency runway, as a 2nd runway, local campaign, Gatwick Area Conservation Campaign (GACC) Chairman, Peter Barclay, said, "We strongly oppose any 2nd runway at Gatwick and it will fight this proposal tooth and nail." The Emergency Runway is located parallel to and only approximately 190m north of the main runway. Planning permission for the emergency runway was granted solely on the basis that – under no circumstances – could it be used in conjunction with the main runway. The CAA permission is that only one runway can be used at a time, and the emergency runway can only be used if the main runway is out of action. New planning consent (DCO) from Crawley council would be needed for the change of use, and also consent from the CAA and other safety bodies. Peter said: "The proposal, which may bring in excess of 80,000 additional flights a year, will simply increase the problems already being experienced by local communities – noise, air pollution and excessive road traffic. It would also put even greater pressure on the tottering road and rail infrastructure both locally and further afield. … Gatwick is attempting to get a 2nd runway via the back door, as it were."
Click here to view full story…
Gatwick may have, on a technicality, reduced the size of its "noise footprint", but thousands outside this area are badly affected
Gatwick airport reported – according to a new report by the CAA  – that its noise footprint had shrunk "following an initiative to modify noisy aircraft." However, people affected by Gatwick noise are not impressed. Local group CAGNE commented that "Those that sit outside of Gatwick's shrinking noise footprint are those significantly impacted by Gatwick noise as well as those newly affected by the concentrated flight paths." …"The problem with the CAA report is that they worked on an average of noise (16 hour daytime and 8 hour night over 2017 summer).  Residents awoken at night or unable to use the garden during the day due to aircraft noise, do not hear noise in an average way, they hear noise as significant events whilst endeavouring to enjoy their desired tranquility.   Areas of Sussex, Kent and Surrey, outside of the footprint, report they are significantly affected by aircraft noise but are not included in the footprint as they reside outside of the LOAEL (Government noise metric of Lowest Observed Adverse Effect Level) and noise contours…. It is true that planes are quieter, but the frequency by which they are flown has dramatically increased …"
Click here to view full story…
Couple in Ringmer (NE of Brighton) hit out at 'nightmare' caused by noisy planes using Gatwick
A couple have claimed their lives are being made a misery by noisy aircraft flying directly over their home. The couple, in their seventies, in Ringmer say they are living in a "complete nightmare" and blame a change in flight patterns and holding stacks for planes approaching Gatwick. The problem seemed to begin on June 9, when they were woken at 6am by an aircraft flying overhead. They now start at 6am every day, and continue throughout the day until 11pm, often at intervals of one, two and three minutes. They find it hard to relax when they are waiting for the sound of the next aircraft. Their home is close to one of Gatwick's aircraft holding stacks, and Gatwick has had a growing number of flights since 2014.  Before the current onslaught, the couple said they had little plane noise for 19 years. They could watch the planes flying over the South Downs, but not over them. The wife commented: "It feels like a dreadful injustice … now they are flying over us, at the side of us and a short distance in front of us …It is like living in a complete nightmare. …It's beginning to affect the health of my husband and myself. I was close to a nervous breakdown." Neither the CAA nor Gatwick can, or would, do anything to help them.
Click here to view full story…
DfT considering £10bn "HS4Air" proposal for high-speed rail linking HS1 and HS2 via Gatwick & Heathrow
A new high-speed railway route has been proposed from Folkestone, via HS1, via Gatwick and Heathrow, linking to HS2 and up north. The proposal is by London firm Expedition. It would link the existing HS1 with the planned HS2, via the two airports. Also included would be a connection to the Great Western Main Line railway (GWML). Along this planned route, passengers would be able to travel to either airport from cities such as Birmingham, Manchester, Leeds and Cardiff without the need to change trains; reducing road congestion, air pollution and travel times. It might take some freight.  The HS4Air rail link would bring direct international train services, from the Midlands and the North to Europe via the Channel Tunnel. The high-speed rail service to the city centre of Paris, from both Birmingham and Manchester, would be faster in comparison to flying.  The rail link would also suck potential air passengers from northern airports to Heathrow and Gatwick … The proposers say 20% of the line would be tunnelled "to avoid impacting the landscape" and would re-use the existing straight railway running between Tonbridge and Ashford. The whole thing might cost £10 billion. It is apparently now being looked at by the DfT.
Click here to view full story…
Gatwick have a £1.11 billion investment programme up to 2023, when they want 53 million annual passengers
After losing to Heathrow, in all probability, for the chance to build a new runway, Gatwick airport says it is planning to spend £1.11bn in a plan to "make best use of all its existing infrastructure." It is believed that Gatwick never really wanted all the hassle of building a 2nd runway, and was only bumped into contending for the permission by the fear they would lose a lot of business, to a 3 runway Heathrow. It is widely believed that all Gatwick's owners, GIP, want is to increase the price of the airport and sell it, when they can. Gatwick hope they can handle even more passengers than now, and they can "improve resilience and harness technology". They are hoping to have 53 million annual passengers by 2023 – compared to 45.6 million in 2017.  Their 5 year spending plan is from 2018 to 2023. They intend to spend £266m in the year 2018/19 alone. [Back in August 2017 their plan was for £1.2 billion up to 2022 …] If they spend the £1.1 billion it would mean the airport has spent £3.14bn since the airport changed ownership in December 2009, when GIP bought it for £1.5 billion. One of the projects planned, showing how keen Gatwick is to get passengers to use public transport, is adding an extra 1,200 car parking spaces by summer 2018.
Click here to view full story…
Dr John Godfrey steps down as chairman of Gatwick Airport's Consultative Committee
27.5.2018
Gatwick Airport's Consultative Committee is looking for a new chairman.  Current chairman Dr John Godfrey is retiring at the end of the year after 11 years.
In its 62-year history, the 28-strong committee, Gatcom, has maintained an independent and unbiased approach in its over-arching objective, which is to ensure the future success of Gatwick while paying particular regard to the impact it has on the surrounding communities and the environment.  The new chairman or woman will be appointed for a minimum period of four years. Gatcom includes representatives from a wide range of interests, including local residents' group GACC (Gatwick Area Conservation Campaign).
http://www.theargus.co.uk/news/business/16252895.Hunt_for_a_new__leader_to_overlook_Gatwick_Airport/
---
GIP may be considering selling its 42% stake in Gatwick airport
Investment fund Global Infrastructure Partners is considering the sale of its 42% stake in  Gatwick Airport, according to people with knowledge of the matter. It is believed that GIP plans to initially seek buyers for its stake among existing shareholders before reaching out to other potential buyers, but this is still speculation. It is not clear if any banks have been hired for the transaction, and GIP may change its mind.  Representatives for GIP and Gatwick declined to comment. While GIP is the largest shareholder in the airport, its other owners include funds from Abu Dhabi, California and South Korea. GIP, which manages about $40 billion in assets, bought Gatwick with the consortium of investors in 2009 for about $2.5 billion. Gatwick handled 45.6 million passengers in 2017 and continues to lobby the UK government for permission to build a 2nd runway, to take trade away from Heathrow. GIP, founded in May 2006, manages assets ranging from ports and pipelines to multiple airports and a vast wind farm in the North Sea. Over 10 years, GIP has expanded its roster of backers to include some of the world's biggest sovereign funds and various US pension funds.
Click here to view full story…
DfT publishes Aviation Strategy, with focus on growth and helping passengers – little on environmental impacts
The government has published its Aviation Strategy, which the DfT says "will set out the longterm direction for aviation policy to 2050 and beyond." The first phase of its development was the publication of a call for evidence in July 2017. The Aviation Strategy says it will now "pursue 6 objectives, which are unchanged following the consultation." It is very much focused on the passenger, the passenger experience, helping the aviation industry, expanding aviation and "building a global and connected Britain."  The Strategy "sets out further detail on the challenges associated with these objectives and some of the action that the government is considering and which will form part of further consultation later in the year." The DfT says:  "The government will continue the dialogue that has already begun on these issues. The next step will be the publication of detailed policy proposals in a green paper in the autumn of 2018. This will be followed by the final Aviation Strategy document in early 2019." There is mention of the environmental problems (carbon, noise, air pollution) but they are given scant attention, and it is presumed they can all be reduced – even while the sector has huge growth. A new runway at Heathrow is assumed to happen.
Click here to view full story…
CAGNE writes to Chief Medical officer on health dangers of approx 14,000 annual Gatwick night flights
CAGNE, (Communities Against Gatwick Noise and Emissions), has written to the Chief Medical Officer Health of the Department of Health and Social Care, Professor Dame Sally Davies, asking for research to be undertaken to the true cost to health of night flights on communities surrounding Gatwick.  Gatwick currently has permission to fly 14,250 flights at night per year with no restrictions on the number of arrivals and departures they are permitted to fly over sleeping rural communities of Sussex, Surrey and Kent during the hours of 11.30pm and 6am. CAGNE said: "There has been international research into the health impacts of night flights and the conclusions have shown that aircraft night movements have serious ramifications on the wellbeing of communities.  And yet Gatwick is allowed to fly the most night flights of any airport in the UK today with no cost evaluation to the NHS budgets or wellbeing of people who suffer sleep deprivation due to aircraft movements at night." Gatwick has the most night flights of any UK airport. It has only made token gestures to reduce the night noise over rural communities that surround it.  Residents have a normal expectation of having a full night's sleep of 8 hours sleep as recommended by Sleep Foundation, but for too many this is not possible.
Click here to view full story…
Company has plan for high speed rail, linking HS1 with HS2, via Gatwick and Heathrow
An engineering consultancy, called Expedition, has proposed a new high-speed railway passing both Gatwick and Heathrow, starting at the HS2 line near Denham north of Heathrow, and ending at Ashford in Kent.  Expedition says it is called HS4Air  the plan has been developed to enhance other major infrastructure projects for the south east. It would cost £10 billion and would connect the existing HS1 rail line with the planned HS2 along a route that passes via London's biggest airports. Alistair Lenczner, director at Expedition leading the development of the HS4Air proposal, said discussions are currently ongoing with a number of interested parties, spanning both national and regional bodies. The line would be 140km long, and about 20% of it would run in tunnels – to avoid too big an environmental impact. Around 40% of the route re-uses the existing Network Rail railway between Tonbridge and Ashford.  Expedition hopes that HS4Air would allow rail and aviation infrastructure projects in south east England that are currently unconnected to become joined-up, and mean rail passengers would be able to travel to both airports on "fast regular services" from cities such as Birmingham, Manchester, Leeds and Cardiff without needing to switch trains.
Click here to view full story…
FT reports talks between UK and US on Open Skies after Brexit face difficulties
British and American negotiators secretly met in January for the first formal talks on a new air services deal, for after Brexit. When the UK leaves the EU it will no longer be part of the EU-US open skies treaty. The FT reports that the talks were cut short after US negotiators offered a far worse "Open Skies" deal, which is only a standard bilateral agreement. These typically require airlines to be majority owned and controlled by parties from their country of origin, and would hit the transatlantic operating rights of BA and Virgin badly (and Norwegian UK). The limits would be difficult for these airlines, as they have large foreign shareholdings – not merely British. The FT reports that a British official said it showed "the squeeze" London will face as it tries to reconstruct its international agreements after Brexit, even with close allies such as Washington. The busy UK-US routes are profitable, and numerous, and negotiators hope a solution will be found, but it could take time and may not be done fast enough for airlines planning flights a year ahead. The Americans are increasingly against trade liberalisation, so it is not a great time to be negotiating. The FT estimates the UK must renegotiate and replace about 65 international transport agreements after Brexit. Each taking time.
Click here to view full story…
Gatwick cannot use its emergency runway (too close to main runway) for extra flights, without new planning permission
A report in CityAM says Gatwick is hopeful of using its emergency runway, to boost the number of flights it can handle. The emergency runway is parallel to the main runway at the airport, and during normal operations is used as a taxiway. The runway is too close to the main runway to be used at the same time, and is only used in emergencies, if the main runway is out of action.  Not only does the 1979 legal agreement between Gatwick (BAA as it then was) and West Sussex County Council rule this out, before August 2019, but also the planning permission for the Emergency Runway restricts it to just that – emergency use when the principal runway is unavailable (obstructions, maintenance etc). This means that a specific planning application will need to be made even after August 2019 to change use from emergency only.  In minutes from a November meeting of the Gatwick Airport Consultative Committee, the airport's chief executive Stewart Wingate said Gatwick will be looking at "the capability of Gatwick's main runway and the northern (maintenance /emergency) runway before looking at a new runway over the coming months".
Click here to view full story…
"Plane Justice" legal claim forces CAA to concede Route 4 decision was wrong on all grounds
The small local group at Gatwick, Plane Justice, has legal battle on the location of Route, Route 4. The CAA has conceded Plane Justice's judicial review claim on all grounds. Its April 2017 decision to make the current Gatwick departure Route 4 permanent will be quashed by the High Court, following the signing of a consent order by the parties.  The CAA was due to be in Court on 20th February for a full 2 day hearing, but having not come up with any detailed grounds of defence to the Plane Justice claim, they have admitted their decision was wrong and conceded on all the grounds of claim. The CAA agreed they had been wrong in ignoring existing patterns of traffic and the value of leaving the Route in its 2012 location, and they had been wrong in not requiring Gatwick to consult on the design of the Route that was introduced in May 2016.  They also concede they were also wrong in saying that magnetic drift was a sufficient reason to move the Route.  The location of Route 4 has been highly contentious for over 3 years, as it now gets concentrated rather than filling the width of the NPR swathe, as it did before the advent of PrNav for aircraft. This has meant either one community, or another, in an area of several miles width, suffer much worse plane noise. Another group, Plane Wrong, earlier argued for the route to be moved away from them.
Click here to view full story…
Speculation grows that GIP and the consortium of Gatwick owners will sell the airport soon
Gatwick's private equity owners have had a £175 million dividend as speculation mounts over a sale of the airport. The dividend, paid in October 2017, was up from £125m a year earlier and followed 6 months of rising passenger numbers and profits.  Gatwick is owned by Global Infrastructure Partners (GIP) and a consortium of investors, who bought it for £1.5 billion in 2009 from the former airports monopoly BAA.  They have improved the airport, attracting more airlines, and now have 44 million annual air passengers. That has increased the value of the airport to an estimated £6 – £8 billion. GIP also owned London City airport, which they sold almost 2 years ago for over £2 billion, making a huge profit. City experts believe GIP is now looking to sell one or both of its 2 remaining UK airports, Gatwick and Edinburgh – or at least reduce its stake.  A sale of Gatwick would be a vast profit. There is speculation that GIP would have sold Edinburgh earlier, but held back due to the German election and complications of Brexit. Gatwick is still keen to build a 2nd runway, but the government prefers a 3rd Heathrow runway. Consultations on that will continue in 2018, and Gatwick continues to press for its runway – as that would raise the selling price.
Click here to view full story…
Moody's expects a slowdown in traffic growth at UK airports as airlines move capacity elsewhere
Moody's report on European airports in 2018 expects "strong" growth at most, though "significant event risks around Brexit could slow the pace of growth in passenger numbers in the UK."   This is the first time Moody's has assigned a separate outlook to the European airport sector. Previously, the rating agency had assigned an outlook to the overall European transport infrastructure sector, comprising the toll road, airport and sea port sectors. For air travel Moody's sees an improved economic environment, continued low fuel costs, relatively contained airfare inflation and growing airline capacity – so increasing the demand. They expect traffic growth of 5%-7% for continental airports but 3%-6% at UK airports. "This reflects the UK's more subdued macro prospects, as well as the decision by some airlines to move some capacity away from the UK to more profitable markets, such as Germany, resulting in lower capacity increases than those experienced in recent years."  While Moody's base case is for new aviation agreements to be put in place post-Brexit, in the most extreme case, if no new aviation agreements are reached, UK airports would be exposed to a sudden loss of air traffic rights covering around 80% of current passenger traffic volumes. [But the DfT is anticipating rapidly rising air travel demand, to justify building a new runway at Heathrow … or at Gatwick …now in question?]
Click here to view full story…
KPMG wins right to sell Monarch's airport slots
22.11.2017
Monarch's administrators have won their appeal against a High Court decision which prevented them from selling valuable take off and landing slots at Gatwick and Luton. The slots are deemed to be the failed airline's most valuable asset, but two weeks ago a court ruled that the slots for summer 2018 no longer belonged to Monarch as it had gone out of business, backing a decision by independent body Airport Coordination Limited. However, administrators KPMG said today that they had won an appeal against the ruling, meaning that they will be able to sell the slots to other airlines. EasyJet, IAG, Wizz Air and Norwegian Air Shuttle have all previously expressed an interest in buying the slots. Monarch's owners, Greybull Capital, have the first call on the failed carrier's assets, after which any surplus will be shared out amongst its creditors.
Click here to view full story ….
---
Leaders of 4 main councils opposed to Heathrow favour a Gatwick runway, and tell residents to respond to NPS consultation
Hillingdon, Richmond, Wandsworth and Windsor and Maidenhead councils have been campaigning against Heathrow expansion for more than a decade. They argue that expanding the airport will have a major impact on West London. The expansion will cause irreconcilable damage to the environment and people's health. It will cost tax payers as much as £20bn. The four councils are encouraging their residents to respond to the 2nd NPS consultation, about a possible 3rd Heathrow runway (deadline 19th December). This consultation is happening partly due to complaints from the councils that the DfT had withheld important new information from the public.  Cllr Ray Puddifoot, Leader of Hillingdon Council, said: "A third runway at Heathrow would be disastrous for Londoners…."  Cllr Paul Hodgins, Leader of Richmond Council, said:  "This is all about having a single trophy airport, instead of a network of airports that brings greater benefit. Over the past ten years people in Richmond upon Thames have voiced their concerns about the possible expansion of Heathrow in their thousands. We must not stop telling the government that Heathrow expansion is the wrong choice."  The leaders of the four councils back a runway at Gatwick instead, preferring to transfer the misery onto others, whose interests they do not represent.
Click here to view full story…
Frustration as Gatwick continues to blight communities with noise – new independent noise survey for residents
The Chair of CAGNE, representing communities affected by Gatwick noise in West Sussex and Surrey, has met senior members at the DfT to raise concerns about the continuing problems.  A year on from the formation of the Gatwick Noise Management Board (NMB), Gatwick continues to ignore the people most impacted by aircraft noise, day and night 7 days a week – with no respite.  CAGNE says Gatwick airport continues to focus on areas that already have respite from plane noise, with some seeing a decline in aircraft movements according to data from the CAA. To get a better picture of the problem, CAGNE has now launched an independent survey questionnaire for residents. It is being circulated to CAGNE members, parish and town councils via the CAGNE Council Aviation Forum. It is also being sent to MP in affected constituencies, asking them to encourage residents to  take part in the survey.  It is a huge concern for those already affected by the airport that Gatwick continues to push for a 2nd runway, (even if there is a 3rd Heathrow runway) and CAGNE will be attending the Conservative Party Conference to ensure that the community's voice of frustration at Gatwick's continued blight is heard.
Click here to view full story…
Plane Justice Ltd -v- CAA: Gatwick Route 4 Court Case passes its first big test
In the High Court Mrs Justice Lang DBE granted permission for Plane Justice's Judicial Review case against the Civil Aviation Authority to proceed to a full trial hearing on all grounds.In granting permission, Mrs Justice Lang said Plane Justice's grounds of claim merited full consideration.  Gaining permission to proceed is a vital first step that all JR cases have to go through, and only a minority of JR cases achieve it.  Plane Justice is trying to get changes to Gatwick\s Route 4 departure route, which was altered in May 2016 and now overflies (or in some cases vectors over) new populations to the north of the airport in Newdigate, Capel, Leigh, Norwood Hill, Sidlow, Salfords, Outwood and Horley. The route was changed to avoid overflying other areas, and a different group, Plane Wrong, fought hard to get the route change that badly affected them in 2013 altered. Plane Justice wants the route to revert to how it was before 2013. The case is now likely to be listed for a full hearing at the Royal Courts of Justice in London in the new year.  Salfords & Sidlow Parish Council, affected by Route 4, has made a substantial donation towards the legal costs, and Plane Justice has to date raised 82% of its budget to fund the High Court action.
Click here to view full story…
GACC Chairman – Brendon Sewill – to retire after 27 successful years in the role
Brendon Sewill, chairman of the Gatwick Area Conservation Campaign, is to retire on 15 October.  He has been chairman since 1990, and has masterminded successful campaigns against a second Gatwick runway in 1993, in 2003 and again in 2013-16. Brendon says: 'Campaigning to protect the environment around Gatwick for so many years has been exciting and immensely worthwhile.  I have been fortunate to have had such strong support from our committee, from all our GACC members, from local councils and from our local MPs.'  Brendon is now 88 and feels that is a suitable age at which to reduce his commitments.  He will be sorely missed by his colleagues, for his untiring and hugely expert campaigning over more than 27 years.  His connection with Gatwick goes back a long way.  As a child he attended the 1936 opening of Gatwick – with grass runways and biplanes.  As a young man he was a member of the Gatwick Protest Committee which in 1952-54 opposed the construction of the existing airport. Brendon Sewill CBE has had a distinguished career with numerous high level and responsible positions, including being an advisor to the Chancellor of the Exchequer on economics.
Click here to view full story…
DfT confirms numbers of night flights – till 2022 – at Heathrow, Gatwick and Stansted will not be cut
Changes to the night flights regime, at Heathrow, Gatwick and Stansted have been delayed for several years. The DfT has now produced its Decision Document on the issue. Anyone expecting meaningful cuts in night flights, or noise from night flights will be disappointed. There is no change in numbers, and just some tinkering with noise categories.  The DfT says night flights from Heathrow will continue until (if) the airport is expanded, and it just hopes airlines will be using slightly less noisy planes. Pretty much, effectively, "business as usual." Chris Grayling, Transport Secretary, said he had to "strike a balance between the economic benefits of flying and the impact on local residents." The DfT objective is to: "encourage the use of quieter aircraft to limit or reduce the number of people significantly affected by aircraft noise at night, while maintaining the existing benefits of night flights". But it says: "Many industry responses welcomed the recognition by government of the benefits night flights offer and highlighted the importance of night flights to the business models of airlines, for instance by allowing low-cost airlines to operate the necessary minimum amount of rotations a day, or the benefits to the time-sensitive freight sector through enabling next day deliveries. "
Click here to view full story…
GACC finds the DfT's night flight decision – to make no cuts in Gatwick flights – disappointing
The Government's long-delayed decision on the night flight rules for the next 5 years – to 2022 – has at last been published. The Gatwick Area Conservation Campaign (GACC) finds it disappointing that there is to be no reduction in the number of night flights. Brendon Sewill, GACC chairman, commented: 'Many of our members want to see a total ban on all night flights at Gatwick, as has been promised for Heathrow, and we proposed that at least there should be a gradual reduction towards that target. It is alarming that there is to be no change in the number (at Gatwick) permitted in winter [winter/summer is based on when the clocks change] which (since the current quota is not fully used) could permit a 60% increase in the actual number of night flights in winter." GACC welcomes the reduction in the summer noise quotas which will ensure no increase in noise during summer months. GACC had been hoping for a gradual year-by-year reduction in noise quotas. That would put pressure on airlines to buy and use quieter (= slightly less noisy) aircraft. But this has been abandoned – as a result of lobbying by the airlines.  GACC says it is "wicked" that the noise quota for the winter will also permit a 60% increase in noise levels at night in the winter. That appears to contradict the Government claim that the aim is to "'Limit or reduce the number of people significantly affected by aircraft noise at night…"
Click here to view full story…
Gatwick continues to press for 2nd runway, taking advantage of government weakness on Heathrow runway
Gatwick is again saying it wants a 2nd runway, after it has increased its annual number of passengers to over 44 million. Gatwick hopes to exploit possible indecision by government over the Heathrow 3rd runway, continuing to claim (very dubiously) that its 2nd runway would be "financeable and deliverable". Gatwick said its number of passengers has risen, so far this year, by 7.7% compared to the same time last year. The vast majority of Gatwick travellers are on short haul leisure trips to Europe, but it hopes to get more long haul holiday travellers to the USA and the middle east or far east. It remains largely a "bucket and spade" airport. Gatwick wants to persuade government that its 2nd runway would be a useful alternative to Heathrow, which is used by most business travellers to destinations in the Far East and the Middle East. Since the June 2017 election and the loss of a proper Tory majority, the government will have increasing problems pushing through an unpopular Heathrow runway, with opponents such as Boris Johnson – and Jeremy Corbyn. Stewart Wingate, chief executive of Gatwick, says he can build long haul routes and they can see future passenger demand and "we stand ready to deliver should the government give us the go-ahead." In reality, Gatwick is in the wrong place, and has surface access transport far below the standard that would be needed for a 2 runway airport.
Click here to view full story…
CAGNE dismayed there will be no Gatwick departures review, and CAA Route 4 approval
Local Gatwick group, CAGNE, are very disappointed that Gatwick airport will not be holding a full review of departures – in the way there was a review of arrivals. One key reason for this is that one airspace change has impacts on others. At the Gatwick Noise Management Board meeting (5th April) community groups learned of Gatwick's decision not to hold a full Departure Review, contrary to earlier indications.Sally Pavey, Chair CAGNE, commented: "CAGNE always seeks a fair and equitable distribution of arrivals and departures to the east and west of the airport for West Sussex and Surrey residents. We know that many communities that suffer the concentrated flight paths of departures (PRNAV) will now be very dissatisfied." The CAA approved the introduction of concentrated flight paths on all departure routes from Gatwick in May 2014 with seemingly little consultation. The CAA then reviewed these, (CAA PIR Review), and only found some routes needed re-addressing to comply with the current Government airspace policy and CAA guidelines, one of which was Route 4. The CAA has now approved the changes to the Surrey Route 4, which departs west from Gatwick and then turns east, to the intense disappointment of many now intensely overflown. The noise metrics the CAA uses do not properly the impacts, with averaging conveniently concealing intense periods of noise.
Click here to view full story…
Gatwick community group calls for the new Government to restrict aircraft noise through policy
Local Gatwick community group, CAGNE, wants the next Government – after the 8th June election – to control aviation, and encourages voters to make an election promise to limit aviation through appropriate policy. The current Government's consultation on national airspace policy suggests undertones of an industry that could be allowed to self regulate, under a more relaxed policy. The DfT consultation (ends 25th May) on airspace change proposes allowing the industry to have more self-regulation, by allowing airport owners more control of airspace. It also sets the bar for call in by the Secretary of State too high for communities to mount, requiring 10,000 complaints – a practical impossibility for a small group. The DfT also offer no independent ombudsman outside of CAA approval. Sally Pavey, Chair of CAGNE commented: "This permits the CAA to continue to play judge and jury as it is funded by the industry it serves. There is very little new policy in the consultation to make airlines reduce aircraft noise. It displays the attitude that aviation demands are a priority over that of those communities that suffer unacceptable level of aircraft noise, up and down the country, now." CAGNE believes that 'one size does not fit all' when it comes to airspace design. The meaning being that each route has to be addressed separately so that the impact on communities can be addressed in a proper and fair way.
Click here to view full story…
CAA confirm Route 4 changes to be permanent – local group calls it the "Route to Misery"
Early in April the CAA approved the current P-RNAV design of Gatwick's Route 4 (the take off route towards the west, that turns north and heads east). This was altered in 2016 in response to the complaints about the way it has recently been altered. Now, dismissing the outpouring of complaints to the current route as "as expected", the CAA says the route will continue. The CAA has concluded that modified Route 4 "has delivered the aim of the airspace change to an acceptable standard and this change will now be made permanent." They recognise that this has an impact on communities and has asked Gatwick to "investigate the potential of meaningful respite" by "alternating or switching a proportion of Route 4 departures onto another route." Local group, deeply opposed to the current Route 4, Plane Justice, comments that the CAA appears indifferent to the misery of the people who wrote in complaining about the Route. They are angry that the complaints are considered just "AS EXPECTED" rather than real expressions of genuine concern and annoyance. The group has a Route 4 Legacy Pledge, which calls on the CAA to revisit its decision and return Route 4 to the geographical position and dispersion pattern it occupied before 2013 (the 'legacy Route'). They are asking people to sign up to this.
Click here to view full story…
Builders Balfour Beatty want expansion of regional airports – as well as Heathrow – and Gatwick
Balfour Beatty claims that a 3rd runway at Heathrow will not be enough to address overcapacity at UK airports and that other airports around the country should also be allowed to expand. In a report, "Getting off the ground – an aviation policy for a post-Brexit Britain", they say there is no clear airports strategy from the government and outline a series of conclusions to address key issues, including relaxing planning legislation to help expand regional airports. None of that is surprising, as they are a building company, wanting lucrative building work. Balfour Beatty report is sceptical about whether the 3rd runway at Heathrow will ever be built, as legal and political obstacles will mean the planning process is likely to be delayed "well into the 2020s". Their report wants airports elsewhere, especially in Scotland, Birmingham and Manchester, to be allowed to expand. They also want Crossrail to be extended to Stansted – as well as a 2nd Gatwick runway. ie. build baby, build …. pour concrete and make us rich …. They are quite right that the government does not have a proper aviation policy for the whole UK, preferring instead to force through the Heathrow runway, and only then think about the wider picture.
Click here to view full story.
British Airways to increase Mauritius flights next winter as it suspends Lima
27.3.2017 (TTG – Travel Trade Gazette)
British Airways is to increase the frequency of its flights from Gatwick to Mauritius next winter after confirming the seasonal suspension of its Peru service, which it only launched in May 2016.  BA  will add two extra weekly Mauritius flights for the winter 2017-18 season – taking its total to 5 per week. BA also confirmed that flights to the Peruvian capital Lima will cease on October 29 this year "and will resume in March 2018". A BA spokesperson said: "We are suspending Lima flights over the winter as the flights aren't as full as we'd hoped, but we'll still be operating a full schedule in the summer." BA flies from Gatwick to Lima 3 times a week in summer and were trying 2 a week in winter. Although the UK winter is South America's high season, the dry season at Peru's iconic destination Machu Picchu is during the UK summer. The announcement means that the Boeing 777 used on the route can now provide two extra flights a week to Mauritius next winter.
https://www.ttgmedia.com/news/news/updated-british-airways-to-increase-mauritius-flights-next-winter-as-it-suspends-lima-9667
---
Launch of new group "Plane Justice" for those newly affected by Gatwick Route 4 since May 2016
Residents north of Gatwick, from Newdigate through to Salfords, have launched "Plane Justice", a collective of communities which seeks to support (whether through campaigning, communications, discussion, negotiation or legal process) those who are, or would be, newly affected by aircraft in airport 'catchment areas'. Formed in response to changes made to Gatwick departure Route 4 in May 2016, the founders of Plane Justice have experienced on a personal level the stress, anxiety and sense of hopelessness and financial insecurity that changing flight paths causes to communities. The group describes the current iteration of Route 4 as the "Route to Misery", with a noisy turn and a more southern trajectory after the turn, which overflies more than 7,000 new residents. They want to bring an evidence-based and ethical dimension into decision making about the management of airspace, which in their experience to date of Gatwick and its associated aircraft noise, has been surprisingly lacking. Many people feel there has been a serious injustice in the way areas have been targeted by unacceptable levels of aircraft noise. Plane Justice wants Gatwick's hated "Route 4" to be returned to its pre-2013 "legacy" position, which was flown for decades with negligible complaints.
Click here to view full story…
GACC welcomes the proposal in the DfT airspace consultation to give more consideration to problems of narrow routes
GACC has welcomed the Government decision to allow flight paths to be dispersed instead of concentrated on a single track. GACC said the policy of concentrated flight paths, which was introduced in 2012 based on the use of aircraft "Satnavs", has caused great distress and misery to those people unfortunate to be underneath. For the past four years GACC, along with many local protest groups, has urged the Government to permit fair dispersal. The new policy is included in a new consultation on UK Airspace Policy, which states: "We propose that decisions on how aircraft noise is best distributed should be informed by local circumstances and consideration of different options. Consideration should include the pros and cons of concentrating traffic on single routes, which normally reduce the number of people overflown, versus the use of multiple routes which can provide greater relief or respite from noise." Dispersal – spreading aircraft across the sky – would be best according to GACC, and respite – one route on Mondays and a different route on Tuesdays, for example – would be second best. Overall, however, GACC finds the consultation paper disappointing. There is a forecast for a 50% increase in the number of aircraft in the sky but no target for a reduction in noise and no action to reduce noise.
Click here to view full story…
AEF comments on DfT airspace "modernisation" consultation: it provides little future noise reduction
The DfT has a consultation on managment and modernisation of UK airspace. It ends on 25th May. The Aviation Environment Federation (AEF) has now had the chance to read it in detail. AEF comments that though proposed new powers – in a very limited way – for the Secretary of State to "call in" plans for some planned flight are welcome, there is little ele to give real benefits to people overflown. On proposals for more consultation and engagement etc, the AEF says: "Improvements to the process in terms of transparency and communication won't tackle the underlying need to reduce noise." They comment: "…the introduction of quieter aircraft and a reduction in stacking … will only have a marginal impact given the likely increase in the number of aircraft." And the SoNA study (2014) now published shows people are more annoyed by aircraft noise than they were in the past, despite technological improvements. That means noise must be taken seriously. On the plans to set up an Independent Commission on Civil Aviation Noise (ICCAN) AEF says while this will provide advice, verify noise data etc, with "no requirement to deliver a noise reduction strategy, and without enforcement powers, or the teeth to make binding recommendations, the Commission's effectiveness may be limited." Anyone affected by aircraft noise should read the whole AEF comment.
Click here to view full story…
CAA publishes SoNA study, showing high levels of annoyance from aircraft noise well below 57dB
On 2nd February the CAA published a report on a survey about attitudes to aircraft noise, done in 2014. It is called SoNA (Survey of Noise Attitudes). This follows the ANASE study done several years earlier, that was shelved by government, as its methodology was questioned, and it showed high levels of annoyance in response to plane noise. The SoNA study findings are that some adverse effects of plane noise annoyance can be seen to occur down to 51dB LAeq 16hr. The conventional level of averaged noise considered a problem is 57 dB LAeq, and noise is measured on a logarithmic scale. The SoNA report also found sensitivity to aircraft noise has increased, with the same percentage of people being highly annoyed at 54dB LAeq 16hr in SoNA as there was at 57dB LAeq 16hr in the ANIS study that was done in 1985. This gives further evidence to the demand that the government no longer uses the 57dB LAeq metric as its main noise measure. The debate continues about the merits of averaged noise over 16 hours in summer, with metrics measuring the number of plane noise events in a given time. The study says "there is insufficient evidence to link chronic health outcomes with event-based noise metrics, and SoNA 2014 found these performed less well than LAeq 16hr as a predictor of annoyance." But the findings may show "it may be appropriate to use N65 as supplementary measure for daytime noise…"
Click here to view full story…
Government starts consultation on UK Airspace Policy, to manage increasing use of airspace
Alongside the draft NPS, the Government is publishing separate proposals to "modernise" the way UK airspace is managed. This consultation; "UK Airspace Policy: A framework for balanced decisions on the design and use of airspace" is (quote): …"seeking views on how aircraft noise is managed effectively while updating airspace policies. Proposals will look at how the number of aircraft entering and leaving our airspace can be managed effectively – using the latest technology to make airspace more efficient, reducing the need for stacking and making journeys faster and more environmentally friendly. They will also include draft guidance on how noise impacts should be assessed and used to inform decisions on airspace. The consultation also includes proposals on the role of an Independent Commission on Civil Aviation Noise, which we will establish. The Commission would build relationships between industry and communities and ensure an even fairer process for making changes to the use of airspace and flight paths." Cynics might enjoy the craft in the wording: "… more environmentally friendly" and "even fairer". If only. The government is aware that the current policy of trying to "minimise the number significantly affected by aircraft noise" does not work, with P-RAV technology, and highly concentrated narrow routes. That has not proved to be"fair" at all.
Click here to view full story…
Gatwick's carbon neutral commitment using renewable electricity excludes 99% of emissions
Gatwick Airport says it has joined more than 80 global companies in a programme to generate a "massive increase" in the demand for renewable electricity. It says it has been buying 100% renewable electricity since 2013, and it has plans for its airport operations to become 'carbon neutral' by the spring. That is all good – better if the airport's buildings etc are as low carbon as possible. But this entirely ignores the massive carbon emissions of the flights using the airport – which Gatwick wants to increase as much as it can. AEF (the Aviation Environment Federation) commented that while welcoming the use of renewable electricity, Gatwick's use is just for airport infrastructure and vehicles. "The planes that fly out of Gatwick are still powered by fossil fuels and will remain so for decades to come. Around 99% of the emissions associated with Gatwick are not from the airport itself but from the aircraft that use it. If you take into account emissions from departing planes, Gatwick has the second highest level of CO2 emissions of any airport in the UK, and this level is set to grow even though the airport was not the Government's preferred choice for a new runway in the South East."
Click here to view full story…
Gatwick names former Hinkley Point chief, Tim Norwood, as planning officer
Comment from Gatwick Area Conservation Campaign on night flights plan – same number but less noise
New rules for night flights for the next five years have been announced by the Government. Chairman of GACC, Brendon Sewill, said: "Gatwick has more night flights than any other London airport. We are disappointed that there is to be virtually no reduction in the number of flights. People across Britain are kept awake by aircraft and there is growing evidence that this has a serious impact on health, so GACC's aim is to see a ban on all night flights." GACC, however, welcomes and supports the suggestion by the DfT that the permitted level of noise at night (the noise quota) at Gatwick may be cut by 20% over the next five years. That will not only have an obvious advantage but it will force airlines to buy and to use quieter aircraft – and that will also have a benefit during the day. But we need to ensure the aviation industry does not try to weaken this restriction. GACC welcomes the proposal to reduce the noise quotas to the current level of use: that will not make any difference to the current situation but will prevent a potential sizeable increase in future years. It is something that GACC has argued for in the past. GACC will be consulting its members on its detailed response to the consultation and welcomes their views.
Click here to view full story…
Gatwick has more night flights than Heathrow or Stansted – and that will continue for next 5 years
The Government Department for Transport (DfT) has released the long awaited night flight consultation documents (ends 28th February). The number of flights between 23:00 and 07.00 would not be reduced. The current number, and the one proposed for the next 5 years, is 3,250 in the winter and 11,200 in the summer, making an annual total of 14,450 which averages as 40 per night through the year. There will be a slight reduction in the quota count, as it is not being used – so the new figure will not change anything. This will be a reduction of at least 345 in the winter to 1655 [from 2000] and 1,330 in the summer to 4870 [from 6200]. Local campaign group CAGNE has commented about how unsatisfactory the proposals for Gatwick are. Sally Pavey, Chair of CAGNE said: "We would like to see a total ban on Gatwick night flights as this is a major cause of complaints we receive from communities. Summer nights especially when residents want to enjoy their gardens and have windows open on hot evenings." CAGNE says it is regrettable that the government seems to "accept the economic case over the health implications of allowing night flights to continue." Gatwick plans to continue to grow at perhaps 10% per year, meaning continually increasing noise.
Click here to view full story…
DfT publishes disappointing consultation on night flight regime at Heathrow, Gatwick & Stansted
The long awaited consultation on Night flying restrictions at Heathrow, Gatwick and Stansted has now finally been published, for the 5 years to October 2022 (well before any new runway). It has been delayed for 3 years. Many people whose sleep is disturbed by night flights had been hoping for real prospects of the number of night flights being reduced. However, the consultation (that ends on 28th February) merely suggests keeping the numbers of flights between 23:00 and 07:00 the same at Heathrow and Gatwick, but increasing the number at Stansted. At Heathrow the number would remain at 2,550 in the winter and 3,250 in the summer (seasons based on dates the clocks change to/from summer time). That is an annual total of 5,800 which averages as 16 per night through the year. The figure at Gatwick is 3,250 in the winter and 11,200 in the summer, making an annual total of 14,450 which averages as 40 per night through the year. However, the DfT proposes reducing the total noise quota (points based on the noise of planes at night) at Heathrow Airport by at least 43% in the winter and 50% in the summer, ie. a reduction of at least 1,740 in the winter to 2,340 (from 4080) and 2,560 in the summer to 2,540 (from 5100). The cut in quota count at Gatwick would be 17% in winter and 21% in summer., ie. a reduction of at least 345 in the winter to 1655 (from 2000) and 1,330 in the summer to 4870 (from 6200).
Click here to view full story …..
---
Gatwick Obviously NOT has decided its JR against the CAA has more than done its job, and have ceased the process
In March 2015, the local group "Gatwick Obviously NOT" and Martin Baraud served a Judicial Review on the CAA, with Gatwick and the Secretary of State for Transport listed under the CAA as an 'Interested Party'. This was because of changes to flight paths to the east of Gatwick during and since summer 2014. The JR was allowed in January 2016, and large sums of money were raised from local people, who were now being badly affected – for the first time – by plane noise. The JR concerned an alleged failure by the CAA to ensure appropriate consultation was carried out in relation to changes in air traffic control procedures for aircraft arriving at Gatwick Airport from the east. GON now say they will cease the process, which has been on hold for the past year, as it has done its job. Their QC, John Steel, said to Martin Baraud: "You have won in all but law…This is therefore both a factual and practical result which has been achieved by the JR and subsequent negotiations, which would never otherwise have been obtained had the JR not been pursued. You have achieved all that you set out to achieve and more, in effect." The CAA and the DfT have agreed to make some changes to the way flight path changes are introduced, as a result of this JR – though a lot remains to be done.
Click here to view full story…
Sir David Higgins to take on role of Gatwick Chairman, with Sir Roy McNulty staying as deputy chairman
Sir David Higgins, who is currently the chairman of High Speed 2 (HS2), has been appointed chairman of Gatwick airport. He takes up his post on January 1st. He replaces Sir Roy McNulty who will remain on the board at Gatwick as deputy chairman. Sir David Higgins has said the case for Gatwick to get a 2nd runway "remains strong" though "the challenge for Gatwick now is to continue to invest so it can maximise the use of its existing facilities and so can do even more for Britain in the coming years." He has been chairman of the HS2 high speed rail project since March 2014. He is paid £240,000 for three days a week at HS2 and is understood to be remaining in post as chair for up to a year, until a replacement is found and as the search for a new chief executive continues.
Click here to view full story…
HS2 chairman, Sir David Higgins, to become Chairman at Gatwick from 1st January 2017
15.12.2016
Sir David Higgins becomes chairman at Gatwick as high-speed rail project continues to look for permanent chief executive.  Higgins, who also spends time working in Australia as a director of the Commonwealth Bank, will take over from Sir Roy McNulty on 1 January. He is paid £240,000 for three days a week at HS2 and is understood to be remaining in post as chair for up to a year, until a replacement is found and as the search for a new chief executive continues.  Gatwick is continuing to invest and remains poised to push its claim for a 2nd runway should Heathrow's planned expansion be blocked by parliament next year. Higgins said Gatwick had made "remarkable progress" in recent years: "Whilst the case for Gatwick expansion in the future remains very strong, the challenge for Gatwick now is to continue to invest so it can maximise the use of its existing facilities and so can do even more for Britain in the coming years." Sir Roy McNulty is thought to be retiring.
https://www.theguardian.com/uk-news/2016/dec/15/hs2-chairman-takes-job-gatwick-sir-david-higgins
---
6 month trial of change to Gatwick Route 4 ends, with widespread criticism and opposition
Route 4 from Gatwick (taking off towards the west, curving north and then going east) was changed in 2013 to fly slightly further to the north. This caused huge upset and opposition from those newly, and intensely, overflown. Finally in May 2016, the route was changed to be further south, but instead of relatively spread out across the NPR, it is concentrated. This has caused further upset and opposition from those now finding they have far worse noise than before. This changed route was "amended" for 6 months, and that ended on 26th November. However, the altered route will continue for another 3 months, while the CAA evaluates their feedback on how the route has performed. The CAA will in due course produce their PIR (Post Implementation Review) of the changed route. Gatwick had more than 15,000 complaints from the public during the consultation. Some of the towns and villages badly affected by high levels of plane noise include Leigh, Salfords, and Horley. The route involves a very tight turn, and to stay within the 3km wide NPR, planes should not be accelerating too fast (to avoid swinging out too far, and being outside the NPR). People say planes are making more noise, as pilots use flaps in order to make the tight turn, and planes are lower than they need to be. An affected resident said "The planes should be flying a shallower turn with a slightly more northerly trajectory afterwards – just as they did with no significant problems for over 20 years up to 2012."
Click here to view full story…
Gatwick boss Stewart Wingate wants government to approve his "complementary scheme" to Heathrow expansion
By Rebecca Smith  (City AM)    21.11.2016
Wingate said his focus is still to get permission for an additional runway at Gatwick.
The government gave Heathrow expansion the go-ahead last month, but Gatwick chief executive Stewart Wingate isn't feeling despondent. His focus is still on getting the government to give Gatwick the green light too. Speaking at the Airport Operators Association's annual conference, Wingate said: "My objective is to secure an additional runway at the earliest opportunity." …"We're ready and we'd like to get on with it, but I think these are very complex decisions and do bring an element of controversy with them."   For now, the other immediate focus will be maximising the use of the space and facilities that Gatwick currently has. …"what we continue to offer, which is why we're not despondent, is an opportunity to government that if they want a complementary scheme to Heathrow, we're fully committed and our investors are fully committed to delivering that for the country."  Chris Grayling said Gatwick, Luton, London City Airport, Stansted and London Southend will all have "crucial roles to play to meet growing demand for air travel".
http://www.cityam.com/254094/gatwick-boss-stewart-wingate-wants-government-approve-his
---
Gatwick now only allows noise complaints by online form (or paper post) – no longer by phone or email
After changing flight paths in 2014, Gatwick made other changes to flight paths that have affected a lot of people. Many who only had the occasional plane over them now find themselves subjected to one every 5 minutes or less, for hours on end, day after day. Gatwick has also slightly increased its numbers of flights. So people complained. The airport found itself inundated with complaints (which it rather charmingly calls "enquiries"). The number rose 6-fold in a year. Gatwick then changed the system so there could only be one noise complaint per household per day. Gatwick has now found a way to cut the complaints. While in the past people could email or phone their complaint, – now the only means of complaint is filling in a relatively long internet form.  Or sending in a complaint by paper post, which has now been made Freepost. This new system means anyone not able to access the internet is effectively prevented from complaining, unless they want to rack up bills. Under the new system there is no limit on the number of complaints per day but each time the ten lines of required information for the form must be filled in. Why is Gatwick so unhelpful? At least the complaint system at Heathrow allows someone to email, or phone and speak to a person. Gatwick's treatment of its neighbours seems to have taken a further, downward, turn. Not being selected for a new runway, it has given up on any sort of charm offensive with the local residents.
Click here to view full story…
Government decides on new runway at Heathrow

– with no certainty on air pollution, noise or CO2

The government has made its announcement that it backs a 3rd runway at Heathrow, using the north west option (not the extended northern runway). It has decided to entirely follow the recommendation of the Airports Commission, by backing one runway only. The statement from Chris Grayling is on the DfT website, with a list of supporting documents. The government glosses over details of how it could ensure the runway did not cause worse air pollution, or worse noise, or higher CO2 emissions. Neither the DfT statement, nor Chris Grayling's contributions in the House, give any clarity or reassurances on most of the problems that a 3rd runway will create. There will be a consultation, starting in early 2017, on the National Policy Statement, which has to be agreed by both House of Parliament before Heathrow could go ahead with the planning stages for its runway. The government's statements say things like: "Despite the increase in flights Heathrow Airport Ltd has made firm commitments to noise reduction. The government will propose that a six-and-a-half hour ban on scheduled night flights …" And "the government proposes new legally binding noise targets, encouraging the use of quieter planes, and a more reliable and predictable timetable of respite for those living under the final flight path." And new work "confirms that a new runway at Heathrow is deliverable within air quality limits, if necessary mitigation measures are put in place"….. ie. vague waffly aspirations, with zero practical details.

Click here to view full story…
Letter in the Guardian, from climate-aware organisations, on the disastrous impact of a new runway
In an open letter, a large number of environmental and climate-aware organisations have written about the disastrous impacts of allowing the expansion of the UK aviation sector by building a new runway. The letter says: "With the scrapping of vital decarbonisation policies and funding, the UK is already way off-track to meet our climate change commitments. The impacts of any new runway will be devastating to people's lives and to the planet. … the biggest tragedy of the government's failure is a global one. … The push for more runway space is not about demand from business – that has been dropping for over a decade. Nor is it about people taking one or two annual holidays. Growth is being driven by the frequent leisure flyers taking weekend breaks and shopping trips by plane. Half of the UK population don't fly in any given year, yet all of us subsidise the holidays of the rich. The UK must not abandon our commitments under the Paris agreement and the Climate Change Act for the convenience of binge flyers. We will not allow our government to ignore the promises they have made to us and to the world." There are also statements by Professor Kevin Anderson and Professor Alice Larkin, on how building a new runway is entirely incompatible with the UK's obligations under the Paris Agreement on climate. Kevin described adding a runway as demonstrating "a palpable disdain for the Paris Agreement."
Click here to view full story…
"If you think climate change activists like me will take the decision over airport expansion lying down, you've got another thing coming"
Leo Murray, who was one of the founders of the activist group, Plane Stupid, has written eloquently in the Independent, about the opposition – for climate change reasons – to a Heathrow 3rd runway. Leo himself took part in numerous actions, against aviation expansion because the UK government had no effective way of limiting the sector's CO2 growth. Now he says, "Here we go again." Heathrow expansion is back, "rising remorselessly like a zombie from the grave. …Why won't it stay buried?" Heathrow and Gatwick have reportedly spent over £30m each on PR and lobbying, to conjure up an "airport capacity crisis" for London, for their own ends – making out that a new runway is in the national interest. To meet carbon targets, UK aviation cannot increase its CO2 to more than its 37.5MtCO2 cap. Leo says: "The solution is clear, but horrifies politicians: we will have to have policy to manage the growth in demand. There is simply no other way." Government will have to grasp the nettle of demand management for air travel. In the meantime, people will just have to rise up once more against the green light – if that is given next week. "Heathrow is set to become a lightning rod for radical climate activists all over the country and the old networks from the former alliance are starting to light up again for the first time in years. Once more, dear friends, once more – but let's make sure it's really dead this time."
Click here to view full story…
Runway decision by Cabinet due 25th October, no Commons vote, and NPS consultation for new runway all next year
The Cabinet met today (18th October) and did not come to a formal agreement on backing a Heathrow runway. However it is widely believed to be the preferred option of Mrs May and most of the Cabinet. There will be another meeting of the Cabinet next Tuesday, and after that a statement will be made by Chris Grayling in the House of Commons, on which runway location is chosen. There will not be a vote in Parliament soon afterwards, as had been speculated. Instead – as had always been known – there will be consultation next year on the Airports National Policy Statement, which is needed before a development as large as a runway – a Nationally Significant Infrastructure Project – can be applied for. The government hopes to have the Airports NPS completed, put to Parliament to vote on, and finally published (designated) by around the end of 2017 or early 2018 . She has written to all Cabinet Ministers laying out what they can, and cannot do, in terms of opposing the Cabinet runway decision. Ministers opposed to her decision have to ask her approval first to be permitted not to toe the line …. This is aimed especially at Boris Johnson and Justine Greening. Mrs May says: "…. no Minister will be permitted to campaign actively against the Government's position, nor publicly criticise, or call into question the decision-making process itself. Ministers will not be permitted to speak against the Government in the House."
Click here to view full story…
Sunday Times believes Gatwick has been offered "consolation prizes" for not getting runway agreement yet
The Sunday Times believes that Gatwick has been offered various ways in which the airport could be helped, if it is not selected by the government as the site for a runway. The Times has been a firm supporter of a Gatwick runway, against Heathrow, for months – with many articles backing Gatwick's case. The Sunday Times says in private meetings Chris Grayling, the Transport Secretary, and his officials had asked Gatwick what ministers could do as compromise options to assist the airport's growth, even if does not get a runway. This, the say, is an indication that the government is poised to approve a Heathrow 3rd runway. Heathrow apparently were not given any such offer. Theresa May's cabinet is expected to decide by the end of October where to build a new runway in the southeast of England. Some of the things that might "smooth things over" with Gatwick might be a package of rail and road improvements – or telling Gatwick that while Heathrow could start the process of getting a runway built right away, Gatwick could build a runway within the next decade. An aviation expert commented that Theresa May might lay out a "road map" of different stages for aviation expansion. It is possible that the process of getting consent for a Heathrow runway could take so long that, even if Gatwick started the process years later, it could get a runway completed earlier.
Click here to view full story…
CPRE branches and local campaign groups consider legal action against Government if Gatwick runway approved
The Sussex and Surrey branches of CPRE (the Campaign to Protect Rural England) have jointly written to the Prime Minister to warn her that a legal challenge is on the cards if the government gives permission for Gatwick to build a 2nd runway. As well as the two CPRE branches the most affected by Gatwick, heritage venues, such as Hever Castle, Kent; Knepp Castle, West Sussex and 16 local action groups, have written to the Theresa May to say they are prepared to fight a decision. They said "the destruction of wildlife, tranquillity, dark night skies and clean air" could not be justified for a new runway. They add that Gatwick expansion is not just about a runway; it comes with huge baggage that would destroy the very landscapes that CPRE and local residents seek to protect and promote for future generations. Gatwick lies in the lee of the North Downs surrounded by three 'Areas of Outstanding Natural Beauty' which enjoy the same protections as the National Parks. The Chairman of CPRE Sussex said: "We may be smart about our technology but we can't recreate our countryside, ancient woodland, and heritage. We are all responsible for our legacy; surely we should be leaving behind a better world by preserving our countryside from such destructive developments as a new runway at Gatwick."
Click here to view full story…
Stansted will fight if Gatwick & Heathrow both get new runways – as they did not get opportunity to make their case
Amid rumours that the government might be intending to approve runway plans for both Heathrow and Gatwick, rather than just one or other, the owner of Stansted – Manchester Airports Group – says it would launch a legal challenge if that happened. They say the Airports Commission, chaired by Sir Howard Davies, only fully examined the case for one new runway to be built before 2030. That is what its final report in July 2015 recommended. The Commission was aware that within CO2 constraints, it would be difficult to justify adding a 2nd runway. It said any case for a 2nd new runway would "need to be closely scrutinised in the light of climate-change policy".However, it concluded two runways might be needed to if air travel demand by 2050 was to be met, and that could be assessed later on. Tim Hawkins, MAG's corporate affairs director, said that MAP would have to legally challenge because other airports had not been given the opportunity to present their own cases for the second phase of UK airport expansion post-2030. If there were to be two new runways approved, there would need to be a whole new process before government could make that decision. That would also include the loser this time round (Heathrow or Gatwick). Stansted did not put forward a case for a new runway to the Commission in 2012-13, as its single runway was nowhere near full.
Click here to view full story…
Richmond, Merton, Kingston & Croydon councils write to PM to stop Heathrow runway, and choose Gatwick
In addition to the four councils that will legally challenge the government if it decides on a Heathrow runway (Windsor & Maidenhead, Richmond, Hillingdon and Wandsworth) now four councils have written to the Prime Minister to oppose a Heathrow runway decision. Richmond, Merton, Kingston and Croydon councils, calling themselves the South London Partnership, made the case to Theresa May to approve a Gatwick runway instead. All these councils know the highly adverse impact of the noise of Heathrow flights on their residents, and would prefer that noise burden to be pushed to others (who do not have the opportunity to vote them out – as with the Mayor, Sadiq Khan, who also backs a Gatwick runway. They also say: "One thing in particular on which we want to contribute is ensuring the transport links to Gatwick and connectivity more widely, including into our area, central London and with other key corridors, are developed to support the full potential of airport expansion." Presumably they appreciate that the transport links to Gatwick are very poor, and would not be able to cope with a doubling in the number of air passengers. Conservative Richmond Council leader Lord True said the government should "stand up for ordinary families, rather than 'big business'".
Click here to view full story…
New Civil Engineer believes Heathrow, Gatwick and Birmingham set to get go ahead for runways
The NCE believes government will give the go ahead to new runways at both Heathrow and Gatwick – on 18th October. The NCE expects Heathrow would be allowed a runway immediately, and Gatwick could build a 2nd runway within the next 5 years. NCE also understands the government will urge Birmingham airport to plan a 2nd runway. The reason for this decision, other than the difficulties in making it, is ascribed to the forecasts of air passenger numbers being inaccurate. (Forecasts are, of course, usually inaccurate … and air passenger numbers depend on many variables, including oil price, and the strength of the £ and UK and global economy). The DfT produced very bullish passenger forecasts in 2007, which were way too high and knocked back by the recession. Lower forecasts were produced in 2011, and then lower again in 2013. The Airports Commission did its own forecasts, over a range of scenarios – and took account of the fact that aviation expansion would be constrained by the annual cap on CO2 emissions of 37.5 MtCO2. Because air passenger numbers have recovered to their pre-recession levels, it is believed by some that this rapid growth will continue and the forecasts are too low. The "predict and provide" scenario would require more runways. This sort of growth in UK aviation challenges our legally binding UK carbon targets under the Climate Change Act 2008.  Details of the various forecasts on the link below.
Click here to view full story…
Gatwick says it intends to build a 2nd runway, even if Government decides on Heathrow
Simon Calder writing in the Independent says Gatwick intends to build a 2nd runway – even if the Government decides Heathrow should have a runway instead. Gatwick wants to build anyway, even though the Airports Commission regard 2 runways as unnecessary, with inadequate demand to fill both. They believed (ignoring carbon implications entirely) there might be demand for a 2nd new runway by around 2050. A moratorium on starting any physical work on a 2nd runway at Gatwick expires in 2019. Gatwick (whose management are in line for vast bonuses if they can get a runway approved) hope they could have a runway completed by 2025 – faster than a 3rd Heathrow runway. Aviation experts have questioned the wisdom of building 2 runways simultaneously at both airports. Aviation analyst John Strickland said: "The acid test would be how much additional traffic Gatwick would attract if Heathrow secures a 3rd runway, which will attract the lion's share of airline demand in the London market." Another said the owners of Heathrow are in it for the long term, but Gatwick owners, GIP, are just in it for the money. UK airlines are understood to be appalled at the prospect of higher airport charges to fund the building of one new runway, let alone two. Local campaign groups are also appalled, and point out that Gatwick has no plans to pay for any of the essential surface access improvement work needed to deal with a 2nd runway.
Click here to view full story…
Campaign to Protect Rural England fears Gatwick runway would mean the loss of 'glorious tranquil countryside'
With a Government announcement on airport expansion expected soon, the Chairman of the Sussex branch of the CPRE argues against a 2nd Gatwick runway. David Johnson says already Sussex councils are struggling under continuing Government pressure to find yet more sites for development. This pressure is met by fierce community challenges as local residents fight to protect what makes Sussex special – its tranquil rural beauty. Building new infrastructure and swathes of new homes seem to be regarded as the key to inflating the UK's economy. While the nuisance of aircraft noise, light and air pollution and the impact on local traffic is familiar to many of us, any extension to Gatwick threatens to worsen this blight. David says: "The burden of a greater Gatwick fills me with dread – 'progress' should not lead to a decline in air quality, the bulldozing of ancient woodlands and the loss of glorious, tranquil countryside. Gatwick lies in the lee of the North Downs surrounded by three 'Areas of Outstanding Natural Beauty' which enjoy the same protections as the National Parks. … We may be smart about our technology but we can't recreate our countryside, ancient woodland, and heritage. We are all responsible for our legacy; surely we should be leaving behind a better world by preserving our countryside from such destructive developments as a new runway at Gatwick."
Click here to view full story…
Gatwick signs up Bechtel to build its (dreamed of) runway
In March Heathrow announced 4 winning contractors – Arup, CH2M, MACE and Turner & Townsend – for the construction work on the 3rd runway that it hopes to build. Heathrow hoped this would imply to government that it would be ready to start building as soon as it got consent. Gatwick was a bit slower off the mark, only putting out its offers to tender in February. Gatwick has now announced a "strategic partnership" with Bechtel to deliver a 2nd runway, by 2025. Gatwick says Bechtel has been working with them for the past two years, developing a delivery programme and plan of how to build the runway and the terminal. Bechtel project managed the Channel Tunnel and HS1 and is currently providing programme management services for Crossrail. Gatwick are claiming their expansion plan is "low risk" and is, of course, easier than the problem Heathrow has with having to tunnel the M25. Architect Sir Terry Farrell has been working on Gatwick's expansion plans, for a number of years – and would work with Bechtel. Gatwick has little support for its expansion, and it would be unlikely to achieve the backing at a vote in Parliament, which is expected some time not long after a runway location announcement by the Government, maybe in October.
Click here to view full story…
Protest picnic at Gatwick against 2nd runway, in solidarity with Reclaim the Power #staygrounded protests at Heathrow
In solidarity with the two protests organised by Reclaim the Power at Heathrow on the same day – the Critical Mass cycle ride and the flashmob "die-in" in Terminal 2, there was another colourful and creative protest at Gatwick. On cue from a tartan clad bagpipe player, people spread out a picnic in the arrivals area of the South terminal with leaflets and speech bubbles explaining why they were there. The 25 or so protestors were there for about an hour and a half, handing out leaflets explaining that there is no need for new runway either at Heathrow or at Gatwick, though Gatwick has been putting its (weak) case for a 2nd runway as hard as money and PR spin will permit. The protest picnic – in common with the Heathrow protest – stressed that the majority of flights at UK airports are taken by a small minority. In any one year, around 70% of the flights are taken by around 15% of the population. These frequent fliers, taking increasing numbers of low cost leisure flights are driving the demand for another runway. A declining number of flights, already less than a quarter, are for business purposes. At a time when we urgently need to curb our CO2 emissions to mitigate the effects of climate change, increasing these extra CO2 emissions by increasing the amount we British fly will only contribute to climate injustice, and lead to many thousands of deaths worldwide.
Click here to view full story…
Emirates postpones its 4th daily Gatwick flight to Dubai – there are 6 per day from Heathrow
Emirates has confirmed it is postponing the launch of its fourth daily service from Dubai into Gatwick. Emirates had been due to start the 4th daily flight in October, which would have been the airline's 10th daily service into London. An Emirates spokesperson said: "Emirates can confirm that we are delaying the launch of our fourth daily service to London Gatwick. This decision was made as part of our routine operational review, to ensure that our capacity is deployed to best serve customer demand across our global network. We remain committed to London and will continue to serve our customers on this route with a total of 63 weekly flights from Heathrow and Gatwick." Back in March, Emirates has announced it would add its 10th daily flight to Dubai. It would have been a new B777-300ER (eight first class suites, 42 in business class, and 310 in economy) and would have meant 4 from Gatwick and 6 from Heathrow per day. There were plans to change to an A380 from Heathrow from June.
Click here to view full story…
Treasury Select Committee Chairman writes to Chris Grayling and Philip Hammond to question economic benefits of runway
Andrew Tyrie, Chairman of the Treasury Committee, wrote to Chris Grayling, Secretary of State for Transport, on 14th September, questioning the economic case for HS2 and airport expansion. Andrew Tyrie says in his letter: "The economic case to support the conclusions of the Davies report lacks crucial information." On 27th November 2015, he tabled 15 parliamentary questions on details of the economic justification [all copied on link below]. These have yet to be answered 10 months later (they just had a standard holding reply from Robert Goodwill). Andrew Tyrie says: "For the fifth time I am attaching these questions. Failure to answer them will lead people either to conclude that this work has not been done – in which case it would be unacceptable for a decision to be made without the evidence to support it – or that it has been done, and gives answers that do not necessarily support the conclusions of the Davies report. I do not suggest that either of these are the case. The best way to answer these concerns is to public the information immediately. As we discussed, I have written in similar terms to the Chancellor." "Without this information, the evidence in support of any decision that the Government takes on airport capacity will be incomplete." His Parliamentary Questions focus, in particular, on Table 7.1 in the Airport Commission's Final Report, of July 2015. (Table copied above). Mr Tyrie spoke to Chris Grayling on 15 August 2016.
Click here to view full story…
Gatwick area MPs warn Rail Minister of rail chaos if Gatwick gets expansion go-ahead
Gatwick Coordination Group (GCG) MPs have written to the Rail Minister, Paul Maynard, to warn him that rail services along the Brighton Main Line would go into "complete meltdown" if Gatwick Airport were to be allowed to build a second runway. The GCG includes the 8 MPs from constituencies nearest to, and affected by, Gatwick. They have highlighted the inability of the railway to cope with the increased demand that Gatwick expansion would entail, and they say: "Gatwick expansion would result in over 140,000 public transport trips to the airport each day. Given the limited public transport options to Gatwick, the vast majority of these will be via rail. To meet this added demand, TfL estimate that the cost of required upgrades is £10bn. There is, however, no plan to deliver this"… "Gatwick have not committed to contribute a single penny towards any cost, leaving commuters and taxpayers to foot any bill for work that would address the chronic lack of capacity that would result from Gatwick expansion" … a 2nd Gatwick runway would "pile impossible pressure on Southern Rail…" The Brighton Main Line is already operating over capacity and is one of the busiest and worst performing rail lines in the country, and already needs new capacity to cope with rising commuter demand. Gatwick has just a single rail connection to London, and a single motorway – both already under strain.
Click here to view full story…
Times reveals, from leaked document, members of Cabinet sub-committee on runway issue
The Times says it has seen a leaked document showing the membership of the Cabinet sub-committee, the "Economy and Industrial Strategy (Airports)" sub-committee, that would make a decision on a runway. The list omits Ministers most critical of Heathrow's expansion, Boris Johnson, (Foreign Secretary, and Justine Greening, Education Secretary). But Sajid Javid (Communities Secretary), who is a Heathrow supporter, keeps his place on the sub-committee, as does Patrick McLoughlin, (Conservative Party Chairman) – who as Transport Secretary was a strong supporter of Heathrow. Theresa May herself will chair the sub-committee, (David Cameron chaired it previously). Other Ministers on the sub-committee are Philip Hammond, (Chancellor), Greg Clark, (Business and Energy Secretary), Andrea Leadsom, (Environment Secretary), David Mundell, (Scottish Secretary), and the chief whip Gavin Williamson. [The previous members were: David Cameron, George Osborne, Sajid Javid, Patrick McLoughlin, Liz Truss, David Mundell, Greg Clark, Amber Rudd, Oliver Letwin and Mark Harper.] It is not known if there will be a free vote on the issue, suspending the normal Cabinet "collective responsibility" as was suggested last week, to overcome the problem of so much opposition to Heathrow. The Times believes that the announcement might be on Tuesday18th October.
Click here to view full story…
Wingate again "prepared to give assurances" (ie. but not yet) on GIP not selling Gatwick soon ….. and there's his £5 million bonus ….
The Times – which actively supports a Gatwick runway – has a feature on Stewart Wingate. This repeats (uncritically) Gatwick's claim that it can build a 2nd runway without public subsidy. The reality is that at least £12 billion of public money would be needed to upgrade surface access, which struggles now, let along with 35 million more passengers. The Times repeats Wingate's claims (very dubious) that the runway can be added while capping airport charges. He blames "Treasury orthodoxy" by the Airports Commission, stemming from George Osborne, which favoured Heathrow "from the very beginning" for not backing Gatwick. Wingate admits he has spent almost £40 million on advertising, planning for the 2nd runway and trying to undermine Heathrow. If Gatwick got a 2nd runway, he would personally get up to £5 million for a sale of the airport (there would be a total of £10million for senior managers, and he gets half of that). Mind you, he has a "£475,000 salary plus up to 100% bonus." GIP only paid £1.5 million for Gatwick, but gave big dividends, of £48m in 2015 and £133m in 2014. Wingate says GIP is "prepared to give the government reassurances that it would not sell out immediately should it get the green light for a second runway." ie. no assurances yet. And "The shareholders are very much open to having a discussion on structures that satisfy the government."
Click here to view full story…
Document spotted on Tube shows Government considering a free vote on runway issue
Channel 4 News has reported that a Cabinet Office memo seen – and photographed – on the tube which reveals that the Government is considering a free vote in Parliament following an announcement on the runway decision. A tube passenger filmed a very senior Cabinet Office civil servant holding the paper that discussed "potential waiving of collective responsibility." The document was addressed to Cabinet Office official Sue Gray, from another official, Sharon Carter. It did not confirm if a free vote would be granted, but it focused more on how it might work as an option. (Or if it would happen if the decision was for a Gatwick runway).  It is certainly a possibility, especially if the decision is for Heathrow. A free vote would allow Cabinet ministers such as Boris Johnson and Justine Greening, who are deeply opposed to the 3rd runway, to vote against it without needing to act on collective responsibility where ministers are expected to publicly support government policy, even if they disagree with it in public. John Stewart, chair of HACAN, which gives a voice to residents under the Heathrow flight paths, said: "It is unprecedented for a free vote to be granted on anything other than a constitutional issue or a matter of conscience. The fact that the Government is considering one on a third runway reveals once again the strength of the opposition within the Cabinet." It certainly shows the problems the government has with this "politically toxic and financially unviable" decision.
Click here to view full story…
Two passenger planes involved in near miss at Gatwick following air traffic controller error
2.9.2016 (Evening Standard)
On April 25th a passenger jet taking off from Gatwick airport was involved in a near miss with a preceding aircraft, an official investigation has reported. Both planes were A319s with many passengers. The second plane was cleared to climb, bringing it "into conflict" with the first, the UK Airprox Board (UKAB) said. When the air traffic controller responsible for the flight realised what was happening he "issued avoiding action to the pilot", the organisation said in a report. The UKAB found that the near miss was caused by an air traffic controller not scanning his radar display before clearing the second pilot to climb. "He should have seen (the first aircraft) ahead," the report added. A "standard procedure" of reducing the usual separation time between departing aircraft to increase frequency – from two minutes to 45 seconds – was given as a contributory factor. The UKAB added that "poor co-ordination" by air traffic control staff also had an impact.  Separation between the aircraft was reduced to 700ft vertically and around two miles horizontally. The report found that "safety had been degraded" but the "rate of catch-up between the two aircraft was very low". The incident was deemed as having the third most serious degree of risk by the UKAB.
Click here to view full story …..
---
Gatwick income still around 22% from retail, 11.6% from parking, and 52% from aeronautical
Gatwick continues to get around 22 – 23% of its income from retail, as it has in previous years. Moodies' data shows that in the year that ended 31st March 2016 the airport reported a +2.3% increase in retail income to £152.5 million. But the net income per passenger decreased -3.7% to £3.67. Income per passenger from retail has stayed around the same figure as in 2011. Gatwick has added a great many retail shops in previous years (it now has 36 shops and 27 restaurants) and offers "collect on return." Gatwick has done less well than it hoped on sales which it described as "challenging trading" due to "changes in passenger mix and adverse currency movements against Sterling." Income from food and drink and catering grew by around 2%. Car parking revenue for the year to 31st March 2016 was up +7.6% to £77.9 million and net income per passenger from parking increased by +7.3% to £1.47. So retail + parking is about £5.14 per passenger. Aeronautical revenue rose +5.4% to £350.8 million (so that is around £8.50 approx per passenger) and other income was up +9.7% to £91.9 million. Turnover increased +5.5% to £673.1 million while EBITDA was up +9.7% to £331.0 million. The airport made a profit before tax of £141.0 million.
Click here to view full story…
Theresa May to personally chair Cabinet sub-committee on possible new runway
The decision by the Cabinet on what to do about a new runway is to be taken by a sub-committee, named the Economic Affairs (Airports) sub-Committee. This was set up in July 2015. Its members then were David Cameron, George Osborne, Sajid Javid, Patrick McLoughlin, Liz Truss, David Mundell, Greg Clark, Amber Rudd, Cabinet Oliver Letwin and Mark Harper. At that time, MPs with possibly compromised positions, or those against a Heathrow runway, were left off it – explained by their departments not being the relevant ones for inclusion. These were Theresa May, Philip Hammond and Justine Greening. Since the arrival of Theresa May, everything has changed. It has been announced that she will personally chair the committee (Cameron chaired it before) and that its new membership will be announced shortly. The constituencies of Theresa May, Philip Hammond and Boris Johnson (PM, Chancellor and Foreign Secretary) are all intensely affected by Heathrow. Theresa May has been very guarded in her comments over the past 6 years. However in May 2010 she welcomed the cancellation of the Heathrow runway and added: "Like many local residents, I strongly welcome the cancellation of the third runway at Heathrow. Expanding Heathrow in this way would have had a detrimental effect on the Maidenhead and Twyford areas by increasing levels of noise and pollution, and today's announcement is a victory for all those who have campaigned against it."
Click here to view full story…
UK coastal regions suffer while Gatwick sucks UK tourists and their money out of the country
Gatwick is well known to be a holiday and leisure trips airport. Its passengers are predominantly going on low cost flights, with about 80% to European destinations. The small number of long haul destinations is about the same as in 2007. The long haul airports it serves are all for UK leisure passengers, to the Caribbean, Florida etc – and are not for the purpose of bringing inbound visitors to the UK. The rise of low cost holiday flights, over the past 20 years or so, has meant the demise of many UK costal towns as very cheap travel (and dependable heat and sunshine) have drained away visitors. The government has put up £90 million of public funding to help boost some of these struggling towns. Yet Transport for London has said a 2nd Gatwick runway would need about £10 billion of public funding to deal with the increase in the number of passengers and all the associated ancillary traffic. This public money would merely facilitate access to Gatwick, in order that more UK money could be exported – as Brits take their holiday money to spend abroad. The excess of the money spent by Brits spending abroad, over that spent by inbound visitors in Britain is called the Tourism Deficit. It reached a total of £16.9 billion in 2015, ably assisted by Gatwick. With unknown impacts of Brexit, a new report from CAGNE questions the wisdom of the government allowing Gatwick to build a new runway, with all the financial questions raised.
Click here to view full story…
Gatwick establishes "Growth Board" under Tessa Jowell and Steve Norris to develop benefits from its growth
Gatwick has announced the formation of the new "Gatwick Growth Board" (the GGB) under Co-Chairs Tessa Jowell and Steve Norris. The GGB will "examine the wider economic and social impacts of Gatwick Airport's future growth and expansion plans on the local area, the South East region, and on the economy of the UK as a whole." Gatwick hopes the GGB will ensure "the benefits of Gatwick expansion are properly distributed across the region and the rest of the UK, such that areas most in need of regeneration benefit appropriately from its plans." Quite how it will do this is not revealed, nor why it is only at this late stage that Gatwick has felt it necessary to try to demonstrate benefit of a 2nd runway for the UK as a whole. The board will have no official powers or authority. Gatwick realises it carries very little air freight, and deals largely with leisure low cost, point to point travel. Most of its flights are to one or other European holiday destination. They hope their new runway would be open by 2025. The GGB is to work for two years, and it will produce "regular reports and studies" for Gatwick, with the first starting this September. These will look at how Gatwick fits with Britain's withdrawal from the EU, employment impacts on the regions from sucking more low cost travel to the south east, and how it can have an impact on the regions. Gatwick must be worried by the public realisation that it contributes l ittle to the UK economy as a whole.
Click here to view full story…
Salfords parish council to enlist aviation expert to battle Gatwick Route 4 flight path change
Salfords and Sidlow Parish Council council is to pay up to £1,000 for an aviation expert to help battle "awful" Gatwick flight noise. They have agreed to hire someone to provide guidance on why Gatwick's recent adjustment to Route 4 appears to be causing problems for residents, after receiving reports of "intolerable noise and disturbance". Route 4 was modified 2 years ago to fly slightly further north than before, causing a lot of distress to those newly, and intensively, overflown. The route has now been moved further south, but is narrower than before, causing serious noise problems for the thousands affected. Salfords and Sidlow is one of the areas now worse affected, and they are badly affected – including late at night and in the early morning, with low planes overhead. People who bought their homes a year or two ago, when the areas was relatively quiet, did not anticipate this noise assault. Affected residents will not allow their lives to be ruined and their properties blighted by the introduction of this route using P-RNAV technology, which effectively allows aircraft to fly on a single track with no respite for those below. At the least, there must be period of the day without planes – respite. The most recent adjustment to Route 4 is not permanent and a six-month monitoring period runs until November – people need to send their views to Gatwick, which passes them to the CAA.
Click here to view full story…
New runway would push up air fares due to carbon emissions, and restrict regional airports – new report
A new report for the Campaign for Better Transport (CBT) has analysed the Airports Commission's backing for new runway in relation to carbon emissions, and says the necessary carbon pricing would end low-cost flights by 2050. The Commission was aware that UK aviation is expected to far exceed the cap set for the sector's CO2 emissions (37.5MtCO2) before 2050. Adding another runway only makes the situation far worse, by exacerbating the problem. The only way to keep aviation emissions down, with a new runway, is greatly increased cost of flights, trying to reduce the demand that has been increased by adding capacity. This means a carbon price massively higher than today – at several hundred £s. The report, by Leo Barasi and Leo Murray, say that as well as making flights expensive (perhaps pricing out those on low pay) the addition of a new SE runway means growth at regional airports would have to be restricted to allow expanded London capacity. Dame Julia King, who was on the Airports Commission and is on the Committee on Climate Change, admits that regional airports would need to be restricted in order to allow growth in the south east. There has been far too little assessment and acknowledgement of the CO2 implications of a runway. The government should not rush into approving a runway until this has been fully accepted.
Click here to view full story…
CAGNE report shows how widespread and unacceptable Gatwick 2nd runway noise would be
Local Gatwick community group, CAGNE (Communities Against Gatwick Noise and Emissions) had produced a new short report on the extent of the noise impact a 2nd Gatwick runway would have. CAGNE says Gatwick's local communities have been side-lined as the airport has failed to develop a proper strategy to deal with aircraft noise with expansion. A second runway would mean double the number of people impacted by night flights and create 24-hour "noise ghetto from hell." CAGNE says Gatwick's expansion proposals contravene Government policy on aircraft noise by failing to incorporate measures which would reduce noise. This is especially unsatisfactory as the Government is likely to make a runway decision, or at least a statement of preference between Heathrow and Gatwick, in early September or in October. The unacceptable noise burden from Heathrow is well known. Gatwick has tried to make out that its noise problem is small by comparison. However, CAGNE shows that Gatwick (with a 2nd runway it would be the size of Heathrow now) plans to use both runways in segregated mode, so both are used all day for both landings and take offs. This does not allow the half day respite from which those under Heathrow flights benefit. Gatwick also plans to continue night flights all night, which Heathrow has been told it cannot do.
Click here to view full story…
Government response to the Transport Committee report.
Announcement on airport capacity in "October at the earliest"
11th July 2016.
"The Government had clear ambitions to announce a decision on airport capacity this summer, however given recent events and the parliamentary timetable it is not possible to make an announcement before the summer recess. Any announcement on airport capacity would need to be made when the House is in session and is likely to be in October at the earliest."
Page 4.  http://www.publications.parliament.uk/pa/cm201617/cmselect/cmtrans/564/564.pdf
---
CAGNE report shows how widespread and unacceptable Gatwick 2nd runway noise would be
Local Gatwick community group, CAGNE (Communities Against Gatwick Noise and Emissions) had produced a new short report on the extent of the noise impact a 2nd Gatwick runway would have. CAGNE says Gatwick's local communities have been side-lined as the airport has failed to develop a proper strategy to deal with aircraft noise with expansion. A second runway would mean double the number of people impacted by night flights and create 24-hour "noise ghetto from hell." CAGNE says Gatwick's expansion proposals contravene Government policy on aircraft noise by failing to incorporate measures which would reduce noise. This is especially unsatisfactory as the Government is likely to make a runway decision, or at least a statement of preference between Heathrow and Gatwick, in early September or in October. The unacceptable noise burden from Heathrow is well known. Gatwick has tried to make out that its noise problem is small by comparison. However, CAGNE shows that Gatwick (with a 2nd runway it would be the size of Heathrow now) plans to use both runways in segregated mode, so both are used all day for both landings and take offs. This does not allow the half day respite from which those under Heathrow flights benefit. Gatwick also plans to continue night flights all night, which Heathrow has been told it cannot do.
Click here to view full story…
Chris Grayling says runway decision announcement "within weeks" – so maybe early September?
A decision on a new runway in the southeast could be made "within weeks" after the new transport secretary, Chris Grayling, who replaces Patrick McLoughlin, said the government had to "move rapidly" on the issue. Given the strength of feeling on the issue, it is unlikely that a decision will be taken during the parliamentary summer recess. MPs start their summer break on Thursday and return on September 5th. So a decision could be made between 5th and 15th September. Mr Grayling, interviewed yesterday on BBC Radio 4's The World This Weekend, said: "I am very clear that I want to move rapidly with a decision on what happens on airport capacity. It is a decision that will be taken collectively by the government. "We have a quasi-judicial role so I'm not going to say today whether I prefer Gatwick or Heathrow … I'm going to look at this very carefully in the coming weeks." He added: "What I'll be saying to the business community today is I think we need to take a rapid decision to provide certainty on what's going to happen and that will be my objective." Patrick McLoughlin had said last month that a final decision was unlikely to be taken before October, but that was in the expectation of there being no new Prime Minister until September. Logically, it would take the new Transport Secretary many weeks to fully understand the brief, and the highlycomplex issues involved.
Click here to view full story…
Hoping to scare post-Brexit Britain into building its 3rd runway, Heathrow lists Gatwick's long-haul failures
With the arrival of Theresa May as the new Prime Minister, a new Cabinet, and a new Transport Secretary (Chris Grayling replacing Patrick McLoughlin) the battle of Heathrow and Gatwick is hotting up. Even further than before. There is a new flurry of announcements, and spurious polls, and surveys of various sorts – as well as just plain spin. Both airports are attempting to capitalise on uncertainty about Brexit and its (as yet unknown) consequences, and rather than suggest a sensible delay to consider how Brexit pans out, are trying to make out that their runway will be even more vital in a post-Brexit Britain. Especially threatened by Theresa May's record of statements against a 3rd runway, Heathrow is pulling out all the stops. It has produced research proving how inferior Gatwick would be in terms of "connecting the UK to the world" and global growth and emerging markets etc etc. Heathrow says, as is quite true and well known, that Gatwick has few long-haul flights, those it has are largely for leisure purposes, and many of its long-haul flights are not frequent. Many airlines start long-haul routes at Gatwick, and transfer to Heathrow as soon as the chance arises. Heathrow says in the last 6 years, Gatwick lost 7 long haul routes to emerging markets, and gained 2, but in that time Heathrow lost 3 and gained 9 routes to emerging markets.
Click here to view full story…
Heathrow Airport expansion in doubt after Theresa May promotes critics to top cabinet posts
A 3rd Heathrow runway appears increasingly unlikely after Theresa May appointed to her Cabinet a series of opponents to it. Justine Greening, the new Education Secretary, has said building another runway at Heathrow is not a "smart decision" while Philip Hammond and Boris Johnson have also been opposed. Chris Grayling, who is now the Transport Secretary, replacing Patrick McLoughlin,has voiced few public opinions on airport expansion in recent years – though probably privately backed Heathrow in 2009. He will now help oversee the decision on whether Heathrow or Gatwick is chosen for expansion. Whether the option of not choosing either, which would be the sensible decision, is also being reconsidered is not known. Both David Cameron and George Osborne were keen on a Heathrow runway – indeed it was likely that a decision to approve it would have been taken days after a "Remain" vote in the EU Referendum – are now both just backbenchers. Boris Johnson, who has said he would "lie down in front of the bulldozers" if Heathrow built a runway, would face calls to resign if he remained in a Cabinet that backed the project. Philip Hammond, the new Chancellor, said last year: "London's role as an international air transport hub can be maintained without additional runways at Heathrow. A second runway at Gatwick, plus enhanced transport links between the airports and better transport links to London will create a 'virtual' hub airport, maintaining Heathrow's role in the local economy without expanding it."
Click here to view full story…
Biggest destruction of British heritage since the Blitz if Gatwick expands – new report
Campaigners against Gatwick expansion have highlighted the extent of the devastation that a 2nd Gatwick runway would cause to important buildings of great British heritage value, as well as demand to local history and environment. Unveiling a new report, the groups say Gatwick's own submission to the Airports Commission detailed 17 listed buildings which would be destroyed. These include some of Britain's finest examples of medieval architecture. The launch of the report was held at Rowley, a former residence of Henry VIII's fifth wife, Catherine Howard, which is among those "requiring removal", according to airport plans. The new runway would require the irreversible loss of the last remnant of the ancient village of Lowfield Heath, which was recorded in the Domesday Book in 1068. The groups behind the new report on the threatened heritage damage are CPRE (Sussex, Surrey and Kent branches), the Woodland Trust, the Gatwick Area Conservation Campaign, and Communities Against Gatwick Noise and Emissions. Brendon Sewil commented: "Gatwick seek to wallpaper over the sheer level of destruction it would cause to our British heritage. This is a major stand against Gatwick on one of the historical sites that its proposal would destroy. It would be far more damaging than HS2."  Short video of the launch + speakers
Click here to view full story…
Early decision on a new south-east runway thought unlikely, due to Brexit and Cameron resignation
There is much speculation and uncertainty about what will happen on the runway situation, and whether – or how much – it will be delayed. A leak was inadvertently made to PoliticsHome on 22nd (not intended to go out till after a Remain vote) indicating that the government would make a runway announcement on 7th or 8th July. That now seems very unlikely indeed. Heathrow put out a bland statement, realising that the rapid decision in their favour is not looking likely, and making out that their runway is of great national importance. Nobody knows what future role Boris may play, but he promised in May 2015 to "lie down in front of bulldozers" to stop a Heathrow runway. Gatwick is no more likely to succeed. There are also fears for infrastructure projects like HS2,and future investment in other rail services. In short, there is immense uncertainty about almost everything. Many of the UK's rail franchises are controlled and operated by European state-owned companies from Germany, the Netherlands and France. What happens with them? Business likes to plan ahead, and does not like uncertainty or being in limbo. The extent to which air travel will grow in future is now in doubt, with a recession likely – and UK air passenger numbers fall in recessions. The weakness of the currency will make many foreign leisure trips more expensive for Brits.
Click here to view full story…
BA chief, Willie Walsh, threatens to reduce Gatwick flights if it got a 2nd runway
The boss of International Airlines Group ( IAG), which owns British Airways, has threatened to reduce its flights at Gatwick if the airport is given permission to expand with another runway. Willie Walsh warned that the cost of building a second runway at would result in charges that are too high. He said: "We struggle to see any business case for the expansion of Gatwick and will consider our position at the airport if the Government backs expansion there, principally because the cost of that expansion when translated into airport charges would likely wipe out the profit we make." He claimed Chancellor George Osborne and the Treasury are "clearly excited about a large infrastructure project that requires no Government spending", but urged them to consider the options "as if it was funding the project". He added: "If there is expensive, inefficient airport expansion at Gatwick or Heathrow, then we will expand through other airports and hubs." Willie Walsh has repeatedly said he is not prepared to pay very high landing charges at an expanded Heathrow, and would instead move his IAG planes to Dublin and Madrid instead.
Click here to view full story…
Unconfirmed leak that 7th or 8th July possible dates for government runway announcement – but that was before Brexit ….. so now highly unlikely ….
23.6.2016    PoliticsHome learned that "Ministers are planning to announce their decision on whether to build a third runway at Heathrow in two weeks' time" (no mention of Gatwick by PoliticsHome.)
[The announcement] "has been pencilled in for 7th July – the day after the publication of the Chilcot Inquiry into the Iraq War – although it could be moved to 8th July. Sources close to the process have told PoliticsHome the Prime Minister is eager to make the announcement before parliament rises for its summer recess on 21st July. However, publishing it the day after the 2.6 million-word Chilcot report comes out could be seen by some as trying to bury the controversy while the public's attention is elsewhere."    Link
24.6.2016    All now rather overtaken by events ….
---
Tunbridge Wells aircraft noise group produces report on correct 3 degree CDA heights for Gatwick arrivals
The Tunbridge Wells Anti Aircraft Noise Group (TWAANG) has researched the actual heights of aircraft around their area, approaching Gatwick. They are concerned that planes are not descending into Gatwick using the approved 3 degree Continuous Descent Approach (CDA), from 7,000 ft or even 6,000 ft. Instead, planes as far out as 20 – 30 miles from the runway are descending by merely 1 or 2 degrees, and are much lower than they should be, using a proper 3 degree CDA. TWAANG have produced data showing the actual heights of planes arriving at Gatwick, against the heights they should theoretically be at. For example, at 15 nautical miles from the runway, planes descending at 3 degrees should be at about 4,500 feet, and at 20 nm out, they should be at 6,000 feet. At a 1 degree the heights would be 3,500 feet and 4,000 feet respectively. Pilots are encouraged by DfT and industry guidelines to keep their aircraft high and to use a 3° angle of descent in a low power low drag (LPLD) configuration. The lower heights mean there is greater disturbance than necessary for people being overflown, and the flatter angle of descent is likely to require engine power to sustain, creating unnecessary noise and poor economic performance. TWAANG say: "We observe plenty of aircraft making full CDAs from 7,000ft already, what is difficult to understand is why such a high proportion fail to follow their example."
Click here to view full story…
Gatwick Chairman writes to David Cameron re-hashing unconvincing claims on desirability of its 2nd runway
Gatwick has made its last ditch attempt to persuade the government to let it have another runway. It is thought likely that some runway decision will now be made by early September at the latest, if it is not made before about 18th July. Gatwick Chairman Sir Roy McNulty has written to David Cameron, hoping to persuade him that Gatwick will not cost the air passenger any more than £15 per flight. Gatwick claims they can manage the noise levels, though are not entirely clear how. They hope sharing out the noise over more people will keep the numbers within the 57 dB and the 55 Lden to manageable levels. They hope to get the runway started before the next election, thereby not having given the electorate the change to vote on the matter – as the Airports Commission announcement in July 2015 was deliberately after the last election in May 2015. They claim there will be no cost to the taxpayer, but there are estimates of possibly £12 billion by TfL for the necessary transport work to deal with another 40 million passengers. Gatwick hopes its paltry £46.5 million offer will cover all that. And Gatwick claims it will never have an air pollution problem – rather ignoring the pollution caused by the inevitable traffic, as there is inadequate public transport. Looked at in detail, the offers (like those of Heathrow a few weeks earlier) are very threadbare indeed.
Click here to view full story…
Another great piece by Simon Jenkins on why the UK does not need another runway, but better roads and rail instead
Simon Jenkins, writing in the Evening Standard, says David Cameron should focus on improving the country's railways and roads, rather than adding a runway. He asks of Cameron: "Is 2016 to be megaproject Armageddon?" …"We need constantly to remember a crucial fact about London's airports. They have next to nothing to do with "business and industry" and the much-vaunted UK plc. " …."But when the Airports Commission was set up, Heathrow hurled the kitchen sink of lobbying at it, and won the day." … "Heathrow is full or, as the planners put it, "at capacity". But then so is Waterloo, so is Victoria, so is the M25, so is every London hospital, school and prison. Big, booming cities are always at capacity. That is why resources must be planned sensibly. Roads, railways, hospitals and schools are more crucial to the prosperity and welfare of the capital than the convenience of tourists, important though they may be." … [Cameron] clearly does not regard the pressure on Heathrow as being critical to the economy. He is right. There is no overriding reason for London to have a giant "hub" airport." …"If Cameron really wants to help the British economy with mega-infrastructure, every survey shows that the best value for money is from improving commuter railways and building better roads." Lots of great points in the full article ….
Click here to view full story…
Gatwick produces Final Action Plan to implement Independent Review of Arrivals
On 31st March Gatwick, made its initial response to the Arrivals Review, carried out by Bo Redeborn and Graham Lake. Gatwick then had to hold la 6 week consultation on the Proposed Action Plan, which ended on the 16th May. Gatwick has now produced its Final Action Plan. It confirms it has accepted all the Review's recommendations. As well as accelerating the retrofitting of Airbus A320 planes to remove the "whine", two issues in the Review that generated the most public input were widening the "swathe" for arriving planes as the join the ILS to 8 – 14 nautical miles, and the setting up of a Gatwick Noise Management Board (NMB), on which a few community representatives can sit. Gatwick says the NMB will "oversee joint strategies to deal with noise around the airport." It will be chaired by Bo Redeborn, and its first meeting will be on 21st June. In response to extensive feedback, community representation on the NMB has been increased from two representatives to four, and further analysis has been carried out to quantify more fully the impact of widening the arrivals swathe. There remain concerns by those living near the airport that some people will suffer from noise of both arrivals and departures, and Gatwick has produced maps to illustrate that it anticipates this will not be a problem for a large area.
Click here to view full story..
Gatwick provides more details of the setting up of the Noise Management Board, from the Arrivals Review
One of the recommendations of the Arrivals Review was that Gatwick should set up a Noise Management Board (NMB), on which community representatives could sit. Gatwick, in its Final Action Plan on the Arrivals Review, has now set out details of how the NMB will work. It will have no more than 14 members; 5 will be institutions; there will be 2 places for County Councils. There will be 4 places for District, Borough, Town and Parish Councils, and Community Noise Groups, with two from the east and two from the west of Gatwick. Gatwick says the NMB: "should be a body with real influence over operational stakeholders around the airport …." Nothing says it will have any powers or any real influence. Gatwick says it will: "seek to positively influence the noise environment of stakeholders by assisting the development of consensus among the various organisations represented through its membership" [whatever that means in practice?]. The NMB will: "seek to facilitate better understanding by residents through more consistent communication and verifiable data." Nothing in the stated objectives says noise will reduce, or that the interests of communities will be given equal weight to those of airlines etc. If the NMB cannot reach consensus on a matter, it can be agreed by 75%. The community groups only make up 25% or less.
Click here to view full story…
Gatwick provides more details of the wider swathe of arrivals onto the ILS, from the Arrivals Review
The main reason why Gatwick had to set up the Independent Arrivals Review was the fury and anguish, largely from areas around 10 – 14 miles from the airport, due to changes in 2013 to the distance at which planes joined the ILS (the final straight line flight path onto the runway). NATS and Gatwick had decided, allegedly for safety but in practice to make maximum use of the runway at busy times, to get most planes to join the ILS at 10 nautical miles out, while before that, some joined as close as 7 nm. The concentrated noise over some areas, not previously over-flown, caused unprecedented opposition. The Arrivals Review recommended that the swathe, both east and west of Gatwick, be widened to 8 – 14 nm, and that there should be more fair and equitable distribution of the noise of planes joining the ILS. A large part of the "Final Action Plan" deals with this. It attempts to allay fears that, to save fuel, many planes will try to cut a corner, and concentrate around the 8nm area. It tries to allay fears that there will be concentrated parts of the routes, and that people living relatively near Gatwick – (around 7 – 9nm or so) will suffer unduly from noise of both arrivals and departures. However, Gatwick says it is "not possible to predict precisely the distribution of aircraft within the swathe" and this will be "carefully monitored and reported to the Noise Management Board" which in turn will publish its findings and any conclusions.
Click here to view full story…
Tianjin Airlines to fly (£7 plus taxes ?) Gatwick to Tianjin from June, with Chongquin stop
Desperate to get some sort of link to China, to compete with Heathrow, a twice weekly flight by Tianjin Airlines between Gatwick and Tianjin, via Chongquin (in western China) ill start in late June. Tianjin Airlines are an internal Chinese airline, and they want to eventually get flights from Heathrow. They say no more routes from Gatwick are planned. They seem a little unsure of the level of demand (Tianjin is an industrial port, some 80 km south east of Beijing) as they plan to charge only £7 with taxes one way, and £9 with taxes on the return. If the service continues, they would aim to much cheaper than competitors. Gatwick has not done well with attracting or keeping long haul airlines. Airlines that axed routes from Gatwick in the two years 2011 to 2013 include Hong Kong Airlines, Air Asia X, Korean Air and US Airways. In 2015 Garuda and Vietnam Airlines also moved their flights from Gatwick to Heathrow. Gatwick lost 15 long-haul carriers between 2008, and 2013, including Air Nigeria. Air China pulled out of Gatwick in 2014 when they got slots at Heathrow from October, for a service to Beijing. On the Tianjing flights: "As soon as an LHR slot becomes available they'll be off."
Click here to view full story…
Gatwick Route 4 finally re-routed as local MP warns about noise misery dangers of a 2nd runway
On 26th May, the amended Gatwick departure flight path named "Route 4", taking off towards the west from Gatwick, went in to operation. This route turning north and then east – to fly towards the east. With the implementation of precision-area navigation (PR-NAV) at Gatwick in 2014, changes were made to Route 4 which made it more concentrated, and slightly to the north of the main NPR (Noise Preferential Route). This resulted in thousands of people suffering intense and frequent plane noise, for the first time. The local group, Plane Wrong, was formed to fight the changes. The PIR (Post Implementation Review) by the CAA in 2015 showed that the change to Route 4 was not "compliant" with regulations, and it should revert to how it was before early 2014. However, it has taken a long time for this reversion to actually happen. The route that has now started means the SID (Standard Instrument Departure) turning circle is a little tighter so planes avoid the densely populated urban areas of Reigate and Redhill. It is regrettable that it took so long for an unacceptable flight path, that could be introduced so quickly without warning, could take so long to reverse. Local MP Crispin Blunt warned that the noise situation with a 2nd Gatwick runway would be completely unacceptable, with no noise mitigation measures in prospect.
Click here to view full story…
Gatwick touring the regions to try to drum up support for 2nd runway (Heathrow also touring …)
As Heathrow has been putting itself about across the regions, trying to "sell" its runway, Gatwick is doing the same. Gatwick staff have begun a UK tour campaign, trying to get some backing for their 2nd runway. In reality, Gatwick does not have a lot to offer. It has very little air cargo, if what companies in the regions is looking for is a way to export products. Gatwick is on the wrong side of London for anyone north of Heathrow, and it is almost exclusively an airport for low cost leisure travel. It has few long haul routes, and none to influential places not served by airports such as Birmingham or Manchester. But Gatwick is hoping to persuade that another runway would provide cheaper flights to and from the south east. That is a bit hard to believe, as the cost of the runway would mean ticket prices would have to rise by at least £15 – 18 or even up to £23, (one way). Gatwick's tour includes Manchester, Belfast, Birmingham, Bristol, Edinburgh and Newcastle. Heathrow is, at the same time, having "launch events" in Liverpool, Yorkshire, the Midlands and the Thames Valley, to try to persuade how their 3rd runway would provide huge benefits etc etc etc. The Airports Commission appreciated that, being a tourism airport, Gatwick just boosts the UK tourism deficit, as Brits take their money out of the country on cheap trips. More and more spin ….
Click here to view full story…
Gatwick groups and MPs hand in new report to Downing Street: "What about our air quality?"
Community groups and MPs have delivered a copy of a new report, "What about our air quality?" to 10 Downing Street. The report raises the fact that an expanded Gatwick could present worst air quality for a much wider area than Heathrow currently – due to the lack of sufficient transport infrastructure. Air quality targets close to Gatwick Airport have been broken despite the airport's public denial. Data from Jacobs, for the Airports Commission, show breaches of NO2 levels already. It is inevitable they will be broken again, especially with a 2nd runway, because the rail infrastructure is already inadequate, and more passengers (and possibly freight in future) will mean additional road vehicles. The report contains a letter from 10 MPs who wrote to the Secretary for State for Transport, Patrick McLoughlin on 18th March, demanding that Gatwick's misleading advertising over air quality be stopped. Gatwick has often said words to the effect that "Gatwick Airport has never and will never breach air quality limits" and instead its expansion campaign has been focused on the air pollution problems at Heathrow, ignoring their own. Gatwick is served by a rail line that is already near capacity, and it cannot be much improved due to physical restrictions. It could not handle not only more passengers, but also extra staff and traffic from more businesses.
Click here to view full story…
Recent opponent of Heathrow runway, Sadiq Khan, appoints pro-Heathrow runway, Lord Adonis on transport
Until June 2015, Sadiq Khan (now London Mayor) backed a 3rd Heathrow runway. He was Transport Minister under Gordon Brown, pushing for it. He then appreciated that he could not be elected Mayor if he backed the runway as it is so unpopular with millions of Londoners, who are adversely affected by it. Ministers are saying his election, and his opposition to a 3rd runway, will not influence their runway decision. The Mayor's opinion on a runway carries some weight, though they cannot make the decision. Worryingly, Sadiq will appoint former Transport Secretary Lord Adonis, who strongly backs a Heathrow runway, to run transport in London. The Labour peer also heads the government's National Infrastructure Commission. Sadiq backs a 2nd runway at Gatwick to increase airport capacity, as people in areas adversely affected by Gatwick did not get to vote in the Mayoral election. He also backs improved rail links to Stansted. It would be easier for a Conservative government to resist the opposition of a Labour mayor, than a Tory one, to a Heathrow expansion. Transport Professor, David Metz, said: "There is a respectable case for deferring this difficult political decision, to see how a very competitive aviation sector copes with the growth of demand for air travel" … seeing how market forces displace leisure travellers from Heathrow to Stansted in future.
Click here to view full story…
Research sets out clearly how the need to take climate change seriously rules out any new UK runway
A new research study by the Aviation Environment Federation (AEF) shows that the need to take climate change seriously rules out any new runway – at Heathrow or at Gatwick. The study, commissioned by GACC, particularly shows that, for the UK to play its part in making December's Paris Agreement on climate work, must mean cancelling plans for a new UK runway. The Airports Commission's work shows they were well aware of the problem of UK aviation emissions exceeding their cap level of 37.5MtCO2 per year, but this was brushed under the carpet. Even with no new runway, while all other industries in the UK are – by law – due to decrease their CO2 emissions by 85% on average (by 2050 compared to their 1990 level), aviation is permitted to increase its pollution by 120%. If a new runway is built, that would be even higher.  The hope of an effective world-wide CO2 emissions trading scheme succeeding in limiting emissions looks impossible to achieve. Big tax increases on flights, in order to limit demand when there has been expansion with a new runway, would be political dynamite. Limiting growth at regional airports, to permit full use of a new south east runway, would not be helpful to the regions. "It is time for the Government to stand up to the lobbying by the aviation industry, and tell them that there will be no new runway." A new runway means storing up unnecessary problems in future.   "Climate Change and a new Runway"
Click here to view full story…
Gatwick Chairman confirms no public disclosure of flight paths until after the public consultation of the Gatwick Arrivals Review closes
Arrivals Review team member, Graham Lake, and Sir Roy McNulty, Chairman of Gatwick, confirmed that 'mapping' of the proposed flight path routes proposed by the Review will not be disclosed until after the public consultation closes (ends 16th May). This statement was made at the Gatwick Arrivals Review community meeting on 26th April. There is concern that without any input from affected communities or other organisations, it will only be NATS and Gatwick that have any say over how the arrivals flight paths are set. Many residents affected by Gatwick aircraft noise have little trust in the airport, after being let down. But they are being asked to comment on the consultation without vital information. Gatwick said in 2012 that if the impact of PRNAV routes was too "detrimental", then they should be withdrawn. However, there is no indication this is being followed. People living near the airport and already getting the noise of narrow departure routes are concerned that they may also get the noise from narrow approach routes. The CAA has confirmed that there is nothing in the Arrivals Review to stop arriving flights joining the final approach (the ILS) continuing to be placed in narrow 'swathes', as they are now. Narrowing the swathes for arrivals and departures enables more planes to use the runway per unit time.
Click here to view full story…
Airport officials, CAA and NATS face hundreds of angry residents at CAGNE 2nd AGM
Local campaign group, CAGNE (Communities Against Gatwick Noise and Emissions) held its 2nd AGM on 15th April, attended by around 200 people. Senior spokespeople from Gatwick, NATS and the CAA were invited to speak, but faced angry residents who are not satisfied with what is happening about Gatwick noise issues. During the meeting Bo Redeborn, who headed up the Arrivals Review, confirmed that it had not considered departures – only arrivals. Phil Roberts of the CAA explained how it is seeking greater transparency in airspace changes, having been surprised by the public outcry at various airports due to airspace changes. He confirmed that, (obviously) changes in one area impact airspace in other areas [arrivals and departures]. The CAA hopes that use of PRNAV or PBN (aircraft navigation by 'satnav') will improve the noise problem in future. [That is not inevitable, depending how it is used, and is likely to lead to concentrated flight paths, even if those could be varied. Sally Pavey commented that the CAA view of 'dispersal' would mean a 'multitude of concentrated routes' and not dispersal as people would normally consider it. NATS confirmed that though the LAMP programme, with routes outside current NPRs, has been put on hold, it will return by 2023/2024.
Click here to view full story…
New GACC research paper indicates higher Gatwick charges for runway could lead to airlines moving to other airports
There is a problem about how Gatwick would pay for a 2nd runway, bearing in mind the airlines that use it are not keen on extra charges. Local campaign GACC (Gatwick Area Conservation Campaign) has produced a short research paper looking into the issue. "Paying for a new Gatwick runway." They conclude that the steep rise in airport charges at Gatwick which would be needed to pay for a new runway could cause airlines to decamp to other airports such as Stansted or Luton. The GACC study is based on the estimates made by the Airports Commission that the cost of a new Gatwick runway would mean a rise in airport charges from the current £9 per passenger to £15 to £18, rising to £23 at the peak. Chairman of GACC, Brendon Sewill pointed out: "That is a rise of over 100% and would be serious shock for airlines. easyJet and BA have already expressed anxiety about higher charges, and their unwillingness to pay them. Stansted is at present half full and would be overjoyed to attract business from Gatwick." Manchester airport is a salutary reminder of the risk; its new runway opened in 2000 but was followed by a fall in passenger numbers. Manchester airport is still only at about 60% of the capacity of a single runway. Competitive pressure from other airports could make the financing of a new Gatwick runway challenging.
Click here to view full story…
New grouping (APCAG) of Parish Councils south west of Gatwick formed to work on aircraft noise issues
There are a number of groups representing the many areas affected by Gatwick flights, both arrivals and departures. One of the groupings towards the east, in east Sussex and Kent, is the HWCAAG (High Weald Councils Aviation Action Group) which is a grouping of parish councils (Bidborough, Chiddingstone, Dormansland, Hever, Leigh, Penshurst, Sevenoaks Weald and Speldhurst Parish Councils). Now parishes to the west of Gatwick have formed a similar grouping, the APCAG (Association of Parish Councils Aviation Group) which so far has six founder member parishes, (Pulborough, Wisborough Green, Kirdford, Loxwood, Plaistow and Ifold) and it is planned for more to join. APCAG says it hopes to provide a strong and unified representation for its area in discussions with Gatwick, NATS, the CAA, the DfT, and airlines on aircraft noise issues. It hopes that consisting of democratically elected bodies, APCAG's voice would more likely to be taken account of than a protest group. It chairman is Peter Drummond and its Vice Chairman is Ian Hare. APCAG subscribes to the concept of 'fair and equitable dispersal'; the principle that, provided noise is minimised, it should be shared around in a fair and predictable manner (not defined) – and wehre possible flight paths should not be over people not previously overflown.
Click here to view full story…
Research paper done for GACC shows the techniques Gatwick uses to pay no UK corporation tax
It has been well known for several years that Gatwick airport uses a range of (legal) techniques and schemes to minimise its tax payments in the UK. Now a research paper – one of a series that local campaign GACC (the Gatwick Area Conservation Campaign) is producing – sets out much of the detail of how Gatwick does it. The paper shows how Gatwick earns revenues of over £630 million per year, and yet pays no corporation tax. While public attention – and anger – have concentrated on Google and Starbucks, Gatwick is playing the same game. It pays no tax by complicated arrangements that include a combination of tax allowances for capital investment and deductibility of interest on debt, aided by a tangled web of inter-related company ownership in tax havens such as Luxembourg, Guernsey and the Cayman Islands. This complexity is not available to small companies. GACC says its new study is not easy reading for the layman but will be of considerable interest to investors who may be asked to fund a new runway, and to the DfT, which is at present trying to work on the new SE runway issue. Currently EU Finance Ministers will meet in Amsterdam on Friday 22 April to toughen company tax rules. That could cast doubt on the financial viability of a 2nd runway if some of the tax deals are tightened by by the EU and the G20.
Click here to view full story…             "Gatwick Airport and Tax"  by Ian Harris 
Luton plans light rail link to speed transport, making it a stronger competitor against Gatwick
Luton plans to replace its much-maligned bus transfer service, from the station to the airport, and instead build a light rail link, costing £200 million. The 1.3 mile rail link could cut the journey time from London St Pancras to the Luton airport terminal to less than 30 minutes, which is faster than the time to Gatwick. It would connect to the terminal from within the Luton Airport Parkway railway station, one level above the platforms. A normal rail link has not been possible due to the steepness of the climb uphill to the terminal. The automated light rail service will be funded by Luton Borough Council, which owns the airport freehold and owns the necessary land. The role of the council will be controversial and the scheme will need to be scrutinised for conflict of interest. The airport is spending a further £110 million on redeveloping its terminals and layout to expand capacity from 9 million to 18 million passengers per year by 2020. EasyJet, the biggest airline using Luton, said the redevelopment was a key factor in its pledge to double the size of its operations there over the next decade. A planning application would be made in autumn for work to begin in 2017. The DfT is also working to enable travel between London and Luton by Oyster card or contactless payment by 2018.
Click here to view full story…
Gatwick hoping – yet again – for a link to China, while most long-haul routes have failed
Gatwick has had a very low rate of success (other than low cost airline Norwegian) in getting any long-haul routes to significant places, and keeping them more than a short time. Now an internal airline in China, Tianjin Airlines, is hoping to take delivery of three Airbus A330-200s in the coming months. Gatwick is one of the routes it will be trying out. Tianjin is hoping to introduce a twice-weekly link between Tianjin and Gatwick, via Chongqing from June 25th 2016. However, Tianjin is the huge port some 80 km south east of Beijing. Last August it suffered some very serious explosions at the port, which probably killed around 173 people and caused non-fatal injuries to almost 800 people. An AirportWatch member commented: "No one will want to fly to a port that exploded some 6 months ago. There is nothing there. Tianjin is an internal Chinese airline. Air China pulled out of Gatwick when they got slots at Heathrow. As soon as an LHR slot becomes available they'll be off." Airlines have axed routes from Gatwick in the two years 2011 to 2013 include Hong Kong Airlines, Air Asia X, Korean Air and US Airways. In 2015 Garuda and Vietnam Airlines also moved their flights from Gatwick to Heathrow.
Click here to view full story…
Gatwick promises to reduce plane noise (how?) as Forge Wood residents complain it is worse than expected
Forge Wood is a housing development just north east of Crawley and south east of Gatwick airport. They are in an area less than 2 kilometres from the end of the runway. The development was permitted by a decision of the High Court partly based on a statement by Gatwick Airport Ltd in 2010 that they 'had not a shred of interest in a new runway.' (That comment had been made by Sir David Rowlands, former Chairman GAL in a speech to Gatwick Airport Consultative Committee in January 2010.) The houses would be right under then flight path, if the 2nd runway was built. The noise is already bad, and one new resident who moved there in October 2015 said the planes are a lot noisier than she anticipated and she wants measures to improve the quality of life for locals. Another resident said: "When we bought our house here we didn't think the noise would be as bad as it is. If we have the window open the noise of the planes stops us from getting to sleep at night and I've been woken up at 4, 5 and 6am. We have a problem with planes both taking off and landing." Strangely the 5,000 or so people who will live in Forge Wood were not included in the Airports Commission's numbers of those to be badly affected by plane noise from a 2nd runway. Or some other new housing developments.
Click here to view full story…
Teddington Action Group TAG gets response from Department of Health re. its input on health effects of aviation
The Teddington Action Group (TAG) is very active in opposing the recently intensified level of noise they experience from Heathrow flights. They recently asked the Department of Health what role they have in assessing the impact of aviation noise on public health and whether they have any influence over the Government's aviation policy, which is developed by the DfT. The Dept of Health (in its not very reassuring response) said it is Public Health England (PHE) that provides advice and input into noise related health matters for the Department of Health, including aviation policy. PHE worked with the DfT on the Survey of Noise Attitudes 2014 (a field study investigating noise attitudes of people living close to airports) – PHE is represented on the project board that oversees the methodology and overall progress. PHE is steering the Health Impact Assessment process for the Airport Capacity Appraisal of Sustainability. On the Night Flight Restrictions consultation – PHE is providing ad-hoc advice to DfT on the evidence base. PHE has not yet had any involvement with the design of the Government's Future Airspace Strategy. TAG asked about proper assessment of health impacts, and PHE said it plans to continue its engagement with the DfT by providing evidence-based advice and promote research especially on "interventions to protect and improve health."
Click here to view full story…
Gatwick publishes its response to the Arrivals Review – accepting all 23 recommendations
At the end of January, an Independent Arrivals Review was completed by Bo Redeborn. Gatwick was required to publish details comments on this, by 31st March, which they have done. Gatwick says it accepts all the 23 recommendations, though under some of the recommendations there is a long Benefits/Issues section, with various caveats. Some of the recommendations were relatively uncontroversial. Perhaps the most controversial was Recommendation 10, "for aircraft to be vectored to be established on the ILS at a minimum of 8nm (nautical miles)from touchdown outside of night hours, rather than the current 10nm." Also that "the arrival swathe would normally extend from a minimum of 8nm to 14nm, with aircraft joining on a straight in approach when traffic permits." This would mean less noise for some areas, but perhaps more for those living around 8nm from the runway. Gatwick says: "GAL is minded to accept this recommendation. But its implementation is a complex matter and GAL will therefore seek to ensure that its impact is fully understood before a final decision is taken." Gatwick agrees to improve its dreadful complaints system, and set up in Independent Noise Monitoring Board, though this would probably include only 2 community and 2 local council representatives. There will now be a 6 week public consultation until 16th May.
Click here to view full story…
New study on effect of low ambient noise level on plane noise perception undermines Gatwick 2nd runway case
It is accepted that there is a difference in the way aircraft noise is perceived, depending on the level of background (ambient) noise. At its most obvious, someone standing near a noisy urban road will not notice the noise of a plane flying overhead as much as someone in a quiet location. GACC has commissioned work by Dutch noise experts, looking at the effect of ambient noise. The authors conclude that the % of annoyed residents is likely to be higher in areas with low ambient noise than in high ambient noise areas. The authors suggest that the number of people annoyed is likely to be higher than shown by Leq or Lden metrics, where local factors that influence annoyance are not taken into account. Gatwick is surrounded on 3 sides by designated tranquil areas such as the AONBs. GACC says that, with a 2nd runway, not only would three times as many people be affected by serious aircraft noise as now, but also – due to the effect of noise on quiet rural areas being under-estimated by the Airports Commission and by Gatwick – the usual comparisons between a large number of people annoyed by a new Heathrow runway and a smaller number at Gatwick are not valid. GACC say that, as well as a 3rd Heathrow runway, a 2nd Gatwick runway would also annoy a very large number of people. "Neither runway should be built."
Click here to view full story…
Virgin and Flybe make code-share deal to feed more passengers for US and Caribbean leisure routes
Virgin Atlantic has signed an accord with Flybe, aimed at feeding passengers from smaller European cities onto its flights to the US and Caribbean. From April 2nd passengers can book tickets to travel from one of 18 UK or European airports, and connect onto a Virgin Atlantic flight at Manchester, Glasgow or Gatwick. The deal will encourage people travelling to and from 14 Flybe destinations to use Virgin's Manchester-based flights. It will also provide through ticketing between 4 cities and its Glasgow flights. Newquay will link with operations at Gatwick. Virgin Atlantic will also introduce routes from Manchester to San Francisco and Boston in summer 2017, with San Francisco getting its first-direct flights from Manchester. Flight frequencies to Barbados will increase. The Flybe agreement comes after Ryanair said Virgin is among airlines with which it is discussing possible feeder services. spokesman said: "We look forward to offering easy connections to some of our most popular destinations including the US cities of Orlando and Las Vegas." A Manchester spokesman said these new long haul destinations would "prove popular with leisure travellers.
Click here to view full story…
Report by Mayor of London on runway issue: Boris pushes strongly for 4-runway hub in Thames estuary (or Stansted)
Boris Johnson, due to leave office as Mayor of London in early May, has delivered a blistering attack on a 3rd Heathrow runway – and put forward, again, his vision of a huge 4-runway hub airport in the inner Thames Estuary ("Boris Island"). The Airports Commission's imperfect report came down definitively backing a Heathrow runway, and ruled out the estuary option for a range of geographical, cost and environmental reasons. Boris says, in a report entitled "Landing The Right Airport", that a four-runway airport east of London is the only way to secure enough capacity. His other option is Stansted. He believes these sites "away from populated areas" were the "only credible solution". Daniel Moylan, Boris's aviation adviser, said the inner Thames estuary airport would cost £20bn to £25bn – with an extra £25bn required to building road and rail connections. He said the 3rd Heathrow runway is estimated to cost £18.6bn, not taking into account the cost of surface access and measures to stop congestion, which the new report claims could be as high as £20bn. The report concludes: "As part of its next phase of work, it is incumbent on Government to revisit the entire Airports Commission process and consider a full range of credible options – including alternative hub locations. A failure to do so will undermine any attempt to bring forward a National Policy Statement and leave a decision vulnerable to legal challenge.
Click here to view full story…
Boris's comment on Gatwick, in his "Landing the Right Airport" report conclusion said: "Gatwick expansion is at best a stop gap. Its environmental impacts are lower, but not serving as a hub, its connectivity is more limited and it will not offer the wide range of long haul routes that a hub can offer. It also requires more surface access capacity if extra demand is to be accommodated on already crowded routes."
Only airline backing a 2nd Gatwick runway remains Norwegian, for its own commercial reasons
Gatwick is struggling to get support for its runway. Its page listing supporters of a 2nd Gatwick runway is thin. The section of airports and airlines backing its runway is quite glaringly thin. They have support from Birmingham airport (for which a Heathrow 3rd runway would be a intense competition); support from GIP-owned Edinburgh airport – no surprise there; and support from Norwegian, a low cost airline, which is the 3rd largest using Gatwick. The two largest airlines at Gatwick, easyJet and BA, have both said they do not support a 2nd runway, and are not prepared to pay the extra charges. easyJet backs a Heathrow runway. In December 2015 Willie Walsh said: …"there's no business case for expanding [Gatwick]. I'm not knocking Gatwick — it's a good airport and British Airways operates many flights there. However, very few airlines support the proposal, and no one would move there while Heathrow remains open." In October 2014 he said: "I'm not going to support anything that sees our charges at Gatwick or Heathrow rise." But now Bjorn Kjos, CEO of Norwegian, has said he will bring more planes to Gatwick; 50 Boeing 787 Dreamliners and 100 short-haul aircraft, if Gatwick gets a new runway. It is scarcely news. No comment in favour of a 2nd runway has been made by Thomson Airways, Gatwick's 4th largest airline.
Click here to view full story…
Gatwick MPs call on Transport Secretary: "Gatwick Airport must end misleading air quality claims"
Gatwick is misleading local residents about the environmental impact of their plans to build a 2nd runway, a group of South East MPs warned today. The MPs expressed their concerns about air quality claims and night flights in a letter to the Transport Secretary,Patrick McLoughlin. The Gatwick Coordination Group (GCG) – the MPs in areas close to and affected by Gatwick – is asking Mr Mcloughlin to stop Gatwick from running advertising campaigns which contradict expert environmental evidence, and mislead their constituents. Gatwick has repeatedly claimed the area around the airport "has never and will never breach legal air quality limits" and that it is the "greener" option for expansion. But the MPs as well as councillors and local representatives say the airport's claims ignore significant evidence in the Airports Commission's report. The GCG are demanding Gatwick makes clear the real impact of a 2nd runway on the local environment to nearby residents. The GCG also object to the DfT "drawing up plans for night flights at an expanded Gatwick, which would subject over 60,000 people in the Gatwick area to over 20 hours of continuous aircraft noise. It is incredible to think that the DfT is contemplating this when the Airports Commission made a stronger case for Heathrow which included a clear and viable recommendation for a ban on night flights".
Click here to view full story…
Green field gravelled over – during the night – to become illegal Bristol Airport car park. Not an isolated incident – much the same thing happens at Gatwick
An illegal Bristol Airport car park has appeared after green fields were gravelled over during one night. Neighbours living close to the airport say just months after two unauthorised car parks were closed down, another has been created in what was a picturesque field. North Somerset Council confirmed the former field, which had around 100 holidaymakers cars parked on over the weekend, did not have permission and they are investigating. The access to the field, near the busy A38 may not be designed for this volume of vehicles. It appears that car parking businesses "hop from one location to another without any regard for planning laws or the health and safety of others." A resident said: "The residents living nearby now have the view of a car park and comings and goings all night, in what was a field." The Council said: ""People need planning permission to build car parks. However in green belt locations, such as this, the parking of cars would normally be inappropriate development."We can take enforcement action by serving an enforcement notice requiring the inappropriate use to cease. Failure to comply is a criminal offence for which the council could start legal proceedings." The Council shut down two unauthorised car parks in the area in January 2016, and they closed over 40 unauthorised airport car parks near Bristol airport in the past four years. Gatwick has similar problems.
Click here to view full story…
Justine Greening believes Cameron and Cabinet will abandon Heathrow 3rd runway plans
Justine Greening, MP for Putney, long standing opponent of a 3rd Heathrow runway, and International Development Secretary, has said that David Cameron will abandon plans to build a 3rd Heathrow runway. She predicted that the Cabinet would conclude that Heathrow should not be expanded. Instead a new "long term" strategy should be drawn up to decide on a "sensible" future airport policy for the UK. The Telegraph says this risks a backlash and potential legal challenge from pro airport campaigners. Those wanting a new runway claim that it is needed to prevent flights and businesses going to other countries in Europe in the decades ahead. Last autumn Sir Jeremy Heywood, the Cabinet Secretary and Britain's most senior civil servant, warned ministers not to comment on the runway issue before an announcement due to concerns that the final decision could be vulnerable to legal challenge by the losing side or its backers. Justine Greening said she did not think the Cabinet would back Heathrow as it was not a smart decision. "Trying to expand Heathrow is like trying to build an eight bedroom mansion on the site of a terraced house. It is a hub airport that is just simply in the wrong place." She had said earlier that she might resign if Heathrow was granted a runway, but she my have changed her mind.
Click here to view full story…
AEF analysis of the ITC report: its "conclusion that environmental impacts should be no barrier to expansion is unfounded"
A new report published by the Independent Transport Commission (ITC), a think tank supported by Heathrow and Gatwick, has argued that environmental concerns should not prevent a new runway being built. Now the Aviation Environment Federation (AEF)has come out with a damning assessment. The report argues that "it is foreseeable that a range of solutions will enable forecasts of future growth to be delivered within acceptable environmental boundaries even without a "step-change" in technology". AEF points out that what "acceptable environmental boundaries" are not clearly defined. On CO2 emissions AEF says the ITC has put too much faith in future market based measures to trade emissions, and used unjustifiably optimistic forecasts of fuel efficiency improvements (1.6% per year, when others expect 0.8% at best). On noise AEF says the ITC does not even consider health impacts, uses implausibly optimistic assumptions and some unclear use of noise measurements. On air pollution, the ITC argues this is largely not the airports' responsibility and hopes levels will improve soon. AEF concludes: "Without clearer definitions of what constitutes "acceptable environmental boundaries", and evidence that these can be achieved, the report's conclusion that environmental impacts should be no barrier to expansion is unfounded."
Click here to view full story…
"Independent" transport think tank, pro-runway, finds the environmental challenges can all (honestly…) be overcome …
Heathrow is well aware [Gatwick too] that it has an almost insurmountable set of environmental obstacles that, in any logical system, would make a 3rd runway out of the question. However, it keeps hoping that it can persuade enough key people that all is well, and all environmental problems will just melt away. Now, in a slightly desperate attempt to get politicians etc to ignore the evidence, a report has been done by an organisation called the "Independent Transport Commission." This is a body partly funded by Heathrow, by Gatwick, by NATS and many others. The report "The sustainability of UK Aviation: Trends in the mitigation of noise and emissions", written by RDC Aviation Ltd, sets out to show that the aviation industry can soon overcome problems of noise, air pollution and carbon emissions – and adding a new runway will be problem-free. The report is thin on good detail to back up these claims. It is high on hopes, aspirations and what could be termed "mindless optimism" that new technologies will work out well, and everything that could help the aviation industry will do so. None of the real problems of an expanding industry, with additional problems from the sheer increase in plane numbers are dealt with. A report, which is hard to describe as "independent" in any meaningful sense of the word, advocates sacrificing the environment if holds the industry's growth back.
Click here to view full story…
Local firms dispute Gatwick's claims that a 2nd runway would be good for business or for the area
Backers of a 2nd Gatwick runway (few as they are) such as the Gatwick Diamond are keen to promote the view that it would greatly help local business. However, many businesses in the area would, in reality, be harmed by it. Employers fear the airport's expansion would mean higher wage expectations and wage inflation. As there is almost no local unemployment, it would become hard to employ local staff. There would also be much more road and rail congestion, from all the extra travel demand generated – with a negative impact on local companies. The pressure on office space and business locations would increase, pricing some firms out of the area. Where are they to relocate to? Gatwick is meant to have an "Engagement Charter" (written in 2014) through which it keeps in contact with local "landowners and occupiers" but some say they have had no contact from Gatwick. There is meant to be one to one support from the airport – especially on compulsory purchase. Sally Pavey, Chair of CAGNE, commented: "At last local businesses are starting to realise what a second runway at Gatwick will mean for them. It's not going to be all good news for them." Local campaign GACC produced an excellent, easy-to-read 6-page paper in December 2014, "Bad for Business" setting out a range of topics, illustrating how negative the runway's impacts would be.
Click here to view full story…
German-owned air traffic company, ANS, takes control (from NATS) of Gatwick tower services below 4,000 feet
Air Traffic Control (ATC) tower services at Gatwick are being provided, since 1st March, by a subsidiary company of German air navigation service provider DFS Deutsche Flugsicherung. The wholly owned DFS subsidiary—Air Navigation Solutions (ANS)—replaces NATS, and is now responsible for air traffic and approach services below 4,000 feet around the airport. NATS continues to provide approach control guidance to Gatwick from its Swanwick area control center. While the German government owns 100% of DFS, NATS is a public-private partnership; the UK government owns 49% of it; airlines own 42%; employees 5% and Heathrow 4%. Gatwick originally tendered for the services in late 2013, but NATS challenged this through the UK High Court of Justice. It won an injunction in October 2014 that suspended the contract award, and the matter was finally settled out of court. NATS is proud that it managed to deal with a record of 934 movements in a single day. Local campaign GACC believe the change will probably make very little practical difference because all the same staff will be operating the Gatwick control tower – just with a different employer. NATS says it has seconded 24 employees to support ANS for 2 years.
Click here to view full story…
Anger at revelation that Gatwick bosses to personally profit (millions of £s) if 2nd runway allowed
The Gatwick Area Conservation Campaign (GACC) has expressed anger at the revelation in the Sunday Times that Gatwick bosses are set to benefit personally by several million pounds if permission is given for a 2nd runway. GACC says a 2nd runway would bring misery to tens of thousands of people. There would be three times as many people affected by serious amounts of aircraft noise, and new flight paths over peaceful areas. About 50,000 people would suffer from worse air quality. A new runway would mean traffic jams on motorways and local roads, overcrowding on the trains and an influx of new workers with a need to build 40,000 new houses on green fields. But with all these negative impacts on ordinary people, Gatwick bosses would walk away with huge bonuses. GACC chairman, Brendon Sewill, commented: "Until now Gatwick Airport Ltd have tried to persuade the public that a 2nd runway would be in the national interest. Now the cat is out of the bag! There is no real need for a new runway at Gatwick." GACC will be investigating how far these new bonus payments will be subject to the normal full 45% rate of income tax. Despite making large profits, Gatwick Airport has paid no corporation tax since being bought by GIP due to tax fiddles similar to those operated by Starbucks or Google.
Click here to view full story…
Witness statement by Prof Alice Bows-Larkin for Heathrow 13 trial clearly shows CO2 problem of a new runway
Alice Bows-Larkin, a Professor in Climate Science and Energy Policy at MACE at Manchester University, gave written evidence at the trial of the Heathrow 13, for their action at Heathrow in July 2015. Her witness statement (11 pages + references) is a closely argued and highly expert assessment of the need for the emissions from aviation to be restricted. It is well worth reading. Just a few of the points she raises are that the UK has signed up to the ambition of the Paris Agreement to keep global temperature rise to below 2 degrees C. This is not consistent with an increase in the CO2 emissions from UK aviation above their capped level. There is no justification for international aviation to be excluded for global ambitions to limit CO2. Even if there is some carbon trading scheme, aviation needs to be fully included. If 'negative emission sources' that can remove CO2 from the air (unlikely) "do not materialise in time, 'well below 2°C' will only be achieved by a wholesale shift away from fossil fuel combustion. This would mean that CO2 produced by the aviation sector would also need to be reduced to near zero. This … would be largely uncontested." Prof Larkin says in ther view the Government's intention to build a new runway, raising UK aviation CO2 emissions, "implies a misunderstanding by UK Government of the scale of CO2 mitigation that a 2°C goal relies upon – let alone a 'well below' 2°C target."                                                      Her witness statement: Heathrow13-evidence-from-Prof-Alice-Bows-Larkin Jan 2016
Click here to view full story…
Patrick McLoughlin evidence to Transport Cttee – he "very much hoped" to give runway location decision by July
The Commons Transport Committee held an oral evidence session on 8th February, inviting Transport Secretary of State, Patrick McLoughlin, to comment on the decision by the government to delay a statement on the location of a possible new runway. The tone of the session was that the Committee was eager for a decision to be made rapidly, with concern that undue time was being taken. Mr McLoughlin explained that even an EU referendum in June would not rule out a decision before Parliament's summer recess. He said though there has been a delay, partly due to air pollution problems and the VW "defeat" scandal, he hoped the government was ensuring all necessary research had been done, to minimise the chance of legal challenges causing yet further delays. The timetable the government is working to is a runway by 2030, though Heathrow and Gatwick would prefer it to be by 2025. Mr McLoughlin said he "very much hoped" there would be a statement to Parliament at least several days before summer recess on the London hubs being made before summer recess (mid-July, date not yet published) to allow time for MPs to comment etc. He stressed how the 2008 Planning Act would make pushing a runway through fast, and gave the various timings, with only 6 months for a planning inquiry and examination in public.
Click here to view full story…
Andrew Tyrie, Chair of Treasury Select Committee, says economic case for a new runway unclear and based on "opaque" information
Proper research may show  the UK does not need a runway at all.                           Andrew Tyrie, is the chairman of the influential Commons Treasury select committee. He has now said parliament and the public had been left partly in the dark on the case for a new runway, because the Airports Commission's analysis is not good enough. He said the decision on airport expansion is being taken on the basis of information that was "opaque in a number of important respects." Mr Tyrie said the robustness of the Airports commission's conclusions could not be determined from the information in its report. "Parliament has demanded more transparency over the environmental case. At least as important is the economic case." Mr Tyrie said it was impossible to tell if the potential economic benefits for the UK of the proposals by Heathrow or Gatwick differed significantly from one another, or even if the benefits of building either are significantly different from not building any new runways. "A decision as controversial as this — one that has bedevilled past governments for decades — requires as much transparency as reasonably possible." Andrew Tyrie has written to George Osborne calling for more details of the calculations that led to the Commission recommending a Heathrow runway. He also also called for the process to be moved from the DfT to the Treasury.
Click here to view full story…
Gatwick Airport Ambassador switches allegiance to Heathrow, and runway bid fails to gain traction with business
Back in early 2015, Emma Jones – the founder of Enterprise Nation – a small business support platform, was working for Gatwick airport and promoting its usefulness for business. She is quoted by Gatwick in March 2015 as saying how many of the UK's 5 million small businesses were looking to 'Go Global' and sell their products and services abroad. "To do so requires an easy-access airport and low cost flights to meet new contacts, research markets and source suppliers. It's for these reasons that I support expansion at Gatwick …." Then in November, Emma was appointed by David Cameron as one of six leading entrepreneurs to be business ambassadors with a focus on helping more small businesses export their products and services. And she is now working with Heathrow. It has been announced that Heathrow is to carry out a consultation with Enterprise Nation, to explore the impact of expanding Heathrow on the UK's small and medium sized enterprises (SME). Emma said: "A quarter of all UK exports by value already travel through the airport. It will be interesting to see how an expanded Heathrow could make a real difference at a time when more people than ever before are starting and growing businesses
Click here to view full story…
Arrivals Review for Gatwick suggests a range of measures to slightly reduce the noise problem
The Arrivals Review, by Bo Redeborn and Graham Lake, has now been published. It has made a series of recommendations for ways in which the aircraft noise problem might be slightly reduced – without limiting the capacity of the airport at all. These recommendations are copied below. The report is wide-ranging, with a lot of issues covered. Below just what is says on four topics (chosen arbitrarily by AirportWatch, to give a taster of the report) is included. These are 1). The decision to move the joining point onto the ILS to be a minimum of 8nm from touchdown, rather than the 10nm used at present. 2). Changing the way Gatwick uses its runway in nil or low wind. 3). Deterring flights being delayed to take-offs occur during the night period, as a Key Performance Indicator. 4). The noise complaints policy needs to be improved. (The review comments: "the current limit of one noise complaint per day per household is considered wholly unacceptable by those residents addressing this issue with the review. It is easy to understand their point of view.") They propose: "that Gatwick should establish an enhanced complaints policy with no daily limit and a fully transparent procedure, as soon as possible, using an on-line form as the sole electronic complaint registration medium." The Review also recommends the establishment of a Noise Management Board (NMB) by summer 2016.
Click here to view full story…
"Independent Arrivals Review" for Gatwick airport, published by Bo Redeborn and Graham Lake
The Gatwick Airport Arrivals Review, led by Bo Redeborn and Graham Lake, carried out for the airport, has been published. The purpose of the review was: "To make sure everything that can reasonably be done to alleviate issues raised by the local community is being done." and "To understand if the way Gatwick communicates with and provides information to the local community, including the handling of complaints, is fully adequate." The review set out some practical steps to slightly reduce the noise problems being experienced, including increasing CDA, reducing "stacking", setting up an independently chaired noise management board, and improving the noise complaints system – among other things. However, Gatwick's welcome for the review is carefully worded; the normal weasel words are in there. Such as: "Gatwick Airport has welcomed the report and its recommendations and will examine the report's conclusions with a view to proceeding with as many of them as possible in the shortest practicable time." And "There is no silver bullet that will ever eliminate the problem of aircraft noise but taken together I believe that these measures can make a real difference." And "We want to act as soon as possible on these recommendations so people can start to feel the difference but we cannot do so alone."
Click here to view full story…
AEF report finds UK's out-of-date aircraft noise policies putting the health of over one million people at risk
A new report by the AEF has identified that the Government's aircraft noise policies are risking the health of over one million people and an urgent policy rethink is needed ahead of runway decisions in 2016. Aircraft noise is associated with increased risk of increased blood pressure, and higher risk of heart attack, heart disease and stroke. Health is also detrimentally affected through sleep disturbance and annoyance. Aircraft noise impedes the memory and learning ability of school children. The UK's aircraft noise policy has not been updated in line with this mounting evidence base, with some noise policies based on studies dating back to the early 1980s. The Government's lack of response to emerging evidence on noise may be costing the UK £540 million each year.The noise problem is particularly acute at Heathrow, including many affected schools, but there are serious problems at many other airports too. The health burden is not just experienced close to airports, with high levels of noise miles from the runway. The current policy on flight paths does not consider the impact of sudden changes, or the health impacts of newly affected communities. The report calls for the Government to act now to reduce the health burden from aircraft noise. Long-term noise targets are needed to protect health, and all noise policies should be reviewed in the light of these targets. A new runway should only be permitted if the noise burdens are reduced.
The report: "Aircraft Noise and Public Health: the evidence is loud and clear"
Click here to view full story…
Site of possible 172 acre business park near Horley, on flood plain, over 2ft deep in water
Plans were announced in October for a huge, 172 acre, business park to be built just south of Horley. Reigate and Banstead Borough Council agreed in principle to use compulsory purchase orders (CPOs) for a business park on the land off Balcombe Road. There is a lively local opposition group. Now a local teacher, Joanna Barnett, has posted a video of herself standing in 2 feet of water, and then in a small rowing boat, on the flooded land. The land regularly floods, being part of a flood plain, helping to protect Horley. The teacher asks where that water would go, if the are is covered in concrete and tarmac. There are serious concerns that building in a necessary flood plain would make flooding in surrounding areas worse. The water can only drain away slowly into the Burstow Stream and the Gatwick stream, ultimately ending up in the river Mole. Mrs Barnett asks: "Why do you think its OK to spend public money, £540,000, preparing this land for the business park? That is our money and it should not be spent trying to pave over a flood plain." More than 3,200 people have now signed a petition railing against plans to create the huge business park. The local group,"Keep Horley Green" are campaigning against the development, which is on land categorised as a public open space. A consultation is due in 2016.
Click here to view full story…
Sadiq Khan's environmental concerns mean rightly opposing Heathrow runway – but vanish in relation to Gatwick
Labour Mayoral candidate, Sadiq Khan, backed a runway at Heathrow until June 2015, when he came out against it, partly realising the air quality problems had an unacceptably bad impact on Londoners. Due to the extent of Heathrow opposition, he realised he would not be elected if he backed a Heathrow runway. Sadiq has made various statements about how he is concerned the environment and wants to be" the greenest mayor London's ever had." He also has plans to "put radical environment improvements 'front and centre'" in his campaign, plant 2 million tree, and implement a major extension of the "ultra-low emissions zone" – which bans the most polluting vehicles. All that is great. But his care for the environment runs out when it comes to Gatwick. He backs a 2nd runway there, and is trying to persuade the Labour party to do so too. Appreciating just how unpopular airport expansion is at Heathrow, largely due to the extensive negative impacts over a wide area, Sadiq appears keen to dump that sort of misery on those who are not able to vote against him – living outside London. He appears to have been taken in by Gatwick's PR and charm offensive, believing there would be thousands of jobs for people in Croydon and his constituency, Tooting. A combination of nimbyism and self-interest.
Click here to view full story…
"Gatwick Obviously NOT" given permission take their JR of the CAA to the Appeal Court
The group, "Gatwick Obviously NOT" (GON) has received the welcome news that their appeal to be allowed to make a Judicial Review (JR) against the CAA has been successful. They have now won Permission to go to a Full Hearing in the Appeal Court. In March 2015, Martin Baraud, the Chair of GON, served a JR upon the CAA, with Gatwick Airport Ltd and the Secretary of State for Transport as an 'Interested Party'. The "Ground of Claim" is that there has indeed been a change in the use of airspace and that the CAA should first have consulted on such change before it was put into effect by GAL and NATS. In August, they were refused permission to proceed with the JR. Taking advice from their QC, John Steel, they appealed. GON say the judge, Mr Justice Haddon-Cave, while refusing the Permission, added a postscript, seeming to suggest that there may be an issue about the need for consultation for 'seismic' events (such as the flight path changes introduced without notice) that is more a matter for the law-makers, not the lawyers. Now GON are pleased that the Judge The Rt. Hon. Lord Justice Burnett has stated that the case – very significantly – must be held in the Appeal Court rather than the High Court. This is in order to "'obtain an authoritative ruling on the meaning of relevant provisions, which govern similar arrangements at airports other than Gatwick".
Click here to view full story…
Gatwick sets up a "Noiselab" website, so people can see more about its plane noise
Gatwick airport realises the increased impact of the noise from its planes is causing considerable upset, anger and opposition. As part of its PR offensive, to try to persuade people that it is going everything possible to minimise noise and take people's complaints ("concerns" in Gatwick language) seriously, it has launched a website called "Noiselab" as a noise monitoring tool. The aim is to allow people to look at the noise close to various monitors and see how much is from aircraft, how many flights etc. It does not appear that many of these noise monitors are new. The noise level readings at the various monitoring points are only given as averaged LAeq values over a 16-hour day and a 8-hour night. This averaging process destroys the usefulness of this tool as a measure of noise annoyance, especially under flight paths. What people hear is the noise level (LAmax) of each aircraft. The "fly-over" average also reduces the actual noise nuisance, and there is no measure of background noise levels (LA90) against which each aircraft noise event is clearly heard. However the network of monitors should be welcomed because they could be put to proper use, for example if LAmax measurements were taken and the N70 metric [this means the number of noise events noisier than 70dB] was used and the "fly-over" value was given as a Sound Exposure Level (SEL).
Click here to view full story…
Heart-felt letter by seriously noise-impacted resident  in West Kent, to Bo Redeborn – re. Gatwick flight path review: "Don't let us down"
People living in areas around Penshurst, Crowborough, Tunbridge Wells, Bidborough etc began to suffer from far worse Gatwick noise from early 2014. Changes had been made to Gatwick arrivals flight paths, without consultation. There is now an independent review being undertaken, of the changes. It is being done by Bo Redeborn and Graham Lake, and will be published on 28th January. It is hoped that this will not be a whitewash. A resident from a village in West Kent has written to Bo Redeborn, expressing very clearly the necessity of the review being genuinely independent, and avoiding the ambiguities, evasions and half-truths that have plagued the whole flight path change situation from its start. The writer says: "Until or unless you are able to tell us precisely what changed, why it changed, who proposed it and who authorised it then to all intents and purposes this really is 'vectoring choices'. If this is not PBN, if this is not SESAR, if this is not government directed policy, then this really is caused by a bunch of ATCs [Air Traffic Controllers] making arbitrary decisions to send planes down pig trails. So it can, and should, be restored 'overnight' as confirmed by Charles Kirwan-Taylor." He concludes: "Mr Redeborn, an awful lot of people are depending upon you to repair their shattered lives; don't let us down." See the whole letter ….
Click here to view full story…
"Plane Wrong" critical of CAA's PIR decision to permit new easterly take-off route to continue
The CAA published its long-awaited Post Implementation Review report in early November. Gatwick is required by the CAA to change one westerly departure route (Route 4) that affects people in many villages to the South of Dorking and across to Reigate and Redhill. This has to revert back to being within the NPR (noise preferential route) as before. Local group, Plane Wrong, set up in response to the noise problems caused, says it welcomes the decision and wants this to be implemented rapidly so that residents do not have to suffer the noise for another summer. Plane Wrong is, however, dismayed at the CAA decision in respect of Route 3, which is not to be changed despite the fact that many more people are significantly affected by the change. This appears to have been entirely ignored. Plane Wrong has considerable doubts about some of the methodologies employed by the CAA to reach both these decisions. On the change to Route 4, Plane Wrong says the changes should be completed quickly, though the CAA has to test the change in simulators for Boeing and Airbus. They do not yet know when this work will take place. There is also a 2 month period that has to elapse after that, and there is no indication yet of when this will end
Click here to view full story…
Gatwick re-hashes its plans to add runway capacity in 4 phases, rather than all at the start
Gatwick are hoping they can get some advantage over Heathrow, by making much of their plans to develop the extra runway capacity in phases – not building all the ancillary infrastructure at the start. This in fact has been their plan for a long time – it is nothing new. The Airports Commission assessed it in 2014. Gatwick may not be able to secure the necessary funding to build everything at once, and only be able to pay for it over many decades. Gatwick hope to build the runway and basic third terminal in the first phase, costing about £3 billion, by 2025. This would increase capacity to about 63 million passengers, from a maximum now of 45 million. The 2nd and 3rd phases would expand the terminal, build new aircraft gates and fully divert the A23 around the airport. The 4th phase would be the completion of the terminal and piers, while finishing off taxiways for passenger jets by 2040. The aim would be to add more as passenger numbers build up. The Airports Commission always saw the numbers of passengers rising only slowly at Gatwick, and taking a long time to double (not even taking account of the higher costs to pay for the runway etc, that would be passed to passengers, reducing demand).That does indicate that there is no great pent up demand for a huge number more flights. Let alone business flights to emerging economies.
Click here to view full story…
Government delays decision … Sally Pavey sets out why Gatwick expansion must NEVER happen
Responding to the news that the government will delay a decision on a new south east runway, till at least some time in summer 2016, Sally Pavey (Chair of CAGNE) set out many of the key reasons why a Gatwick runway should never be allowed. People opposed to a Gatwick runway are concerned about the politics of the Tory party, David Cameron, and Zac Goldsmith's bid to be London Mayor – making a choice of Gatwick for a runway, for very doubtful reasons. The impact of aircraft noise at Gatwick is severe – as illustrated by the number of noise complaints (over 29,000 in 2014) – with flights at night, every night. The Airports Commission's figures show the likely economic benefit to the UK from a Gatwick runway is not high, and being almost entirely low cost leisure flights, Gatwick contributes disproportionately to the tourism deficit – increasing the amount of money Brits spent abroad, rather than in the UK. The impact of the housing and increased urbanisation that Gatwick would cause would be huge, across many boroughs, putting severe pressure on all infrastructure. A 2-runway Gatwick would be the same size as Heathrow, but with one railway line that can't be expanded, and a new line is ruled out. The only motorway, the M23, would be full before Gatwick's runway was finished …and more … read Sally's article …
Click here to view full story…
Prof David Metz: "The solution to London's airport capacity crisis? Do nothing"
David Metz is an Honorary professor of transport studies at UCL. He has written a sensible assessment of what should be done with the alleged "crisis" of London's airport capacity. He says for "road travel, "predict and provide" has been largely abandoned by developed economies. These days the favoured approach is called "managing demand". This method works on the basis that attempting to meet an ever-growing demand is impractical…" "what would happen if we didn't build another runway at all? For air travel, the answer lies within the market. Three–quarters of passengers are on leisure trips…"… "The case for more airport capacity to support inbound tourism is weak. While London's hospitality, entertainment and retail sectors would welcome more visitors, Britain has a negative balance of trade in tourism: that is, British people abroad spend a lot more each year than overseas visitors to the UK."…"If we decided not to build a further runway at Heathrow, the market would respond to this capacity constraint by accommodating the most valuable passengers through price increases."…"The growth of business travel would displace leisure travel, both within aircraft on existing routes and between routes, where time is traded against money."… "Managing the demand for air travel though market mechanisms is a viable alternative to building more airport capacity"
Click here to view full story…
Long awaited Government statement on runways – decision will be delayed till summer 2016 – more work needed
After a meeting of the Cabinet Airports Sub-Committee, a statement was finally put out by Patrick Mcloughlin, the Secretary of State for Transport, at 7pm. It said that the government confirms it supports the building of a new runway in the south east, to add capacity by 2030 (earlier airports claimed they could have a runway built by 2025). The decision on location is "subject to further consideration on environmental impacts and the best possible mitigation measures." All three short listed schemes will continue to be considered – so Gatwick is still included. "The government will undertake a package of further work and we anticipate that it will conclude over the summer." On air pollution and carbon emissions "The government faces a complex and challenging decision on delivering this capacity." More work is needed on NO2. "The government expects the airports to put forward ambitious solutions. …The mechanism for delivering planning consents for airport expansion will be an 'Airports national policy statement' (NPS), following which a scheme promoter would need to apply for a development consent order."… "At the first opportunity I will make a statement to the House to make clear our plans."
Click here to view full story…and for some of the many comments on the statement
Comment by GACC on government runway statement: Gatwick is not an easy option, especially on surface access
GACC (the Gatwick Area Conservation Campaign) has responded to the news that the government is postponing its runway decision for at least 6 months – and therefore leaving Gatwick as a possible location. GACC is not surprised that the Government has delayed the decision, because Gatwick is not an easy option – there are substantial environmental problems at Gatwick as well as at Heathrow – for which no solution has been found. At Gatwick these include aggravating the north-south divide; 50,000 people would be affected by worse air quality; there would be a need for a new town the size of Crawley; three times as many people as at present would be affected by severe levels of aircraft noise; and the road and rail system could not cope, when the airport approached full capacity. A key issue that has no far been neglected by government, or the Commission, is the real cost of the road and rail infrastructure work that would be required for a 2nd Gatwick runway. The M23 and M25 would need major widening, the M23 would need to be extended into London, several new A roads would need to be built east and west of Gatwick, and the Brighton main rail line would need extensive work – all of which could be just as costly as anything needed at Heathrow. The reality is that the annual number of Gatwick flights is now only 5% higher than it was in 2000.
Click here to view full story…
Government's Heathrow indecision met with opprobrium from group of Gatwick area MPs
Speaking as Chair of the Gatwick Coordination Group of MPs (all eight MPs in the areas affected by Gatwick), Crispin Blunt MP lambasted the Government's indecision over its response to the Airports Commission recommendation for a new runway at Heathrow Airport. Crispin said: "This is a disgraceful vacillation by the Government. They will richly deserve the opprobrium to be poured all over this shocking non-decision."…."We were promised a decision by the end of the year. Recently we were promised a direction. What we have is neither decision, nor direction, but political cowardice, weakness and prevarication." … "We will fight tooth and nail any attempts to resurrect Gatwick, whose flawed and costly proposal was left dead and buried by the Airports Commission. It is not the easier option. It would not survive the scrutiny of Parliament and the courts. Gatwick would deliver half the economic benefit, has wretched rail and road transport connections, and would fail to provide the hub airport which the UK needs."
Click here to view full story…
Airports Commission not only downplayed crash risk of new runway, but got the word "crash" removed from report title
Many people are very concerned about the safety implications of adding another runway, especially at Heathrow, where hundreds of thousands of people are over flown. It has now been shown that though the Airports Commission (AC) did have a study done by the Health & Safety Laboratory (HSL), in May 2015, it downplayed its findings. The Standard says that confidential documents and emails it obtained showed the AC, which backed a third runway, got the title of an independent study on aircraft crashes changed to remove the word "crash". Unsurprisingly and obviously, adding another 50% more planes at Heathrow, or 100% more at Gatwick would increase the risk of a crash. The Standard says the AC rejected "risk maps" showing the increased likelihood of an aircraft crash around London airports if expansion went ahead. Instead the AC's Final Report said " the changes to the background crash rate are minimal, regardless of whether or not expansion takes place at the airports." It failed to mention the HSL conclusions that the likelihood of a crash on take-off or landing increased by up to 60% with a 3-runway Heathrow and doubled under one scenario with a 2-runway Gatwick. Daniel Moylan said the cover-up was "truly shocking." People living under approach routes (higher risk than take-offs) should know their risks. The future flight paths are not yet know, so those living under them are unaware of the risk. The dangers of drones, laser beams and terrorism are not included – nor the risk to those on the ground.
Click here to view full story…
CPRE Sussex says anticipated 6 month delay on runway decision means uncertainty for councils as well as residents
It seems the government will postpone a decision on a runway, because of the serious environmental problems that a Heathrow runway presents. A Gatwick runway would pose very similar environmental issues, of carbon emissions, noise and air pollution – as well as surface access, cost, and local impacts of all sorts. It is likely the government will delay a decision till after the London Mayoral elections in May 2016. This means thousands of people are left in limbo, with the uncertainty dragging on. It also means local authorities are left with uncertainty, on issues such as housing targets in local plans and investment in infrastructure. Councils are having to produce their local plans, anticipating needs for housing and employment for many years ahead. A Gatwick runway is expected to require an additional 45,000 houses and a road network able to take an extra 100,000 vehicles per year. The Director of CPRE Sussex said: "A final decision to rule out airport expansion in the South East should be made and it should be communicated soon." Then there could be some planning certainty. CPRE Sussex says airport expansion in the south-east risks major long-term environmental and health damage. A Gatwick runway would radically change the face of West Sussex.
Click here to view full story…
Government likely to delay any runway announcement till well after Mayoral election in May 2016
The BBC reports that "senior sources very close to the process" have said that the decision by the government on whether to build a new runway at Heathrow or Gatwick is going to be delayed for at least six months. That means after the Mayoral elections in London, in early May – and would make it less difficult and awkward for the government, with Zac Goldsmith (vehemently against a Heathrow runway) standing as Tory candidate. The source said the government needs to have more "confidence building" about the environmental impact of a new runway at Heathrow. That is largely about local air quality, but also noise and carbon emissions. The BBC believes that means yet another review, and it does not rule out a runway at Gatwick. Both Heathrow and Gatwick are going to have to come up with convincing proposals, over coming months, about how they will deal with the environmental problems. They are not going to find it easy. The BBC says government also wants to get more money out of the "chosen" airport, for local compensation schemes. It is expected that the runway decision will be taken by the Economic and Domestic Cabinet sub-committee,which Cameron chairs, on Thursday 10th, the prime minister chairs. The outcome is likely to be announced on the same day (probably in Parliament by Patrick McLouglin?
Click here to view full story…
Anti Gatwick expansion campaigners send Christmas cards to Cameron, Corbyn + senior ministers
Campaigners from CAGNE (Communities Against Gatwick Noise and Emissions) against a 2nd Gatwick runway have sent Christmas cards to Prime Minister, David Cameron, Jeremy Corbyn MP, leader of the Labour Party, and other senior government ministers. The cards ask 'Will it be a Happy Christmas for the residents of Sussex, Surrey and Kent?' as the government announcement about a runway decision is expected before Christmas. Residents from Surrey, as well as Crawley, Warnham, Rusper, and other parts of West Sussex, all gathered at the Warnham village post box to mark the sending of the Christmas cards. Sally Pavey, chair of CAGNE said: "The message in the cards explain why Gatwick should not be expanded and provides them with a copy of the residents' film, "What does a second runway at Gatwick mean to you?" so that they can hear, direct from residents, how Gatwick expansion would obliterate what are successful counties at present. Gatwick brings least into the UK economy but will cost local taxpayers billions, and destroy what are currently attractive rural areas of Sussex, Surrey and Kent." On 27th November there was a meeting in Horsham, with the Gatwick Arrivals Review team.
Click here to view full story…
Meeting of Cabinet's runway sub-committee expected to decide on Tuesday 1st December which to back – before full Cabinet decision. Then announcement in next 2 weeks?
Postponed from 1st December due to Syria bombing debate. Maybe next week?
The Sunday Times reports that there will be a meeting on 1st December of the Cabinet sub-committee (the Economic Affairs (Airports) Sub-Committee) working to push through a new runway. David Cameron will then consider the decision of the sub-committee before is it considered by the full Cabinet. An announcement will be made next week, or the week after. The Times believes the sub-committee backs a Heathrow runway. There are 10 members of the sub-committee, and it does not include any of the vociferous opponents of Heathrow, such as Boris Johnson, Justine Greening or Theresa Villiers – or even Philip Hammond or Theresa May. It is likely that Zac Goldsmith would resign as MP for Richmond Park, requiring a by-election. There will be fury – especially in the Heathrow Villages and those living near Heathrow – that Cameron had gone back on his word. He specifically promised at the 2010 election that: "No Ifs. No Buts. No 3rd Runway." Going back on a promise is bad enough, but people believed him, and made life-decisions about their homes etc on the strength of it. They have been betrayed, and this betrayal could be Cameron's legacy. The Conservative Party also said in May 2010 that there would be no new runways at Gatwick or Stansted. That was just as much a promise as no Heathrow runway.
Click here to view full story…
Gatwick Express: Passengers in danger of missing flights as airport train service is halved
Gatwick is keen on saying how it would be "road & rail ready" for a 2nd runway by 2021, and that everyone will have easier and faster journeys, with no more congestion – even with more than twice as many passengers as today. And that sort of thing. However, its train links are a very real problem. Now Simon Calder says there will be cuts to trains between London and Gatwick in the off-peak period, at first for a trial period. There are 13,000 fewer seats per day, as 38 Gatwick Express services per day are being cancelled, meaning passengers will have to wait up to 30 minutes, rather than 15 minutes. "The latest cunning plan for dealing with rising passenger numbers on the London-Brighton line: halve the number of Gatwick Express trains, and delay some other services." Some of the surviving trains will make additional stops, adding to journey times. Govia Thameslink Railway (GTR) is telling passengers: "The aim of the changes is to help reduce congestion on the network, so that a more reliable service can be provided." But the lower number of trains will lead to more over-crowding. With the fast trains from London to Brighton having to have an extended stop at Gatwick, they will be delayed by 5 minutes. Passengers prefer the direct London-Gatwick line, the Gatwick Express, rather than trains going to or from Brighton.
Click here to view full story…
Sadiq Khan backs Gatwick runway (+ London City Airport expansion) knowing he'd have no chance of being Mayor backing Heathrow
Labour mayoral candidate Sadiq Khan (MP for Tooting) had decided he will back a 2nd Gatwick runway, knowing he would have no chance of being elected mayor if he did anything other than oppose a Heathrow runway. He has done a publicity stunt, charm offensive, visit to Gatwick, being given the celebrity treatment. His view is to prevent the noise, air pollution, congestion etc problems caused by expanding Heathrow, and instead make "Heathrow better, not bigger". Previously he backed a Heathrow runway, until realising he could not maintain that line and have any chance of being London Mayor. He has also recently said he would consider allowing the expansion of London City Airport if he took over at City Hall. Boris had blocked expansion earlier this year, on noise grounds. The London City scheme, if approved, would increase the number of flights from 70,000 to 111,000 per year, doubling the annual number of passengers by 2023, as well as extending the terminal and building a parallel taxiing lane. He said London City Airport was "a special case because of its size and economic impact." Bearing in mind his support for Gatwick, he appeared oblivious of the irony of this statement: "I think what you can't do is play politics with decisions about people's jobs and business."
Click here to view full story…
Though Gatwick number of passengers is up 5.7% this year on 2014, the number of flights only up by 2.6%
Gatwick Area Conservation Campaign (GACC) says that use of larger planes, and with fewer empty seats, explained how Gatwick has a record-breaking 40 million passengers per year. Gatwick has been expanding its passenger numbers as fast as possible, in its bid to get another runway. The Airports Commission estimated, based on past trends, that it would not reach 40 million passengers per year for many more years. But Gatwick has not increased the number of air transport movements (flights) by much. While the number of passengers link in the 12 months to October 2015 is 5.7% higher than the previous 12 months, the number of flights was only 2.6% more. GACC said it is the number of landings and take-offs (air transport movements – ATMs)which create a need for a new runway, not just the number of passengers. The load factor (how full the plane is) is higher, with the figure is October 2015 being 85.3% compared to 82.2% in October 2012 or 81.7% in October 2013. GACC chairman Brendon Sewill said: "At this rate of growth Gatwick and Stansted and Luton won't be full for at least fifty years!" In fact, Gatwick had more flights in 2007 than in 2014. There were about 256,000 ATMs in 2008, 259,000 in 2007 and 255,000 in 2014. The average number of seats per plane was about 180 in 2014 and about 174 in 2013. The average number of passengers per plane was about 151 in 2014 and about 145 in 2013.
Click here to view full story…
Garuda to move its Gatwick flights to Heathrow; Vietnam Airlines did the same in January
Garuda Indonesia is joining the ranks of those airlines that started life at Gatwick before defecting to Heathrow. According to CAPA, Garuda will start using its new Heathrow slots in March 2016, but there is no information on how it got the valuable Heathrow slots. Slots at Heathrow are, in theory, hard to get hold of. Garuda used to fly from Gatwick many years ago before suspending services (owing to safety restrictions, due to its bad record). It only returned to Gatwick a couple of years ago. Instead of more ambitious plans, Garuda will eventually just have direct flights to Jakarta from both London and Amsterdam. The runway at Jakarta has to be strengthened for heavy long haul planes. Currently, Garuda serves Gatwick as a "tag" to its Jakarta-Amsterdam flights. Airlines like Garuda are being out-competed by middle eastern Gulf airline rivals. Earlier in 2015 Vietnam Airlines announced it would be leaving Gatwick to launch a direct service from Heathrow instead, from March 31st 2015. This will be using Dreamliner 787s. John Holland-Kaye is, of course, pleased. It is reported that due to the shortage of Heathrow slots, the agreement between Heathrow and Vietnam Airlines took 7 years to complete, and "there are currently 30 airlines waiting for slots." Earlier long haul airlines to fail from Gatwick were Hong Kong Airlines, Air Asia X, Korean Air and US Airways.
Click here to view full story…
Robert Goodwill on flight path noise problems: "we must think about this carefully"
Changes to Gatwick flight paths, using satellite precision-area navigation (PR-Nav) technology, have meant an increase of noise for those under flight paths that are now narrower, or those under new routes. This has led to a huge number of noise complaints, as well as anger and upset for those affected. Reigate MP, Crispin Blunt leads the Gatwick Co-ordination Group of MPs in Parliament, opposed to the changed flight paths and to plans for a 2nd runway. Crispin has been trying to ascertain, from Aviation Minister, Robert Goodwill, that the new technology would be used in a way that allowed aircraft to be spread out as widely as possible, rather than being concentrated. In a recent letter to Robert Goodwill, Crispin asked for stronger policy guidance from the Government to ensure "noise ghettos" are not created, by reducing aircraft concentration, maximising dispersal and by permitting multiple arrival and departure routes to give respite to communities affected. In his response, Mr Goodwill said "it is extremely important that we listen to the concerns of communities on these matters", before giving an assurance that the Government will consider the issues raised and the need for appropriate guidance to achieve "solutions which are locally suitable when airspace changes must be made". He said "we must think about this carefully."
Click here to view full story…
Stewart Wingate says Gatwick won't give up on its 2nd runway – whatever the government says
Stewart Wingate says Gatwick will continue to push for a 2nd runway even if Heathrow gets Government backing for a runway, when (if?) the announcement is made in December. he Prime Minister has said there will be a formal response to the Airports Commission's findings by the end of the year, though it may be by George Osborne or Patrick McLoughlin, to save Cameron having to admit his "no ifs, no buts, no 3rd runway" promise. Gatwick has spent the past four months attempting to pick holes in Sir Howard Davies' work, trying – not very successfully – convince the Government to back Gatwick instead of Heathrow. Stewart Wingate has said he thinks a Heathrow runway is undeliverable, and he will not lose his appetite to get his runway. "This is going to be a multi-year event." He refuses to rule out legal action to block Heathrow expansion if it gets government backing. Gatwick has already examined the legality of the air quality issue, but Wingate adds: "I think there'd be other people in the queue well ahead of us" who would challenge the Goverment in the courts. Wingate also insists that he will "absolutely not" resign if the Government supports Heathrow, because he believes Heathrow will ultimately be refused on environmental grounds. He continues to deny the environmental problems of a Gatwick runway, which are nearly as bad as one at Heathrow.
Click here to view full story…
Sally Pavey's comment on the CAA's Gatwick PIR – it 'ignored' human cost of changed flight paths
Responding to the publication of the PIR (Post Implementation Review of Gatwick flight path changes since 2013, Sally Pavey (Chair of CAGNE) commented that it was "extremely disappointing". It concluded that only the departure route taking off to the west, and heading north, had to change. Local group, Plane Wrong, welcomed that admission, but are dismayed by the CAA's conclusion that the easterly departure route does not need to be changed. The PIR said a route towards the south-coast and another heading east were acceptable but should be reviewed by Gatwick; the remaining six routes did not need to change. Sally said the PIR now needed to be reviewed by the Aviation Minister, Robert Goodwill: "For a Government, in this day and age, to implement and subject residents to such an airspace concentrated system without any research into the noise readings or emissions from concentrated routes is beyond belief." She added: "The noise shadow is far grater from a concentrated route than a dispersed route. It's like having a country lane next to your home, which might see a few cars throughout the day and night, and changing it to the M1 overnight. The noise is relentless. Until the aviation industry recognise that concentrated routes create noise shadows these reports are pointless as they serve only the aviation industry and not the taxpayers." The report offers little for people affected in West Sussex.
Click here to view full story…
The CAA's disappointing PIR finally published, showing only one Gatwick route to be slightly changed
Since autumn 2013 there have been changes to flight paths for Gatwick airport, given provisional approval by the CAA. Routes have been altered, and flight paths have been more concentrated. This has been done without consultation of affected communities. The CAA has done a PIR (Post Implementation Review) that ended in January. It has finally, after delays, published its findings. These are regarded as very disappointing, as almost no concessions have been made and though hundreds of complaints were sent in, there are few changes to routes. GACC says: "In a 198 page report they devote only 2 pages to the possibility of dispersal – spreading the aircraft over a wider area – and to the possibility of respite – giving people a break from constant noise. And then reject both. We will now need to take the case to the Government and indeed will raise this when we meet the Minister for Aviation, Robert Goodwill MP …on 18 November." The more concentrated noise has caused great distress for the people unlucky enough to live directly under the flight paths. The only change to a route is one which takes off to the west, and flies over Holmwood, Brockham and Reigate – Gatwick will be consulting on a revised route in the next few months. People are angry that the CAA, yet again, ignores input from the public.
Click here to view full story…
Number affected by Gatwick night flights up 15% last year – 12,850 in the larger 48 dB Leq contour
The CAA has released figures showing 12,850 people were adversely affected by Gatwick night flights, a 15% increase from the previous year. The increase comes despite the fact the airport has changed the way it counts complaints, with multiple issues raised by the same person on the same day now counted as a single incidence. Campaigners say the dramatic increase in complaints is proof a 2nd runway should not be allowed. A review of the changed arrivals flight paths, by Bo Redeborn, is due to be completed around the end of 2015. People are very stressed by noise from night flights, adversely affecting their sleep and their health. Gatwick made an even worse than usual comment. A Gatwick Airport spokesman said: "Gatwick recognises that aircraft noise has an impact on people living near the airport and will continue to do everything possible to minimise its effects…..The increase in people affected has been influenced by an increase in aircraft movements, a change in the fleet mix from planes with propellers to small jets, and an increase in population due to Gatwick's immigration centre being included in the numbers." (sic) On Sunday 1st November, CAGNE released a short film highlighting the plight of residents, businesses and communities beneath Gatwick concentrated flight paths.
Click here to view full story…
Massive 170 acre business park planned outside Horley to produce a Gatwick airport city
Residents and businesses are shocked and appalled at news that Reigate and Banstead Borough Council has agreed in principle to use compulsory purchase orders (CPOs) for a business park on 172 acres of land off Balcombe Road, in Horley. That's equivalent to 85 football pitches. The council says major international businesses want to move to the area. Residents who would be affected say they knew nothing about the plan in advance. Green Party Surrey County Councillor Jonathan Essex said the development would use up green space, which separated homes in Horley, from nearby Gatwick airporta and "Horley should be a separate town, not just part of the urban sprawl of Gatwick." A local Conservative councillor said information about the plans could not be made public previously because it was "commercially confidential" andt that "Now we have made the decision we will be talking to and consulting with residents, employers and landowners who could potentially be affected." There is now a campaign called Keep Horley Green, to oppose the plans. They have a Facebook page and a petition to local MP Sam Giymah. People want green countryside preserved, rather then being covered in concrete. One of the properties under threat of compulsory purchase is Bayhorne Farm, 72 acres. 172 acres is a vast area for a business park – far larger than average. It would become an "aerotropolis" project.
Click here to view full story…
New group formed in Tunbridge Wells, "TWAANG" against increased aircraft noise from Gatwick
The area to the west of Tunbridge Wells, and the town itself, have found themselves increasingly affected by aircraft noise from Gatwick over the past year or more. Now the local councillor for The Pantiles and St Mark's ward has backed the formation of a new local group to oppose the noise nuisance, which many are finding intolerable. The new group is "TW No To Gatwick", set up due to an upsurge in complaints about plane noise and to get the voice of Tunbridge Wells heard. This group joins the many others that have sprung up recently, including Gatwick Obviously NOT – which originated around Penshurst, the Langton Green Village Society, the Speldhurst Action Group and the High Weald Councils Aviation Action Group. The new group is keen to work in conjunction with the other groups, avoiding any nimby tendency for each area to ask for the flight misery to be put over someone else. The increased number of flights has been especially noticed this summer, due to altered flight paths and also Gatwick having a busier summer than usual. The group's email is TWnotogatwick@gmail.com and local people are urged to get in touch and sign up, if they are concerned about plane noise.
Click here to view full story…
EU caves in to car industry pressure to weaken NO2 emissions limits for diesel cars for years
EU governments have agreed to new limits for nitrogen oxide (NOx) emissions from diesel cars. The unexpected decision was taken by the European Commission's Technical Committee on Motor Vehicles (TCMV). The bad news is that they are double the 'Euro 6' levels agreed back in 2007. The EU has granted car-makers delays to a more stringent "real driving emissions" test, permitting them to emit x2 the amount of NOx from 2019. The standard from 2021 is that all new cars will still be allowed to emit 50% more NOx than the Euro 6 limit of 80mg/km. MEPs and campaigners were shocked at the cave-in to the lobbying of car-makers, by the EC, seeing it as a stitch-up by national governments. Only the Netherlands opposed the proposal, which passed after heavy lobbying from the car industry and EU countries such as the UK, Germany, France and Spain, which are currently facing court action from the EU for failing to meet NO2 standards. "For car-making countries, it's like dieselgate never happened," said Greg Archer, the clean vehicles manager at the environmental think-tank T&E. The Commission has argued that uncertainties in the testing method justify setting a higher long-term limit but this is likely to be legally challenged. The lower standards will make it even harder for a new SE runway to meet air pollution standards. The Heathrow area is often already in breach of legal limits.
Click here to view full story…
Public meeting in Crowborough hears from Bo Redeborn about his review of Gatwick flight paths
The MP for Wealden, Nus Ghani, organised a meeting on 23rd October for people in the Crowborough area who are being disturbed by flights over them, arriving at Gatwick. In August, in response to the high degree of opposition to changes to fight paths, Gatwick set up an "independent review" of air traffic, which will focus on Westerly Arrivals. This is being led by Bo Redeborn, who is being "assisted by a small independent review team which has been tasked with ensuring the involvement of local communities most affected." The review is to look at whether everything that can reasonably be done to alleviate the problems which local communities are raising is in fact being done, (by Gatwick, NATS, CAA, DfT or the airlines); and the approaches which Gatwick has adopted for providing information to the local community and for handling complaints are fully adequate for the task. Bo Redeborn was present at the Crowborough meeting, and also Graham Lake, the Technical Adviser to the review team. They answered questions from concerned residents, who are not persuaded that Gatwick has either done enough or responded appropriately to concerns. To submit your views about Gatwick Airport to Nus Ghani MP download a copy of the consultation form: Gatwick Feedback Form.
Click here to view full story…
Local group, PAGNE, at Pulborough and Amberley, in the South Downs, working to get reduction in Gatwick noise
Though at least 20 – 25 kilometres away from Gatwick, the area of Pulborough and Amberley, in the South Downs National Park, suffer from plane noise. A local group – PAGNE, Pulborough Against Gatwick Noise and Emissions – formed last year to oppose the changed Gatwick flight paths. They are affected by arrivals into Gatwick, especially when there are easterly winds, and planes land at Gatwick from the west – which happens around 30 – 35% of the year. Due to the height of parts of Amberley, rising to well over 500 feet, the noise from planes are around 5,000 feet is significantly greater than would be experienced at sea level. PAGNE's Chairman, Ian Hare, said he was working with other flight path groups around Gatwick and with groups around Heathrow to press the government to get flight paths dispersed without any concentration over rural areas. PAGNE also wants aircraft to come in at a higher altitude. Current government guidance is for air traffic management to prioritise minimisation of noise below 4,000 feet; balancing noise and CO2 emissions from 4,000 to 7,000 feet; and prioritising CO2 emissions over 7,000 feet. Groups want noise prioritised up to 7,000 feet, because of the impacts on those being over flown.
Click here to view full story…
Letter from an angry and exasperated sufferer of noise from Gatwick's changed flight paths
People living to the east of Gatwick continue to suffer from the intense noise of newly concentrated flight paths over their heads. This not only causes "annoyance" – the euphemistic term used by the government for noise nuisance – but real anguish for those now afflicted by the change. For many the newly increased number of flights over their homes, and often lower planes, all day and into the night, is intolerable. The degree of anger and upset of thousands of people is intense. It is all the more so because of the failure of Gatwick, the CAA or NATS to give proper responses to complaints, or proper explanations of what has happened. Stewart Wingate has said "some people have the impression that something may have changed, but I can assure you that is not the case." That sort of comment by the airport, often repeated, has merely strengthened the determination and anger of the new noise sufferers to get change. Below is (slightly edited) a letter from someone badly affected by now having effectively an "aerial motorway" in the sky over their home. It reflects how people feel, when through no fault of their own, they find the pleasant area in which they chose to live, has become a noise "ghetto" and the powers that be are reluctant to do anything about it. Concentrated flight paths are not proving to be a success with the over-flown public.
Click here to view full story…
GACC warns Patrick McLoughlin of the future costs to the Exchequer of infrastructure needed for Gatwick runway
GACC (the Gatwick Area Conservation Campaign) has written to Patrick McLoughlin, to remind him about the comparative costs of infrastructure relating to a new runway at Heathrow or Gatwick. Robert Goodwill recently indicated that whichever airport was selected would be expected to pay for the necessary infrastructure – a policy GACC fully supports. GACC point out that the calculation of the surface access costs, by the Airports Commission, is distorted. While it considers the requirements for both airports at 2030, it estimates that by then there would be 35 million extra passengers at Heathrow (due to pent up demand), but only 8 million more at Gatwick(struggling against Stansted and Luton). So the extra road and rail traffic generated at Heathrow by 2030 would be far greater than that at Gatwick, and (when adding tunnelling the M25 at Heathrow) accounts for the difference in infrastructure costs – £5.7 billion compared to under £1 billion. But with the runways working at full capacity by around 2040, the surface access infrastructure costs of a new Gatwick runway would fall on the Exchequer. These would include widening of the M23 or M25, and improvements to the Brighton main line. With Gatwick then bigger than Heathrow today, there might be a need of of a hugely expensive extension of the M23 into central London. And so on …
Click here to view full story…
Alex Salmond says SNP will not back a SE runway unless they are paid huge sums under the Barnett Formula
Alex Salmond, previous First Minister of Scotland,says the SNP will not back a new runway in south-east England unless David Cameron gives millions of ££ to Scotland. He says that to get backing for a runway from the 55 SNP MPs in Parliament, they would need to have agreement of huge funding for Scotland through the Barnett Formula. Alex Salmond said the Airports Commission report was "shoddy", the "work on the cost/benefit analysis was pretty ropey", and Sir Howard Davies was "blinkered". Salmond wants guarantees of extra Scottish flights from an expanded SE airport. Under the Barnett Formula, for every £ spent in England, a proportion must be spent in Scotland, based on its population compared to that of England. It is know that at the very least, a Heathrow runway would cost the public £5 billion for tunnelling the M25. Under the Barnett formula of about 10% of the cost being given to Scotland, that would mean paying about £500 million. (And would the other regions also need their separate payments?) Salmond: "What we'd want to know is that if it were to be a development which depended on infrastructure spending, is that spending going to be properly Barnetted? Or is it going to be another fiddle like the Olympics?" He commented Heathrow and Gatwick had been "desperate" to speak to the SNP, with both sending lobbyists to the party's conference.
Click here to view full story…
Gatwick noise campaigners "optimistic" about flight paths review by Bo Redeborn
After weeks of negotiations, campaigners have reached an agreement with Gatwick over the terms of its review into controversial flight paths. Since last year there has been disturbance, upset and anger for miles around Gatwick, from increased aircraft noise, narrowed and altered flight paths. In August Gatwick's Chairman, Sir Roy McNulty, commissioned an "independent review" of air traffic, which will focus on Westerly Arrivals. It is led by Bo Redeborn, who for many years was Principal Director of ATM for EUROCONTROL. Local group Gatwick Obviously Not had threatened to 'step up its campaign further' if 'substantial concerns' about the terms initially proposed by the airport were not addressed. These included doubts about the transparency and impartiality of the process, its failure to consider both easterly and westerly arrivals and, crucially, the absence of 'a fair and equitable dispersal' policy. Now meetings have left campaigners optimistic that the process could be helpful. The review's terms of reference have been altered, to include an assurance that "the review team will give particular attention to assessing the feasibility and implications of adopting a policy of fair and equitable dispersal' which a number of campaign groups have expressed as a priority."
Click here to view full story…
'Clean Air in London' obtains QC Opinion on Air Quality Law (including at Heathrow)
The group, Clean Air in London (CAL), is very aware of the problems of air quality in London. Its founder and director, Simon Birkett, says the law about air pollution is not being properly applied. So they have asked their environmental solicitors, Harrison Grant, to obtain advice from a QC on the approach which planning authorities across the UK should take to Air Quality Law. CAL wants to ensure that tough decisions to reduce air pollution and protect public health are taken by the Government, the Mayor and other planning authorities. In particular CAL wanted to clarify the extent to which planning decisions should take into account breaches, or potential breaches, of air pollution limits. This applies particularly to a Heathrow runway, among other projects. CAL now have advice from Robert McCracken QC. It says: "Where a development would in the locality either make significantly worse an existing breach or significantly delay the achievement of compliance with limit values it must be refused." And "Any action which significantly increases risk to the health of the present generation, especially the poor who are often those most directly affected by poor air quality, would not be compatible with the concept as health is plainly a need for every generation.
Click here to view full story…
Labour peer Lord Adonis to head Osborne infrastructure body – to get things like a new runway built fast
A new body to plan infrastructure projects, the "independent" National Infrastructure Commission (NIC) will be chaired by the former Labour transport secretary Lord Adonis. The government is expected to announce it will pledge an extra £5 billion in this Parliament for major schemes, which he hopes will boost the UK economy. Osborne says he plans to "shake Britain out of its inertia" and Lord Adonis thinks that without "big improvements" in transport and energy "Britain will grind to a halt". The NIC will initially focus on London's transport system, connections between cities in the north of England, and updating the energy network – funded by selling off land, buildings and other government assets. Lord Adonis has resigned the Labour whip and will sit as a crossbencher in the Lords as he starts work in his new role immediately. The NIC will produce a report at the start of each five-year Parliament containing recommendations of infrastructure building over the next 20 to 30 years. Osborne: "I'm not prepared to turn round to my children – or indeed anyone else's child – and say 'I'm sorry, we didn't build for you.' John Cridland, director-general of the CBI business lobby said: " ….we must not duck the important infrastructure decisions that need taking now, particularly on expanding aviation capacity in the South East."
Click here to view full story…
Guardian reports Patrick McLoughlin saying Government statement on runway likely to be delayed – even past May 2016
An article in the Guardian, interviewing Patrick McLoughlin, the Transport Secretary, says that because of the well known "deep and unresolved cabinet splits over whether to expand Heathrow to provide more airport capacity for the south-east, the statement by the government about the runway issue may be delayed. It has been expected that some sort of statement would be made, before Christmas. This might be in favour of Heathrow, or it might be a holding response to give government more time. The Guardian states: "McLoughlin said an announcement would "hopefully" be made [before Christmas], but he could not promise it would, or indeed that it would be made before next May's London and council elections. It was simply the firm intention, but that was as much as he could say." At least five cabinet ministers, as well as Boris Johnson, a likely candidate to succeed Cameron after he steps down in 2020, are against, while Osborne, probably now the favourite to step into Cameron's shoes, is in favour. Zac Goldsmith, Conservative Mayoral candidate, deeply opposed to the runway, is a huge complication for the government on the issue.
Click here to view full story…
Sir Howard Davies writes to Patrick McLoughlin and the GLA to dismiss Gatwick's claims
The Airports Commission, now almost closed down, has published on its website a letter to the GLA from Sir Howard Davies, setting out why they believe strongly that their analysis is robust to the arguments that Gatwick airport have made (recently repeated). The Commission also published a letter to the Transport Secretary, Patrick McLoughlin, dated the 7th September, and now copied to the GLA, countering all Gatwick's arguments why it should be the site for a new runway. The Commission's letter to Patrick McLoughlin deal with Regional Connectivity, on which they dismiss Gatwick's claims; Economic Benefits, on which the Commission says the benefits to the UK from a Heathrow runway are substantially greater than a Gatwick runway; on Costs and Charges; Deliverability and Financing; Air Quality; and Noise. The Commission says, quote: "GAL accuse the Airports Commission of having 'largely ignore[d]' Gatwick's lower noise impacts compared to those of Heathrow. That is nonsense." Sir Howard Davies' letter to the GLA covers the issues of capacity and resilience, connectivity, noise mitigation, surface access and finance. Criticising the session at the GLA where Sir Howard was interviewed, he says there was no "serious consideration of the role of aviation, and the benefits of expansion, in supporting the capital's long term prosperity."
Click here to view full story…
Airports Commission figures show Heathrow runway to provide, at the most, just 12 more long haul destinations (even fewer at Gatwick)
The Airports Commission said that a very important reason for building a new runway, and Heathrow in particular, was to increase the connectivity with "long-haul destinations in new markets." And so it would be logical to believe their analysis would show that a new runway at Heathrow, (or Gatwick) would show a large increase in these routes. The Commission's own work [using their Assessment of Need scenario, carbon capped] forecasts that while Heathrow (2011) had 57 destinations with at least a daily flight, this would only rise to 63 without a new runway. It would only rise to 73 with a 3rd runway. That is just 10 more. [For Gatwick, from 13 in 2011 to 20 in 2050 – just 7 more].  For the UK as a whole, including all airports, the Commission forecasts that the number of long haul destinations in 2011 was 61, and this would rise to 82 even without a new runway. The total number would only rise to 87 with a new Heathrow runway. That is just 5 more. [Only 3 more with a Gatwick runway]. And their figures indicate that the number of long haul destinations from regional airports would fall from 23 to 21 by 2050 and be slightly lower than they would have been without a new runway. So much for boosting the "Northern Powerhouse." The Commission said a Heathrow runway could provide "up to 12 additional long-haul destinations."
Click here to view full story…
Gatwick announces "independent review" of Westerly Arrivals due to the extent of opposition to changed flight paths
Due to the level of disturbance, upset and anger for miles around Gatwick, from increased aircraft noise, narrowed and altered flight paths, Gatwick's Chairman, Sir Roy McNulty, has commissioned an "independent review" of air traffic, which will focus on Westerly Arrivals (ie. planes arriving from the east, to the airport, when there are westerly winds). The review will be led by Bo Redeborn, who for many years was Principal Director of ATM for EUROCONTROL. Gatwick airport says Mr Redeborn "will be assisted by a small independent review team which has been tasked with ensuring the involvement of local communities most affected." The review is to look at whether, for westerly arrivals: "Everything that can reasonably be done to alleviate the problems which local communities are raising is in fact being done, whether this involves action by the airport or by other parties most closely involved – NATS, CAA, DfT or the airlines." And if Gatwick's approach to providing "information to the local community and for handling complaints are fully adequate for the task." Thousands of people do not believe Gatwick is succeeding on either. The review is to begin on 1st September 2015. It may end in November, but may be extended if more consultation is needed. There will be a review of Easterly Arrivals later on.
Click here to view full story…
Gatwick has published a 50 page dossier attacking the work and conclusions of the Airports Commission
Sir Howard Davies must have been hoping that after the Airports Commission recommended a Heathrow runway, that would be the end of the matter. However, assessment of the Commission's conclusions and their analyses has been highly critical. Gatwick airport and its backers have complained vociferously about failings in the Commission's report – on the economics, the passenger forecasts, the cost and the deliverability. The figures for the economic benefit to the whole country of a Heathrow runway can be looked at in a number of ways, and on some assessments come out little higher than those for Gatwick. Gatwick says the Commission used out of date numbers for Gatwick passengers, and that has seriously undermined the case for Heathrow. Gatwick also argue that the costs of road works and tunnelling the M25 for the Heathrow runway have been considerably underestimated, and this undermines the Commission's entire case. Gatwick also says the Commission's interpretation of the law on the Government's requirement to meet air quality rules is incorrect. Gatwick has sent a full response to the Commission report, setting out their concerns. It can be accessed here.
Click here to view full story…
More than a thousand people stage protest over Gatwick flight paths
More than a thousand people, many from Sussex and Kent, gathered in a field at Penshurst, Kent, to protest against changes to flight paths. Campaigners unveiled a huge sign, consisting of people with hay bales, and that can be read by aircraft passengers (and pilots) landing at Gatwick. Martin Barraud, one of the leading campaigners from the group "Gatwick Obviously NOT", commented that this is about sending a message to the airport from the people on the ground, making it clear there are a massive number who are affected by aircraft noise from Gatwick airport. Flight paths are now lower over their area, and concentrated – so people suffer from intense aircraft noise, often every two minutes or so, for most of the day. Planes also fly over them at night, though less often than in the daytime. Someone who attended commented that is was not only people over "a certain age" who took part in the protest, but also a large number of younger people, who are also concerned about the noise. http://www.gatwickobviouslynot.org/
---
Gatwick adverts banned by ASA for 'misleading public' on comparing numbers affected by noise of new runways
Misleading adverts produced by Gatwick Airport about the noise from a new Heathrow runway have been banned by the Advertising Standards Authority (ASA). The ASA received five complaints about the ads. It upheld two complaints about the posters, which compared the number of people affected by a new runway being built at Heathrow or Gatwick. It said the basis for the airport's comparisons was unclear. The banned posters stated that "320,000 additional people will be affected by noise from a new runway at Heathrow. Compared to 18,000 at Gatwick". The ASA said the use of the word "additional" could be misinterpreted to mean the number of people newly affected by expansion, on top of those currently affected. Two of the complainants challenged whether the comparison was verifiable, while another two challenged whether the adverts omitted material information about the flight paths. The ASA said the comparison the airport made was unclear. Gatwick said it disagreed with the decision and may appeal, but the advert in question will not be used again and Gatwick will take on board the ASA's comments if it uses the Commission's figures in a different advert
Click here to view full story…
Boeing 757 escape slide fell from plane at around 3,000 feet, approaching Gatwick (Oct 2014)
A Thomas Cook Boeing 757-300 that took off from Gatwick on 31st October 2014 dropped an emergency escape chute [about 25 kg weight?] as it approached Gatwick, for an emergency unscheduled landing. The plane's escape slide fell off at 3,000 ft as it was approaching the airport, and was later found stuck in a tree (location not specified). A report by the AAIB said several minor issues combined to loosen the slide release mechanism of the slide as the plane was taking off. A crank handle had not been in the right place. During the take off the cockpit instruments showed that the right over-wing escape slide container was not secure. With no sign that the slide had actually come loose, the crew continued with their take-off. The pilot circled around for 40 minutes, with landing gear, flaps and airbrakes deployed to burn off excess fuel and get the plane down to a normal landing weight before returning to Gatwick. As the plane descended to 3,000 ft, some of the cabin crew and passengers heard a number of bangs or felt the airframe shuddering. Two passengers reported seeing a white object falling from the right hand side of the aircraft. It was later discovered that the emergency slide had struck the body of the plane and one window before it fell.
Click here to view full story…
Permission refused for Gatwick Obviously NOT's Judicial Review. They appeal.
Gatwick Obviously NOT, the flight path group set up last year in response to the newly concentrated arrival flight paths to Gatwick, has been refused permission to proceed with their JR against the CAA. Though disappointed, the GON's Strategic Team of 15 spent much of the weekend conferring on the best way forward. They had to review and understand the reasons for the Order to Refuse and take the advice of their QC, John Steel. Having done so, the very strong consensus was to go to Appeal, and Counsel has been instructed. It is expected that this will we have now given those instructions to our Counsel. We expect that this will happen in the autumn. It is, however, a daunting task to take on the CAA, the Secretary of State for Transport, Gatwick airport and NATS. The decision to go for Appeal was taken with great care – and fundraising is under way to raise the necessary funds. GON say the judge, Mr Justice Haddon-Cave, while refusing the Permission, added a postscript, seeming to suggest that there may be an issue about the need for consultation for 'seismic' events (such as the flight path changes introduced without notice) that is more a matter for the law-makers, not the lawyers. GON are staging a huge outdoor photo stunt on 16th August. Details below.
Click here to view full story…
Independence of Airports Commission questioned over Howard Davies' role in Prudential, which recently bought more Heathrow property
Campaigners against a 3rd Heathrow runway have questioned the independence of the Airports Commission and its chairman, Howard Davies. It has been revealed that he is a board member of Prudential, an insurance group which invested in property near Heathrow, just months before the Commission recommended a 3rd runway. He chairs its risk committee, which reviews and approves group investment policies as well as advising the board on risks in the company's "strategic transactions and business plans". The Guardian reports that Prudential embarked on a £300m spending spree on properties around Heathrow, just as the commission prepared to deliver its final report, on 1st July. Prudential has an asset management business, M&G. In 2013 it bought the Hilton hotel at Terminal 5 for £21m and an earlier investment with planning permission for a large hotel close to where the proposed 3rd runway would be built. In May and June 2015 M&G bought more property including cargo depots and a business park a short distance from Terminal 4. Howard Davies also, till September 2012, advised the GIC (Singapore), which owns 11.2% of Heathrow. The Teddington Action Group say Davies' links with Prudential undermines the impartiality and credibility of the Commission's recommendations.
Click here to view full story…
Stansted to have summer only flights to Orlando, Cancun and Las Vegas (competing with Gatwick)
At present, Stansted doesn't have flights to the profitable destinations of Orlando, Cancun and Las Vegas. Most people going to Orlando in Florida go from Gatwick, with Manchester as the 2nd largest route. Almost everyone going to Cancun from the UK goes from Gatwick. Most people going to Las Vegas go from Gatwick, with Heathrow in second place, and Manchester third. But now Stansted is planning flights by Thomas Cook to those three cities, just over a month this summer and next summer. Passengers to those three destinations make up about 3.6% of all Gatwick passengers. Passengers to Las Vegas from Heathrow only make up about 0.3% of total passengers. Manchester (same owners as Stansted) already has flights to Orlando and Las Vegas.
Click here to view full story…
SNP, which won just 1.45 million votes in the election, says it will decide the vote on a SE runway
The SNP have 56 MPs, and each was only voted by an average of about 23,000 voters, which is a much smaller number than even Conservative MPs, and massively less than LibDems, UKIP or the Greens. Nevertheless. Nicola Sturgeon says the SNP will decide on whether a runway is built at Heathrow or Gatwick (they are not wise enough to appreciate no runway is needed). The SNP transport spokesman Drew Hendry said the party was "neutral" between Heathrow and Gatwick, while earlier it had been thought they favoured Heathrow. The SNP will "negotiate" with both airports, to see which gives them a better deal and they will vote for whichever gives Scottish people the cheapest fares, and "guaranteed connections with international flights" which Scotland has not been able to provide for itself. The SNP is aware that people in England, especially those to be adversely affected (or evicted from their homes) by a runway did not get the chance to vote for or against the SNP. The runway is largely an English matter. But Zac Goldsmith warned SNP MPs would be "crossing the line in terms of our democracy" if a deal is struck for cheaper flights for Scottish travellers in return for votes. (Combined anti-Heathrow party votes of LibDems, UKIP and Greens were 7.45 million. SNP votes were 1.45 million).
Click here to view full story…
easyJet agrees to bring forward modification of its A320s using Gatwick, to get rid of the "whine"
People living in parts of Kent and Sussex, near or under Gatwick approach flight paths, are hoping easyJet will finally do something about the awful whining noise their A320 series planes make. EasyJet has finally agreed to fix its fleet of Airbus A320 planes – which only takes a simple and inexpensive modification. The whine from older Airbus A320 planes is caused by the Fuel Over Pressure Protector (FOPP) cavities which can be easily fixed by retrofitting the planes with a simple piece of kit called a flow deflector. The plane noise problem has been particularly intrusive this year since a narrow flight path corridor for Gatwick arrivals, so noise is not dispersed by sharing the noise burden. EasyJet had said they would get their planes modified by 2018, but realising the fury and upset their company has caused, now say they will bring forward the timetable for the work by two years. EasyJet says by June 2016 around 100 planes will have been adapted and work is due to begin this November. The whole fleet of 197 aircraft will be fully retrofitted by March 2018. BA says it will modify its 130 older Airbus A320 planes from October 2015. People in Kent and Sussex are hopeful there will be an improvement, and before too long.
Click here to view full story…
In initial response to Airports Commission, Gatwick says report wasn't sufficiently balanced, fair or well evidenced
Gatwick Airport has produced a short (14 page) initial response to the Airports Commission recommendation of a Heathrow runway. The Commission rejected the Gatwick scheme as falling far behind Heathrow, with much lower economic benefits or benefits to the UK as a whole. Now Gatwick say: "We believe that the Commission's report falls short of [being thorough, balanced, fair and well evidenced] in a number of very important respects. As a result, the many strengths of Gatwick and the many challenges of Heathrow are both underplayed, leading to a conclusion which we believe is wrong." Responding to this, the local community group GACC (the Gatwick Area Conservation Campaign) said the flaws in Gatwick's case include the fact it caters largely for low-cost leisure flights, and will continue to do so; Gatwick likes to give the impression that the extra noise from a 2nd runway would not be a serious problem, but the anger of those on whom changed flight paths have been inflicted in the past 2 years shows that is not the case; and Gatwick ignore the huge social and infrastructure problems that would be caused by inwards migration, housing and urbanisation. GACC said: "It is time for Gatwick to give up flogging their dead runway horse and concentrate instead on being a better neighbour."
Click here to view full story…
Gatwick Airport mulls response to Airports Commission Heathrow runway recommendation
Gatwick is considering its response to the Airports Commission's recommendation of Heathrow for a runway, and questions some of the methodology used. Gatwick is on record as having "deep concerns" about some of the modelling used by the Commission, and twice wrote to the Commission late last year highlighting these concerns. In October, Gatwick told Commission Secretariat Head Philip Graham it did not receive "a clear explanation of the Commission's approach" or "a reasoned response" to points raised "repeatedly" with the Commission. Gatwick took issue with the Commission on the DfT air traffic projections, which it believes are inaccurate and biased toward "allocating forecast traffic to Heathrow instead of Gatwick." They complained that Gatwick is increasing its annual passenger number faster than the Commission predicted, and the traffic predictions feed into many of the Commission's final conclusions, including the economic benefits generated by Gatwick." Gatwick complains that the Commission presumes long haul routes will go to Heathrow, while it is possible more will go to Gatwick in future – changing the economics. Gatwick is expected to make a decision shortly over what action it may take. Legal action?
Click here to view full story…
Airports Commission recommends a 3rd Heathrow runway, but leaving door open for Gatwick runway if Government find Heathrow too difficult to force through
The Commission has recommended the Heathrow north-west runway proposal, and is adamant that option has the most benefits for the UK. It has left the option of Gatwick open, but says the arguments are very, very much stronger for Heathrow. Having delivered its report, the Commission is now standing down.
Airports Commission's Final Report
Airports Commission's "Business Case and Sustainability Assessment – Heathrow Airport Northwest Runway"
Sir Howard Davies' letter to Patrick McLoughlin 
---
Heathrow third runway unanimously recommended by Airports Commission, but with conditions
The Airports Commission has recommended that a 3rd runway should be built at Heathrow, but only if it can meet stringent conditions on noise and air pollution. Those conditions should include a ban on night flights, legally binding caps on noise and air quality – and legislation to rule out ever building a 4th runway [unlikely to be effective?] .The Commission has said their view was "clear and unanimous" that Heathrow's plan was the strongest case for a runway, delivering the greatest strategic and economic benefits, and they hoped the conditions would make the airport a "better neighbour" than today.
The conditions are:
– A ban on all scheduled night flights from 11.30pm to 6am….- No fourth runway – the government should make a firm commitment in parliament not to expand further. Davies states: "There is no sound operational or environmental case for a fourth runway."….- A legally binding "noise envelope"…..- A noise levy on airport users to compensate local communities…. – A legal commitment on air quality (details to be announced, compliant with EU limits)…. – A community engagement board to let local people have a say…. – An independent aviation noise authority to be consulted on flight paths and operating procedures at airports….- Training and apprenticeships for local people.
The government must now decide whether to act on the recommendation – by autumn, or before Christmas.
Click here to view full story…
Heathrow, Gatwick and London City airport community groups stand united against new runway decision
In response to the threat of a new runway at Heathrow (or very possibly at Gatwick, when the government decides on the Airports Commission announcement), the community groups opposed to increased aircraft noise have issued a joint statement. They say: "The announcement is bad news for all those who will inevitably be affected by increased aircraft activity, noise and air pollution and the associated effects on people's lives and health as a result of a new runway. As groups representing hundreds of thousands of people already suffering the impact of changes in airspace use, or new flight paths we are very aware of the negative impacts of living under, or close to, a flight path. There has been insufficient and inadequate consultation of affected communities on the introduction of airspace changes in the past. There is little reason to believe this will improve when large numbers of new flight paths are to be created in the wake of this recommendation. The campaign to prevent further runways being built and to return the flight paths to their previously regionally acceptable routes will go on. The noise and pollution groups at City, Gatwick and Heathrow airports remain united in this cause."
Click here to view full story…
Campaigners against a Gatwick runway relieved by Airports Commission decision, but aware Gatwick may still ultimately be selected by government.
Thousands of people across Surrey, Sussex and Kent will be relieved that the threat of an environmental disaster has been lifted – though this reprieve may only be very temporary. The Commission appears to leave the door open for a Gatwick runway, while hugely favouring Heathrow, considering the Gatwick option could be pushed through by the Government with less difficulty. There will, however, be no rejoicing from the Gatwick area: campaigners there are only too aware of the misery which will be created for those living near Heathrow. GACC (the Gatwick Area Conservation Campaign) commented: "We do not want this for our area, and equally we do not wish it onto others, for whom it would be just as bad. We will continue to make the case that no new runway is needed, neither at Heathrow, nor at Gatwick, nor anywhere else." GACC, and all the protest groups around Gatwick, will be studying the report carefully and will remain on guard in case there is pressure to reverse the recommendation. A Gatwick runway would be an environmental disaster for the south east.
Click here to view full story…
Gatwick MPs seek urgent assurances on Heathrow ministers' involvement in airports decision
Crispin Blunt MP has called again on the Cabinet Secretary, Sir Jeremy Heywood, to make sure Ministers who have a constituency interest in the runways decision are not involved in the Government's consideration of the Airports Commission report. Sir Jeremy Heywood has responded to Crispin Blunt's original letter of 10th June in which Gatwick Coordination Group (GCG) MPs (chaired by Crispin) sought assurances that the provisions on conflicts of interest in the Ministerial Code will apply to the many Ministers who have a constituency interest in opposing a new runway at Heathrow. Sir Jeremy's letter is equivocal, saying "These matters are considered on a case-by-case basis, reflecting specific Ministerial responsibilities and the nature of any constituency interest. These Code provisions will of course apply to the Government's response to the Airports Commission's Final Report". The GCG is concerned that this is not a clear response to the specific high profile case of the runway decision. Crispin Blunt's reply to Sir Jeremy says there is seen to be a conflict between constituency interests of Ministers, and the national interest. These suggestions "…should be an affront to you as Cabinet Secretary. That you appear not to be in a position to address our concerns on this very high profile issue is a grave matter."
Click here to view full story…
Committee on Climate Change confirm aviation CO2 must remain capped – putting new runway into question
On the eve of the Airports Commission's runway recommendation, the Committee on Climate Change (CCC) has told Government it has until 2016 to set out an effective plan for limiting aviation emissions. The Government's official advisory body on delivery of the UK's Climate Change Act used its 5th 'Progress Report' to Government to highlight the need for action on aviation, including constraints on demand. The CCC says that given the anticipated growth in emissions from the sector, the DfT must set out how it will ensure that emissions from aviation are no higher in 2050 than they were in 2005 (37.5 Mt). The limited scope for improvements in aviation technology mean that demand growth must be kept to no more than 60% above its 2005 level. Current forecasts of air passenger growth with associated CO2 emissions exceed this level EVEN WITHOUT adding a new runway. With a new SE runway the growth in passenger demand – and thus CO2 emissions – would be even higher. Extensive analysis by the AEF has shown that a new runway would make the aviation emissions cap (37.5MtCO2 annually) impossible to achieve. Ruling out a new runway is the most obvious first step for the Government to take in response to the CCC's advice. Adding a runway, and then having to deal with the extra carbon problem it has produced, is not an efficient way to deal with the issue.
Click here to view full story…
Heathrow and Gatwick CEOs both say their runway campaigns will go on, whatever Commission recommends
The CEOs of Heathrow and Gatwick both say they will continue their campaigns for expansion, whatever the Airports Commission recommends (next week?). Holland-Kaye is trying to make out that Heathrow's plans for a 3rd runway had been so substantially altered since David Cameron blocked them in 2010 that "the prime minister could defend a decision to change his mind." (The changes are small – different location, better compensation offers, more attempts to overcome local opposition … same need to destroy communities, make areas almost uninhabitable, immense increase in noise and air pollution etc etc). Gatwick keep attempting to persuade people their runway is more deliverable than Heathrow's. Both fear the report ending up on a shelf, gathering dust. Heathrow expansion is environmentally and politically just about impossible, but it is what the airlines, the industry and its backers want. Holland-Kaye said Heathrow would not give up pressing for another runway even if the Commission recommends Gatwick. "It's not a binding report … we'd have to wait and see. A decision hasn't been made and to some extent the campaigns will keep on going." As one commentator remarked: "… the most likely final resting place for Sir Howard's report is a dusty shelf, somewhere in Whitehall."
Click here to view full story…
Boris Johnson says David Cameron will not approve 3rd Heathrow runway
Boris Johnson has warned that a 3rd Heathrow runway would lead to "paralysis" and insisted that the government will not approve it. He will "counsel" David Cameron "very strongly" against it. He said David Cameron and George Osborne pledged that there would be no Heathrow 3rd runway in the Conservative Party manifesto in 2010. "I think that the government will stick to that." David Cameron had said, in election literature: "No ifs, No buts, no third runway." Boris will be free to campaign against a Heathrow runway, after the Commission reports, as he is not a member of the full Conservative cabinet. He said during LBC's State of London debate: "It is perfectly obvious to me that there is going to be an unholy mess when Sir Howard reports. …They will plonk this great document on our desk. I will study the document with great care and I will reflect for about 40 seconds. If it comes out very firmly in favour of Heathrow I think that will lead to paralysis." He did not say Gatwick should get a runway, as he has stated in the past that it could only be a "compromise." Boris commented that he believes Stansted would be a better option.
Click here to view full story…
Spending for ads just on the TfL network – £1.7 million by Heathrow; £1.6 million by Gatwick
Darren Johnson, Green Party Assembly Member at the London Assembly, Great London Authority, has obtained figures for the amount spent by the two airports. This is just on Transport for London, so on buses, tubes and trains. The Mayor revealed that Heathrow spent £1.7 million on advertising across the TfL network (from the start of 2012 until April 2015). Gatwick spent £1.6 million on advertising across the TfL network (from the start of 2014 until April 2015). Darren commented: "I'm not surprised that Heathrow has spent almost two million on ads on buses, tubes and trains. The grim reality of aviation expansion will be more noise, pollution and traffic hell for Londoners. As well as the acceleration of climate change which is the biggest threat to our economy. You need a big budget to paper over those huge cracks in your argument." In December 2014 campaigners against a new runway at Heathrow or Gatwick wrote to the Airports Commission to say the multi-million ££ advertising and PR campaigns being mounted by both airports for their runway plans were "subverting democracy". They said the advertising was drowning out discussion of alternatives – and the basic question of whether a runway should be built at all.
Click here to view full story…
Anti Gatwick campaigners accuse airport chiefs of cheap leaflet (and free coffee) publicity stunt
Campaigners fighting aircraft noise have accused Gatwick bosses of trying to buy them off with a free cappuccino and glossy printed pamphlet. The leaflet, dropping through the letterboxes of thousands of homes in a 20 mile radius of Gatwick airport, is a blatant PR stunt in the face of a 5 fold increase in complaints about noisy planes. It is edition one of "AirMail" – airport news for residents. It boasts of Gatwick's developments and "activities in the local community" including grants to community groups, local residents discount parking rates and free coffees. Chairman of the High Weald Aviation Action Group, Richard Streatfeild said Gatwick needs to listen, not make cheap gestures. "A free cappuccino is not going to make up for hundreds of aircraft over your home area when people are trying to spend quality family time and enjoy the countryside. They are obviously upping their PR game. They are being told by the CAA that they must involve the local community with their decision making" …what they need to do is "take into account the feedback they are getting from the local community." Martin Baraud from GON said: "They can send out all the brochures they like but at the end of the day they are part and parcel of creating noise ghettos through the garden of England."
Click here to view full story…
Levy on frequent leisure flyers proposed to make airport expansion unnecessary
Plans for a "frequent flyer" tax to curb demand for leisure flights and make a new runway in south-east England unnecessary have been unveiled by an influential group of transport campaigners, environmentalists and tax experts. These include the Campaign for Better Transport, the New Economics Foundation, the Tax Justice Network, Greenpeace and Friends of the Earth among others. In a letter to the Observer – in order to remove the alleged "need" for a new south east runway – they put forward the concept of allowing each person one tax-free flight per year, but increasing the rate of tax for people who fly frequently. The levy would rise with each successive flight. This would mean that instead of APD (£13 per return flight to Europe) there would be a higher rate of tax for frequent fliers. Their analysis shows that 15% of the UK population take 70% of all the flights, while half of us don't fly at all in any given year. Rather than a new runway being vital for business, the reality is that it would be used for the better off to take more leisure flights (holidays or visiting friends and family). The proposed levy would mean the number of flights would be cut to a level that would make a new runway unnecessary. The authors of the scheme have also shown that this change to the taxation of air travel would also ensure the UK could comply with its obligations under the Climate Change Act.
Click here to view full story…

---
Government will not make a runway decision soon, and not till "before Christmas"
The Financial Times has reported that it has been informed by a Whitehall source that Ministers will not provide a formal response to the Airports Commission's recommendation on a runway till about "before Christmas." The official told the FT there would just be a cursory acceptance of the report (expected in late June?) by senior ministers. It had been thought for sometime that the DfT would have to do at least 6 months work, considering the Commission's verdict,before a final decision could be made. The Commission has left many gaps in its analysis, with many questions unanswered. The FT reports that: "Civil servants say they need to start work on any proposed legislation & prepare for legal challenges that are considered almost inevitable." The decision for the Airports Commission has not been an easy one, because there are overwhelming arguments against a new runway at either Gatwick or Heathrow. The Cabinet faces division on the issue of Heathrow, with George Osborne in favour and other senior members deeply opposed. The pro- runway lobby has been complaining vociferously that a runway decision must be made quickly. Labour's Mary Creagh has accused David Cameron of "unforgivable delay" on the issue, and putting party stability "ahead of the national interest."
Click here to view full story…
EasyJet CEO, Carolyn McCall, again says there is no economic case for a Gatwick runway
Carolyn McCall, the CEO of EasyJet – the largest airline using Gatwick airport – has again said that there is no "economic reason" to build a 2nd runway at Gatwick. She believes it does not need to expand, because of a lack of demand from passengers. She would prefer a runway at Heathrow, as EasyJet and other airlines are "queuing up to get in". They could make more profit there. Though the airlines want a new Heathrow runway, it is both physically, geographically, environmentally and politically very, very difficult indeed. Gatwick is also geographically and environmentally very, very difficult. For Gatwick to build a new runway, the cost would have to be paid by the airlines, which means flights costing more for passengers. As the budget airlines make thin profits (perhaps £5 per passenger), adding on an extra £30 + to a return trip is utterly contrary to the low cost airline business plan. On dirt cheap flights, £30 extra is enough to matter. Even though easyJet is currently Gatwick's biggest customer, Ms McCall said it had "never proved it can really be the kind of airport that Heathrow is." Heathrow slot pairs can cost £25 million, but EasyJet got their Gatwick pairs for about £1 million.
Click here to view full story…
Gatwick Tory MPs warn of 'political stitch-up' on runways by anti-Heathrow faction in Cabinet
A group of senior Conservative MPs has warned David Cameron that he must avoid a "political stitch-up" that would favour cabinet ministers, and other party heavyweights led by Boris Johnson, who are campaigning against a Heathrow 3rd runway. Crispin Blunt, the former justice minister who chairs the 9-strong group of Tory MPs representing constituencies around Gatwick, told the Tory chief whip, Mark Harper, this week that cabinet ministers opposed to a third runway at Heathrow airport should "recuse" themselves [ie. not take part in a decision, due to danger of a potential conflict of interest or lack of impartiality] when the government considers the Airports Commission's findings. The decision by the government must be taken in an impartial manner. The Gatwick area MPs are concerned that as well as Boris Johnson and Zac Goldsmith, both keenly against a Heathrow runway, in Cabinet there are also Justine Greening, Theresa May and Philip Hammond, who are openly against a Heathrow runway. The Gatwick MPs are concerned about a political stitch-up on the runway decision. They do not believe a runway at Gatwick is in the national interest.
Click here to view full story…
Patrick McLoughlin having final talks with Heathrow and Gatwick on their runway plans
Sky News is reporting that Patrick McLoughlin, the Transport Secretary, is to hold a final round of talks with Gatwick and Heathrow in the next week or so, with the Airports Commission announcement expected around the end of the month. Mr McLoughlin is to visit both London airports to discuss the prospective financing of their multi-billion pound schemes as well as crucial issues such as the environmental impact of new runway capacity. The DfT has already drafted in bankers from Rothschild to help assess the deliverability of the 3 runway schemes. All the runway schemes would mean huge expenses, which are not yet clearly known, for the taxpayer – due to extra infrastructure required. Spokesmen for Gatwick, Heathrow and Heathrow Hub all declined to comment on the meetings with Mr McLoughlin. The date of the Commission's announcement is not yet known, and there is speculation it could be late June, or possibly on the 8th July, when George Osborne delivers is Emergency (or Summer) Budget. Osborne said in a speech to the CBI last month that the Government would act swiftly to get a new runway built.
Click here to view full story…
Freight Transport Assn writes to David Cameron to push importance of hub for air cargo
The Freight Transport Association's CEO has written to the Prime Minister, to say "the decline of Heathrow [presumably if a Gatwick runway was built] as a viable global cargo hub will increase the costs of freight and logistics across the UK." He said the importance of air freight should not be overlooked when considering the options for creating new airport capacity in south east England, and outlined the importance of a UK global hub airport. Air freight makes up 40% of UK air cargo by value, but far less by weight. The FTA is "concerned that the importance of air freight is being overlooked." 80% of freight at Heathrow is carried in the holds of scheduled passenger aircraft. In 2014 Heathrow moved almost 1.5 million tonnes of freight. The FTA wants expansion at Heathrow, and says "Gatwick does not possess the infrastructure to handle the volumes of cargo required." The FTA says the Government's decision on a runway should not be based solely on passenger considerations and "passengers are not the sole users of these flights nor the only beneficiaries of the wider choice of routes."
Click here to view full story…
Correspondence with Carolyn McCall (easyJet) illustrates the desperation caused by Gatwick's new flight paths
One component of the problem of aircraft noise now being inflicted on people of West Kent and Sussex by newly concentrated Gatwick flight paths, is the "Airbus whine". This is an unpleasant additional noise, at a particularly annoying frequency, due to air passing over the Fuel Over Pressure Protector (FOPP) cavities. This is relatively cheap and easy to put right. However, easyJet has not taken steps to make the changes, as it would slightly cut profits. Now infuriated residents have asked Ms Carolyn McCall, the CEO of easyJet, to take action on this. She has replied to say: "easyJet will do whatever it can as we take noise and environmental issues very seriously. I am looking into already how we can accelerate our programme to address this issue." She has actually been aware of the problem for a long time …. some emails to her are copied, giving a flavour of the desperation, anger and exasperation of people whose lives have been changed, seriously for the worse, because of altered and concentrated Gatwick flight paths – about which they were not consulted or informed. Their determination to reverse the deterioration in their quality of life, from the noise intrusion, is palpable.
Click here to view full story…
Heathrow and Gatwick fighting to get support from Scottish MSPs for their runway plans
Continuing with their lobbying across the country, to try to get support for their runway plans, both Heathrow and Gatwick say they would provide more flights to Scottish airports. Both Mr Holland-Kaye and Mr Wingate are due to appear before a cross party group on aviation at the Scottish Parliament at Holyrood. The improved links to London is sold as providing better links for Scotland to global markets. Heathrow says getting a new runway would enable there to be more flights to the regions. These have been cut back in recent years, as they are less profitable than international flights. Heathrow is keen to tell Scottish leaders how very useful Heathrow will be for them, (though they have been conveniently ignored in the past – it is now time to try to win their support). Stewart Wingate is doing his usual negative campaigning, pointing out, helpfully, all the deficiencies of Heathrow's plans, while being conveniently blind to the deficiencies of his own runway plan. Both airports hype economic benefits … lots of figures …The reality is that increasingly flights can be point to point, and people in Scotland have less need to transfer to London, before flying elsewhere. More long haul flights from Heathrow would cut demand for these to develop at Scottish airports.
Click here to view full story…
Data on air pollution challenged by group of MPs representing areas around Gatwick
Questions about the robustness and impact of Gatwick's proposals have been raised by the Gatwick Coordination Group (GCG) of MPs, which now includes all local long-standing and newly elected MPs around Gatwick. Particular concerns are raised about air quality, and Gatwick's own emissions modelling, which the GCG described as "inadequate" for failing to capture the impact on the new transport and housing provision in the local area, if a 2nd runway got the go ahead. The report by Jacobs for the Commission, suggests that the impact of an expanded Gatwick would be considerably worse than assessments by Gatwick airport. NOx and particulate matter (PM10 and PM2.5), are estimated to be 50% higher than the initial estimates of emissions suggested by Gatwick. Jacobs' assessment confirms that Gatwick expansion would cause significant deterioration of air quality for over 51,000 people; officially put "at risk" the health of at least 151 people; and have the highest % increase in NOx emissions (28% up) out of the 3 runway options. Chair of the GCG, Crispin Blunt MP, said: "…Gatwick's plan would ruin thousands of lives and push local services and infrastructure beyond their limits. There is no economic or practical case for Gatwick to become the same size as Heathrow."
Click here to view full story…
GACC response to Airports Commission: Gatwick runway could breach EU pollution law
GACC, in their submission to the Airports Commission, predict that pollution levels around the airport could become much worse than the Commission forecast. They point to a judgement by the Supreme Court on 29th April that the UK Government must enforce the EU Directive 2008/50/EC on Air Quality. A clause in Directive states that: "Air quality status should be maintained where it is already good, or improved" and limit values must not be exceeded once attained. According to GACC chairman, Brendon Sewill: "The Airports Commission are seriously underestimating future pollution levels. First they are looking at 2030 when the new runway would only be half full; and second, their estimates of future road traffic are only about half of what would be created by an airport larger than Heathrow today. There will be around 100,000 extra cars per day in the Gatwick area plus a ten-fold increase in freight and commercial vehicles – all adding to pollution." The Airports Commission expects the Gatwick runway scheme would mean higher mean NO2 concentrations for about 21,000 properties. There have been many studies of the adverse impact on health of NO2 and other pollutants from aircraft and vehicles, particularly for those with respiratory diseases.
Click here to view full story…
Retired Gatwick GP warns of health impact of Gatwick runway, especially on those vulnerable to asthma and respiratory illness
A retired GP, who worked in Langley Green for nearly 40 years, believes a 2nd Gatwick runway would lead to a 'disastrous' increase in Crawley's air pollution. He feels that increased pollution from planes and vehicle traffic would worsen high levels of respiratory illnesses in neighbourhoods near the airport. He says this would lead to 'considerable' increases in air pollution and noise in Crawley, a decrease in the standard of living and a fall in townspeople's health within 15 years of the runway and associated infrastructure being built. People living in Langley Green, Ifield and Crawley's new neighbourhood, Forge Wood, would be worst affected. Over this time as a GP he had seen quite a substantial rise in the number of respiratory illnesses, particularly asthma, particularly in children. He said "the last thing you would want to do is make that worse" and that the airport's effect on the increasing rate of lung-related conditions across the area played on his mind during his medical career. He said in Crawley almost 10% of his patients were from South Asian origin, a group that is known to have a higher than average incidence of asthma and greater than average need for emergency admission to hospital for asthma. But little thought seems to have been given to their welfare. He also questions the provision of extra medical facilities that would be needed if there was a new runway. Facilities are already stretched – and Gatwick will not pay for more.
Click here to view full story…
Campaigners gear up for legal challenge against decision for runway at either Heathrow or Gatwick
CPRE (the Campaign to Protect Rural England), which was one of the charities, which successfully took the last Heathrow expansion scheme to court, says it could do the same again if ministers press ahead with a new runway at either Heathrow or Gatwick. CPRE said it has always had "serious concerns" about the Airports Commission's work, and believed their final runway recommendation was "bound to be tainted". CPRE's transport campaigner said: "If the government decides to proceed we are bound to take legal advice as the first step to a challenge in the courts." Legal challenges have become inevitable with any big project, as opponents probe how effectively the decision process has been. HS2 has faced a number of judicial reviews. Back in 2010 CPRE was part of a coalition that took a court action against plans by the then Labour government, for a Heathrow runway. The judge found that the consultation process was flawed because it used old figures. Though it did not prevent the runway plan, it caused a delay – during which time the new coalition government decided not to go ahead with it. There remains a broad alliance of local authorities and charities that would go for legal challenge again, against either runway.
Click here to view full story…
Election results put Gatwick runway in doubt – so does surprise air quality consultation by Airports Commission
All eleven MPs elected for the constituencies around Gatwick are opposed to a 2nd runway. Most significant is the result from the marginal seat of Crawley (where a high proportion of the residents are employed directly or indirectly at the airport) – a dramatic win for the Conservative anti-runway candidate, the MP Henry Smith, but defeat for the pro-runway Labour candidate, Chris Oxlade (the vote was 22,829 against 16,303). This makes another runway at Gatwick look increasingly doubtful. This solid bloc of anti-runway MPs will make it difficult for the new Government to push through a new Gatwick runway without the support of some minor Parties. And the Lib Dems, UKIP and the Greens are all opposed the runway. Another reason why a Gatwick runway looks less likely is the surprise announcement on polling day by the Airports Commission that they are to hold another (very brief) consultation – on air quality. This is obviously the result of the decision by the Supreme Court that the UK must implement the EU limits on air quality. That may rule out a Gatwick runway, as EU law states that 'Air quality status should be maintained where it is already good, or improved.' A new runway would hugely increase the number of road vehicle trips, including lorries. Their emissions would be bound to worsen air quality and would thus be contrary to the EU Directive.
Click here to view full story…
Airports Commission to carry out a new consultation on air quality impact of runway schemes
It is reported that the Airports Commission is now intending to carry out a new public consultation on the the impact of air quality of a new runway. It is thought that the Commission is keen to avert a potential legal challenge to their decision, if the runway would put air quality standards at risk. Only recently the UK Supreme Court ruled that as Britain is still not meeting EU air quality standards, it must quickly produce plans to limit pollution, especially NO2. The FT reports that the consultation would be a very quick, technically focused one, perhaps being completed by the end of May. It is not anticipated to involve any meetings with the general public. Sir Howard Davies is off to become Chairman of RBS, starting that job on 1st September. He joins the RBS board at the end of June. Therefore the runway decision was anticipated during June. If the consultation on air quality is to be thorough enough, and give those consulted adequate time to respond, getting an announcement by the end of June would be very difficult. Parts of the Heathrow area regularly breach air quality limits. Though Gatwick has less of an air quality problem, expanding it to the size Heathrow is now would risk breaching air quality limits – and the Commission should not recommend a development that would mean NO2 limits would be broken.
Click here to view full story…
GACC critical of Gatwick's promises – unless part of legal agreements signed before any runway consent
Gatwick's latest leaflet to those that live around Gatwick is full of promises but provides no guarantees and misses much of the details, as usual. GACC (the Gatwick Area Conservation Campaign) has suggested to the Airports Commission that they need to make sure that all the attractive looking promises made by the airport are real, and not just part of their publicity campaign – to be forgotten when the airport is sold. The promises should not unduly sway a decision about a 2nd runway, unless the airport can be compelled to keep their word. The reality is that there is no method of enforcing the various undertakings being made by Gatwick, other than by legal agreements. However, any new legal agreement would need to be negotiated before approval is given in principle for the runway, otherwise all bargaining power would be lost. GACC submitted this fact to Crawley Borough Council this week, which seemed to be unaware of it. Signing binding legal agreements would prove the airport's sincerity about its offers, rather than just using them for PR purposes. Gatwick is promising some compensation to a small number of people; it is promising £5,000 per house built for a Gatwick employee; £10 million towards motorway widening; and that landing charges would not rise above £15 till 2030.
Click here to view full story…
BA's CEO, Willie Walsh, says post-election indecision will block building of any new south east runway
Willie Walsh, CEO of IAG, the parent company of British Airways, has again said that there will not be a new south east runway. He has often said this before, but this time he sees the likelihood of political indecision after the election as an additional issue. Willie Walsh thinks that to build a runway, there would need to be "political consensus across all the parties – not just coalition partners." He also warned that the cost of each of the 3 runway proposals would all be prohibitive. The expense would lead to higher landing costs, and airlines would not find that acceptable. Willie Walsh reiterated his view that there was "no business case" for a 2nd Gatwick runway, with not enough demand from airlines for it. He has said in the past that Gatwick does not have the same international attraction as Heathrow. He commented that Heathrow was already "the most expensive airport around." The runway decision would be a political one, and with a coalition government looking to be inevitable, there would be huge political difficulties in pushing through an unpopular runway, with dubious benefits even to the airlines.
Click here to view full story…
Great majority of election candidates around Gatwick oppose a 2nd runway
GACC (Gatwick Area Conservation Campaign) members have carried out a survey of the views of parliamentary candidates about a new runway at Gatwick. All 11 Conservative Parliamentary candidates in the seats around Gatwick (Crawley, Horsham, Arundel and South Downs, Mole Valley, Reigate, East Surrey, Sevenoaks, Tonbridge & Malling, Tunbridge Wells, Mid Sussex, and Wealden) oppose a 2nd runway. So do all Green Party candidates. So do all UKIP candidates. Almost all Lib Dem candidates oppose a 2nd runway – except for a few; the odd ones out being the candidates for Crawley and Horsham. The Labour candidates are about equally divided, half for and half against the runway. Many of the candidates have now signed a pledge against the runway, appreciating the runway would produce an increase in aircraft noise, worsened environment and lack of infrastructure such as roads, rail, schools and hospitals. At the national level both the Labour and Conservative manifestos say in effect that they will wait for the recommendations of the Airports Commission (expected June/July). At the Lib Dem conference last year a resolution supporting a Gatwick runway was overwhelmingly defeated, and their manifesto reflects this policy but leaves a little wriggle room if the Airports Commission comes up with "compelling new evidence."
Click here to view full story…
Crispin Blunt, Kwasi Kwarteng and Sam Gyimah send open letter to Gatwick Chairman blasting Gatwick 400,000 Heathrow leaflets stunt
Crispin Blunt, Kwasi Kwarteng and Sam Gyimah (all Surrey MPs in the Coalition government and Conservative candidates) have written to Gatwick Airport Chairman, Sir Roy McNulty, to complain about Gatwick's leafletting of the Heathrow area. Gatwick has sent out provocative leaflets to some 400,000 households in constituencies around Heathrow, pushing the case for a Gatwick runway. It is doing this at the same time as failing to engage with local communities around its own airport. Gatwick is trying to frighten residents around Heathrow, about the appalling noise and other environmental and economic impacts of a 3rd Heathrow runway. Instead it pushes Gatwick's negative and unbalanced campaign for its runway. The MPs say Gatwick's actions demonstrate "an astonishing disregard for the concerns of families and communities around Gatwick, about whom you should have most concern." They say: "Instead of frightening the communities around your competitor, you should focus on engaging with the communities that surround your airport." "If Mr Wingate or his team had taken the time to adequately consult with his local communities …[Gatwick would know] … there are wide ranging concerns about the huge strain Gatwick expansion would place on local transport infrastructure, housing, schools and healthcare."
Click here to view full story…
Gatwick distributes 400,000 flyers around west London warning of Heathrow noise (to get backing for Gatwick runway)
As Gatwick has difficulty getting much local support for its runway plans (almost all local councils and local MPs oppose it) this week the airport is distributing 400,000 flyers to homes across west London. Uxbridge and South Ruislip in particular are being targeted, (86,000 leaflets) warning about the increased noise there would be from a Heathrow 3rd runway. Gatwick has focused its attention on negative campaigning about Heathrow, though Heathrow has not – publicly – being doing the equivalent on Gatwick. Gatwick is not revealing the cost of their 400,000 leaflet effort. As the local residents do not have the ability to choose whether a runway is built, the aim is to influence local politicians. Gatwick claims that 683,000 people and 362 schools would be impacted by noise if a 3rd Heathrow runway was built, while only 36,000 people and 15 schools by a Gatwick runway. In the 55 Lden contour. (Clever of them, as the flight paths are not yet know …. nobody knows the numbers). Heathrow and Gatwick are arguing over the figures. Gatwick appears to discount the impact of increased noise from its own planned runway. This has infuriated local residents in the Gatwick area. Gatwick's ploy of leafleting people near Heathrow, who are rightly frightened at the prospect of a 3rd runway – playing on their fears – has further increased local opposition.
Click here to view full story…
DfT appoint bankers, Rothschild, to advise government on runway after Airports Commission reports
The DfT has appointed the bankers, Rothschild, to help evaluate Gatwick and Heathrow's runway plans, after the publication of the Airports Commissions report that is due in June. That implies the Commission will not have ruled one or the other out. Either of the runway plans would rank among Britain's biggest-ever, and most expensive, infrastructure projects. Rothschild would provide advice to ministers and officials, and DfT said: "Rothschild was appointed to provide financial advice to assist our understanding of the deliverability of any new runway capacity." Labour and the Conservatives have been urged by business lobbying groups to make a swift decision to approve a runway. The reality is that a huge number of issues have not been fully dealt with by the Commission, and a great deal of further work needs to be done, before a runway could properly be considered. The Airports Commission estimated the cost of Heathrow's NW runway at £18.6bn without factoring in public money for improved road and rail links; cost of Heathrow Hub's Plan at £13.5bn; Gatwick's plan at £9.3bn. The Commission estimated that HAH could have to raise additional equity of up to approximately £8.4bn and debt of up to roughly £29.9bn. "Raising this level of financing would be challenging." Hence the need for bankers to advise.
Click here to view full story…
A flavour of the anger and the determination of those suffering Gatwick concentrated arrival flight paths
There is a rising level of anger, upset, stress and despair among people living in areas far to the east of Gatwick airport, mainly under newly concentrated landing routes. Areas such as Hever, Penshurst, Chiddingstone and Penshurst are badly affected by plane noise, though they are miles from the airport. As the level of background noise in quiet rural villages is low, the impact of the aircraft noise is far worse than that perceived at equivalent distances from Heathrow, in densely urban areas. Gatwick airport no longer replies to those who complain about its planes, and prefers to focus its efforts on lobbying people around Heathrow. Its ubiquitous adverts rub salt in the wounds, for local people, by making out how few people would be affected by its runway. Politicians, councils, aviation industry take the level of noise that people suffer at Heathrow seriously. But the noise endured by those near Gatwick is not taken as seriously. Below are some of the comments by people who are suffering from the impacts of Gatwick, and getting no satisfaction or understanding from the airport. One comment: "It is not OK for my family to be woken up at 4:30am and it is not OK to be listening to that horrible whining and thundering din late into the night." And "What Gatwick and its planes are doing to people in our area is totally unacceptable ….We will fight this to any extreme."
Click here to view full story…
Oil finds near Gatwick would only add to transport, housing and infrastructure problems for local residents
An announcement has recently been made by UK Oil and Gas Investments that is has located allegedly 'world-class potential" oil resources 1 – 2 miles north of Gatwick Airport. GACC, the Gatwick Area Conservation Campaign, has written to the Airports Commission to point out that this oil at Gatwick is just one more reason to reject the 2nd runway plans. This oil, and nearby deposits across the Weald, would add substantially to the environmental problems caused if it was decided to build a 2nd runway. A 2nd runway when operating at full capacity would create around 60,000 new jobs, an extra 100,000 cars on the roads every day plus freight, an extra 90,000 rail passengers every day on the single railway line, and the need for around 40,000 new houses. Since there is comparatively low unemployment in the area, most of the people taking the new jobs would need to come from other parts of the UK or from the EU. GACC asks how many more houses would have to be built to accommodate the new oil workers and their families on top of the second runway and natural growth of the population of Surrey and Sussex? And how many extra vehicles would be added to the roads?
Click here to view full story…
Liverpool airport says 'we will talk to anyone' as Gatwick announces £20 million fund and Heathrow announces £10 million…
Liverpool John Lennon Airport says it would be happy to speak to Gatwick Airport about regional routes, after Gatwick put out a press release to say (copying Heathrow's earlier offer) it would spend up to £20 million to help support regional air routes. Gatwick and Heathrow offers only apply if that airport got a new runway, not otherwise. Liverpool Airport has already been in talks with Heathrow about the possibility of getting a link there (if there is a new runway) – as Heathrow is keen not to lose connecting flights, if people in the regions prefer to fly via Schiphol. However, Gatwick's offer would have far less appeal than Heathrow's to Liverpool Airport because it does not offer a connection to a hub, for long haul flights. A spokesman for Liverpool airport said: "We are always open to suggestions for new routes and we are happy to speak to anyone." Heathrow says it is offering a £10 million fund to support regional routes, to five airports over 3 years. Those named are Liverpool, Newquay and Humberside. On 31st March Liverpool announced that Flybe would operate a service up to 3-times-a-day to Schiphol starting on September 7th. ie. They would not then need links to Gatwick or to Heathrow.
Click here to view full story…
Gatwick rushes to offer money – if it gets a 2nd runway – to support and incentivise new domestic air services
After Heathrow got itself some good publicity in its runway campaign, by saying it would spend £10 million to set up some new regional routes, Gatwick has been panicked into doing the same. It appears to have had to rush out a paper, stating it will spend £20 million over 10 years to strengthen domestic air services. Only if it gets a second runway. The paper setting out its plan contains little text, and gives no references or sources for the figures it uses. Gatwick says it already serves 11 destinations within the UK compared with 7 at Heathrow. Gatwick says its plans for a 2nd runway will "encourage the growth of regional airports and the development of international services outside London and the South East" though it does not explain how. It probably means that if there are more long haul flights from an expanded Heathrow, there would be less market demand for these flights from regional airports, and they would thus suffer (which is true). Following what Heathrow has already offered, Gatwick says it will consult on reducing landing charges for regional flights. If Gatwick wasn't so busy lobbying around Heathrow, and with negative campaigning about Heathrow, it might have thought of some of these ideas for itself, rather than just being a pastiche of Heathrow.
Click here to view full story…
Flybe accuses Gatwick of ignoring UK regions
Saad Hammad, the chief executive of Flybe, has criticised Gatwick for failing to address the needs of Britain's regions, in its attempt to win support for its second runway. The head of the UK's biggest regional airline said that Heathrow had been "more specific about what they are going to do" on take-off and landing slots and on charges for domestic flights and "I don't think Gatwick has been as sensitive as we would like…. Heathrow has one up on Gatwick in terms of listening to regional needs and requirements." Heathrow has said it would look at cutting charges for regional flights as part of a regular review of fees, though no binding commitment has been made. These cuts are largely to deter passengers flying via Schiphol or other European hubs, rather than concern for the regional airports. Flybe has no flights into Heathrow and only one from Gatwick to Newquay. It sold 25 pairs of slots to easyJet in 2013. A spokesman for Gatwick said that it had the "best" regional links of any London airport and would remain significantly cheaper than Heathrow, even if Heathrow reduced their domestic fees. Gatwick said it is planning to give details of its proposals on fees further later this month. It has claimed its landing charges would not rise above £15 per passenger, but only it gets a 2nd runway and Government agrees a contract not to allow any other runway in the south east for 30 years ….
Click here to view full story…
CAGNE sends complaint to Airports Commission on poor level of local engagement by Gatwick
CAGNE, the local group set up in 2014 at Gatwick, in response to the trial of new, concentrated flight paths, has written to the Airports Commission, to complain about the activities of Gatwick Airport. Local groups have persistently complained that senior airport staff have declined invitations to attend meetings of communities around the airport. The airport is aware of the huge amount of local opposition. Instead, Gatwick has focused its advertising money and its PR on the London area. It has also contacted a large number of councils, in areas closer to Heathrow (where a Heathrow runway would be opposed) to try to get them to support a Gatwick runway instead. CAGNE points out that the Airports Commission's own work, in its Appraisal Framework, expects runway scheme promoters will show "evidence of sustained and meaningful engagement with local and community stakeholders including highlighting any changes of features of scheme designs arising as a result of this engagement." The Commission also expects the runway promoters to work on managing their "engagement with communities throughout the lifespan of the proposed project, including the period after any new infrastructure is delivered." CAGNE has little confidence, considering the poor record of Gatwick airport so far, in its future engagement with local people.
Click here to view full story…
Gatwick opposition groups and MPs hand in letter to Downing Street, asking PM to recognise devastating impact of Gatwick runway
Six local groups and five MPs opposing a 2nd Gatwick runway, and the increased noise nuisance caused by Gatwick airport, are handing in a letter to 10 Downing Street today.  They urge the government to recognise the strength of local opposition to a 2nd Gatwick runway, and changes to flight paths.  They are asking the Prime Minister to recognise the devastating impact of a 2nd runway, the lack of local political support and the strength of feeling among local residents against changes to flight paths already in and out of Gatwick. The delegation will hand in the letter, signed by the chairs of the groups representing residents in Sussex, Kent and Surrey, that surround Gatwick and are affected by it.  Together, the groups represent tens of thousands of people.  Sally Pavey, Chair of local group CAGNE commented:  "Throughout this process, we've been hugely disappointed with Gatwick's lack of consultation with the local area. CEO Stewart Wingate continues to portray the airport as an 'easy option' for expansion, while ignoring the concerns of thousands of local residents.  Also that it will cost the taxpayer billions in infrastructure bills and the devaluation of vast areas of the south-east with aircraft noise." CAGNE have also submitted an official complaint to the Airports Commission, on the actions of Gatwick airport in lobbying Heathrow councilsto back a Gatwick runway.
Click here to view full story…
---
Gatwick claims support for 2nd runway – but does not reveal necessary methodological detail about its polls
Gatwick Airport has had two surveys done, to try to show there is support for their runway. One is of councils in London. Gatwick knows almost every council, except East Sussex, in its area has voted to oppose a 2nd runway. So Gatwick has been asking London councils instead, in the hope of better results. Many London councils know the highly negative impacts Heathrow, and its flight noise, cause for their residents, and therefore are opposed to any more. Some have said they back a Gatwick runway (believing, questionably, that there must be a new runway somewhere) in order to save their residents more problems. Some London councils hope Gatwick could provide jobs for their workers. The second survey is of residents in Kent and in West Sussex, and again, Gatwick claims significant support for their runway, compared to Heathrow. However,Gatwick does not publicise any of the actual data of their surveys. That is very significant, because without knowing the questions asked, the script leading up to the questions, and the options given, the results are almost meaningless. Their earlier consultation, in spring 2014, contained (till forced to add another option) no means of saying "No" to either options, but just various shades of "Yes." Who knows whether these surveys contained the appropriate alternative response options?
Click here to view full story…
"NATS and CAA are not fit for purpose" – MPs asked to get Parliament to investigate flight path routing fiasco
21.3.2015
Angry resident, exasperated by living under new Gatwick concentrated flight paths, has written to the group of MPs in the Gatwick area. He says:
"Gatwick couldn't care less and Heathrow didn't even know what was going on beyond it's tarmac… Incredible. Yet both business want to double the size of their operations.
"Who exactly is in control and are our skies being operated like the Wild West where profit trumps all else? Why can't a Parliamentary Select Committee look at this mess, to call these authorities and businesses to account – and on camera – to give us, the public faith that we are being listened to?
"With the greatest respect gentlemen – Make it happen please – there are thousands of angry people out here who are quite frankly being lied to."
---
Crispin Blunt MP: Too many unanswered questions make Gatwick obviously NOT the right choice
Crispin Blunt is the MP for Reigate and Chair of the group of MPs against a new Gatwick runway, the Gatwick Coordination Group. In an article, he sets out why there must not be a 2nd Gatwick runway. He writes that Gatwick wrongly puts about the view that one runway will solve our (alleged) "aviation crisis" and that it doesn't matter where it's put. He says the local impacts of a Gatwick runway cannot be justified and would not provide the sort of airport capacity needed. "Gatwick talk about the importance of trust. Yet, they have eroded trust by refusing countless times to speak to the local public about the impact of expansion on surrounding communities, while this week senior representatives found time to attend political events organised by local politicians around Heathrow." Some of the many reasons not to allow Gatwick a runway are insufficient workforce, severe housing and infrastructure pressures, lack of transport resilience, and doubts about Gatwick's business calculations – which are kept secret. Unfortunately, Crisipin Blunt is now advocating a runway at Heathrow – apparently oblivious of the equally horrendous consequences for the areas to be badly affected there.
Click here to view full story…
Gatwick area MPs hope to have CAA assurance that aircraft noise misery from PR-NAV will soon be addressed
MPs Paul Beresford, Crispin Blunt and Sam Gyimah, representing the people being overflown by the new departure routes from Gatwick have had a meeting with Mark Swan, the Director for Safety and Airspace regulation for the CAA. They needed to discuss the CAA's implementation of PR-NAV use of flight paths and its impact on local residents. The CAA asked for the public to comment on the implementation (named PIR) and that ended on 5th January. People in south Reigate, Redhill and Holmwood have been badly affected by aircraft noise pollution, for the first time, as they are outside the NPR (Noise Preferential Route) which were adhered to in the past. The CAA has the authority to require Gatwick to alter these flight paths following their PIR review. Mark Swan told the MPs that "We will not allow the status quo to be sustained". The MPs want the routes to be returned as soon as possible to the pre-PRNAV pattern. Mr Swan also stated that the CAA had sufficient authority to approve appropriate technical solutions that return paths towards the previous pattern. Gatwick Airport management have avoided attending meetings with angry and upset local residents, and have been slow to acknowledge there was a serious problems caused by flight paths. The MPs said: "We will sustain the pressure to try and deliver a summer less blighted than last year."
Click here to view full story…
GACC says Gatwick's rash promise to cap landing charge at £15 puts its runway plan in doubt
Gatwick airport have made a very rash promise not to raise their landing charges above £15 (plus inflation) for 30 years, if they get a 30 contract from the government (details not specified). Brendon Sewill, of GACC said: "The whole runway project is in doubt…. Gatwick's rash promise not to raise airport charges above £15 per head …. seriously puts in question whether building a new runway at Gatwick is a viable business proposal – either for the present owners or for the new owners if Gatwick is sold." The Airports Commission calculate that Gatwick charges would need to rise to 'between £15 and £18, with peak charges of up to £23. GACC points out that Gatwick's promises are meaningless unless they are put into a legal agreement binding on the present airport owners – and future owners. If so, the £15 would become a legal maximum – rather than the current £9. Even at £15, some airlines, and passengers might well decide instead to use much cheaper airports such as Stansted or Luton. GACC has pointed out to the Airports Commission the risk that Gatwick may have fewer passengers than forecast, in which case the cap of £15 may not be sufficient to cover the costs of a new runway and new terminal. Brendon Sewill asks: "What would happen if the money runs out when the new runway is only half built?"
Click here to view full story…
The "30 year contract"
Asked what this contact says, or whether it exists, below is what Gatwick senior management have said:
"The exact nature of the thirty year contract has yet to be finalised – its purpose would be to clarify the commercial and regulatory environment in which we would be operating, including the anticipated timing of any new runways beyond that granted to Gatwick. Whilst we understand that one government cannot bind a future government irreversibly, if there was a legal contract in place and the future proved different from that which had been committed to, the contract could also govern what might happen in those circumstances."
Make of that what you can !
---
Gatwick "promises" to cap landing charges to £15 + inflation for 30 years (if it gets an unspecified 30 year "contract" from Government)
Gatwick airport, in frenetic publicity in the months before the Airports Commission runway recommendation (expected late June) has made various pledges – in the hope of currying favour. It says it will "bear all the main risks" of a new runway. Sir Roy McNulty, chairman of Gatwick, has written to Sir Howard Davies saying – among other things – that the landing charge will be kept at £15 (plus inflation) for 30 years. As long as there is no new Heathrow runway. (It is currently £9). Sir Roy said it is "in return for Government agreeing a 30 year contract" though exactly what that means is not explained. Presumably a contract that there will be no other runway? Gatwick also says it will "bear all the main risks of the expansion programme . . . including long-term risks related to traffic levels, market pricing, construction and operating costs". How exactly? Gatwick's main airline, EasyJet, is not happy with charges rising to £15. The Airports Commission consultation documents considered Gatwick's estimate of £15 to be too low, and instead considered "average charges rising to between £15 and £18, with peak charges of up to £23." These higher levels were due to lower estimated levels of air passenger demand than Gatwick's optimistic figures, and higher infrastructure costs. [ Airports Commission's consultation document Page 47].
Click here to view full story…
Gatwick's Tom Denton says the controversial new flight navigation system is here to stay at Gatwick
Tom Denton, Head of Corporate Responsibility at Gatwick, has admitted that the airport would not rush to making changes to the use of PRNAV despite public opposition. He said: "There was an acceptance that SHOULD there be detrimental impact we would seek to revert to previous methods." However, there have been perceived detrimental impacts, and Gatwick does not intend to revert. Residents in many areas – to the north and north west of the airport in particular – have been complaining about the use of more concentrated flight paths, which is what PRNAV (also called PBN – Performance Based Navigation) creates. This has meant that more planes fly in these new narrow corridors – though fewer planes fly in some other areas. The Chairman of GATCOM (Gatwick Consultative Committee) wrote to Stewart Wingate.to ask Gatwick to honour a previous agreement to stop using PRNAV. Gatwick is one of the first UK airports to introduce the system, because Mr Denton said the quieter airspace around Gatwick meant PRNAV was easier to implement there. Tom Denton said the matter would be assessed "on a factual basis" and not emotional responses.
Click here to view full story…
"Gatwick Obviously NOT" serves Judicial Review upon the CAA, on airspace change, with Gatwick Airport as an "Interested Party"
The relatively new campaign, "Gatwick Obviously NOT", (GON) which was set up in response to changes to flight paths to the east of Gatwick airport during summer 2014, has served a Judicial Review upon the CAA, with Gatwick Airport Limited and the Secretary of State for Transport listed under the CAA as an 'Interested Party'. The claim is being brought by Martin Baraud, the Chair of GON. The "Ground of Claim" is that there has indeed been a change in the use of airspace and that the CAA should first have consulted on such change before it was put into effect by GAL and NATS. To date no consultation has taken place and this whole procedure has been bypassed. GON wants proper consultation, and that a full airspace change process is carried out. They also want there to be no airspace changes by the CAA without approval by the Secretary of State. GON has already succeeded in raising over £100,000 and they will be fundraising further, for more legal costs.
Click here to view full story…
To conceal the real number of aircraft noise complaints, Gatwick now just records one per person per day
Gatwick Airport's figures on noise complaints are no longer of much use, as they do not publicly report the full numbers. The airport changed the system to only record one complaint per person per day, no matter how many complaints about separate flights they may make. Gatwick says they have introduced this system because people can use phone Apps to make multiple complaints. Gatwick is being urged to record separately the number of people making complaints; the number of total complaints when only one-a-day is counted; and the total number of complaints (including number of planes). At the recent noise seminar held by Gatwick airport on 4th March, Tom Denton (Gatwick's Head of Corporate Responsibility) said, when questioned about the decision by GAL to only record one complaint, per person, per day that this has been the case for the last "2 – 3 years". The wording on the GAL website was changed, to show one complaint only per day, in August 2014. Tom Denton says – incorrectly – that this is the practice at other airports like Heathrow. Heathrow records "enquiries" (number of planes complained about), and "contacts" (number of complaint contacts/forms submitted), and "caller" (number of people). Every complaint, unless there are many on one form/email, is counted by Heathrow, even if several per day. But not by Gatwick – meaning complaint figures are not comparable. Gatwick's are now artificially low.
Click here to view full story…
Strong "No New Runways" bloc gets its message across at the London Time To Act Climate March
The huge "Time To Act" on Climate Change march was held in London on Saturday 7th March. There was a good turnout, described by some as "over 5,000" and by others as nearer 20,000 (numbers are always hard to be accurate on). The "No New Runways" bloc had a good attendance, from Gatwick and from Heathrow opposition groups, as well as many individuals. Gatwick protesters from CAGNE wore pantomime devil horns, and T-shirts with the logo "Gatwick, Neighbour From Hell." Many people who stand to lose their homes, to be bulldozed for a new Heathrow runway, too part. The AirportWatch banner read "No New Runways", and another" Aviation Expansion = Climate Threat. The runway bloc were with others in the transport bloc, and marched from Lincoln's Inn Fields to Parliament, where the speeches took place. During the speeches John McDonnell (the MP for Hayes and Harlington, which the Heathrow north west runway would wipe out) spoke of the need for climate action, not least to oppose a new runway – digging up the village of Harmondsworth. He described the level of protest and direct action that would happen, if the north west runway was recommended, as unprecedented and the "mother of" all environmental battles. The aim of the march is to put pressure on political parties before the general election, and raise the profile of climate change ahead of crucial climate talks in Paris in December.
Click here to view full story…
Passionate letter from a distressed victim of Gatwick's concentrated flight path noise
Dear Mr Wingate. On weekdays my alarm is normally set for 06:40 am. At 05:52 today one of your metal gods tore through the sky above my house and woke my entire family. This happens on a daily basis now and more often than not earlier than this. One child in tears, a wife in despair and I, with an ever growing sense of rage and contempt towards your airport. I also understand that the narrow and concentrated flight path which you began in 2013 may have wiped £XX,000 off the value of my house, for which I paid a hefty premium to live in a quiet Tudor village. If you do not understand or appreciate the horror your concentrated narrow flight path has created, it is time someone made you wake up to it. My family, my neighbours and I have had enough, Mr Wingate. You should act on this email and the thousands of other similar letter you have received, and revert to multiple broad flight paths arriving at Gatwick. This needs to be done sooner rather than later….. The actions of a private company (Gatwick Airport) should not be bringing about emotional and financial ruin for thousands of people. And this is precisely what is happening. Imagine if Jaguar Land Rover built a testing track next to their factory without any kind of permission which generated this amount of noise and ran it from before 6am to 12pm incessantly, every day. Would that be permitted to carry on?
Click here to view full story…
Councils around Gatwick opposed to a 2nd runway
29.1.2015
Almost all the county, borough, district, town and parish councils around Gatwick have decided to oppose a second runway.
Kent County Council has reversed its position, from support for a second Gatwick runway to opposition.
West Sussex County Council councillors voted, after a long and passionate debate, 37:26 to cancel their support in principle and to oppose a 2nd runway.
Surrey County Council is sticking to its policy, agreed a few years ago, to oppose a second runway unless sufficient infrastructure improvements are made first.
Crawley Borough Council, the planning authority for Gatwick, has voted 25:11 to oppose a second runway.
Horsham District Council has voted 23:1 against.
Mole Valley District Council has voted unanimously against.
Tunbridge Wells Borough Council has voted 39:1 against.
Tandridge District Council has sent in a response drawing attention to its core strategy to oppose any expansion of the airport which would adversely affect their residents.
Mid Sussex District Council has strongly opposed a 2nd runway
Wealden District Council has opposed a 2nd runway
Reigate and BansteadCouncil is still making up its mind.
Horley Town Council and virtually all the fifty or so parish councils around Gatwick have voted No to a runway
Sevenoaks Council opposed to 2nd runway
Tonbridge & MallingBorough  Council opposed to 2nd runway
East Grinstead Town Council opposes Gatwick 2nd runway
The only odd one out is East Sussex County Council which voted 27:19 to support a 2nd runway. Most of the votes in favour came from councillors in seaside areas such as Hastings or Eastbourne who were enticed by the prospect of more jobs.
None of the Members of Parliament around Gatwick support a 2nd runway. Eight out of nine MPs have declared their opposition. One (Henry Smith) says that Gatwick have not yet made a case for a new runway.
---
Uncertainties about if, and how comprehensively, Gatwick is logging aircraft noise complaints
Gatwick airport (and Heathrow too) were inundated with noise complaint since trialling new concentrated flight paths last year. However, there remains uncertainty about how the Gatwick process for counting and recording complaints. People who have felt the need to complain about numerous noisy flights have been informed that they can log no more than one complaint per day. People have been told they cannot use a "template" for their complaints, even though the airport's own reporting form is a template. The airport has now been asked to explain just what constitutes a "template" is, in their opinion. And how does this differ from being a bone fide 'enquiry' via email or letter? People are asking what has happened to the numerous complaints they have made over the past year or so, since the flight paths were altered. How many of these have been recorded, and how many have been dismissed? The lack of clarity means yet further reduction in trust in the airport by affected communities. There is concern that Gatwick gets to self regulate on the matter of collation of complaint data, which is seen as flawed. Gatwick downplays the extent of the problem saying "Complaint statistics can be extremely difficult to interpret as a large proportion of all our complaints originate from a very small group of individuals."
Click here to view full story…
Chairman of Gatwick GATCOM writes to Stewart Wingate, on withdrawal of routes with "detrimental effect"
The Chairman of GATCOM (the Gatwick Airport Consultative Committee) has written to Stewart Wingate, to try to get some clarification for his committee, on PRNAV departure SID implementation at Gatwick. GAL had undertaken to revert to conventional navigation and the withdrawal of P-RNAV where there has been a "detrimental effect" on local communities. GATCOM is disappointed that GAL does not appear to be honouring this undertaking and many members and local communities feel badly let down, particularly in view of the negative effects some of them are now experiencing. GATCOM is asking Gatwick Airport to withdraw a/any P-RNAV SID where it is deemed that there has been a detrimental effect on local communities and revert to conventional navigation at the earliest opportunity. They are asking Mr Wingate quite how such "detrimental effect" has been quantified in the CAA's airspace change process. GATCOM says it is important that the way in which the Government's policy of minimising the number of people impacted by aircraft overflight and noise is fully understood and measures put in place to fully compensate those suffering significant disturbance as a result of changes for loss of property value. Also GATCOM want the CEO of the CAA, Andrew Haines, to attend a meeting of GATCOM to explain his interpretation of the present position to members.
Click here to view full story…
GATCOM (Gatwick Airport Consultative Committee) minutes
And more at  GATCOM minutes
.
---
Virgin, Thales and TUI promise not to leave Crawley even if Gatwick doesn't get a 2nd runway
There has been discussion in the Gatwick and Crawley areas about what impact a new Gatwick runway could have on businesses and jobs locally, and what impact there would be either if there was no runway, or Heathrow was permitted to build a runway. Now some of Crawley's biggest employers have confirmed that they will stay at Gatwick, regardless of whether there is no new runway there. The Crawley News contacted 5 of the biggest employers in the town, including Thales and Virgin, (also TUI, Nestlé and Elekta) to find out if they are committed to staying in the town even if Heathrow got a new runway. Four of the five pledged to stay put. Thales, based in Manor Royal, says it will not be leaving and around 2,000 of their employees are currently based there. Virgin Holidays has 600 staff working in Crawley centre, and a total of 2,100 staff in the area, including the airport. They have "no plans to relocate our base to Heathrow." The TUI Group has around 500 staff in the Crawley area, with their HR, finance, investor relations, PR and IT. As their airline operations are at Luton, they have no reason to leave Gatwick. Nestlé has its head office in Manor Royal, with some 840 jobs – it refused to comment on the issue. Elekta has just spent a lot of money on a new building in Manor Royal.
Click here to view full story…
National Trust claims Gatwick expansion would harm Wakehurst Place – and other historic properties
Wakehurst Place is a beautiful stately home in Sussex, owned by the National Trust. It is the country part of Kew Gardens botanical garden, with the world's largest seed conservation project. The wonderful old house has been used in many films. It is now one of the 13 historic properties that the National Trust says could be affected by a new Gatwick runway. These also include Penshurst Place in Kent, which was used as a location for current BBC Tudor drama "Wolf Hall." The National Trust said it was "highly sceptical" about proposed expansions to either Gatwick or Heathrow in its submission to the Airports Commission. The NT believes any airport expansion at either Heathrow or Gatwick would increase noise impact to residents and affect how people spend their leisure time. It has an impact on visitors to these historic and unique buildings. It also said it could affect filming possibilities at the venues because of increased aircraft noise. Hever Castle (former home of Anne Bolyen) is also very badly affected by noise from Gatwick landings, with real fears of reduced visitor numbers, if the amount of aircraft noise prevents the visit being a pleasant and peaceful experience.
Click here to view full story…
Southwark Council backs Gatwick runway, hoping its residents will commute to airport jobs
Southwark Council has decided to back a Gatwick runway, and has entered into a partnership which it hopes would bring jobs and growth to the borough – if there is a runway. Southwark's Council Leader has written to Stewart Wingate to propose a Memorandum of Understanding that would mean the airport and council would work together on jobs.Southwark believes "Government policy makes airport expansion inevitable" so they want to get the most out of it for their residents. There is the hope that more frequent trains from London Bridge to Gatwick will enable local people "to access thousands of new jobs and apprenticeships and opportunities for businesses" – so they would all be using the already highly crowded rail links. The Council also says: "Noise from aircraft, particularly in the south of the borough is a real headache for local people as flights come in to land at Heathrow. Gatwick flights predominantly fly south of London over less built up areas so far fewer people will be affected." And Southwark is happy for all that misery to be put over the heads of others. Croydon also wants the jobs.
Click here to view full story…
East Grinstead Town Council states opposition to 2nd Gatwick runway plans
East Grinstead Town Council has voted against plans to expand Gatwick. At the meeting councillors were asked to vote for or against proposals for a 2nd runway, and 14 voted against the proposals, with three abstentions, due to conflicts of interests. Councillors agreed they still had "grave reservations" about the impact on the environment and community from the expansion plans. Council Leader Rex Whittaker said: "At this stage it would appear to this council that the commission has underestimated the potential negative impact on a beautiful, natural, mostly rural area, underestimated the costs needed to bring this option to Gatwick in local infrastructure, and over-estimated the economic benefits." Reasons for the opposition included pressures on housing, roads, the impact on the environment and Ashdown Forest, and reduced quality of life for residents. Councillors agreed that "the negatives far outweigh the positives….The roads and housing situation is bad enough without a second runway at Gatwick." An East Grinstead resident says she is being plagued by problem parkers outside her home who leave their cars, then head off to Gatwick on holiday. Recently one car parked outside her house and was left there for 9 days.
Click here to view full story…
Mid Sussex District Council, and Wealden District Council both oppose Gatwick runway
Following a full discussion at the Scrutiny Committee for Planning and Economic Development on the 20th of January 2015, Mid Sussex District Councillors agreed to write to the Airports Commission to strongly oppose a 2nd Gatwick runway. The Council endorsed the opposition on 28th January. The Council is concerned about the impact of an expanded Gatwick on Mid Sussex, a predominately rural area, just one mile away from the current airport boundary. Infrastructure will not be adequate, and has not been properly assessed by the Commission. Councillors did not believe the possible economic benefits would outweigh the devastating impact of a runway.There are concerns about the impact on areas designated as National Park or High Weald. Wealden District Council agreed at a meeting on 28th January not to support the Gatwick runway. However, they felt a Heathrow runway would benefit the District more. Councillors are concerned about the pressure for more housing that a runway would create, and that there needs to be further work done on the environmental impact on the Ashdown Forest, particularly exhaust fumes from the extra vehicles. Other councillors expressed concern about flightpaths and noise.
Click here to view full story…
East Sussex County Council votes in favour of Gatwick 2nd runway by 27:19
At a full council meeting on Monday 26th January, East Sussex County Council voted to back a 2nd runway at Gatwick. Members voted by 27 to 19 in support of the runway. The vote came about because the Council is discussing and agreeing its response to the Airports Commission consultation on a new runway at either Heathrow or Gatwick (having decided, for political reasons, to discount the option of no new runway). There was a free vote and the vote was recorded. Many councillors from economically stressed areas to the south of the county were persuaded that there would be jobs, if there was a new runway. Much of the county is sufficiently far from Gatwick to avoid many of the negative consequences of a new runway. Some councillors hope they might also get better infrastructure, if there was a runway. Unfortunately, though there are jobs at Gatwick (many low paid and some may be on uncertain hours contracts) and people in need of jobs along the East Sussex Coast, the cost and difficulty of getting to Gatwick means the vacancies are not being filled by people from this area. Croydon etc are much closer to Gatwick, and easier to get to for work.
Click here to view full story…
Crawley Borough Council votes by 25:11 to oppose second runway at Gatwick
A special Full Council meeting of Crawley Borough Council has voted by 25:11 against a 2nd runway at Gatwick. The meeting was held on 26th January, to discuss the content of the Council's response to the Airports Commission consultation, and whether the Council would take no position, pro or anti the runway – or decide one way or the other. After two hours of debate, in front of a packed public gallery, a recorded vote was taken – it was a free vote, with councillors allowed to vote how they saw fit, rather than according to party lines. The suggested Cabinet wording was that "The Full Council considers that the interests of Crawley residents and businesses are best served by the Council objecting to a second runway being developed at Gatwick." The objection will be recorded in the council's response to the Commission. Five councillors – Stephen Joyce, Colin Moffatt, Chris Oxlade, Peter Smith and council leader Peter Lamb – felt the council should have agreed to take no specific view on the 2nd runway at this time. All five then voted not to object to the new runway. Most other local councils have also recently voted against the runway.
Click here to view full story…
London leads as the world's top airline hub by a wide margin – by number of passengers through its 5 airports
Simon Calder, writing in the Independent, says that "far from Britain declining as an aviation superpower, the capital's global lead over every other city in the world is increasing." Despite Heathrow being close the largest number of flights, London remains the world's top airline hub by a wide margin (23%) – and is racing ahead of its closest rival, New York. There were a record number of air passengers using the 5 London airports (Heathrow, Gatwick, Stansted, Luton and London City airport) in 2014, and that was about 61% of all UK air passengers (same % as in 2013). Some 144.7 million passengers flew through London's 5 commercial airports last year, which is the equivalent of 275 people – or one wide-bodied aircraft – arriving or departing every minute of every day of the year. Heathrow's number of passengers in 2014 rose 1.7% due to using larger aircraft, and the number of passengers using the 5 London airports rose 5% in 2014 compared to 2013. While London is by far the best connected city in the world, New York comes 2nd, Tokyo 3rd and Paris the only other European city in the top 10. The pre-eminence of London indicates that the UK economy is not losing out due to any lack of airport capacity. London comfortably leads world cities, for airport capacity.
Click here to view full story…
Gatwick hoping its "pledge" of £46.5 million if it gets 2nd runway will go towards a new Crawley hospital
The local Crawley press reports that Gatwick airport has said they will provide money to contribute towards the cost of a new hospital serving Crawley if they are allowed to build a 2nd runway. This is not a new offer – it was in their list of "pledges" put out in July 2014. However, last week Crawley Borough Council announced that it will tell the Airports Commission a new hospital for Crawley and Horsham must be built if Gatwick is expanded. Members of the council's overview and scrutiny commission debated a report by council officers that the Commission had "significantly underestimated" what healthcare needs would be created by expansion. Gatwick has said it would provide a £46.5 million fund for community infrastructure projects if there is a new runway. (There is doubt whether a future owner of Gatwick would be legally held to any pledges made now by GIP). Gatwick says it would provide just £5,000 per new house needed, and it estimates that number to be 9,300. ie. £46.5 million. But that would have to cover all areas, down to the coast, not only Crawley. Other figures of the cost of building a hospital put the cost at around £330 – £430 million. Local hospital facilities in the area are already under pressure.
Click here to view full story…
Two more councils (Horsham and Mole Valley) oppose Gatwick runway
22.1.2015
Horsham District Council voted on 21st January to oppose a 2nd runway at Gatwick. Voting was 23 opposed, 1 in favour (LibDem David Holmes). 5 abstained.
22.1.2015
Mole Valley has voted unanimously for the resolution that "the Council opposes a 2nd runway at Gatwick airport." The text of the full motion etc is at
http://www.molevalley.gov.uk/media/pdf/h/s/item_06_-_Airports_Commission_Consultation.pdf
At Mole Valley the Lib Dems proposed an amendment to oppose a Heathrow runway. But unfortunately the council voted to back a.Heathrow runway. (Nearly as bad as Wandsworth council trying to get its residents to back a Gatwick runway ….)
---
Fears over "illustrative map" showing Gatwick flight path over Copthorne and Crawley Down
Copthorne and Crawley Down residents have expressed disbelief that a map released by the Airports Commission about Gatwick's proposed 2nd runway shows what appears to be plans for a new flightpath directly over their homes. The Airports Commission insisted on the production of a map showing a flight path to assess the "operational viability" of the runway, but Gatwick management and NATS say it should "not be interpreted as representative of the location of future flight paths" The map is from a NATS document, which says "These designs are for illustrative purposes only and should not be interpreted as representative of the location of future flight paths, should a particular scheme be recommended…." Although there is currently no permanent flight path in place over the area, residents from both Copthorne and Crawley Down have complained of noise from changes to flight paths over the past year, including the introduction of a "concentrated flight path. People have become eer more aware of the planes and increasingly concerned about future increases, with planes using a new southern runway 1km south of the current one creating yet more noise near them.
Click here to view full story…
West Sussex County Council votes to oppose a 2nd Gatwick runway (Kent CC has already done so too)
A second County Council has withdrawn its support for a 2nd Gatwick runway, because of the high level of local opposition – and the unconvincing case made by the airport. West Sussex County Council (WSCC) voted by 37 to 26 to reverse its (somewhat unorthodox) decision in July 2013 to support another Gatwick runway. It held today's special meeting to debate the Gatwick issue, because the Council needed to write its response to the Airports Commission consultation, before it ends on 3rd February. Kent County Council withdrew its backing for a second runway in November, because of new flight paths. Over almost 5 hours of debate, numerous WSCC councillors put their points, displaying a sincere intention to act in the best interests of the county's residents, as they saw them. Many expressed dissatisfaction with the Airports Commission's documents and analysis, saying it was incomplete and often inaccurate. There was a high level of uncertainty about the inability of the county's infrastructure to cope with the stresses of a new runway, with transport being of particular concern. Ultimately councillors felt there were likely to be huge costs and problems from a runway, with uncertain benefits. They voted against the runway. Gatwick said it was disappointed by WSCC's decision.
Click here to view full story…
Crawley councillors say Airports Commission report into impact of Gatwick 2nd runway is riddled with mistakes
Crawley councillors will vote on what the council's position should be on a 2nd Gatwick runway on January 26. Members of the borough's overview and scrutiny committee have delivered a scathing assessment of an Airports Commission report into the impact of the runway, saying it is inaccurate, inadequate and ill-informed. The councillors do not want the council to remain impartial on the issue. Concerns were raised about what they feel are serious shortcomings by the Commission regarding its grasp of the current infrastructure, housing issues and level of employment in Crawley, provision of schools, and the impact expansion would have on the local area. There is little confidence the Commission is even aware of some of these matters, or that it can possibly predict what sort of infrastructure will be needed to support a 2nd runway. While the Commission presumes there is available labour, the council says the current unemployment figure is only 5.3%. As it is, Crawley cannot currently meet its target of building 500 homes a year, due to a lack of available land to build on, let alone many more. There was serious concern about schools that would be demolished, and the runway's impact on the borough's newest school.
Click here to view full story…
Letter: The real cost of Gatwick airport expansion that are not being considered
Sally Pavey, the Chair of CAGNE (Communities Against Gatwick Noise and Emissions) writes that at the Airports Commission event on 16th December, Gatwick announced that it would add to its expenditure a new terminal and passenger rail link from day one, which must add at least £2 billion to the overall costs. And before Christmas Moody Financial questioned Gatwick's financial stability to afford the expansion. It is not clear who would pay for the Gatwick promises of contributing to infrastructure, unless Gatwick needs to increase passenger landing charges more than anticipated by the Commission, at £23 per passenger. EasyJet, Gatwick's number one customer, has already raised concerns over the extra cost of a new runway to their passengers. With such increases in passenger fares will passengers move to Stansted or Luton for cheap flights? The infrastructure costs have been missed in the Airports Commission report for Gatwick, so no allowance for schools, hospitals, new roads, railways, GPs, affordable housing. If one in five that work at Heathrow live adjacent to the airport then where will the 90,000 low skilled workers (AC figures) going to live?
Click here to view full story…
"Gatwick Obviously NOT" encouraging residents to write to West Sussex County Councillors before Gatwick vote on Monday 19th January
The group, "Gatwick Obviously NOT" (GON) that is mainly representing areas to the east of Gatwick, affected by aircraft noise, is asking people to write to all 71 councillors in West Sussex County Council, (WSCC) before a council meeting. Gatwick airport is just in West Sussex, and in July 2013 a hasty decision was rushed through, for the Council to back a Gatwick 2nd runway. This will be re-considered on 19th January. GON have written to all West Sussex councillors, and want others to also write, to say they support what GON have said. GON have told WSCC that there are many concerns about the economics of a Gatwick runway and Gatwick has not been transparent on the numbers. Also that Gatwick has not been honest about flight path changes (Stewart Wingate gave the assurance on 18th July that: "the impression may be that something has changed, although I can assure you nothing has …" But then on 5th December, the CAA's CEO admitted: "The air traffic controllers tried out revised vectoring practices between the hold and landing at Gatwick … Air traffic controllers were trialling, or trying out, some new vectoring choices to see what effect they would have." Kent County Council and Tunbridge Wells councils have now voted against a Gatwick runway.
Click here to view full story…
Gatwick airport announces highest ever number of passengers in 2014 – 38.1 million
Gatwick has announced its highest ever number of air passengers, in 2014. There were 38.1 million passengers, which is up + 7.6% compared to 2013. Gatwick had 256,350 Air Transport Movements (flights) in 2013, which was up by 4% compared to 2013. Their air cargo was down by 8.6% compared to 2013, at 88,737 tonnes. The number of passengers at Gatwick has grown steadily since 2010, and overtook the previous peak from 2007 35,165,000 in 2013. The number of flights is still slightly below its peak level in 2007, when there were around 259,000. Gatwick said the growth was driven across a range of markets, and of course, it took the opportunity to make another plug for its 2nd runway. There were approximately 149 passengers, on average, on planes using Gatwick,compared with about 156 at Heathrow. By contrast, in 2011 there were about 134 passengers, on average, per plane using Gatwick. So along with Heathrow, there is a slow increase in the size of planes, and/or the load factor – to be expected when the majority of flights are low-cost. Gatwick says it now has more long haul flights, and passengers travelling to Dubai in 2014 increased by 8.3% compared to 2013.
Click here to view full story…
Tunbridge Wells Borough Council votes almost unanimously against a 2nd Gatwick runway
A public council meeting held by Tunbridge Wells Borough Council on 7th January ended with an almost unanimous vote by councillors against a 2nd Gatwick runway. The motion against was carried with 40 votes in favour, one abstention and one against. [Other figures say 35:1]. Council leader David Jukes said: "This is democracy in action – you don't often see a lot of people attending a boring council meeting." Managers from Gatwick Airport were invited to attend the meeting but declined (they have also declined to appear before MPs in Parliament). The meeting heard that residents of west Kent and East Sussex are subjected to four times the amount of night flights as residents of West London, and that economic benefits of expansion would not be seen until maybe 2050, with very little effect on the GDP of Kent. A presentation by Joe Ratcliffe, the KCC aviation policy advisor, showed that some areas had seen a drastic increase in flights overhead, rising from around 10 flights per day in 2010 to between 40 and 50 flights in 2014. There was irritation that Gatwick and the CAA persist in saying there has been no change in flights or flight paths, but people are adamant there have been substantial changes. Kent expected to see little benefit from a 2nd Gatwick runway, but to experience a considerably greater noise burden.
Click here to view full story…
Straight-talking letter to Stewart Wingate, from aggrieved resident tired of aircraft noise and inadequate Gatwick answers
Residents in Kent and East Sussex have been particularly irritated at perceived changes to flight paths over their areas, by planes arriving at Gatwick. Thousands of people is areas such as Penshurst, Chiddingstone, Tunbridge Wells, Hartfield, Ashurst, Hever etc deeply resent the intrusion of more aircraft above them, with more noise. They particularly resent the failure of Gatwick or the CAA to give straight answers to their questions. One such resident, at the end of his patience, has sent a letter to Stewart Wingate, setting out specific complaints about an aircraft on 31st December. The letter is copied to a large number of people, including Dame Deirdre Hutton at the CAA, and many MPs. And he does not pull his punches. Here are a couple of samples: "Quite why you would seemingly wilfully antagonise people when you are trying to curry favour for a new runway is absolutely beyond me." And "We all know what is going on – GAL has achieved 55 movements an hour at the cost of the destruction of the quality of life for those constantly overflown and that is something that must be changed; the CAA can assist by renouncing its risible current stance that 'nothing has changed'."
Click here to view full story…
Gatwick flight paths comment deadline to CAA by 5th Jan 2015 on PIR (Post Implementation Review)
Gatwick airport carried out a consultation on changes to its airspace at the end of 2013, finishing in January 2014. They then carried out another consultation in May 2014. Gatwick is required to allow time for people to comment and give their feedback on the impacts of proposed airspace changes. This is called a PIR (Post Implementation Review). The deadline is 5th January 2015. After that date, the CAA (Civil Aviation Authority) will review the comments – and the degree to which changes to flight paths have affected the public being overflown. The airspace changes are due to PRNAV (precision navigation) and PBN (performance based navigation) – meaning aircraft fly much more accurate routes than was possible before, and routes are also concentrated to be more narrow than before. People who have been adversely affected by flight path changes from aircraft using Gatwick are recommended to send in their comments again. (The CAA has not confirmed that they would consider earlier emails or letters). There is no specific consultation document or form to fill in. The address to email is mark.swan.GatwickPIR@caa.co.uk People need to not only write to the CAA, but copy this to their MP and to the DfT.
Click here to view full story…
Earlier news about Gatwick Airport at
.